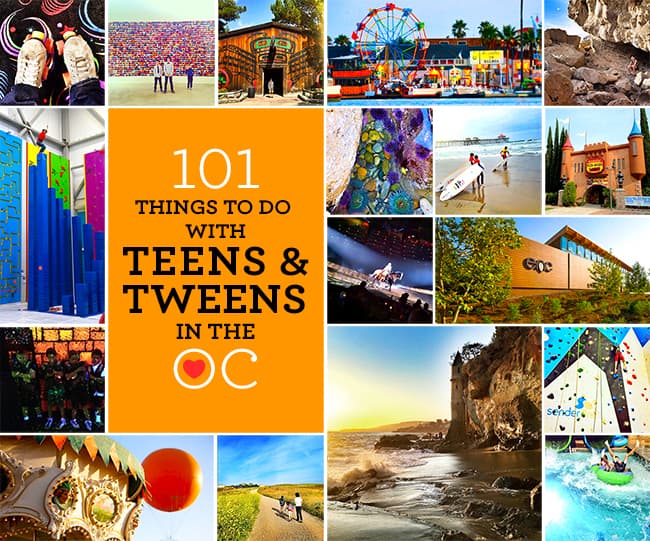 entertaining teens and tweens can be hard! most of the time, they just want to be with their friends or playing on their electronic devices or social media. they're too big to play on park playgrounds and a lot of the activities on my list of 101 Kid-friendly Things to do in Orange County aren't geared toward this age range. i've had a lot of requests to share more tween and teen friendly activities, so to start off, i made this list of 101 Things to Do with Teens and Teens in Orange County.
some of these activities are free or low cost...most cost money, some are pricey. as the kids get older, it becomes harder and harder to entertain them for free. most of the free community events happening in Orange County i will post on my Sandy Toes and Popsicles Facebook Page. below is everything i could think of for you to have fun with those teens and tweens.  NOW lets have some fun!!!!!!!
Parks & Nature Centers
Fun Orange County Play Parks has written an article on Parks for Teens in Orange County, and Go Explore Nature has written a great article about Getting your Tweens Outside. Here is a list of Tween and Teen-friendly parks in Orange County.
1. Irvine Regional Park OC Zoo & Fun Wheel Rentals - Spend an hour in the zoo and then rent a paddle boat or surrey bike. There are nice trails to hike and also horse rentals.
2. Mile Square Park Archery Range (Fountain Valley)
3. Carbon Canyon Nature Trail (Brea)
4. Turtle Rock Nature Center (Irvine)
5. San Joaquin Wildlife Sanctuary (San Juan Capistrano)
6. Aliso Wood Canyon (Aliso Viejo) free
7. San Onofre State Beach (San Clemente) free
8. Environmental Nature Center (Newport Beach) A 3.5 acre facility with nature trails, a native plant reserve and a nture center with kid-friendly exhibits. It is open 7 days a week. Admission and parking are free.
9. Oak Canyon Nature Center (Anaheim Hills) Hike the nature trails, visit the nature center and have a picnic at the picnic tables. Admission and parking are free.
10. Fullerton Arboredum (Fullerton near Cal State Fullerton) Beautiful gardens host plants from different regions such as the Mediterranean, Woodlands and the Desert. Yoga in the garden and nature walk are often hosted on the weekend, and family-friendly nature classes are scheduled every few weeks.
11. Peter Mary Muth Interpretive Center (Newport Beach Back Bay) 10,000 square foot facility has hands-on exhibits for the public to learn about the Back Bay's wildlife nature. Family events are held on various days, so check their calendar for dates. Open Tuesday - Sunday. Admission and parking are free.
12. Shipley's Nature Center (Huntington Beach)
13. Orange County Great Park (Irvine) Ride the Big Balloon, stroll through the gardens enjoy events on the weekends.
Museums & Historical Centers
14. Discovery Science Center (Santa Ana)
15. Bowers Museum (Santa Ana)
16. Orange County Museum of Art (Newport Beach)
17. The MUZEO (Santa Ana) Museum and cultural center that engages the community by exploring and celebrating our diverse heritage, culture and arts through creative programming.
18. Orange County Center for Contemporary Art (Santa Ana)
19. San Juan Capistrano Mission (San Juan Capistrano)
20. Richard Nixon Library (Yorba Linda)
21. Beall Center for Art + Technology (Irvine) Icludes exhibitions that explore new relationships between the arts, sciences, engineering, and promote new forms of creation and expression using digital technologies.
22. Heritage Museum of Orange County (Buena Park)
23. Laguna Art Museum (Laguna Beach)
24. Susanna Bixby Bryant Ranch House and Museum (Yorba Linda) visitors can glimpse some of Yorba Linda's unique heritage - each room depicts a different period or aspect of the area's history, from Indian times to the first settlement by the Yorba family, and into the modern age. Opened to the public on limited days.
25. Dr. Willeta Howe-Waffle House  (Santa Ana) built in 1889, the House is listed on the National Register of Historic Places, as a California Historic Point of Interest, and as a landmark building on the City of Santa Ana's Historic Register. Limited tours available the first Saturday of selected months.
26. International Surfing Museum (Huntington Beach)
27.  Marconi Automotive Museum (Irvine) Museum displaying an impressive 30 million-dollar collection of historical, exotic, and classic cars. Not open to the public on the weekends. $5, Kids are free
Unique Experiences
28. Murder Mystery Scavenger Hunt (Laguna Beach & San Clemente) Interactive scavenger hunt.
29. Exodus Escape Room (Anaheim Hills) Beat the clock to turn the lock! Exodus Escape Room is a real life
adventure game where you are locked in a room. The goal is simple – you have 60 minutes to work together with other players, crack codes and solve ciphers to escape.
30. Howie's Game Shack (Mission Viejo & Buena Park) The largest online interactive game centers in North America. Featuring over 800 PC and Xbox stations. $8 per hour or $18 for 3 hours.
31. Titanic Artifact Exhibit (Buena Park)
32. Bodies Exhibit (Buena Park)
33. FlightDeck (Anaheim) Experience aerial maneuvers at 600 knots and air-to-air combat in an authentic military flight simulator, and feel what it's like to take the controls of a commercial airliner in our Boeing 737 flight simulator. Guests who are not flying can relax in our Officers Club and watch all the aerial action on large LCD screens. reservations required.
34. Field Time Target & Training (Stanton) Shooting range with 25 yard shooting lanes. Shoot handguns, rifles and shotguns. computerized target retrieval systems on each lane, complete with adjustable lighting, and training classes.
35. Prehistoric Pets - The Reptile Zoo (Fountain Valley) Largest display of reptiles. My kids love this place. You can feed meal worms to turtles and also hold snakes and lizards. Meet "Twinkie" the largest albino boa in captivity. Admission is $5.
Go-Karts
36. K1 Speed (Anaheim & Irvine) Indoor go-karting. open 7 days a week.
37. Boomers! (Irvine and Fountain Valley)
38. Camelot Golfland (Anaheim off of the 91 freeway)
Fun Shopping & Entertainment
39. Downtown Disney - Ridemakerz, Build-a-bear, ESPN Zone, LEGO Store - Anaheim, Rain Forest Cafe, Disney Store.
40. Irvine Spectrum (Irvine) Big Wheel Ride, Movie Theater, Casey's Cupcakes and shopping.
41. Anaheim Packing District (Anaheim) Communal gathering place in the heart of downtown, that features 20+ artisan eateries with live music on the Mezzanine Stage every weekend. complete with refurbished historic structures, restored Packard Building & former Car Showroom, Farmers Park, restored citrus Packing House, and an outdoor event area with a fireplace and orange grove.
42. Fashion Island (Newport Beach)
Discounted Movies
43. Drive-In Movies
44. Discount Picture Show at Main Place Mall (Santa Ana) $2 movies all day. $1 movies on tuesdays, $2 surcharge for 3-d
45. Woodbridge 5 Starplex Cinema (Irvine) $2 movies all day. $1 movies on tuesdays, $2 surcharge for 3-d
46. Regency Theaters (Huntington Beach, Newport Beach, Costa Mesa, Westminster, Laguna Niguel, Laguna Beach) $3 movies all day, $2 surcharge for 3-d.
47. Brea Plaza 5 (Brea) $3 day, $3.75 evening
48. Cinema City (Anaheim Hills) $5 before noon, on Mondays & Tuesdays, and on Sundays before 6pm.
Amusement Parks
49. Knotts (Buena Park)
50. Disneyland (Anaheim)
51. Legoland (Carlsbad)
52. Adventure City (Anaheim on south Beach Boulevard) Carnival rides, rock climbing wall, arcade, petting zoo, children's theater and food. Recommended for under 12 years.
53. OC Fair July 17th - August 16th, 2015
Trampoline Houses
Giant trampolines from wall to wall. Activities include dodgeball, basketball & foam pits.
54. Sky High Sports OC (Costa Mesa)
55. Sky Zone Trampoline House (Anaheim Hills)
56. Big Air Trampoline House (Lake Forest)
57. Get Air Surf City Trampoline Park (Huntington Beach)
58. Big Air (Buena Park)
59. Rockin' Jump (Santa Ana) also has rock climbing
Indoor Rock Climbing
60. Sender City at Sender One (Santa Ana) this is seriously one of our favorite places…loved by kids and adults! and fun interactive rock climbing experience with a giant slide and staff that is amazing. Teens will love the regular rock climbing area of Sender One.
61. Rock City Climbing (Anaheim)
62. Rockreation (Costa Mesa)
Miniature Golfing & Amusement
63. Boomers! (Irvine and Fountain Valley) Miniature golf, go-carts, arcades, rides, and food. Irvine has laser tag. Admission is free, but all activities have individual pricing.
64. Camelot Golfland (Anaheim off of the 91 freeway) Miniature golf, laser tag, arcade, water slides and food. Admission is free, but all activities have individual pricing.
Beach Area Fun
65. Huntington Beach Pier and Shops
66. Paddleboarding in Newport Back Bay
67. Balboa Fun Zone - Arcade, boardwalk, ferris wheel, take the Balboa Ferry and walk Balboa Island, rent a Duffy boat.
68. Rent bikes or segways to ride on the beach sidewalks.
69. Day in Laguna Beach - Walk Pacific Coast Highway, visit the galleries, window shop, beach, candy store, ice cream, farmer's market on the weekends.
70. Take a Surf Lesson - A fun thing to do as a family! HB Surf School is one of my favorites.
71. The Best Tidepools in Orange County free
72. Corona Del Mar Tide Pools free
73. Crystal Cove & Ruby's Shake Shack
74. Pacific Marine Mammal Center: See rescued ocean animals and education. (Laguna Beach) free
75. Aquarium of the Pacific: Aquarium (Long Beach)
76. Explore Ocean: Nautical Museum. (Newport Beach)
77. Victoria Beach (Laguna Beach) - Old castle staircase ruins
78. Newport Dunes Movies on the Beach (Newport Beach) free
79. Ocean Institute (Dana Point)
80. Jet Pack America (Newport Beach) Jet Pack and Jetboarding experience
Water Parks & Water Slides
81. Soak City (Buena Park) Orange County's largest amusement water park located adjacent to Knott's Berry Farm.
82. Buccaneer Bay Water Park (La Mirada)
83. Camelot Golfland Water Slides (Anaheim) Located inside Camelot Golfland. 4 giant watersides that you can ride with inflatable tubes. There is a snack bar is located next to the slides. Admission is $8.50 for all-day, $5.50 for evenings after 3pm.
84. Bucaneer Cover at Boomers! (Fountain Valley)
Public Pools
85. Aliso Viejo Aquatic Center (Aliso Viejo) Public Pool, Splash pad and lap pools. Admission is $5-7 for non-members.
Fun Dining & Dinner Theaters
86. Medieval Times (Buena Park)  Medieval dinner and tournament with knights and horses at a fun dinner show. A full dinner is served and must be eaten with your fingers.
87. Pirates Dinner Adventures (Buena Park)  Dinner and show featuring pirates and stunts. A full dinner is served.
88. Farrell's (Brea, Buena Park & Mission Viejo) Family-friendly restaurant that serves classic American food, and is known for their gigantic old-fashioned ice cream sundaes and shakes. Servers sing and bang on drums. Reservations for large parties are highly recommend.
89. John's Incredible Pizza (Buena Park) Pizza, arcade, rides, bowling and laser tag.
90. The Improv (Irvine & Brea)
Arcades
91. Dave & Busters (Orange)
92. Dave & Busters (Irvine)
93. Nickel Nickel (Huntington Beach)
Skating & Ice Skating
94. Holiday Skate
95. Fountain Valley Skating Center
96. Irvine Inline
97. Anaheim ICE
98. Aliso Viejo Ice Palace
99. Yorba Linda ICE
Bowling
Kids can bowl FREE all summer at many of our Orange County bowling alleys...up to age 18!!! for details and to sign up, click here.
100. Tustin Lanes (Tustin)
101. Fountain Bowl (Fountain Valley)
102. Lucky Strike (Orange at the Block)
103. Concourse Lanes (Anaheim)
104. 300 Anaheim Lanes (Anaheim)
105. Irvine Lanes (Irvine)
106. Linbrook Lanes ( Anaheim)
107. Anaheim Bowling & Event Center (Anaheim)
108. Bowlmor Orange County (Tustin)
Professional Sports
109. Dodgers Baseball (Dodger Stadium in Los Angeles)
110. Anaheim Angels Baseball (Angel Stadium in Anaheim)
111. Anaheim DUCKS (The Honda Center in Anaheim)
Candy Stores
112. Powell's Sweet Shop (AlisoViejo)
113. Balboa Candy Store (Newport Beach at the Balboa Fun Zone)
114. B.Candy Store (Corona Del Mar)
115. Wonderland Bakery (Newport Beach)
116. ChocXO (Irvine) Chocolate Factory Tour & Tasting
Skate Parks
117. Vans Skate Park (Orange at the Block)
118. Etnies Skate Park (Lake Forest)
119. Volcom Skate Park (Costa Mesa)
120. Brea Skate Park (Brea - Imperial Hwy at Berry Street free
121. Beebe Skate Park (Mission Viejo) free
Laser Tag
122. Laser Quest - Fullerton
123. Laser Quest - Mission Viejo
124. Laser Tag - Camelot Golfland, Anaeheim
125. Laser Tag - Boomers!, Irvine
Art Fun
126. Sawdust Art Festival (Laguna Beach) Summer and Winter Festivals, plus monthly 2 hour workshops for pottery and glass blowing.
127. Color Me Mine - Brea Paint your own pottery
128. Color Me Mine - Costa Mesa Paint your own pottery
129. Color Me Mine - Tustin Paint your own pottery
130. Hidden Talents Ceramic Studio Paint your own pottery
131. Fired Up (San Clemente) Paint your own pottery
132. Timree Paint Studio (Newport Beach) - One day painting workshops
133. The Ceramic Studio (San Juan Capistrano)
Don't forget to check out the Sandy Toes and Popsicles Facebook Page for daily updates of events happening in Orange County!
PLUS.....101 Things to Do with Kids in the OC!!!!