There's a new trampoline park opening in Orange County - Big Air! located in Laguna Hills, it will be a welcome entertainment for people of south county who are now able to enjoy a trampoline park closer to home.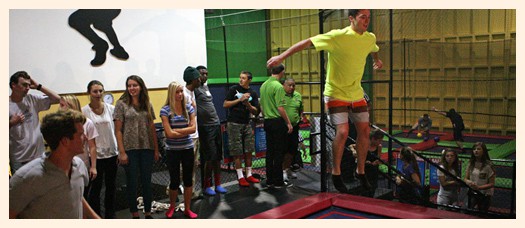 Big Air's, big grand opening for OC Families will be this Friday, February 8th, and will celebrate it's new, 25,0000 square foot trampoline park. Big Air is accessible to the freeway and will greatly benefit folks in South Orange County. many are familiar with this location as "Furniture Row." it offers 14,000 square feet in jumping surface and will include a large main court, two dodgeball courts, foam pits, slam-dunk basketball and the extreme jump zone. the arena will also include arcade games, party rooms suited for birthday and team parties, and a parents' lounge with large screen TVs and free Wi-Fi.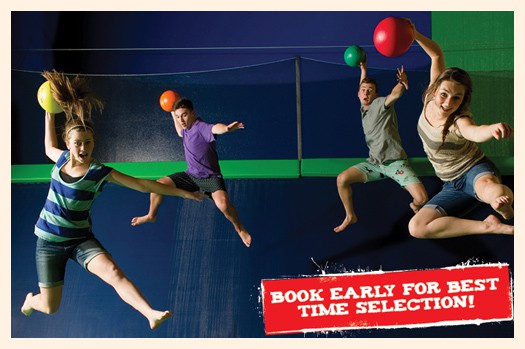 Big Air is run by the former Wild Rivers manager of 25 years, Greg Briggs. now, as President of Big Air, he and his team are bringing family entertainment back to Orange County by the trampoline park in a 25,000 square foot location with 14,000 square feet of jumping space. the new park is expected to be a gathering place for Orange County families who are looking for fun recreation, a great place to throw a party, or even an aerobic class.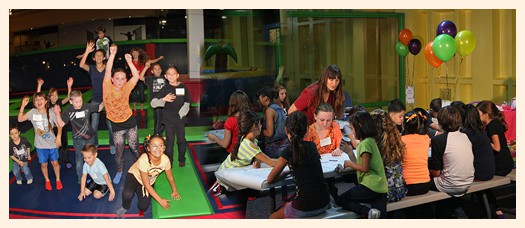 the first class design of Big Air is unique, modern and user-friendly. as opposed to constructing the trampolines above ground like most parks, the concrete floors and more than 1,000 cubic feet of dirt have been dug out so the trampolines can be built at ground level. safety is a priority at Big Air and referees are stationed throughout all jumping areas to monitor and enforce safety rules. children ages 8 and younger can enjoy gentler jumping in the children's jump arena and designated kid's zone. feeling comfortable and safe is all part of having fun at Big Air.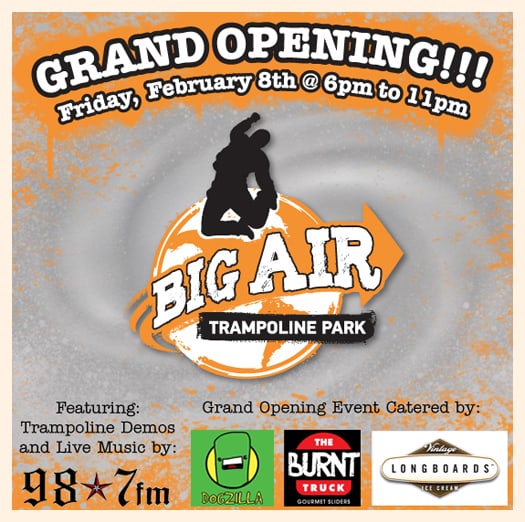 Finally! get ready for the Big Air Grand Opening party this Friday, February 8th, 2013 from 6:00 p.m. to 11:00 p.m. there will be great food, great music and a whole lot of high-flying fun–not to mention some insane giveaways, contests and prizes. this party will be a blast for kids of all ages and guests will enjoy live radio remote from 98.7FM LA's Rock Alternative, trampoline demos from gymnasts and boarders, live music from local musicians and tons of prizes and giveaways!
wanna go? here's the info...
Big Air Trampoline Park
23251 Avenida de la Carlota Laguna Hills, CA
Admission
hourly fee is $12/hour per jumper
Hours
Monday – Thursday 2 p.m. to 9 p.m
Friday 2 p.m. to 11 p.m.
Saturday 10 a.m. to 11 pm.
Sunday 10 a.m. to 9 p.m. Visit Big Air's website
{disclosure: we received complimentary tickets to Big Air Trampoline park for review purposes. this post was not compensated and all thoughts and opinions are my own. }