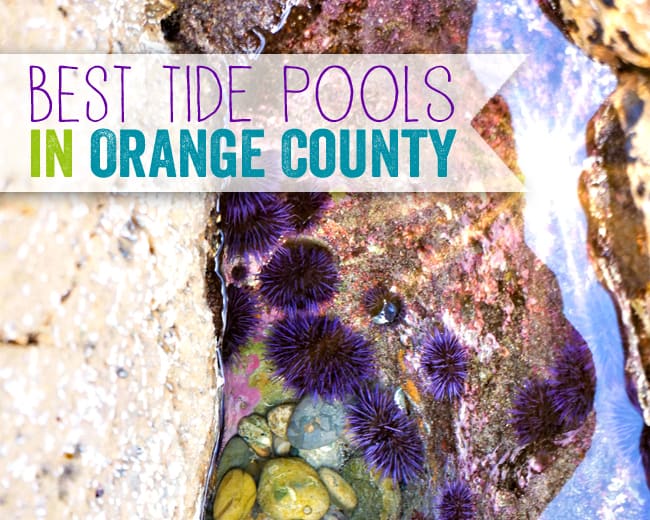 Updated July 2021
One of the things we are BLESSED with here in the OC, besides the weather, are the beautiful beaches. Our summer weather is almost alway perfect to head down to the beach. My boys love all of the beaches here in Orange County, but when they have the choice, they always pick going to the beaches with tide pools. There are some great Orange County tide pools here in SoCal, perfect for families to explore.
We go to the tidepools often, even on cold days because you don't really have to get wet..just your feet really. So you can wear a hoodie, roll-up your pants bottoms, and head on in to wade in the tidepools. LOL...I am laughing because honestly, how often do you really need to wear pants here!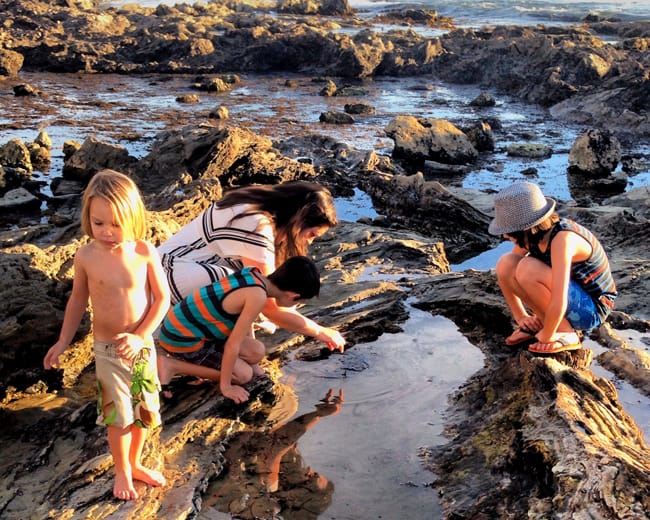 Last week, we took the boys to our favorite tide pools in Corona Del Mar. It's often called "Little Corona" and is located off of Pacific Coast Highway on Poppy Street. You can park on Ocean Boulevard in the neighborhood, and walk down the hill to the small coved beach.
The waves are small and kids can wade into the water without to much worry from the adults. and there are lots of rocks and areas to explore. On the right side of the beach, you can sift in the sand an find lots of pretty sea glass.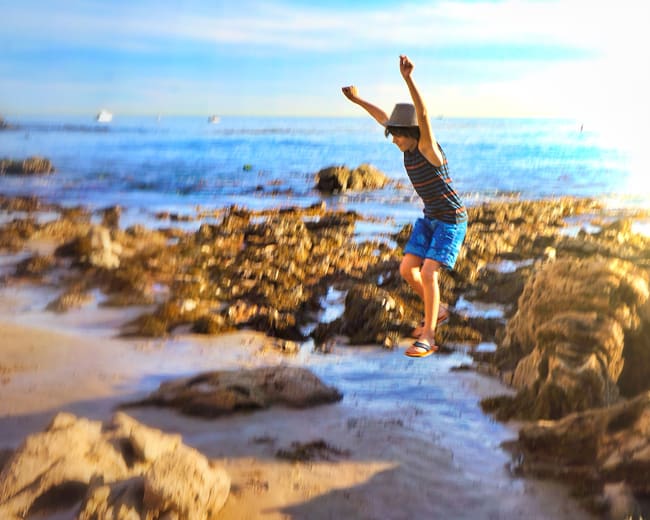 If you visit during low tide, you are sure to find some beautiful finds, like ocean critters and plant life. Look carefully, especially in spots that are hidden, that's where you will find the hidden gems and native sea creatures and shells. Check out these starfish we found. Those colors are real...#nofilter.
All these sea urchins were nestled in a rock pool hidden on the side of a big boulder. We climbed up the side and were surprised at what we found.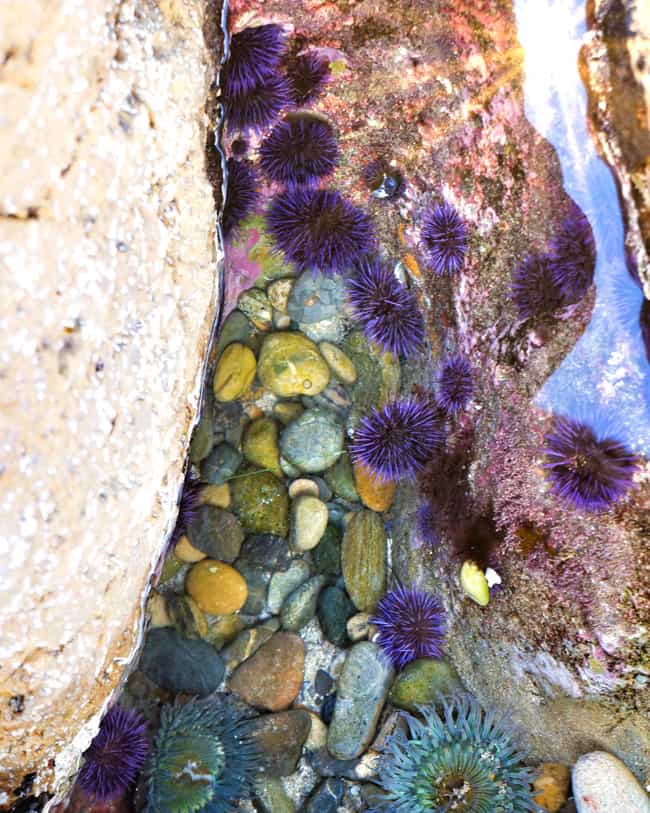 We spent the rest of the time hiking up some of the larger rocks just to see what was on the other side, and enjoying the beauty that surrounded us. It was one of those days you wish would never end.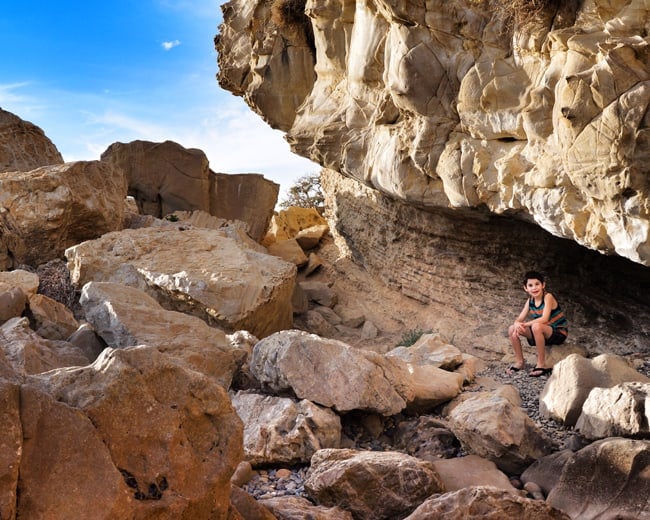 Where to find Tide Pools in Orange County
If you are looking for some great OC tide pools to visit, these are some of our favorite beaches that have tide pools:
(Pacific Coast Highway - between Corona Del Mar and Laguna Beach)
Reef Point, Rocky Bight, Pelican Point, north end of Treasure Cove are the best places to explore here. You can park in the beach's parking lots for $15 per day.
(Pacific Coast Highway and Laguna Canyon Road)
This is Laguna's main beach. often crowded, and parking is scarce. You can find public parking lots in the shops north of Pacific Coast Highway. This beach is flanked on both sides by some small tide pools. you can find the Heisler Park tide pools and Shaw's Cove tide pools in the beaches north of it…just a short walking distance.
(Corner of Ocean and Poppy – enter from Marguerite and Pacific Coast Hwy)
Located at the bottom of a small hill, you will find a small beach with tide pools flanking both sides. restrooms are located halfway down the hill, and lifeguards patrol the beach during summer hours only. Street parking is available for no charge, but can be hard to find during busy times.
(Wesley &  Pacific Coast Hwy - Laguna Beach)
This is one of the hidden gems of Orange County, and a bit of a hike to get to. There is only one small public parking lot off Wesly Dr. (Parking is horrible) or you can park on the street on the north side of PCH up the hill.  To get to the beach, follow the sidewalk path that runs along the front of the Montage Resort, past the main hotel's beach. north of that beach you will find a stairway leading down to the small tide pool flanked beach. The cliffside views of this beach are breathtaking.
(Cliff Drive & Pacific Coast Highway, Laguna Beach)
A small beach hidden off of main beach located within the Laguna State Beach Marine Preserve. It's one of the local favorites for tide pools and snorkeling/diving. The waters are clear here and you are sure to find anemoes, sea critters, starfish and even rays and sharks.
(Cliff Drive &  Pacific Coast Hwy - Laguna Beach)
This is a little hidden gem of Orange County north of main beach in Laguna. parking is metered at the park above the beach on the cliffs. Stairs lead down to a small rocky cove beach. Be sure to watch the tides here as it comes up quickly here, and you can get trapped. be careful bring small kids here because it is rocky.  This beach is full of character and has great views and trails to explore.
(located where Cliff Drive intercepts North Coast Highway)
This beach is a sandy stretch with rocky areas at the north and south ends. off the north point there is a large rock about 120 yards off shore called Seal Rock because of the seals and sea lions that take refuge there. It's often closed due to high tide and it's dangerous rocks.
Tips on visiting Tide Pools in Orange County
When visiting the tide pools in Orange County, make sure that you are careful when exploring the tide pools. It's a good idea to wear shoes, and remember, collecting sea animals and rocks are prohibited.
It is REALLY IMPORTANT to check the tide before you go, or else you may find a beach covered with water and no rocks to explore in sight. We were fortunate to have a negative tide this particular day (meaning the tide was out further than normal) so we had more tide pools to explore than most of the days we go.
You can check the beach tides online, or by using an app on your phone such as the Surfline.
And if you can time your visit to the tide pools to end around sunset time, you will be in for a special treat. beach sunsets are amazing and bring a sense of peace and calm to your spirit. this is one of the special treats you get for living on the west coast. A sunset like this is the perfect ending to a perfect day.