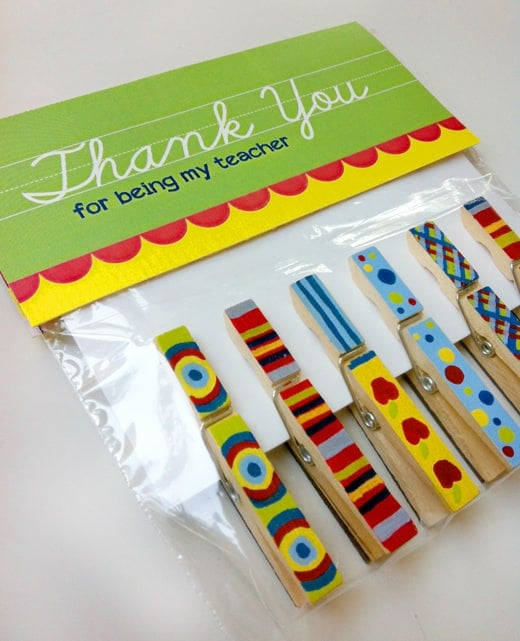 this week is my kiddies Teacher Appreciation Week. i wanted my kiddies to make a special gift for each of their teachers in honor of the week. i had a project in mind that i thought would be fun for them that would be fun, and not to tedious. so i came up with the idea to make decorative magnetic clothespins. by painting wooden clothespins and glueing a magnet to the back, their teachers could use them up on the white board to hold papers and reminders.

•
magnetic tape strips with adhesive back
•
exacto knife
•
ruler or straight edge
•
sheet of cardstock (optional)
•
plastic sandwich baggie (optional)
•
printable baggie topper, download it
here
 (optional)
step 1 
purchase your supplies.
my kiddies like to paint, but after our Mother's Day project, i found they also liked to make huge messes. by using Elmer's Painter Markers, which are actually perfect for this project, you cut down on the mess, plus they are easy for little hands to use.
Walmart now carries Elmer's Painters Markers in individual colors for only $1.97 each. it's great because you can pick out only the colors you need, and in the width you would like. i got the pens in medium points, but they also sell chisel tip and fine tip.
i was also able to get the clothespins for $.97 for a 50 pack which was a bargain and also picked up the magnetic tape strips at Walmart. i was very happy about that. all my shopping done in one place.
once you have your supplies, you can get started by cutting the magnetic tape strips to fit one side of your clothespins. peel the paper off the adhesive on the back of the magnetic tape and stick it to one side of the clothespin.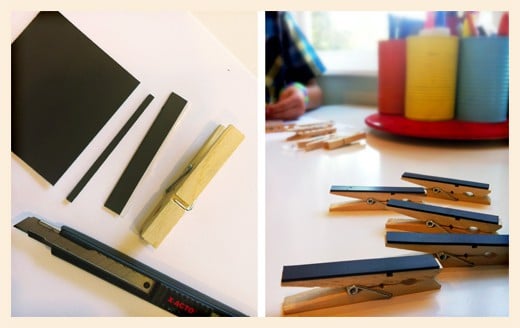 step 3
with your Elmer's Painters Markers, paint the other side of the clothespin a single color. let dry.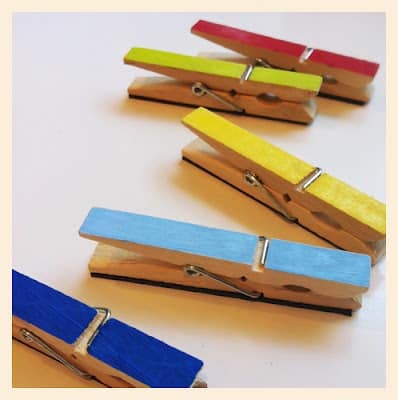 using other colors of Elmer's Painters Markers, you can add designs and pictures to the painted side of the clothespins. you may need to wait for the paint to dry between each color that you use. once your design is complete, let dry completely. here you see my kiddies working so intently on their clothespin designs. awesome!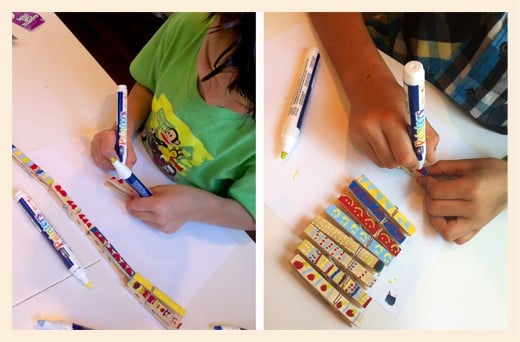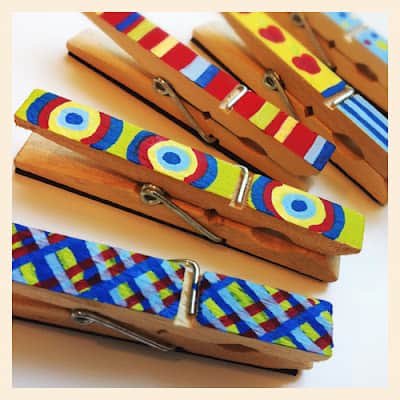 to package your clothespins, it is nice to cut a piece of cardstock to 2-½" x 6" or approximate to fit into baggie. place each clothespin neatly onto the cardboard. place into a plastic sandwich baggie. you can tie with a ribbon, or print out the bag topper i created and glue or staple it on. here is the link to download it.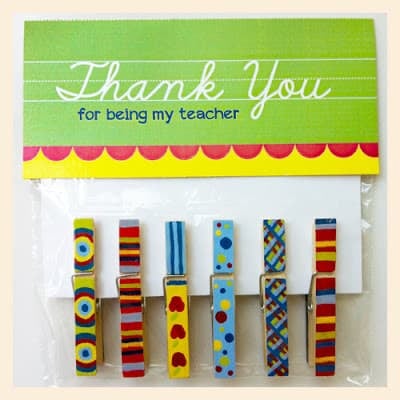 give it to your teacher! we just love how it turned out.
you can follow @Elmers on Twitter and like Elmers on Facebook. you can also follow the conversation on Twitter by using the hashtag #GluenGlitter and #Expressyourself.
if you would like to see more photos from my shopping trip to the Walmart craft department, click here.


 { Disclosure: I am a member of the Collective Bias™ Social Fabric® Community. This shop has been compensated as part of a social shopper insights study for Collective Bias™. #CBias #SocialFabric }