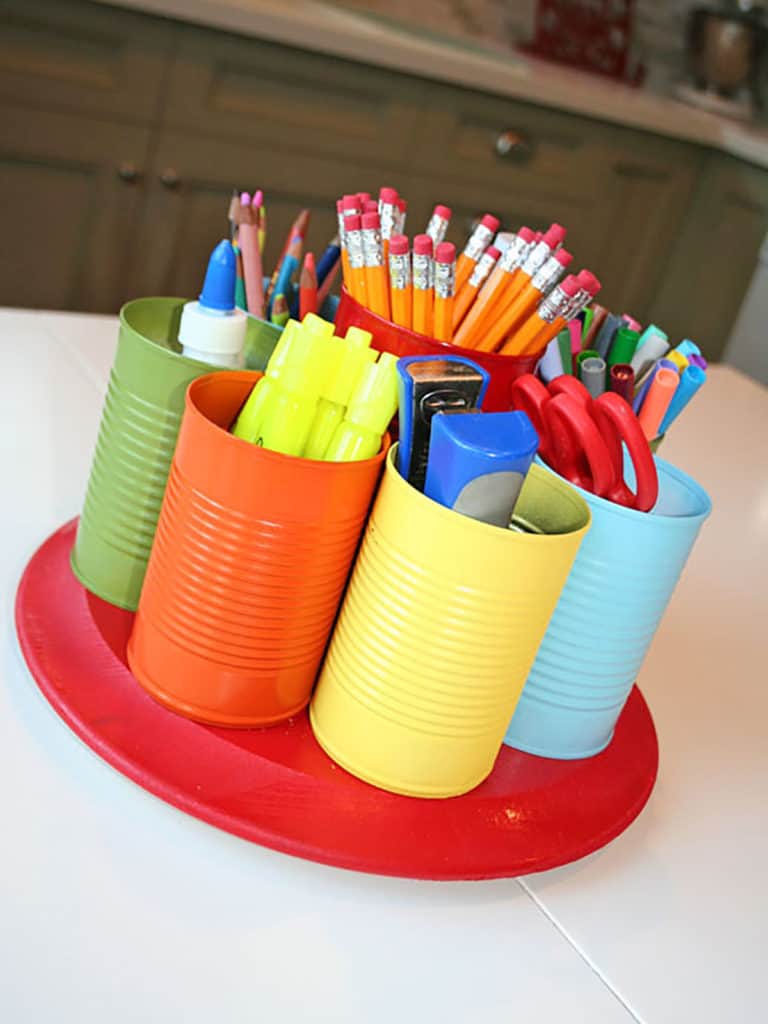 I'm pretty lucky so far when it comes to homework time. my children always get it done without too much complaining. however, i was starting to get pretty annoyed by the daily whining "where is a pencil" "where are my colored pencils" "i need a glue stick" "where is the sharpener!" i decide some organization tactics were in order!
i saw a bowl full of school supplies on one of my friend's dining room table during a visit, and thought...."why didn't i think of doing that?".......now that i think about it, i bet i am the only one that doesn't have some sort of homework supply bowl or caddy of such. so, i decided to make a really cool one to put on my kitchen table....where the boys do their homework everyday. i wanted it to be fun and colorful, i wanted it to spin, and have enough space to put everything they could need to do their homework. yes...i was going to make a homework supply caddy!
i ended up using empty cans from our canned food, a wooden circle plaque, and a lazy susan. a coat of colorful spray paint and a few screws later.....whala! a cool homework caddy.
what do you think?!?!
it's colorful!
it spins!
and it sits on the table ready for homework time!
Make Your Own Homework Supply Caddy
supplies:
• wooden circle plaque (i used an 11" wooden round from Michael's Craft Store)
• empty canned food cans (i used 7 medium and 1 large)
• ½" Self Drilling Screws
• Spray Paint
• lazy susan (i got one at Home Depot)
• little rubber feet thingys (i got them at Home Depot next to the chair floor protectors)
• screwdriver (electric is best)
directions:
• clean your food cans, making sure there aren't any sharp edges
• spray paint your cans and lazy susan in the colors you like.
• affix the lazy susan to the bottom of your wooden circle
• place the rubber feet on the bottom of the lazy susan to prevent sliding
• arrange your cans on the top of the lazy susan
• screw the cans onto the lazy susan. the self drilling screws are so easy and go right in.
• whala! you now have a cool homework caddy. fill it up with your homework supplies.
tips:
• i placed small cans inside of the medium cans to create a little riser, so that shorter school supplies would show
• a magnet is a great why to affix a pencil sharpener
happy homeworking,
jill, jack, kyle & vann