four years have gone by, and i have never even thought up a solution for the "come home from school and drop your backpack on the floor" problem. this was one of those "why didn't i do this earlier" ideas i saw around Pinterest. i would always just shove the backpacks in the corner or on the couch. what was i thinking? of course coat hooks would have been the answer.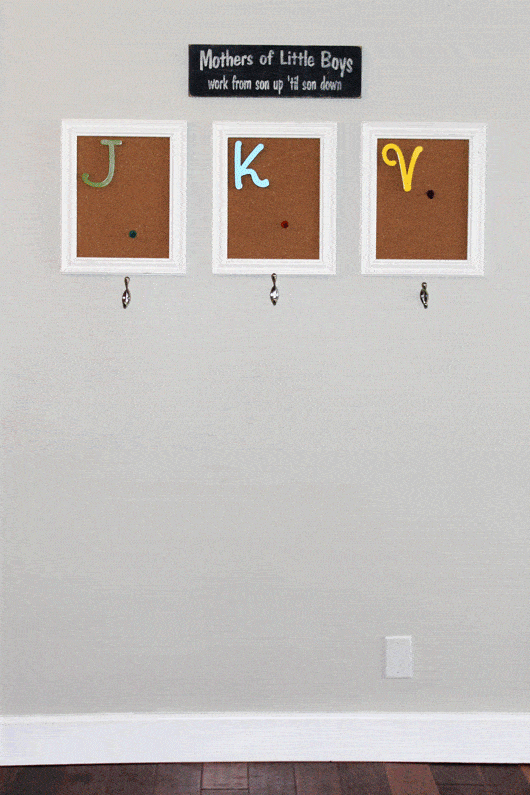 so i found three frames that i already had and made them into bulletin boards. i found wooden initials of each of my boys and spray painted them in fun colors. then i glued them to the bulletin board. 3 coat hooks were installed below each frame, and secured with anchor bolts. above everything, i hung this fun sign i got at a baby shower. perfect!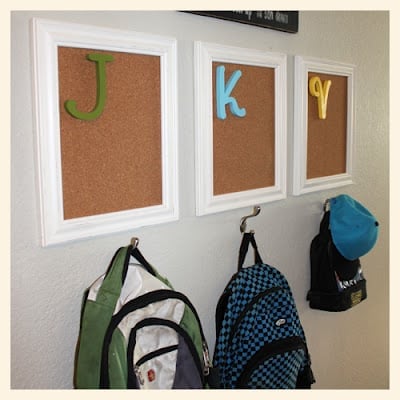 what you need
•
picture frame for each kid (mine were 10" x 12")
•
piece of cork board, cut to fit your frame (found at most craft stores)
•
anchor bolts (unless you are screwing hooks into a stud)
directions
• 
place cork board into frames. (frames don't all have to be the same size, you can spray paint different frames the same color to create a unique cohesive look.)
•
measure where you want to place each frame and hook, and then attach them to the wall.
•
glue a wooden letter onto each bulletin board
•
kids....hang up your backpacks!
and the awesome thing is....there hasn't been a backpack on the floor since i installed this! yippee...one less reminder to my kids to pick up after them selves and one less job for me!