OC Christmas Lights!!! Don't you just love it when houses AND even neighborhoods go all out decorating their homes with twinkly lights and decorations for the holidays. All that work putting up the outdoor lights gives the community the special gift of Christmas magic. Here is a list of over 100 Christmas Light Displays in Orange County that you can visit.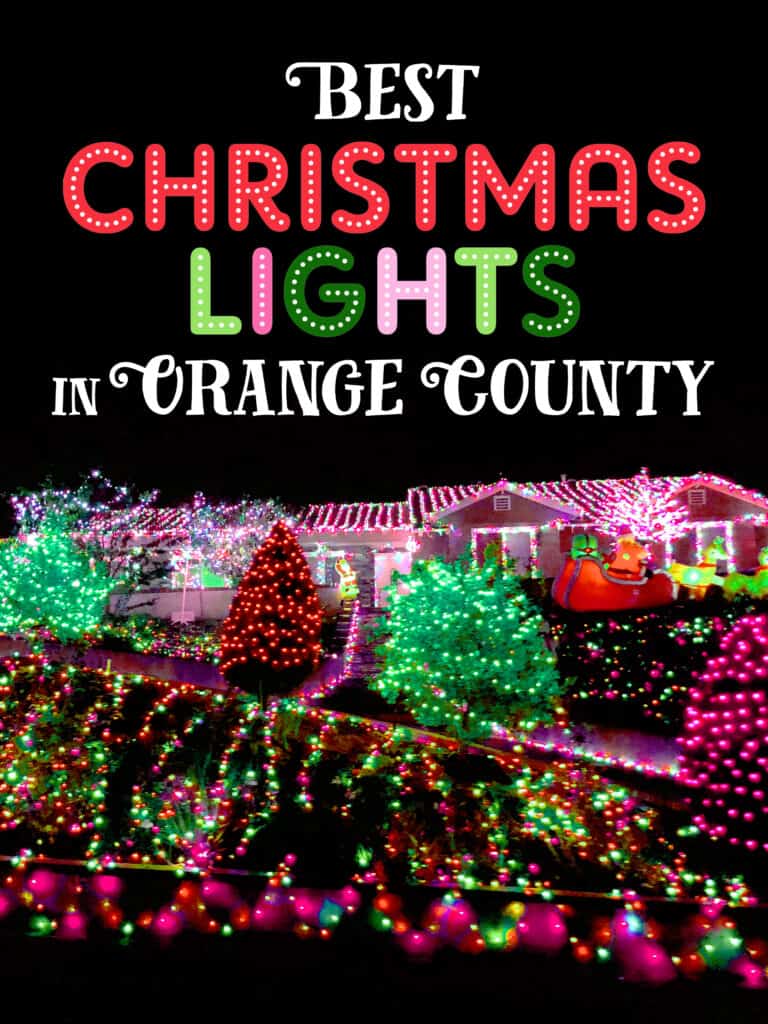 (Please let me know in the comments or email if you find a home that should be added, deleted or verified. It's hard to keep up with all the changes each year. ) jill@sandytoesandpopsicles.com
Where to Find the Best Christmas Lights in Orange County
These are the best Orange County houses decorated with Christmas lights listed by city. Note: Until later in the season, there's not guarantee these houses will be fully decorated. *Means verified for the season.
Aliso Viejo Christmas Lights
Glenwood Community *
Timberland*
Grandbriar, Aliso Viejo *
King Eider Lane, Aliso Viejo *
38 Endless Vista (Gated community, Dial 141.)*
2 Falcon Crest Lane *
Anaheim Christmas Lights
306 Barryknoll Street
224 E. Broadway
151 S. Jeanine Way
2118 W. Minerva Avenue
2715 N. River Trail Road
8382 E. Quiet Canyon Court
907 S. McCloud St.
1218 W. Katella
1407 W. Beacon Ave.
1605 E. South St.
835 S. Claudina St.
2116, 2113 & 1913 W. Harriet Lane
517 S. Nutwood St.
1185 N. Catalpa
1873 W Lullaby Lane
Anaheim Hills Christmas Lights
Bel Air Neighborhood* (Riverview & Santa Ana Canyon Road near Weir Canyon)
525 S. Circulo Lazo
Laurie Ann Lane
8382 E. Quiet Canyon Court
250 N. Avenida Malaga
6075 E. Avenida Arbol
1776 N. Cedar Glen Drive #A
1743 N. Willow Woods Drive #D
252 S. Camino de Naranjas
18501 E. Tango Ave.
Brea Christmas Lights
515 Cedar Avenue
Eagle Hills Tract
Birch Street (Kraemer & Birch) *
Shadetree Circle (Lambert & Wandering)
Buena Park Christmas Lights
8738 Harrison Way*
9242 Via Balboa Circle* (Christmas Tree House, Santa on weekends!)
7839 Pyracantha Circle*
8419 Santa Berta Way
20 Revell Circle
San Francisco Street* (and surrounding streets)
5673 Los Amigos Street*
Costa Mesa Christmas Lights
3150 Bear Street
Boa Vista Circle & nearby part of Stromboli Road*
Lilac & Santa Ana Avenue
2981 Redwood Avenue* (Train)
Samar Drive (Between Timor Drive & Ellesmere Avenue)*
Snoopy House* – at Costa Mesa City Hall December 17-22nd.
Tahiti Drive*
Coto De Caza Christmas Lights
Gooseberry Court (Must belong to community to enter)
Cypress Christmas Lights
5412 Camp Street* (Small World)
5531 Orange Avenue (Nightmare Before Christmas)
5208 Cumberland Drive
5216 Edgemont Circle
6803 Tiki Drive*
Dana Point Christmas Lights
Monarch Beach Homes
Calle Fortuna*
33652 Street of the Blue Lantern*
Fountain Valley Christmas Lights
Shadbush & Thistle (House has a mega-tree)
La Rosa Lane* ("It's a Small World" theme)
17936 Santa Olivia Street*
Salinas River Circle*
Fullerton Christmas Lights
Woods and Amerige
1424 S. Lombard
Mountain View Avenue & Fullerton Creek Road
Sparkle Ball Street, North Yale (500 Block) *
Garden Grove Christmas Lights
12201 Ora Street* (light show)
12112 Wutzke Street
6141 Killarney Avenue*
Huntington Beach Christmas Lights
La Cresta Circle*
19651 Sanderson Lane*
19792 Trident Lane*
Spinnaker & Horizon Drive*
6212 Larchwood Drive
Huntington Harbour's Davenport Island
Shively Street
20341 Brentstone Lane*
Irvine Christmas Lights
4262 & 4291 Fireside Circle*
41 Homeland
Landings off East Yale Loop*
Springbrook*
La Palma Christmas Lights
Dallas Avenue
5172 Huntswood Circle*
Houston Avenue
Tiara Lane
7682 Arroyo Circle
Ladera Ranch Christmas Lights
Bramford Street *
Shively Street*
Shelton Court & Sutherland Drive
73 Flintridge
Laguna Hills Christmas Lights
24694 Ashland Drive*
24631 Ashland Drive*
24203 Avenida De La Carlota
24422 Avenida De La Carlota, Suitee 120A*
26192 Bridlewood
25071 Buckskin Drive
26162 Buena Vista Court
25392 Champlain Road
26295 Eva Street
24992 Express Drive
25325 Gallup Circle
24902 Grissom Road
24996 Hendon Street
25301 Hillary Lane
24712 Kim Circle
24155 Laguna Hills Mall
24832 Largo Drive
54 Laurel Creek Lane
25511 Lone Pine
27322 Lost Colt Drive
28431 Lost Trail
Mawson Drive
23561 Marsala
25241 Northrup Drive*
25151 Northrup Drive*
25276 Orellano Way
26141 Red Corral Road
24771 Rittenhouse
26041 Spur Branch Lane* (Snowy Christmas Cottage)
Laguna Niguel Christmas Lights
Nellie Gail Road*
26041 Spur Branch Lane*
Elder Court*
5 Tunis
Hillhurst (off of Crown Valley & Alicia)*
Lake Forest Christmas Lights
Ashbrook Street
Buckwood Street
24952 Greenbay Drive
28322 Millwood Road* (Pixel Light Show)
Parkwood Street
Rimrock Street, Peachwood & Tamarisk (Trabuco Canyon & Lake Forest Drive)
Rushford Drive
22472 Sunlight Creek Ave
26162 Nightengale Court*
Mission Viejo Christmas Lights
Amato Street*
4 Amato*
25212 & 25323 Arcadian*
19 Argento*
27146 & 27021 Ayamonte*
23745 Via Astorga*
26812 Belleza Circle
21232 & 21316 Bishop*
23912 Bough Avenue (Nightmare Before Christmas House) *
25412 Brussels
26141 & 26166 Buscador*
Buscador Street*
36881 Calle Maria
21891 & 21892 Calderas*
25955 Camino Largo*
27402 Cenajo
200 Civic Center Drive*
27111 Cordero Lane*
26171 Cordillera Drive*
21921 Cosala*
27695 Estepona
25521 Gloriosa
32 Hawk Hill
26362 Ibeza Road
27445 La Cabra
22661 & 22681 Labrusca*
26735, 26682 & 26695 Manzanares*
Manzanares* (La Mancha Community off Marguerite Parkway)
27572 & 27611 Minaya
Mission Viejo Library*
27221 Monforte*
25654 Po Ave*
27093 Pinario*
24791 San Andres Lane
26771 San Gonzalo Drive*
Santa Pola*
23864 Sycamore Drive* (has 8pm karaoke every night)
26 Tesoro*
27815 & 27785 Tirante*
24592 Via Alvorado*
Via Amistoso Street*
23791 Via Astorga*
23611 Via Estella*
26001 Via Del Norte*
26431 Via Gaviota*
23271 Via Guadix*
26526 Via Lara*
25022 Spadra Lane*
23864 Sycamore*
Newport Beach Christmas Lights
El Paseo Street on Lido Peninsula *
205 & 207 E. Bay Avenue *
Harbor Island Drive *
200 Agate*
409 North Bay Front *
See the Balboa Peninsula House Lights from the WATER! - View millions of lights from the water on a Holiday Cruise with Newport Landing! Only $20 per person with this Holiday Lights Cruise Special ––> Newport Holiday Cruise Promo Code Coupon
Orange Christmas Lights
1138 West Cherry Drive*
Athens Street*
584 S. Laurinda Lane* (20 minute show)
Locust & Glassell
Pine Street *
557 N. La Nae Circle*
2409 E. Monroe* (Griswold style)
1320 N. Sarita Place
2532 El Sereno Drive*
1767 N. Lindenholz Street
463 N. Emerald Drive*
1906 N. Woodside Avenue
Placentia Christmas Lights
444 Normany, Placentia ("Frozen" House) *
718 Hibiscus Way, Placentia
4821 Sanbert Street*
Rancho Santa Margarita Christmas Lights
22 El Corazon
2 Castletree
20 El Corzo (Candy Cane Land) *
16 El Guiro*
41 La Sordina*
20 Calle Vaqueta*
San Clemente Christmas Lights
2931 Calle Heraldo, San Clemente *
Talega Seaside Neighborhood
Talega Stella Mare Neighborhood
San Juan

Capistrano

Christmas Lights
Santa Ana Christmas Lights
1225 W. 18th Street, Santa Ana*
1606 N. Linwood Avenue, Santa Ana*
2002 W. Elder Avenue, Santa Ana
1306 Richland Avenue, Santa Ana
Trabuco Canyon Christmas Lights
Wagon Wheel Neighborhood
28322 Millwood Road, Trabuco Canyon*
23 Kingfisher Court, Trabuco Canyon
Tustin Christmas Lights
Red Hill Avenue & Olwyn Drive
14452 Pinebrook Street (Chat with the Grinch booth on Sat. & Sun.)
3318 Brenham Street*
2351 Caper Tree Drive off Walnut between Tustin Ranch & Browning
14185 Paseo Corto *
Villa Park Christmas Lights
9852 Verde Lomas Circle, Villa Park ( Haunted Hallow)
Westminster Christmas Lights
Bolsa Chica & Westminster Boulevard and Northwestern & Bolsa Chica
5755 Westminster Boulevard, Westminster
Yorba Linda Christmas Lights
5474 Berryhill Drive, Yorba Linda
18162 Buena Vista Avenue, Yorba Linda *
18182 Buena Vista Avenue, Yorba Linda *
Avenue De La Luz, Yorba Linda *
East Lake Village (Village Center Drive & Avenida De Las Palomas) *
18181 Magnolia Way, Yorba Linda *
5792 Grandview Avenue, Yorba Linda *
18665 & 18974 Seabiscuit, Yorba Linda
20628 Calle Tranquillo, Yorba Linda
4712 Via Del Rancho, Yorba Linda
20630 Vista Del Sol, Yorba Linda *
Map of the Orange County Christmas Lights Locations
More Southern California Christmas Lights - Just Beyond OC
Best Christmas Lights in Los Angeles
Best Christmas Lights in San Diego
Halbrite Street in Long Beach
( Have any suggestions to add to the list? Is something on the list outdated? Please let us know! )
More Christmas Stuff
PLUS.....have you seen these?