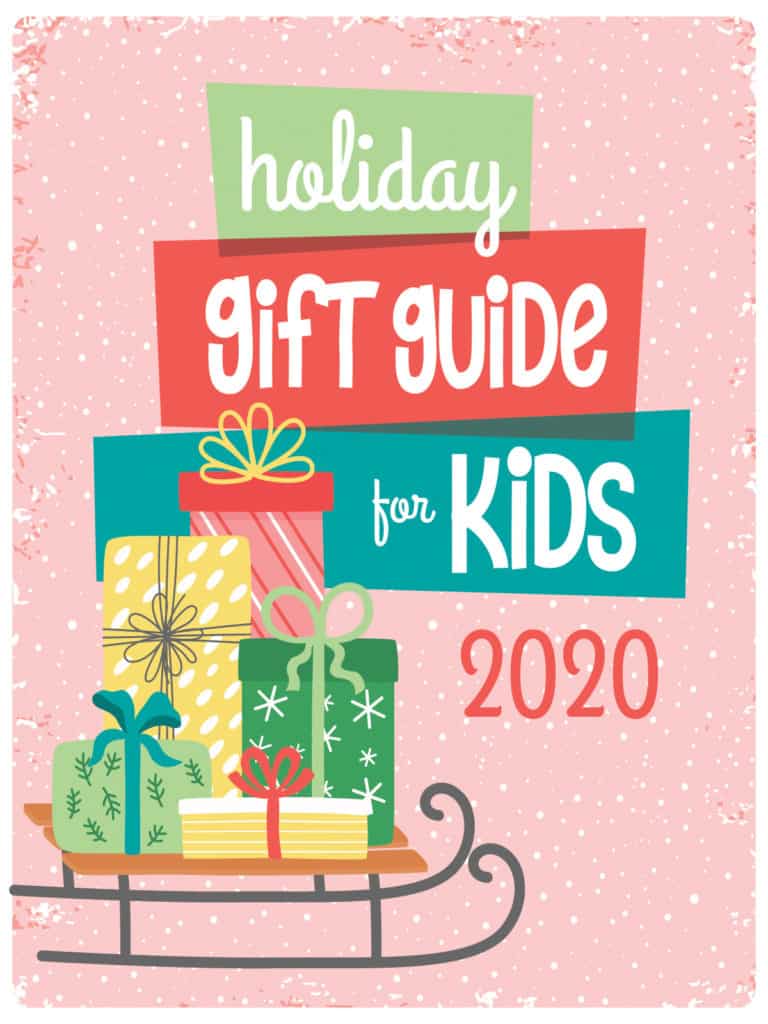 It's that time of the year! Time to shop for all your loved ones. But you may be needing some Holiday Gift Ideas for Kids. I don't know about you, but when it comes to finding presents, it's the hardest job to find good Christmas gift ideas for Kids.
This post contains affiliate links.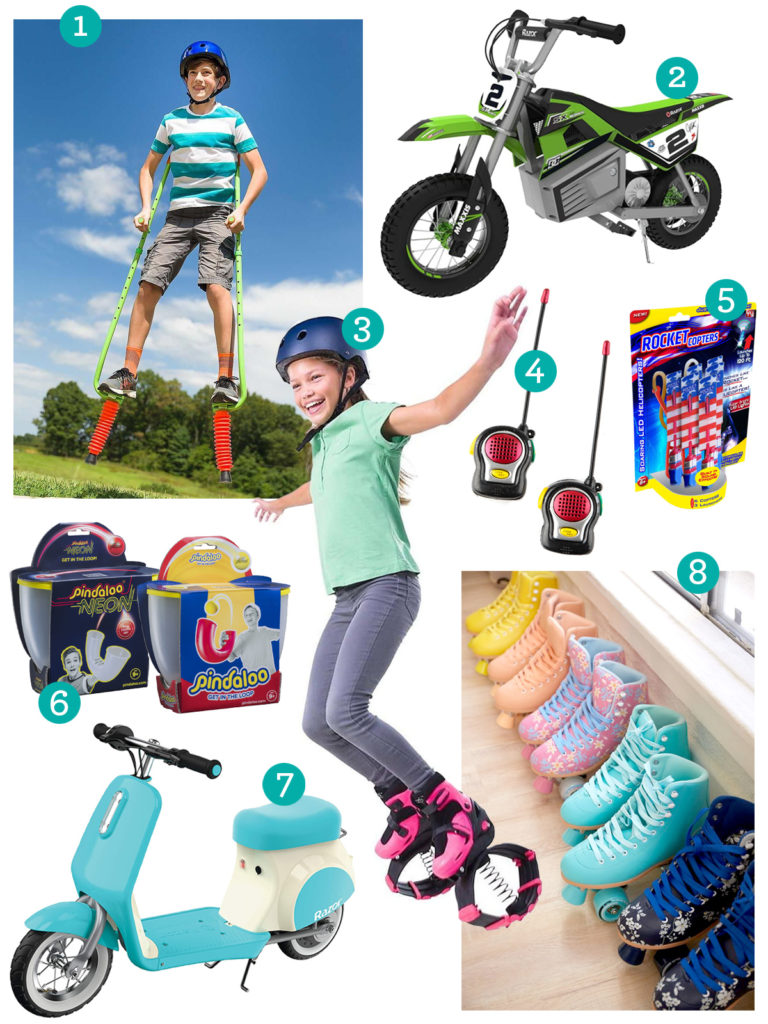 Outdoor Gift Ideas for Kids
1. Bouncy Pogo Stilts for Kids – Combine pogo and stilts and what do you get? Jump2It™ Bouncy Pogo Stilts! Hours of bouncing, balancing fun. Kids can use their imagination and make up their own games, or just bounce until their heart's content. More than just fun, bouncing on these Pogo Stilts engages core muscles, helping children build strength and balance.
2. Razor SX350 Dirt Rocket McGrath Electric Motocross – Inspired by the winningest supercross rider in history, Jeremy McGrath. Complete with authentic McGrath graphics and MX-frame geometry, the SX350 scales Jeremy's iconic bike down to size for younger riders. Carries riders at speeds of up to 14 mph with up to 30 minutes of continuous use.
3. Jump2It™ Bouncy Jumping Shoes – Jump like a kangaroo or imagine you're defying gravity on the moon with Jump2It™ Bouncy Jumping Shoes. Like mini-trampolines for the feet, the possibilities are so exciting when kids slip on a pair! Whether running and jumping through the air, adding extra excitement to a hopscotch course, or pretending to be an astronaut, these durable bouncy shoes will take active play to new heights of fun!
4. World's Smallest Walkie Talkies – World's Smallest Walkie Talkies. Push to talk. Morse code key. Flexible antennas. Works through walls, floors, steel, and concrete. Up to 100 foot range!
5. Rocket Copters – With bright LEDs and a durable design, the light-up launching power of the Rocket Copters provides fun for all ages. These impact-resistant mini helicopters can soar up to 120 feet into the air and feature lights that can be seem from a half-mile away!
6. Pindaloo – Pindaloo is an exciting skill toy that can help improve cognition and coordination all while having fun. It's easy to take wherever you go, inside or outside. No batteries needed, you just have to throw the ball into the air & start looping. Start with simple 'ball through Pindaloo loop' and then try to keep ball moving in continuous loop. Once you master the basics, you'll find endless throwing & catching tricks for cool interactive play. Play indoors and outdoors, either way this toy is great for the whole family. Once you teach yourself the first step, you'll find that it's impossible to put down..
7. Razor Pocket Mod Petite - A vintage-inspired electric scooter scaled-down and slowed-down for riders age 7 and up, with a maximum weight of 110 lbs. Cute Retro Styling – Featuring a two-tone jewelry box colored body, color matching padded seat, twist-grip throttle control, and hand-operated brake.
8. C7SKATES Premium Quad Roller Skates – Stand out while you glide through the roller rink in these quad-format roller skates by C7skates. Premium design features a faux leather lace-up boot with a padded build, propped on lightweight aluminum trucks with carbon bearings, classic wheels and toe stopper.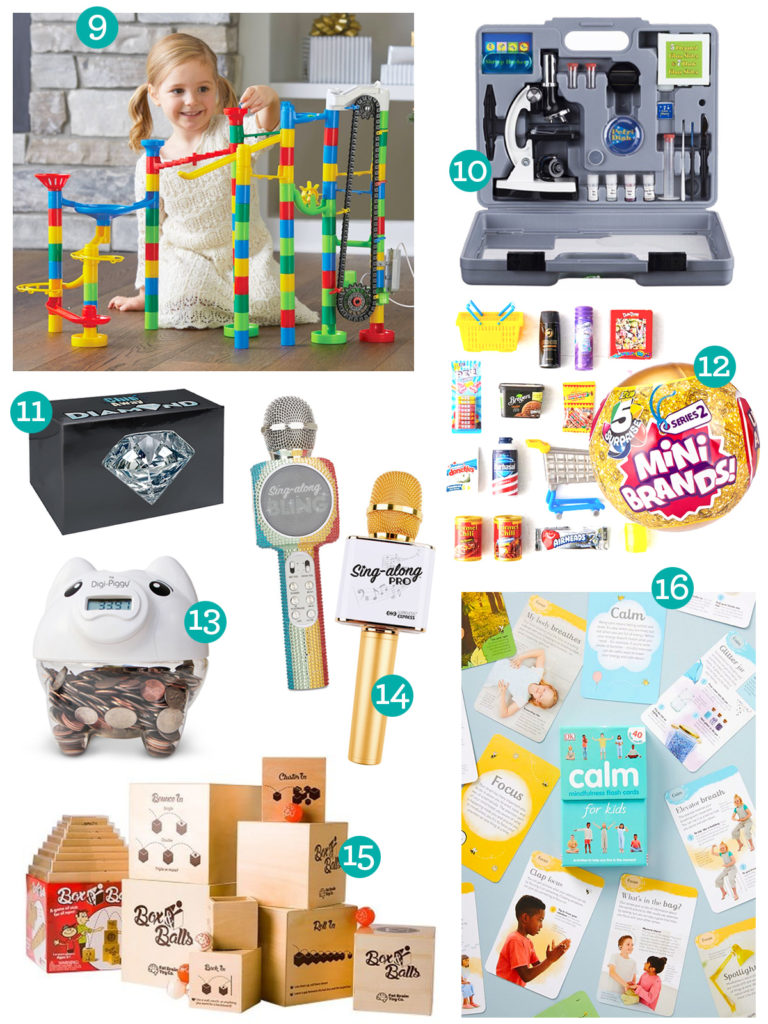 Fun Phone Accessories
9. Mindware Elevator Marble Run – If you have a young engineer looking for continuous marble action, let's roll! With a motorized elevator, obstacles and trick pieces, this marble run kicks creativity up a notch. Twistier turns, trickier tricks and taller towers create a hands-on physics lesson like no other. If only every STEM activity could include an airborne jump, double funnel and roller coaster rails!
10. AmScope 120X-1200X 52-piece Beginner Microscope Kit with Slides – AmScope KidsS microscopes are made of the finestmaterials and with the best optics to ensure that you get precise answers and solutions to all your endeavrs. This science microscopy kit includes a greatbeginner level biological microscope equipped with advanced features and allthe necessities of accessories, as well as the popular beginners' microscopebook "The World of The Microscope". This kit is great forbeginning scientists.
11. Diamond Excavation Kit - Make like a mini archaeologist and, using the tools included with this fun excavation kit, chip away at the rocky material to reveal your hidden treasure. Will you strike it lucky? One in 24 boxes contains a real diamond, but every kit contains a collector's specimen gemstone, including red onyx, picture jasper, black line jasper, tiger eye, volcano rock or rose crystal. Perfect for budding geologists, it makes a great stocking stuffer.
12. 5 Surprise Mini Brands Surprise Ball – Open up this surprise blind box ball to reveal a kitschy collection of miniature figures of your nostalgic faves, from Airheads to Wet Ones and everything in between. Every ball is different. Holiday Gift Ideas for Kids have never been so fun!
13. Digi-Piggy – Kids slip their coins between Piggy's ears and the total amount deposited flashes three times. Then, the entire amount within piggy is again shown and constantly displayed thereafter for satisfaction and reassurance of their savings. Encourage children to save. Give them the reward of watching their diligence prosper. Teach money principles in a fun way. Digi-Piggy is so cute and profitable.
14. Sing-Along Pro Karaoke Microphone – Get ready to sing your heart out with the Sing-Along Pro Karaoke Microphone! This 2-in-1 microphone and Bluetooth speaker allows you to take the karaoke fun wherever you go. This mic and stereo speaker combo works with all karaoke apps by simply connecting it to your smartphone, tablet, or computer and its compatible with Android and Apple operating systems. This microphone can be used independently, and has 5 built-in filters for high pitch, bass, volume, reverb, and accompaniment for lots of fun and full control. Comes with a USB charger and a high capacity battery for up to 5 hours of enjoyable wireless portable entertainment.
15. Box & Balls – From little kids just starting to test their hand-eye coordination, to college-age party games, to anyone who loves a skillful challenge! Play alone, in pairs, or even in groups. Get rolling, get bouncing, get Box'n! A rolling, bouncing, banking, stacking, nesting gameStrengthens hand-eye-bouncy-ball coordination and fine motor skillsStrengthens strategy planning and game rule creation skillsWhat looks simple becomes unpredictable with bouncy balls! Great for little kids, teens, party games, family challengesPlay alone, in pairs, or even in groupsEach box offers game suggestions to get you started!Create more games and challenges yourself!
16. Kids Mindfulness Flash Cards – The perfect introduction to mindfulness, this box of 40 flash cards teaches your little one how to be mindful and handle stress by focusing thoughts and noticing the world around them.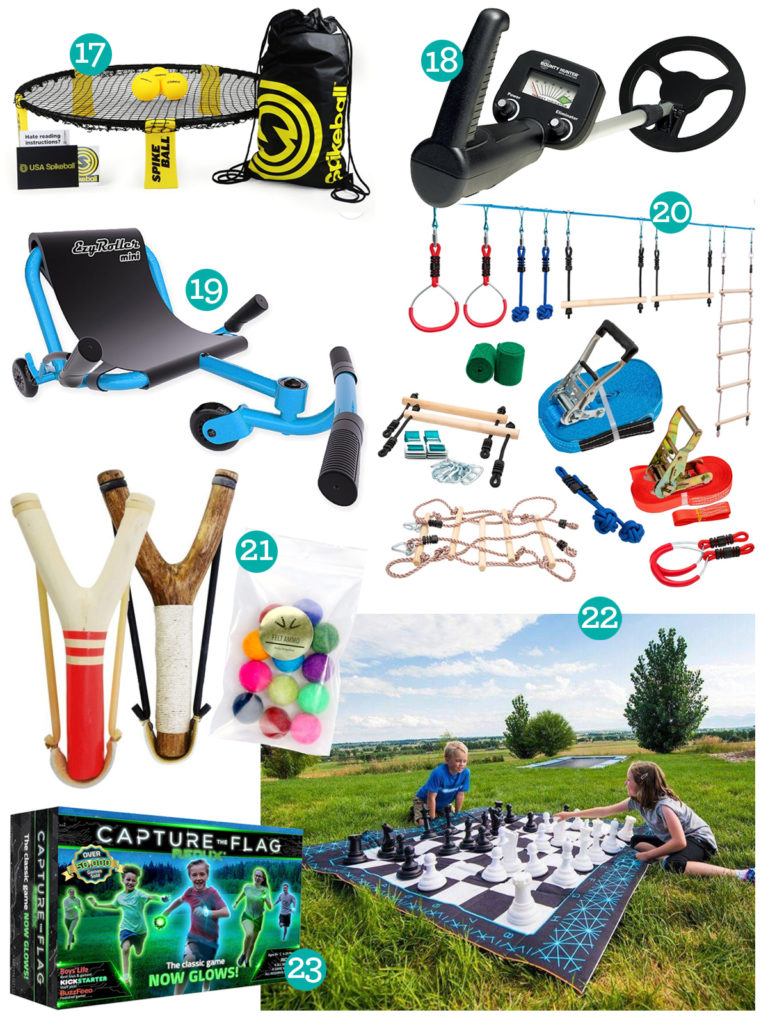 Gifts for the Gamer
17. Spikeball – Spikeball is easy to play and easy to set up! Includes a net, 3 balls, a drawstring bag and instructions. With rules combining four square and volleyball, this fun game is played by two teams of two players each.
18. Bounty Hunter Junior Metal Detector – Introduce your child to the thrill of discovery with the Bounty Hunter junior metal detector. With a finely tuned discrimination control to eliminate unwanted items on par with that of the highest-quality metal detectors, treasure hunting becomes fun and easy. It has a compact and ergonomic design, making it ideally suited to be a kid's metal detector. It also has feedback volume that is proportional to the signal strength, so it's easy for beginners to learn how to use the Bounty Hunter junior metal detector and start treasure hunting wherever their adventures take them.
19. EzyRoller Mini Riding Machine – Your child will love cruising around the playground and on sidewalks with the EzyRoller Mini Riding Machine. Boasting a low profile design, this brightly colored ride-on curves around flat pavement with easy right/left leg movements.
20. Ninja Warrior Obstacle Course for Kids – BECOME A NINJA! ..Learn to train like a ninja warrior! Overcome all obstacles, jump, climb, play, run and grab your way to the top with this customizable ninja slackline obstacle course! Two lines are included in the kit. Ninja line can be used as ninja obstacle course for kids. Slackline can be used as a balance training line to improve balance and coordination. Arm Trainer is also included.
21. Hella Slingshots – This slingshot is the real deal, and it's stylish to boot. Each one-of-a-kind slingshot is handmade in San Francisco from forked tree branches, carefully airbrushed with acrylic paint, and outfitted with a leather projectile pouch using natural latex tubing and imitation sinew. Pair with felt balls for endless fun.
22. 4Fun Jumbo Chess & Checkers Set – Enjoy a game of giant proportions with this Jumbo Chess and Checkers Set. Teaches patience, turn-taking and problem-solving skills.The plastic and waterproof construction makes this set ideal for indoor or outdoor play. Molded chess set with removable bases for convenience. Chess pieces range from 6" to 10" tall. Checkers' diameter is 4-¼". Mat is made of waterproof material and measures 70" x 62" in size. May be used for both games. Includes storage bag.
23. Glow-in-the-Dark Capture the Flag Game – Capture the Flag REDUX is an exciting nighttime Glow-in-the-Dark outdoor game for groups of friends. Play Capture the Flag anywhere with space to run, in the dark, using futuristic lights!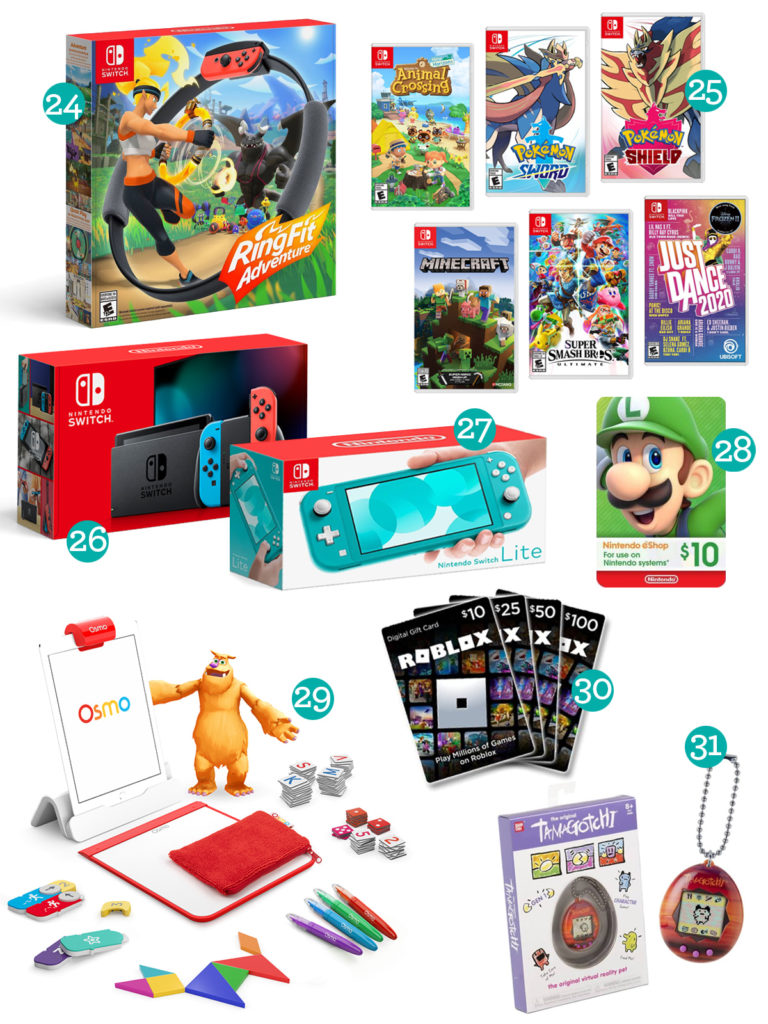 Electronic Gifts Kids Love
24. Nintendo Switch, Ring Fit Adventure – An adventure game that's also a workout! Explore a fantastical adventure world to defeat a bodybuilding dragon and his minions using real-life exercises! Traverse grass-swept plains by jogging in place, attack enemies with overhead shoulder presses, and refill your health meter by striking some yoga poses. Two new accessories, Ring -Con and Leg Strap, measure your real-world actions and help turn them into in-game movements. With additional minigames, Ring Fit Adventure is great escape for players of all skill levels and schedules. You can also check your estimated pulse rate with the built-in IR Motion Sensor.
25. Nintendo Games for Switch and Switch Lite – There are so many fun games for your Nintendo consoles. Our favorites are: Animal Crossing, Just Dance 2020, Pokemon Sword, Pokemon Shield, Minecraft, Super Smashbrothers, Luigi's Mansion 3, and Mario Party.
26. Nintendo Switch Console – Nintendo Switch makes one of the ultimate holiday gift ideas for kids of all ages. It is the best home video game system that provides single and multiplayer thrills at home or on-the-go. At home the system rests in the Nintendo Switch dock, which lets you play on a TV in the comfort of your living room. By simply lifting Nintendo Switch from the dock, the system instantly transitions to handheld mode, and the same great gaming experience that was being enjoyed at home now travels with you. Its 6.2-inch screen displays bright, high-definition gameplay at the park, on an airplane, in a car, or at a friend's apartment. This bundle includes the Nintendo Switch console and Nintendo Switch dock in black, with contrasting left and right Joy-Con controllers-one blue, one red. It also includes all the extras you need to get started.
27. Nintendo Switch Lite Console – Introducing Nintendo Switch Lite, a new version of the Nintendo Switch system that's optimized for personal, handheld play. With a built-in +Control Pad, and a sleek, unibody design, Nintendo Switch Lite is great for on-the-go gaming at a great price. Compatible with popular games such as Super Mario Odyssey, Mario Kart 8 Deluxe, Super Smash Bros. Ultimate, The Legend of Zelda: Breath of the Wild, and more.
28. Nintendo Gift Cards – This is what the kids who love Nintendo really want. You can find a gift card for any system your favorite kid has. From monthly subscriptions to individual games, there are lots of gift card options.
29.OSMO – Osmo merges tactile exploration with innovative technology, actively engaging children in the learning process. Put your device in a compatible Osmo Base with the red reflector over the device's camera. Play with physical game pieces — draw, code, spell, and more. Osmo scans the table and your child's creations come alive on the screen!
30. Roblox Gift Cards – This is what the kids who love Roblox really want. You can find a gift card for any system your favorite kid has. From monthly subscriptions to individual games, there are lots of gift card options.
31. Tamagotchi - Original Digital Pet – Care for a virtual reality pet with this Tamagotchi original interactive toy. Watch your Tamagotchi grow from egg to child and adult as you perform a multitude of actions, from feeding and play to health checks and cleanup. This Tamagotchi original interactive toy comes in an assortment of bright colors and is small enough to slip on a backpack or bag.
Wow...that's a lot of gifts! Ready for some more Holiday gift ideas for kids?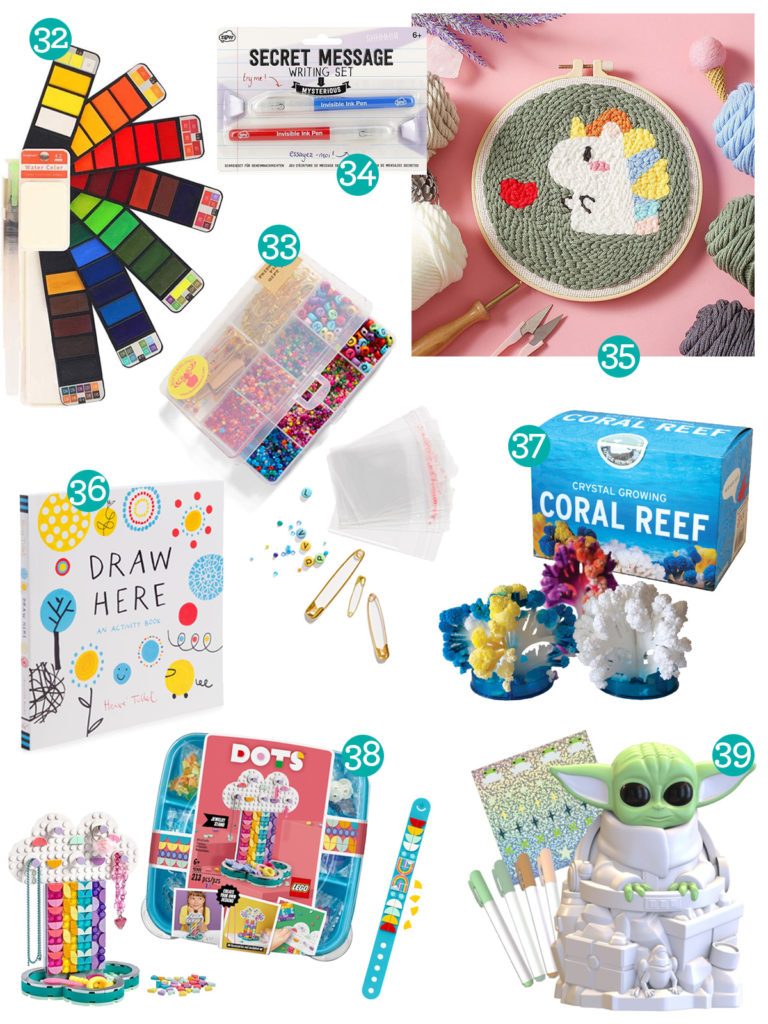 Crafty Fun for Kids
32. Pocket Watercolor Kit – This portable watercolor paint set comes with 42 pigments, a water brush, a palette and a sponge. All of these are in a plastic, very convenient for using and storage. You can slip it easily into your jacket pocket, travel bag and backpack.
33. DIY Friendship Pin Kit – A DIY kit complete with safety pins and colorful beads has everything you need to make thoughtful handmade gifts for you and your BFFs.
34. Secret Message Writing Set – Incoming: Top secret message! They'll love to write and send hidden messages with this fun set, complete with invisible ink and a battery-powered UV light in the pen's cap.
35. Punch Needle Kits – This punch needle kit will be perfect for your little craft enthusiast. Great for both beginners and professionals. It's very easy to learn, and you can complete the embroidery by constantly poking, just follow our pattern to create beautiful designs. And also I will provide you with all necessary supplies you need.
36. 'Draw Here: An Activity Book' Book – Part of a bestselling series, this interactive book brims with activities, from solving mazes to matching colored dots to growing a whole village of dot people.
37. Crystal Growing Coral Reef – This coral reef kit creates a colorful variety of coral. This kit includes 3 coral forms, trays, terraforming solution, and instructions to create a great reef, all in a 4 x 6 x 4 inch box. It's like snorkeling at your desk!
38. LEGO® DOTS – Jump into a colorful world full of creativity and fun with LEGO® DOTS sets! Kids can explore different ways to express themselves with bracelets or room décor items that they can assemble, design and decorate again and again. There are no rules with these sets, just blank canvases, colorful tiles and a child's imagination.
39. The Child™ Design A Vinyl – Customize your own collectible with this The Child vinyl. This cute Star Wars™ vinyl is ready to be colored and adorned with stickers. After adding your personal touch to this piece, you can proudly display it on a countertop, desk, or shelf.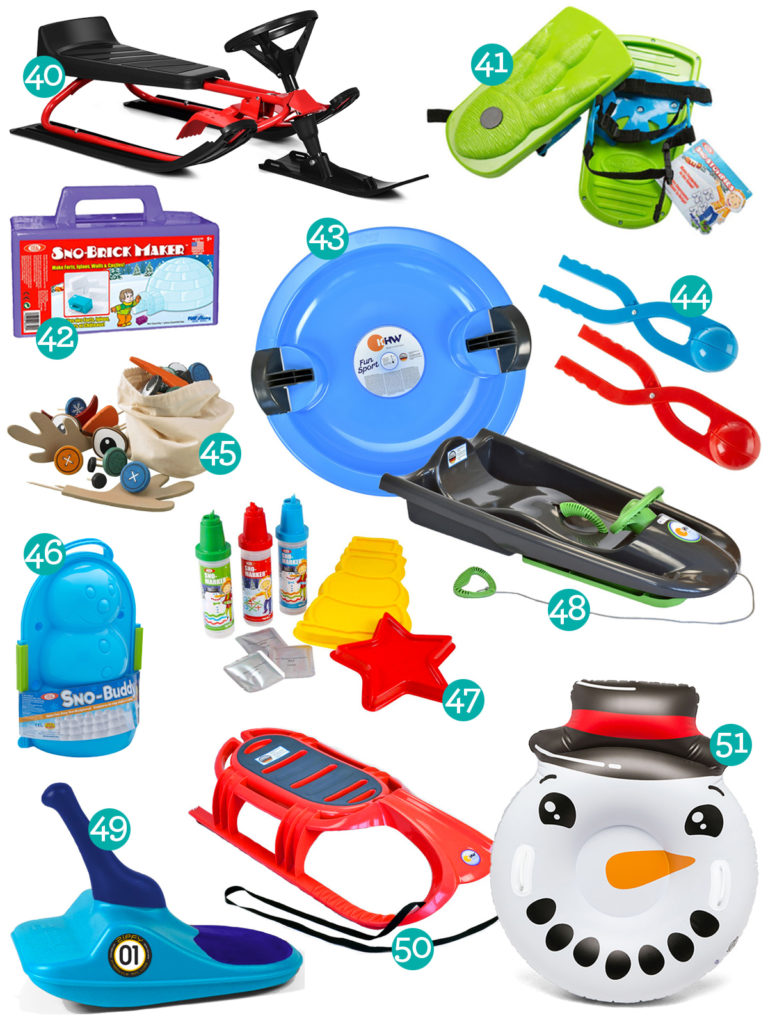 Fun Snow Gift Ideas
40. Giantex Snow Racer Ski Sled w/Steering Wheel & Twin Brakes – This racer sled is equipped with double foot brakes, a steering wheel and a steel column to ensure that steering doesn't override and the sled slides evenly on any steep downhill runs.
41. Sno Stompers Or Sand Stompers – Stompers will assist your child exploring in the sand and snow, and are very easy to snap on or off your child's feet, shoes, or boots. Track-making children use imagination and pretend they are animals in the wild leaving large footprints.
42. Sno-Brick Maker – Pack snow into the Sno-Brick Maker and out slide straight bricks - 9.5 x 4.5 x 5 inches. Igloos, fortresses, walls, caves, towers, and high rise buildings are being built up in your yard. The snow is flying and kids are swept up in the flurry of creativity.
43. Kettler Fun UFO Sled – This classic style sled is a fun, timeless way to enjoy the snowy weather. It has two handles to allow for steering and braking.
44. Snowball Maker – Get ready for winter fun with the Hey! Play! Snowball Maker! This snow ball tool helps you easily create the perfect snowball in just seconds, so you can stock up for a snowball fight showdown with friends or family.
45. Snowman Family Kit – Everything you need to create a frosty family and pet, except the snow. L.L.Bean-exclusive kit includes glasses, carrot noses, eyes, antlers, buttons and more.
46. Sno-Buddy Snowman – Ideal Sno Toys Sno-Buddy Snowman is a snow mold that lets you create a snowman in seconds. Build a whole army to protect your yard in minutes! Just pack each half of the mold with snow, snap them together and pull them apart to unleash your Sno-Buddy into the world. Snowman stands 11in. tall by 7in. wide. Includes a 2-piece mold.
47. Snow Art Kit – Take it outside! Turn an ordinary snow day into a get-up-and-go day. Imprint fun molds into the snow and color them in with your kids, using these Sno-Crayons, for a winter wonderland art escape.
48. Kettler Snow Sleds – Dominate the slopes with a KETTLER snow sled. Built to last for a lifetime of winter fun, our sleds will blast past the others leaving a spray of snow in its wake.
49. Mini Luge Ride-On Speedster Snow Sled – transform sledding into a competitive family sport with this dynamic downhill snow rider.Uniquely designed, this mini sled is built with your safety in mind. The feet-first luge design allows users total control to slow down and stop quickly during their ride using their feet and heels. Once you're at the top of the hill, take off downhill and maneuver turns using the distinctive center lever. While the rail design on the underbelly of the luge enhances stability, the anti-skid vinyl seat provides maximum comfort as you shred down the slopes.When you've reached the bottom of hill, effortlessly carry this lightweight toboggan back up the slopes for another race.
50. Kettler Snow Sleds – Dominate the slopes with a KETTLER snow sled. Built to last for a lifetime of winter fun, our sleds will blast past the others leaving a spray of snow in its wake.
51. Snowman Face Snow Tube - Printed with a bright smile and complete with a black top hat, this friendly snowman sled is sure to fill young imaginations with winter wonder. The durable PVC vinyl withstands the extreme cold, the comfort-grip handles are just-right for glove-covered hands, and the thick cushion of air provides a smooth, cushy ride.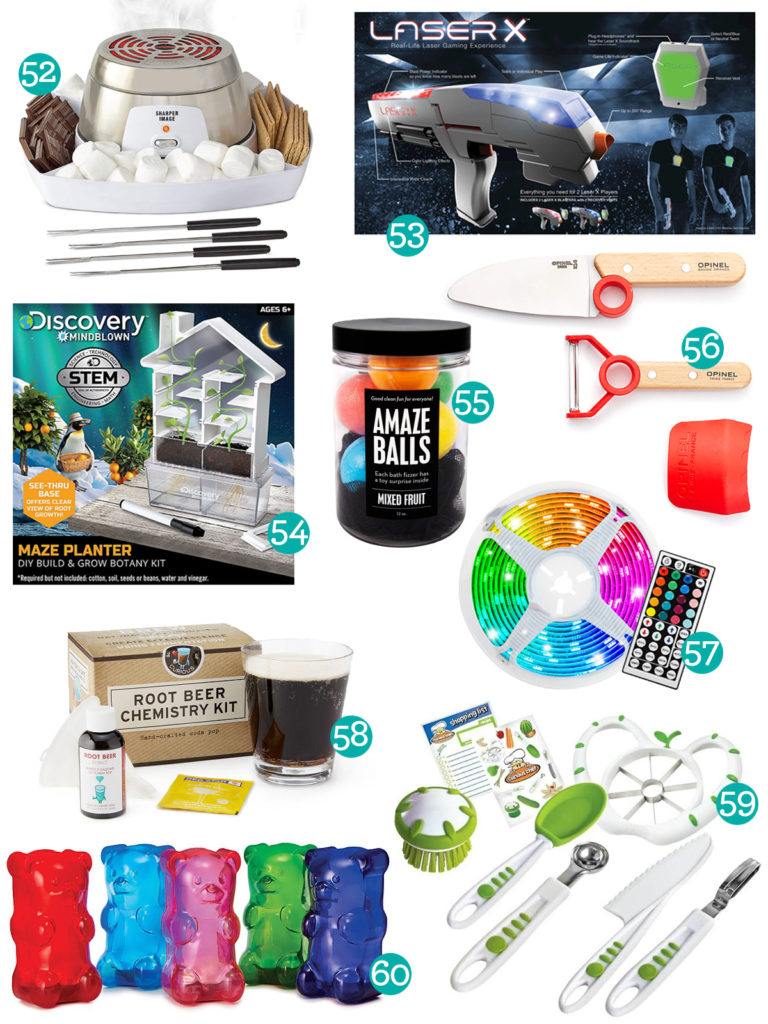 Unique Gift Ideas for Kids
52. Sharper Image Electric S'mores Maker – Bring the campfire experience right to your kitchen or dining room with the Sharper Image Electric S'mores Maker! The set includes everything you need to (safely) recreate campfire-quality s'mores in the comfort of your own home. Make sure to buy some marshmallows, chocolate and graham crackers.
53. Laser X Two Player Laser Tag Blaster Set – Now it's your turn to show-off your skills and have total fun! Designed to give you a real-life laser tag gaming experience, this Laser X Two Player Laser Tag Gaming Set is just what you need to have endless hours of play time fun. The laser tag set packs two blasters and two receiving vests. Whether you're having a one-on-one competition with your best buddy or looking for a team game with other players, this toy is perfect for you since it is compatible with all other Laser X sets as well.
54. Discovery™ MINDBLOWN Kids DIY Maze Planter – Design your own terrarium maze and grow plants in unique and interesting ways with the Discovery MINDBLOWN Kids DIY Maze Planter. The fun home lab project uses real botany principals as kids experiment with different planting designs.
55. Da Bomb Bath Fizzers Amaze Balls Bath Bomb Jar – Six mini bath bombs made with a surprise inside of each! Created by a pair of teenage sisterpreneurs™ and handmade in the USA. Made with a few simple ingredients, they won't stain your tub or skin.
56. Opinel Le Petit Chef Knife Set – Outfitted with naturally beautiful beech wood handles, these safety-conscious knives let kids learn knife skills. Along with a finger guard to protect little hands, the set includes a rounded-tip chef's knife and a vegetable peeler that allows young chefs to prep vegetables or create zucchini, cucumber and carrot ribbons that are as fun to eat as they are to make. Constructed of the same high-quality materials as Opinel's full-size blades, the steel blades resist corrosion, staining and wear for long-lasting sharpness and performance. Crafted in France, this darling knife set makes a fantastic gift for kids who love cooking.
57. Color Changing Strip Light Kit - The EEEkit 300 LED strip light kit is 16.4 feet, waterproof, and color changing. The RGB LED strip light tape comes with a remote control requires a 12V 2A Power Supply. Perfect for home lighting, decorating your room or lining space.
58. Root Beer Science Kit – Little foodies will love this kit that includes ingredients needed to brew up a fresh batch of root beer.
59. Curious Chef TCC50166 Fruit And Veggie Prep Kit – The Curious Chef TCC50166 fruit and vegetable prep kit was made with the highest standards of safety in mind. These are real cooking tools for kids, not toys. This handy fruit and veggie prep kit includes a veggie scrubber, nylon knife, mixing spoon, vegetable peeler, melon baller and apple slicer. The Curious Chef TCC50166 prep kit makes preparing and eating fruits and veggies fun for your kids.
60. Squishy Gummy Bear Light – These cute, LED light-up bears will brighten up any space with a squeeze of their gummy bellies.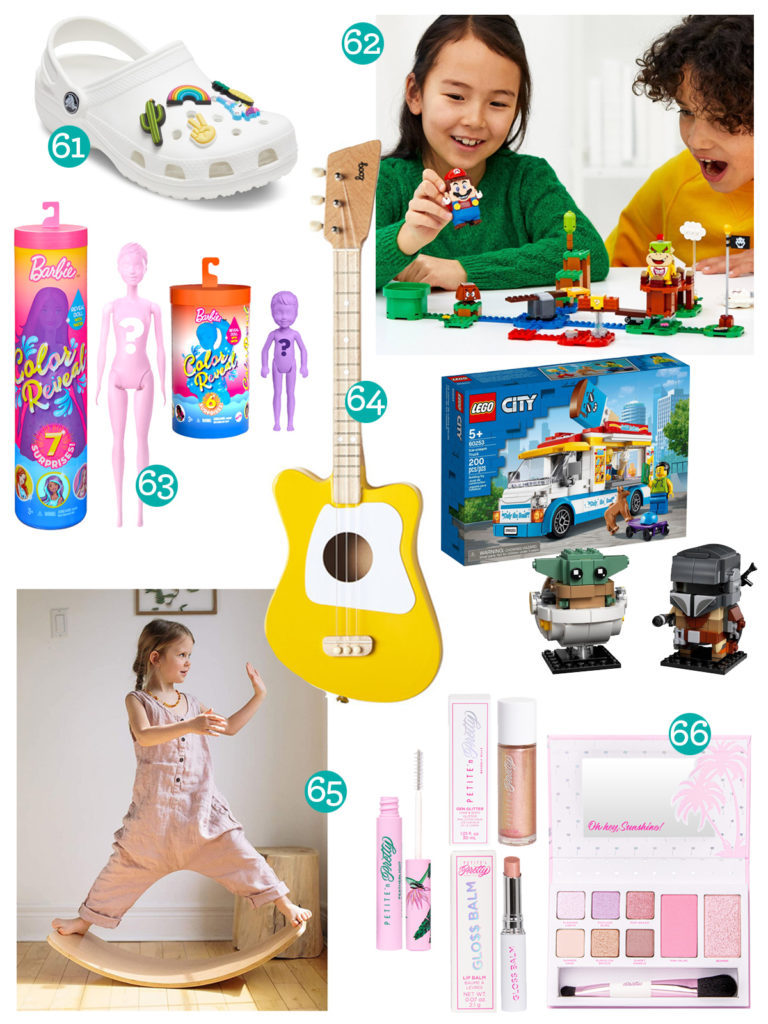 More Gift Ideas for Kids
61. Fun Trend Assorted 5-Pack Shoe Charms - Colorful, fun and perfect for personalizing any CROCS shoes, this set of five charms is also great for trading or sharing with friends.
62. LEGO – What more can I say about LEGO. They are loved by all kids, and there are so many different sets to choose from. There is sure to be a perfect one for that special gift getter.
63. Barbie Color Reveal – These are super fun!! Barbie Color Reveal dolls deliver an unboxing experience that's full of surprises -seven of them! A doll wearing a trendy fashion is guaranteed, but each doll's look remains a mystery until revealed. The packaging is part of the fun -pull the strip to remove the outer layer and reveal a clear tube. Inside is a mystery metallic blue Color Reveal doll and four bags hiding surprises within. Remove them all and fill the tube with warm water, then insert the doll and swirl her around. The water turns metallic blue, and when the doll is pulled out, her features are revealed!
64. Loog Guitar – Meet the ideal first guitar for children. The Loog Mini guitar is a real guitar crafted of wood with three low-action, nylon strings for easy playing. Designed for little hands, the Loog Mini is about the same size as a ukulele but plays and sounds like a classical guitar with standard tuning and perfect intonation, so anything kiddo learns on the Loog can be applied to a 6-string guitar.
65. Kindfeets Original Kinderboard – Unique multi-use toy supports toddlers, teens, and adults up to 485 pounds. There's nothing more inspiring than a wide-eyed, determined child. Inside or outside, give your child the gift of confidence with this versatile wooden toy. Cherish the time spent with your family as you take turns playing on this curved board. Your heart is guaranteed to melt as your sweet little one discovers heights, gravity, and balance. Once your little mover has mastered stability and the photo albums are full, get creative and use the Kinderboard as a seesaw, slide, doll bed, and more. Dutch designed from sturdy beechwood, hand-crafted from start to finish Kinderfeets Natural Waldorf Balance Board is built to last. Lightweight, yet stable and durable, this toy will remain a favorite as your child grows.
66. Petite 'n Pretty Kids Make-up – Pediatrician and dermatologist-approved makeup for kids. Petite 'n Pretty's goal is to provide young creatives with their best first beauty experience and inspire them as they embark on their beauty journey. From pallets to
Hope you like these ideas!
These are just 66 of our 2020 Holiday Gift Ideas for Kidss, but there are many more to come! Be sure to check out our other gift guides to find that perfect something for that perfect someone.
More Gift Guides...