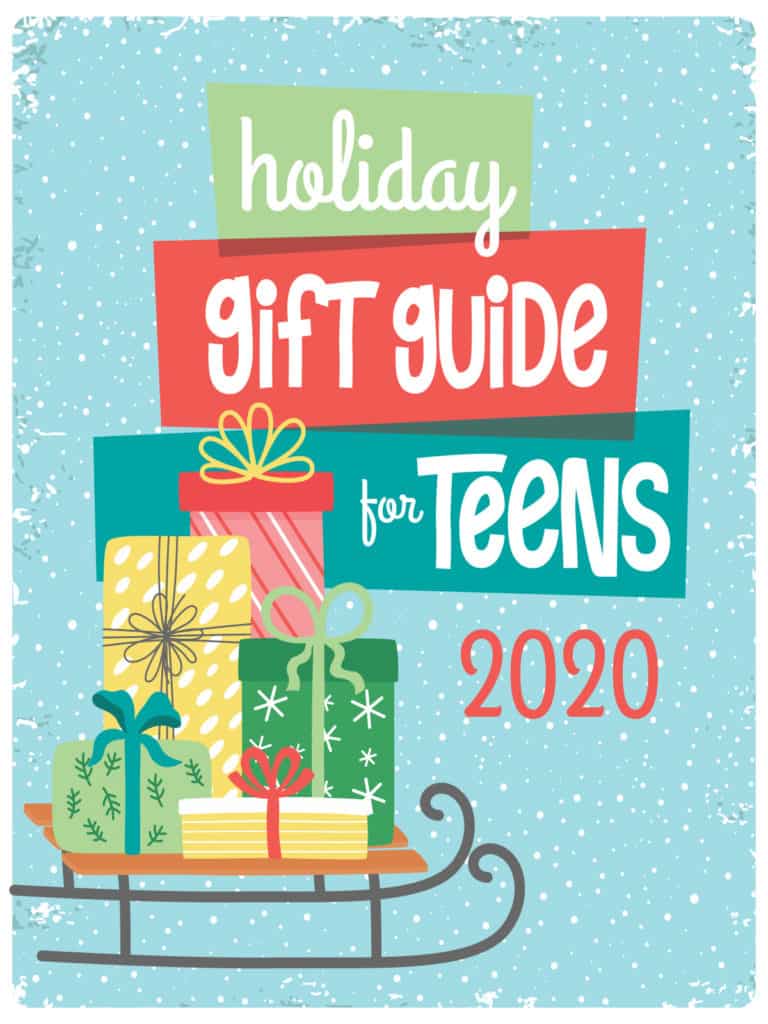 It's that time of the year! Time to shop for all your loved ones. But you may be needing some Holiday Gift Ideas for Teens. I don't know about you, but when it comes to finding presents, it's the hardest job to find good Christmas gift ideas for teens.
This post contains affiliate links.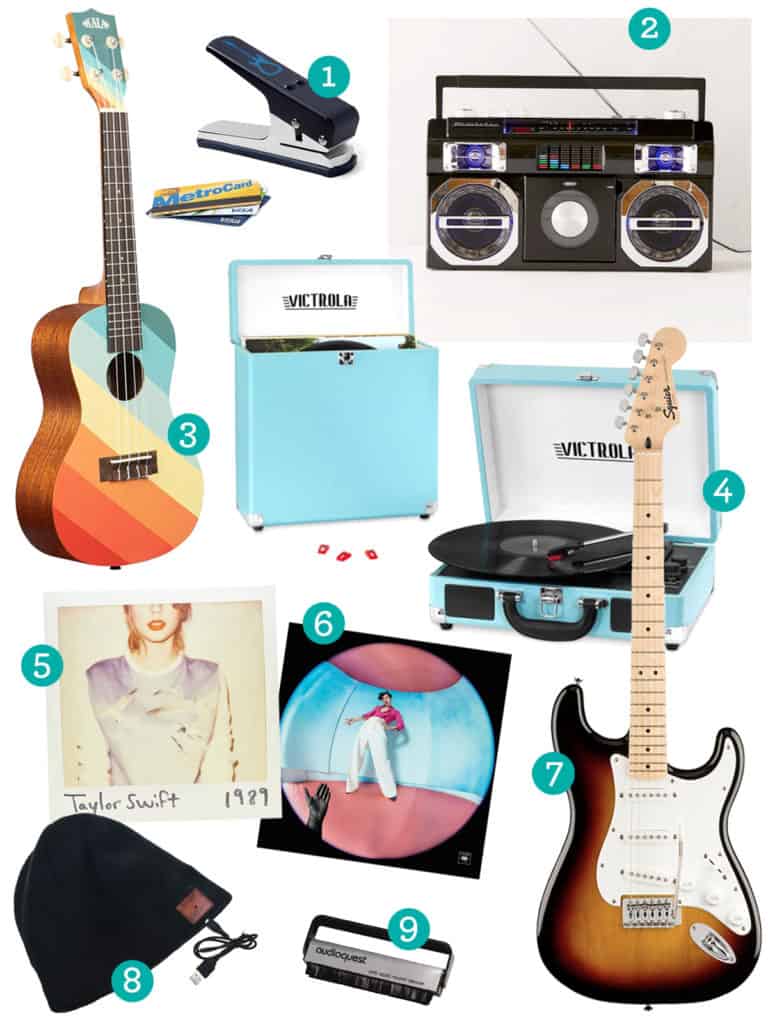 Musical Gift Ideas for Teens
1.Make Your Own Guitar Pick Punch – Turn unwanted plastic, like expired credit cards and IDs, into custom guitar picks.
2. Studebaker Retro Street Bluetooth Boombox – Hit the street with retro style and major sound when you play your favorite hits from this Bluetooth-enabled boombox by Studebaker. Play CDs, listen to the radio and stream digital playlists. Features a top handle for easy toting and telescoping antenna. Complete with a colorful LED equalizer.
3. Kala Far Out Ukulele – Whether heading for the surf or cruising in town, our Surf ukes are a go-to for beach vibes all year round. Enjoy the sound of summer in style, and make waves wherever you go. Your teen will love learning to play the ukulele!
4. Victrola Record Player Bundle – Bring retro back. The Victrola portable suitcase turntable is an absolute classic which includes built-in Bluetooth technology to wirelessly stream music from any Bluetooth enabled device. Bundle includes a 3-Speed Turntable, Record Storage Case and Replacement Needles. Features an RCA Aux-in and headphone jack, built-in stereo speakers, and a 3.5 mm aux-in jack for playing music from any non-Bluetooth device.
5. Taylor Swift '1989' LP Vinyl Album – Featuring the mega-hit single 'Shake It Off,' this Platinum-certified album is a hot splash of Taylor Swift's signature pop sound.
6. Harry Styles 'Fine Line' LP Vinyl Album – The sophomore solo release by Harry Styles, this two-record album offers up the hit singles 'Lights Up' and 'Watermelon Sugar' among it's pop-rock offerings.
7. Squier by Fender Stratocaster Beginner Pack – Learn to play the guitar with this beautiful Fender Squier guitar. Includes free 3-month subscription to Fender Play, Frontman 10G guitar amplifier, padded gig bag, instrument cable, instrument strap and picks
8. Bluetooth Beanie Hat – Have you tried wearing earbuds with a hat over them in winter? Uncomfortable and inconvenient. A bluetooth beanie makes it possible to listen to music and enjoy outside winter activities simultaneously. This beanie made of quality thermal insulation, lets you enjoy outdoor winter activities while listening to music. The built-in speaker and microphone lets you pick up calls directly!
9. Vinyl Record Cleaning Brush – Made from carbon fibers, the AudioQuest record brush gently reaches into the groove, pulling out dust and dirt that would otherwise snap, crackle, and pop through your speakers. Don't let those little intrusions turn into big interruptions.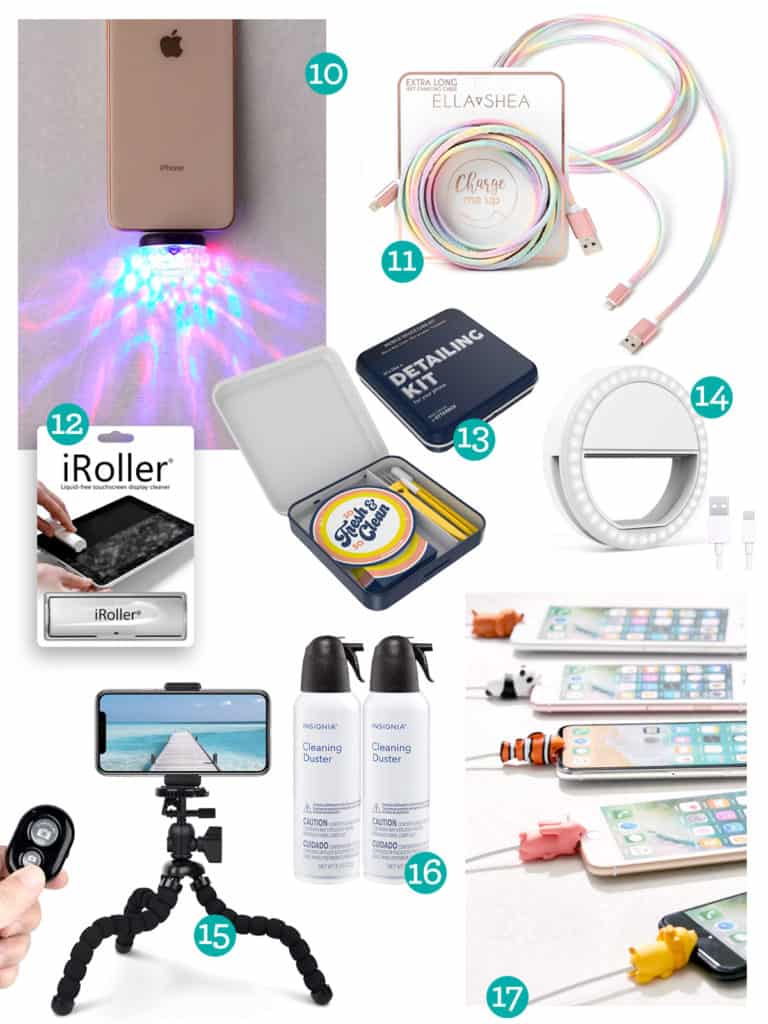 Fun Phone Accessories
10. Phone Disco Light - Get your groove on whether you're on or off the dance floor thanks to this disco light by Kikkerland Design. It plugs right into your phone's lightning port and lights up to the rhythm of your music. Compatible with iOS.
11. Pastel Rainbow 10FT USB to Lightening Cable – This 10 foot cable is super fun with it's rainbow colors and super long! You can never have enough phone cables. Right?!!!
12. iRoller Touchscreen Cleaner – Keep your screens crystal clear with this smart cleaner that removes smudges with ease.
13. OtterBox Mobile Device Detail Kit – Your phone goes through a lot —day in and day out. Keep the OtterBox Mobile Device Care Kit on hand to wipe away grime in a flash. Three specially designed brushes whisk away dust, lint and dirt from ports and jacks. The micro-fiber cloth clears smudges and fingerprints. And the 70% alcohol cleaning wipes wash grungy surfaces.
14. Clip-on Selfie Light Ring - Enjoy your perfectly lit selfies! Take away unflattering shadows with this clip-on selfie light ring. Simply clip-on a smart phone or computer monitor. It includes a built-in rechargeable battery so you do not need extra batteries, just a USB Cord. The dimmable ring goes from low-high brightness with three-level dimming options. Has 36 LED lamp beads for long life.
15. Mini Smart Phone Tripod – Take fun group photos with this mini flexible tripod with remote shutter and universal clip. Works for smart phones and sports Gopro. You can easily switch between Wrap Mode, Grip Mode and Stand Mode for your preferred use. Tripod legs are flexible and adjustable for any angle as the skid resistant rubber feet enable great stability.
16. Cleaning Dusters – Makes a great stocking stuffer. Easily clean your electronics with these Insignia™ cleaning dusters that utilize compressed gas with ozone-safe formula for efficient use and environmental friendliness. The 2-pack ensures you have a spare on hand.
17. Cable Bites for iPhone Cable Cords – These adorably cute animals are here to protect your iPhone cables!! Prevents the cable from disconnecting.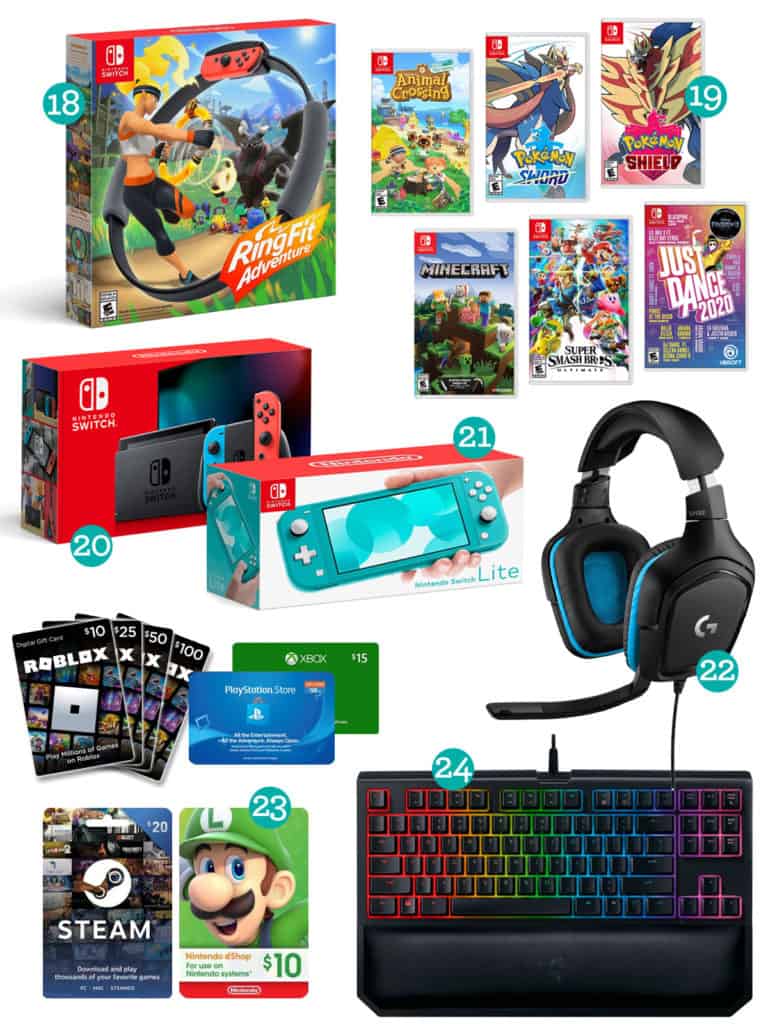 Gifts for the Gamer
18. Nintendo Switch, Ring Fit Adventure – An adventure game that's also a workout! Explore a fantastical adventure world to defeat a bodybuilding dragon and his minions using real-life exercises! Traverse grass-swept plains by jogging in place, attack enemies with overhead shoulder presses, and refill your health meter by striking some yoga poses. Two new accessories, Ring -Con and Leg Strap, measure your real-world actions and help turn them into in-game movements. With additional minigames, Ring Fit Adventure is great escape for players of all skill levels and schedules. You can also check your estimated pulse rate with the built-in IR Motion Sensor.
19. Nintendo Games for Switch and Switch Lite – There are so many fun games for your Nintendo consoles. Our favorites are: Animal Crossing, Just Dance 2020, Pokemon Sword, Pokemon Shield, Minecraft, Super Smashbrothers, Luigi's Mansion 3, and Mario Party.
20. Nintendo Switch Console – Nintendo Switch makes one of the ultimate holiday gift ideas for teens. It is the best home video game system that provides single and multiplayer thrills at home or on-the-go. At home the system rests in the Nintendo Switch dock, which lets you play on a TV in the comfort of your living room. By simply lifting Nintendo Switch from the dock, the system instantly transitions to handheld mode, and the same great gaming experience that was being enjoyed at home now travels with you. Its 6.2-inch screen displays bright, high-definition gameplay at the park, on an airplane, in a car, or at a friend's apartment. This bundle includes the Nintendo Switch console and Nintendo Switch dock in black, with contrasting left and right Joy-Con controllers-one blue, one red. It also includes all the extras you need to get started.
21. Nintendo Switch Lite Console – Introducing Nintendo Switch Lite, a new version of the Nintendo Switch system that's optimized for personal, handheld play. With a built-in +Control Pad, and a sleek, unibody design, Nintendo Switch Lite is great for on-the-go gaming at a great price. Compatible with popular games such as Super Mario Odyssey, Mario Kart 8 Deluxe, Super Smash Bros. Ultimate, The Legend of Zelda: Breath of the Wild, and more.
22. Logitech 7.1 Surround Sound Wired Headset – Three dimensional audio that goes beyond 7.1 channels to make you feel like you're right in the middle of the action
23. Gaming Gift Cards – This is what the teens really want. You can find a gift card for any system your favorite teen has. From monthly subscriptions to individual games, there are lots of gift card options.
24. Razer BlackWidow Tournament Chroma V2 Mechanical Gaming Keyboard – Designed specifically for gaming: Razer™ Mechanical Switches provide optimized actuation and reset points so commands are executed with blazing fast responsiveness. The ergonomic, magnetic wrist rest is made of plush leatherette to maximize comfort over extended gaming sessions.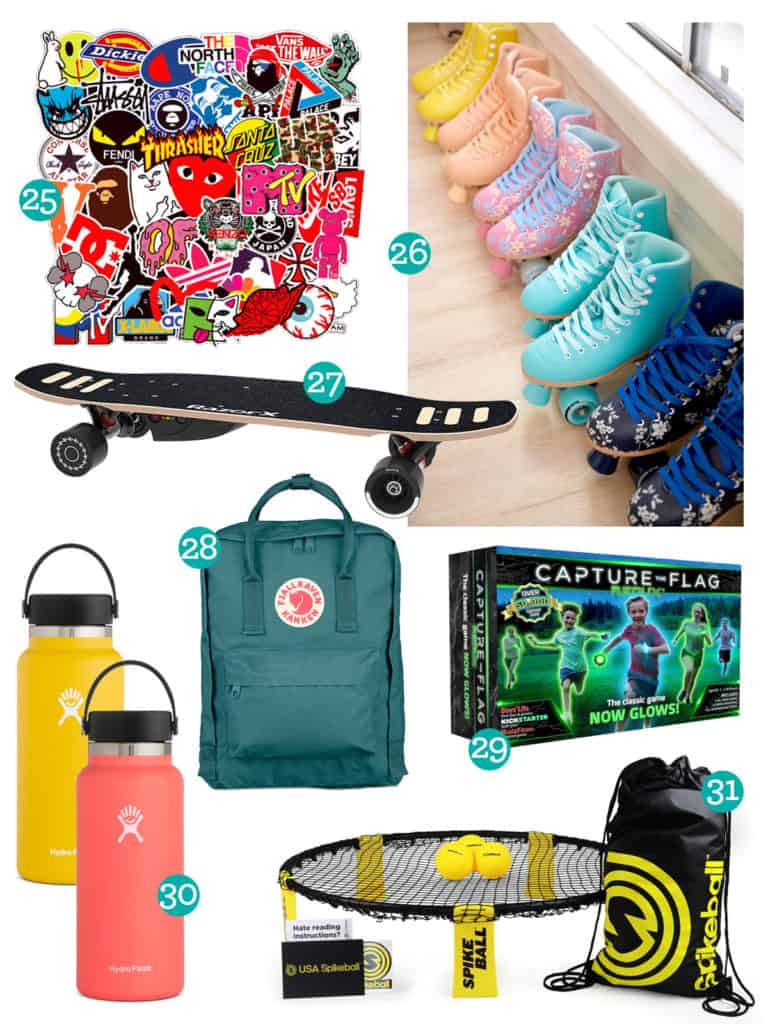 On-the-go Things Teens Love
25. Sticker Packs – Stickers are back and all the rage. Put them on laptops, Macbook, skateboards, luggage, cars, bicycles, bedroom walls, travel cases, snowboards, PS4, XBOX ONE, SWITCH...ANYWHERE!!!
26. C7SKATES Premium Quad Roller Skates – Stand out while you glide through the roller rink in these quad-format roller skates by C7skates. Premium design features a faux leather lace-up boot with a padded build, propped on lightweight aluminum trucks with carbon bearings, classic wheels and toe stopper.
27. RazorX DLX Electric Skateboard – This is the new era of skateboards. The RazorX DLX electric skateboard has a stealthy smooth, hub motor that hits speeds up to 12 mph (19 km/h). The rechargeable lithium-ion battery pack keeps you riding for up to 40 minutes of carve and cruise action. Use the wireless, hand-held remote for an instant connection to the powerful hub motor, with variable-speed control to help ease into and out of the throttle for a smooth, controlled ride.
28. FJÄLLRÄVEN Kånken Backpack – These backpacks are super popular with teens. Simple, stylish and functional, the Kanken backpack from Fjällräven is at home on the city streets or country trails. A lightweight backpack with removable cushion helps pad the contents until you're ready to take a rest.
29. Glow-in-the-Dark Capture the Flag Game – Capture the Flag REDUX is an exciting nighttime Glow-in-the-Dark outdoor game for groups of friends. Play Capture the Flag anywhere with space to run, in the dark, using futuristic lights!
30. HYDRO Flask – Perfect for the trail, the beach or everyday use, this large-capacity bottle is a hydration must-have. Pick from all the new colors...it's a teen must-have.
31. Spikeball – Spikeball is easy to play and easy to set up! Includes a net, 3 balls, a drawstring bag and instructions. With rules combining four square and volleyball, this fun game is played by two teams of two players each.
Wow...that's a lot of gifts! Ready for some more Holiday gift ideas for teens?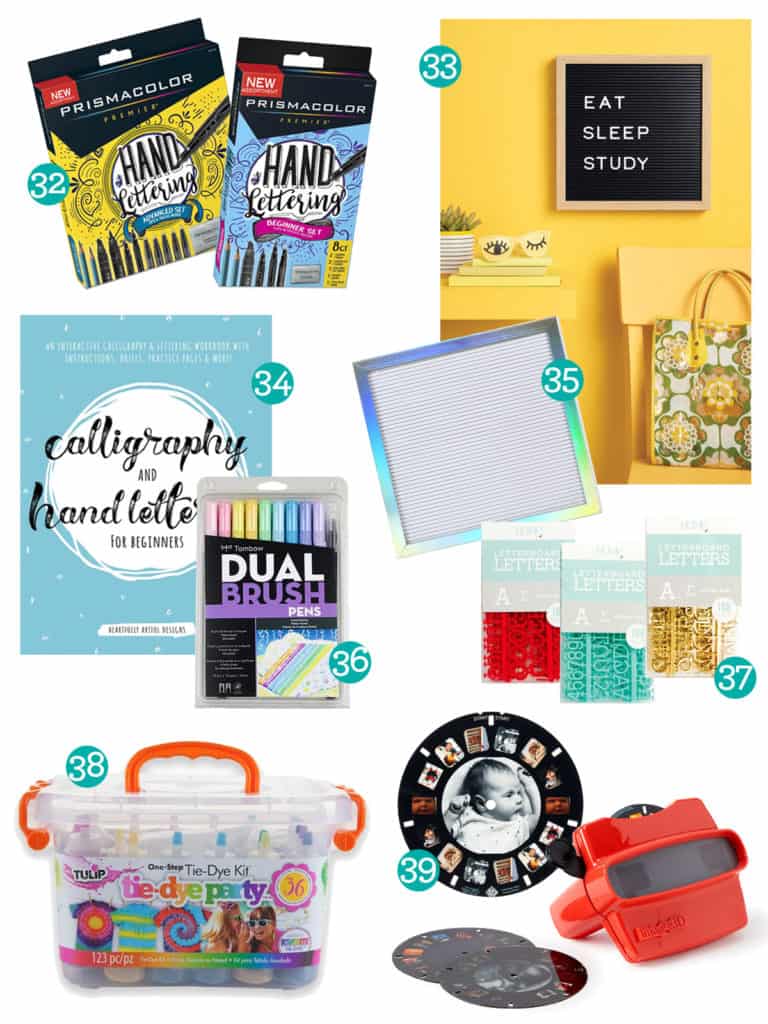 Crafty Fun for Teens
32. Prismacolor® Advanced Hand Lettering Set & Prismacolor® Beginning Hand Lettering Set – This advanced hand lettering set from Prismacolor will make the perfect addition to your art and craft supplies. It includes everything you need to give your scrapbooks, journals or handmade cards an artistic touch.
33. 12"x 12" Letterboard – Everyone needs a letterboard to showcase their favorite phrases and messages. Includes hangers for easy display and a woodgrain-finish frame. Comes with 181 Letters & Characters in a unique uppercase font
34. Calligraphy and Hand Lettering for Beginners : An Interactive Calligraphy & Lettering Workbook – This calligraphy and hand lettering book for aspiring calligraphers offers instruction and exercises to teach you the art. Includes sources to choose the right materials for your tool kit, the basic terminology that is commonly used, calligraphy background information, essentials on Foundational Hand, Roman or Latin Hand, Gothic Hand and Modern Script and much more!
35. 12 x 12" Iridescent Letterboard – Need a more fancy letter board? How a bout this letterbord with an iridescent frame and white slats. Includes 180pc black plastic letters and symbols.
36. Tombow Dual Brush Pen Art Markers – These dual brush pens have a flexible brush tip and fine tip in one marker. The brush tip works like a paintbrush to create fine, medium or bold strokes while the fine tip gives consistent lines. The water-based ink is blendable and the resilient nylon brush retains its point stroke after stroke.
37. Colorful Letters for Letterboards – Brighten up your own personal letterboard with these colorful letter packs by Die Cuts with a View. They come in a variety of colors and fun fonts.
38. TULIP® One-Step Party Tie-Dye Kit – Make your own tie dye tshirts and clothing with this party-size Tulip tie dye kit. I would say many would recommend this as holiday gift ideas for teens. It includes supplies for up to 36 projects including 18 easy-squeeze bottles in 14 different dye colors in an easy plastic storage tub. Includes gloves, rubber bands, and instruction guide with different tie dye techniques. Dyes are machine-wash safe and colors will stay vibrant even after repeated wash.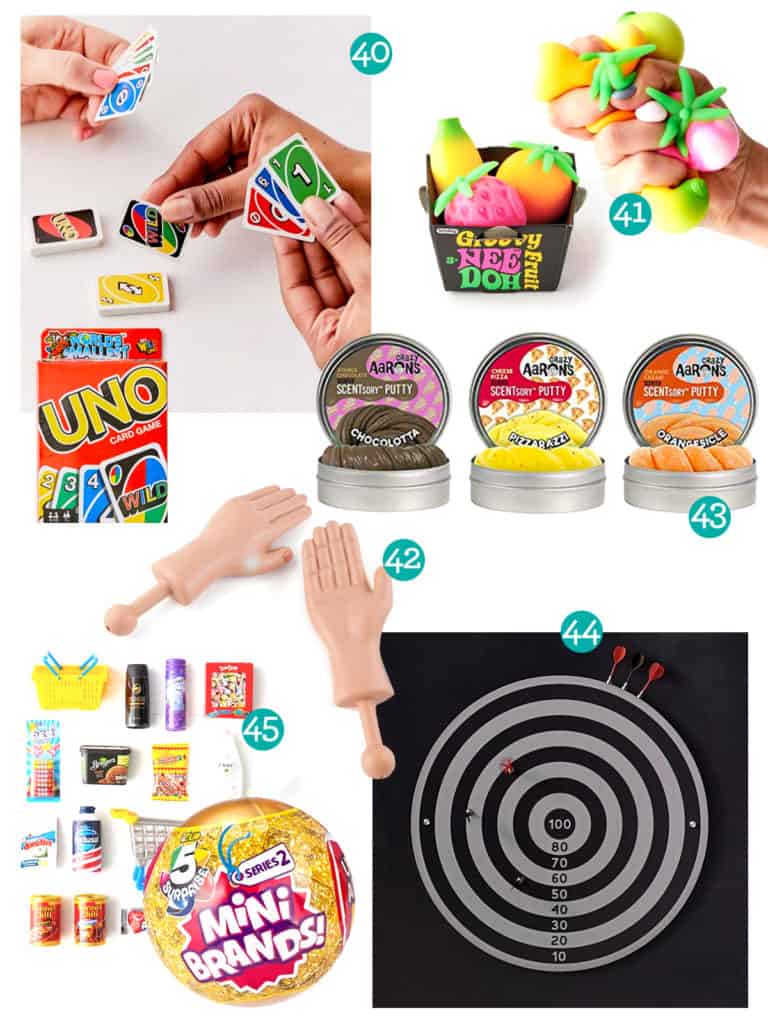 Teen Toy Gift Ideas
40. World's Smallest Uno Card Game – Your favorite rainy day card game in a miniature scale for even more fun. Features all the Uno signatures, scaled down, perfect for playing on-the-go.
41. Super Nee-Doh - The perfect thing for stress + fidgets, this oversized glob balls come in assorted colors and even fruit shapes. They have a soft texture you can knead, pull, throw and squish 'til you're satisfied! Strong + durable, it won't break open and its responsive material always returns to the original shape.
42. Big Mouth Inc. Tiny Hands – When you're looking for the best joke to keep up your sleeve, Tiny Hands are the hilariously perfect choice! You just hold on to the handles to conceal your real hands and then start to surprise (creep out) everyone you know!
43. Crazy Aaron's SCENTsory Thinking Putty – These thinking putties not only smell good, but have a fun light & soft texture that never dries out,. So they are great for teens to relieve stress during online learning or during a tough day. Stretch it, bounce it, pop it, tear it, and sculpt it! Putty comes in fun flavor scents like Pizza, Chocolate, and Orangesicle. Finally, they're made of non-toxic silicone that is easily removed from solid surfaces and made in the USA.
44. Magnetic Dart Board – Bullseye! This dart board is a modern update to the classic version. We've ditched the dangerous darts in favor of magnets, making it even more fun (and safe) to aim for your target.
45. 5 Surprise Mini Brands Surprise Ball – Open up this surprise blind box ball to reveal a kitschy collection of miniature figures of your nostalgic faves, from Airheads to Wet Ones and everything in between. Every ball is different. Holiday Gift Ideas for Teens have never been so fun!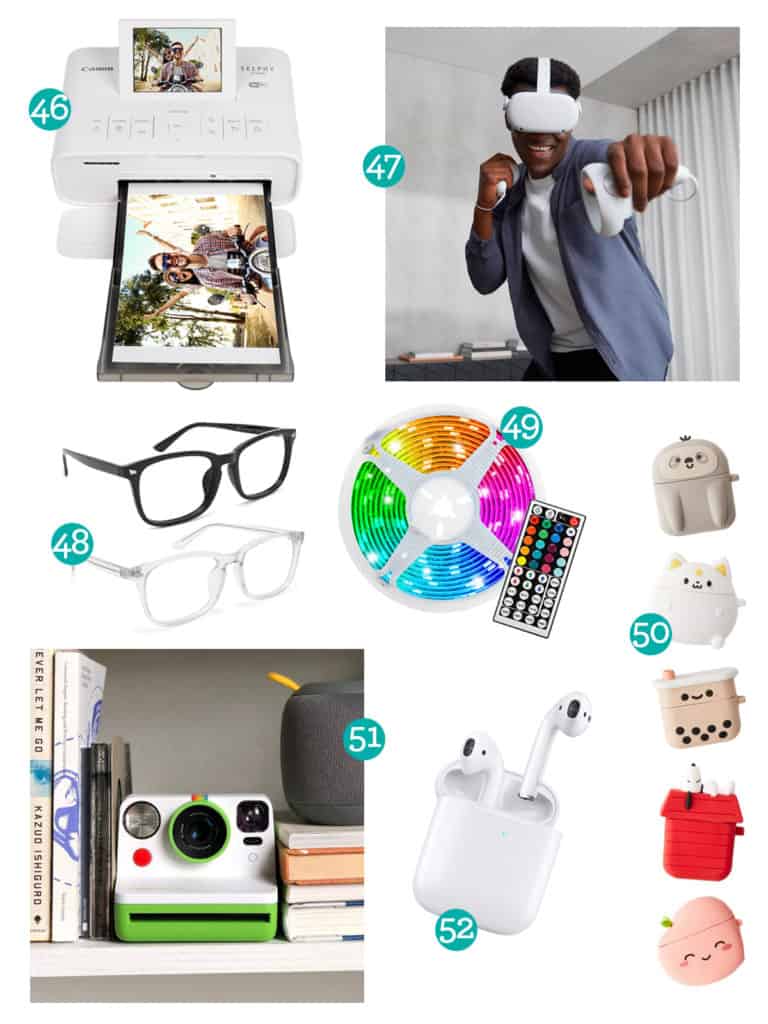 Tech Gift Ideas for Teens
46. Canon - SELPHY CP1300 Wireless Compact Photo Printer – Produce colorful photos at home or on the go with this Canon SELPHY wireless printer. Its compact size lets you take it with you anywhere, and its 3.2-inch LCD screen offers an intuitive interface for selecting your favorite photos to print. This Canon SELPHY wireless printer offers different photo sizes, including square and traditional rectangle shapes.
47. Oculus Quest 2 Virtual Reality Headset – Oculus Quest 2 is all the rage and offers an easy to use, next-level VR experience. Thanks to a fast processor and a high-resolution display, you'll be immersed in another realm. Just pop the headset on, set up with the smartphone app and get set to jump into VR, without the need of a PC or console. The redesigned Oculus Touch controllers intuitively enable you to transport your movements directly into your VR games or experiences.
48. CYXUS Blue Light Blocking Gaming Glasses – Nowadays we're constantly bathing in artificial blue light. Eyestrain and headache can be caused by harmful digital blue light comes from digital device. These Blue light blocking technology---HEV-Absorb Technology, will reflect harmful blue light directly, prevent blue light from passing through the lens to your eyes. Suitable for the people who use digital device everyday.
49. Color Changing Strip Light Kit - The EEEkit 300 LED strip light kit is 16.4 feet, waterproof, and color changing. The RGB LED strip light tape comes with a remote control requires a 12V 2A Power Supply. Perfect for home lighting, decorating your room or lining space.
50. Smoko Airpods Silicone Cases – These fun-shaped AirPods cases by Smoko are perfect to carry your AirPods in. They come in lots of cute designs. The soft-touch silicone design with a lid and side loop to attach a keychain.
51. Polaroid Now Instant Camera – Capture memories in an instant with this Polaroid camera, featuring built-in features designed for effortless shooting with precise results. Autofocus, self-timer and flash ensure accurate pictures, while double exposure mode offers endless possibilities for creativity.
52. Apple AirPods – The new AirPods combine intelligent design with breakthrough technology and crystal clear sound. Powered by the new Apple H1 headphone chip, AirPods now feature hands-free access to Siri using just your voice. And up to 3 hours of talk time on a single charge.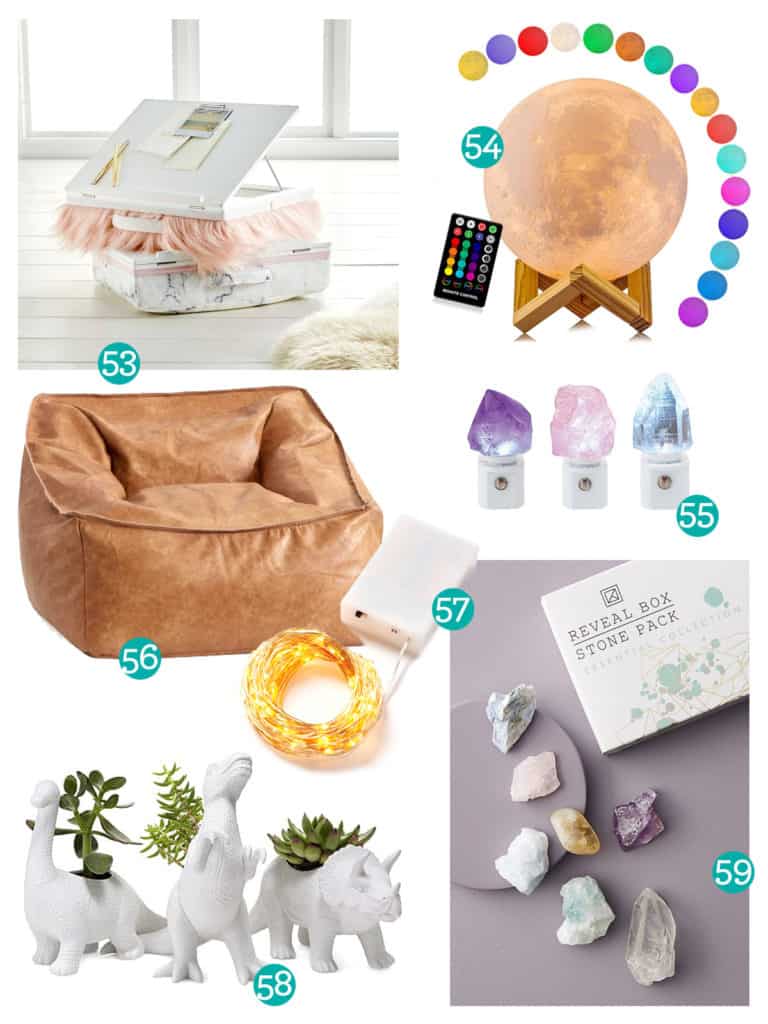 Bedroom Gift Ideas for Teens
53. Lap Desks – These might be unusual holiday gift ideas for teens, but so is 2020. No matter where you are, study in style! These adjustable lapdesks have a wood surface that opens to three compartments for storing study essentials. Its durable handle makes it easy to carry on the go. Plus, its soft base provides maximum comfort throughout long study sessions.
54. Light Up Real Moon Lamp – Even on nights when the full moon isn't in clear sight, this nightstand-friendly lamp lets you fall asleep to the moon's glow. With a click of a button, they can switch between 16 different moon colors, instantly changing the vibe of their space.
55. Gemstone Sensor Nightlights – These ethereal nightlights are made with the sparkling stone of your choice, whether that's amethyst, rose quartz, or white quartz, and powered by long-lasting LED bulbs. Equipped with a built-in sensor, light up automatically when a room gets dark, shutting off again as daylight returns.
56. Teen Lounge Furniture – Teens need a cozy spot to sink in and prop themselves up for movies, games or afternoon lounging. Check out these great choices from PB Teen.
57. Fairy Lights – These LED string lights feature 90 closely-arranged light bulbs that glow brightly and bring a romantic touch to any setting.
58. Porcelain Dinosaur Planters – These dinosaur planters make an adorable accent on your windowsill, by your bed, or on the coffee table. Just don't tell T-Rex that he's adorable—he has a reputation to uphold.
59. Shoppe Geo Reveal Stone Collection – These curated collections of crystals, minerals, and stones are a perfect gift for the yogi or crystal healing enthusiast in your life. Each piece is specially curated to bring positive energy into your home and elevate your everyday living.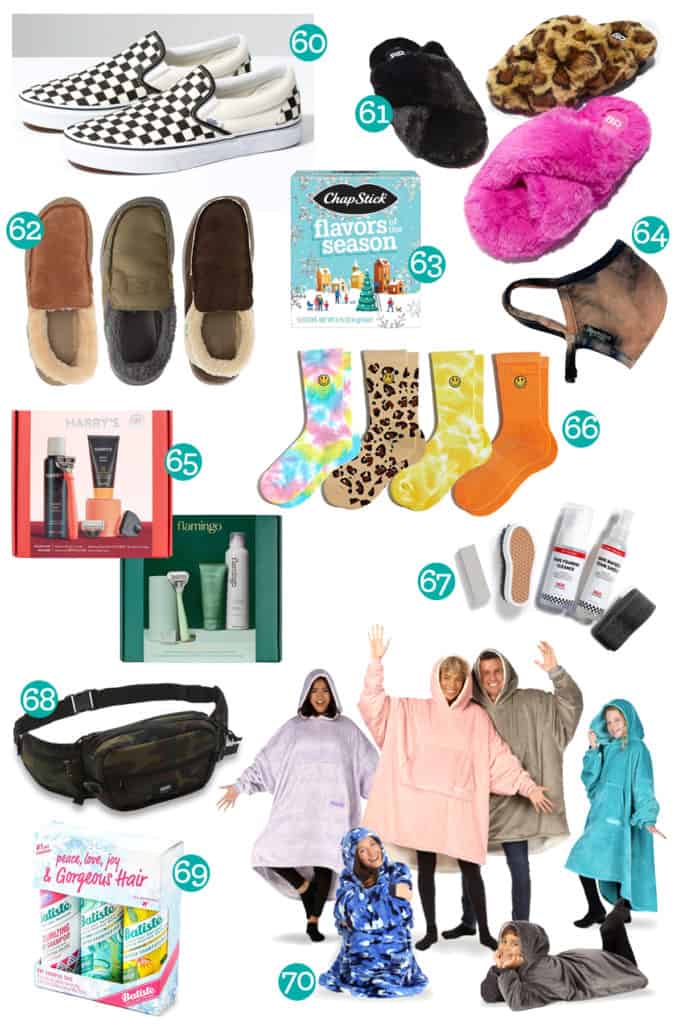 More Gift Ideas for Teens
60. Vans Shoes – Vans are very popular with teens and my go-to holiday gift ideas for teens. You can never have enough and can always use a new pair!
61. Women's Bp. Sophie Criss Cross Plush Bedroom Slipper – Supersoft and plush, this fuzzy slipper with crisscrossed straps makes you feel like you're having a spa day any time you slip it on.
62. Sanuuk Chiba Chill Slippers – Rock the perfect combination of classic sandal comfort and bold style with the Sanuk® Chiba Chill slipper shoe! They have faux shearling lining for cozy comfort.
63. Chapstick Holiday Collection – Get the flavors of the season. This delicious flavor mix is sure to spread holiday cheer. Each pack contains a variety of flavors including: 2 Candy Cane, 2 Sugar Cookie, 2 Vanilla Latte, 2 Holiday Cocoa, 2 Pumpkin Pie.
64. Joah Love Face Masks – Looks like face masks will be around for a while. These Joah Love ones are soft, trendy and have a great design to keep you protected.
65. Holiday Shave Kits – No matter who you are, it's nice to get a fresh new shaver and shaving products. Check out these great holiday edition kits.
66. Smile Face Crew Socks – These happy socks with embroidered smiley face patch at the ankle will bring a smile to all who see them.
67. Shoe Cleaning Kit – A great stocking stuffer! Keep your sneakers clean with these shoe cleaner kits.
68. Vans Fanny Pack – Great for anyone to use as a traditional fanny pack or cross over bag. They are the new way to carry your things on the go.
69. BATISTE Mini Dry Shampoo Trio Gift Set – 'Tis the season for gorgeous hair, so give the gift of this dry shampoo trio by Batiste. Includes mini sizes of the Original, Volumizing and Tropical scents, perfect to throw in your bag (or stocking) for on-the-go touchups.
And finally,
70 . The Comfy – The Original Oversized Blanket Sweatshirt is one of the ultimate holiday gift ideas for teens. The Comfy is this year's BIG THING. This genius combo of sweatshirt and blanket may not land you on the best-dressed list, but who cares! You'll be sitting pretty and protected in an oversized halo of warmth. Super-soft (and super-fun), this blanket sweatshirt is lined with cozy sherpa, ideal for lounging in the lap of laziness, cheering from the stands in ultimate coziness, or (when coffee isn't enough) chasing the morning chill away. Everyone – get comfy!
Hope you like these ideas!
These are just 70 of our 2020 Holiday Gift Ideas for Teens, but there are many more to come! Be sure to check out our other gift guides to find that perfect something for that perfect someone.