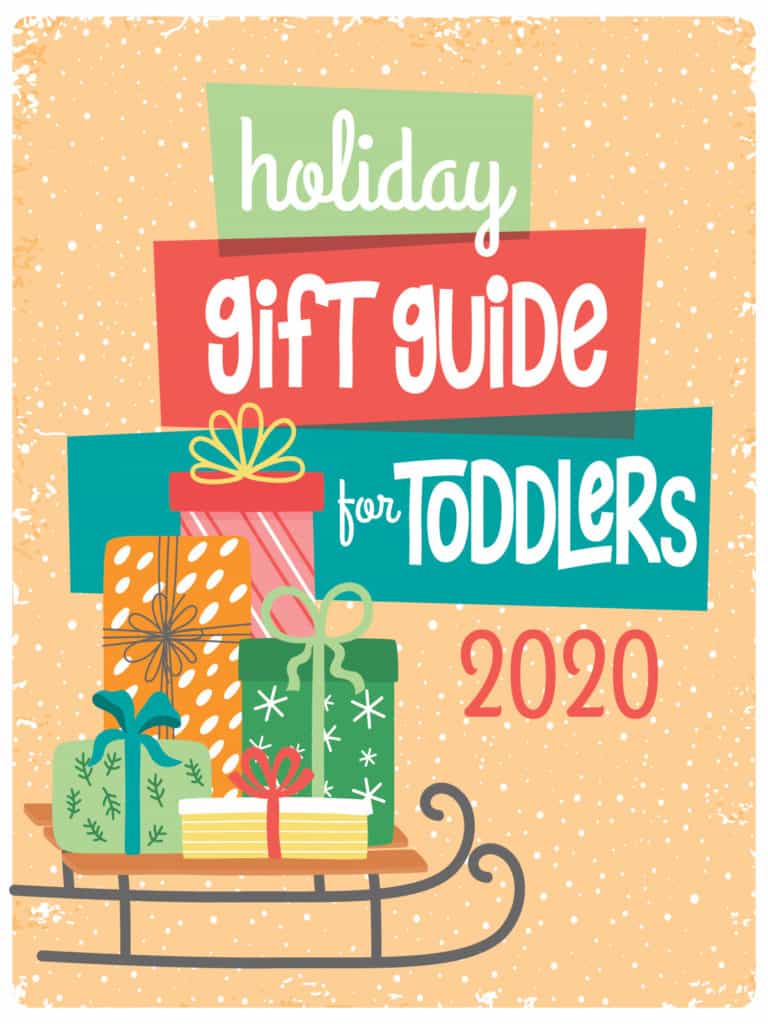 It's that time of the year! Time to shop for all your loved ones. But you may be needing some Holiday Gift Ideas for Toddlers. I don't know about you, but when it comes to finding presents, it can be overwhelming to find Christmas gift ideas for toddlers. There are so many options.
This post contains affiliate links.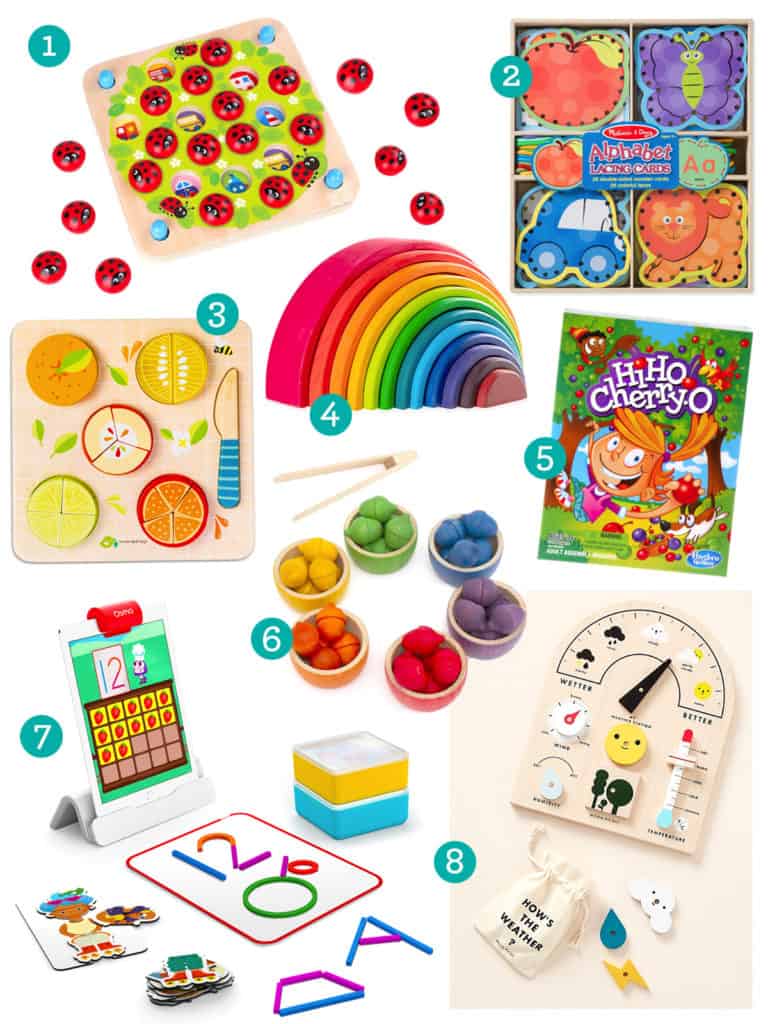 Learning Toys Make Great Toddler Gifts!
1. Ladybug's Garden Memory Game – These ladybugs want to put your memory skills to the test! Choose one of the five double-sided puzzle cards and then fit it into place under the top layer of the puzzle board, making sure all the holes are covered by the 20 wooden ladybugs before you begin the game. On your turn, simply grab two ladybugs from the board. If the pictures they reveal are a match, then you get to keep the ladybugs!
2. Melissa & Doug Alphabet Wooden Lacing Cards – Practice letters and build fine motor skills at the same time! This value-packed learning set has a shaped lacing board for every letter of the alphabet. Each one features a colorful illustration on one side and a label on the back, complete with oversize uppercase and lowercase letters.
3. Citrus Fraction Puzzle – 16 piece wooden puzzle to learn about fractions by cutting citrus fruits aprt in various segments.
4. Wooden Rainbow Stacker – This Montessori toys consist of 12 different colored and size arcs, which are suitable for little hands to make a grab for it. Rainbow arches help children learn colors and shapes, improve hand-eye coordination and motor skills, and inspire their creativity. Stacking and nesting can stimulate reasoning skills.
5. Classic Hi Ho Cherry-O Kids Board Game – Children can gather toy fruit and practice their math skills with this Hasbro Hi Ho! Cherry-O game. It includes a game board with a basket, as well as a spinner with an arrow and base. Collect fake cherries, blueberries and apples! Whoever picks all the fruit from their tree first is the winner of the game.
6. Grapat Bowls and Acorn Sorting Game – Designed to stir the imagination and teach fundamental skills, these colorful wooden bowls, acorns and tongs can be played with in an infinite variety of ways.
7. OSMO – Osmo merges tactile exploration with innovative technology, actively engaging children in the learning process. Put your device in a compatible Osmo Base with the red reflector over the device's camera. Play with physical game pieces — draw, code, spell, and more. Osmo scans the table and your child's creations come alive on the screen!
8. My Weather Station Toy Set - This delightful set will foster your little one's interest in - and awareness of - sunny days, rainy afternoons, and everything in between.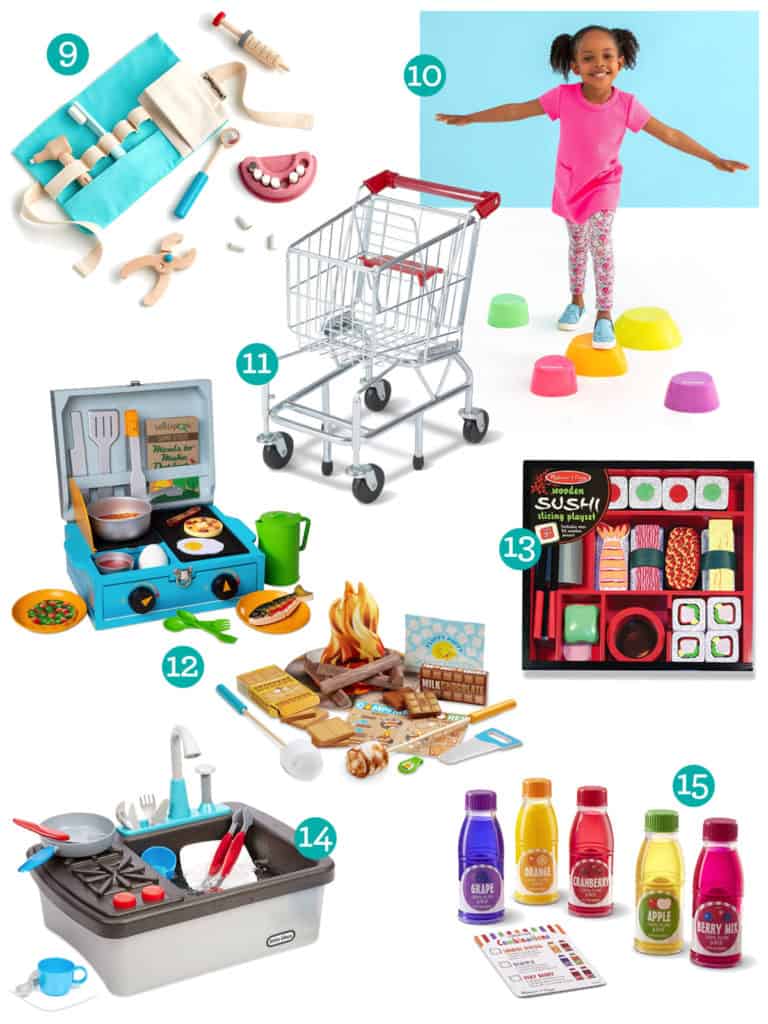 Give the Gift of Imaginative Play
9. Plan Toys Dentist Set – Perfect for your next imaginary check-up, this play dentist set includes four toy dental tools, a toothbrush and a set of teeth (three spare teeth included!). Plus, it all comes in a convenient doctor case.
10. Antsy Pants Stepping Stones – Jump, hop, and work on balance with ease by setting these stepping stones up in different patterns. Fun colors and varying sizes promotes active play while improving balance, coordination and confidence through hopping, jumping, balancing and stretching . Fun to play alone or pair with a balance beam, tumbling mat or tunnel to create an obstacle course.
11. Melissa & Doug® Metal Shopping Cart – Your little one will look forward to play time with you or with friends with this Melissa and Doug Shopping Cart set. This toy is a child-sized replica of the regular metal carts typically used at the grocery store
12. Melissa & Doug: Let's Explore - Collection – Let's Explore™ encourages kids three and older to connect with the natural world through imaginative play! Discover the joy of outdoor adventures that instill curiosity and confidence while inspiring kids to say, "Let's Explore™"! There are over a dozen sets, all of which are great holiday gift ideas for toddlers.
13. Melissa & Doug Sushi Slicing Wooden Play Food Set – Add wasabi, if you like! This elegant 24-piece wooden sushi set is packed in a beautiful storage box and includes sliceable sushi rolls, shrimp, tuna, easy-use chopsticks, a cleaver and more! Sushi rolls make realistic chopping sounds when sliced!
14. Little Tikes Kids' First Sink & Stove – Kids can pretend to cook and wash dishes just like their parents with the realistic Little Tikes First Sink & Stove. The combo sink and stove is packed with features: a working water pump, clicking knobs, and more. Plus, it makes realistic sounds when kids turn the knobs on the stovetop burners. Pretending to cook, wash dishes, and do other chores helps kids gain a sense of responsibility, an important part of social-emotional learning.
15. Melissa & Doug Tip & Sip Toy Juice Bottles – Pretend to pour refreshing drinks, and watch as the liquid disappears! Stock play kitchens, grocery stores and picnic baskets with Grape, Orange, Cranberry, Apple, and Berry Mix bottles. The reusable menu card lets kids three and older place orders and offers creative combinations to spark play ideas.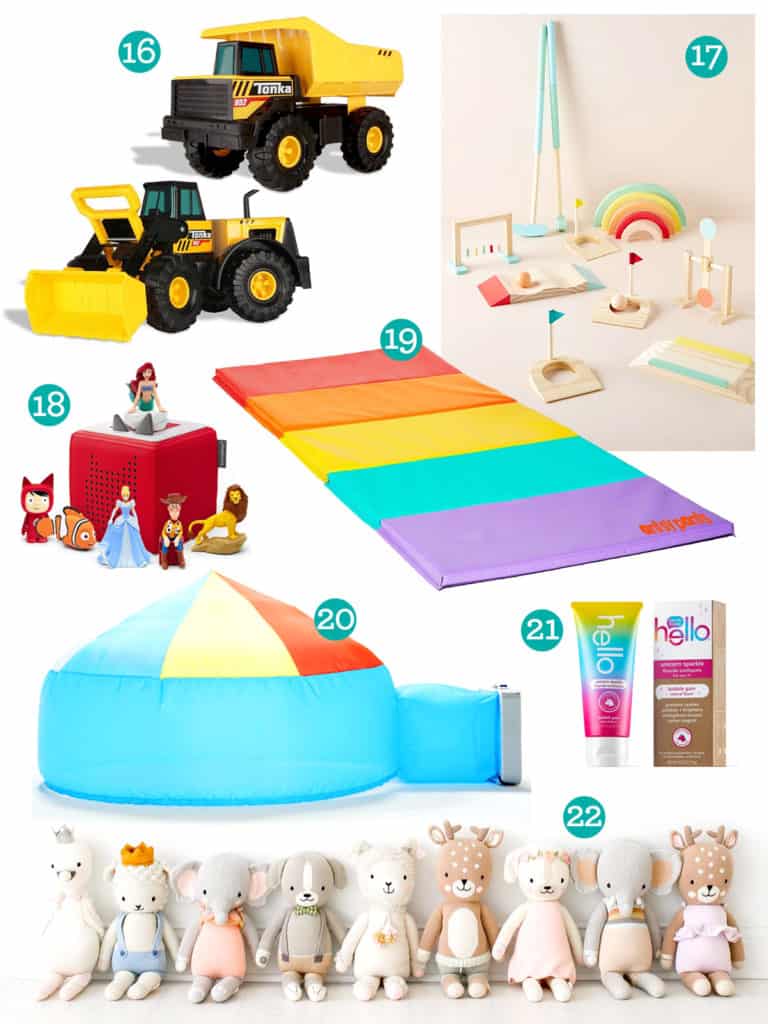 Parent Approved Toys
16. Tonka Steel Classics – Tonka Steel Classics are meant to last. Perfect for kids who love trucks and construction equipment. These nostalgic trucks are heirloom quality.
17. Kids Mini Golf Toy Set – Your little one will love creating their own tricky course with this mini golf set that comes with a variety of bridges and obstacles to build.
18. Tonie Audio Box – Meet the Toniebox - a new audio system designed for little listeners. Turn it on, pop a Tonie on top and let the audio adventure begin! Listen to stories and songs from your favorite characters including Cinderella, Woody from Toy Story, Nemo, the Little Mermaid and Lion King. Snuggable and durable: Soft enough to cuddle, tough enough to handle hands-on kids.
19. Antsy Pants Tumbling Mats – Your little one can jump, tumble and summersault on these soft rainbow mats. Featuring a foam fill that will keep your kiddos from getting hurt as they land on it. Whether your kiddo is into cheerleading, martial arts or gymnastics, this mat is sure to be a favorite. It also folds flat for easy storage.
20. AirFort – No pillows, no sheets, no mess! Create an air fort instantly wherever you have an outlet. This unique spin on a play tent comes in an easy-to-carry, compact travel bag and attaches to any classic box fan with the included durable adhesive fan tabs. Just secure the mouth of the tent to the fan, turn the fan on, and watch as your tent rises up to full size in 30 seconds!
21. hello Kid's Unicorn Sparkle Toothpaste – Say hello to brush time magic. Unicorn sparkle toothpaste tastes like rainbows and sunshine, and works brilliantly. It's thoughtfully formulated with natural flavor, sparkles, and high quality sweeteners like xylitol and stevia. Free + Vegan + Bubble Gum Flavor.
22. Cuddle + Kind Dolls – Heirloom-quality dolls, hand knitted from Peruvian cotton. They are suitable from birth and are 13" or 20" full height. Cuddle + Kind dolls generate love all around as their purchase helps feed hungry children and one of the reasons they make the perfect holiday gift ideas for toddlers. For every doll purchased, cuddle + kind will donate 10 meals to children in need in the USA and around the world. Dolls are Fair Trade–Certified™ and are made using practices to protect the environment, build sustainable livelihoods and boost economic empowerment.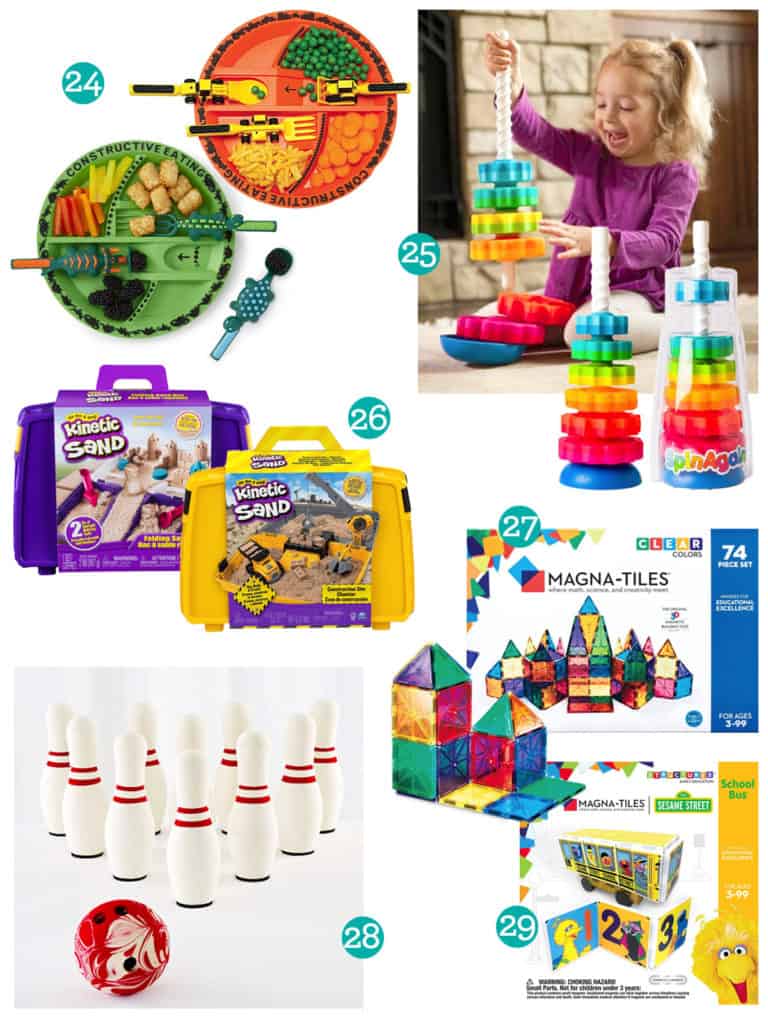 Gifts the Keep Toddlers Busy
24. Construction Plate & Utensils & Dinosaur Plate & Utensils – Make every meal a construction site of creativity or a dinosaur discovery with these fun plates and utensils.
25. SpinAgain – It's a stacking toy with a spin—literally! Drop the vibrant discs onto the threaded corkscrew pole and go ooooh as they spin fast and smooth to settle onto the reversible base. Choosing how to set the base is half the fun for your toddler. Pick either the wobble base or turn it over for a solid seat. Each disc is dual-colored, and from largest to smallest, they form a dynamic rainbow.
26. Kinetic Sand – Mold and build endless creations with the Kinetic Sand Folding Sandbox. You've seen play sand before, but you've never felt anything like this. It's the squeezable sensory sand where you can feel the fun. From making castle-themed shapes to small tunnels, it feels just like the wet beach sand but doesn't stick to anything but itself.
27. Magna Tiles – Magna-Tiles are designed to promote imagination and creativity. Magna Tiles' geometric shapes are translucent and brightly colored. Use them on the light table, with a flashlight, or build near a window allowing sunlight to shine through like stained glass. Make flat, 2-D patterns or cool 3-D structures while developing fine motor and visualization skills. So many sets to choose from...all making great holiday gift ideas for toddlers.
28. Indoor Bowling Set – If you know any mini bowlers, this indoor bowling Set will be right up their alley. It features a bowling ball and 10 pins made from natural rubber, plus a pin setup template. Soft yet durable construction means little ones can set 'em up and knock 'em down, again and again!
29. Sesame Street Magna Tiles – Ride along with the Sesame Squad for lots of fun and learning on the Sesame Street School Bus! Practice counting numbers then flip the tiles and build a bus that will take your little learners on a ride to a place "where the air is sweet"! This Sesame Street School Bus set helps build STEAM skills, allows your little ones to identify numbers, practice counting and number order, and much, much more.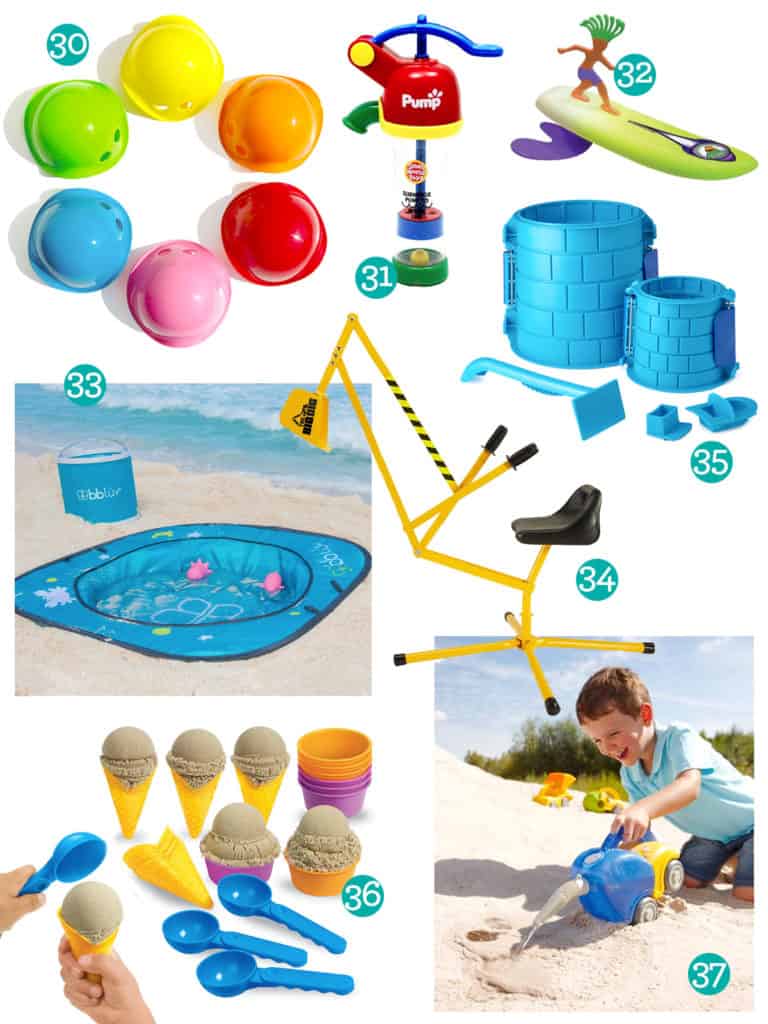 Sand and Beach Toys Toddlers Love
30. Bilibo Mini - 6 Color Combo Pack by MOLUK – There's only one thing that's as dazzling as the color of six Bilibo Minis - their amazing versatility. When there are no instructions, natural curiosity sets the course. Filled with water, sand, snow, rice, dried beans - Bilibos mesmerize. Their curves, slick outer shells, and versatile interior spaces make them poster toys for indispensable fun.
31. Small World Toys® Water Pump Toy – Make the water flow! Immerse the pump bottom in water to the indicated level, then move the handle up and down to make the water flow! Transparent pump allows kids to see how it works.
32. Surfer Dudes Wave Powered Mini-Surfer – Introducing the world s first self-righting, self-surfing, surfer dude toy. the perfect beach toy for kids and adults. don t just sit in the sand. Just toss your dudes into the surf and they ll automatically turn around and catch a wave! no batteries required! The secret is in our patented self-righting hydrodynamic manta wing and unsinkable board! sweet! There are 7 cool surfer guys and girls to choose from.
33. Pop-Up Beach Pool – Digging a hole in the sand is all you need to place the Arena. You can relax at the beach while your child plays safely in the water next to you.
34. The Big Dig Sand Escavator – The Big Dig from Breyer gives your kids a rideable toy that will provide all-season fun! Great for the backyard, beach, or the playground where your construction worker can dig sand, move dirt, or shovel snow. With its sturdy metal construction, The Big Dig can handle it all! It features two-handed controls for digging and dumping, a 360 degree boom and rotating, contoured seat, and a sturdy, wide base.
35. Sand and Snow Castle Kit - Become beach royalty this summer with these epic sand castle building tools. The set comes with two tower molds, which can be combined to create multi-level castles. The split-mold design is able to press stone wall ridges into damp sand, for a realistic effect. Also includes a rectangular brick mold, a cutter for making perfect, and an additional, multipurpose tool for adding freehand details to your structures. The kit comes with a mesh bag that can be rinsed off, keeping the sand at the beach and not in your house. And when summer is over, there's no need to pack it away, because these tools can also be used to make amazing snow castles. This is why we included this set in our holiday gift ideas for toddlers guide.
36. Sand Ice Cream Set – Pile on tons of sensory fun with our colorful cones, cups and scoops—perfect for use with our Kinetic Sand (sold separately below)! Kids play ice cream parlor as they scoop sensory sand into our kid-sized containers…building fine motor skills as they go! Set includes 20 plastic pieces—4 scoops, 8 cones and 8 cups.
37. HABA Sand Play Tanker Truck – Play in the sandbox or at the beach gets more power with these awesome trucks. Tanker Truck is perfect for transporting and pouring water with a removable filling funnel. Steam Roller doubles as a sieve, filtering granules of sand and leaving cool patterns in the sand as it rolls. Kids can move some serious ground with the Excavator, with a sand shovel mouth that can open and close thanks to the simple locking mechanism.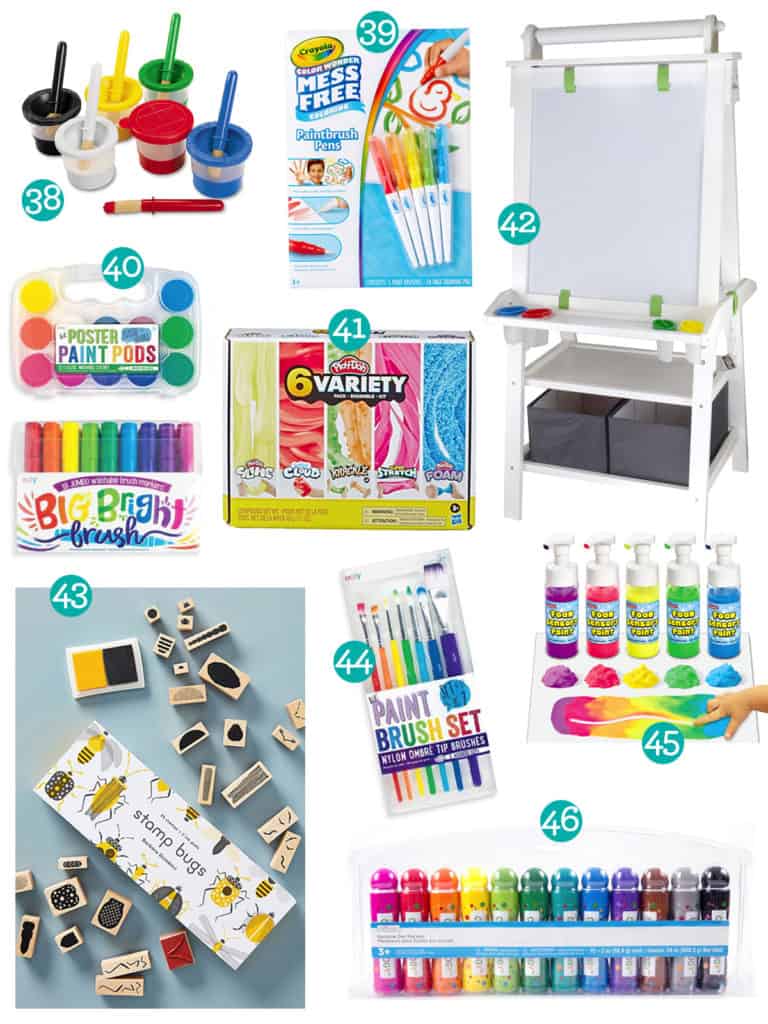 Toddler Art Supplies
38. Mini No-Spill Paint Cups & Brushes – Our pint-sized paint cups are perfect for beginners…with specially designed tops that keep paint from spilling—even when tipped! The 6 durable plastic cups each hold 5 ounces of paint…and come complete with color-coordinated lids and brushes. Brushes feature natural bristles; cups measure 2 ¼" tall.
39. Crayola Wonder Mess Free – Life can be messy, but it doesn't have to be with Crayola Color Wonder! Crayola Color Wonder Mess Free Markers, Paint, and Stamps allow for creating without the mess. How? The Color Wonder inks only appear on the special Color Wonder Paper—not on skin, clothing, or furniture. From character themed Color Wonder Coloring Pages to Travel Activity Sets, there are plenty of no mess gift ideas for kids and toddlers. No matter the set you choose, all make great holiday gift ideas for toddlers.
40. Ooly Toddler Art Supplies – All kinds of colorful, fresh and inspiring products full of unexpected delight. Seriously fun stuff to make your art space, creative space, school space or home space more fun.
41. Play-Doh Slime Variety 6pk – It's a slime party, and your little slime fanatic is invited! With Play-Doh Foam and 4 different kinds of Play-Doh slime, there's plenty of fun to go around. 2 cans of Play-Doh Krackle slime has beads mixed in for a satisfying crackle in your hands. 1 can of Super Cloud fluffy slime has a light texture that feels like a cloud, and Super Stretch stretchy slime goes to amazing lengths! The foam beads and airy texture of Play-Doh Foam bring a different feel to the mix, and classic Play-Doh slime brings the goopy, slimy fun we all know and love.
42. Little Partners Deluxe Learn & Play Art Center - Keep your child's imagination flowing with this Little Partners Deluxe learn and play art center.Includes a chalk board, magnetic dry erase board, eraser, roll-down paper, 4 non-spill paint containers, 2 fabric folding storage bins and 5 paper holding clips.
43. Kids Stamp Set – These bug stamps are so fun! Create your own bugs with leg, wing, body and antenna stamps. Includes 25 stamps, a double-ink pad, and one storage box.
44. Ooly Toddler Art Supplies – All kinds of colorful, fresh and inspiring products full of unexpected delight are definitely awesome holiday gift ideas for toddlers. Seriously fun stuff to make your art space, creative space, school space or home space more fun.
45. Foam Sensory Paint – Add sensory fun to arts & crafts with our foam paint—in 5 dazzling colors! Each bottle contains stimulating foam paint…and comes with a handy plastic pump. Children just squeeze out a dollop and use their fingers to paint, explore the texture…and mix the vibrant colors.
46. Rainbow Dot Markers – Creating artwork as vibrant and beautiful as a rainbow is easy with this pack of 12 dot markers by Creatology. All that your kids need to do is dab the spongy tip onto their canvas. They can layer the dabbed ink to create a spectrum of unique shades.
Yep, still more holiday gift ideas for toddlers!!!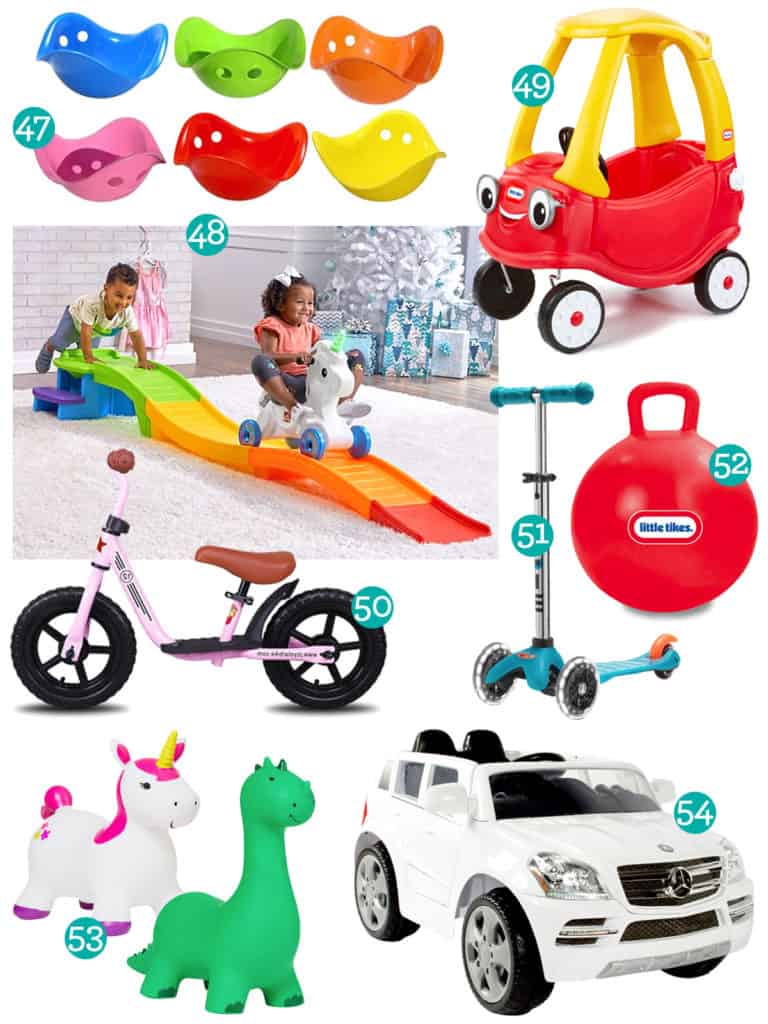 Toddler Ride On Toys
47. bilibo by MOLUK – Tortoise shell and sand toy, swing and spinner, cradle for dolls and a shell to build with in the snow – Bilibo is all this and much more. So what exactly is a Bilibo? Well one clue is the fact that it does not come with an instruction manual. Kids can do what they like with it!
48. Step2 Unicorn Up & Down Roller Coaster – Coast into the magical world of unicorns on the Step2 Unicorn Up & Down Roller Coaster™! Full of fun and whimsy, this unicorn-themed coaster is ready for kids to ride into fantasy land aboard an adorable unicorn car. Lock the steps into the platform, where the unicorn awaits the journey through 9 feet of rainbow riding track. Two easy-grip handles, foot rests, and a high back ensure a secure ride on the unicorn car. A motion activated light and sounds add to the magic as little ones ride!
50. Balance Bike – It's easier for kids to learn how to ride a bike if they have good balance and coordination. This no-pedal balance bike moves as your child pushes and kicks, much like a scooter. Your kiddo will learn how to balance as they roll along.
51. Micro Kickboard Mini Plus Kick Scooter – The Micro Kickboard - Micro Mini Plus Lighted Wheels Scooter is a smooth gliding toy your kiddo will love taking for a ride. Its lean-to-steer design adds to the stability that lets kids steer the scooter by leaning their body left and right. This feature, while being fun, improves intuitive learning in kids and develops balance and coordination. High-quality wheels and a flexible fiberglass reinforced deck absorbs bumps in the sidewalk.
52. Little Tikes Hopper – The Little Tikes Mega Hopper Ball will have your child bouncing for hours! This awesome hopper ball helps your little one build sensory integration, coordination, balance, motor planning and bilateral skills, while encouraging them to be more active!
53. Dinosaur Hoppity Hop & Unicorn Hoppity Hop – Hop to it! These T-rex and Unicorn hoppity hops are made of bouncy soft material. Have a seat and grab the neck tight before jumping and away you go! Easy to inflate and deflate for on the go and storage.
And finally,
54. Mercedes-Benz GL450 SUV Powered Ride-On – The 6V Mercedes battery-powered toy is an exciting ride for any young driver! The luxury ride-on drives at 2.5 mph and comes loaded with features like working LED headlights, an MP3 Jack and a working radio. Press the sounds on the steering wheel for realistic car sounds, and use the two opening doors to climb in and out. Built for kids aged 3 and above, the 6V Mercedes has a premium design with a clear windshield, folding mirrors and realistic chrome rims. Rubber traction strips on the wheels let your child cruise on multiple surfaces.
Wow...that's a lot of gifts! Ready for some more Holiday gift ideas for teens?
Hope you like these ideas!
These are just 54 of our 2020 Holiday Gift Ideas for Toddlers, but there are many more to come! Be sure to check out our other gift guides to find that perfect something for that perfect someone.
More 2020 Gift Guides for Those You Love