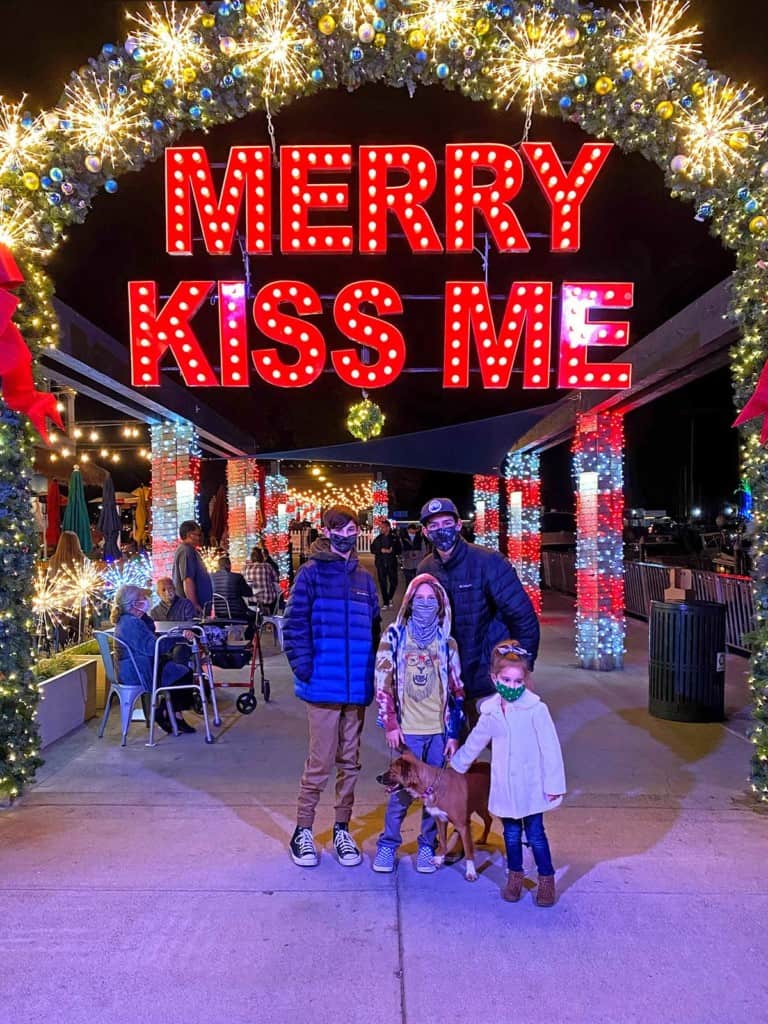 The Dana Point Harbor Lights are a favorite Christmas light display for Orange County locals and visitors! Going to the Dana Point Harbor to look at the Holiday lights has become a tradition for our family each year during Christmas. This year, the lights are set to illuminate the harbor on November 16, 2022.
Wow! This Dana Point, CA holiday light display consists of over 700,000 LED lights. Each night throughout the holiday season, the Harbor's magnificent light display will illuminate the evening sky for guests of all ages to enjoy.
Dana Point Harbor Lights Dates
The dates for the Dana Point Harbor Lights is November 16, 2022 through January 1, 2022. Plus, there are other fun holiday happenings at the Harbor between these dates.
What to Expect at the Dana Point Harbor during the Holidays
The Dana Point Harbor Lights include crowd favorite light displays such as the giant whale sculpture, lighted palm trees, Christmas trees, a giant Adirondack chair, and the popular "Merry Kiss Me" arch. Locals and visitors alike can enjoy strolling carolers, holiday-themed photo ops, visits with Santa, waterfront restaurant offerings, boutique holiday shopping and more.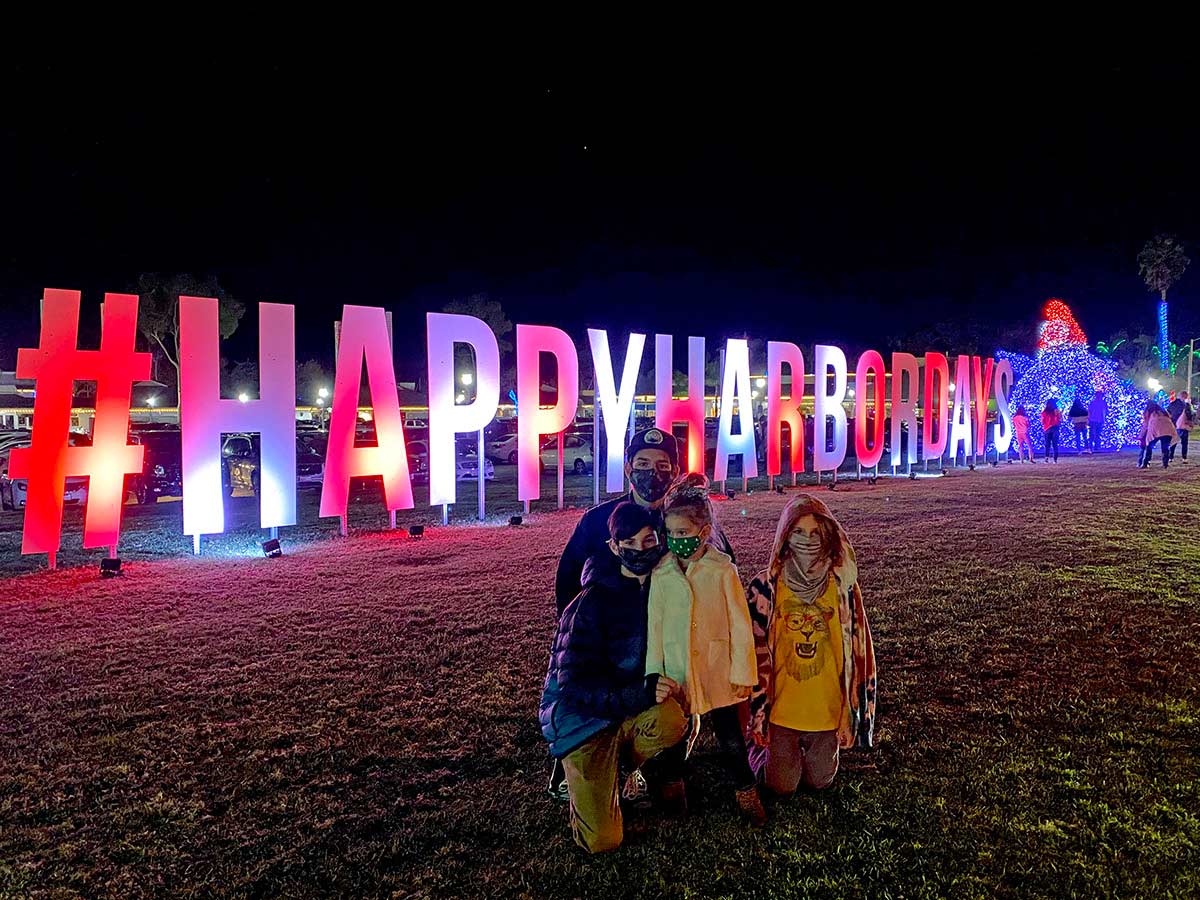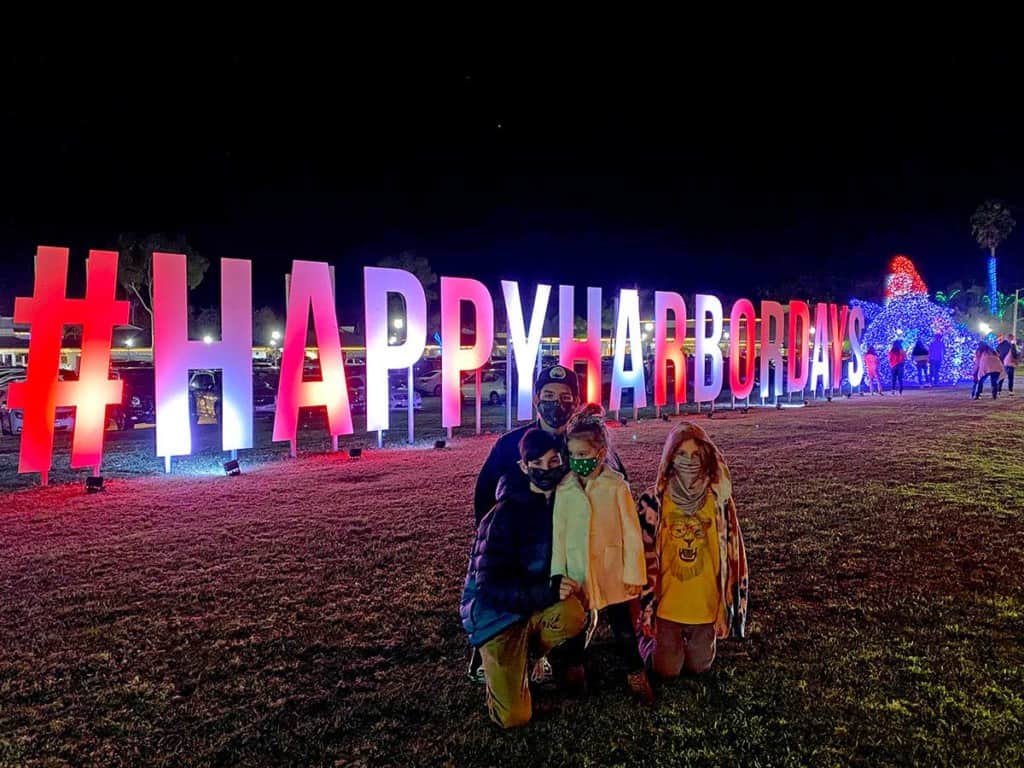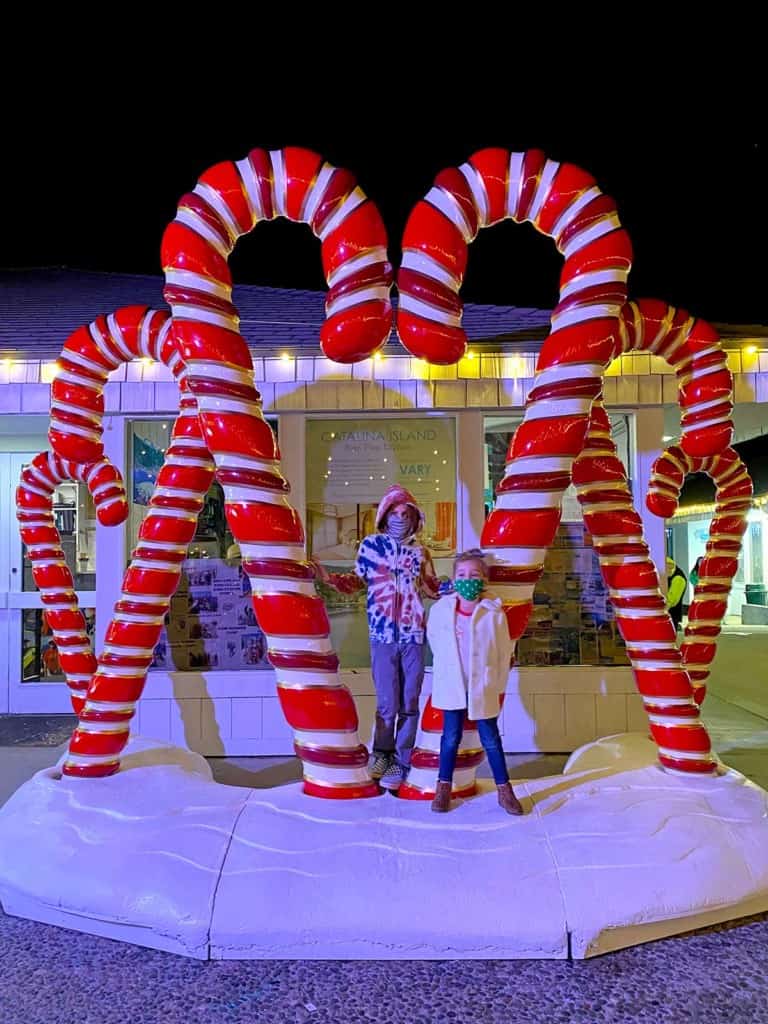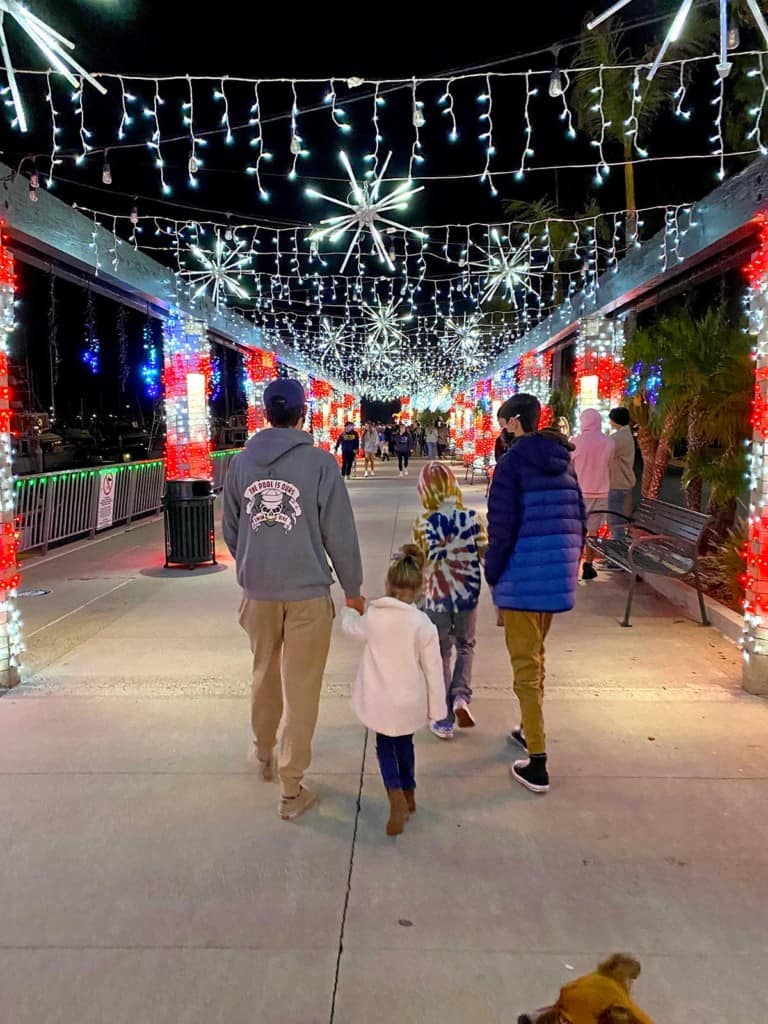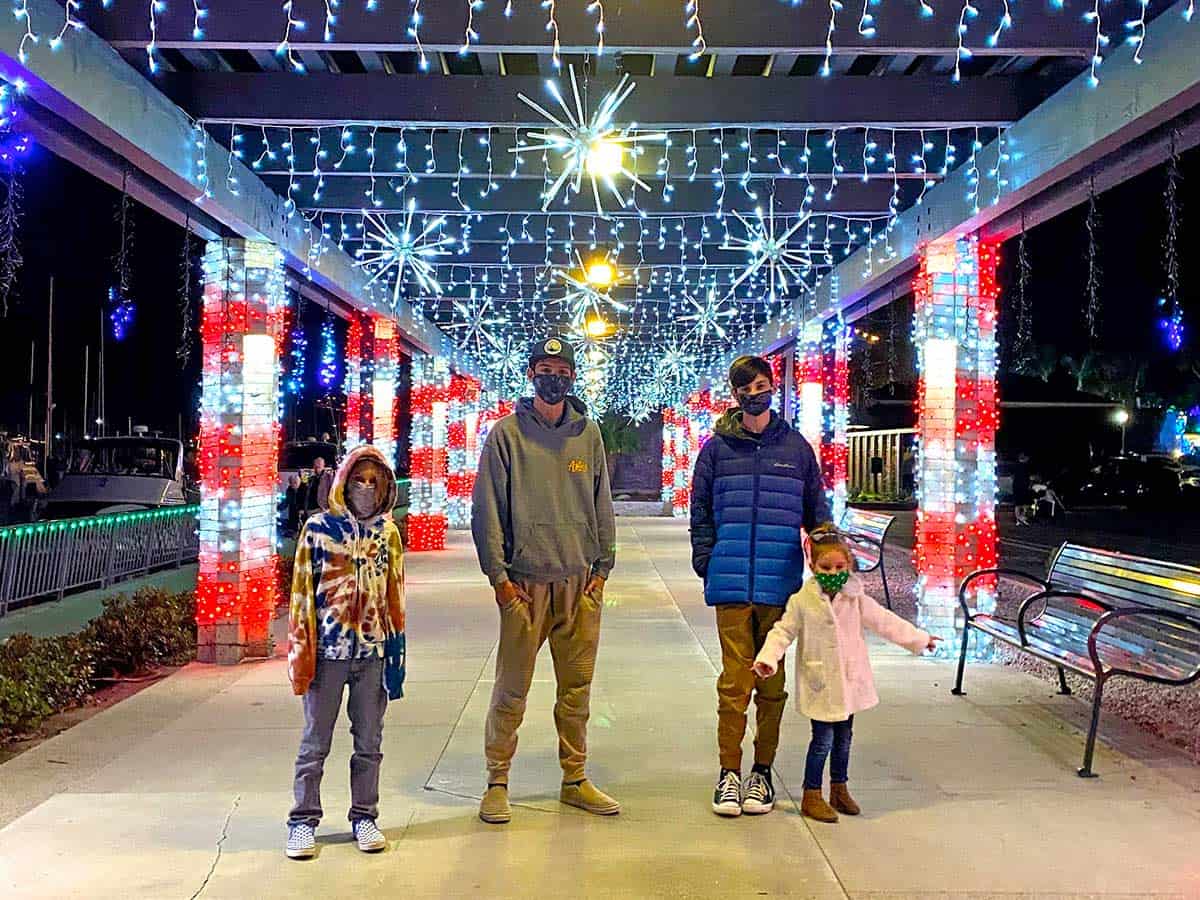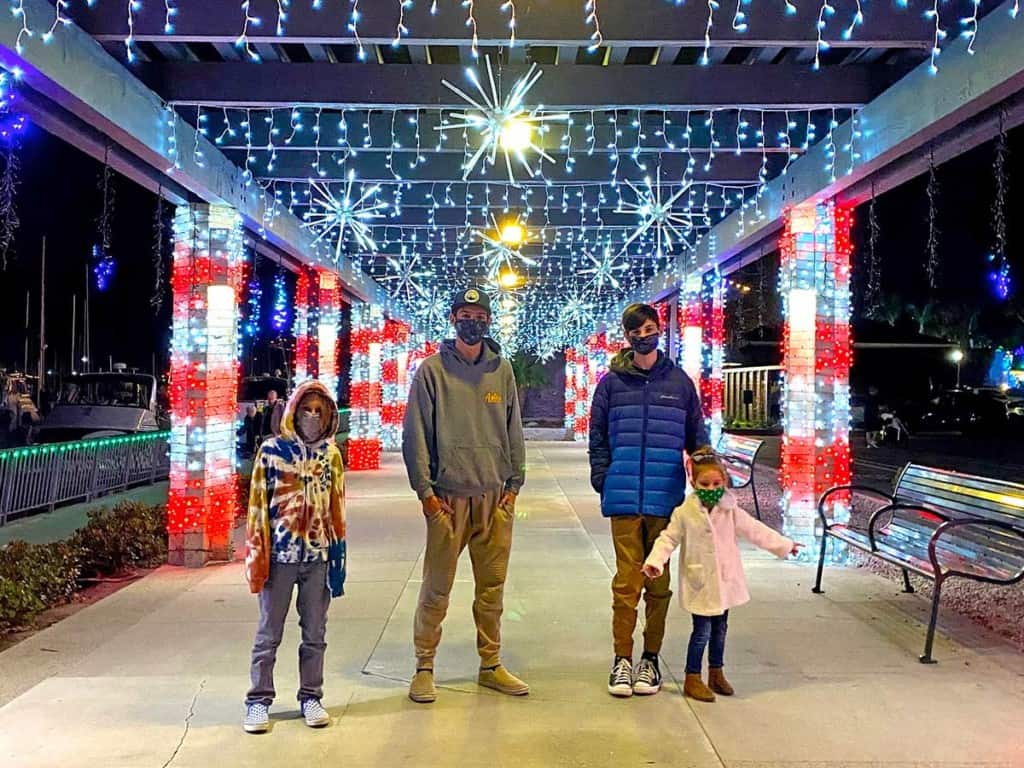 Instagrammable Christmas Spots in Orange County.
This "Merry Kiss Me" is one of the most instagrammed Christmas locations in Orange County! Be prepared to wait in line to get your chance to take a photo.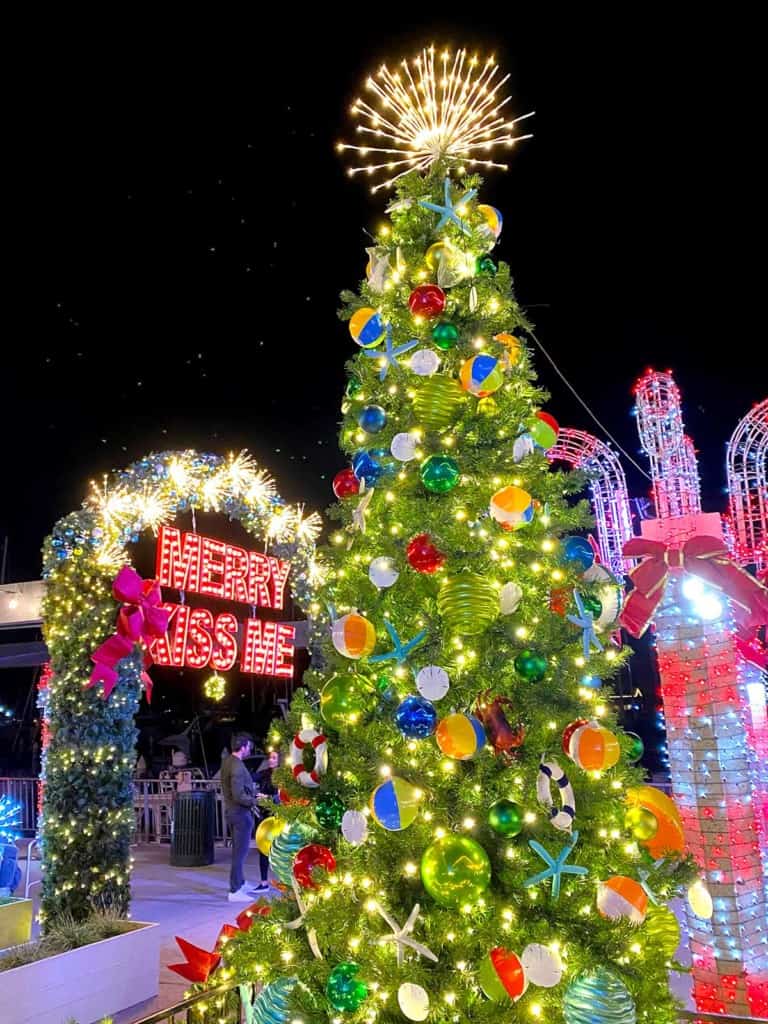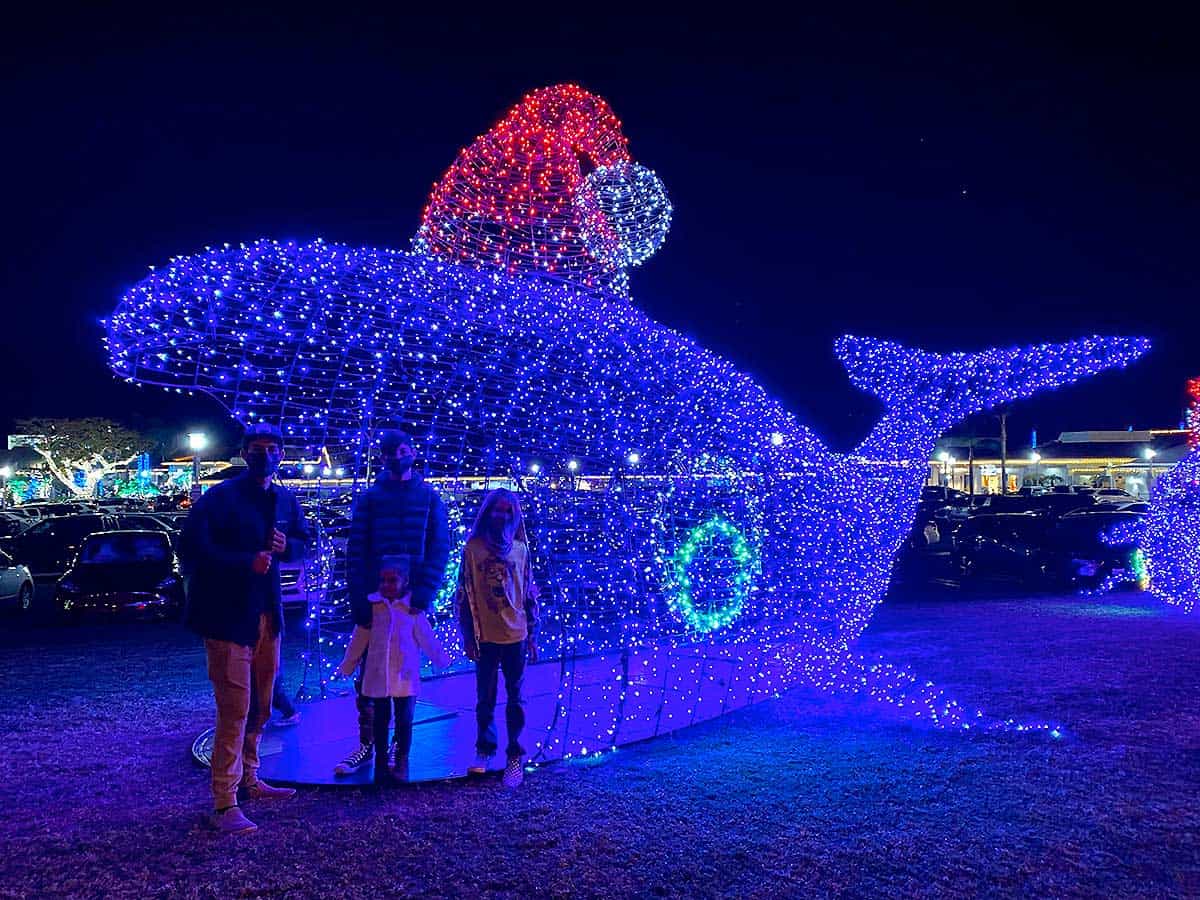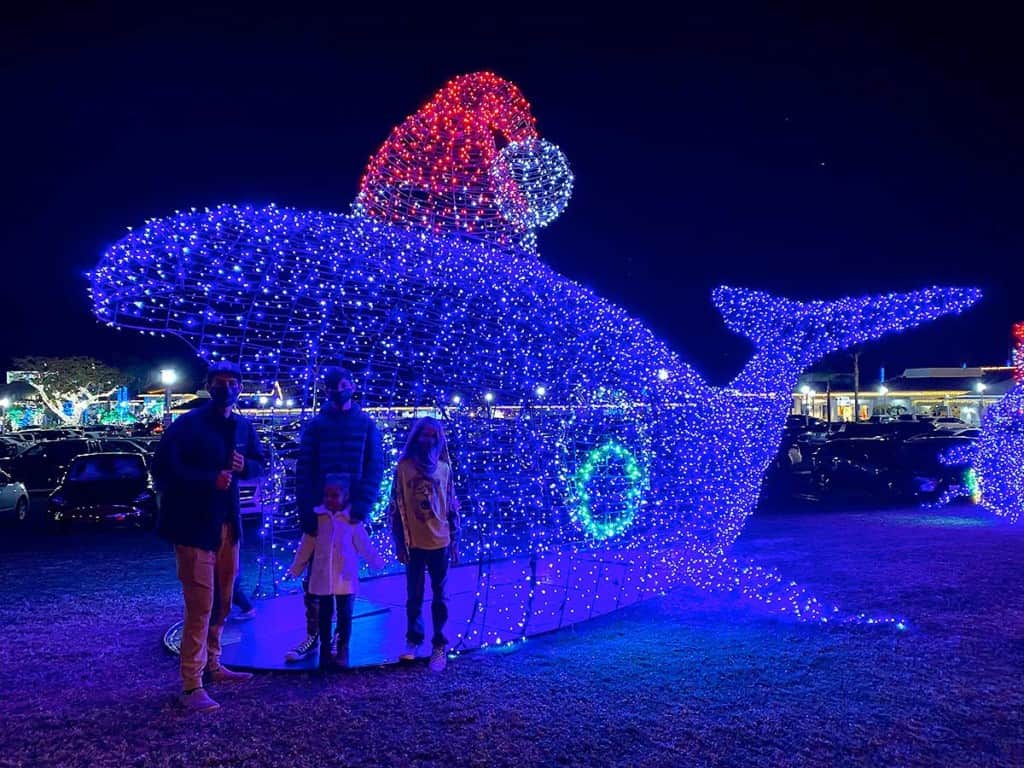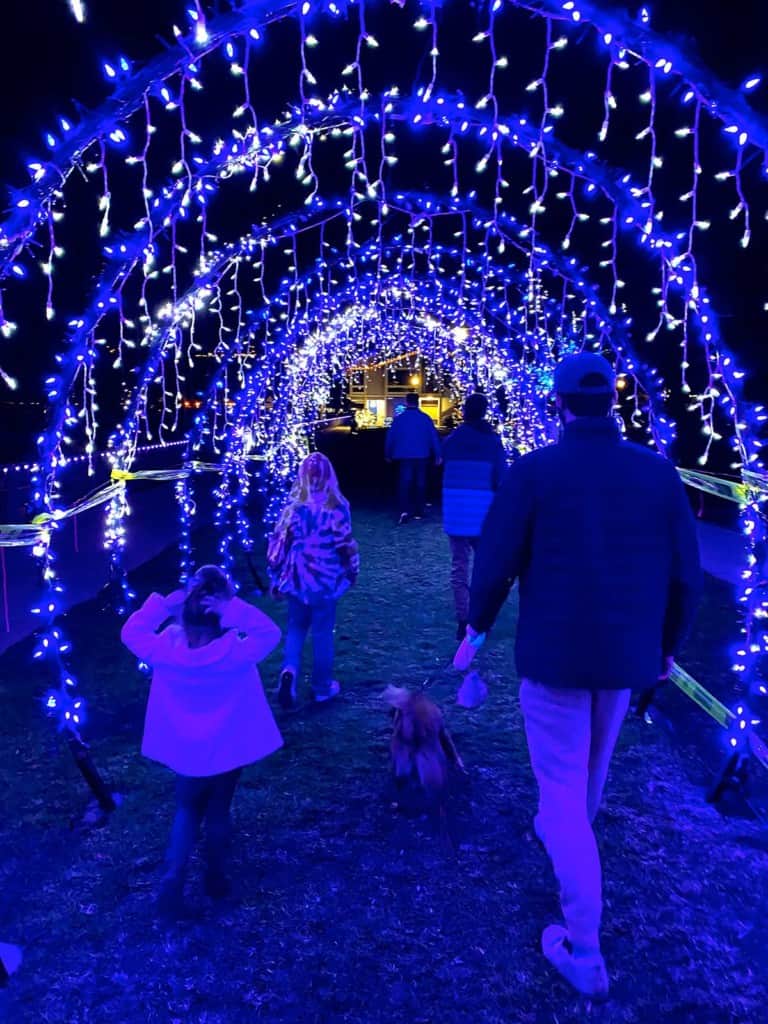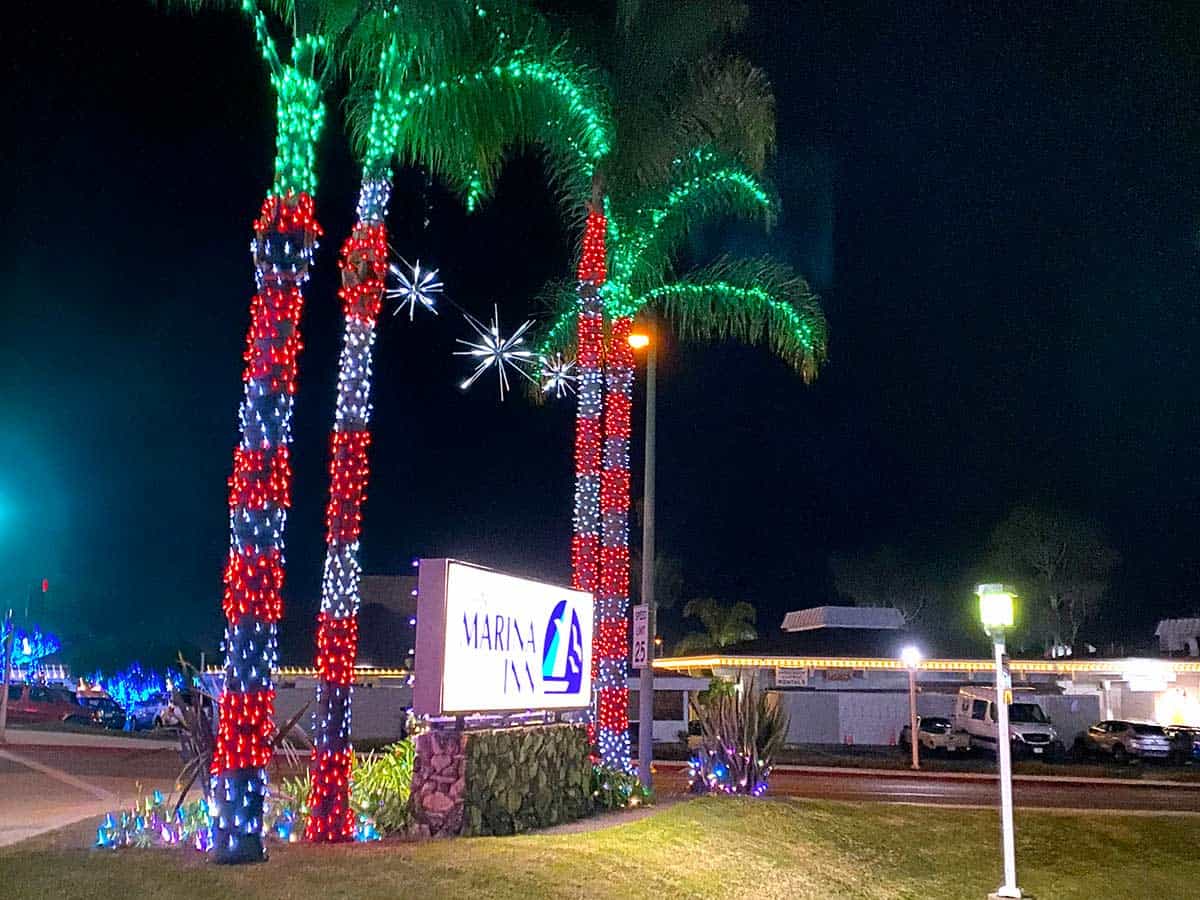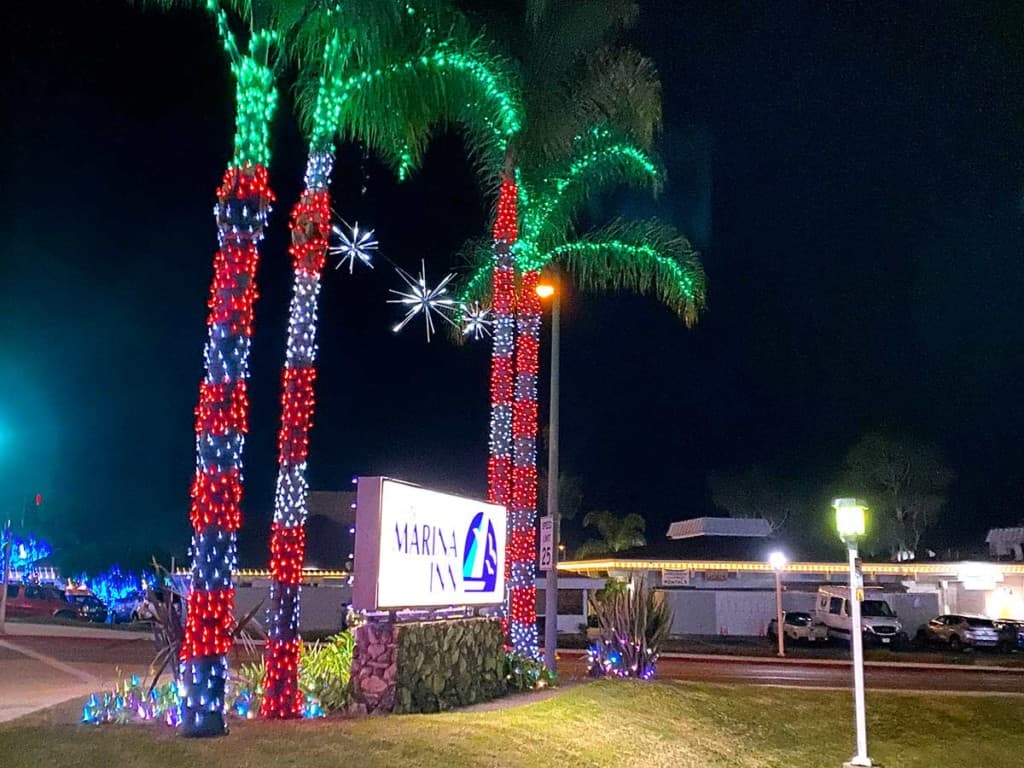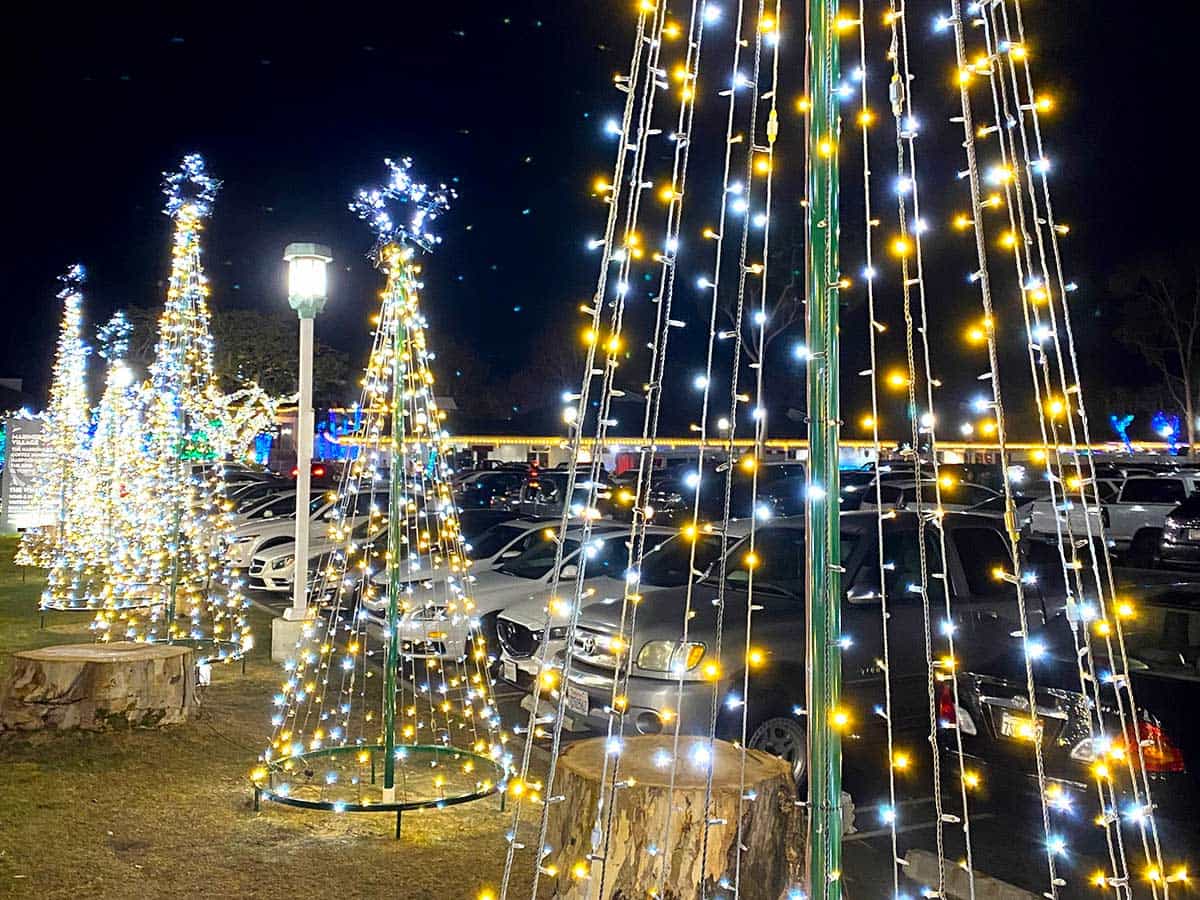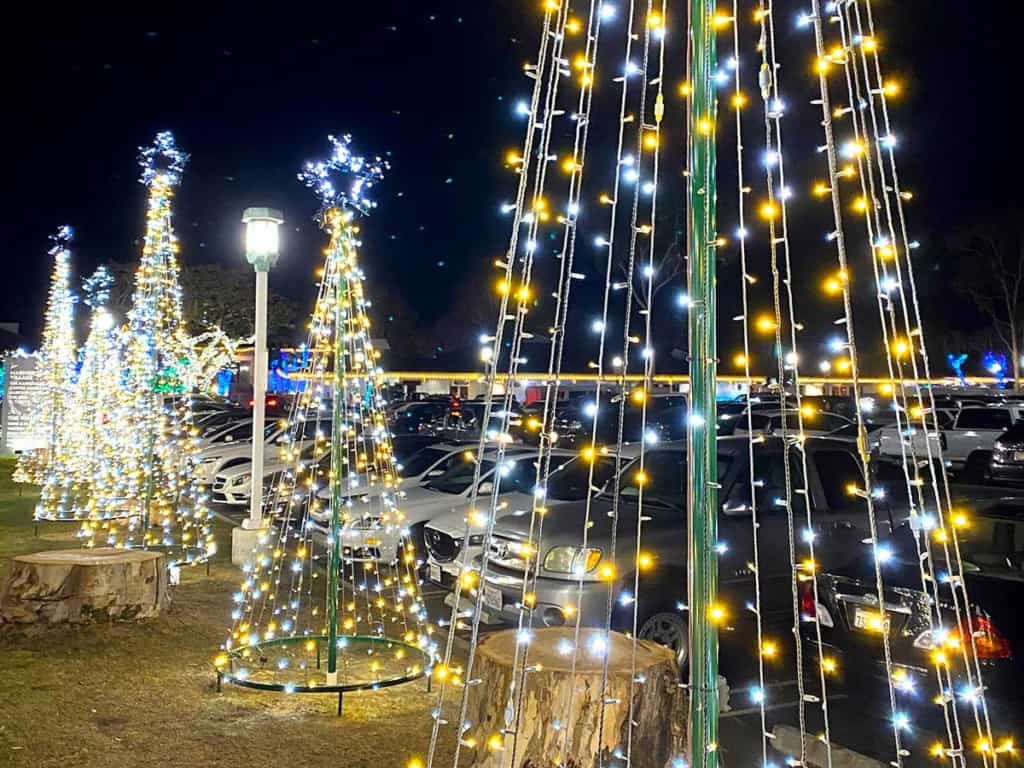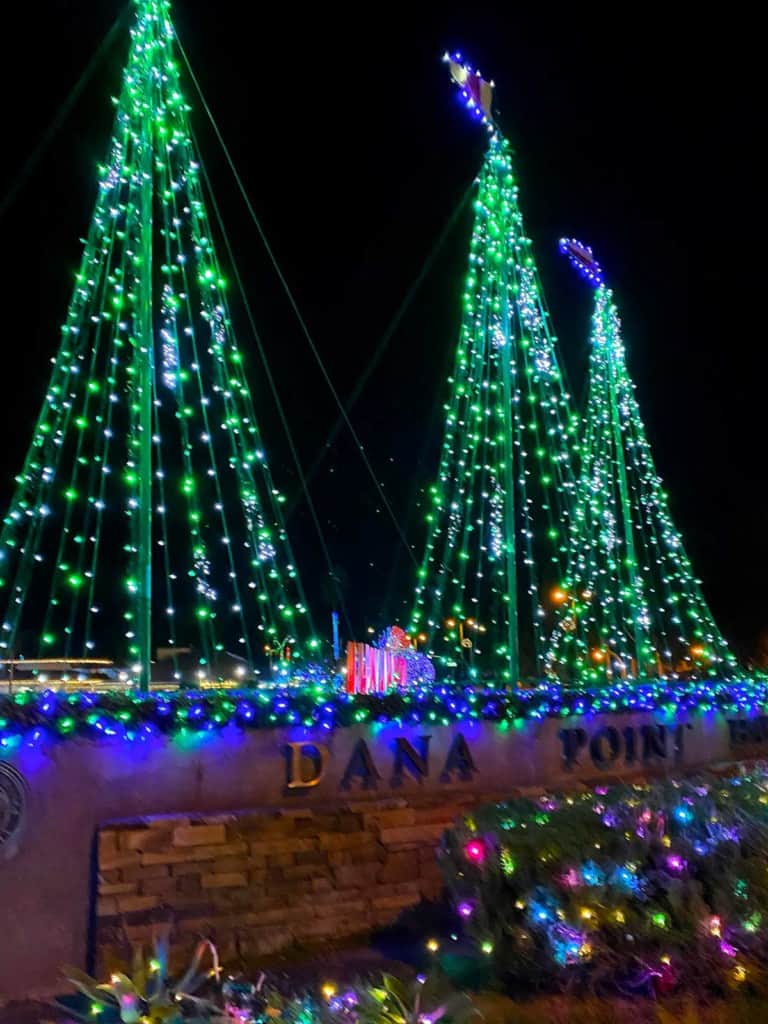 Best Route to See the Dana Point Harbor Lights
Our family's favorite route to see the Dana Point Harbor Lights is to start on the South side of the shopping center. We like to enter at The Wharf and start off by looking at the Giant Candy Cane Christmas display. They have a few restaurants and cafes in that area, so you can probably find a place to get hot chocolate. OR do what we do, and stop by the gas station first to get your hot chocolate.
Then we travel North through the Candy Cane Tunnel towards the Merry Kiss Me sign.
After we take our photos at the Merry Kiss Me Sign, we continue North along the water pathway towards the Light Tunnel. This year, if you make a left on the harbor bridge to the East Island, you can check out the giant Happy Holidays Adirondack chair.
The tunnel of lights is the furthest part of the Dana Point Harbor light display. It's a good ¼ mile from the beginning of this route.
Once we stop at the Tunnel of Lights, we head back along the street that runs in front of Dana Point Harbor – Dana Point Harbor Drive. This will bring you to the Giant lighted whale, and the lighted #HappyHarborHolidays sign. There will be plenty of holiday light along this route back.
Finally, once we see the #HappyHarborHolidays sign, we head back towards Mariner's Village. This is where you'll see a row of lighted trees that lead to Giant Surfing Santa.
Hope this helps you plan your evening!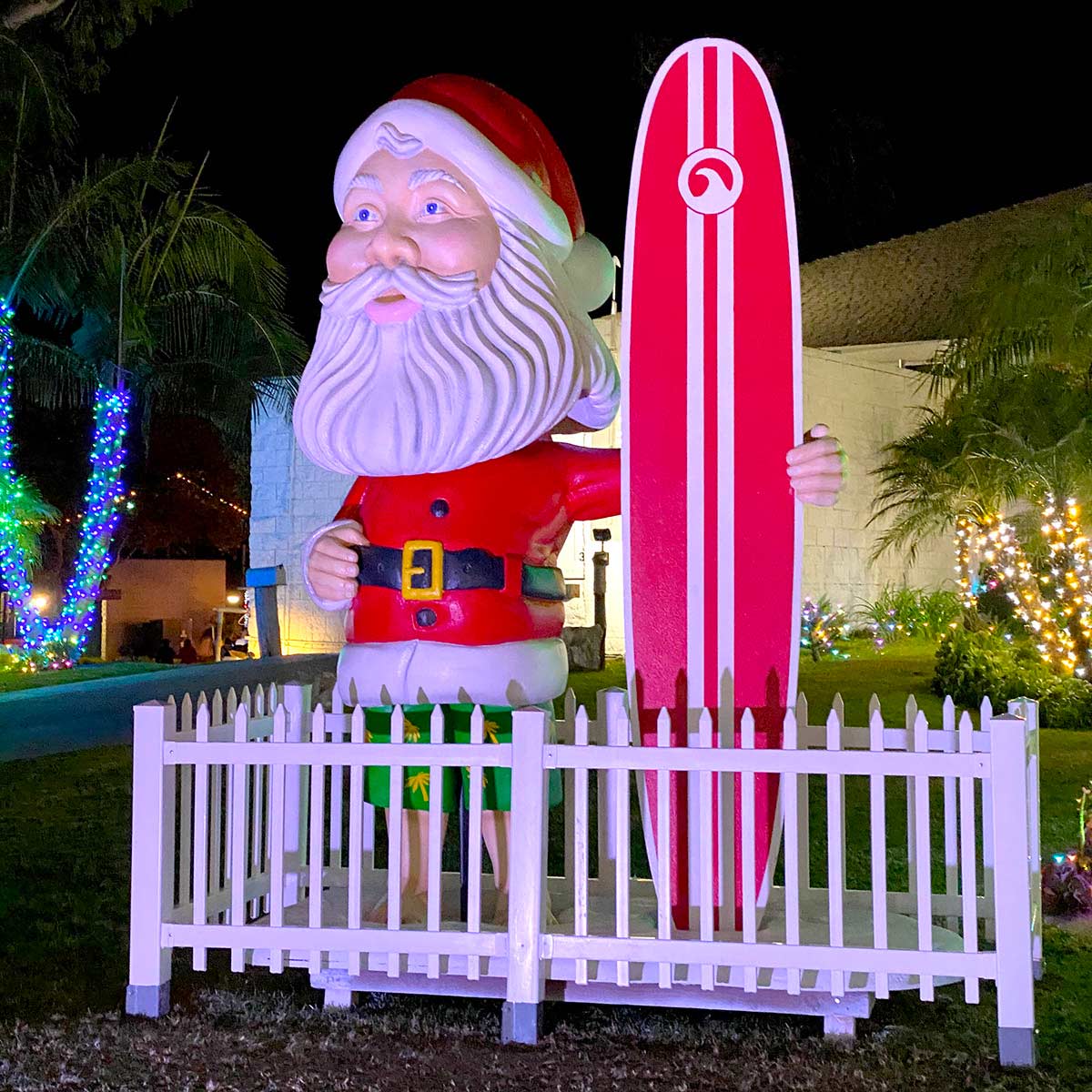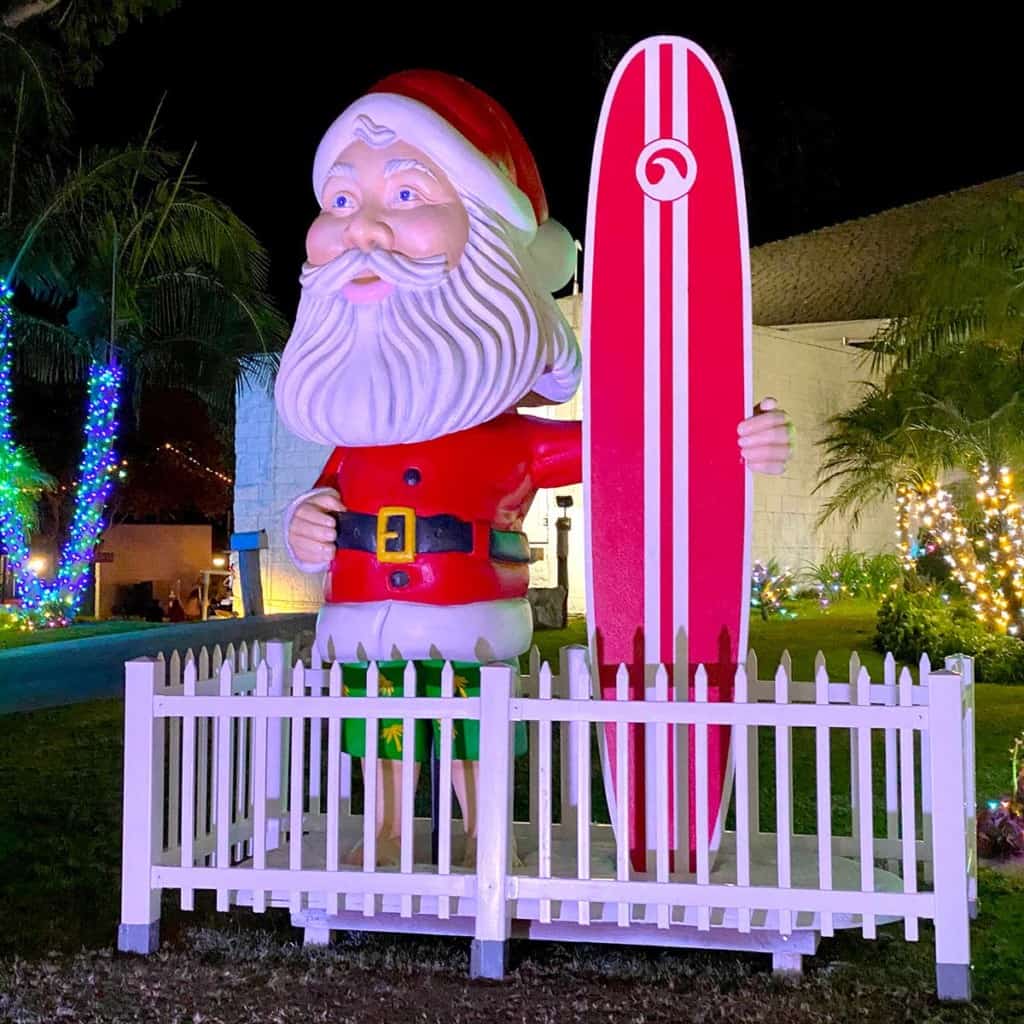 Dana Point Harbor Lights Map
Here is a map to help you plan your route. You can download it here.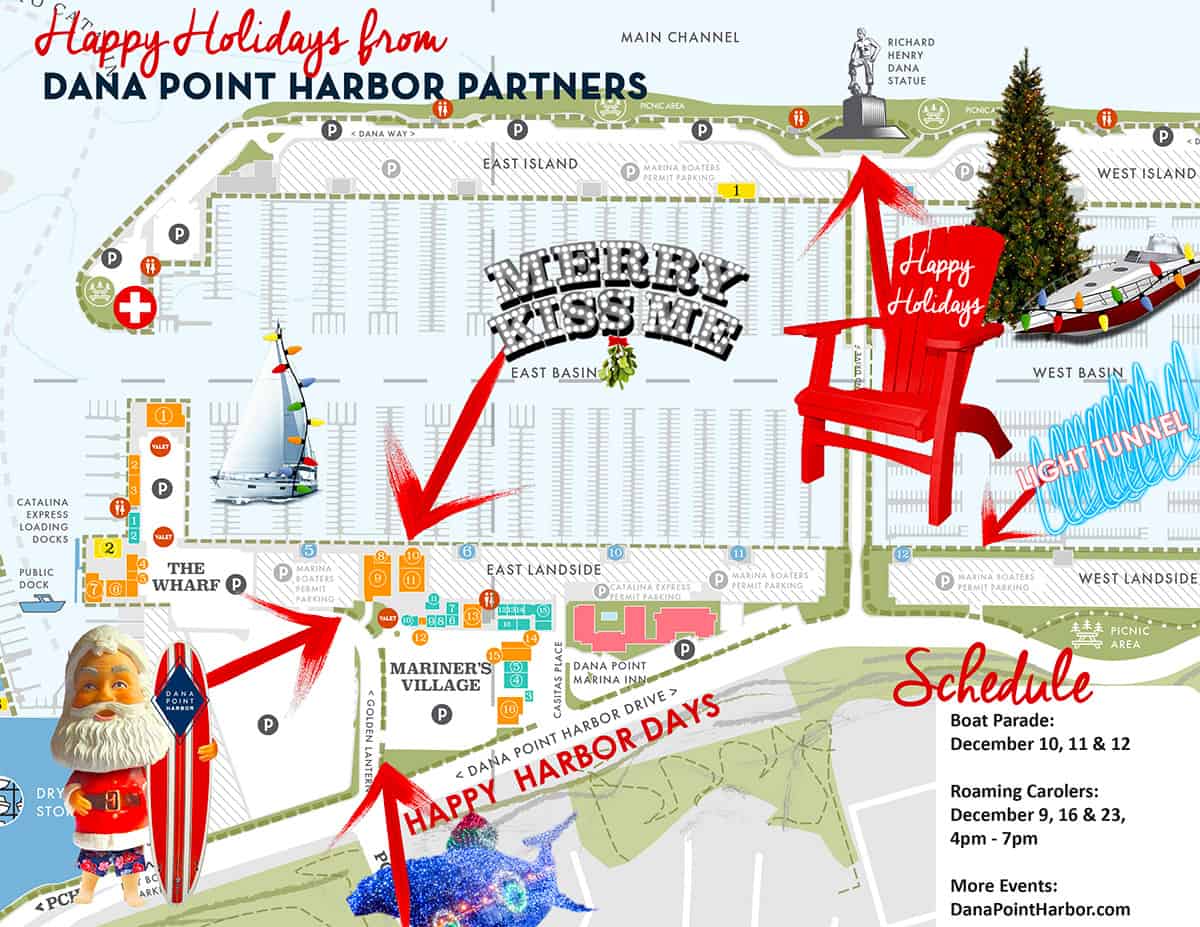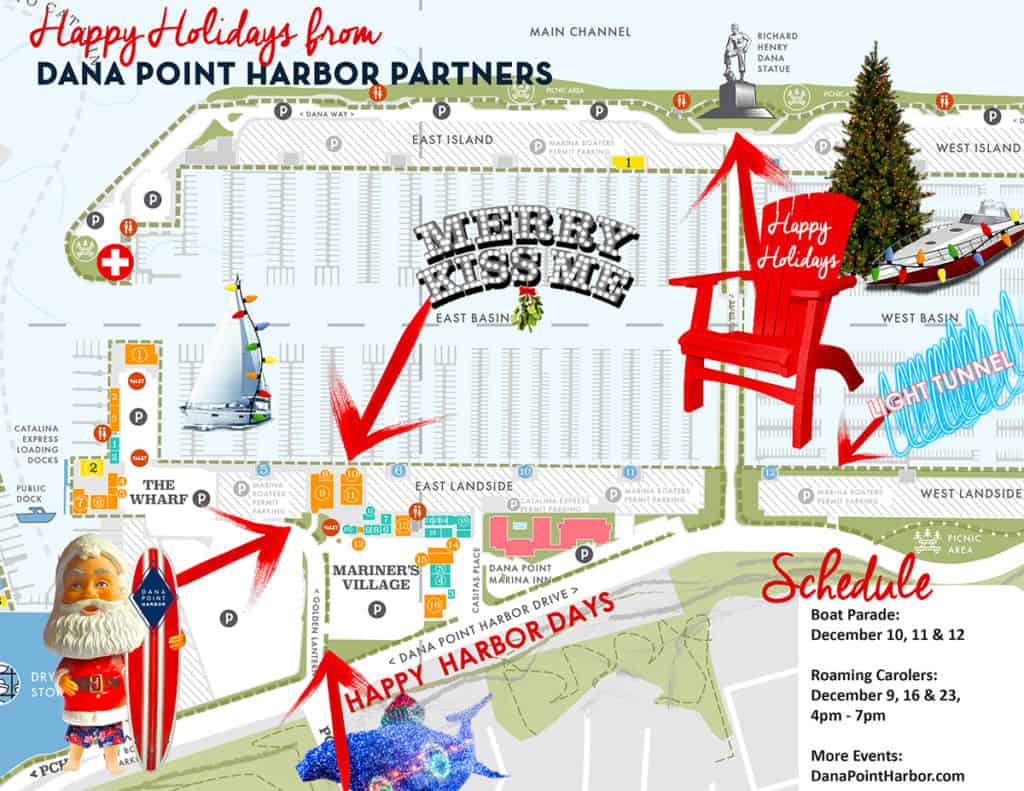 Tips for Viewing the Dana Point Harbor Lights
Here are some of my best tips from my family's experience of visiting the Christmas lights each year.
Bring a stroller or a wagon if you have small kids.
Wear warm clothes and bring a jacket. Every time we have gone, it's been really chilly. I thing it's due to being near the ocean.
Stop by the gas station on your way and get hot cocoa to enjoy along the way.
Come early and eat dinner at one of the many Dana Point Harbor Restaurants.
It does get crowded, so come on an off day if you can.
It's dog friendly, but make sure to bring water for you dog. The walk is long and there isn't many water spots around.
Make sure to use the restrooms before you start your walk.
It's about a mile round trip if you want to view all the lights, so wear walking shoes or sneakers.
Bring your camera!
Take a photo in front of one of the many light installations and tag @danapoint_harbor on Instagram. Make sure to add the hashtag #HolidaysattheHarbor. One lucky winner will be chosen at random to win a special Dana Point Harbor package.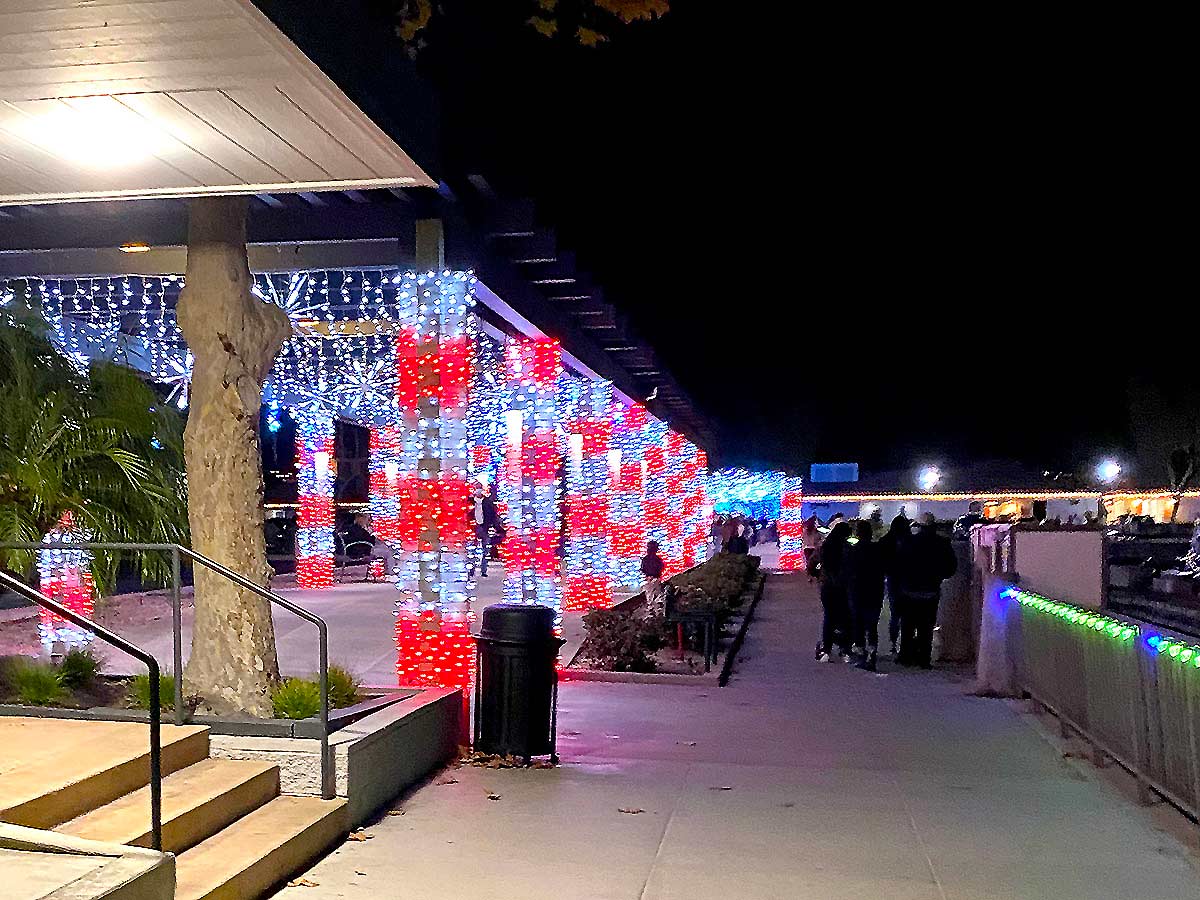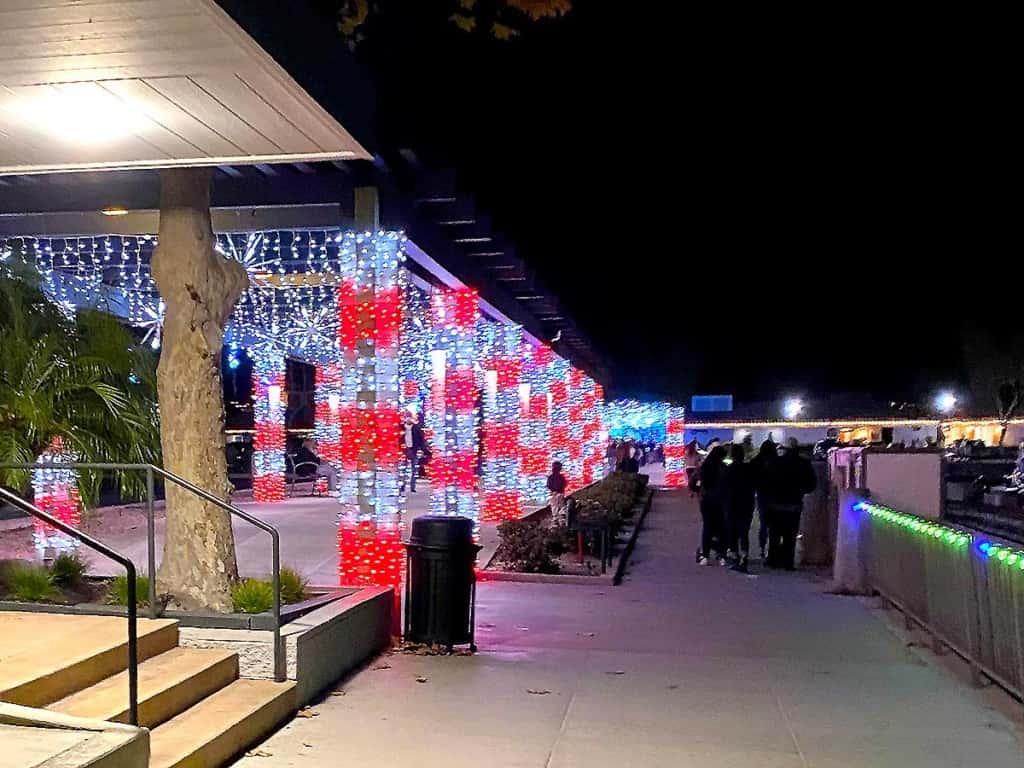 Christmas and Hannukah Events at Dana Point Harbor
Boat Parade of Lights at Dana Point Harbor
The Harbor's annual Boat Parade of Lights will take place December 9th through the 11th with a "Surfin' USA" theme. The parade will begin at 7:00 p.m. on December 9th at 6:00 p.m. on December 10th & 11th. Boaters will decorate their vessels for a chance to win up to $10,000 in cash prizes across several award categories. Award categories include Best Use of Theme, People's Choice, Supervisor's Cup, Mayor's Cup and more. Boaters can sign up at The Marina at Dana Point office.
Santa Claus at Dana Point Harbor
Santa's coming to the Harbor on November 27th and December 10th and taking residence in the Clock Courtyard from 3-5 p.m. Visitors will have the opportunity to take a photo with Santa in front of a holiday-themed photo op, which will remain up throughout the month of December for all to enjoy.
Menorah Lighting at Dana Point Harbor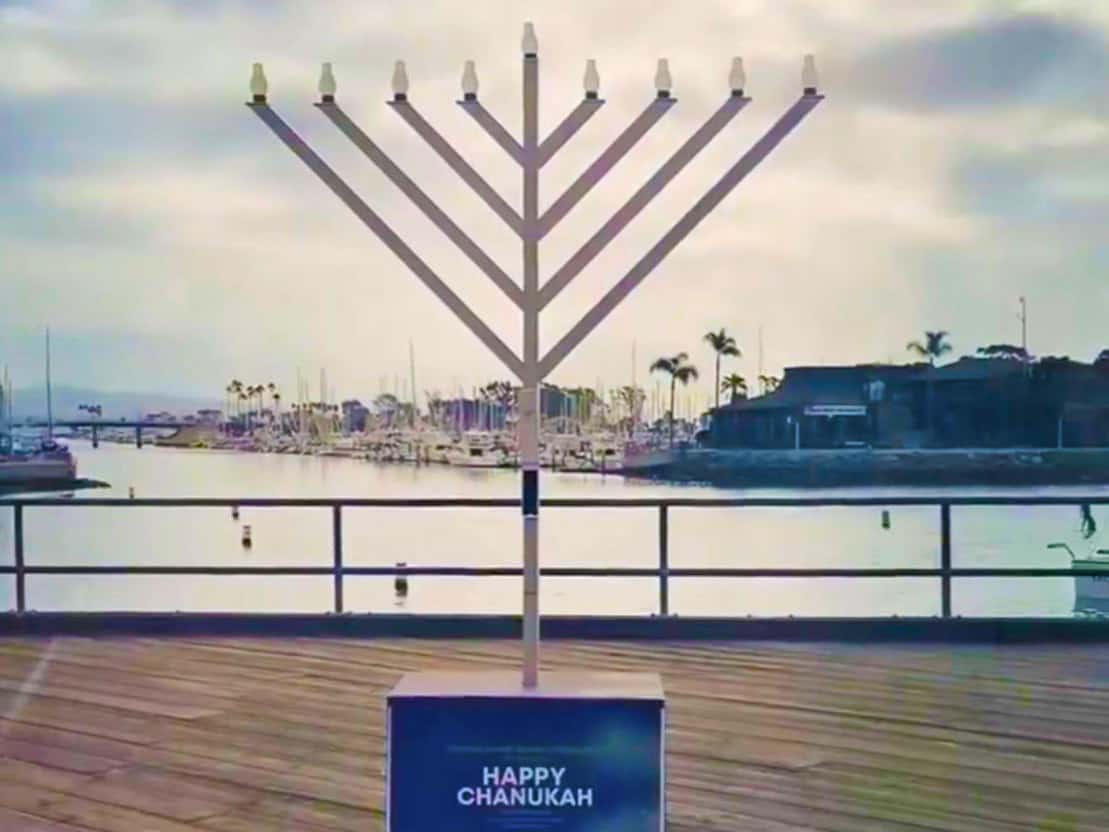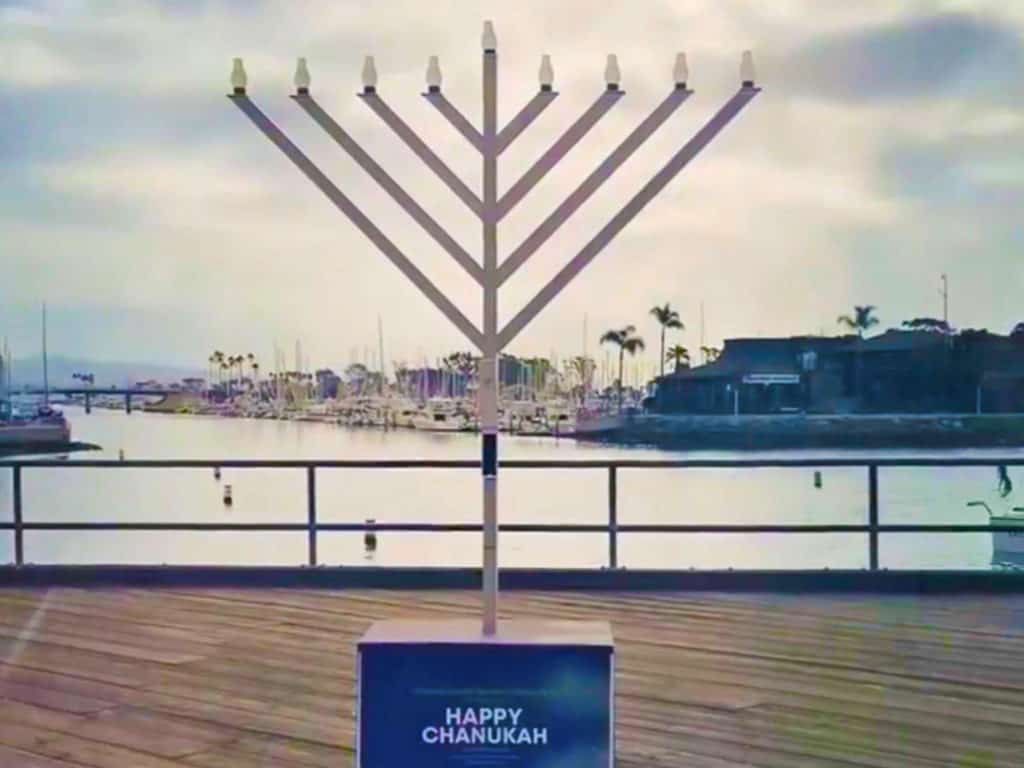 DPHP in partnership with the Chabad Jewish Center of Dana Point will host a Menorah Lighting Ceremony on the Fishing Pier at Baby Beach at 4 p.m. on December 18th. Guests can enjoy hot latkes, music, coffee, dreidels, crafts for kids and more. The 12-foot Menorah will remain at the pier for the duration of Hanukkah from December 18th through the 26th.
Pet Photos with Santa at Dana Point Harbor
Pet Project Foundation will host the 10th Annual Santa Paws on December 17 & 18 from 10 a.m. – 3 p.m. in the Clock Courtyard. Santa photos with your pets will be offered for a small donation with all proceeds supporting the Pet Project Foundation.
Boat Rides with Santa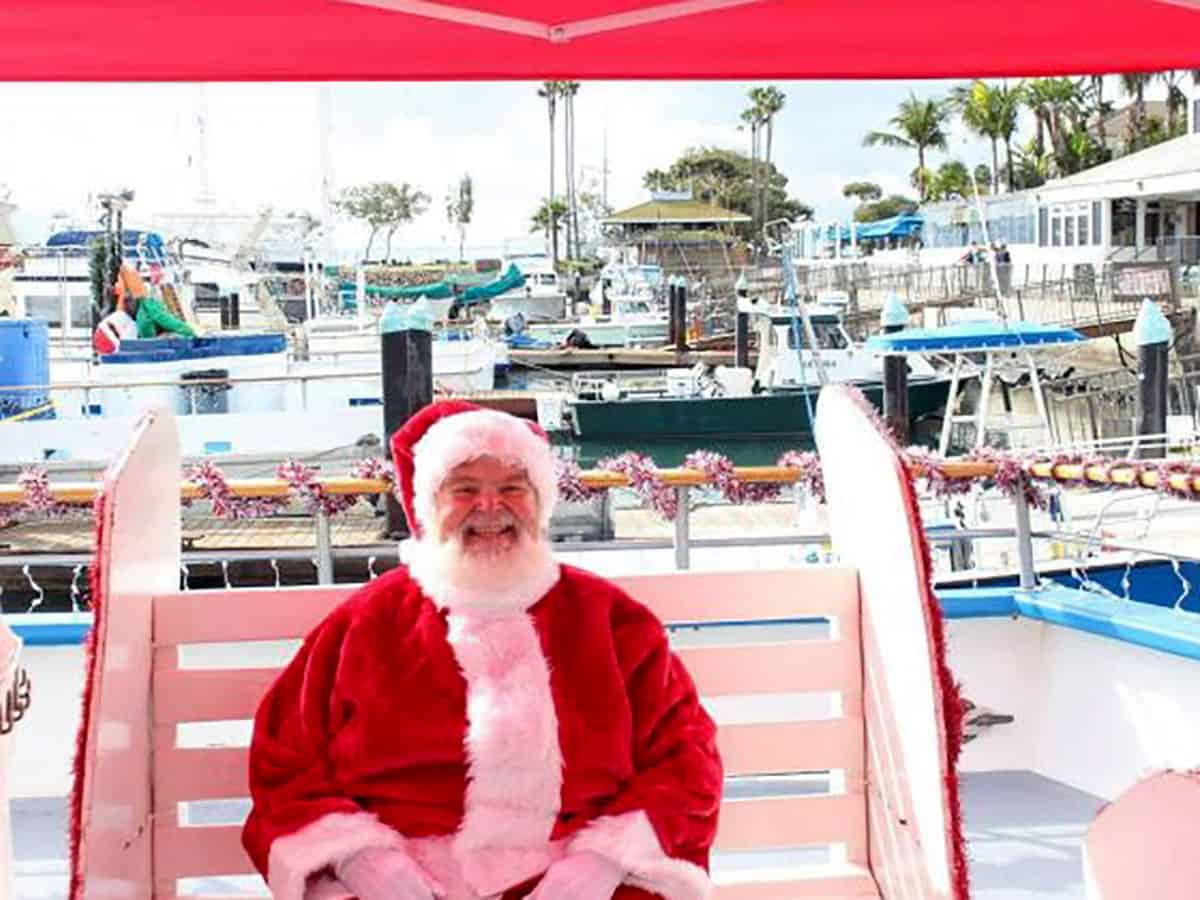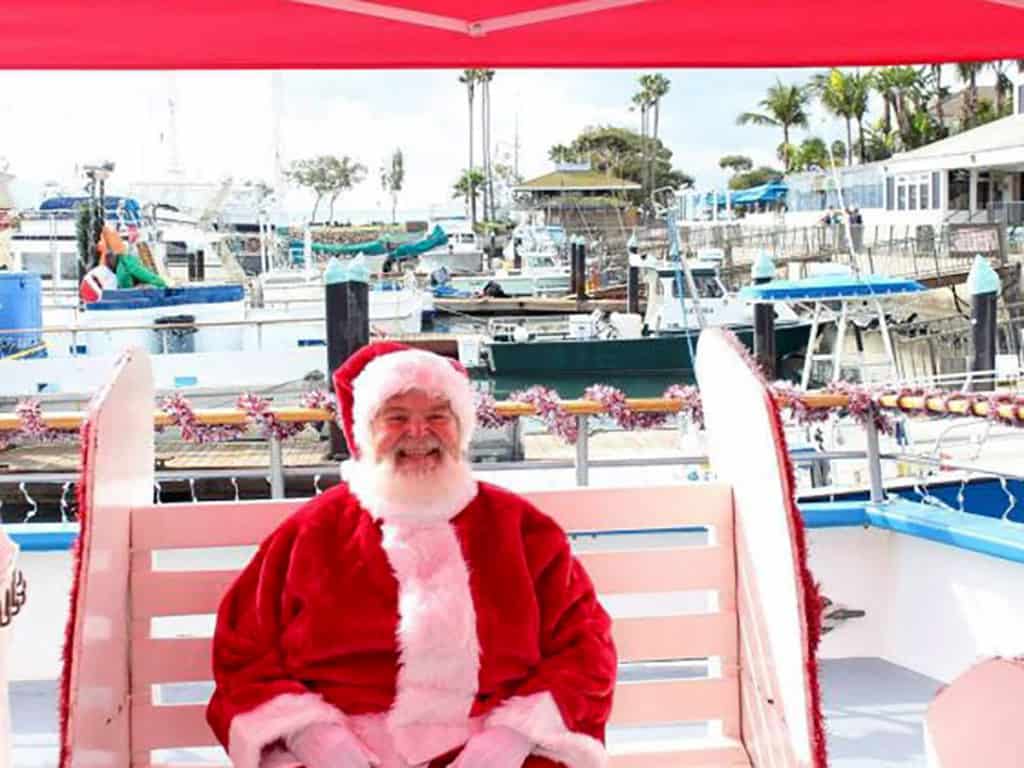 Dana Wharf Sportfishing & Whale Watching will host its annual Boat Rides with Santa on Saturday, December 3rd and 4th from 10 a.m. – 2 p.m. Take photos with Santa and his holiday helpers on this adventure at sea for a $5 donation. Reservations are required. Visit danawharf.com to purchase tickets.
What is Dana Point Harbor Christmas Lights Address?
The Dana Point Harbor is located at 34555 Golden Lantern Street, Dana Point, CA 92629. This is where you will find the Christmas lights.
For more information on Holidays at the Harbor visit DanaPointHarbor.com/holidays-at-the-harbor.
Where do you park for Dana Point Harbor Lights?
Parking is available in the both large at the harbor. The lot can be full on the weekends.
You can also park along the street.
Location: Near 34505 Golden Lantern, Dana Point, CA 92629.
Is parking free at Dana Point Harbor?
Yes! Parking is always free.
What time does Dana Point Harbor close?
There are no specific operating hours for the harbor itself. There is a curfew law enforced for the parking lots, beach and picnic areas during the hours between midnight to 5:00 AM.
Where is Merry Kiss Me located?
The Merry Kiss Me sign is located at the Dana Point Harbor in Dana Point, in Orange County California.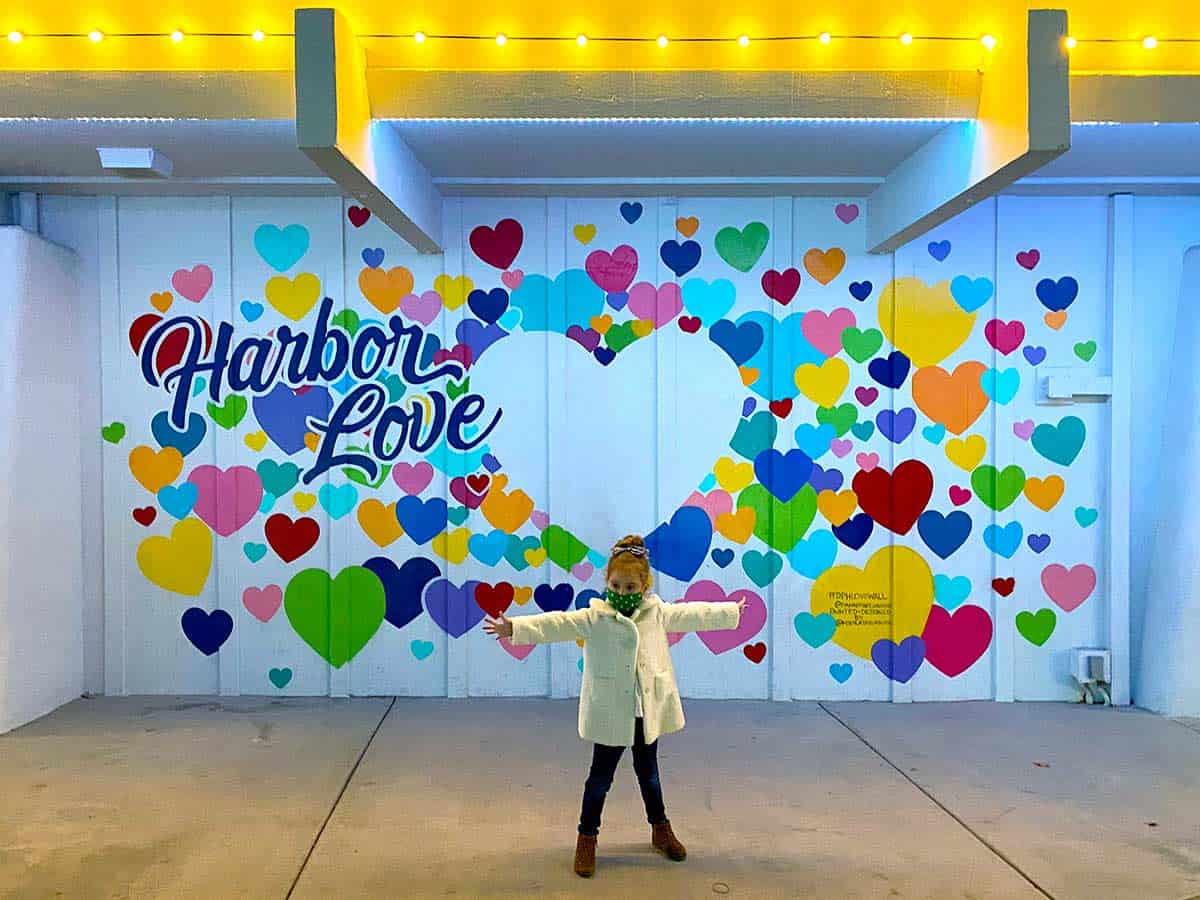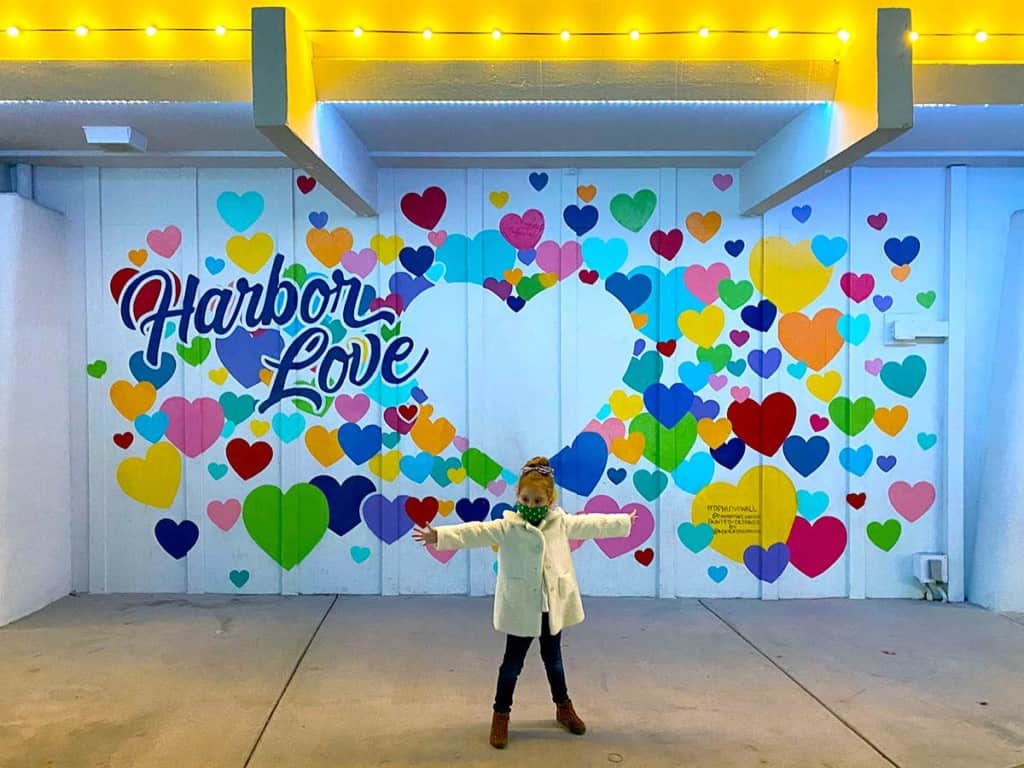 Need More Christmas Activities in Orange County?
Check out all these fun Christmas things to do in the OC this holiday season.