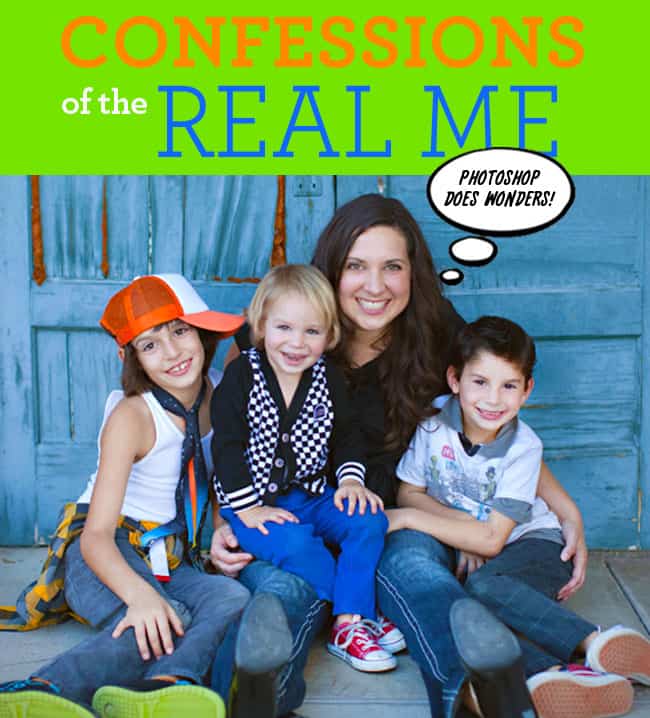 Confessions of the Real Me. a new series on my blog where i will share the not so perfect bits and pieces of my life. because in reality…our lives are not always the perfect pictures that we share on social media channels. i know mine isn't….but i'll take it.
Picture Perfect Mom?
as a blogger, a big part of my life is an open book. things i do with my children, daily happenings and photos of our lives are shared across my social media channels. i often hear; "you guys are always doing fun stuff," "you have the best life" and "my kids wish i did more things like you."  in fact, i hear things like this multiple times a week, which often makes me a bit uncomfortable. i sometimes wonder how others perceive my family and i. do they think we are always out doing fun things 24/7?  i would hate for someone to think that they don't measure up to me. so sad.
although my family does get to do a lot of fun things (which i never take for granted) and i love my life, things aren't always rainbows and unicorns over here. we are just a family with normal problems.
there have been times when i have talked to friends about getting together and they have said to me, "i am too embarrassed to have you over because my house is a wreck. i have seen how beautifully clean yours is and i need to clean mine up before i have you over."  WHAT?
they have SEEN mine?
when have they seen my house….the one that is beautifully clean?
well, they have SEEN mine. on instagram. on Facebook. on this blog. that's where they have seen mine. but, they have NOT REALLY SEEN mine.
the second that i heard this comment come from my friend's mouth, i actually had a sad feeling in my heart. not because her house was so messy (because i am pretty sure her house was much cleaner than mine). but sad to think that she had to feel that she didn't measure up to what she had seen on my social media channels.
because in reality, my house is opposite of that. it is ALWAYS messy, just ask my friends (except for every other Monday when i am lucky enough to have my housekeeper over). that's just how it is over here. even my son's friend mentioned that my house was WAY more messy than his. yep, that felt great! but with me being a full-time mom and full-time work at home mom, i rarely have the time to keep my house sparkly clean.
i guess what i am trying to get at is this...
the pictures we see, and stories we read on our social media feeds are just snippets of our lives, pieces of the big picture. for most people, the BEST parts of our lives. i don't often love sharing my sink full of dishes or piles of laundry. when i take photos for my blog or instagram, i HIDE the clutter, zoom in on the clean areas and only show the happy parts. i enjoy sharing happy smiles and happy things. my instagram profile is my happy place. it's where i put my best photos, the ones i love and the happy times. the good stuff i want to remember, not the bad. i am pretty sure most people do the same.
social media has made sharing our lives with one another easy. instagram, facebook, blogs and even pinterest are constants feeds,  showing what people are doing all day long.
"look what i am wearing"
"look what i'm doing"
"look at my kids"
"look at my yummy food"
"look where we are"
it can be really fun seeing everything going on with the people we follow.
how many times have you seen something shared on social media and wished you had the same? whether a beautiful home, yummy meal, happy kids, opportunity, exciting vacation. i know i have many times. but thats the beauty AND the ugly side of social media. because it's really fun to see what everyone is up to, but sometimes we see these pretty pictures and think wow, "their lives are perfect" or "i would be happy if i had that." which is not always the case…and what's perfect for one family, doesn't alway work for another.
just last week, i was telling my friend how i couldn't believe all the stuff parents did for Valentines Day and St. Patrick's Day. i was feeling bad that i didn't do anything extravagant for my kids. even though my kids were fine with it, i was just seeing all the photos come through on my feeds and comparing myself and what i didn't do. 
no, i am NOT trying to bash social media at all. i LOVE it, and use it daily as many of you know. but i just want to remind you that it's just PART of the picture….that, we as moms are TOO HARD ON OURSELVES. and sometimes can compare ourselves to other moms and to each others lives, just trying to keep up. it's only natural that we do this.  but please, please stop beating yourselves up about not doing enough. because you ARE AMAZING just the way you are.
we all have our weaknesses and strengths in life. but in the end, it all balances out….and at the end of the day, our kids are happy.
i have seen this quote many times throughout the years. "Good moms have messy kitchens, piles of laundry, sticky floors and happy kids" i love it because it reminds me of ME! i have it on my desktop as a little reminder, since i often beat myself up about not having an empty kitchen sink, that toys are scattered around the house, or that i made my kid wear pants out of the dirty clothes hamper because i didn't get to the laundry that day (or week or month).
and i'm not saying that if your house is clean your kids aren't happy either…all i am saying is that it's okay that our lives aren't always the pretty pictures we see on social media.
at the end of the day, its not how clean our houses are, or the fun places we went, or if we made a homemade meal or got takeout instead. what matters most is…that we even got through the day…that we did the best we could and what we could to make our families happy.
they love us for it.
and always remember that YOU ARE AMAZING!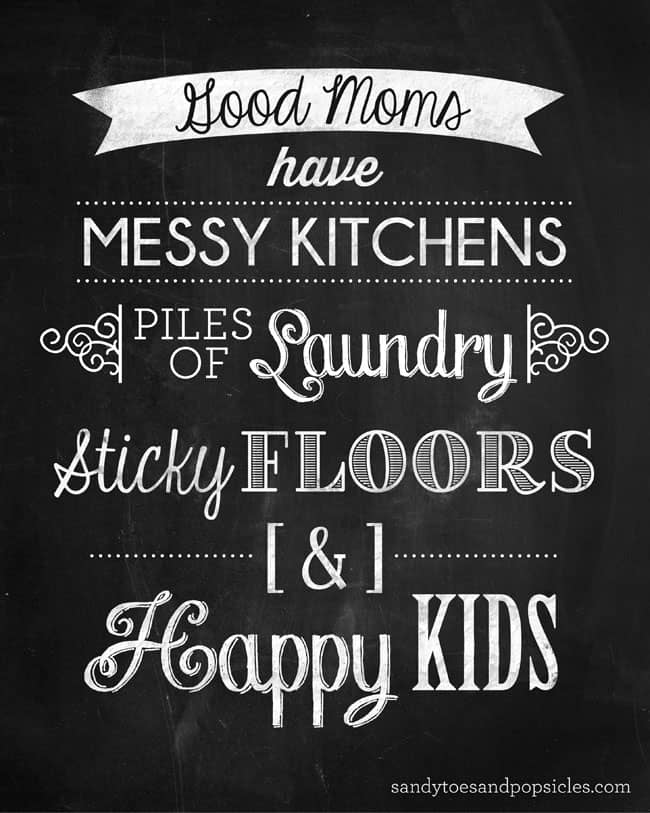 p.s. just in case you want to be reminded of this, i have included this a free printable for you to download. all you nee to do is print it out (at 100% scale) on a piece of card stock and place it in your favorite 8 x 10" frame.
click here for the free printable mom quote
wanna read more Confessions of the Real Me?
The Day I Got Stuck in a Museum Exhibit
The Best Meal I've Had All Year
Crazy Hair Day
The Hottest Week of the Year