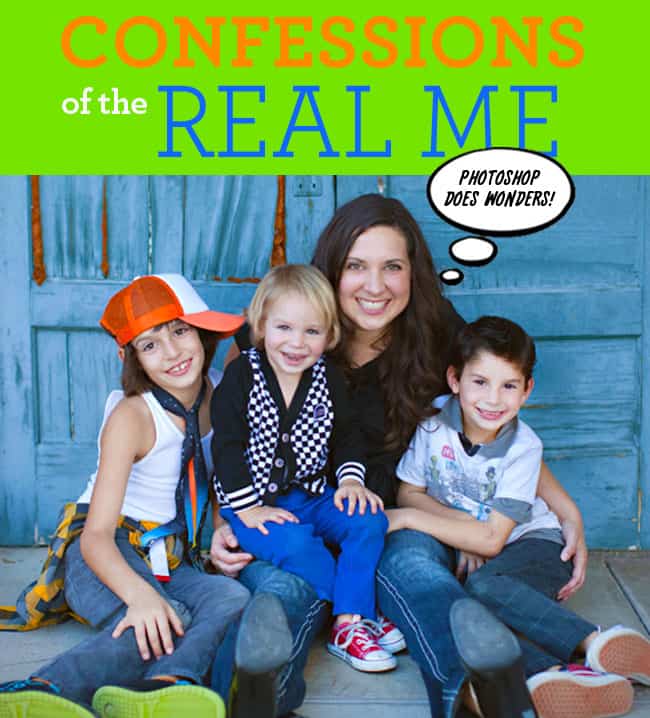 Confessions of the Real Me. a series on my blog where i share the not so perfect bits and pieces of my life. because in reality…our lives are not always the perfect pictures that we share on social media channels. i know mine isn't….but i'll take it.
The Best Meal I Had This Year.
as a blogger, i feel blessed to be able to try some amazing food at events and launches i have been invited to. dishes i would have never dreamt of….food carefully prepared by top chefs and amazing cooks.
but sometimes, having an amazing meal isn't all about unique entrees you can't find anywhere else, or fancy plated bites of food. sometimes the best meal you've ever had, has to do with the experience…the calm and joy it brings you, and being able to share it with the ones you love.
a couple weeks ago, i was driving home from a baseball game with the boys. let's be honest, this baseball season has been kicking my butt. with 3-5 practices and 3-4 games per week, i am barely keeping up. dinner prep has almost been non-existent, and i find myself dreading dinner time. the time was already seven o'clock, and my husband was still at work and wouldn't be coming home for dinner. i had no food at home, nothing prepped for dinner, and i had already decided i wasn't going to get fast food. i wanted to have a home cooked meal…there was not way we were going to eat out again.
but...
as we made our way home i began to feel more anxious with every minute that passed. my boys were telling me how hungry they were…which is rare. my kids never are hungry. i knew that once we arrived home, it would take at least 30 minutes to prepare dinner, the chances of me making something everyone would like was practically impossible, and i knew meltdowns were going to occur…if not from them, then by me. so i made the split decision to go to Denny's.
the kids noticed that we had suddenly changed our route and were no longer going home.
"where are we going mom?" 
"we are going to go to Denny's" i told them
[cheers of delight from all 3 boys] this is one of their favorite restaurants.
as we walked inside, we were greated by Sergio, a nice server who has help us many times in the past. he remembered us and directed to our seats. he gave the boys their menus and some crayons and we all sat down. at that moment, i could feel the stress and tension leave my body. a warm peace came over me as i looked at my children sitting there…happy as can be.
the boys were excited about the new menu which featured National Geographic Kids, with lots of facts, activities and "weird but true" facts about animals. they were having so much fun with the new menu, and i was happy to see how much healthier the menu was…it didn't even have fries as one of the menu options.
they all wanted hash browns…Denny's is definitely the place to go for those. and Sergio helped them (with a SMILE) create meals around all the items they wanted….even having the cooks make an entree that was no longer on the menu for one of the boys we ended up with Pancakes and Apples, Hashbrowns, Bacon and Scrambled Eggs and an Inside Out Grilled Cheese with a double order of hash browns.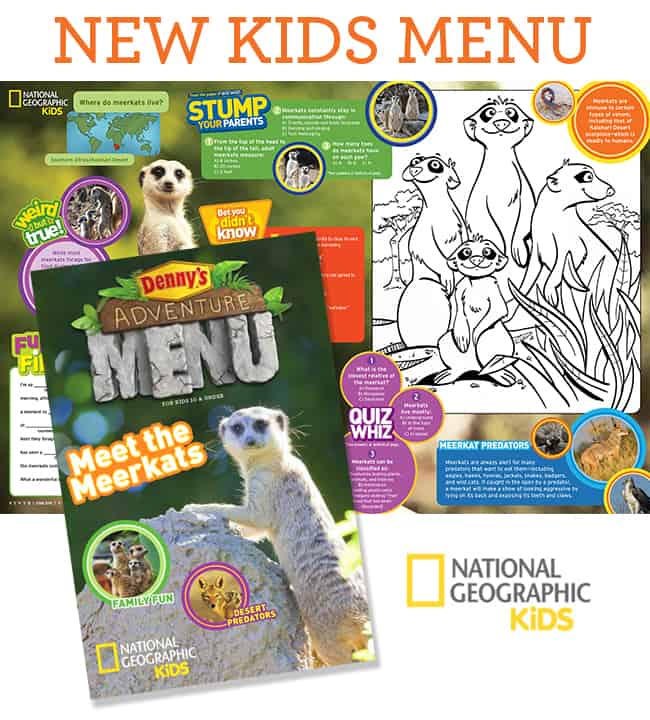 the dinner came out so quickly, and the boys went to town enjoying their food. there wasn't one whine or complaint out of my boys, they were happy as can be.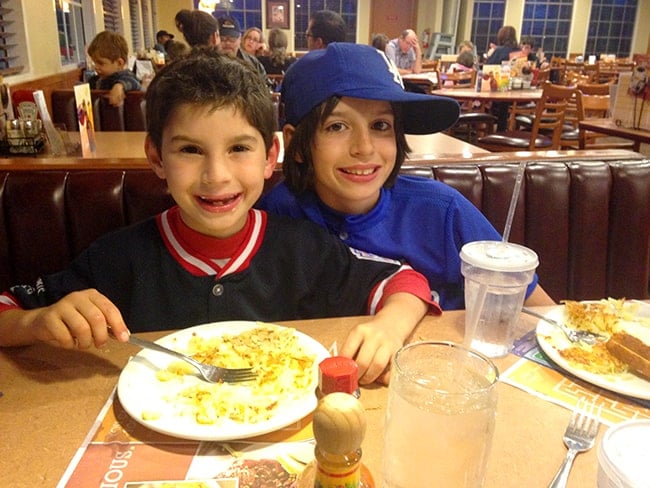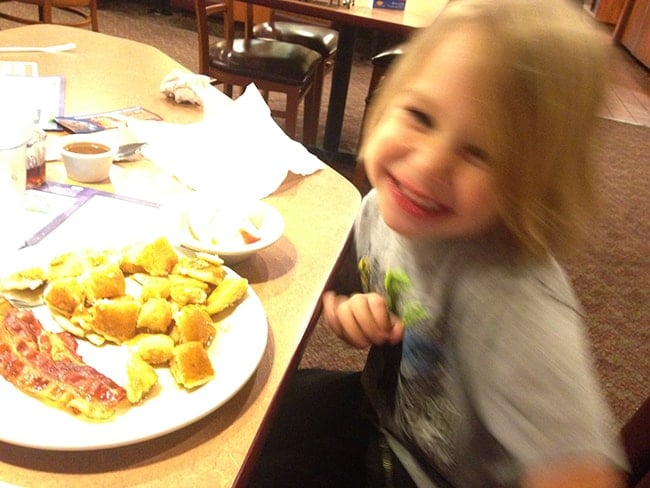 and what did i get?
i originally ordered a chicken sandwich because i was too frazzled to look at the menu. but then i saw a stack of the "build your own skillet" papers on the table. it looked really good, so i reluctantly asked Sergio if i could change my order…even though i knew he had put it in the system.
he said it was no problem, and quickly changed my order happily without a fuss. it was so nice…and i was really happy to try a skillet entree….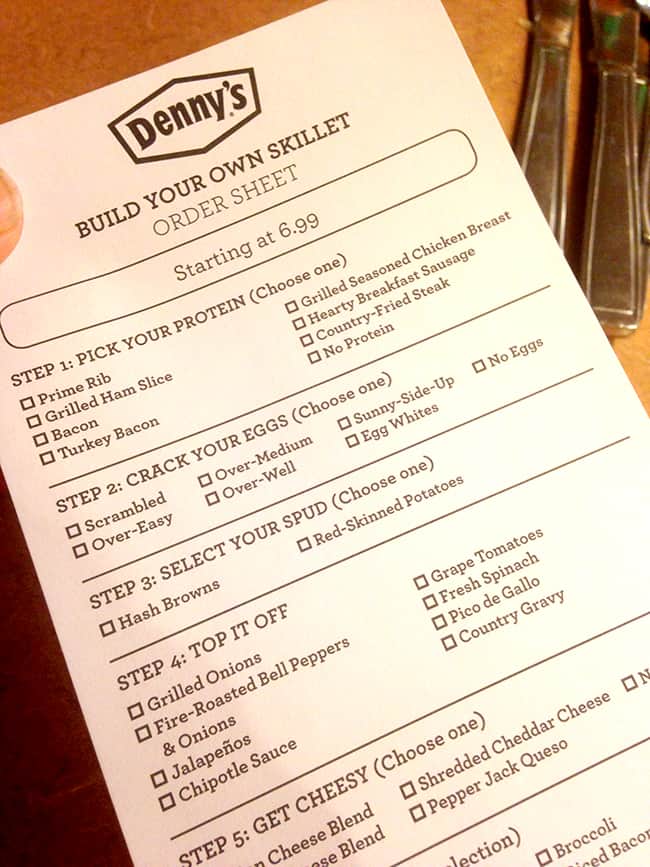 i am so glad i did. here is what i got: hash browns with fresh tomatoes, green peppers, onions and jack cheese, with a fried egg over the top and a side of bacon (which i gave to my boys). it was really good and the perfect comfort food to end the hectic day with. breakfast for dinner is just what the doctor ordered.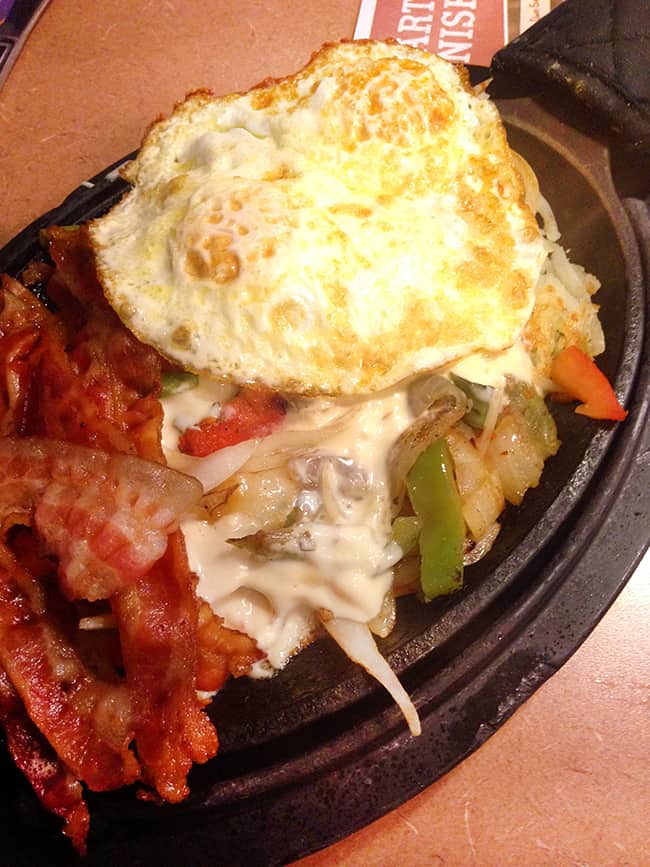 and if you want to know how my boys enjoyed their meals….this is what their plates looked like when we were finished. they ate everything! a great feat considering they aren't big eaters.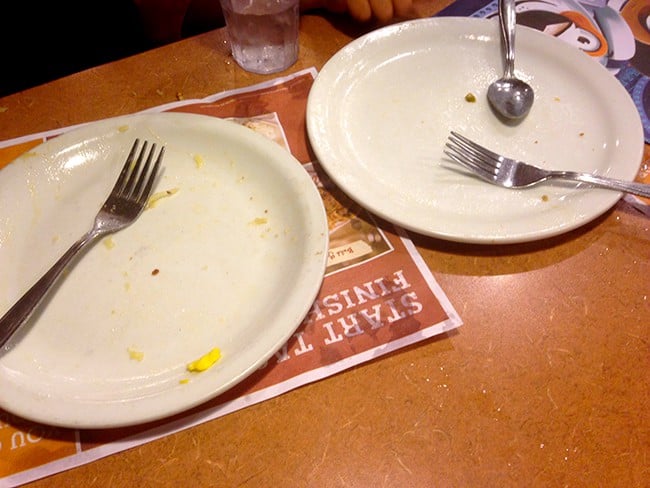 when Sergio brought us our bill, i looked at it in disbelief. to my surprise it was kids eat free night, which i forgot about….each adult meal purchase qualifies you for two free kid meals. that meant i only ended up paying $13 for the entire meal. i feel bad even saying how much it was, as i feel this meal was worth much more money.
i left Denny's that evening happy and calm and feeling so blessed to have had such a nice meal time with my kids. we all had full bellies and smiles on our faces….i having the biggest smile of us all, as there was no mess to clean up or dishes to do. NOW THAT'S WHAT I'M TALKING ABOUT.
the best meal i've had all year was at Denny's!
true story.
wanna read more Confessions of the Real Me? 
Confessions of the Real Me: Picture Perfect Mom?  |  Free Printable
The Day I Got Stuck in a Museum Exhibit