This is a sponsored post on behalf of @Aveeno.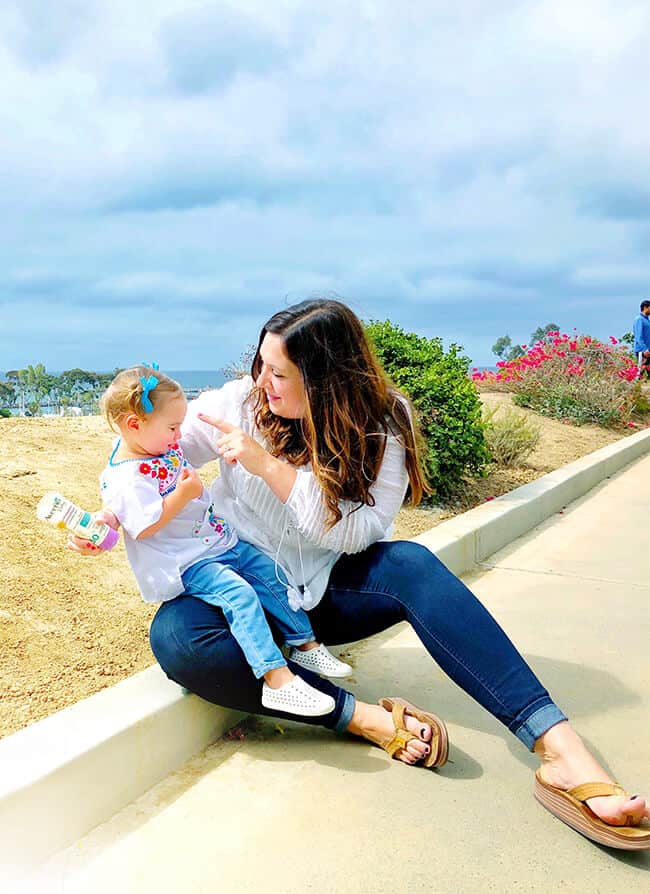 S U N S C R E E N! if you live in the OC, you probably have a giant stash of it. with it being sunny all year long here in Orange County, it's very important to protect yourself and your babies with sunscreen. but if you're anything like me, you either tend to leave it at home when you need it, or you run out and forget to stock back-up. well, now is the time to stock up on all your sunscreen needs AND organize it for your summer adventures.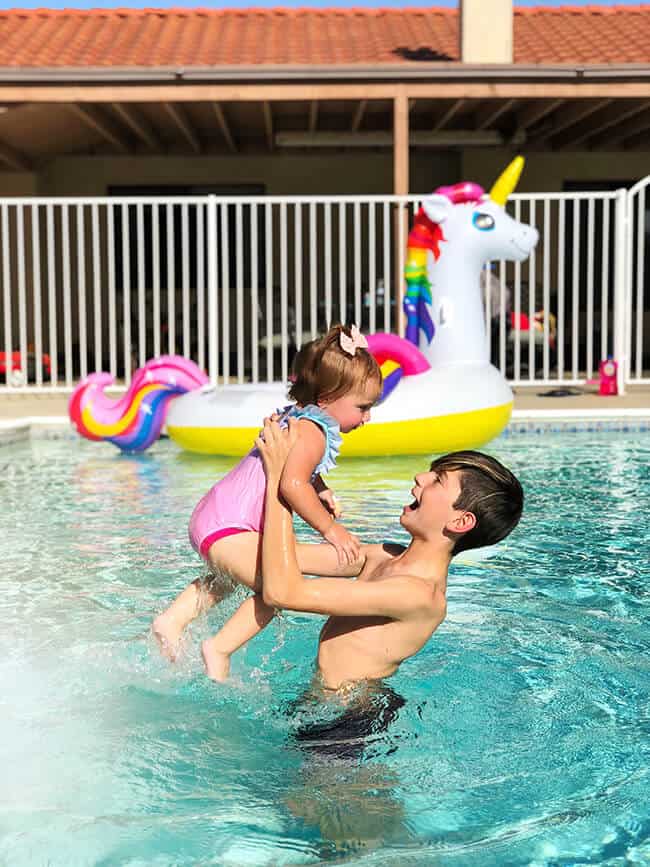 summer is here, so it's prime time to start buying all your suncare needs! first, you are going to want to head over to Walmart and pick AVEENO® Baby CONTINUOUS PROTECTION Sunscreen Lotion with Broad Spectrum SPF 50. Walmart has a twin pack at a value price, you can use the Ibotta offer for$5 back, you'll have double the protection, double the moisture, and double the fun this summer!!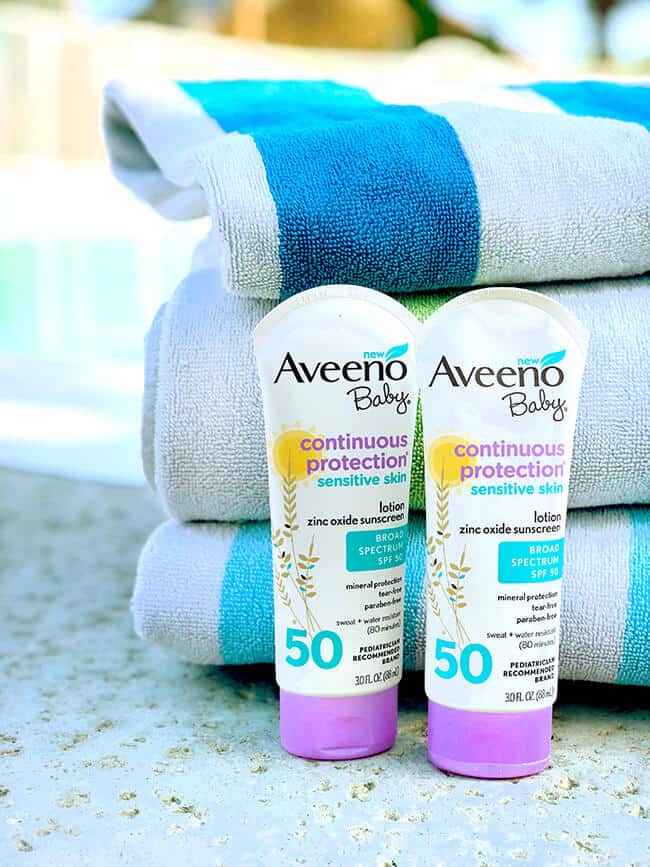 i have trusted these products for all my kids. as you probably know, i have written about it many times before. the AVEENO® Baby CONTINUOUS PROTECTION Sunscreen Lotion with Broad Spectrum SPF 50products have 100% Zinc-Oxide UVA/UVB Mineral Protection, are hypoallergenic, and free of parabens, phthalates, dyes and fragrance. they also lock in moisture to nourish skin, and are gentle enough to use everyday...even on baby's sensitive skin. plus, they have the National Eczema Association Seal of Acceptance. finally, something that most parents can appreciate...are tear-free, easy to apply, and the non-whitening formula goes on without stinging.
Places you need to remember to bring sunscreen
now that you have stocked up on sunscreen, it's time to organize it. you don't want to be without it when you really need it...which is pretty much ALL the time here in Orange County.
Diaper Bag or Summer Purse. this is the number one place i keep sunscreen. with a baby in tow, i always have my diaper bag with me. So it's great to have sunscreen with me all the time.
Sports Bag or Summer Camp Bags. when sending those kiddies of to sports practices and summer camp, make sure to keep the sunscreen stocked. and don't forget to remind your kiddies to applyas necessary throughout the day.
Car. great for those quick trips to the park, or backyard playdates.
Backyard. i can't tell you how many times we've been playing in the backyard and i realize we need to apply sunscreen – especially since we have a pool. you don't want to have leave the kids alone in the water, and they don't want to get out of the water for you to find the sunscreen. make a fun basket full of sunscreen products, hair ties, bandages, and non-perishable snacks to have on-hand in the backyard. this will keep you and your guests supplied with everything they need to have a fun playdate.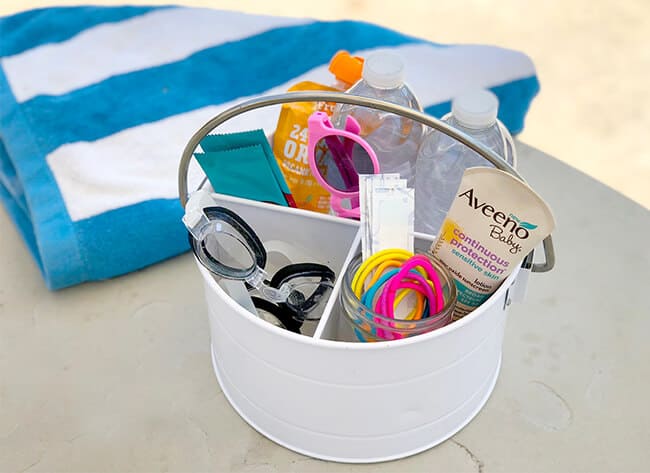 Grandparent or Babysitter. make sure to have a bag of essentials for kids that the grandparents or babysitter can use. don't forget the sunscreen, because in my experience, they don't always think to put it on the kids when they are out. i have had kids come home with sunburns after a day of fun with the grandparents. oops!
Beach or Pool Bag. i like to keep a bag of towels, swimsuits, goggles, sand toys and sunscreen in the car for impromptu trips to the beach, splash pad or pool with friends. then we are never without our swim stuff when we are out and about.
lastly,
Where you keep your keys. having a bottle of sunscreen near the door where you keep your keys or leave your house, it will help remind you to apply sunscreen to your kiddies or yourself before you leave.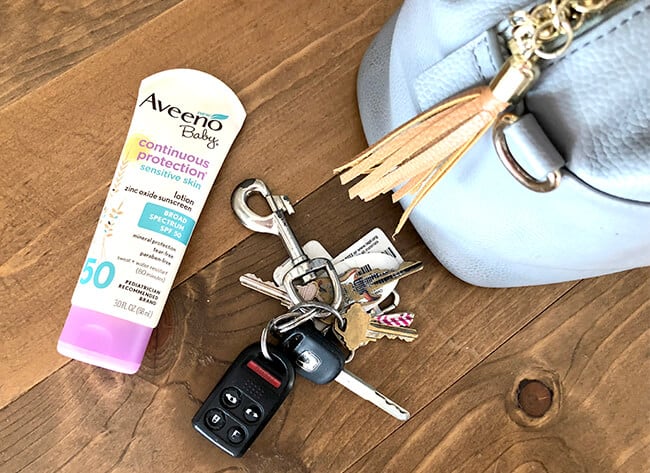 Now you are covered! (in sunscreen)
by stocking up on sunscreen and organizing it for your summer adventures, you won't have to stress about looking for that one bottle you bought, or being without and having to cut your sunny playdate short. it will make summer easier, less stressful and hopefully sunburn free. don't stress about sunburns or dry skin... with AVEENO® Baby CONTINUOUS PROTECTION Sunscreen Lotion with Broad Spectrum SPF 50, you can nourish and protect your family during everyone of our OC sunny days!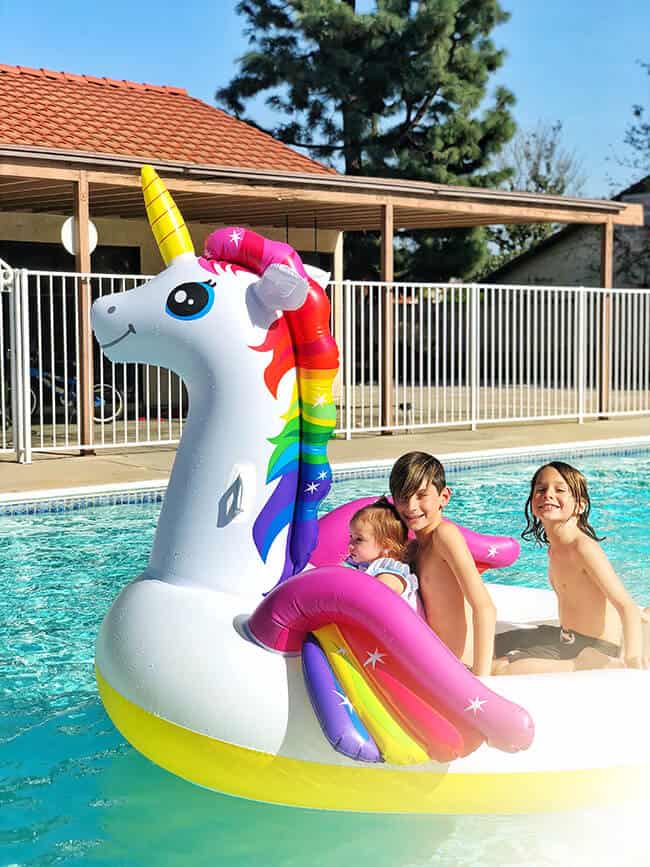 {Disclosure: This is a sponsored post. All thoughts and opinions are 100% my own. }