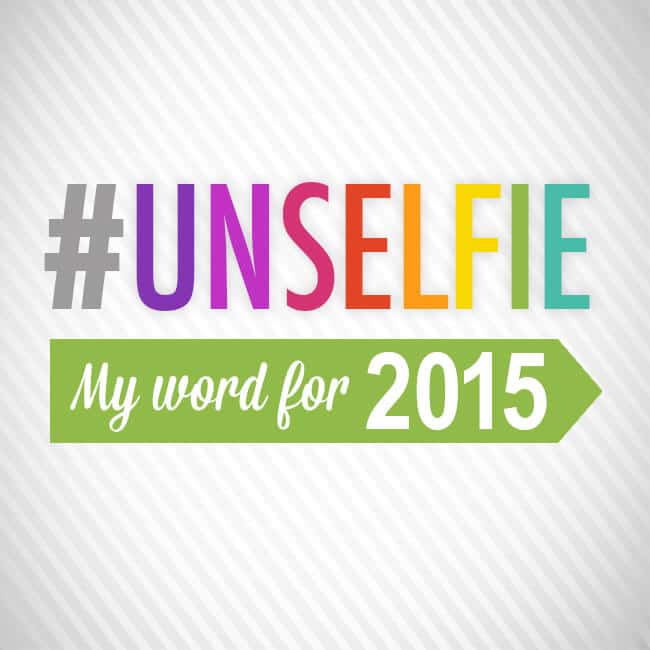 when it came to picking out a word for 2015, my mind didn't really give me any options. i tried for over a month to think of different words that could become my mantra for this New Year, but my head just couldn't focus on anything other than a certain single word. ironically, "FOCUS" was my word for 2014, and here i was not able to focus on anything. last year, i think considering how the entire year went, i was able to do a pretty good job at my chosen word of "focus." i WAS able focus a lot of my energy into a lot of great things in my life...from my family, to my work, and too others. but this year, my FOCUS has been quite the opposite...granted there has only been a few days in the New Year thus far, i will give myself some slack, but i haven't been able to FOCUS on anything. not one single task.
the one and only word that has come flashing into my mind over and over again has been UNSELFIE. i guess sometimes you don't get to pick your own word of the year....
sometimes the word picks you!
UNSELFIE. my word for 2015
i have been hesitant to claim UNSELFIE as even being a word, but it has been screaming "pick me as your word" over and over. when looking it up, i have found that it has been used plenty of times within the realms of social media and online. and even though it may not be a word in the dictionary it does appear in the Urban Dictionary. so, what does UNSELFIE mean....and how did i decide that it would be my word for 2015?
a few weeks ago, i was sitting in church, and the speaker brought up a point about how #selfie had become the word of the year in 2013. she brought up the analogy of how our society has become more focused on taking selfies. simply a photograph that one has taken of oneself. when taking a selfie, it kind of says "look at ME....here I am"....and how we as a society have become more and more self focused. it was meant to be a simple thought that we could take back with us to think about how we could be less selfish in our actions and more giving....not that we shouldn't ever take a selfie.
and to me....it really resinated.
last year, i focused mostly on myself and family...i was able to teach myself how to focus my energy on the goals i wanted to accomplish for myself and my family. and i guess you could say that last year, i was being a little bit #SELFIE. and that was fine. i needed it. my family needed it. it's been many years since we were able to feel a little peace and calm. but towards the end of the year...as everything fell into place, i was able to start focusing my energy on others.
charity work.
random acts of kindness.
helping others.
teaching others.
loving others.
and it felt wonderful...something that i had been missing in my life for the past few years. i used to spend so much more time helping others, and it was time i did that again.
so this year, instead of focusing my energy on being #selfie, i am going to focus on being #UNSELFIE. this will be my year of giving and kindness. as a family we will try harder to give more of ourselves and enrich the lives of others. i am so looking forward to this!
my word for 2015
UNSELFIE