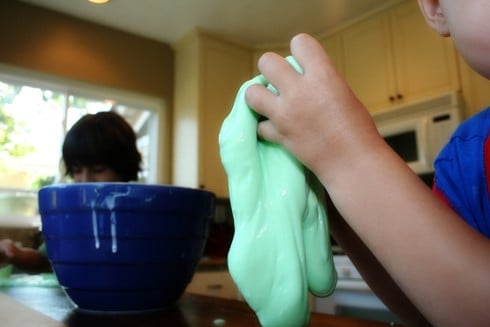 i know what you thinking. you're probably thinking...there's no way i am letting that stuff in my house. but believe me....it's not that bad. it is actually less messy than play-dough. and more fun i might add. i absolutely LOVE this stuff. so, wanna know what it's called? FLUBBER. it's name pretty much describes it 🙂
it is oozy, gooey and sort of cold and wet when you touch it. you can roll it, mold it, cut it, and it melts back into itself. it's just hard to describe. but it definitely does not feel like play-dough. you can even make "noises" with it too, which the older kids love (why? i don't know). but you don't have to tell the kids that it can do that. oh yeah, it's not edible, so don't eat it.
anyways, we just love it. (did i already say that?) especially me...because i get at least an hour break when the kiddies are playing with it. so, for kitchen fun part 4, i give you the recipe to this wonderful creation. here you go.
the recipe for flubber

2-⅛ c warm water
food coloring (optional)
1 c school glue (about 2-½ small school bottles)
1 tablespoon borax laundry booster (i found it by the OxyClean, it's like $2.00 for a large box)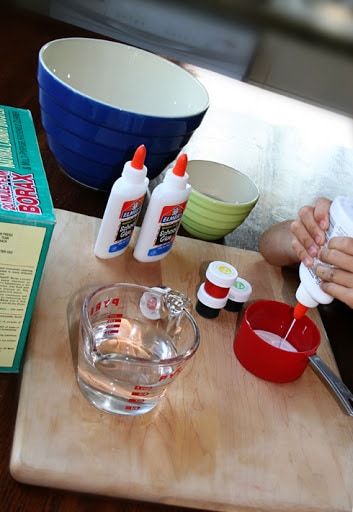 1.
in a bowl mix 2 c warm water, food coloring and glue. stir until glue has dissolved.

2.
in another bowl, combine ⅛ c warm water and borax. Stir until borax has dissolved.

3
. add borax solution to glue mixture and mix with hands for about 5 minutes (or more).

4.
pour out extra water. (if there is some)

5.
play with flubber immediately or store in airtight container.
note: the flubber should be able to melt into itself and not so thick that it breaks and not stretches. you can add water to thin it out. if you add more water it will break up into pieces, but keep kneading....it will come back together. i usually end up doing this until i get the right consistency. not to runny, but still playable.
so that's it. go an make it and have a blast. you'll like it.
and if you missed the last 3 kitchen fun posts, here they are: