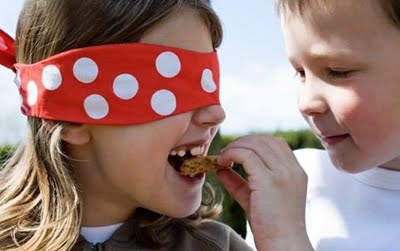 when i was little, my sister and i would play the game "taste testing" (what we called it) for hours. there was always that element of surprise wondering what spoonful of food you would get in your mouth. i have vivid memories of spoonfuls of Skippy Peanut Butter, ice cream, cheese and my all-time dreaded food...mayonnaise! that was the deal breaker. i absolutely despise mayonnaise, and getting a spoonful of that was like my worst nightmare! at the same time, the game was really fun.
so i suggest playing the "the food tasting game" with your kiddies as part of my kitchen fun series. kids love stuff like this. so get the blindfolds and gather up some foods right from your kitchen and have some special one-on-one time with them.
ideas for foods are cut-up fruits, cheese, pickles, olives, deli meats, candies, veggies and don't forget spices, in which they can smell instead of taste. i have even created a fun game card which you can download here.