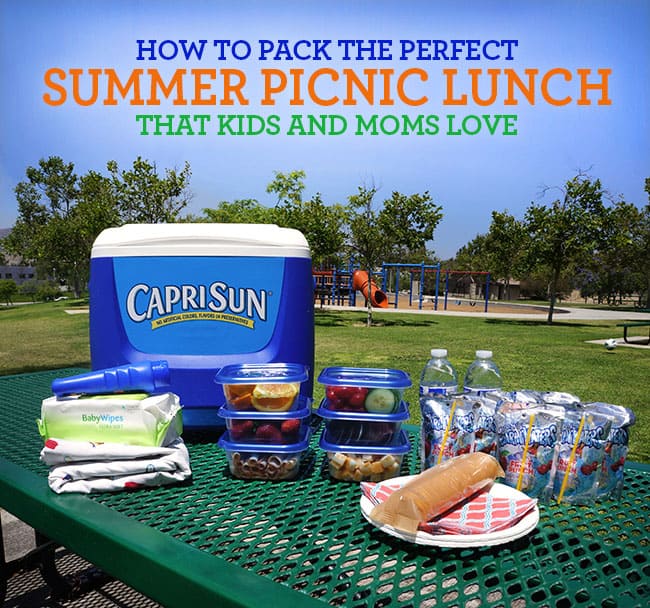 one thing that i struggled with years ago, was packing good lunches for my kids when we went on summer outings. most of the time i would just buy fast food…because that was the easiest thing to do. but it wasn't the most economical thing to do, plus, everyone got tired of eating out…not to mention that we didn't pick the best food choices. then i found an easy way for me to pack fresh lunches with little or no prep, and even found that the kids and i loved eating this way.
Easy Picnic Lunch Ideas
here is how i pack the perfect summer picnic lunch for my kids and myself….what is also great about this lunch, is that i like it just as much as the kids do, so there is no need to pack two different lunches.
first you need a cooler that is big enough to fit your entire lunch plus everything else that you need to picnic with on summer outings. (you may like the idea of having something very small and portable…but i prefer to not carry any extra bags, and would rather put all my picnic supplies in my cooler.) you will also need 4-6 reusable containers that fit nicely into the cooler.
there is nothing worse than having a warm, and melted lunch on a hot summer day. cold drinks, sandwiches and fruit are a welcome treat on summer outings. one way to solve this is with ice packs, but they take up room in the cooler and you half to carry them around with you even after lunch is finished. so what i like to do is freeze Capri Sun drinks and use them as the ice packs. if you pack your picnic lunch in the morning, by lunch time the Capri Sun drinks will be melted enough to drink…or nice and slushy, which is the best. your kids will love having a nice cold drink, especially if they have been playing around in the hot sun. i do recommend that you take the Capri Sun drinks out of the box before you freeze them. the juice will expand a little and they need some extra room.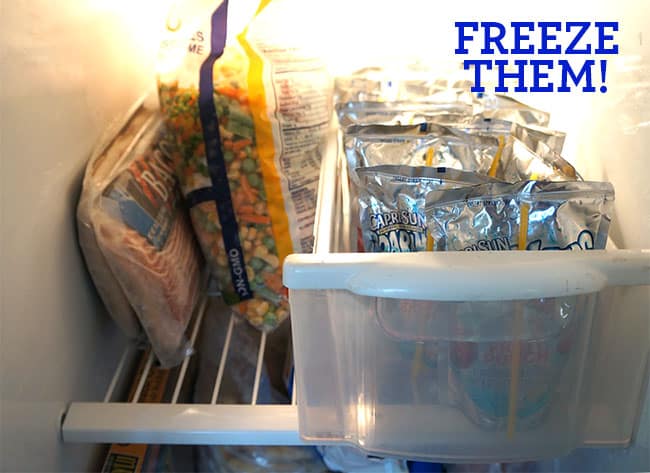 Capri Sun Drinks come in many different varieties such as Capri Sun Juice Drink, Capri Sun Roaring Waters Flavored Water Beverage, Capri Sun 100% Juice and Capri Sun Super V Fruit and Vegetable Juice Drink, so there probably is a variety that is right for your family. if you'd like to find out more about Capri Sun, you can learn more here.
next, fill your reusable containers with finger foods like fruits, cut veggies, cheese chunks, hard boiled eggs,  meat roll ups, cookies and crackers. whatever you have in your fridge is just fine. this gives everyone a variety of foods to choose from, and there is no need to make individual sandwiches to order or worrying about making something everyone likes. they are sure to find a combination of foods they like having all those choices.
after you are done packing the food in the containers, it's time to load up the cooler. first, line the bottom of the cooler with frozen Capri Sun Juice Drinks. this will be the cold base for your food. then place some water bottles along one side of the cooler. i don't prefer to freeze the water, as it takes a lot longer to melt.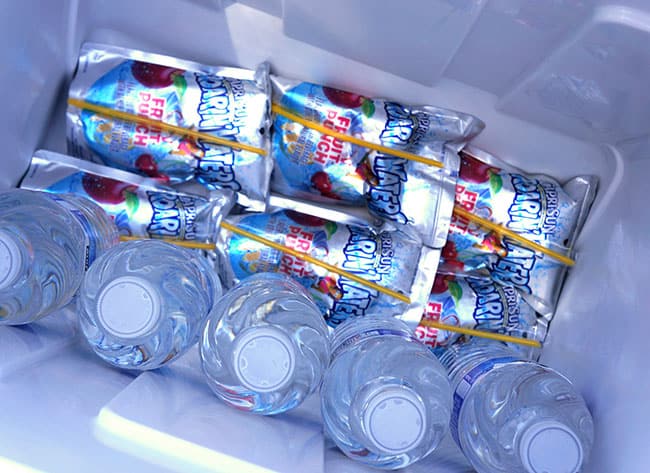 next, place your food on top of the frozen Capri Sun Juice Drinks. fill the empty spaces around the food with more juice pouches.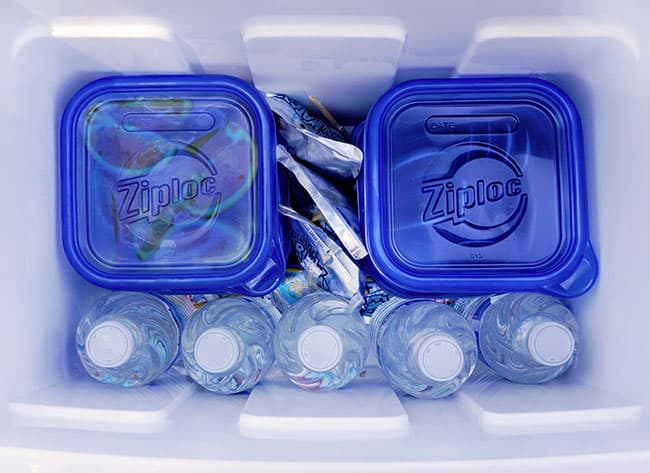 next, place frozen Capri Sun Juice Pouches over all the food and water.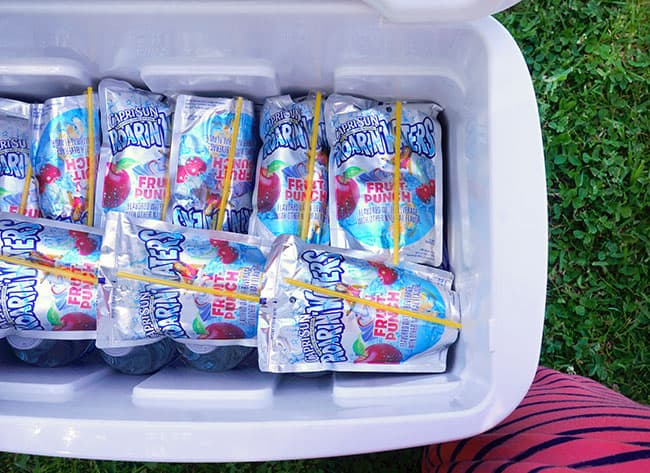 then i like to place some plates and napkins, some sun screen…because you always need it when you are outdoors and some baby wipes. baby wipes are always needed on summer outings. they are great to wash dirty little hands before eating and since they are kept in the cooler, they make a nice cool towelettes for kids to refresh their faces after playing in the sun. also place anything that doesn't need to be kept cool or will get crushed like crackers and/or chips.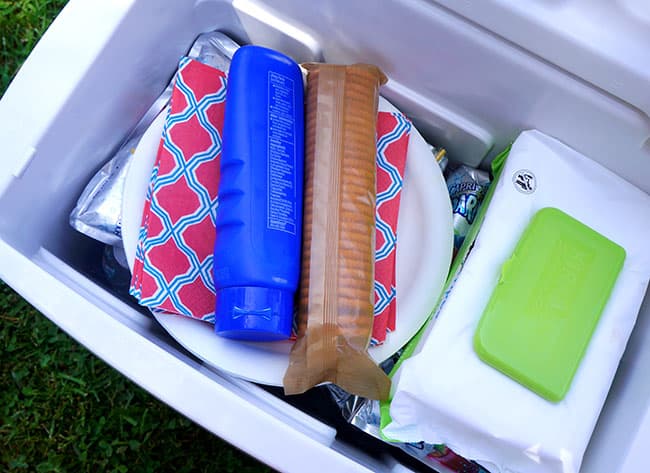 finally, i like to include a flat sheet. sheets are great because they aren't big and bulky. they are light weight and make great blankets to side on or table clothes. you can also tie them to trees and play structures to add some shade. that is why i always top my picnic lunch off with a sheet.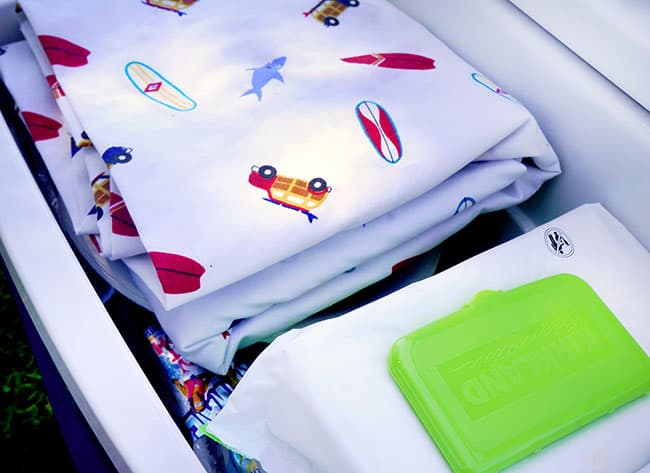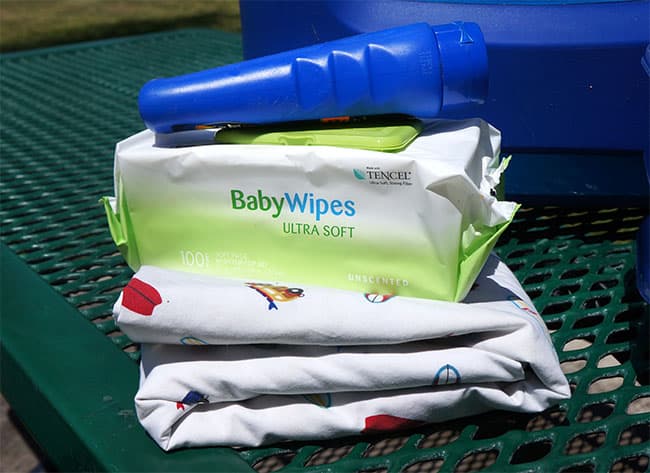 for me, this is the best way to pack a picnic lunch that satisfies everyone in the family and keeps our lunch nice and cool…plus very organized i must say. every time we eat like this at the park, other people's children come up and ask me or food, so i must be doing something right! and the smiles on my kids faces and no whining that they want something different, makes me very happy.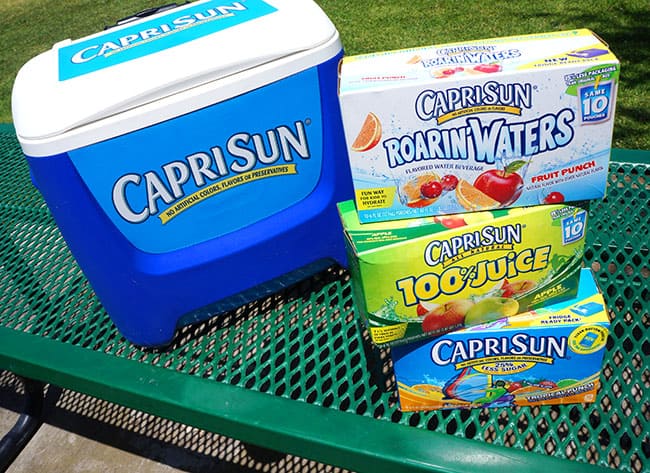 { disclosure: this is a sponsored post. all thoughts and opinions are a bazillion times my own. }