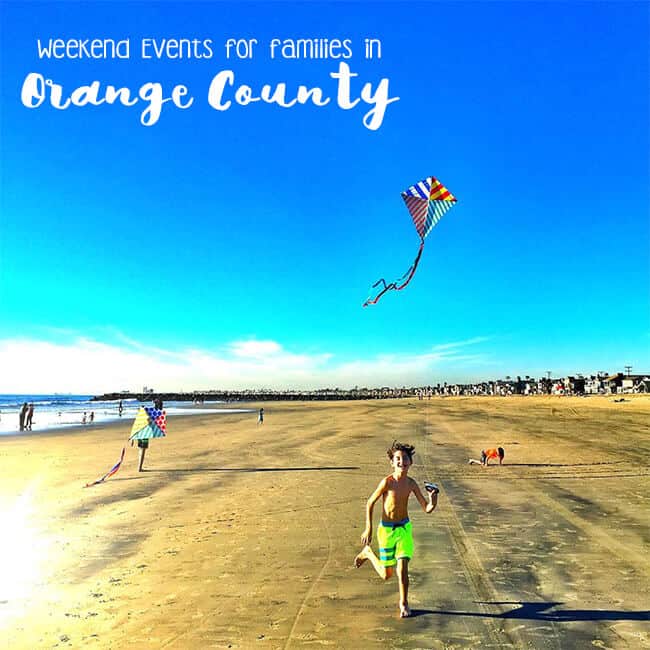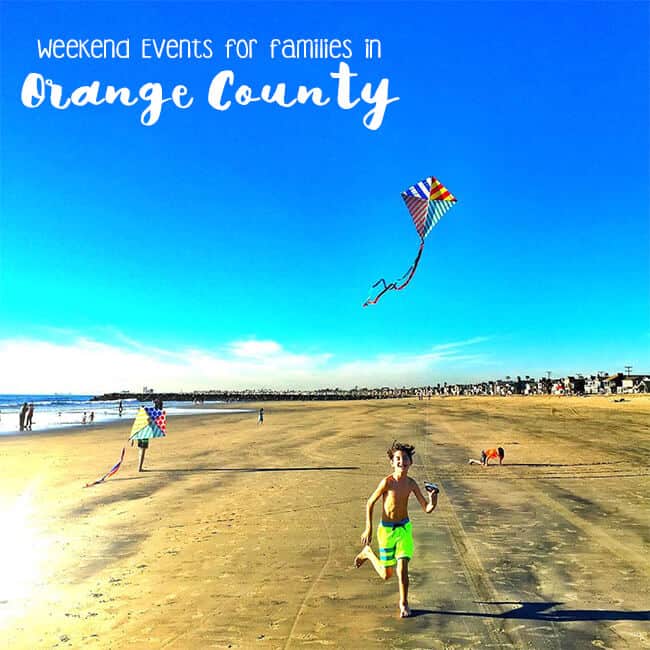 Weekend Events for December 15th & 16th, 2018 – It's officially December and the countdown to the holiday begins now! I would saw this weekend is going to be the perfect weekend to get into the holiday spirit, so enjoy some of these activities with the kids. Check out all these events on this list happening here in the OC this Saturday and Sunday…some are even FREE!!!  (to submit your event, email jillparkin@gmail.com by the wednesday before your event.)
All Weekend
Holiday Events in Orange County
Christmas Light Displays in Orange County
Holiday Lights at Heritage Hill
Heritage Hill, Lake Forest | 5:00-9:00pm
Heritage Hill Historical Park in Lake Forest will stay open late on Saturday, December 15 and Sunday, December 16 for all to enjoy the beautiful holiday lights. Visit the park from 5 to 9 p.m. and experience the magic of the festive holiday lighting displays. Selected historic buildings filled with holiday decor will be also be open.  Please note, there will not be any luminarias or vendors and musicians on site that typically are found at the annual Heritage Hill Candlelight Walk. Only the lights and decorations will remain, making for wonderful photo opportunities and a great stroll with your family and friends this holiday season. FREE
Family Skate Night
Holiday Skate | 7:00 – 9:30pm
A family up to five can skate, including skate rental, for this special deal!
Snow Days with the Critters
Santa Ana Zoo | 11:00am – 2:00pm 
All Zoo celebration featuring stations focusing on winter and snow. Watch animals receive icy treats, listen to festive music, enjoy the winter decorations, play educational games, create cool crafts and listen to delightful winter stories. | General Public – free with price of admission; FOSAZ Members are FREE and Santa Ana Residents are FREE on December 16. | Also shop for the holiday season with an extra discount during our "White Elephant Sale" at the Treetop Toys Gift Ship both days.
Holidays Around the World
Julianne and George Argyros Plaza at the Segerstrom |  Times vary 
Be the first to witness the Julianne and George Argyros Plaza transform into a winter wonderland during our second annual celebration! Enjoy nightly snowfall, live performances, festive activities, and free holiday fun for the entire family.
The American Ballet's Nutcracker
Reneé and Henry Segerstrom Hall
As the lights dim and Tchaikovsky's beautiful score fills the air, young Clara enters a dreamlike journey amid magical toy soldiers, mischievous mice, sparkling snowflakes and a glittering Christmas tree! With an impressive cast of more than 100 performers, ABT's The Nutcracker features set and costumes by Richard Hudson (Tony Award winner, The Lion King), with choreography by ABT Artist in Residence Alexei Ratmansky.
Maple Youth Ballet's The Nutcracker
Northwood Performing Arts Center in Irvine
Share the tradition of fantasy as the Sugar Plum Fairy, Nutcracker Prince and Clara ignite the imagination of your princes and princesses of all ages. Watch as this unique Orange County experience unfolds, showcasing more than 90 exceptionally talented & classically trained dancers from across the Southland!
The Nutcracker Ballet
Goldenwest College
Enjoy Ballet Repertory Theatre's cherished 42-year-old tradition of bringing beloved holiday music to life with nearly 300 performers in dazzling costumes. Travel alongside young Clara through a magical world of life-size dolls, toy soldiers, colossal mice, and delicate snowflakes to the fabulous Land of Sweets, home of the Sugar Plum Fairy and her Cavalier. Exuberant French, Spanish, Arabian, Russian, and Chinese dancers await you, along with twirling candy canes and waltzing flowers. Orange County's longest-running Nutcracker is the ultimate feel-good family tradition.
The Festival Theater: The Nutcracker
Irvine Barclay Theatre
Festival Ballet Theatre's family-friendly breathtaking production features superb colorful scenery and dazzling costumes, which make this age-old tradition sparkle like new. Be swept away by Tchaikovsky's iconic score as the Sugar Plum Fairy, our heroine Clara, and a cast of hundreds take you on a magical journey to mystical lands. This full-length traditional production is choreographed and directed by Festival Ballet Theatre's Artistic Director, Salwa Rizkalla, and features world-renowned guest artists, FBT's professional company dancers, and exceptional young talent from across the Southland.
Lil' Dickens Carolers
Rogers Gardens
Enjoy shopping this holiday season by listening to a quartet of Strolling Christmas Carolers as they perform throughout Roger's Gardens and the Farmhouse. Their repertoire includes your favorite standards and Sacred Christmas Carols combined with the holiday songs you have grown to love. The Carolers also mix in some spirited jazz arrangements and a bit of whimsy. There is a little something for everyone to enjoy. Join us as we celebrate the holidays at Roger's Gardens. FREE
Saturday, December 1, 2018
Slime Mania OC
Anaheim Business Expo Center | 2:00am – 7:00pm
Slime Mania has brought together some of the most famous and talented Slime Shops from accross the world. Don't miss out on the oppotunity to meet, greet, and purchase from your favorite Slimers and Guest YouTube Star Karina Garcia!!! Come enjoy Santa and his Village featuring a bouncy slide, choo choo train, and music! Wear your Ugliest Chirstmas Sweater to enter our Ugly Christmas Sweater Contest. And don't forget to participate in our Secret Santa Swap (slime trade).
Celebrate LEGO's 20 Years in the National Toy Hall of Fame
Bricks & Minifigs in Fullerton | 10:00am – 2:00pm
The first 25 families will receive a free commemorative minifig, commemorative display panel and plate with the Strong Museum of Play, home to the National Toy Hall of Fame. In 1998, LEGO® was one of the first toys inducted into the National Toy Hall of Fame. 2018 marks its 20th anniversary and we are celebrating at your local Bricks & Minifigs! We love that LEGO® was named "Toy of the Century" and, after 60 years and over 400 billion bricks produced, we wholeheartedly agree. FREE
Breakfast with Santa at Applebee's
Applebee's, Anaheim Town Square | 8:00 – 10:00am  
Enjoy breakfast with Santa for only $10 per person. Proceeds benefit families in need.
Surfer Santa Photos
Huntington Harbour Mall
Here comes Santa Claus…SURFER SANTA! Come on over to meet and take a picture with Surfer Santa! There will also have face painting and a craft station, where you can write your own personal letter to SANTA!
The Goode Time Carolers
Irvine Spectrum | 8:00 – 10:00pm  
Enjoy musical entertainment from The Goode Time Carolers, live in Myrtle's Court (near Old Navy).
Christmas Crafts
Michaels Craft Stores | 10:00am – 3:00pm
They craft, you shop! Kids 3 and up can enjoy a quick project. Sign up in store or online, or just drop in. $2 per project, ages 3+, supplies included. Parent or guardian must remain on premises during the event.
Holiday Luminaria Stroll
Fullerton Arboretum |  5:00pm 
Enjoy a family-friendly evening in the garden and stroll our luminaria lined pathways. Live music, vintage holiday decorations at Heritage House, make an ornament and see the beauty of the garden at night. All proceeds from this fundraising event support our education programs and our conservation and propagation programs which protect rare and endangered plants from around the world. The Arboretum will host a small winter market with vendors selling handmade items.We will have beverages available for purchase.
Holiday Snowland
Balearic Community Center, Costa Mesa |  9:00 – noon 
children can play in 40 tons of snow. plus cookie decorating, hay rides, Santa, food & toy drive and more. FREE
Dana Point Harbor Boat Parade & Festive Family Activities
Dana Point Harbor
In celebration of our 44 years of lighting the holiday season up, this year's theme will power up with "A WESTERN WONDERLAND". Join us as boats parade into the Harbor showing off their country western themed decorations, animation, color and lights. We can't wait to see what these creative boaters will come up with. We invite you to come down and be a part of our Western Wonderland! You can view the parade FREE from anywhere in the Harbor, or make reservations at one of our restaurants to view it from a cozy and warm spot. Come on down and enjoy the sights and sounds of the season. FREE
Free Crafts
Lakeshore Learning Centers Laguna Hills and Fountain Valley | 11:00am – 3:00pm
Make fun seasonal crafts. No reservations necessary FREE
Family Fossil Day 
Clark Regional Park | 9:30 – 11:30am
Family Fossil Day provides a hands-on experience for all ages with real fossils. The two-hour program will introduce you to the fossil history of Orange County. Come face to face with a casting of a real megalodon jaw and a nine-million-year-old baleen whale fossil. The two-hour program will introduce you to the fossil history of Orange County. Participants age 6 and older will also be able to visit Clark Regional Park's marine fossil site if weather and soil conditions are safe. Meet at the Interpretive Center, rain or shine. FREE  Free Parking
OC Autism Breakfast with Santa
13630 Atlantis Way, Garden Grove |  10:00am – 2:00pm  
The 9th Annual OC Autism Foundation Breakfast with Santa and Resource Fair, through the years, have hosted over 3,000 attendees, featuring a Family Resource Fair, continental breakfast, healthy snacks, refreshing beverages, and live entertainments in a safe and inviting atmosphere for children with Autism and other disabilities and their families and caregivers.
Walk With A Naturalist
O'Neill Regional Park | 9:00 – 10:30am
Join O'Neill Regional Park naturalists and learn about the animals and nature of Trabuco Canyon. This will be a light to moderate walk on mostly paved roads. All ages welcome. FREE  Free Parking
Family Hike
Laguna Coast Wilderness Park | 3:00 – 5:00pm
Come and enjoy an easy, 2.5-mile family hike over moderate but uneven terrain (45 foot elevation gain). Starting at the James Dilley Preserve, we will hike one of the most diverse areas of the park to Barbara's Lake and back. The hike is led by Laguna Canyon Foundation naturalist volunteers.. FREE  Free Parking
Animal Feeding Day at Bolsa Chica Conservancy
Bolsa Chica Conservancy, Huntington Beach | 12:00 – 1:00 pm
Come join us to learn more about the animals at our interpretive center! During the feeding, we will cover feeding habits and general biology and anatomy of our reptiles and marine animals! *Please note: snake feedings involve live mice.* FREE
See Classic Cars at Donut Derelicts
Donut Derelicts
Each Saturday morning, car enthusiasts from all over gather in the parking lot of Adams Ave Donuts to enjoy a donut, a cup of coffee and a spectacle of hot rods and classic cars. FREE
Sunday, December 2, 2018
Children's Gingerbread House Decorating
Pelican Hill Resort | 10:00am 
Pelican Hill's Pastry Chef highlights a favorite holiday tradition in this culinary class. Children ages 5 and older will enjoy lunch and create a masterpiece to take home.
Gingerbread House Decorating
Ritz-Carlton Laguna Niguel |  2:00 – 4:00pm 
Gather with family to decorate your very own gingerbread house and holiday cookies. Children enjoy complimentary hot chocolate, with other beverages available for purchase. For reservations call 949.240.2000.
Gingerbread Academy at the St. Regis Monarch Beach Resort
St. Regis Monarch Beach Resort, Dana Point
Join the Monarch Beach Resort Pastry Team in the sweet tradition of decorating gourmet gingerbread houses.  Be on the lookout for Santa who will stop by during every academy session.  Families are welcome to take their own photos with Santa.
Huntington Beach Light a Light of Love Parade
Huntington Beach Pier & Main | 3:30 – 7:00pm
Children's Holiday Parade, Surf City Santa Visits the Beach, have your pictures taken with Mr. & Mrs. Claus at Pier Plaza, Light a Light of Love Pier and Main Street Snowflake Lighting  and Pier Plaza entertainment. This annual community celebration benefits the CSP Huntington Beach Youth Shelter, an emergency crisis and intervention program for children ages 11 to 17. The Shelter program provides emergency shelter to homeless, abused and struggling youth and focuses on reuniting children with their families.
Winter Toy Drive
Historic Main Street, Garden Grove | 11:00am – 3:00pm
The toy drive will include a car show and food sampling. Toys will be donated to local organizations and nonprofits.
Chanukah Wonderland & Menorah Lighting
Laguna Niguel City Hall |  4:00 – 6:00pm
Enjoy live entertainment, activities, and crafts, as well as your favorite Chanukah, treats – latkes, dreidels, and more! Bring your family, friends, and lots of holiday spirit! Sponsored by the Chabad of Laguna Niguel and City of Laguna Niguel. For more information, visit ChabadLagunaNiguel.com or call (949) 831-7701  FREE
Menorah Lighting at Fashion Island
Fashion Island, Newport Beach | 3:30 – 5:30pm
Celebrate Chanukah and the lighting of the menorah at Fashion Island. Enjoy singing, festive traditions, and sweet treats. This event, in partnership with Chabad Center for Jewish Life, Newport Beach, will be held in the Atrium Garden Courtyard, near Dick's Sporting Goods and Wahoo's Fish Taco. FREE
Irvine Winter Wonderland & Tree Lighting
Irvine Civic Center |  3:00 – 7:00pm
Celebrate the season as "snow" falls over the Irvine Civic Center and the community gathers for games, crafts, entertainment, food and a tree-lighting ceremony. This event includes a Joyful Jingles program and a visit from Santa Claus. Guests are encouraged to bring a new, unwrapped gift suitable for infants or children up to age 12. Toy donations aid the Irvine 2/11 Marine Adoption Committee Holiday Drive, which benefits the families of Irvine's adopted 2/11 Marine Battalion. Admission is free; registration is not required.FREE
Hooray for Hanukah
Pretend City Children's Museum | 10:00am – 4:00pm
Spin the dreidel and light the Menorah! We're celebrating Hanukah at Pretend City! Let your little ones learn about this holiday through fun activities, traditions, games, and art! We will have full days of fun singing songs and getting in the holiday spirit! Grown-up Tip: Sing aloud and sing together! The holidays are a great time to introduce your child to songs like Hanukkah, Oh Hanukkah! As children sing along, they are learning that songs are a great way to communicate and learn about different cultures.
Balboa Bay Club Tree Lighting Ceremony
Balboa Bay Club & Resort |  6:00 – 7:00 p.m. 
OCSA's MONTAGE! kicks off your holiday season with a new musical review, "Holiday Hullabaloo!" A high-energy performance featuring Santa and friends, live entertainment, and the lighting of our giant Christmas Tree! Complimentary treats and beverages. Complimentary admission with a donation of one new, unwrapped toy. Reservations not required. FREE
Tree Lighting at the St. Regis Monarch Beach Resort
St. Regis Monarch Beach Resort, Dana Point | 4:00pm
Celebrate the season and support our schools at Monarch Beach Resort.  Enjoy a variety of musical performances by our students, cocoa and cookies, visits with Santa Claus and the official lighting of the holiday tree, hosted by KOST radio's lively Ellen K!
Santa Cares
Laguna Hills Mall | 9:00 – 11:00am
Children within every spectrum of special needs and their families are invited to a private photo session, to experience the time-honored tradition of a visit with Santa Claus during dedicated hours. Please reserve your complimentary ticket on Eventbrite – ONE TICKET per group/family, please. Visits with Santa are free. Photo packages that capture holiday memories will be available for purchase at the event, pricing varies.
Caring Santa
Shops at Mission Viejo |  9:00 – 10:30am
Please join us for a private photo experience for children with special needs and their families. Children will have the opportunity to visit with Santa and have their photo taken with him. The Shops at Mission Viejo will make necessary adjustments to the environment to support the sensory, physical and other developmental needs of children of all abilities for this special event.
Caring Santa
Brea Mall |  9:00 – 10:30am
Caring Santa provides a subdued and welcoming environment for children with special needs and their families. To reserve your spot, please visit: http://breamall.eventbrite.com/
Ranger Led Hike
Ronald W. Caspers Wilderness Park | 8:00 – 9:15am
Join OC Parks Rangers for a 1-mile nature hike in the beautiful Bell Canyon area of Caspers Wilderness Park. Hike lasts approximately one hour and is suitable for all ages. FREE  Parking is $5 per vehicle
Farmers Market
Orange County Great Park  | 8:00 – 11:00am
Sundays at the Orange County Great Park are headlined by fresh produce and fun at a Certified Farmers Market. Every week, weather permitting, the Orange County Great Park Certified Farmers Market features fresh, locally grown fruits and vegetables, handcrafted artisan products and a selection of gourmet food trucks.
Don't forget about all of these fun things to do in Orange County!!!!!
150 Christmas Events in Orange County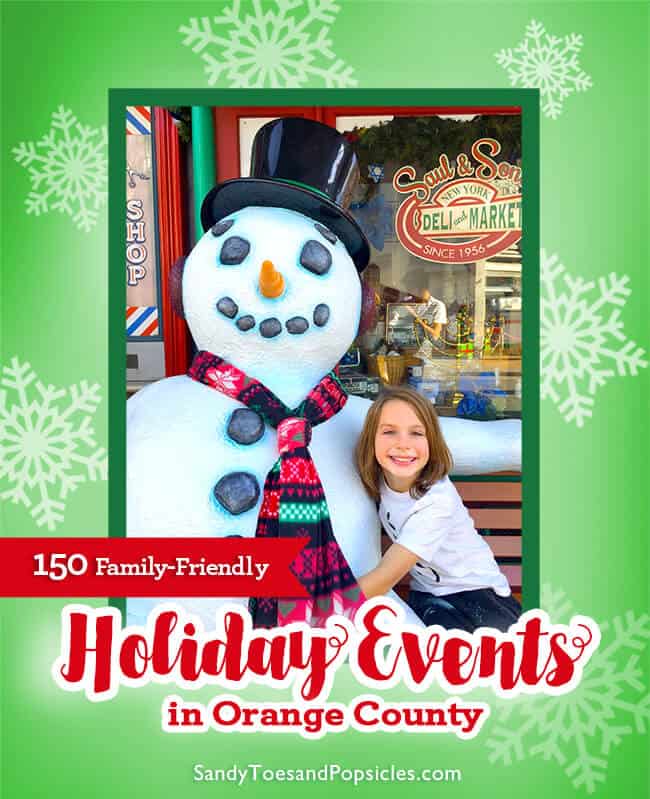 101 Things to Do With Kids in Orange County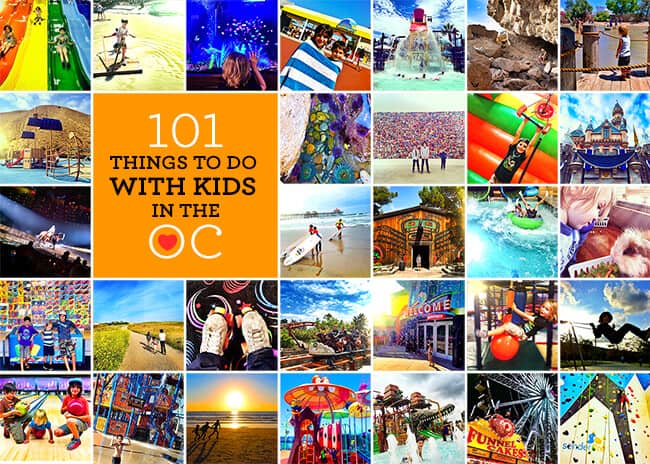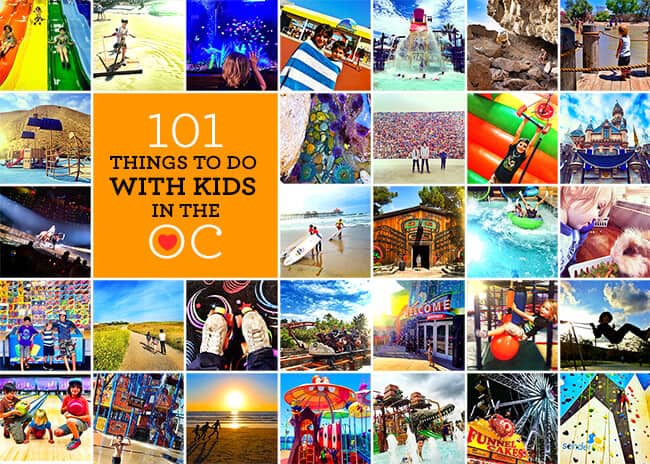 101 Things to Do With Tweens and Teens in Orange County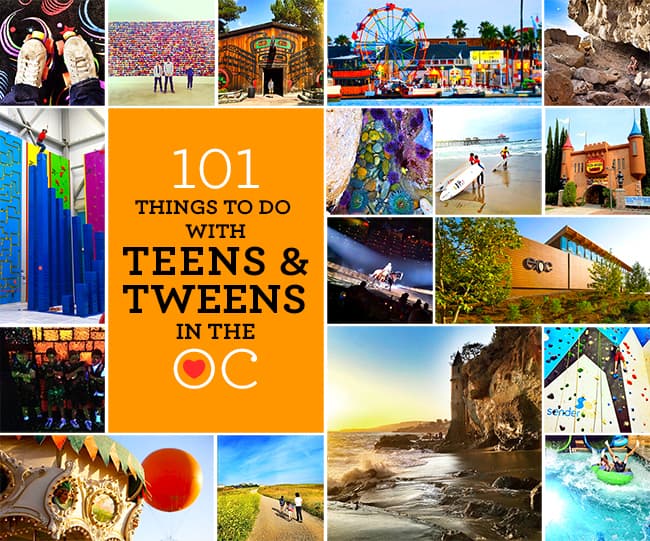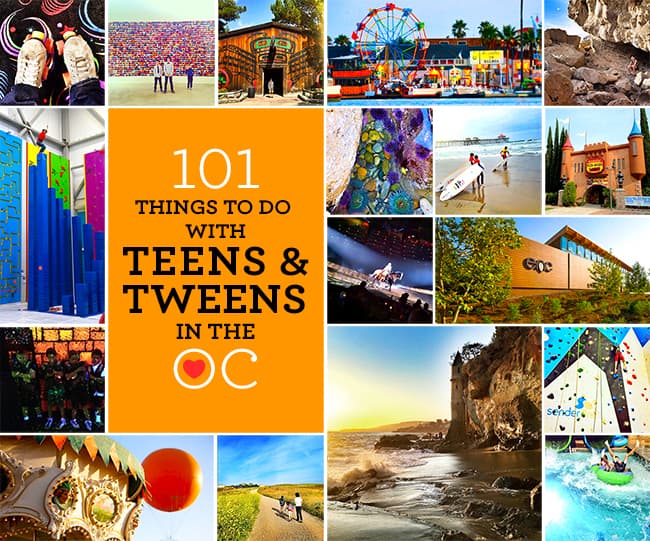 10 Orange County Family Outings for Just $30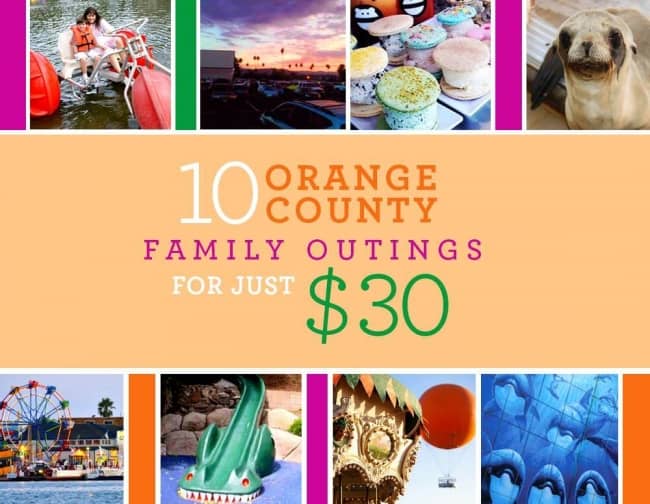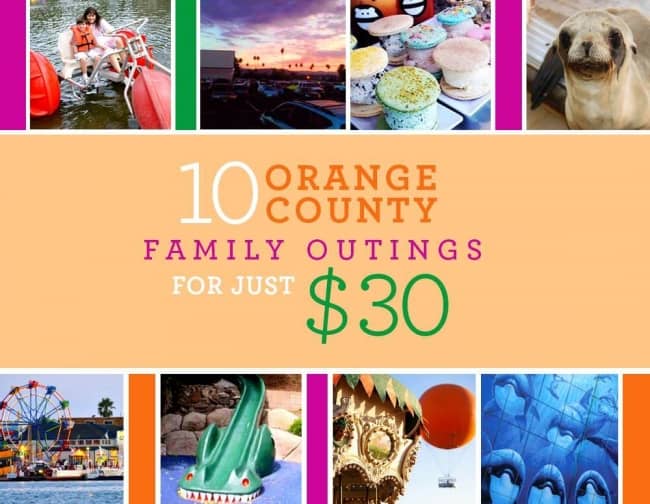 101 Places to Eat Sweets in Orange County