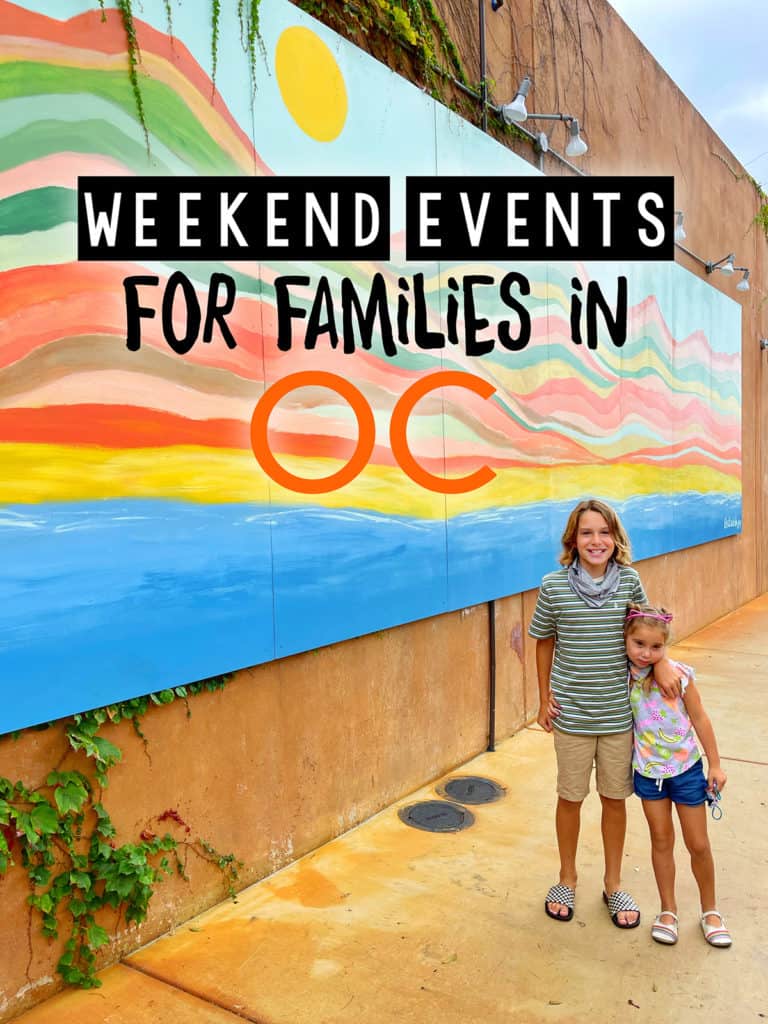 Weekend Events for Families in Orange County - September 17-18, 2021. Here are some fun things to do in Orange County this weekend. I've included all events that I could find. You will have to decided if they are Covid-friendly or safe for your family to attend. All the events on this list are happening here in the OC this Saturday and Sunday...some are even FREE!
(To submit your event, email jillparkin@gmail.com by the Wednesday before your event.)
Double check event's website before heading to events and details change!
Things to Do in Orange County ALL Weekend
Roger's Gardens 'Cabinet of Curiosities' Halloween Boutique
Roger's Gardens | 9am - 6pm
This is a Halloween must see! Experience the thrill of classic horror as you explore the rooms of our eerie and unusual house. Haunted walls hide unseen activity, and otherworldly creatures lurk at every corner. The sinister styled rooms are decorated with a beautiful, eclectic collection of antiquities and curios. Discover cabinets overflowing with unusual artifacts, and decadent décor with a twist. Connect with your inner ghoul and monster this Halloween at Roger's Gardens.
Irvine Park Railroad Pumpkin Patch Opening Weekend
Irvine Regional Park | 9am - 6pm
Irvine Park Railroad's Pumpkin Patch in Orange County is fun for the entire family. Come out and enjoy the many activities for kids of all ages. The Pumpkin Patch is located just behind the train station and admission is FREE. Please note that a gate entrance fee will be charged by the County of Orange for each vehicle that enters Irvine Regional Park.
OC Festival of Children
South Coast Plaza | 9am - 6pm
Now in its 20th year, Festival of Children® returns this September to South Coast Plaza, celebrating the magic of childhood and the charities that work tirelessly to improve the lives of children across Southern California. The event features a host of free, family-fun entertainment and activities on weekends throughout September.
Pumpkin Patch Tours
Tanaka Farms, Irvine | 10am - 5pm
Have you ever picked your own pumpkin right out of the pumpkin patch? Tanaka Farms is one of the only farms in Orange County with a REAL pumpkin patch! We offer lots of activities, from wagon rides to arts and crafts!
Autumn Festival
South Coast Plaza | All Day
Stroll under the colorful lanterns in Garden Terrace and the Bridge of Gardens. Stop by the Gourmet Mooncake Pop-up which includes the OC-exclusive boba and Luna mooncake gift sets on weekends only, and a special exhibit of landscapes.
Pier Plaza Art Afaire
Huntington Beach Pier | 10am - 7pm
Located in a beautiful beach-side setting, the Art-A-Faire features more than 50 vendors selling unique, hand-made gifts and crafts. From knitted scarves to turquoise jewelry and surf-related merchandise, you can find something for everyone on your shopping list.
2021 Halloween Event Guide
Locations in Orange County
Your complete guide to everything Halloween in Orange County.
Guide to Apple Picking
Oak Glen, Yuciapa
Your complete guide to apple picking in Oak Glen. Just a short drive from Orange County.
Orange County Farmers Markets
All Over OC | Times Vary
Check out this list of all the farmers markets happening on Orange County.
Centennial Farm=
OC Fairgrounds, Costa Mesa | 10am - Noon
Centennial Farm is now reopen to the public. Visit the animals and the farming gardens. Admission and parking are free
Orange County Splash Pads & Water Parks
Locations in Orange County
Your complete guide to every Splash Pad and Water Park in the OC! Mostly FREE
Family-Friendly Tide Pools in the OC
Beaches in Orange County
Check out this list of the best family-friendly tide pools in Orange County.
Adventure Lagoon Inflatable Water Park
3255 E. Miraloma Ave., Anaheim | All Day
The Adventure Lagoon is home to one of the largest floating aqua parks sitting on top of our crystal clear lake that stays 74 to 78 degrees year round. Try to conquer all the obstacles with your friends and family or get a good laugh watching them wipeout!
Inflatable Water Park
Newport Dunes | All Day
Never-ending thrills and chills await at SoCal's largest inflatable water park in Newport Beach. It is highly recommended that all children under the age of 6 have direct adult accompaniment. All children under 13 must be accompanied by an adult when using rental equipment.
Playtime with Baby Goats
Goods and Goat Market | All Day
Come by the farm and enjoy it's beauty and charm. Cuddle, brush, and sit with the Baby Goats. Watch and feed the Chickens. Don't forget my Puppies, Indigo Blue and Tuffy Tufferton. They can't wait to greet and play with you. Kids can play in the sand box with our Tonka Truck Collection and ride our old fashion seesaw. Bird House Paint Kits $10 are a must.v
Niguel Botanical Preserve
Crown Valley Community Park | All Day
If you are looking for a scenic, family friendly nature experience, then the Niguel Botanical Preserve in Laguna Niguel is a great place to check out. Niguel Botanical Preserve is 18.2-acre of beauty, situated above the amphitheater within Crown Valley Community Park (which is a great park I might add). It displays garden-worthy plants appropriate to the Southern California region. All of these plants were collected from five areas of the world with similar Mediterranean climates. I believe that this is one of the best botanical gardens in Orange County.
Donut Life Museum
Westminster Mall | Times Vary
Get ready to experience donuts in a whole new way! We are Orange County's newest donut experience that captures moments in life through the creative world of donuts. Each vibrant room in the exhibit will bring inspiration and creativity to all our guests. This is a unique and creative space where you can have fun, immerse yourself and take beautiful photos that will also spark your sweet tooth. Through our doors people can connect, spend quality time and make memories together.
Cabazon Dinosaurs Surf Photo Op
50770 Seminole Drive, Cabazon | 9:00am – 8:00pm
The Cabazon Dinosaurs have long been regarded as one of the most iconic roadside attractions. Featured in cult classics such as Pee Wee Herman's Big Adventure and The Wizard, the dinosaurs have staked their place in pop culture. And now they are being celebrated with amazing themed paint-suits! The Wafflesaurus Truck will be at the Cabazon Dinosaurs serving delicious dinosaur-themed ice cream treats on Saturday and Sunday.
The Ecology Center
The Ecology Center | 10:00am - 4:00pm
Every Saturday and Sunday – explore The Ecology Center and all it has to offer! Open for self-guided exploration. Be sure to check their calendar for workshops and events happening every weekend! FREE
Things to Do in Orange County This Friday, September 17th
Harry Potter and the Half-Blood Prince™ In Concert
Hollywood Bowl (not OC but LA) | 7:30pm
Relive the magic of Harry's sixth year at Hogwarts™ School of Witchcraft and Wizardry, with the score performed by the Hollywood Bowl Orchestra. Watch Harry become a wiz at potions, win Felix Felicis, and uncover the meaning of Horcruxes!
Wild Tales
Upper Newport Bay, 2301 University Drive | 10:00 - 10:45am
Upper Newport Bay's long-running and popular storytime is back! Wild tales will be offered every Friday and include an outdoor storytime in our newly renovated amphitheater, an age-appropriate hike, and a craft project in our classroom. Each session will have a new story, hike theme, and craft project.
Night Hike
Irvine Regional Park | 6:30 - 9pm
Half the park is after dark! Join park staff as they lead a family-friendly hike through the park on a variety of paths and trails. The event will feature a presentation on local animals before the evening walk. Check out the fun exhibits in the nature center and go on a scavenger hunt indoors! It's chilly after sunset so wear warm layers, sturdy footwear, and bring water and a red-tinted flashlight if possible. This hike is not recommended for very small children or strollers. No pets, please. Children must be accompanied by a parent/guardian during the program.
Special Guest Playtime
Play & Parties, The Village at Orange Mall! | 10:30am
Come join one of our many mascot friends for a super fun interactive play time! Structured similar to a party, a different guest each week and a host will play games, sing songs, and maybe even do some crafts with the little ones. Suitable for 6 and under, walk-ins and reservations available.
Main Street Classic Car Show
Historic Main Street, Garden Grove | 4-8pm
The Main Street Classic Car Show is the longest-running car show in Orange County, California. Classics are on display for sure. But you're likely to find all types of vehicles on the show-strip any given Friday. Because there are roughly 50 parking spaces. And with the show running every Friday you're bound to catch a wide variety of rids on display.
Things to Do in Orange County This Saturday, September 18th
Smithsonian Museum Day 2021
Select Museums Nationwide | All Day
Museum Day is an annual celebration of boundless curiosity hosted by Smithsonian magazine. Participating museums and cultural institutions across the country provide FREE entry to anyone presenting a Museum Day ticket. Head over and get yours.
Sunset Classic Car Show and Concert
Mile Square Regional Park | 4 - 9:30pm
Come to the Sunset Classic Car Show and Concert! This free, family-friendly event will include a classic car show, live outdoor music and delicious food options. Car Show: 4 - 7 p.m. Concert: 4 - 9:30 p.m. Musical performances will include: SouthBound & Company, Son Doux, and No Duh!
End of Summer Night Market with Outdoor Movie on the BIG Screen
Mile Square Regional Park | 4 - 9pm
Join us for our End of Summer Night Market! We've set up a Game Station for the kids AND at 7:30 pm we are showing Disney's Raya and the Last Dragon on the BIG Outdoor Screen! Bring your lawn chair. Tell your neighbors, bring the kids and grand kids. In addition to our favorite live band, enjoy yummy Horchata Cold Coffee and Treats from Azules Coffee, smash burgers by That's A Burger and some yummy desserts by several handmade vendors. Many new vendors will be joining us! FREE Admission. Raffles. Real Restrooms. Food Court area with Seating. Outdoor Movie Theater. Snacks. Great Friends - old and new. Fun Game Station. Live music. Yummy food and drinks.
Art Crawl Experience
Center Street Promenade | 6-10pm
Art Crawl Experience (ACE) is Downtown Anaheim's art walk, a collaboration of local artists and community leaders to bring arts and culture to Downtown Anaheim. Folks can stroll through a cascade of canopies illuminated by Euro-style twinkling market lights, shop for one-of-a-kind gifts, dine at downtown eateries and sip on beverages along the way. The crawl stretches from Clementine to Anaheim Boulevard along neo-vintage Center Street Promenade with activities featured at MUZEO, Center Gallery and the Anaheim Packing District. Art lovers can walk or even crawl throughout Downtown Anaheim's Art Crawl Experience.
National Dance Day
Segerstrom Center for the Arts: Julianne and George Argyros Plaza | 4pm
Segerstrom Center is proud to be the official West Coast host of this exciting celebration of all things dance co-presented by American Dance Movement. Whether you're a seasoned dancer or just like to move and groove, we believe that dance is for everybody and every body—no dance experience is required to enjoy this fun afternoon packed with entertainment and activities! The day will feature live performances by special guest artists, inclusive and interactive dance lessons in a wide variety of dance styles, and the opportunity to learn this year's official National Dance Day routine.
OC Vegan Fest
253E East 3rd Street, Santa Ana | Noon - 7pm
OC Vegan Fest is Hosted by The Plant District in Santa Ana, California. FREE entry | +40 Vendors | Family FriendlyParking is 1 block away from the event venue in the DTSA Parking Lots.
Free Roller Skate Classes
Outside Atomic Skate Exchange | 2-5pm
No registration needed. Mask are required. See IG for weekly schedule.
International Day of Peace
Pretend City | All Day
Peace Day is an internationally celebrated tradition where we come together to strengthen ideals of peace within and among all peoples. Celebrate with us as we share our love for the world and each other with activities that promote harmony and caring.
Concert in the Gardens with Karl Anthony
Unity of Tustin | 6- 7:30pm
A musical evening for the whole family in the beautiful and sacred Unity of Tustin Meditation Gardens with Karl Anthony. We intend this to be a true "concert in the park" where you may bring a picnic, blankets or lawn chairs and enjoy the grounds as well as the music. Chairs and refreshments will also be available.
Gardenwalk Cars Coffee & Culture
Anaheim Gardenwalk | 8:00am - Noon
A Countywide Car show bringing OC, LA, San Bernardio, Riverside, and San Diego County pop-up car shows together under a 400,000 square foot, 4,000 stall facility known as STC Gardenwalk (steps from Disneyland). FREE
South OC Cars and Coffee
Outlets At San Clemente | 9:00 -11:00am
Cars and Coffee events are informal car meet-ups. They're always free. And like the name says you'll find cars and coffee there. But you'll also find people and conversations. And those conversations will cover anything from powertrains to politics.
LIVE Music at the Beach
Sealegs in Huntington Beach | 1:00pm
Enjoy Live music on the beach. Food and drink available for purchase.
Live Music on the Green at Bella Terra
Bella Terra, Huntington Beach | 6:00 - 9:00pm
Bring your blanket, a chair, sit on the grass or find a seat in our newly finished Green area and enjoy live music.
See Classic Cars at Donut Derelicts
Donut Derelicts
Each Saturday morning, car enthusiasts from all over gather in the parking lot of Adams Ave Donuts to enjoy a donut, a cup of coffee and a spectacle of hot rods and classic cars. FREE
Things to Do in Orange County This Sunday, September 19th
Orange County Annual Moon Festival
Mile Square Regional Park, Fountain Valley | 6- 9pm
In a tradition dating back thousands of years, Orange County will celebrate the Moon Festival, with live entertainment, moon cakes, and lanterns for children and families in an outdoor setting at Mile Square Park! The festival will feature food vendors, face painting, balloon animals, live band entertainment, and a parade of colorful lanterns for children. Free.
Moon Festival
Bowers Museum | 11am - 3pm
Listen and dance to lovely music performed on traditional instruments, be entertained by a Changing Faces and Kung-Fu performance, create art, and taste moon cakes at the first live on-site family festival in over a year. Free.
Talk Like a Pirate Day
Pretend City | All Day
Ahoy Mateys! Hoist up the anchor and sail away with us as we celebrate Talk Like a Pirate Day! It'll be a swashbuckling adventure as we play pirate games, tell tales, and create pirate art! Yo ho, yo ho, it's a Pretend City life for me!
FREE Painting Session
Bolsa Chica Park, Westminster | 4:30-5:30pm
Join Taylor at the Little Cotton Wood Park every Friday for an hour of arts and painting. Let your creativity flow and unwind from the week with some arts and crafts.
Family Walk by the Bay
Upper Newport Bay | 10 - 11:30am
Join us for an easy, stroller friendly walk along Upper Newport Bay to enjoy all the sights, sounds, and smells of summer. We will stay on the paved Bayview Trail and pause frequently to observe birds, plants, insects, and any other wildlife that happens to be present.
Kid's Fishing Clinic Sundays
Dana Wharf Sportfishing, Dana Point | 12:15pm
Dana Wharf Sportfishing invites children 5-12 years of age to join us dockside for an educational fishing clinic. Kids will learn hands-on-fishing techniques from our expert- anglers. After each Sunday clinic concludes, Dana Wharf will be running a fishing trip from 12:45 – 5:15; Adults are $59 and Children ages 5-12 will fish for FREE when they are enrolled in the Kids Fishing Clinic!
Live Music on the Green at Bella Terra
Bella Terra, Huntington Beach | 6:00 - 9:00pm
Bring your blanket, a chair, sit on the grass or find a seat in our newly finished Green area and enjoy live music.
Farmers Market at Orange County Great Park
Orange County Great Park | 10:00am - 2:30pm
Sundays at the Orange County Great Park are headlined by fresh produce and fun at our Certified Farmers Market. Every week, the Great Park Certified Farmers Market features fresh, locally grown fruits and vegetables; handcrafted artisan products; and a selection of gourmet food trucks. Take home fresh produce grown on the Great Park Farm and other local farms. Explore the Farm + Food Lab and get home gardening tips from master gardeners from the University of California, Division of Agriculture and Natural Resources.
Don't forget about all of these fun things to do in Orange County!!!!!
101 Things to Do With Kids in Orange County
101 Things to Do With Tweens and Teens in Orange County
10 Orange County Family Outings for Just $30
101 Places to Eat Sweets in Orange County