This is a sponsored post.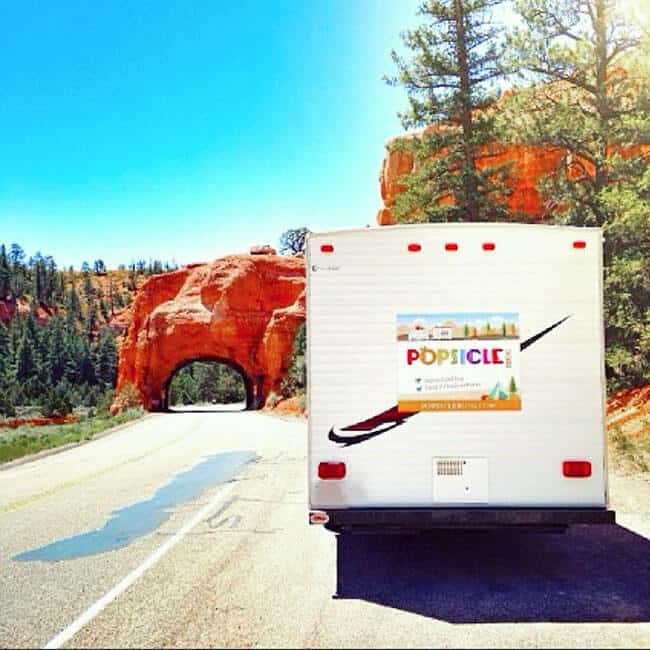 as you know, me, my husband and my kids are constantly on-the-go. we LOVE to travel...especially on road trips, and i often get asked how i handle traveling with kids on the road, including things like; how do i keep them entertained, how often do we stop, and what do we do when it comes to meals. often parents dread traveling for long stretches of time on the road with kids because the unknown can be scary. you never know when a child will have a meltdown or someone needs to use the bathroom. if you have multiple children, you will find that there will always be one kid who's hungry, and stopping for food might not be an option.
well, here are some tips for the eating part of a long road trip, as eating too much fast food to can get tiring....and just thinking about it makes might stomach turn. when my family is traveling, i crave healthy, home-cooked food which is not an option. so i have learned what to pack that will satisfy hungry kids, hungry parents, travels well and won't make a gigantic mess in the car. chips and popcorn make gigantic messes, and anything gooey or sticky is a definite no no. i don't often pack sandwiches because they can get squished in our full-of-luggage vehicle, so i turn to pre-wrapped, easy to eat, no crumb snacks to get us from point A to point B. i make sure to pack a variety of sweet and savory, as well as a treat...you just can't get around giving the kids a sweet treat when they have been on the road for such a long time.
below, i am sharing "The Best Foods for Road Trips and Traveling On-the-go." plus, a couple of items that help the experience be more enjoyable and mess free, check them out...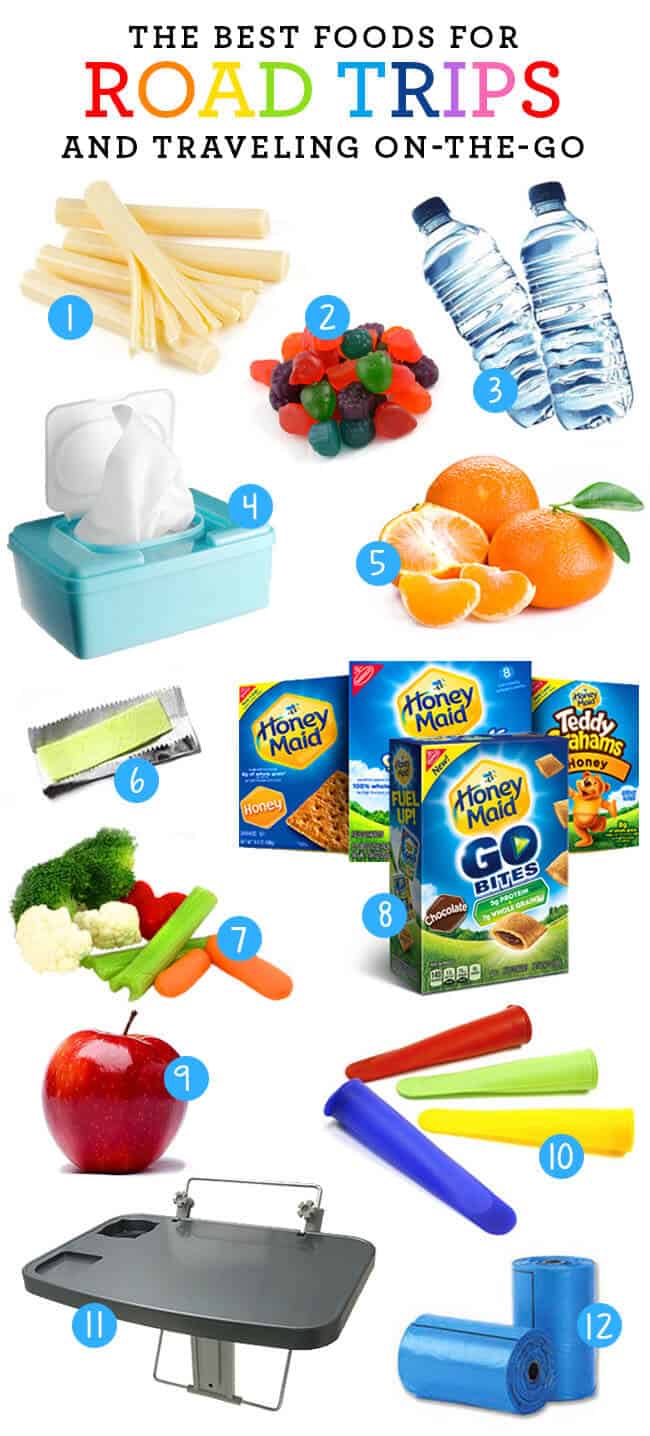 1) String Cheese - i love string cheese because it travels well, all my kids like it, and it has protein and calcium which my kids need. plus its pre-packaged and doesn't make a mess.
2) Fruit Snacks - you are going to need something sweet to give the kiddies while your on the road, especially if they are used to having that dessert bribe to finish their food. fruit snacks are easy and non-messy. healthy versions of them can even be bought and the kids won't know the difference.
3) Water Bottles - i often ONLY bring water to drink in the car with us when we are on road trips. anything else is usually too sugary and if it spills, leaves the car sticky and a big mess. water bottles have twist lids that can be opened and closed as needed. freeze a few to use as ice packs and then drinks after they defrost. i use the bribe of stopping for a cold sweet drink at the gas station or rest stop to keep my kids on their best behavior...and it works!!!
4) Hand Wipes - need i say more?  you are going to need them, so bring them!
5) Clementines or Tamgerines - these are the easiest kind of oranges to travel with. they provide great nourishment, give a quick boost of energy, and don't make a huge mess. if you want to avoid peel all over the car, peel them before you get on the road and store them in a plastic storage food bin to keep them from getting squished.
6) Gum - if your kids are old enough to handle gum, and don't swallow or drop it on the ground or stick it on the seats of you car, i suggest keeping the car stocked with it. not only does it tide over a hungry kid, it also is a great distraction for a whiner or can help with car sickness or altitude changes when driving in the mountains.
7) Veggies - Cut up vegetables that your kids like. they travel well, and add that crunch kids look for. if you think your kids can handle dip in the car, purchase some of those individual dips or peanut butter for dipping.
8) Crackers - you are going to need a couple of boxes of crackers for the kids to snack on like Honey Maid Go Bites, which are great to have on hand because kids AND moms like them. these particular Honey Maid GoBites are filled crackers with crispy pockets of filling. they have pro-tein and whole grains. it's a snack they'll love and you'll feel good about. Honey Maid GoBites come in chocolate or vanilla flavors. as i said before, chips and popcorn make a huge mess, crackers are a much better choice. plus Honey Maid is a brand most of us have grown up on. it's a snack that reminds us of our youth...and even today, kids still enjoy them. No matter how things change, what makes us wholesome never will. Honey Maid: everyday wholesome snacks for every wholesome family. This is Wholesome.
9) Apples - this is the least juicy fruit and the fruit my kids love most. it also travels well if your kids eat them straight of the core. they won't spoil if they aren't eaten while you are traveling, thats a good thing. i can not tell you how much food goes in the trash after i leave in in bags after our trips. i really need to work on that.
10) Disposable Tubes of Yogurt or Apple Sauce - there are lots of different food products sold in disposable pounches, these are great because no utensils are needed.
111) Travel Tray - if your kids are younger, purchasing a travel tray can help out immensely when you are trying to eat on the road. i never like having to take my seatbelt off and turn around to find something my kids dropped on the floor and can't reach. a travel tray keep the food in one place and out of your kids laps.
12) Trash Bags - bring some trash bags to help with the mess. this is my biggest issue and pet peeve of traveling. at the end of long road trips i always find my son who sits in the back seat of our minivan, sitting in a pile of trash. seriously. so having a trash bag to clean up between the meals is helpful to keeping the car trash to a minimum.
these are my most favorite items to take on road trips. honorable mentions go to rolled-up lunch meat, pre-peeled hard boiled eggs, and sandwich wraps...only because the prep time is a lot greater. the things i mentioned above are easy grabs, which is sometimes all you can do when you are out-of-town or on the road. bring a small cooler that fits between the car seats with a frozen gel pack to keep cold things cold. the rest of the food can go in a reusable grocery sack. hopefully this will give you some food inspiration for your next road trip. hopefully these will prove to be the best foods for road trips