Photos taken by Short & Sweet Photography.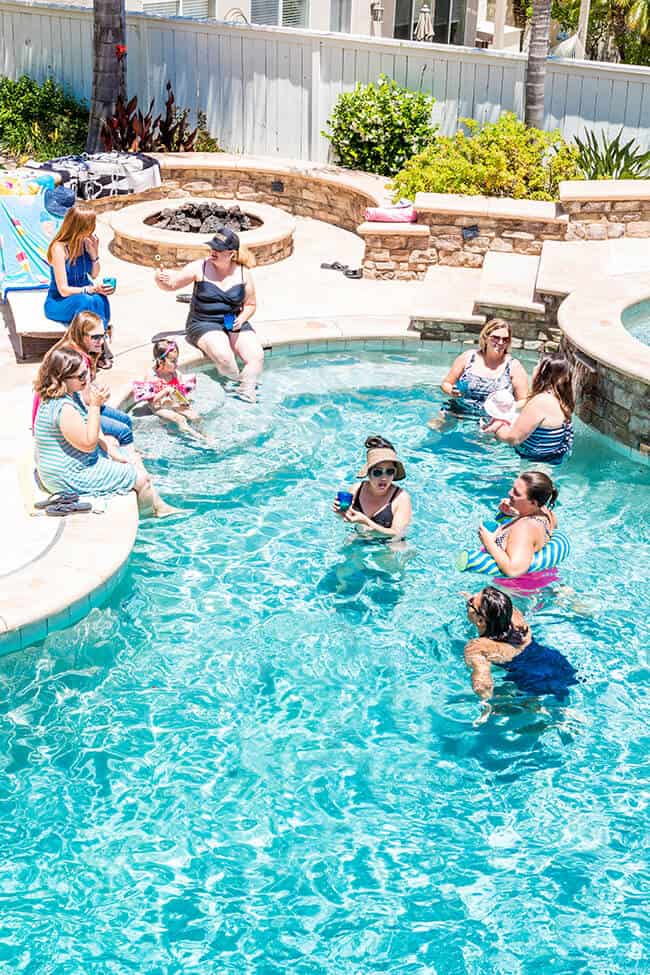 if you've never had a moms only pool party, TRUST ME. you. need. to.
moms are often neglected when it comes to pool parties. during summer, us moms spend all our time packing-up the kids for swim playdates, swimming lessons and pool parties. when we get there, we have to try to put sunscreen on wiggly, whining kids...mulitple times. then during the pool time, we spend the entire time making sure that none of the kids drown, fight or run on the pool deck. if we are lucky enough to get in the water, we spend the whole time getting splashed and watching kids show us their mediocre tricks in the pool. so much fun for the kids....but not always as much fun for the moms.
Time for a Moms Only Swim Party
at a Moms Only Swim Party, you don't have to worry about anyone but yourself! no wrangling kids, no whining, no kids begging for food, no crying, no fighting...talk about AMAZING! last year i went to my first Moms Only Swim Party and had such a blast, i knew i had to get more moms onboard with having one at least once a year.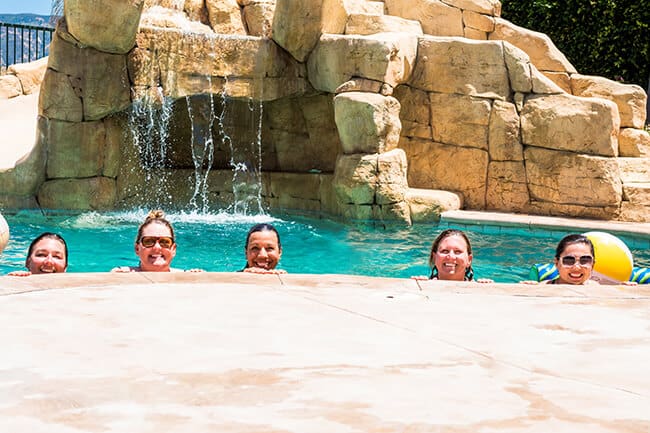 How to Throw a Moms Only Pool Party
rule #1 – no kids allowed. unless it's a baby...and even then, try to get a sitter. you will be glad you did.
rule #2 – have your Moms Only Pool Party BEFORE the end of the school year, during school hours. 11:00am is the perfect time to have it. that way you can enjoy lunch at the pool party and still have time to have fun before it's time to pick up the kids.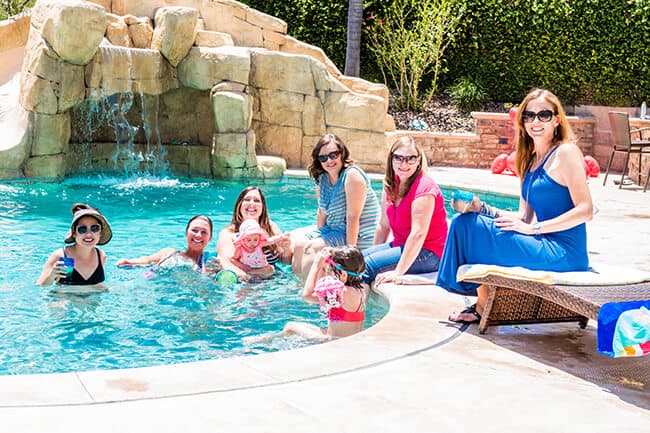 rule #3 – invite all your mom friends. send out an evite, or start a Facebook event. this way everyone will be on the same page and can start chatting with each other to make plans. make sure to be inclusive of everyone...its the perfect time to invite a mom who may be shy or in need of friends. i can't tell you how many times i have heard a mom tell me that she's been lonely or doesn't have any friends.
rule #4 - everyone must wear a bathing suit AND go swimming. no party poopers here. leave the bathing suit shaming at the door. us moms know how it is. so put on a bathing suit and enjoy yourself.
rule #5 - food. you must have yummy food. making the pool party potluck is even better. that way you get to experience a little bit of food from everyone. which equals – different tastes, different cultures, and different varieties.
rule #6 - drinks. you need lots of drinks...non-alchoholic and alcoholic are great! you can even mix drinks or make soda floats.
rule #7 - be silly. there is no shame in playing pool games and acting like kids. when is the last time you jumped off the diving board or slid down a waterslide.
rule #8 - take lots of pictures and video. with your phone is just fun. have your heard of Boomerang app? make sure to take some Boomerangs too. They are so much fun, and everyone will have a ball reminiscing over your fun photosafter the party is over.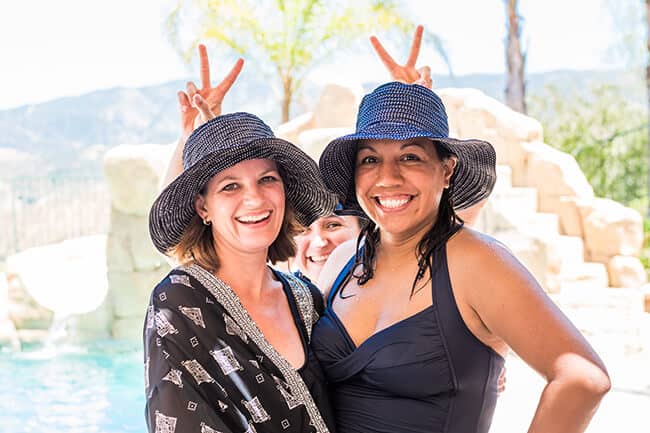 rule #9 - chill. use this time to enjoy your mom friends. there will be no interruptions since the kids are at school, and you don't have to worry that someone is going to drown.
rule #10 - most importantly...HAVE FUN. this is your time...and most likely, the ONLY time you will have to yourself with your friends between now and the end of summer! school is almost out....the kids will soon be around all. the. time.
last years Moms Only Pool Party was one of the best times i had with my friends. we are still talking about it now. and you can bet we already have this year's scheduled. too bad the kids will still be in school...NOT!  now...go plan your own Moms Only Pool Party! trust me, you'll be glad you did.