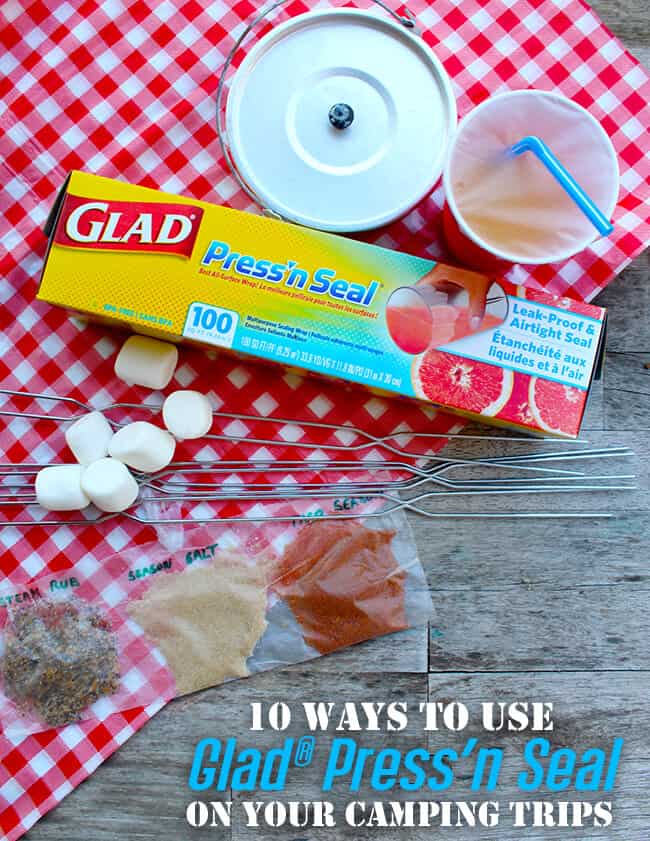 You probably already have or have had Glad Press'n Seal in your kitchen, because it's great for keeping your food safe and fresh. But did you know that it can be used for a variety of things outside of the kitchen? Head to your nearest Walmart and grab a few extra rolls because you're not going to want to be without this stuff. Thanks to Glad Press'n Seal's ability to stick to a wide variety of materials, the possibilities are endless!
Since life hacks are all the rage right now, I'm going to show you how one roll of Glad Press'n Seal can make your next camping trip so much better! You'll never want to leave home without it!
1. Make your own sippy cups. Leave the expensive sippy cups at home. They'll just get dirty and ruined. You can easily make a lid for any cup you have just by using a piece of Glad Press'n Seal and a straw.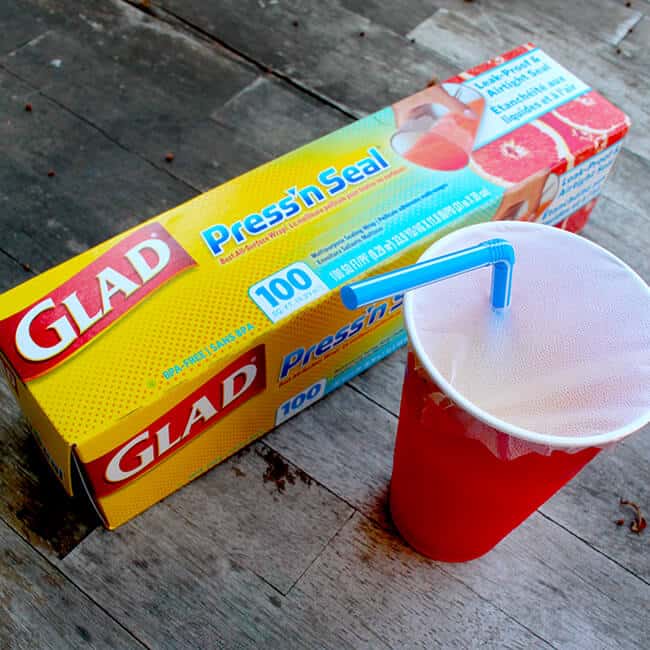 2. Wrap up your lunch sandwiches. Glad Press'n Seal makes wrapping up everyones individual meals easy. Just wrap items such as sandwiches, snacks and breakfast burritos and write each persons name on them to keep track of who's is who's. You can keep them all together in one large zipper bag, and you don't have to worry about mixing flavors, or foods touching that shouldn't be.
3. Pre-package your spices for each meal. You can place pre measured spices between two layers of Glad Press'n Seal. When you are ready to use, just snip with a pair of scissors and use. Toss when finished.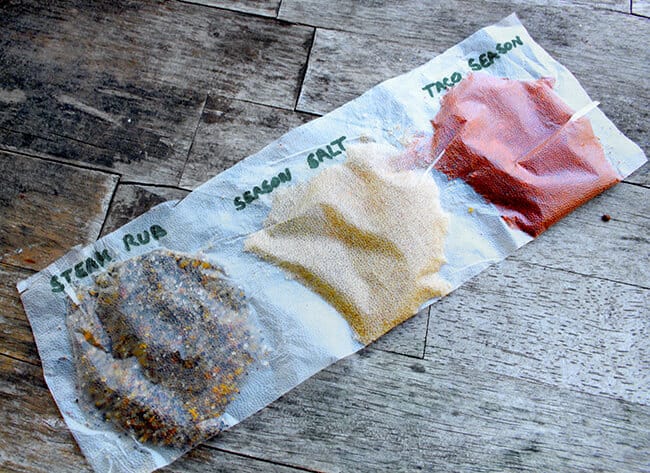 4. Protect your phone from water and dirt. Wrap your phone with a piece of Glad Press'n Seal to quickly protect it from the elements of camping. While hiking near water, or hanging around dusty trails, you can quickly create a barrier from things that will damage it. the best things is that you can still use your smartphone through the all-surface wrap.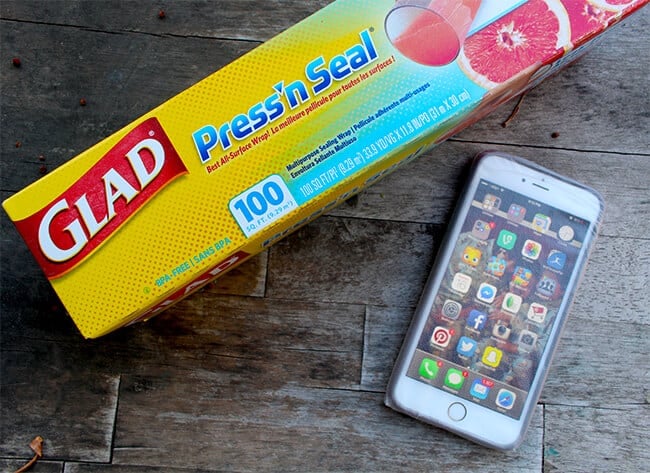 5. Line your serving trays. I use a lot of foil serving trays when I am camping to hold grilled food and side dishes. If you line them with Glad Press'n Seal, you can remove the wrap after the food is gone and reuse them. With water being less accessible while camping, this makes clean up easier and more practical. It also saves money not having to buy so many disposable trays.
6. Create a clean eating or work space in seconds. Let's face it, camping is usually dirty, but there are times when you need the area to be clean, like for example–when you are prepping food or eating dinner. You can use Glad Press'n Seal to make a place mat on a dirty table or a clean working space practically anywhere. It makes a great eating surface for little ones too!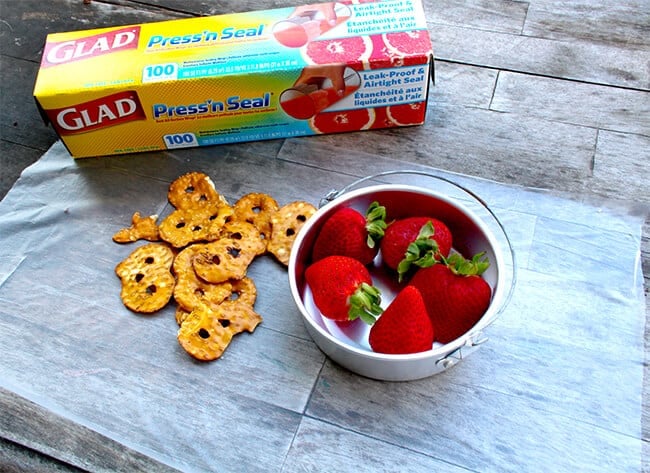 7. Make a bib or an apron to protect clothing. A piece of Glad Press'n Seal can make a quick bib or apron when you need to protect your clothes from getting dirty. Whether it be messy barbecue or camping crafts with the kids, there are times when you want to keep those clothes from getting stained.
8. Create a cool nature craft with the kids. Have the kids collect leaves and other nature items around the campground and create cool sun catcher by placing the items between two pieces of Glad Press'n Seal. You can hang it up in the window to remember your camping trip once you get home.
9. Keep board game pieces from shifting during transport. By wrapping the game pieces to the board and container you can keep everything together while you are traveling. No more lost pieces and ruined games!
10. Wrap up sticky marshmallow roasting sticks. Making s'mores and roasting marshmallows are fun, but the mess they make isn't. Once you are done roasting your mallows, wrap the sticks with Glad Press'n Seal until you can properly clean them. This works on almost any dirty cooking item that you can't really clean until you get home.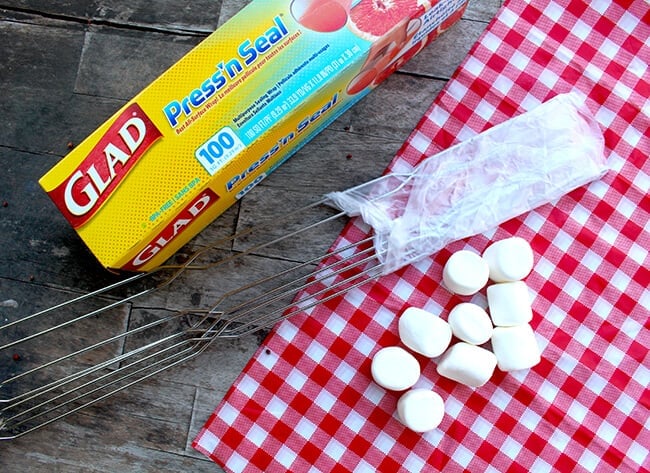 These are just a few ways that you can use Glad Press'n Seal when you're on a camping trip. Like I said, the possibilities really are endless.
Do you have any life-changing uses for Glad Press'n Seal?