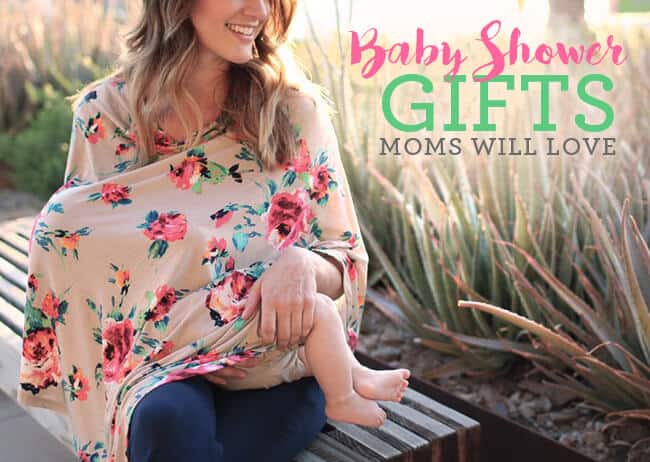 with a fourth baby on the way, i often get asked what items i would recommend getting a new mom for her new arrival. since my youngest is six, it's been a LONG time since i bought anything for a baby. in fact, i mostly used items i already had on -hand for my last two children, so its practically been fourteen years since i looked at baby gear. there are so many new and amazing baby products out there....so many things you can buy a baby – from clothes to strollers. so i wanted to come up with a list of items that might be a little extra special for a mom to receive at a baby shower – things that she might not buy herself. so i partnered with ScholarShare to create this list of 10 Baby Shower Gifts Moms Will Love!
i think all of these items are pretty neat! i didn't have them with any of my other babies because they either weren't available yet, or they weren't necessities. but sometimes its fun to get things that you wouldn't always splurge on. let me share them with you.

10 Baby Shower Gifts Moms Will Love
my number 1 on the list....
1) Scholarshare Gift Certificate – more than ever, i've been thinking about my kids future. now that i will have four children to care for, saving for college is going to be a necessity. i want my children to have every opportunity available to them. attending college without worrying about debt would be a wonderful gift to each of them. family members and friends can purchase Scholarshare gift certificates in any dollar amount for the baby. this would be one of the most appreciated gifts, especially since they will probably already receive a lot of the baby necessities. why not get their college accounts started early....every little bit helps. i wish i had started my other boys 529 College Savings plans at birth. i definitely know better with this baby. (p.s. you don't need to be a California resident to sign-up. This college saver account is available nationwide.)
and then there are also these great gifts.
2) Mommy Teething Necklace - i love chunky jewelry, and these teething necklaces would be perfect for a mama to wear when she has a baby who is going to try and grab her jewelry and suck on it. these necklaces are made with silicone and natural wood beads that are teething and baby-friendly!
3) Joovy Boob bottles – i recently fell in love with the Boob bottles. they come in PPSU (Polyphenylsulphone), PP (Polypropylene) and glass! i am especially excited about the glass ones...they have a optional silicone sleeve you can pair with them to prevent breaks. Boobs are BPS, BPA, phthalate and lead free and offer the safe delivery of formula or milk. The new nipple design has a CleanFlow® Vent System, and they have an ergonomic shape that fits nicely in your hand.
4) Jujube Diaper Bag – i've never had a fancy diaper bag before...and this time around, i am going to go for it. i recently learned about the JuJube bags, and i think one would make the perfect diaper bag. they are stylish, have lots of great colors and features, have a compartment for you to keep your phone and money, plus they are durable and easy to clean. everything you would want in a diaper bag.
5) Joovy New Nook Highchair - this is a fantastic highchair made by Joovy. it features a large swing-open tray that can operates using only one-hand motion...two hands are not needed! plus, you don't have to line up cumbersome rails. there is no need to remove dishes from the tray before taking the child out of the chair – simply swing the tray open, unbuckle your child.
6) Honest Diapers - OMG!!! i just love the patterns. all my other kids just got plain white diapers, but i am excited to splurge on some of these cuties this time around.
7) Mist Wipe Warmer – i know many people think a wipe warmer is totally unnecessary, but i did have one with all my babies and loved it. super convenient to use, especially on newborns because the wipes are warm and not cold. anything to keep a baby calm and happy. right!
8) Milkmaid Goods Nursing Poncho - i've always used a blanket if i needed to cover-up while nursing. but i just love these nursing ponchos from Milkmaid Goods. the prints are super cute and stylish, and you can also use them as a blanket, or a carseat/shopping cart cover. psst...they also have the most adorable baby swaddle sets.
9) Playtex Diaper Genie Complete - never had a Diaper Genie or any kind of fancy diaper pail, but i heard they are awesome. this one comes in pink!
10) Freshly Picked Moccasins –these little leather baby and toddler shoes became all the rage just after my youngest was too big for them, so i am so excited to get a couple pairs for the baby. they are great because they stay on baby feet and you don't have to worry about ties and buckles.
and there you have it – 10 Baby Shower Gifts Moms Will Love! i'm sure any of these baby items would make any mom feel special to receive. i can not wait for my little one to arrive in just a few months. i just love babies...and their gear is just so darn cute too.
{Disclosure: This is a sponsored post. All thoughts and opinions are 100% my own.}