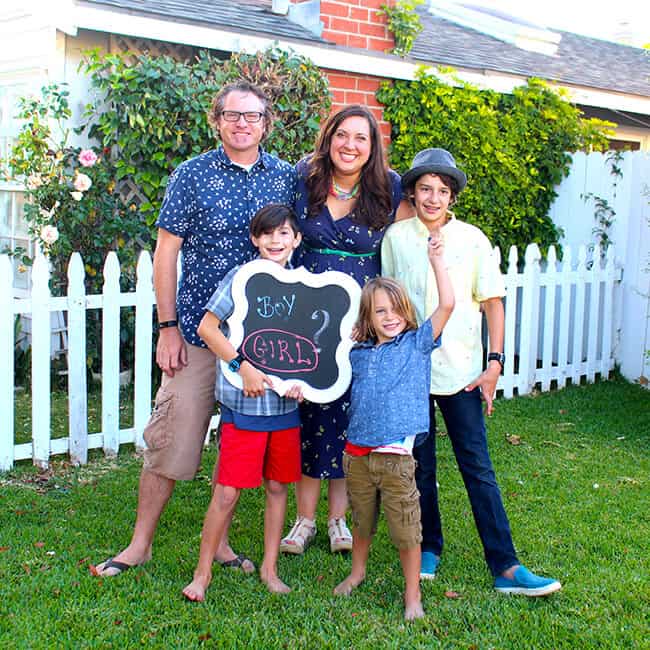 i just realized that i never shared the big news here on the blog. guess what?!!!
WE ARE HAVING A BABY!
and even bigger news...IT'S A GIRL!!!! we just can't believe it! i shared the news on the Sandy Toes and Popsicles Facebook page, but not over here on the blog. sorry about that....hopefully you are all fans on Facebook so you already knew. but i haven't shared too many other details about my pregnancy, and there have been a lot of questions. so i thought i better write a little blog post.
anyways, i found out in April that i was pregnant, right after a blog conference i had attended. i kept getting really carsick, more than i usually do, so i thought something was up. but i took a pregnancy test and it came out negative. but a few days later, i was feeling worse....took the test again and POSITIVE!
wow. i wasn't expecting to have another baby, after all, my youngest is almost seven. i was a bit overwhelmed with the news because i felt like i was too old to have another baby...i am not as in shape as i used to be and also in the process of trying to get healthy and lose all the weight i have gained these past 5 years. plus, my past three pregnancies were awful. i get sick the entire 9 months...could i handle this? but i guess we were meant to have another little one and now WE COULDN'T BE MORE EXCITED. or should i say shocked! i mean....i guess i can't really say shocked, because we all know how these things happen. and yes, this is what can happen from a night of trying to be spontaneous LOL! but nonetheless, we figured we were done having babies and were onto the next stage in life with our boys. not so much now.
we didn't tell anyone our big news for a while, it was our little secret, in fact, we didn't tell any friends until we found out the gender of the baby at 14 weeks. it was hard to keep a secret since i had been sick and not feeling like doing much. i felt bad not hanging out with friends or going to family dinners. but once we shared the news, everyone figured out why and were pretty shocked and super excited.
The Day We Found Out the baby's gender
first of all, it was the fourth of July, we weren't expecting to find out the gender of the baby for another week or so. but it was one of those days when the boys were feisty and fighting, and the hubby and i really needed a break. so we decided to go on a lunch date before heading out with the boys to the family 4th of July party. on the way to lunch we got to thinking...maybe the ultrasound place is open and we could find out the gender and reveal at the 4th of July party. to our surprise...it was! why is an ultrasound place open on the 4th of July? kind of ridiculous...but definitely in our favor. i guess it was meant to be....so we headed down and found out.
i laid on the table, with warm goo on my belly and watched the ultrasound tech do her thing. i had a feeling that it was a girl...but just couldn't believe it when she said the words...IT'S A GIRL! i was crying with joy inside. after 3 boys, i still can't even wrap my head around the news, and until i get another confirmation, i'm still in disbelief. what exciting news. we are thrilled that we will be adding a little girl to our family...and the boys really wanted a sister. God has a plan and i guess this little girl needs to be with our family and probably will need to have those three older brothers in her life. what a blessing this is.
we drove home and decided that we would fill balloons with pink confetti and pop them at the party to reveal BABY GIRL. here are some photos from the day we found out and shared the news with our families.
here is the hubby getting to work on the balloons.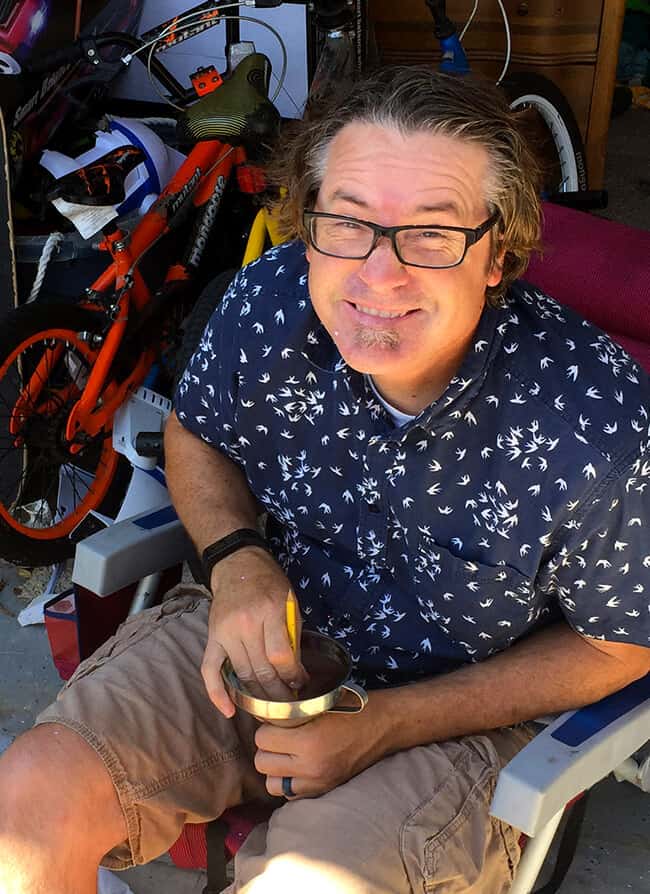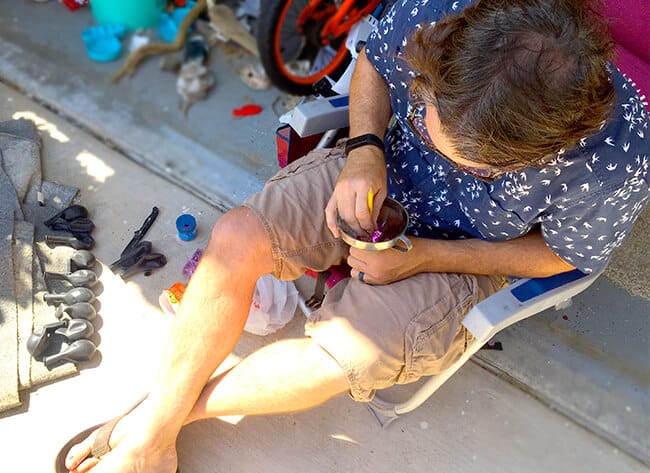 here is the family before we passed out the balloons to reveal the baby's gender. everyone was super excited. we had planned to have flying balloons, but the confetti was too heavy, so everyone had to just hold them.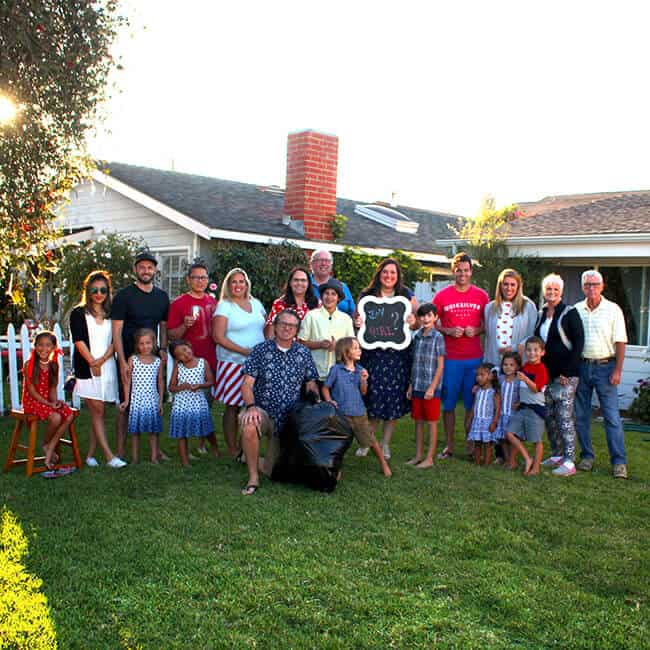 then 3....2....1....pop!!!!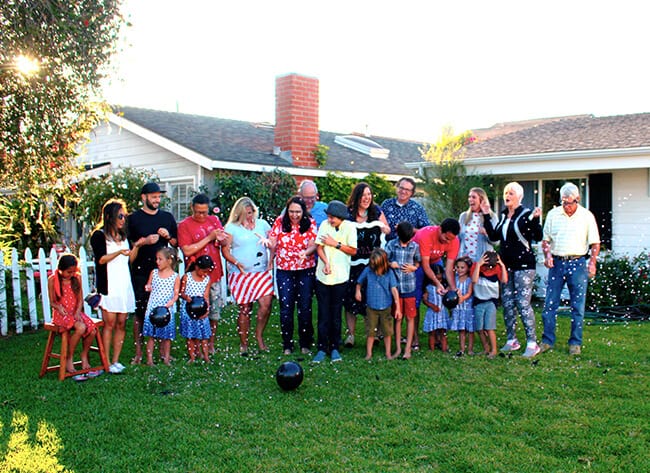 IT'S A GIRL!!!! everyone was so excited.  the next day we revealed it to the world.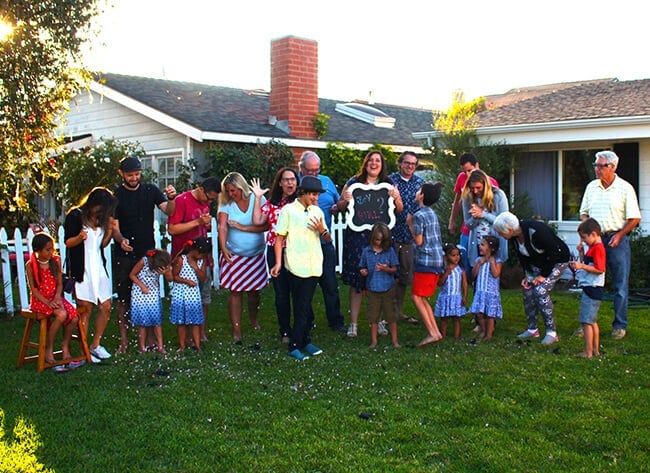 i am due in early January, right after the holidays. my first winter baby. i am very fatigued and my stomach is always sour, but other than that, i can't complain. this has been my easiest pregnancy so far. as soon as the boys go back to school i will have a couple of months to prepare for her arrival and get everything ready for the holidays so that once i am gigantic, i can take it easy. at least that's what i am planning.
i can't wait...i love love love the baby stage. it's just been a while, so i hope i remember everything. can you believe it?!!!! four kids.  i love being a mom!
here is the video of baby girl's gender reveal...