have you ever been to
Knott's Berry Farm
without the kiddies? i haven't. and when the opportunity came to try out Knott's new selection of food, i thought...
date night
! how much fun to enjoy a night out at the amusement park with just my husband.
when i think of Knott's, i think of rides....Knott's Chicken Dinner Restaurant and bosenberry pie. and yes, i do think of funnel cakes as well, but i have never really considered it a place to have a great dinner. well.....Knott's has really stepped up their menu, and has a ton of new YUMMY food choices in the park. check out some of my favorites we tried on our date night.
Fireman's Brigade BBQ 
(located in Ghost Town)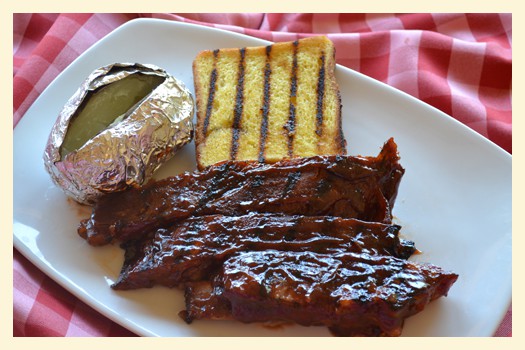 Slow Cooked Ribs
 – 
select, lean, juicy pork ribs, seasoned with Knott's special rub, slowly smoked for 11 hours, then grilled and basted with our homemade BBQ sauce. you can also get Flank Steak Sandwiches
 – 
tender and juicy sliced flank steak marinated for over 24 hrs and served on our homemade jalapeno and cheddar roll. 
Bigfoot Broiler
(located adjacent to Pony Express)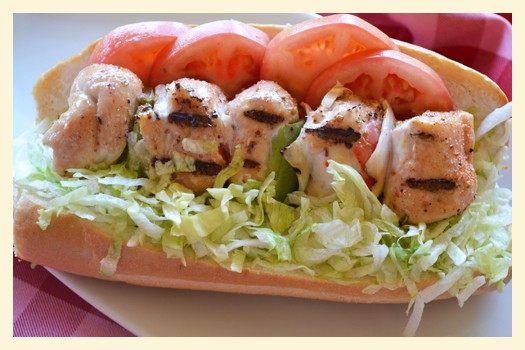 Chicken Kabob Sandwich
 – 
chunks of flavorful chicken marinated to perfection served on a fresh roll with lettuce, pepper, onion, tomatoes and our own tzatzki sauce. 
Chowhouse
(located across from the Gold Trails Hotel in Ghost Town)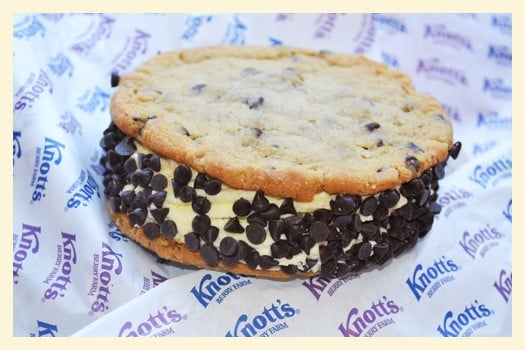 Cookiewich – two Farm baked chocolate chip cookies filled with a rich, creamy vanilla soft serve ice cream and rolled in chocolate chips.
Ghost Town Grub 
(located across from the General Store)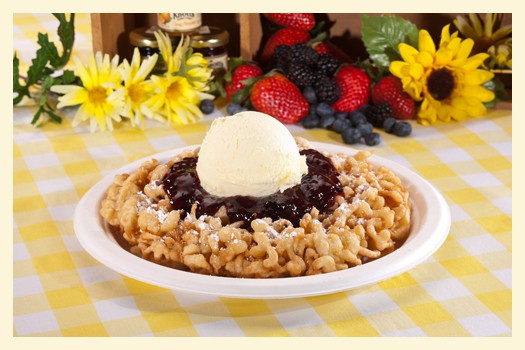 Funnel Cakes 
"Fully Loaded"
 – 
the original funnel cake, yummy and warm. served with vanilla soft serve ice cream and choice of strawberry, apple or boysenberry toppings. 
Mrs. Knott's Chicken Dinner 
(located in the MarketPlace)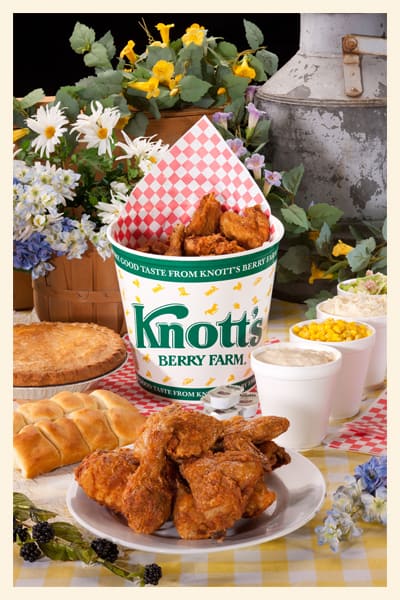 Mrs. Knott's Chicken – the recipe hasn't changed in 78 years. or you can get Chicken Pot Pie
 – 
flaky crust pot pie filled with tender pieces of chicken and garden vegetables topped with chicken gravy. and don't forget Knott's Boysenberry Pie
 – a
ll boysenberries can trace their roots back to Knott's Berry Farm! 
Coasters
(located next to Xcelerator on the Boardwalk)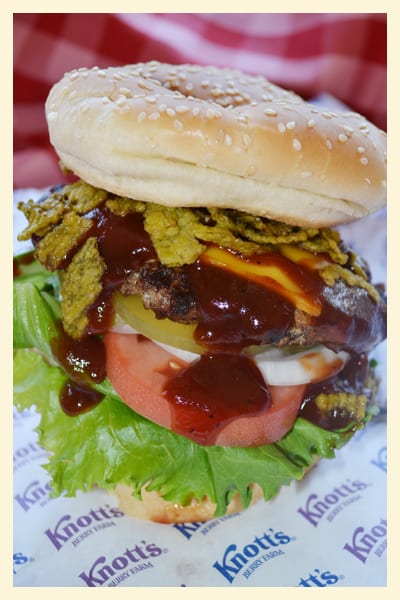 Coasters Cheeseburger Grilled – 100% beef fresh beef with crunchy jalapeno chips inside. this was my favorite!
Spurs Restaurant
(located across from GhostRider)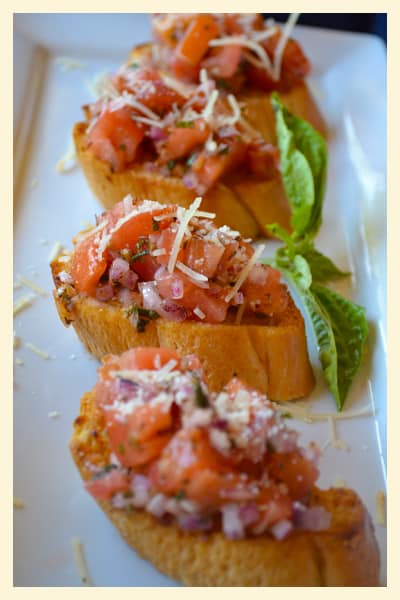 where you can dine in and enjoy their Bruschetta
 – 
marinated tomatoes with red onions and Parmigiano Reggiano on focaccia. you can also get 
Hawaiian Ahi Poke Sashimi grade tuna, green onions, avocado, sesame vinaigrette, wasabi cream & wontons or the Cajun Lime Salt Riblets Pork rib tips marinated in seasoned Cajun lime sauce.
Hollywood Hits
(located across from Bumper Cars in the Boardwalk area)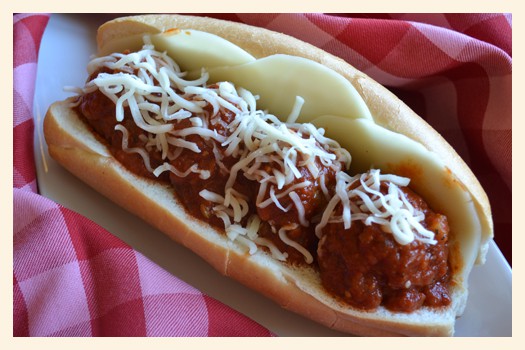 Meatball Sandwich
 – 
homemade meatballs in a tangy tomato sauce topped with mozzarella cheese. 
Ghost Town Grill
(located in Ghost Town across from the Blacksmith)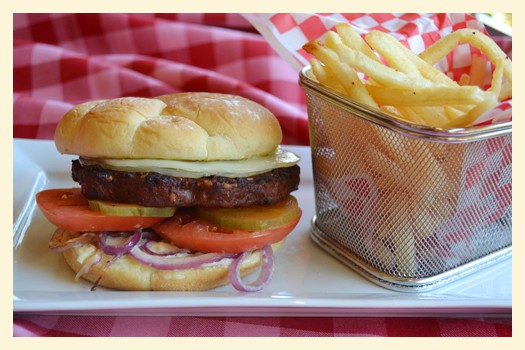 specialties are the Black Bean Burger (Vegetarian)
 – 
spicy black bean patty served with mayo, melted Provolone cheese and fried onions or Goldie's Honey Garlic Salmon and Baby Spinach Salad Served with honey soy dressing.
after our awesome dinner, we went on some rides. it was so much fun to run around the park without worrying about having to entertain the kiddies on the baby rides, taking someone to the restroom, or sitting out with a kiddie who didn't like that ride. we went on some of the classic rides all. by. ourselves.
a great date night.
hey...i also got interviewed about the new Knott's food...can you spot me!
of course you can get all this yummy food all day at the park, it doesn't just have to be on a date night. but it did make for a fun date night.
{disclosure: i was invited to Knott's to try out the new foods being offered in the park. i was given a complimentary dinner and admission. all opinions are my own, i wouldn't recommend anything i didn't love. we had a wonderful time. thanks Knott's for having us! #knottsnoms }