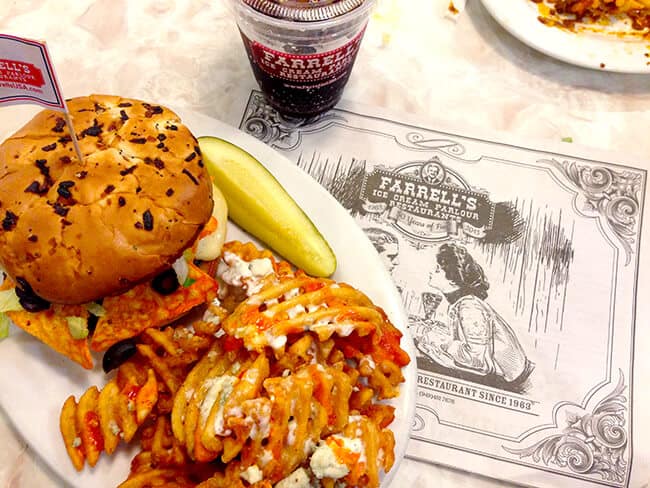 Farrell's Ice Cream Parlour Restaurants are celebrating everything delicious about football by introducing Gridiron Grub! for a limited time, the Tailgate Burger and fry combo and the 4th & Goal football themed sundae are available at Farrell's Restaurants, and you are definitely going to want to try them out.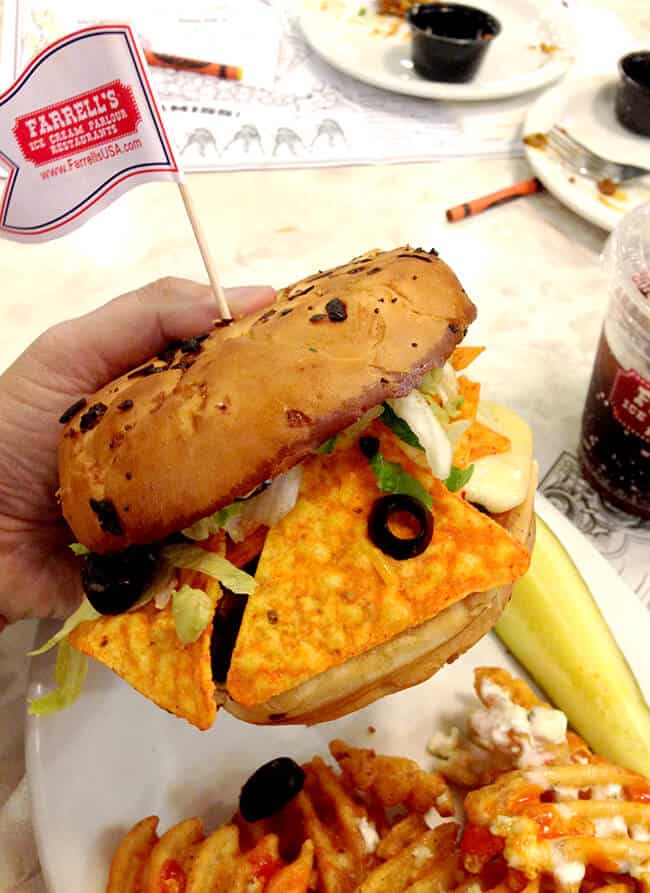 the Tailgate Burger is a one-of-a-kind burger that slams two stadium favorites together into one special burger. this juicy football inspired meal is a delicious cheeseburger and nachos in one! it all starts with a fresh (never frozen) ½ lb. Angus patty with melted Pepper Jack cheese and lettuce. on top of that is a pile of nachos built with a crisp heaping helping of Doritos® nacho chips, melted cheddar cheese, sour cream, black olives, fresh guacamole and house-made salsa. wow!!!! just look at that burger. they boys just love burgers and the hubby and them had a fun time eating this monster of a burger.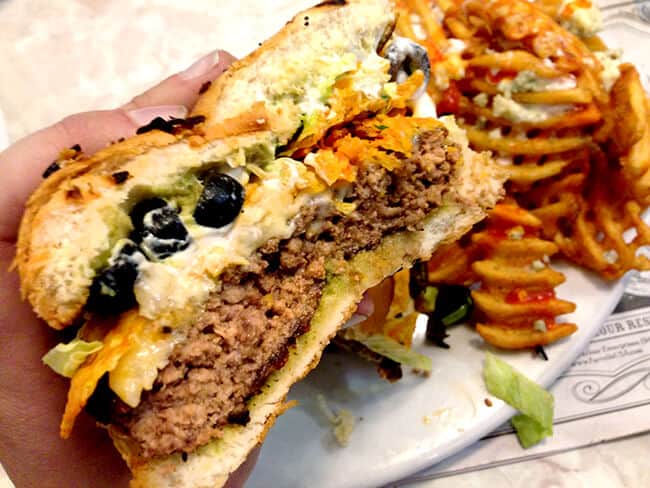 along with this giant burger, you get Bleu Buffalo waffle fries on the side. crispy fries drizzled with zesty buffalo sauce and tangy bleu cheese.....yum, i LOVE bleu cheese.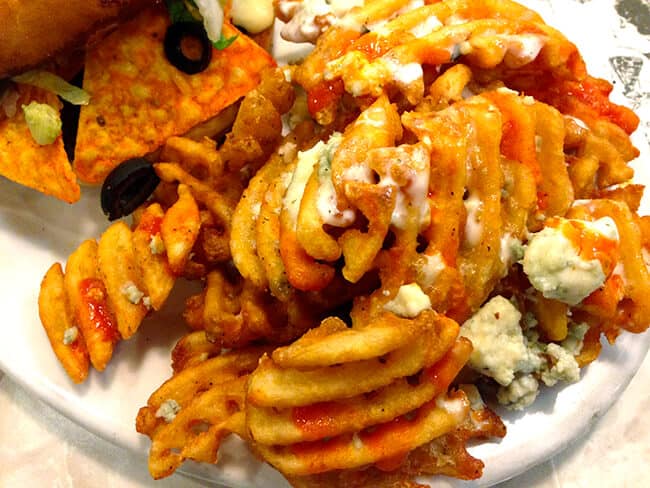 the buffalo and bleu cheese waffle fries we me and my Kyle's favorite part. i just love Farrell's loaded waffle fries.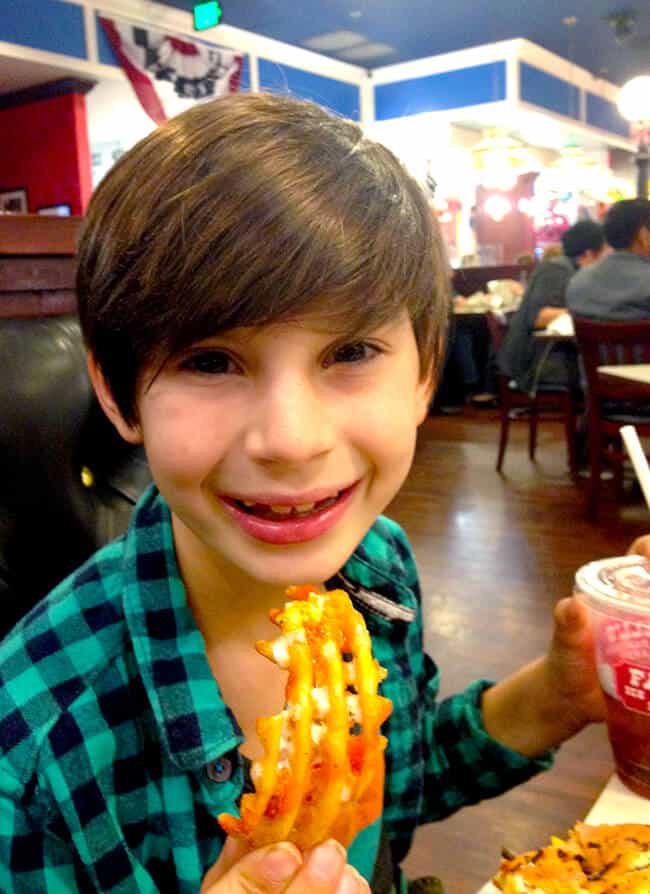 next up is Farrell's 4th and Goal Sundae. it is a 4-scoop sundae with two scoops of Vanilla, a scoop of Chocolate Malted Crunch, and a scoop of Cookie Dough ice cream dripping. all my favorite ice creams! it is topped with warm caramel and chocolate topping, dairy fresh whipped cream and a cherry. under your limited edition, souvenir Farrell's helmet you'll find a pile of Oreo® crumbs and more chocolate fudge. my boys devoured it...and i barely got a bite in. but i can tell you it is very, very delightful!!!!!!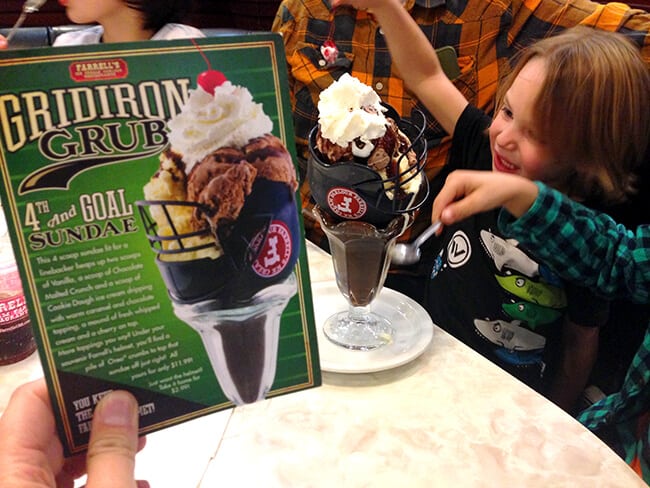 and guess what! after you finish your sundae, you can keep the souvenir helmet. so fun!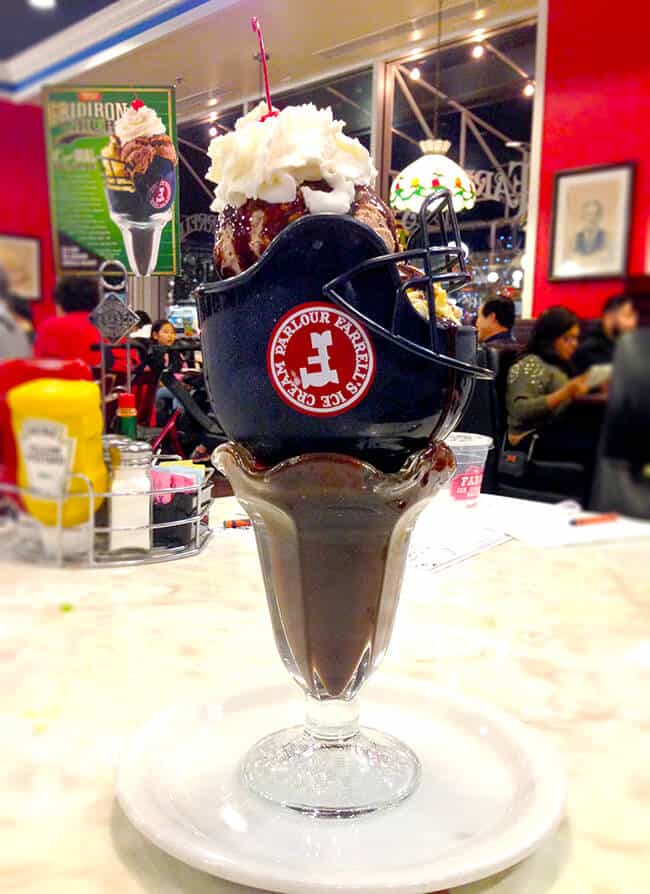 having a "Big Game" party? Farrell's can cater your party and serve up your guest some really yummy grub. call your nearest Farrell's to order or for more information.