This #GameOnTheGo shop has been compensated by #CollectiveBias, Inc. and its advertiser. All opinions are mine alone.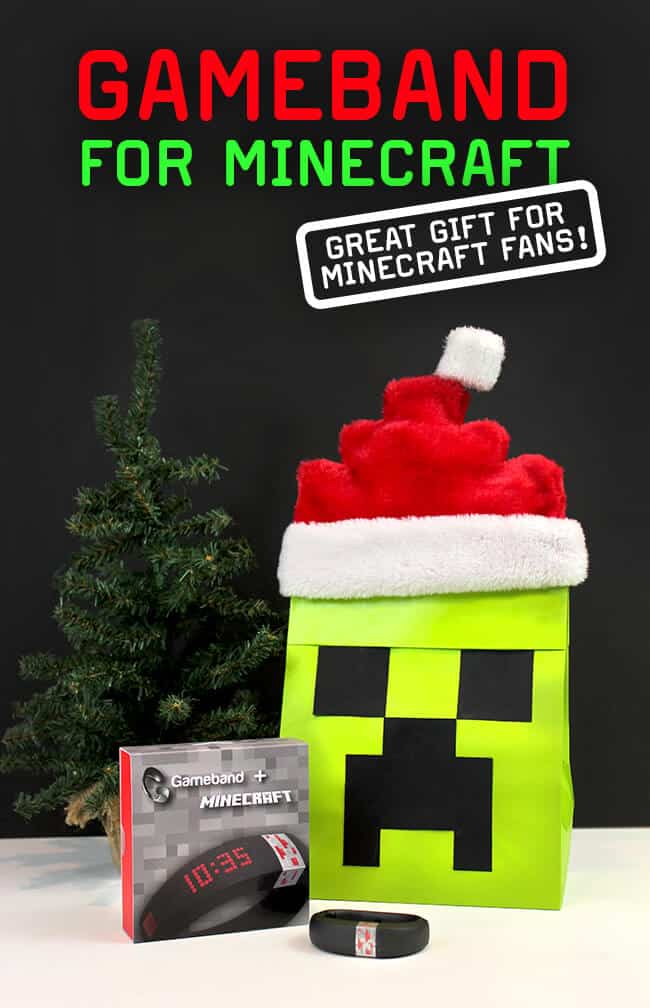 i have a bunch of Minecraft fans over here. three of them to be exact. all my boys LOVE MINECRAFT....even my littlest loves to play. i am hesitant to say that i'm still not exactly sure how to play. however, it is so fun to see my boys create and build things within their own Minecraft worlds. they proudly show me what they build. ALL. THE. TIME. and with the holidays arriving, you can only guess that there's a list of Minecraft wants and wishes that they would love to receive for Christmas. however, they hadn't heard about the new Gameband Minecraft™.
so it was a big surprise to my oldest to receive a Gameband Minecraft® as an early Christmas gift. he was like "how cool is this!!!!!" (plus jumping up and down, screaming with excitement).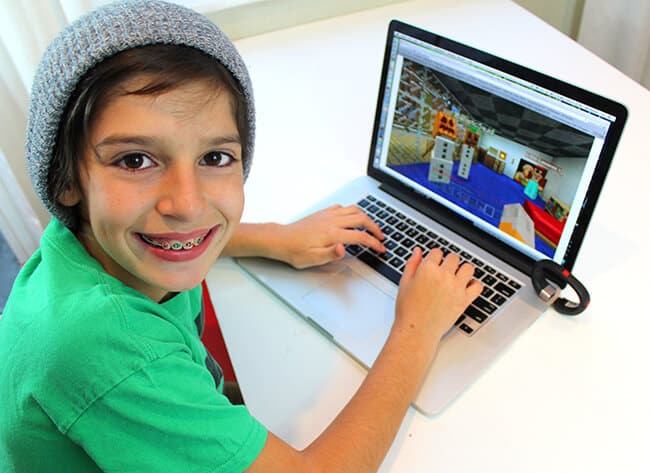 what is a Gameband Minecraft™?
Gameband saves your Minecraft Worlds and also backs them up onto secure, cloud-based servers so you can plug it into any computer and start playing Minecraft right where you left off. it is so much more than just a USB device. it features ultra-fast, long-lasting hardware, and is the first-ever Minecraft wearable. so you can bet this is going to be a hot item this holiday season.
the Gameband doesn't include the Minecraft™ Game License, you must purchase that separately. but if you already play Minecraft, chances are you already have purchased the game. it ships with PixelFurnace, an App that will let you customize Gameband with custom messages, images and animations that you create to share on the PixelFurnace site, and it's pre-loaded with stunning maps from Sethbling, Hypixel and Dragonz. it's splash proof, and comes in two sizes for small and large wrists.
what happens if you lose it? don't worry, you can contact Now Computing the company that Gameband belongs to. it is affiliated with Minecraft, and order a replacement with all your data still intact. and if any questions regarding Gameband, you should reach out to Now Computing.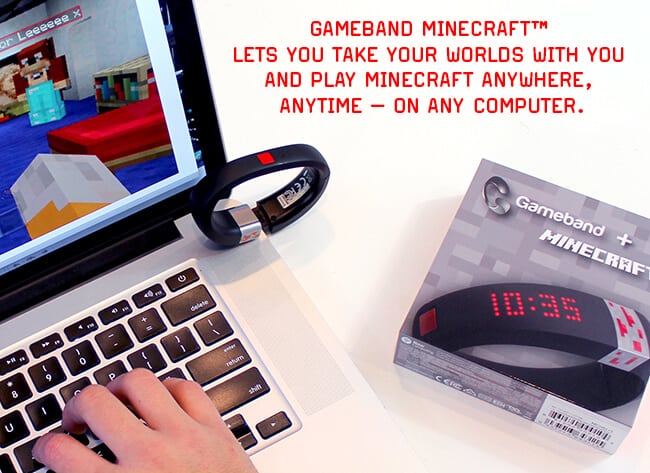 buying gifts for tweens can be hard because most of them only want electronics...which they already have. but, the Gameband is a brand new product, so it is something new and exciting. so get ready for some extreme excitement!!!!!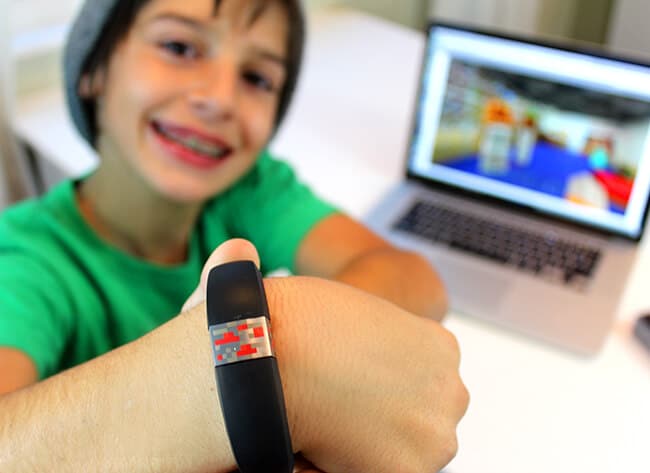 a fun way to wrap your Minecraft gifts
i also wanted to share with you a fun way to wrap up a Gameband Minecraft™. because this makes the gift really exciting, because the kids know that there has got to be something Minecraft related inside. this Minecraft wrapping is really simple to make. i just purchased a green gift bag, and glued on a black card stock creeper face. the creeper hat was made from a $2 stocking that i altered by sewing it into a pixelated shape with my sewing machine. but a glue gun would have worked fine too.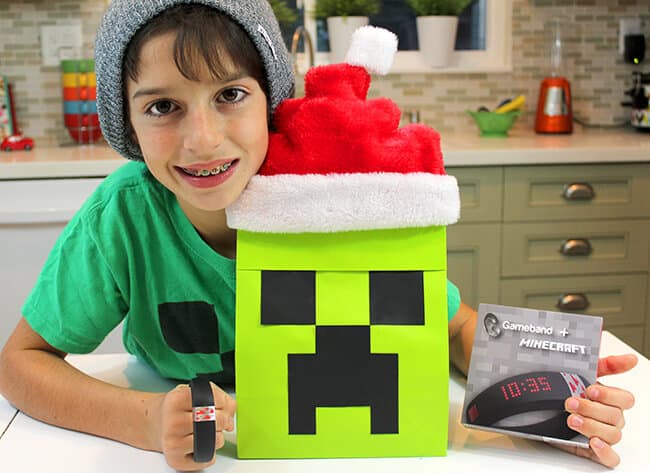 of course he thought all of this was pretty cool...especially the GameBand. he especially loved that it not only has the function of playing your Minecraft game anywhere you can find a computer, but that it is a wearable Minecraft fashion. you may have noticed my boys are really into fashion. he also loves that he can bring it with hime anywhere, like friend's houses.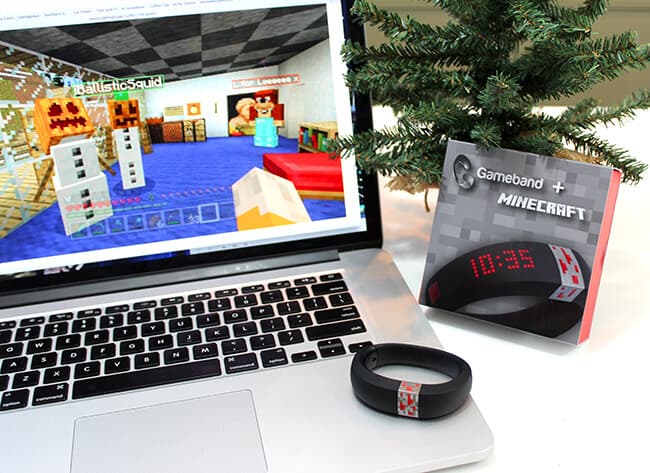 Hurry and get your Gameband Minecraft™!
Portable Minecraft makes a great gift for Minecraft fans any time of the year, but if you want to get it for this holiday season, you better hurry, as it is flying off shelves. you can get it at your nearest GameStop store, and online.  some GameStop stores will have it in the stores while others will have the empty game box on the shelf and will ship the product to directly to you within 1-2 days.