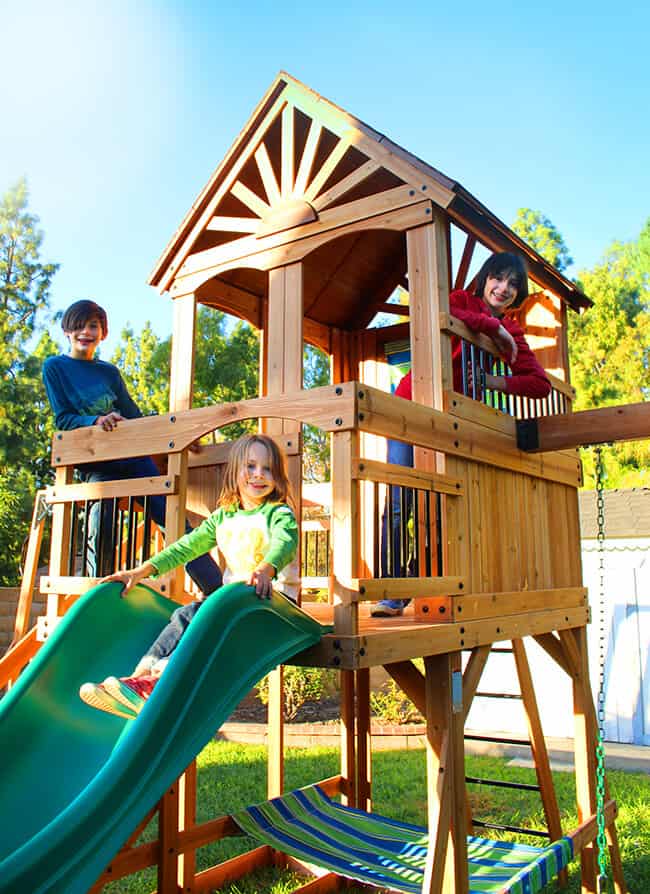 having my boys play outdoors is something that is very important to my husband and i. we love the outdoors – camping, hiking, playing at the park and having the boys play outdoor sports. these outdoor activities are a big part of our lives. luckily, living in Southern California allows us to play outside all year round. it never really gets too cold to play outside. but we can't always be on the go, there are times when we are home and i want the boys to get out of the house...off the electronics and outside. i want them to play in the backyard, as i don't feel comfortable with them playing in the front yard due to our semi-busy street. so i am thrilled to have partnered with Backyard Discovery™ to help my boys get outside and play.
our backyard was just fitted with the Oceanview Wooden Swing Set from Backyard Discovery™. it's been a very long time since we've had a nice swing set. the one we currently had was second-hand, and the wood was starting to warp. it was old and gross...not something the boys wanted to play on. they didn't want to go in the backyard and play. but that is about to change. they are beyond excited to have received our new swing set. they have been asking me about its arrival for weeks, and finally, this week it did!!!!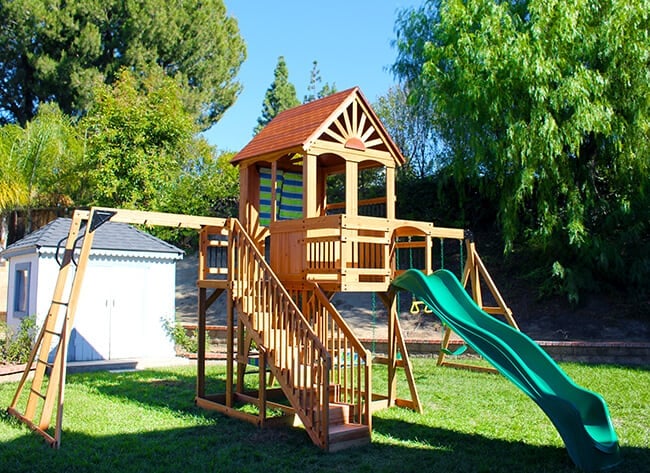 we had an installer set up the swing set in our yard to make sure it was properly installed, put together correctly, and had a six-foot perimeter safety zone around it. i highly recommend getting an installer to put together your Oceanview Wooden Swing Set from Backyard Discovery™, but if you decide to put it together yourself, allow at least two-three days for installation. all the lumber is pre-cut, pre-drilled, pre-stained, has Safe-T-Fuse Hardware and a helpful instruction manual included to help you get the job done. keep this in mind if you plan to get one for the upcoming holidays.
once the swing set was put together, i let the boys check it out. they had the biggest smiles on their faces. you could see just how excited they were to have something this cool in their very own backyard. i could see the wheels turning in their little heads – thinking of all the adventures they would have on their new swing set. my youngest LOVES imaginative play, and i am so excited for him to get to enjoy such a fun swing set. i might have even been more excited for the boys to have it than they where, it really is super cool.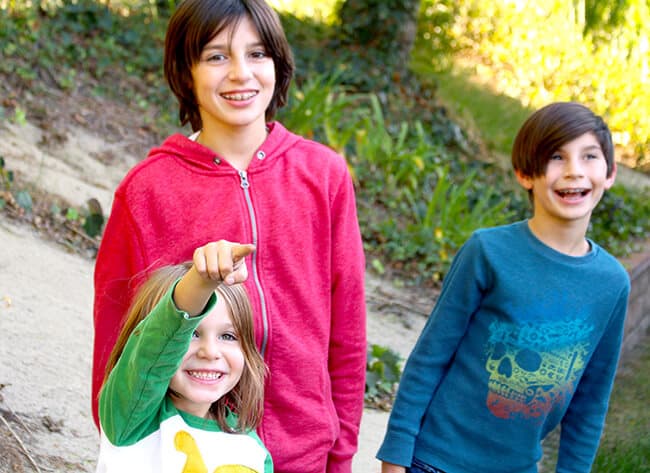 i've got to show you some of the great features of the Oceanview Wooden Swing Set from Backyard Discovery™ that really sets it apart from other swing sets. it has some of the nicest details i've have ever seen on a swing set – it actually compliments the backyard and since it is wooden, it looks so much better than a metal swing set. check out these great features....
first, the boys favorite part of the swing set, the open, airy clubhouse. it's nice and big...the upper deck is 76″ x 52″ by 5' high.
the clubhouse has wide windows AND curtains. play time is going to be a lot of fun up there. the boys are already talking about starting a club.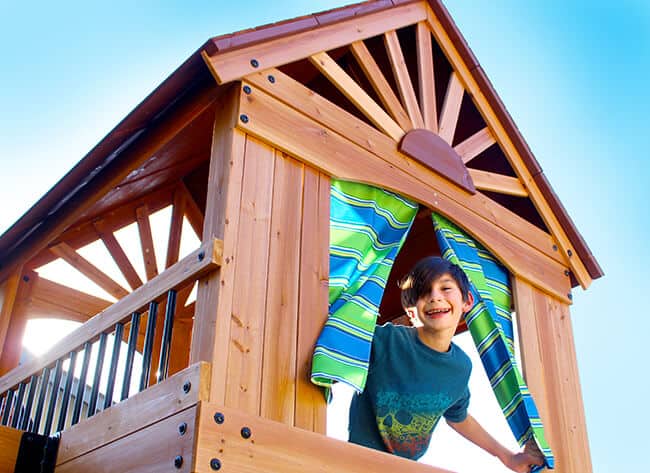 and check out the beautiful staircase leading up to the clubhouse. the details on this swing set are awesome.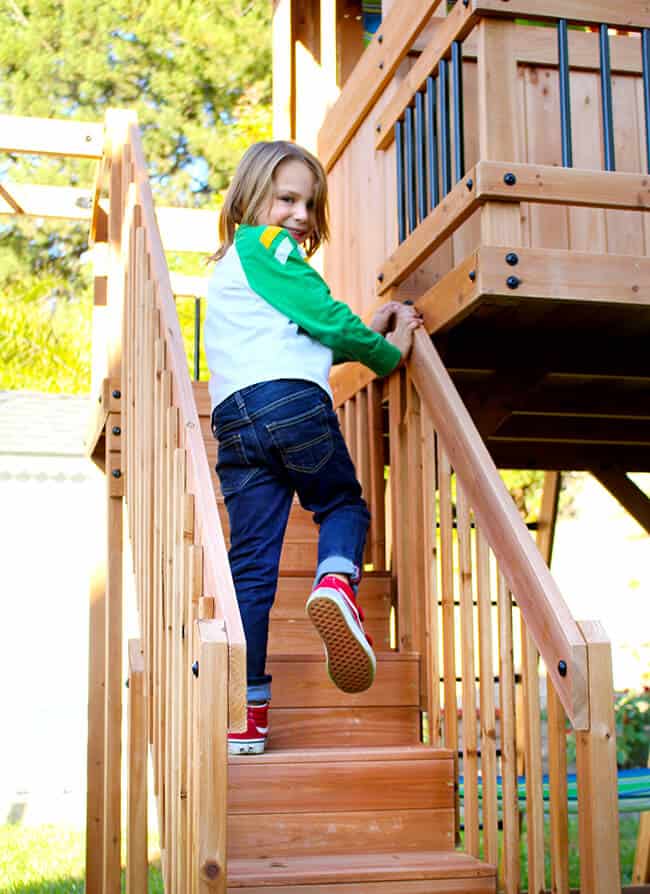 just below the clubhouse, you will find this adorable comfy hammock. the colors are nice and bright, and compliment the smooth cedar wood.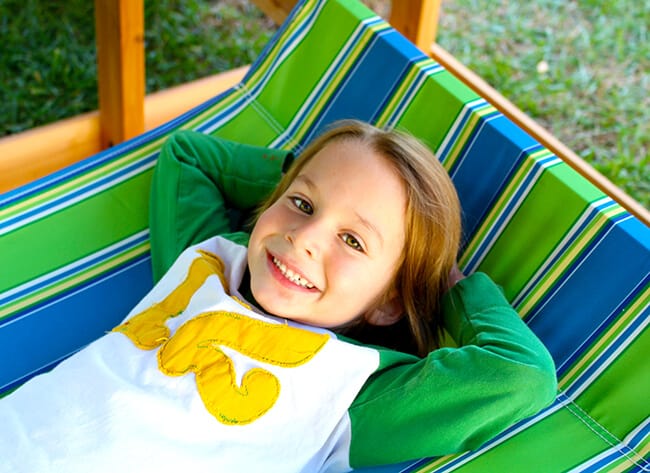 on one side of the clubhouse, there are challenging monkey bars that lead to the clubhouse deck...perfect for my active boys looking to burn off some of that extra energy.
and on the other side, there are two belt swings and an acrobat bar.
finally, what is a swing set without a slide?! the Oceanview Wooden Swing Set from Backyard Discovery™ has a fun 10' wave slide. weeeeeeee!
as you can imagine, the boys are going to be having a ball with their new swing set. i am beyond thrilled with our choice to get it. getting to the park is not always easy, so now it is going to be much easier as they can play at home. i look forward to the boys getting away from the electronics and getting some healthy play time in the OC sunshine. their imaginations are going to soar.
if you're in the market for buying a swing set, i would highly recommend the Oceanview Wooden Swing Set from Backyard Discovery™. it has everything a kid needs to have fun in the backyard, and it's great for many ages. they are available for purchase at Sam's Club, on Amazon and on the Backyard Discovery™ website.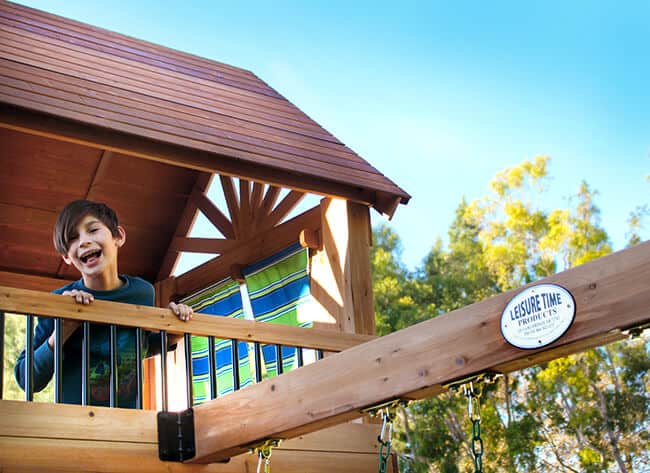 the holidays are just around the corner! so you know what that means...
This is a sponsored post written by me on behalf of the Oceanview Wooden Swing Set from Backyard Discovery™.