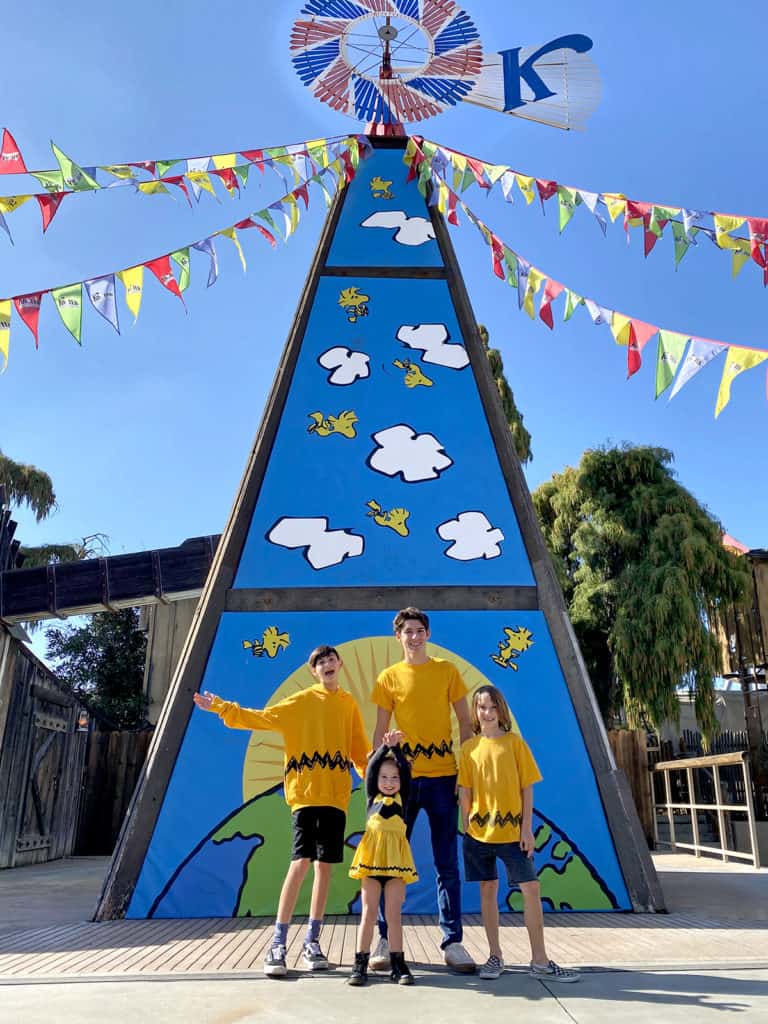 It's back! The Knott's Berry Farm PEANUTS Celebration is finally back after two years and we couldn't be more excited.
This limited time event begins January 22 through March 6, 2022, you will be able to play in the park with your favorite Peanuts characters. Get ready for live entertainment, Peanuts themed treats and food, meet and greets and comic strip photos ops.
Knott's PEANUTS Celebration kicks of the year as part of their year-long Seasons of Fun line up! PEANUTS Celebration, Boysenberry Festival, Summer of Fun, Spooky Farm and Merry Farm make Knott's the place to be all year long.
The PEANUTS Celebration – a month-long celebration dedicated to the beloved PEANUTS characters. we weren't sure what to expect, but but we knew we would love it because the PEANUTS Gang is just so darn cute and Snoopy already has won our hearts.
so let's get down to business...how was the PEANUTS Celebration?
SO. MUCH. FUN.
and we are gonna share all about it right now!
first, when we walked into the park, we found the best photo opportunities. you could literally jump into one of the comics.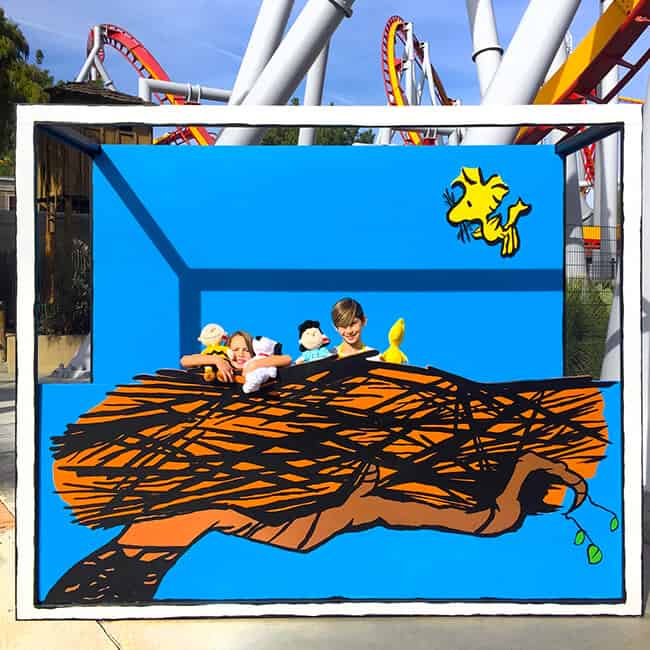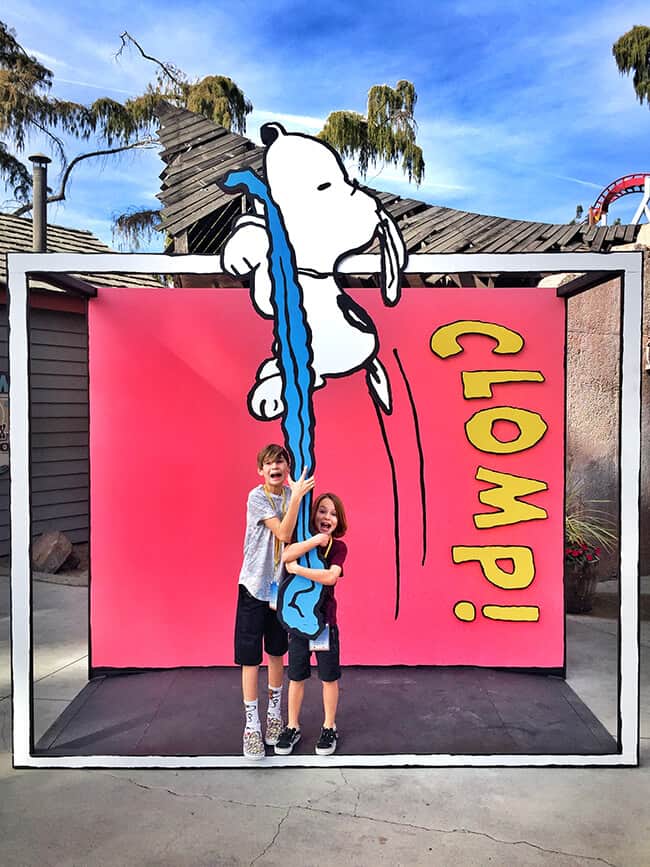 then we headed into Ghost Town to check out what was happening at the PEANUTS Celebration there. it looks like at the trees had turned to kite eating trees! so many kites found in the trees.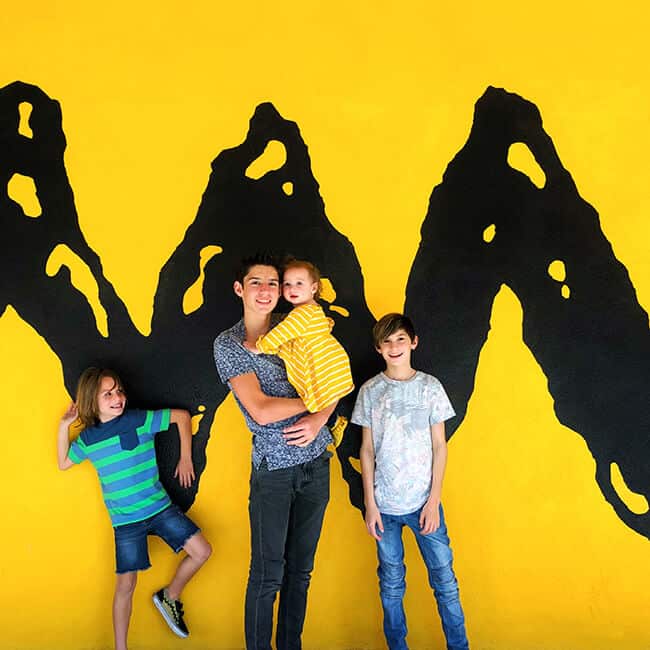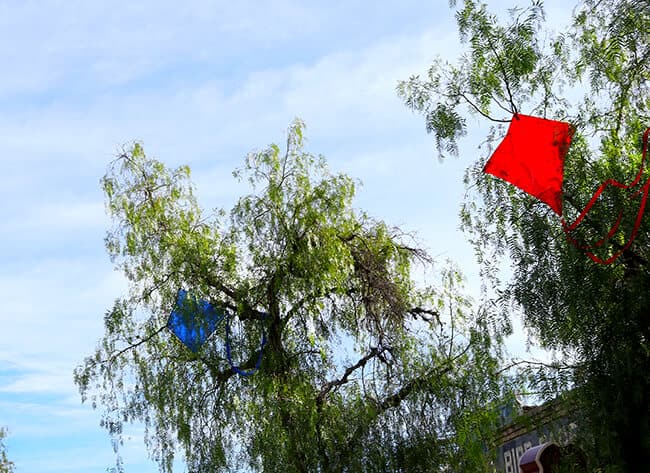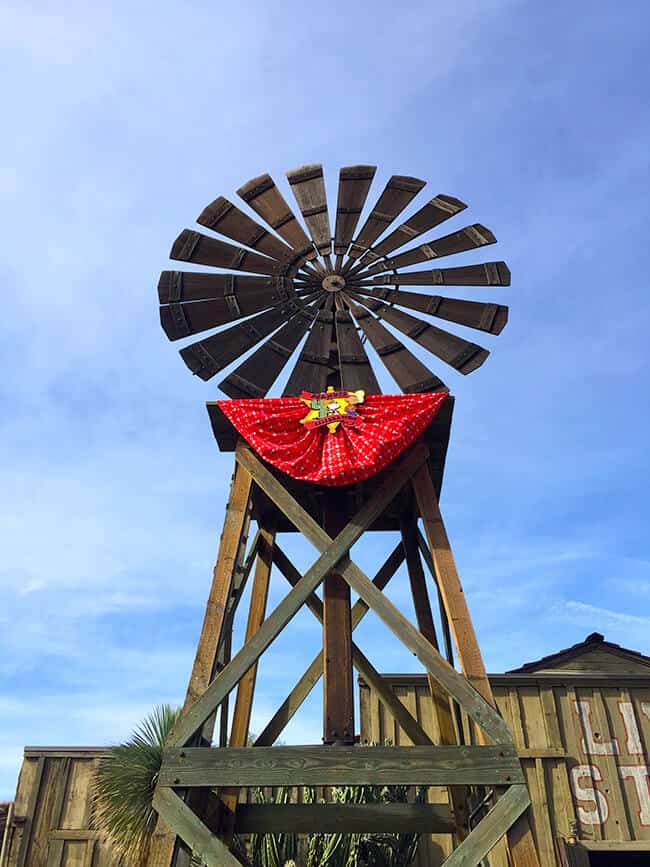 we heard that Pig Pen from the PEANUTS Gang would be making an appearance at the Livery Stable. so we wanted to meet him since he will only be visiting Knott's during the PEANUTS Celebration.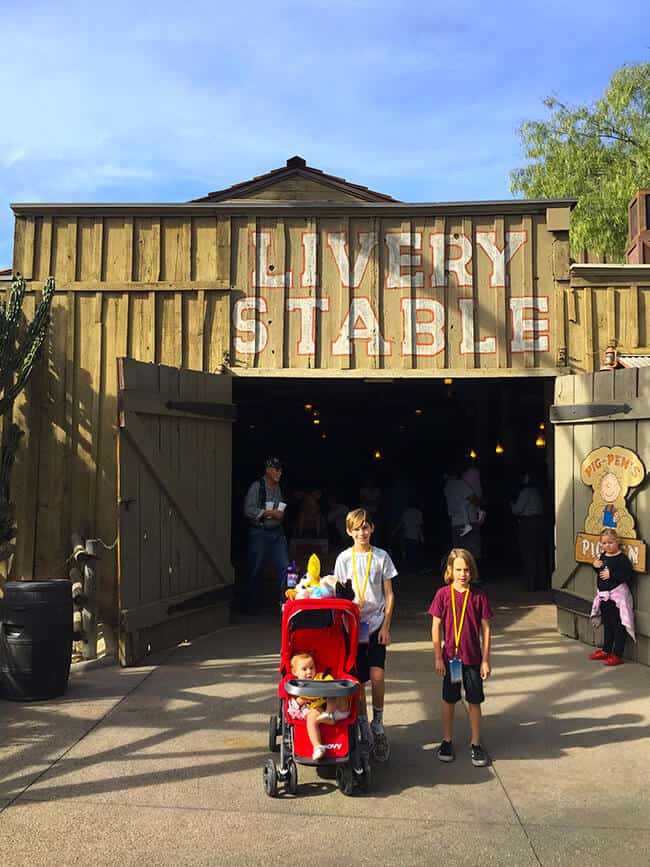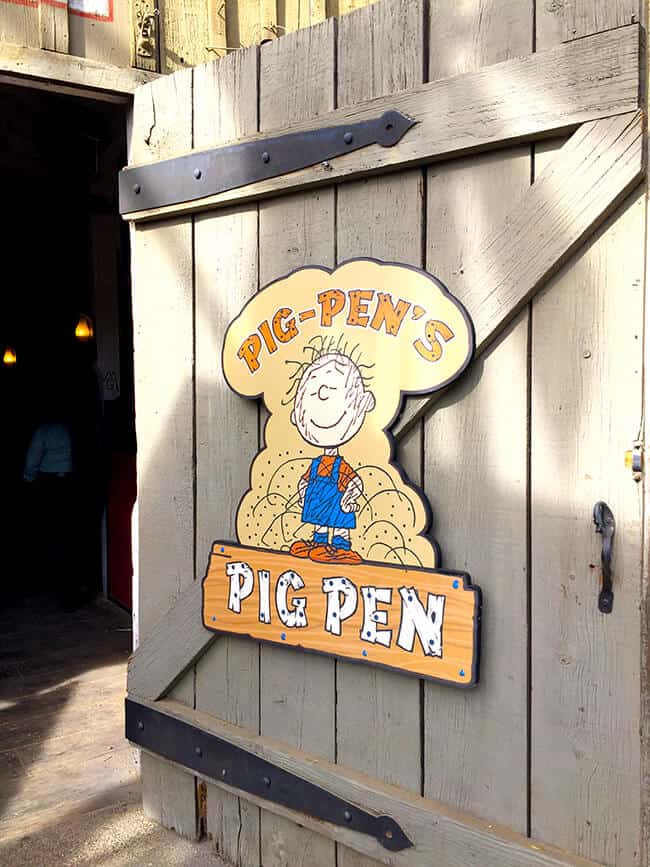 when we headed into the Livery Stable, we not only got to meet Pig Pen, but also his little piggy friends and a couple of horses and a donkey!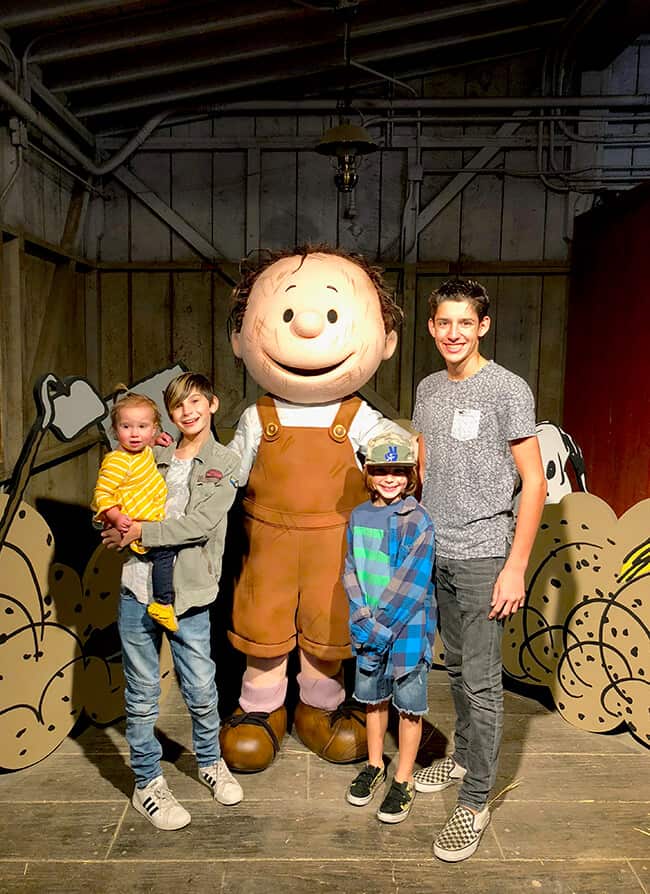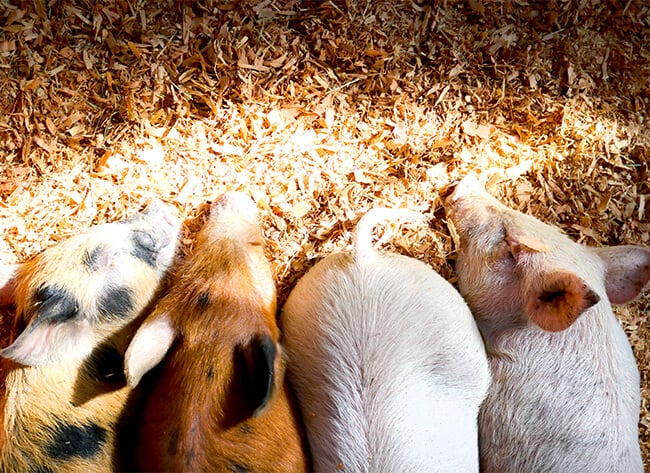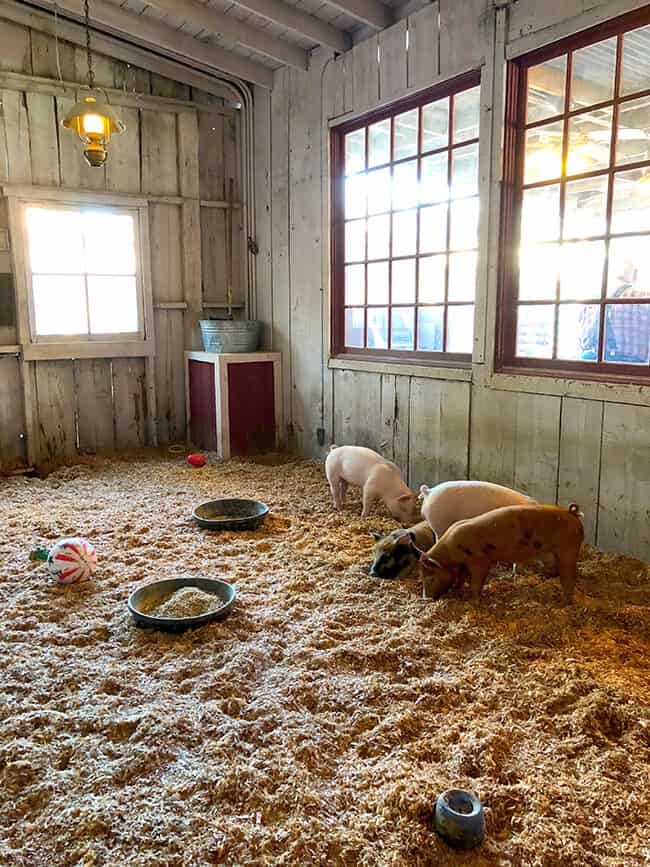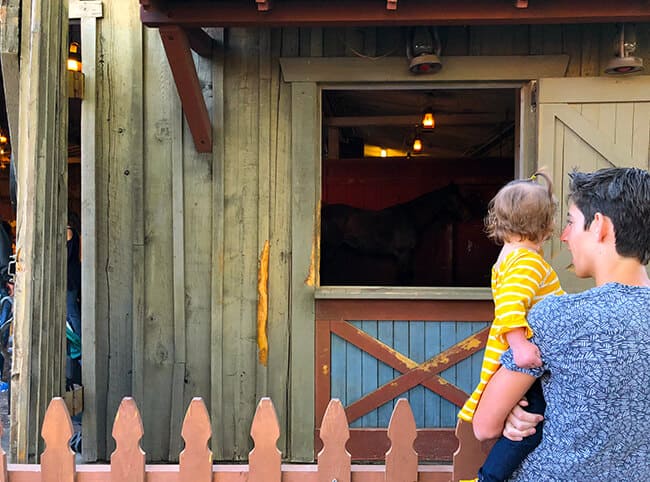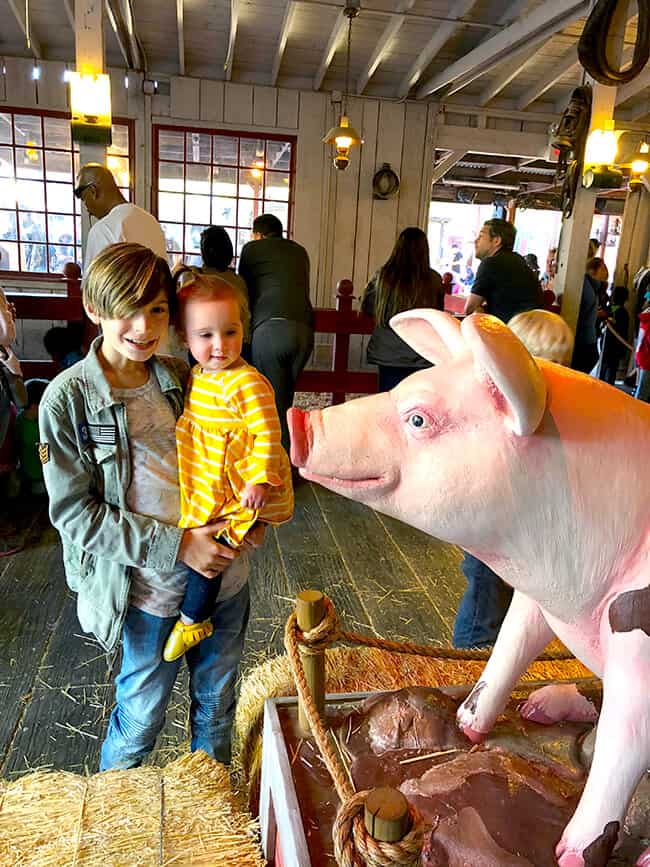 then we headed over to the Bird Cage Theater for the PEANUTS Sketch School. this was probably one of our favorite things to do at the PEANUTS Celebration. everyone was given a sketch pad and were taught by the Knott's residence art teacher how to draw one of the PEANUTS Gang. during each session, a different character was taught. my kids could have stayed there all day.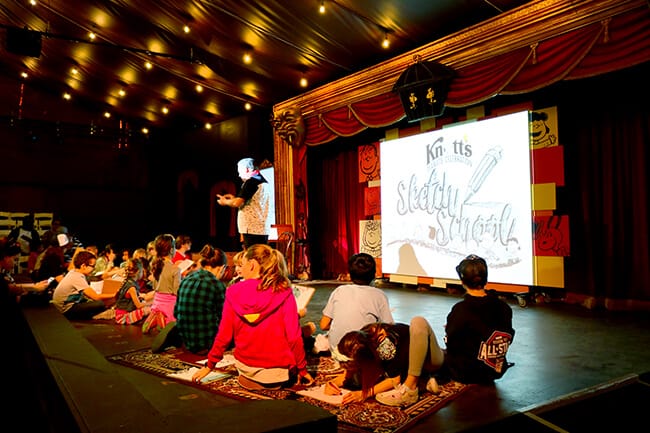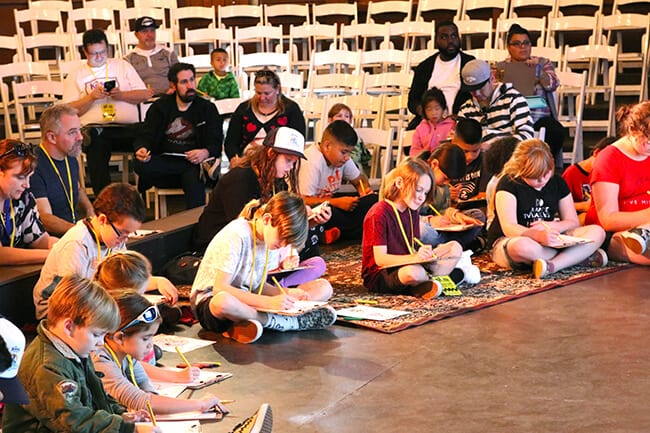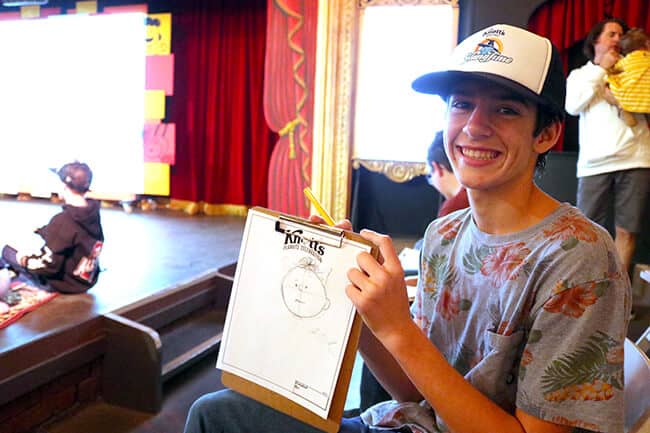 even Dani joined in!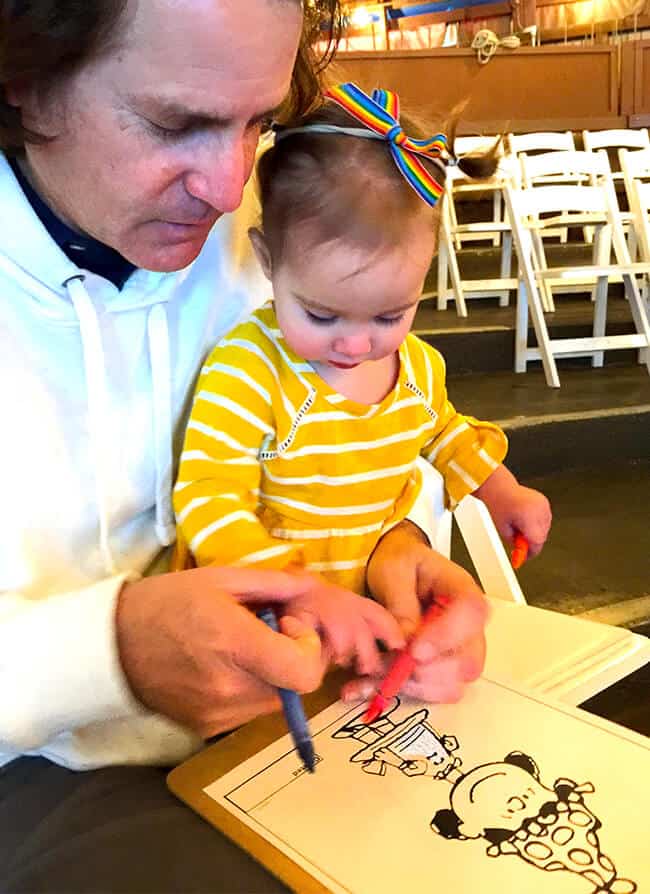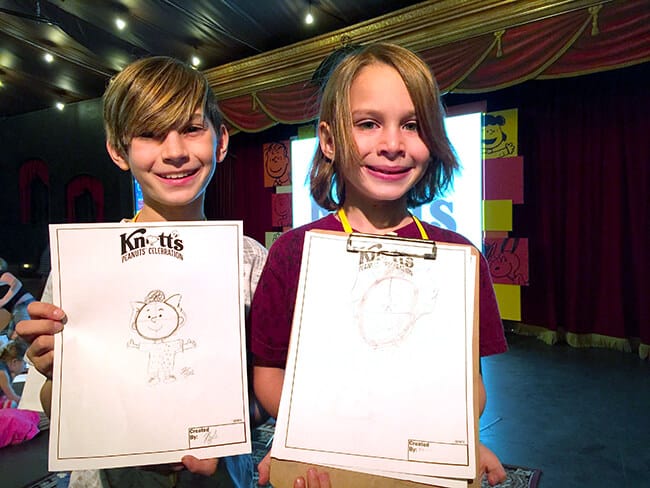 after our drawing lesson, we check out Town Hall were there were pieces of artwork borrowed from the Charles Schultz Museum on display.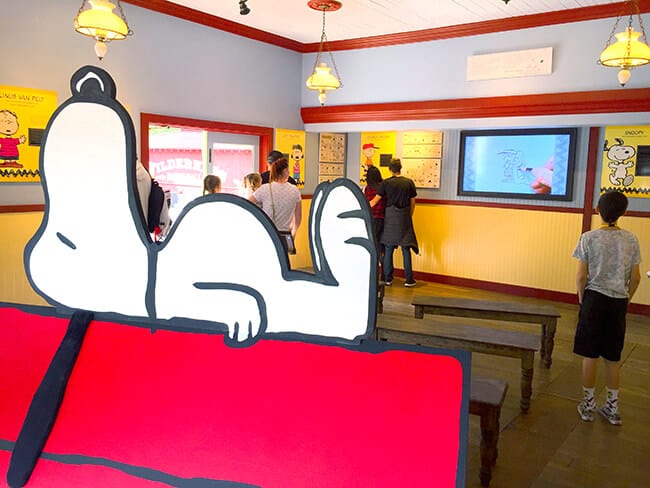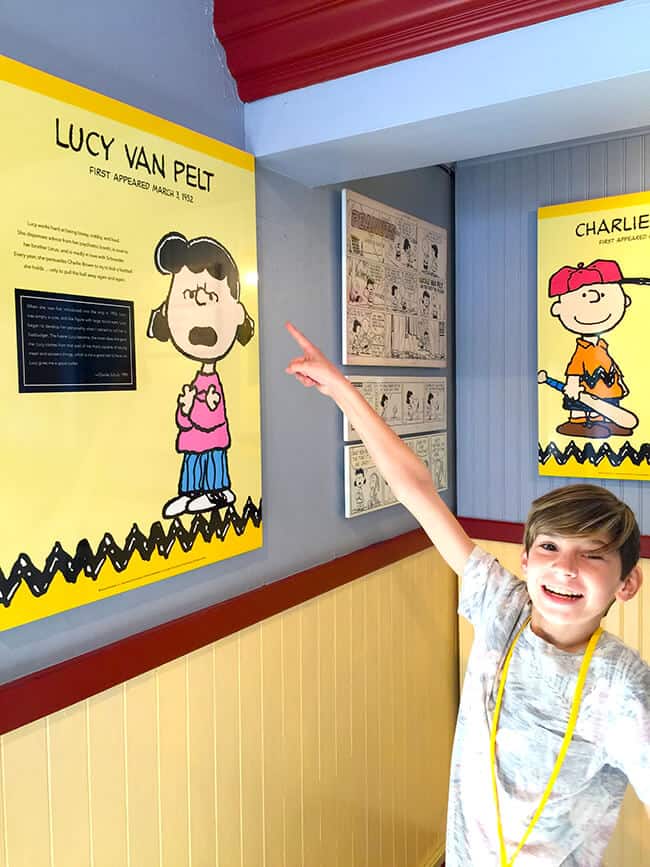 then the big boys wanted to go on the Log Ride, so Dani and i headed over to Knott's Charleston Circle Fountain to see if we could see the new PEANUTS Trolley. we were just in time. UPDATE, there will not be a trolley in 2020.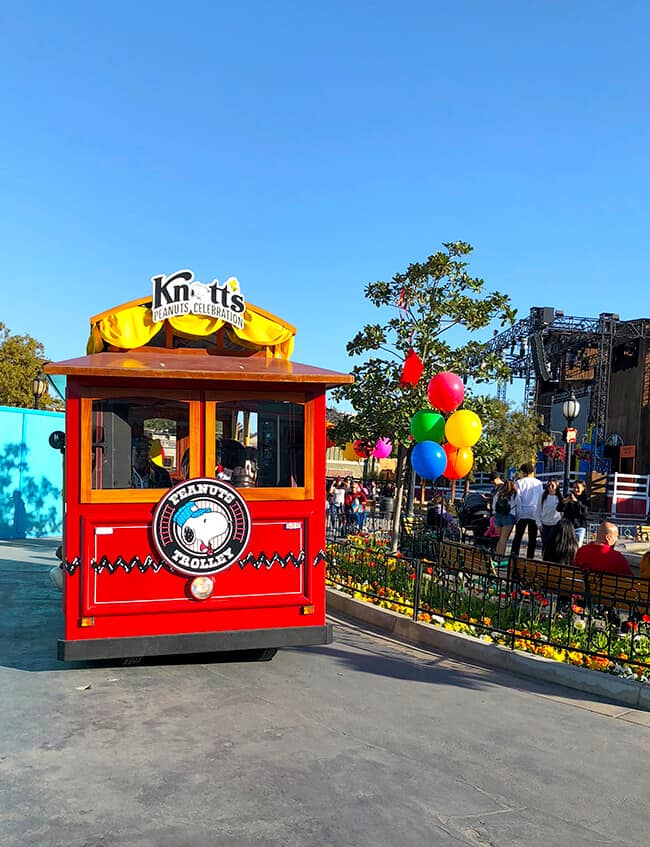 the Peanuts Trolley takes the PEANUTS Gang to different locations in the park. at Charleston Circle, the jumped off and started dancing with the guests to fun music. we all danced around the fountain with musical instruments and ribbon wands with Charlie Brown, Linus, Lucy and Sally!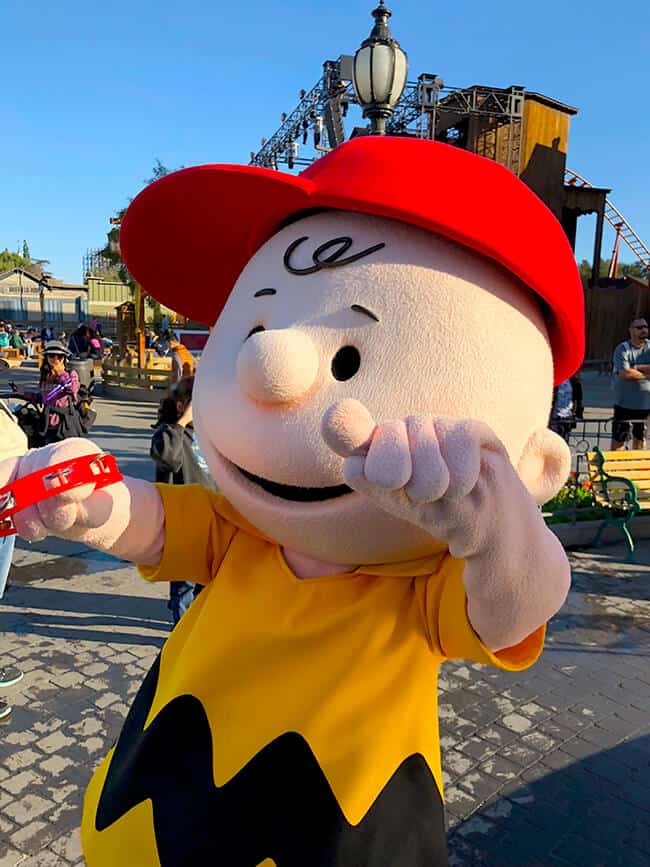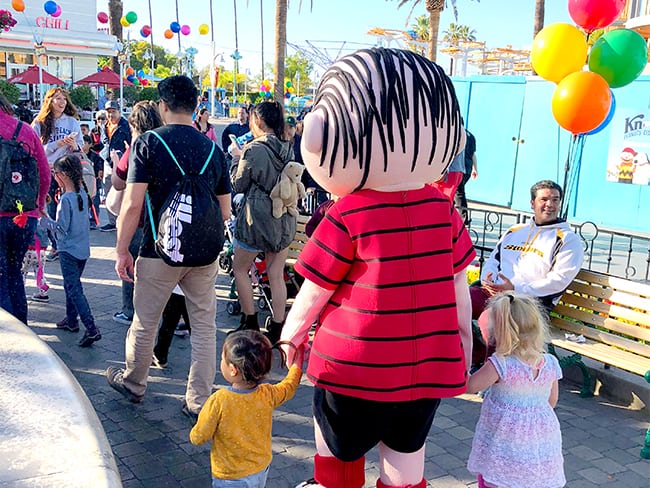 then they gave everyone a penny to throw into the fountain. we all made a wish and threw them in.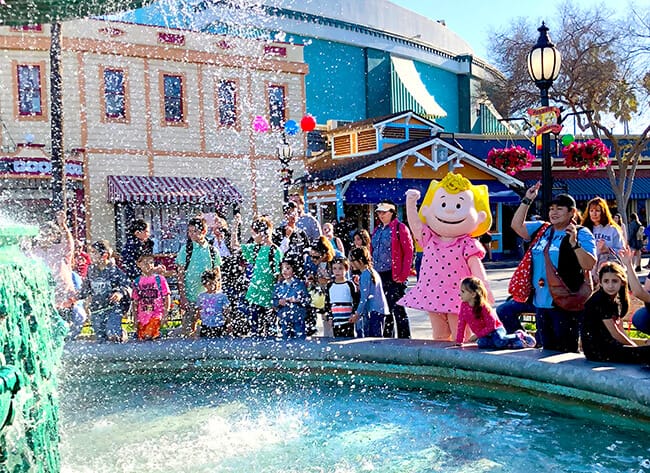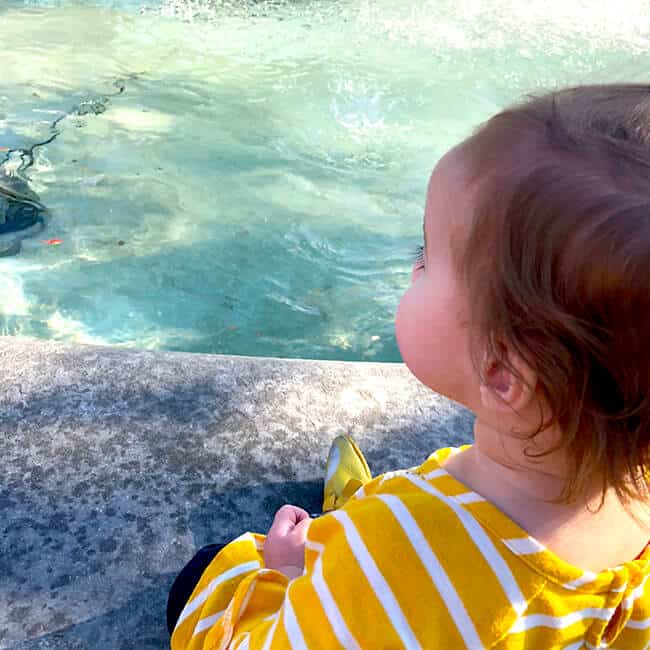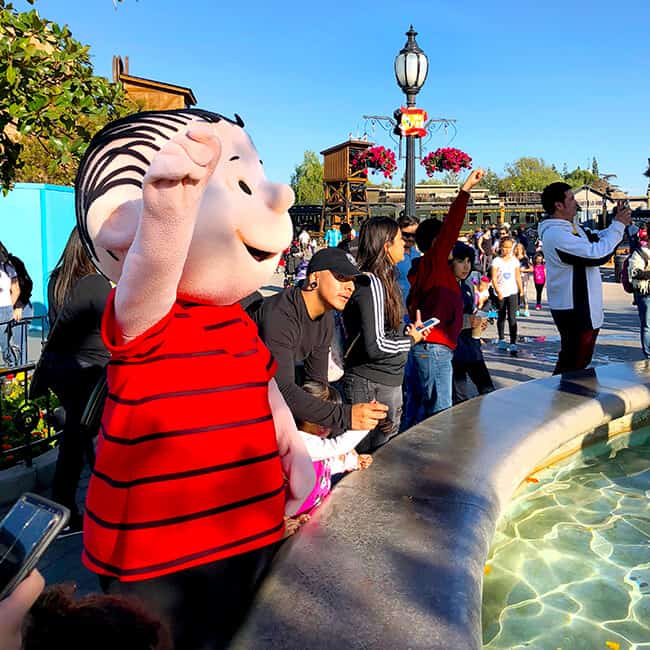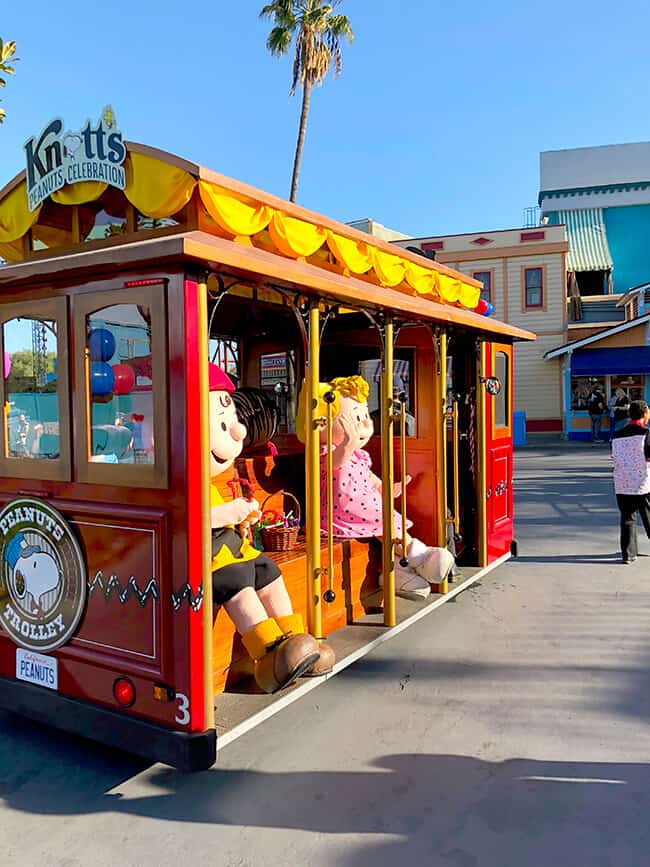 playing with the PEANUTS Gang was so fun and magical. we never wanted it to end. but we managed to work up and appetite, so we got a few of the special PEANUTS themed treats that were being offered in the park exclusive for the PEANUTS Celebration. my favorite was the Charlie Brownie.
Food Offerings at Knott's Peanuts Celebration
Of course there will be plenty of Peanuts-inspired food items.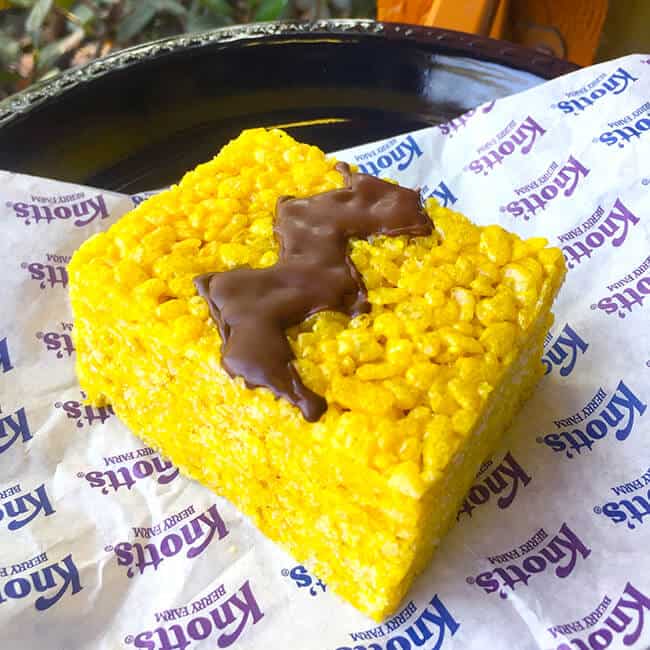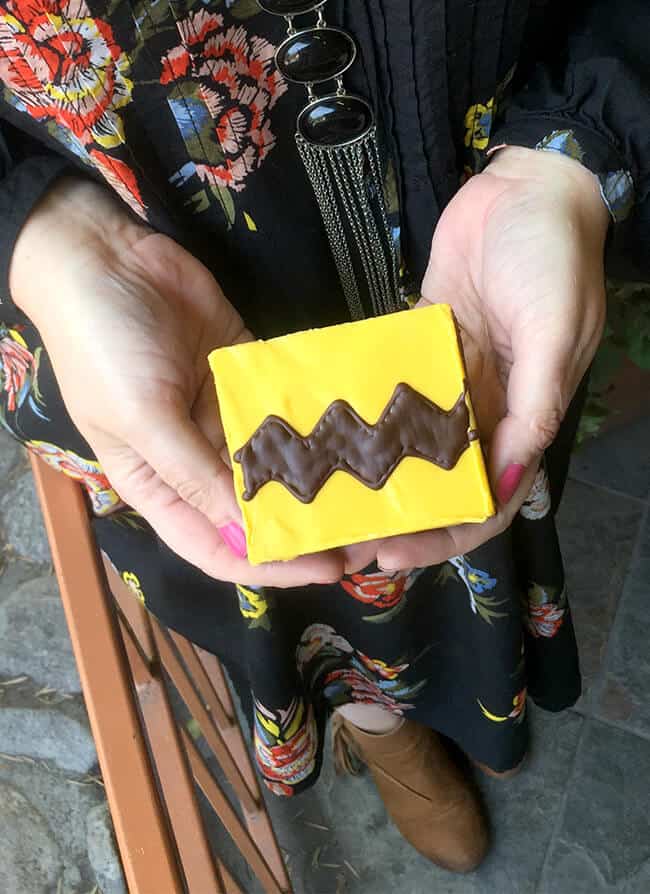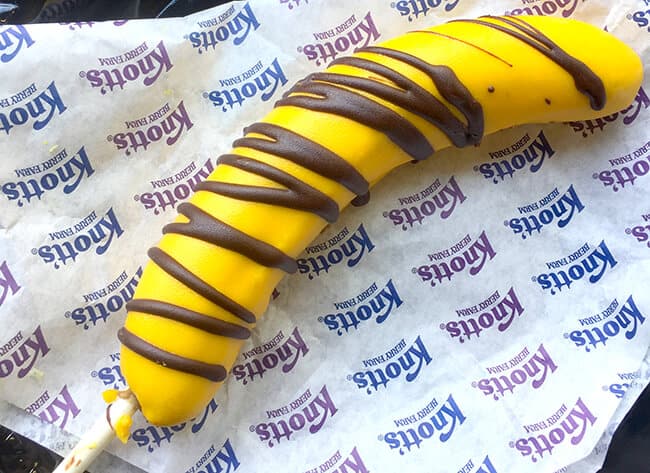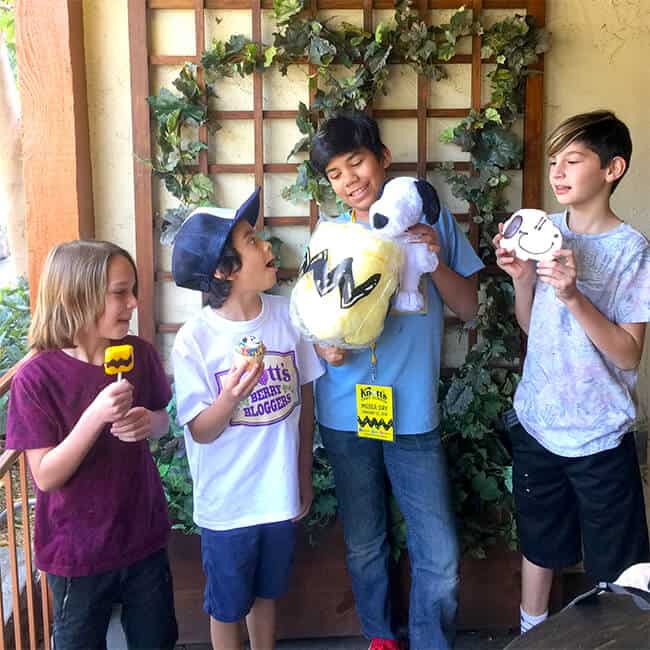 over in Campy Snoopy there were lots of Instagrammable opportunities and fun photo opps, as well a fun new show at the Campy Snoopy Theater featuring songs, dancing and the answer to the age old question – how many blockheads does it take to kick a football?! also, you can take a ride on the Grand Sierra Railroad and take a trip to Beagle Bonanza.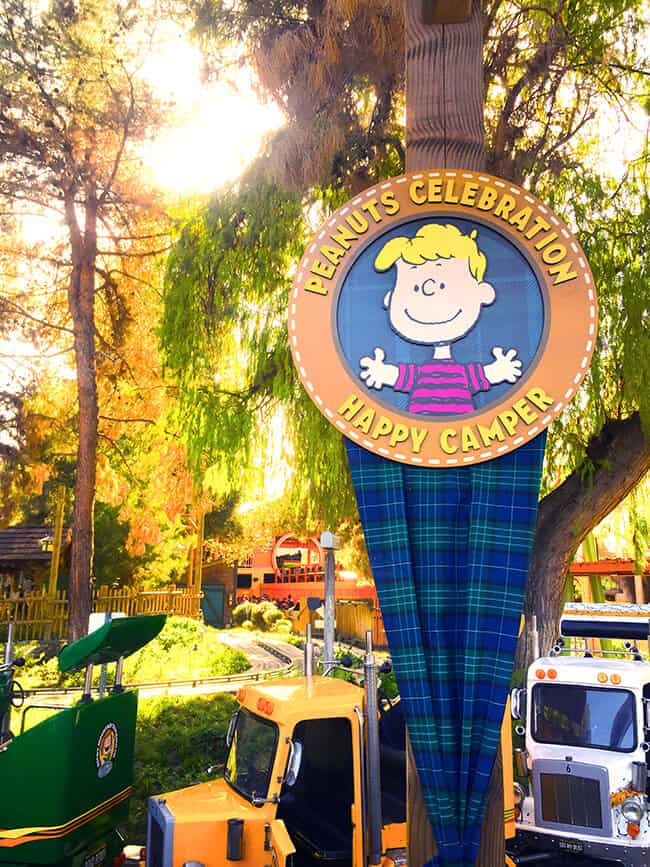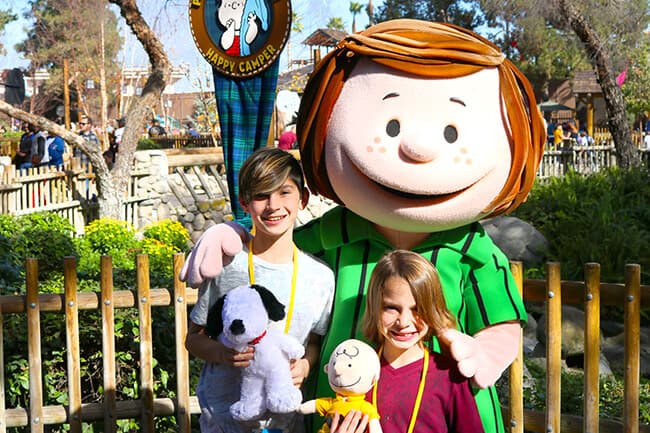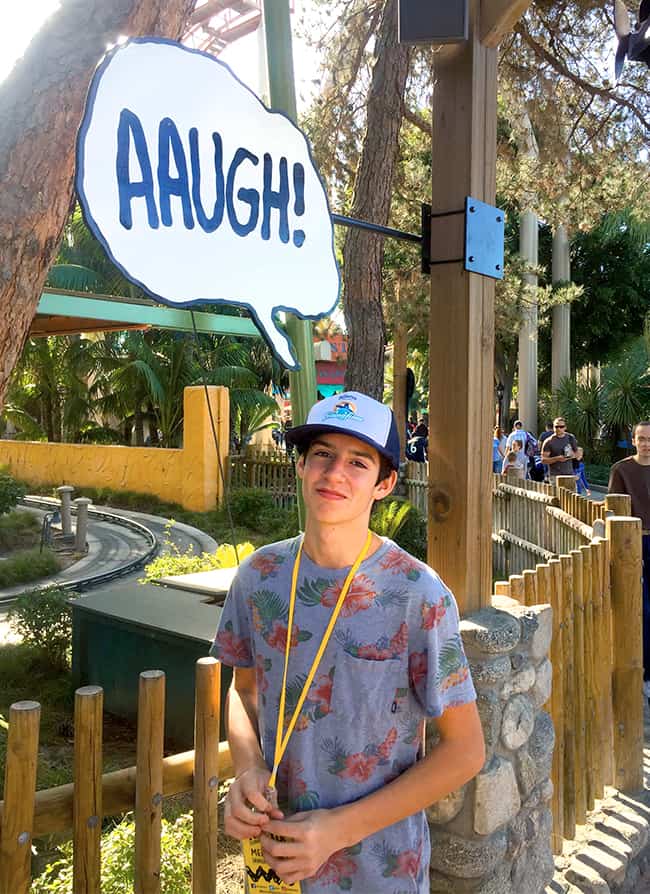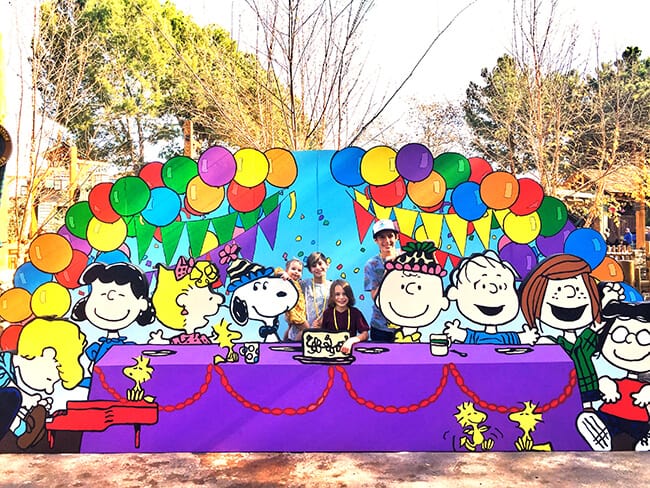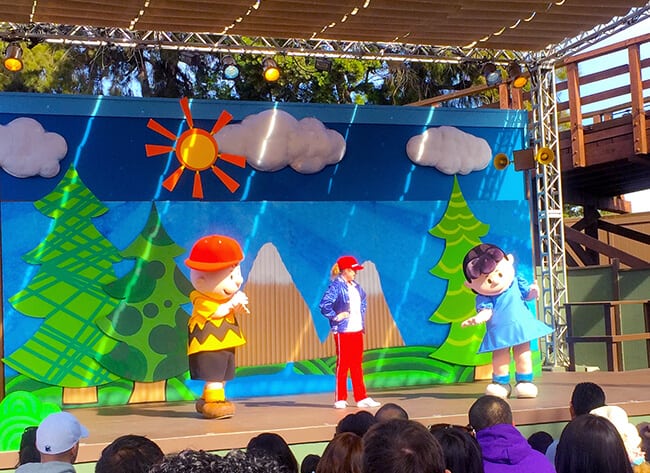 Fiesta Village was also ready for the PEANUTS Celebration. Sally and Lucy were introducing the dancing of Mexico in traditional Mexican dresses and music.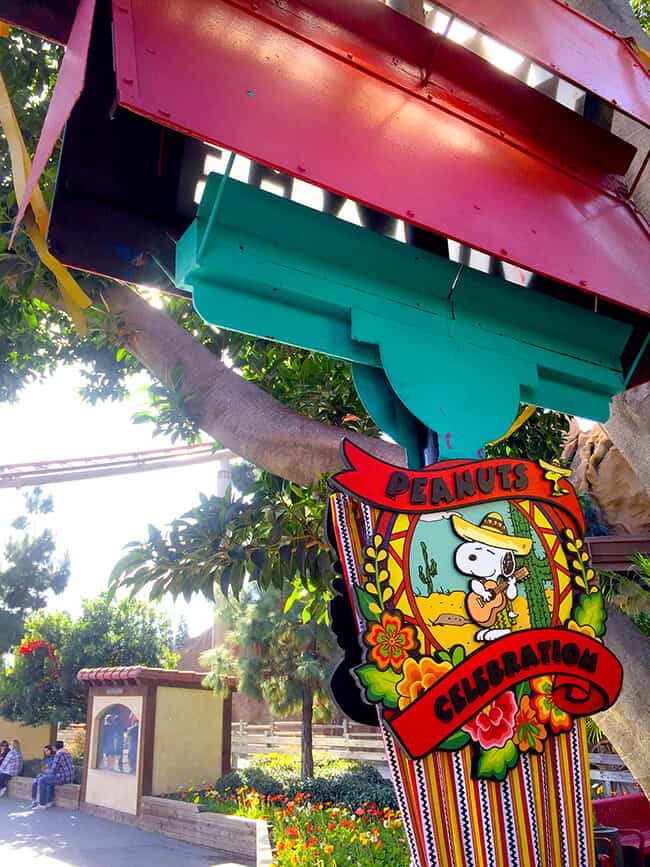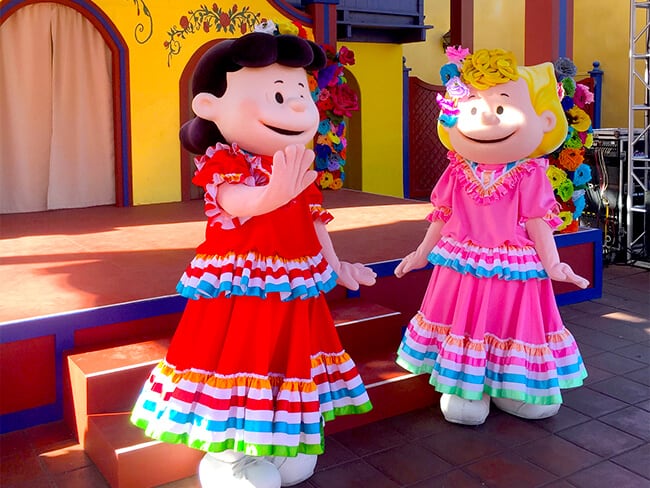 in Calico Park, we met up with Linus and Franklin to join the Cowboy Jamboree. during the day, kids can participate in fun games.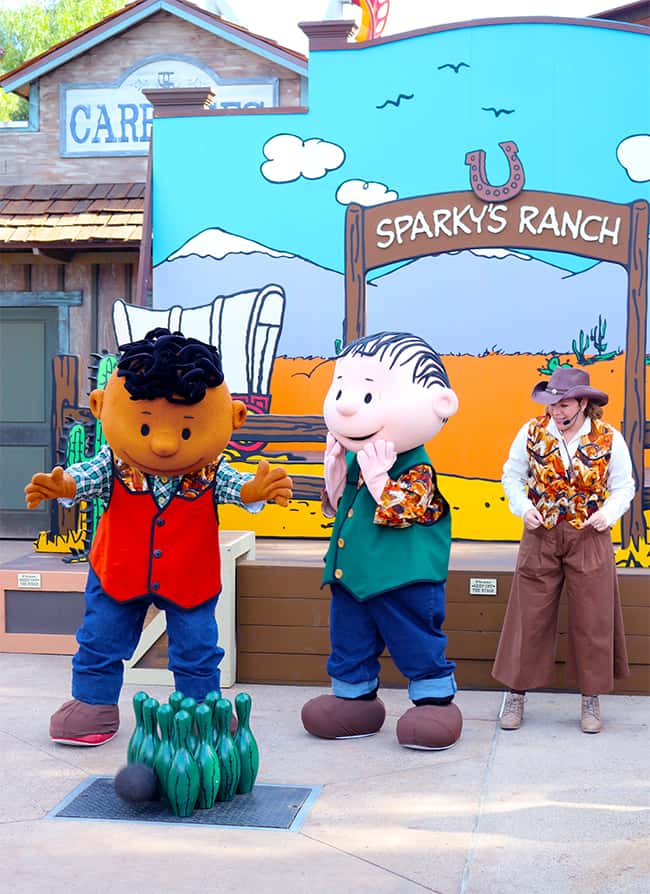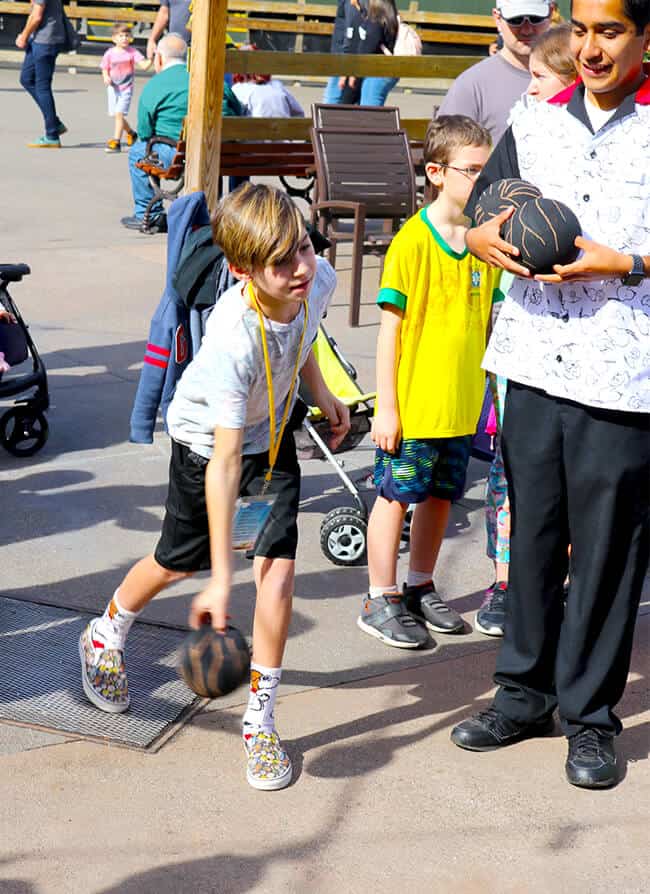 we rested our legs while we watched the show "The Music Goes 'Round and Around" on the Calico Mine Stage. it was a great show. at night there is also Woodstock's Music Festival with live music from The Jelly of the Month Club!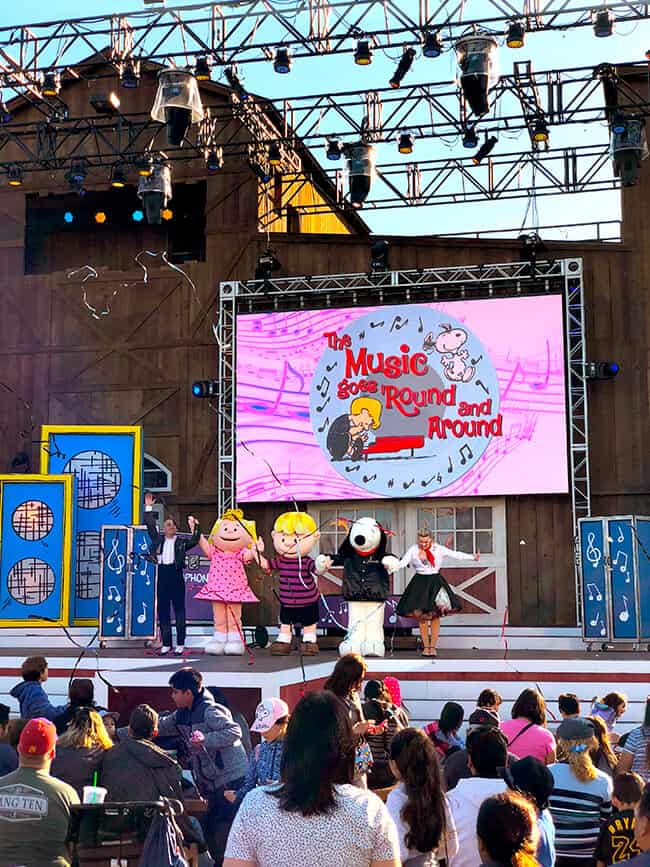 NEW this year at Knott's PEANUTS Celebration
This year they have some fun new attractions at the Knott's Berry Farm Peanuts Celebration.
One of our favorite things is the new Camp Snoopy show "Space Beagle." A really fun show great for all ages about Space Snoopy and his friends Charlie Brown and Lucy. The little martian Woodstocks were so cute.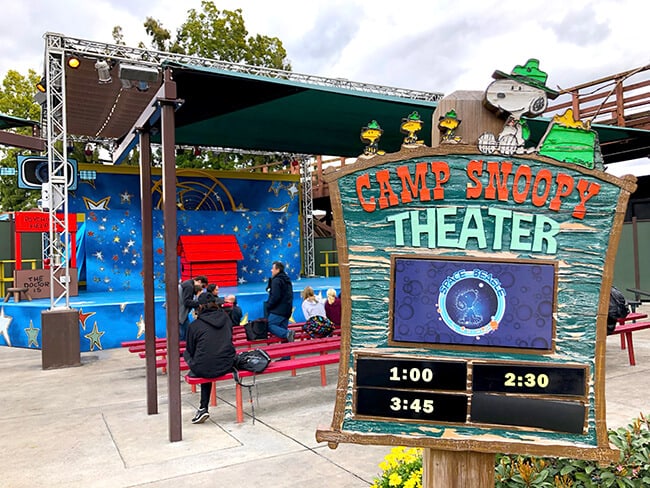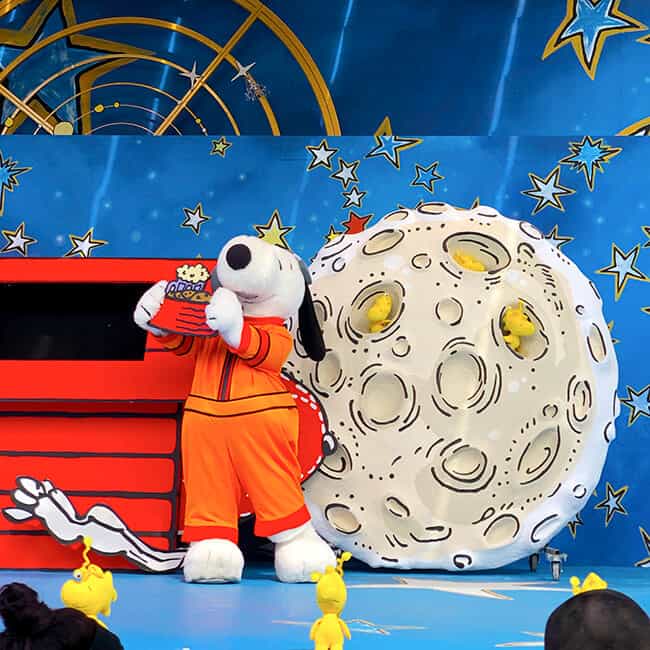 Silent Disco Dancing with Spike!
In Fiesta Village, the all-new Discoteca De Silencio is so much fun. You can show off your dance moves while listening to dance music on headphones. While visiting Fiesta Village, guests can uncover an experience guaranteed to make everyone dance - Discoteca de Silencio or silent disco. The fun begins with guests strapping on a set of headphones and enjoying some upbeat tunes. Snoopy's brother, Spike, hosts the party bound to be the most fun guests can experience while quiet in Spike's Silent Disco.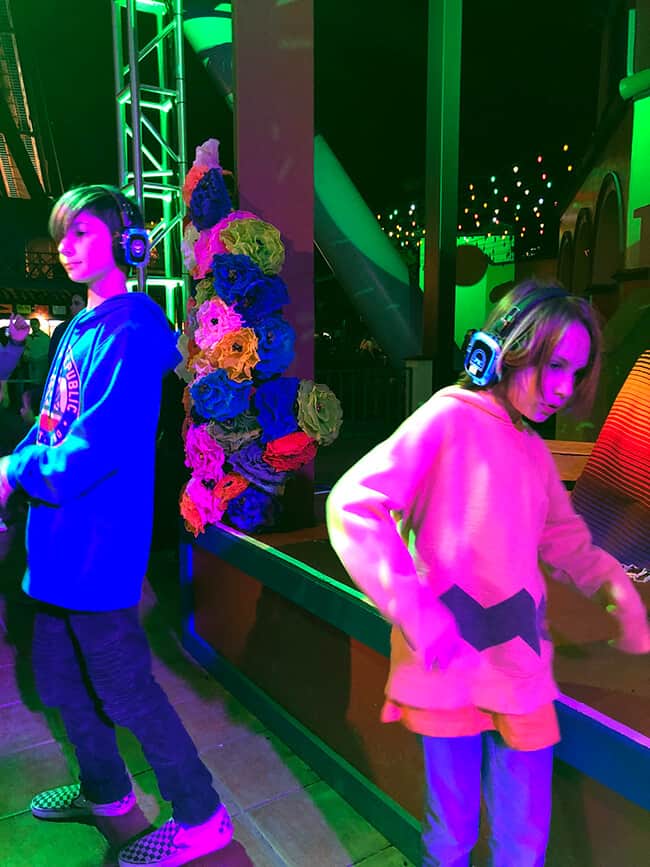 You can also make a Charlie Brown Kite cookie in Ghost Town. It comes in a cute little bucket, complete with frosting and sprinkles.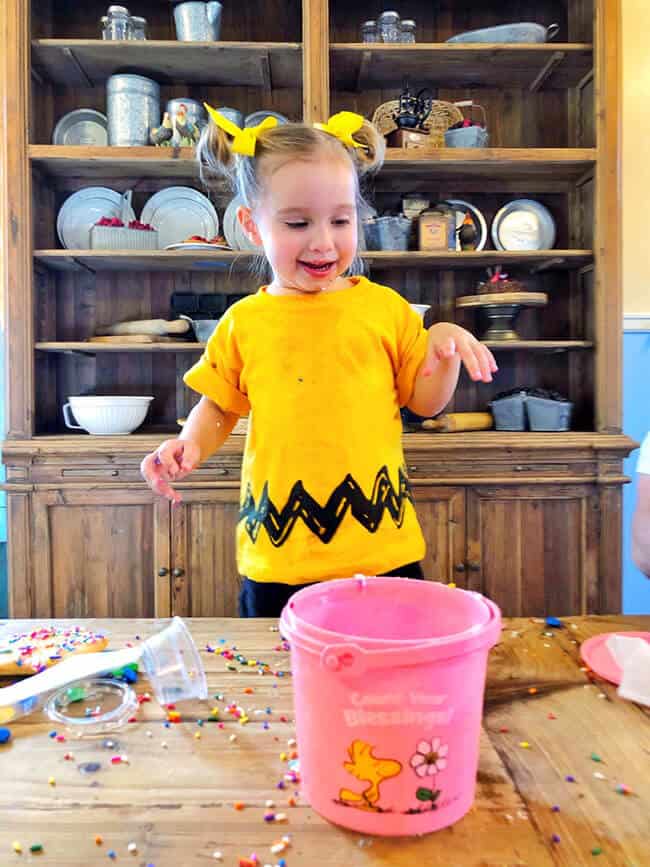 It's a bird, it's a plane, it's a GIANT bird's nest!
Can you believe it! The Sky Tower has been made into Woodstock's Bird Nest for our favorite little birdie. Head over and check it out...and even take a ride above the clouds.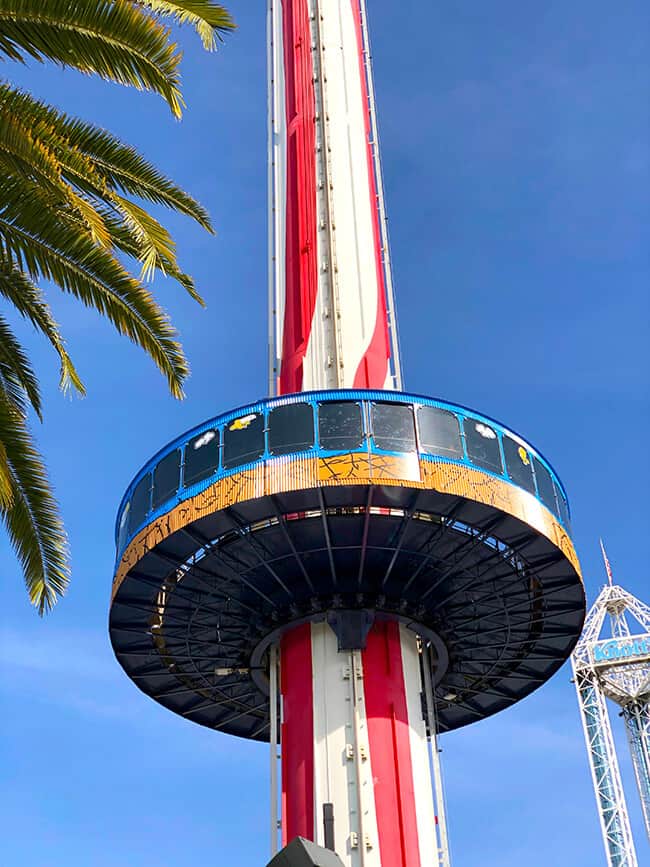 All this fun was exhausting. there is so much to do at the PEANUTS Celebration that we didn't get to do everything. It was a great day.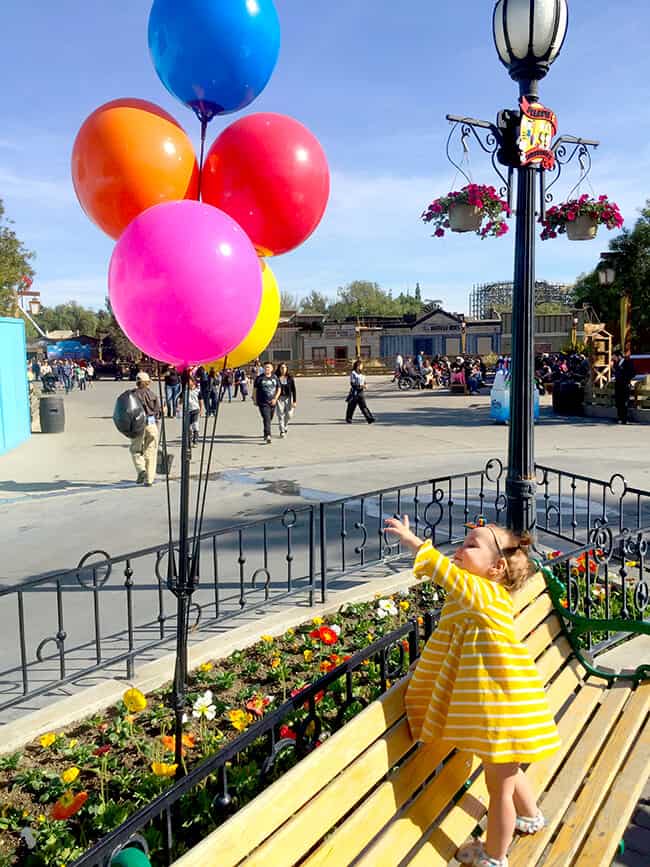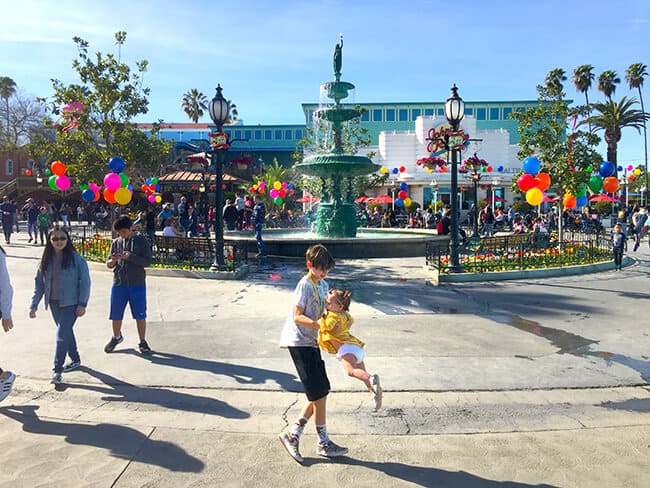 luckily we are able to go to Knott's PEANUTS Celebration multiple times. we have Season Passes, so we can go anytime we want. there are no blackout dates, and the price for an entire year is VERY reasonable. plus you can go to other Seasons of Fun events such as:
The Boysenberry Festival
Ghost Town Alive!
Knott's Spooky Farm
Knott's Merry Farm
there many fun things to enjoy at Knott's!