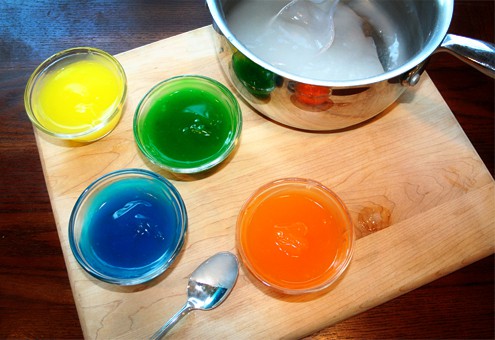 cornstarch. did you know that you can make finger paint out of it? super cheap to make and fun for the kiddies. i can't tell you how much money i have spent on those fancy finger paints, just to get them all messy in one playtime use. with just a few simple ingredients you can create your own art studio. and best of all you can make endless colors. why not use this time to teach the kiddies about the color wheel. mixing colors and how to make them all. it's a little art class in your very own kitchen.
too messy you say? well, nothing is too messy for me, but if it is for you,
make sure you wrap the kids in plastic wrap
have the kiddies wear old clothing and lay down a drop cloth or take it outside to play. it's completely non-toxic, and you can hose the
kids
backyard down afterwards.

here is

the recipe
ingredients
•
pour two cups of the water into the saucepan and bring the water to a boil.
•
place the cornstarch into a mixing bowl. stir in the remaining cup of water. mix until the cornstarch has completely dissolved in the water.
•
stir the mixture of cornstarch and water into the boiling water. keep stirring the cornstarch and water constantly, and let it come to a boil once more. let it boil for about one minute, until it is thick.
•
pour mixture into separate containers. add your choice of food coloring to each container.
•
get creative, if you like, embellish the paint by stirring in glitter. you can also stir glycerin into the paint to make it shiny.