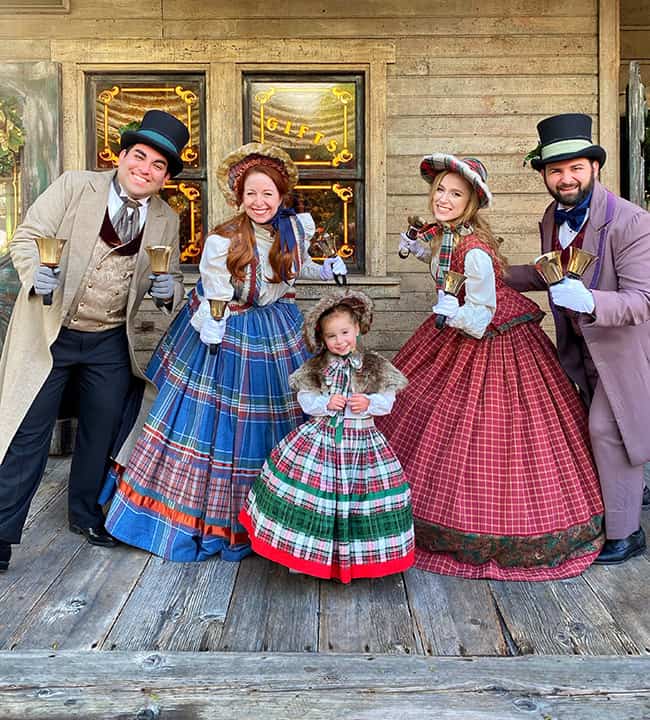 Orange County during the holidays can be a magical palace! Not only do we have an abundance of malls and shopping centers decorated for the holidays, we have two major theme parks that are all decked out for Christmas. Knott's Berry Farm who brings the old fashioned traditions of Christmas to life, and Disneyland with their magical whimsical Christmas wonderland.
Now I've been to both and I can tell you that you probably want to visit all of these theme parks during the Christmas holidays sometime in your life. They are unique in their Christmas decor...and oh so good.
Here is what you can expect at both parks this Christmas!
Christmas Time at Knott's Berry Farm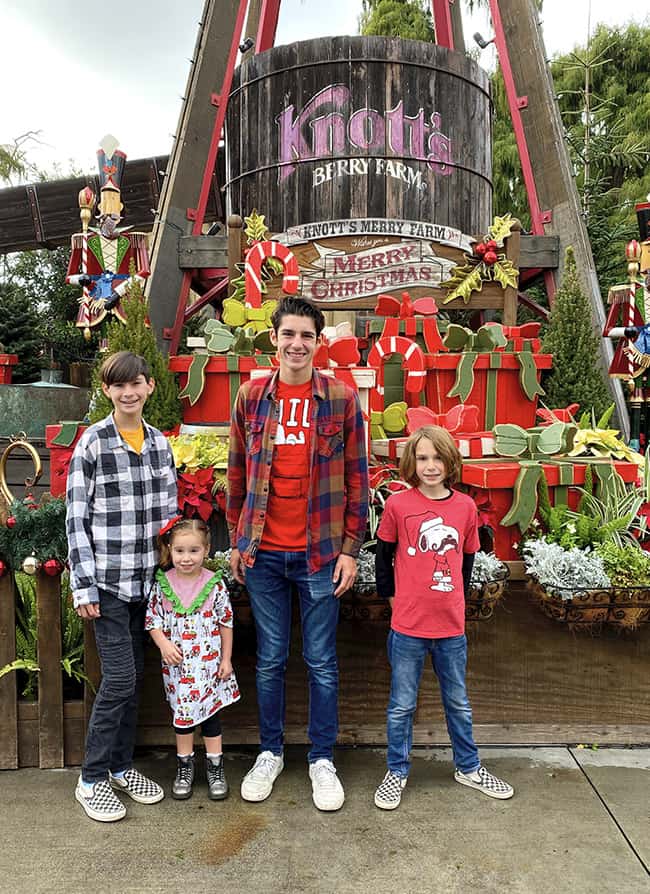 The holiday spirit shines even brighter at Knott's Merry Farm this year, taking place November 19 through January 2. Experience Knott's largest Christmas celebration with winter wonderland-inspired décor transforming the entire park into a classic holiday festival, featuring a landscape of thousands of twinkling lights, miles of themed garland, jumbo snowflakes, and a variety of picturesque seasonal settings. Knott's Merry Farm offers Christmas activities for families and joyful experiences inspired by the spirit of the holidays.
This holiday season, park-goers of all ages can enjoy Christmas shows like Home for the Holidays, a musical revue featuring classic Christmas tunes, world-class performers, holiday lights, magical dancing toys, and dazzling snow all set on an elaborate, transforming wintertime stage. Also returning is the beloved ice show starring the famous beagle, the Peanuts Gang, and a cast of world-class ice skaters in Merry Christmas, Snoopy! 'Tis the season for delectable holiday dining food that can't be found anywhere else and only offered this time of year. The streets of Calico play host to a Christmas Crafts Village offering one-of-a-kind gift ideas, Santa's Christmas Cabin, a nightly Christmas tree lighting ceremony, the enchanting Snow and Glow experience, a Christmas light show throughout Camp Snoopy, plus so much more.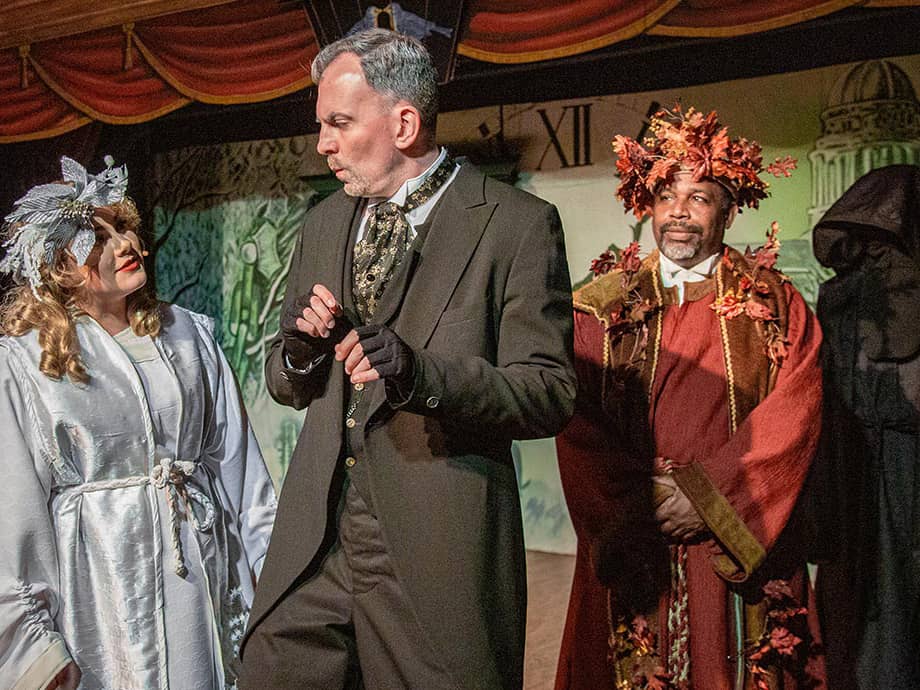 A Christmas Carol / Marley's Wings
Head over to Bird Cage Theater. In the intimate setting of Ghost Town's historic Bird Cage Theatre, Knott's melodrama company brings to life Charles Dickens' A Christmas Carol and Marley's Wings performances available on select dates during Knott's Merry Farm.
A Peanuts Guide to Christmas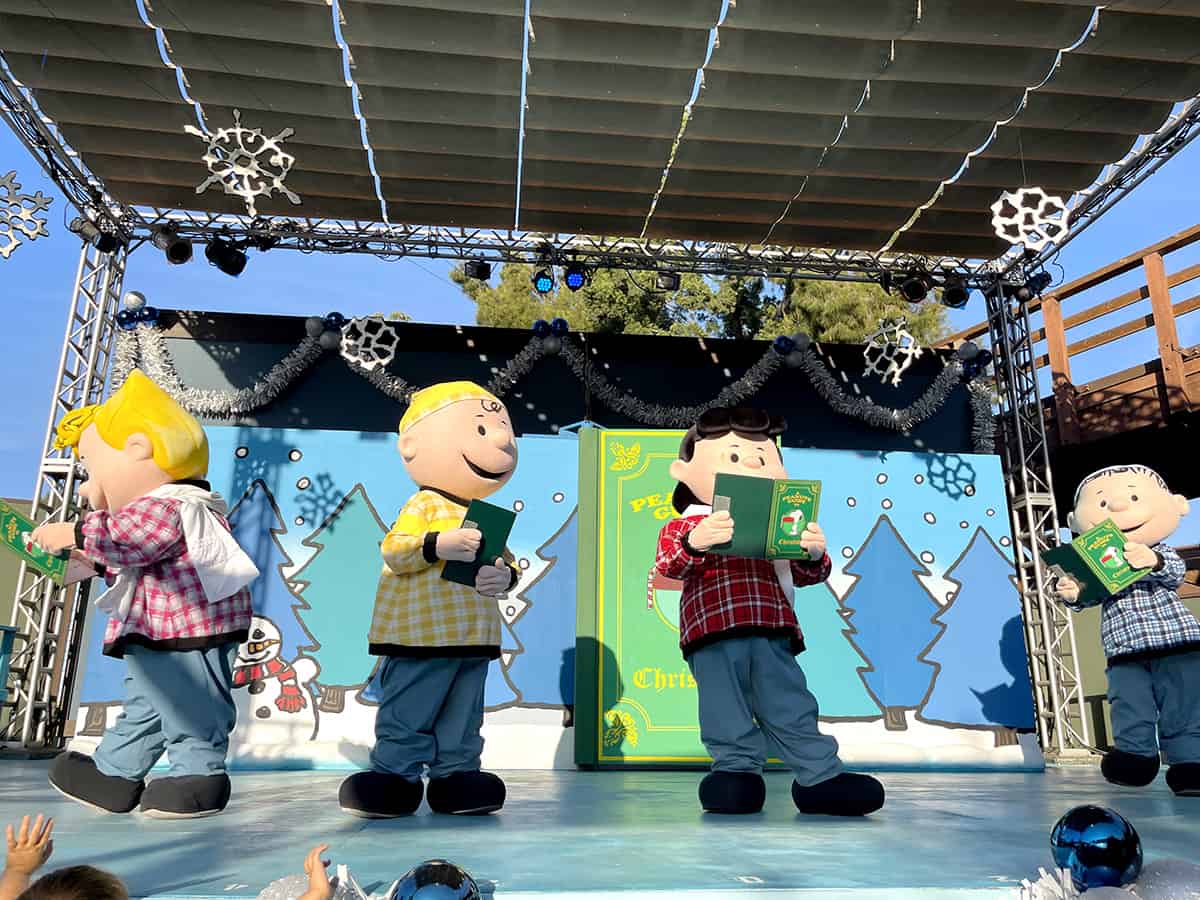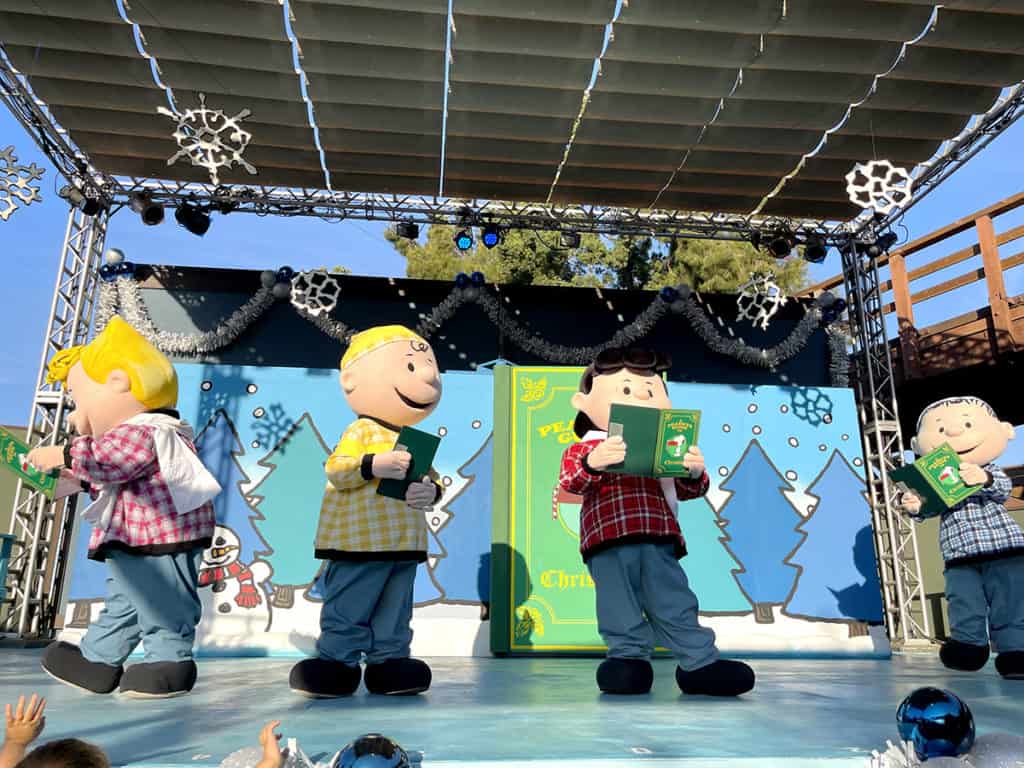 The holiday season celebration continues at the Camp Snoopy Theatre, with the show "A Peanuts Guide to Christmas". The Peanuts give their take and unique wisdom in a primer designed to help everyone survive the holidays. The show features delightful mash-ups of holiday songs with a cheerful and heartwarming dose of the Peanuts gang.
Calico Carolers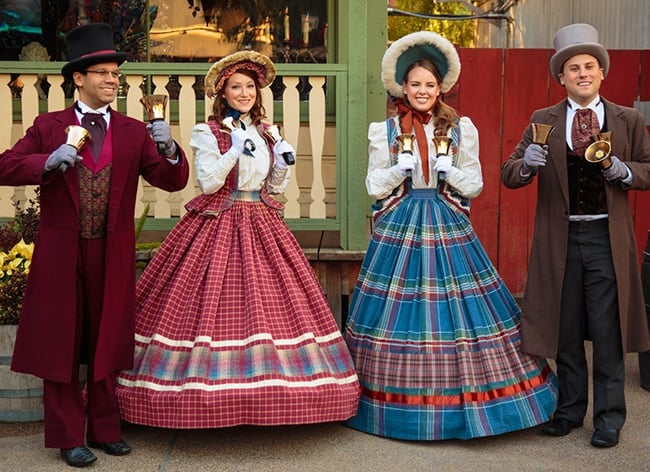 Be transported back in time to a Victorian Christmas by the Calico Carolers, Knott's own vocal quartet, as they perform the songs of the season throughout Ghost Town. Warm up your vocal cords and join in on the fun by singing along to both classic and contemporary Christmas music presented in a timeless way.
Home for the Holidays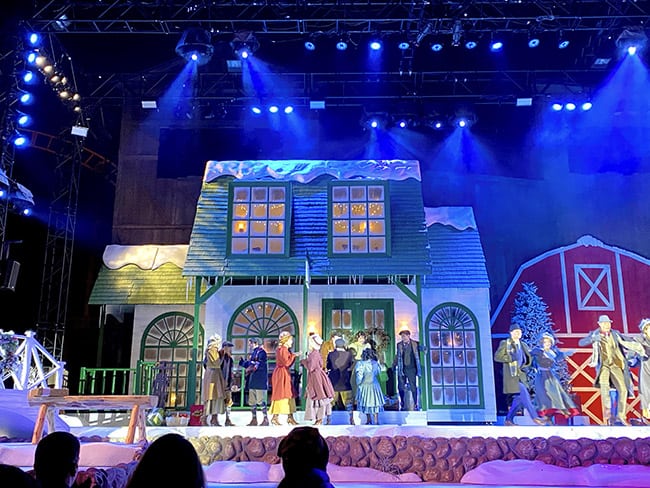 Festive yuletide cheer is in store at Knott's Merry Farm with Home for the Holidays, where joyous merriment takes over the Calico Mine Stage with dancing and fun set to popular holiday tunes including, "There's No Place Like Home For The Holidays," "Sleigh Ride," "Jingle Bells," "Here We Come A-Caroling," and many more. Guests will be swept into a magical scene of an old-fashioned Winter Wonderland and celebrate timeless holiday traditions.
Parkwide Lighting Moment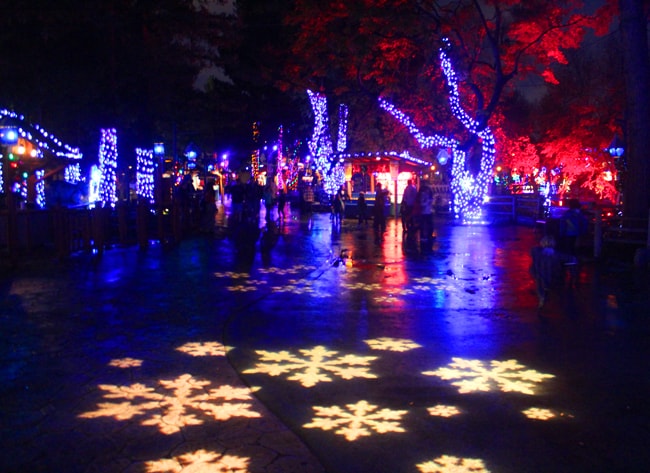 Knott's Berry Farm comes alive as the lights of the season brighten the night and kick off a great evening on the Farm!
Snoopy Ice Show: Merry Christmas, Snoopy!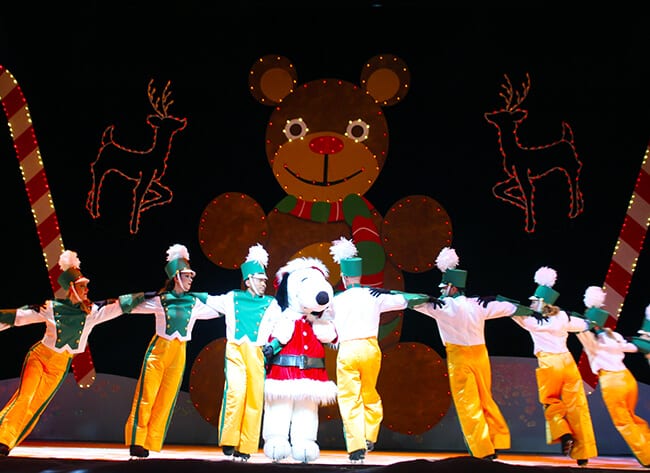 Snoopy, the Peanuts, and a cast of world-class ice skaters perform in the spectacular ice show, "Merry Christmas, Snoopy!" in the Walter Knott Theater. During the show, filled with whimsy and spectacular skating, Snoopy enjoys all of the best parts of the season, including trimming the Christmas tree, awaiting Santa's arrival, and attending the festive Christmas Ball! "Merry Christmas, Snoopy!" is performed on select days.
Read all about our best tips on spending the day at Knott's Merry Farm with Kids.
Christmas at Disneyland Resort
Experience the most magical time of year with celebrations throughout both park from November 12, 2021 to January 9, 2022! Disneyland Resort has two theme parks to enjoy Christmas at, Disneyland Park and Disney California Adventure Park.
Here's what to expect at each of them.
The Holidays at Disneyland
There is so much to see during the holidays at Disneyland Park. Here are the main attractions that you will not want to miss this Christmas season.
"it's a small world" Holiday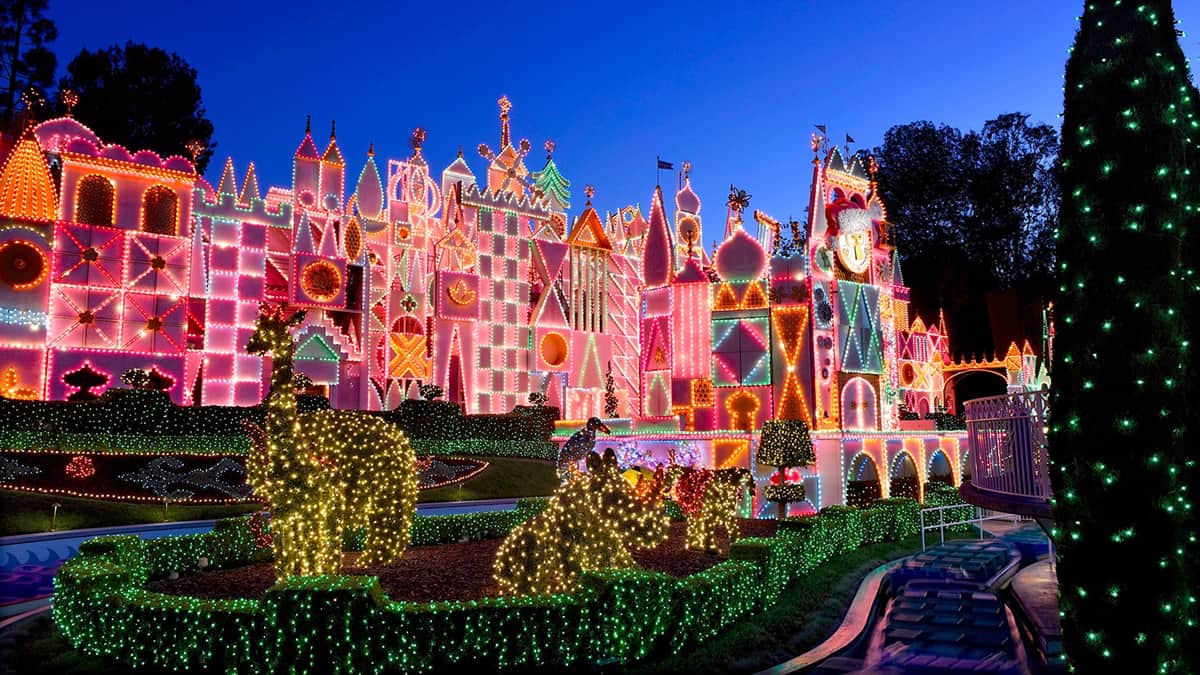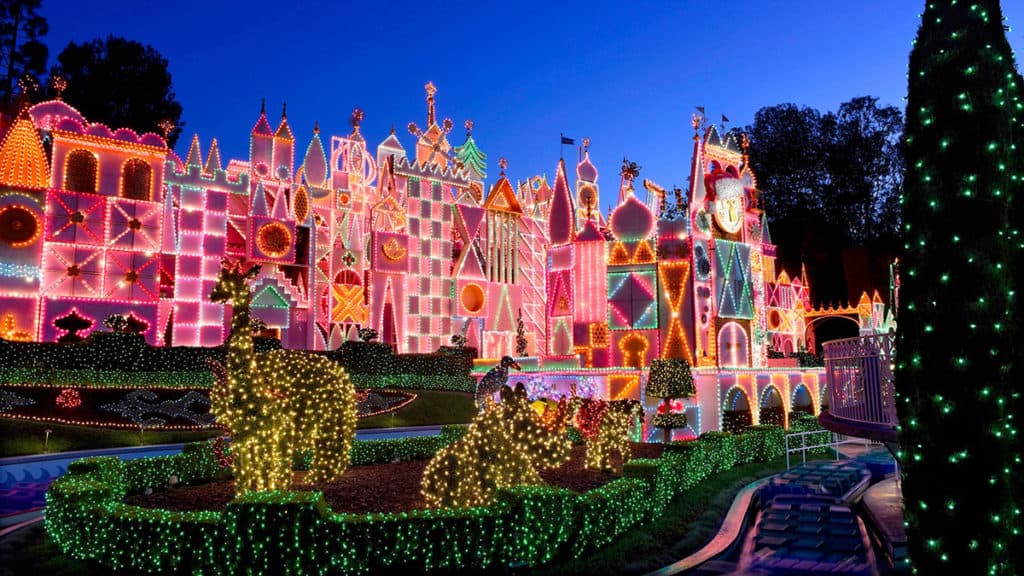 Set sail along the 'it' a small world" wondrous wintry waterway transformed with whimsical décor. The entire ride is decked out for the holidays with a full world tour of good cheer. Listen as the costumed chorus of children sings the classic "It's a Small World (After All)" song plus traditional holiday tunes. Listen closely for the South Sea mermaids who sing "Jingle Shells" and leave a plate of fish for Santa.
As dusk begins to fall, gather in front of the attraction's iconic façade and watch thousands of twinkling lights come to brilliant life. Once lit, every 30 minutes throughout the night, watch in wonder as a joyous light projection show animates the façade with a kaleidoscope of charming holiday colors and images.
Haunted Mansion Holiday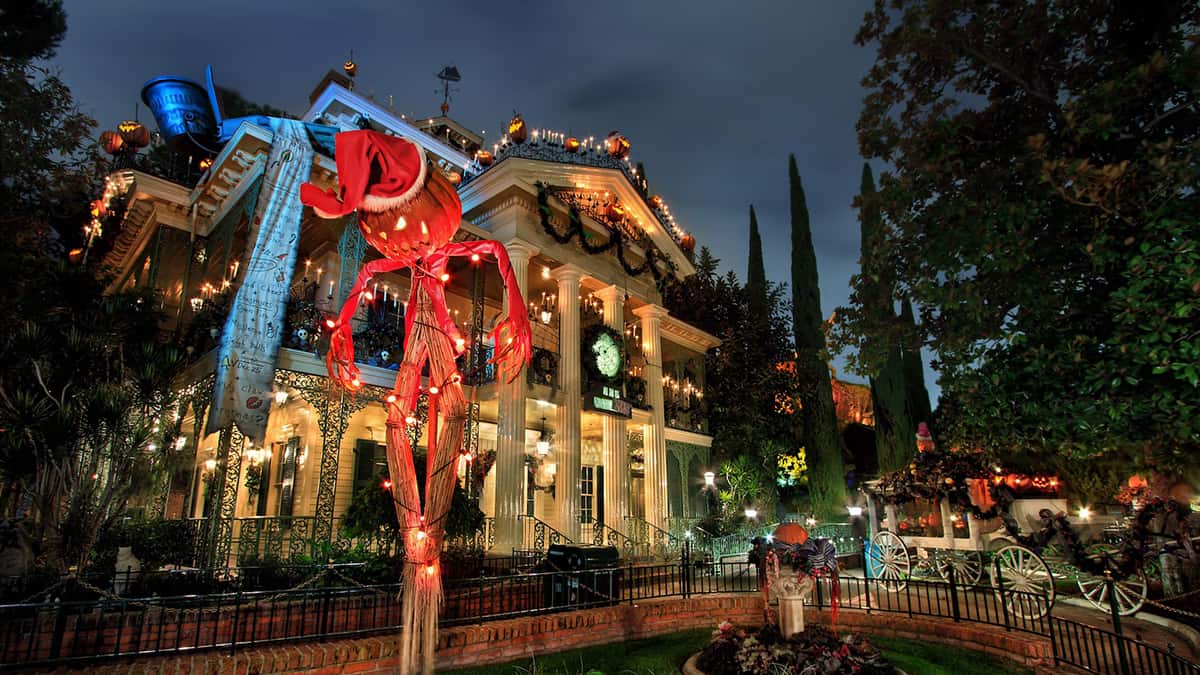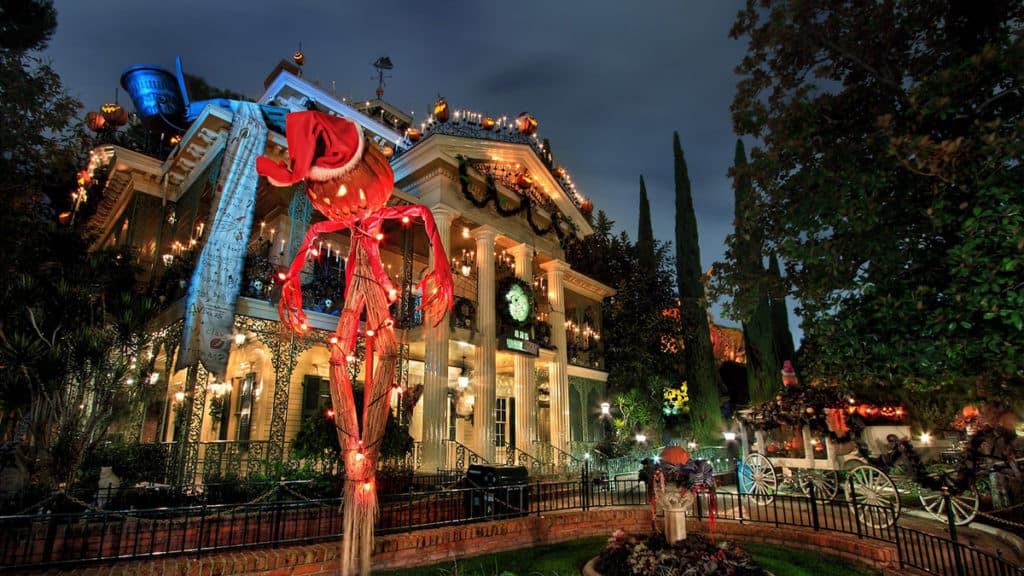 It's the 20th Season Skellebration of Christmas and Halloween colliding—tour the estate's merry macabre makeover and meet some real holiday spirits
Pumpkin King Jack Skellington has been busy decorating the Haunted Mansion with frightfully festive touches inspired by Tim Burton's The Nightmare Before Christmas. From table to top, the 2021 Haunted Mansion Gingerbread creation is the tallest gingerbread design, architecturally. Thank you, "Sandy Claws!"
A Christmas Fantasy Parade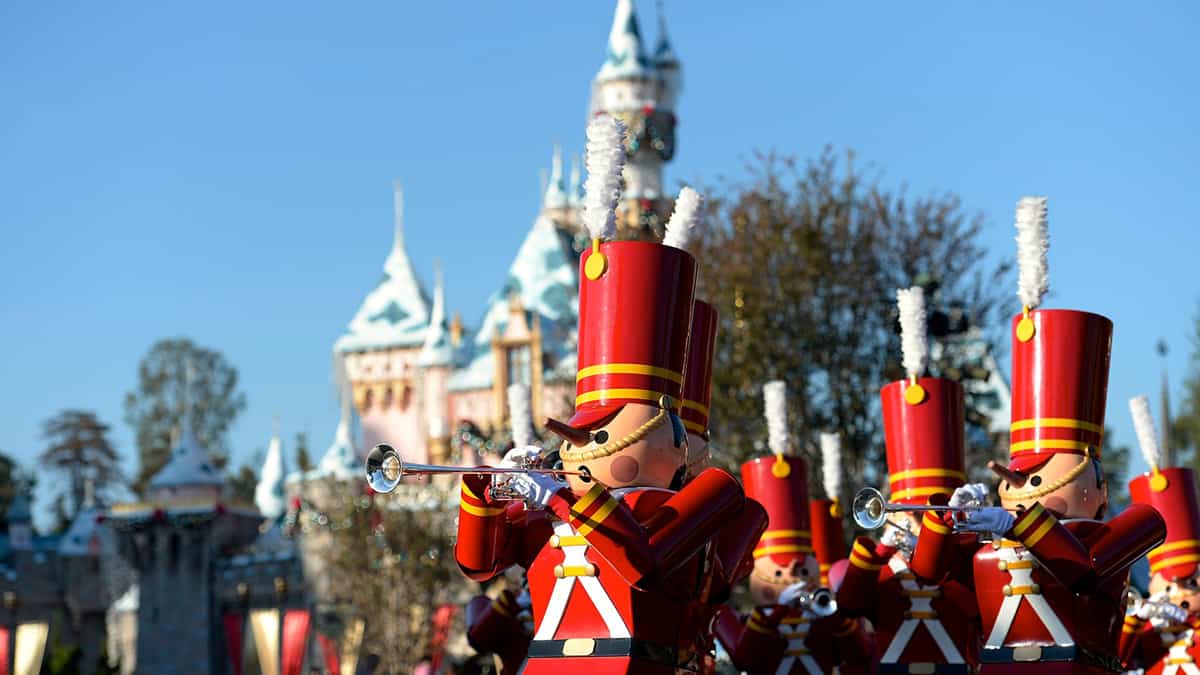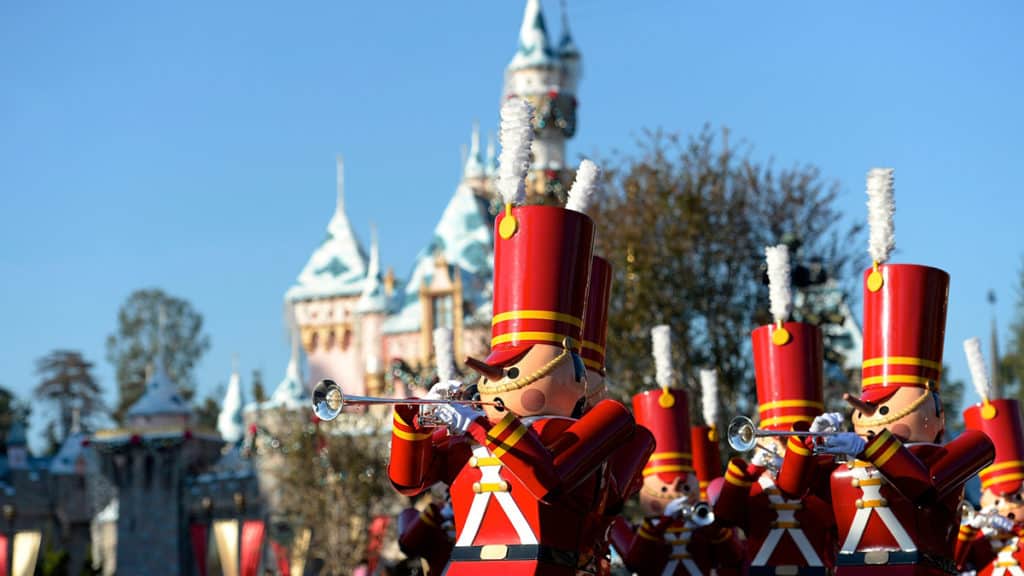 Everyone's favorite parade is back for christmas! The beloved Disney Characters join Santa Claus for a merry musical celebration, heading your way down Main Street, U.S.A. Watch prancing reindeer, marching toy soldiers, dancing gingerbread cookies and more, A Christmas Fantasy Parade brings the most magical time of year to Disneyland Park!
Arrive early to find the best-possible viewing spot—especially if you plan to see the show along Main Street, U.S.A. There are also great viewing spots near "it's a small world" Holiday and Matterhorn Bobsleds.
"Believe...In Holiday Magic" Fireworks Spectacular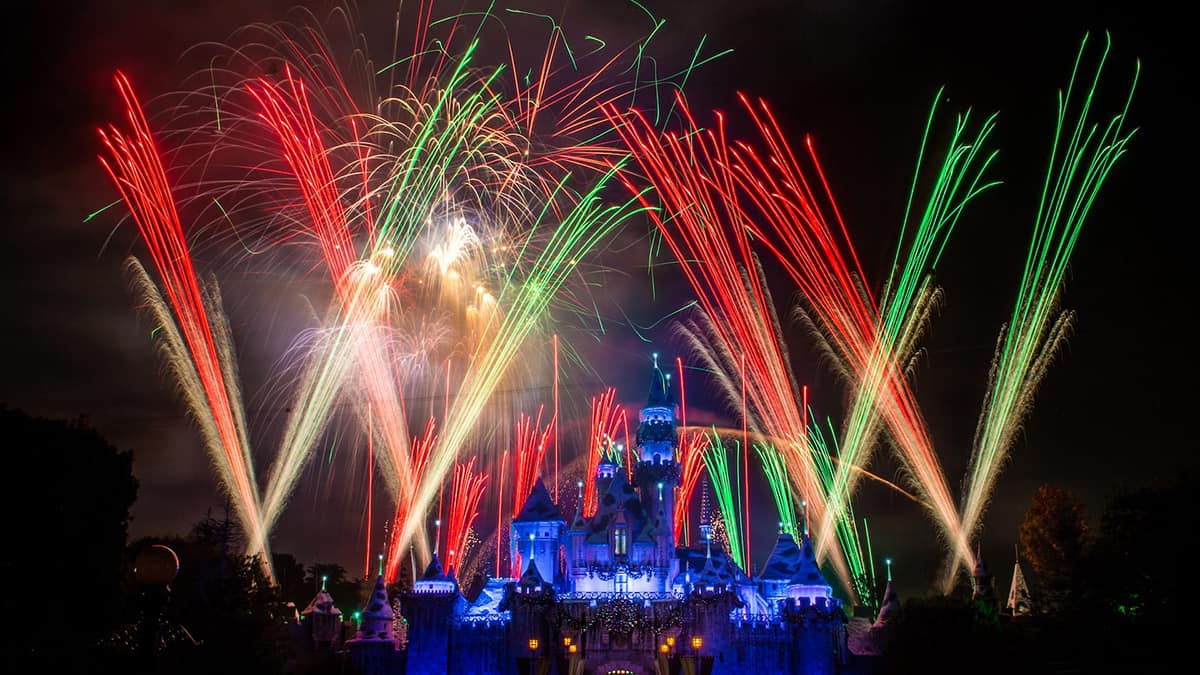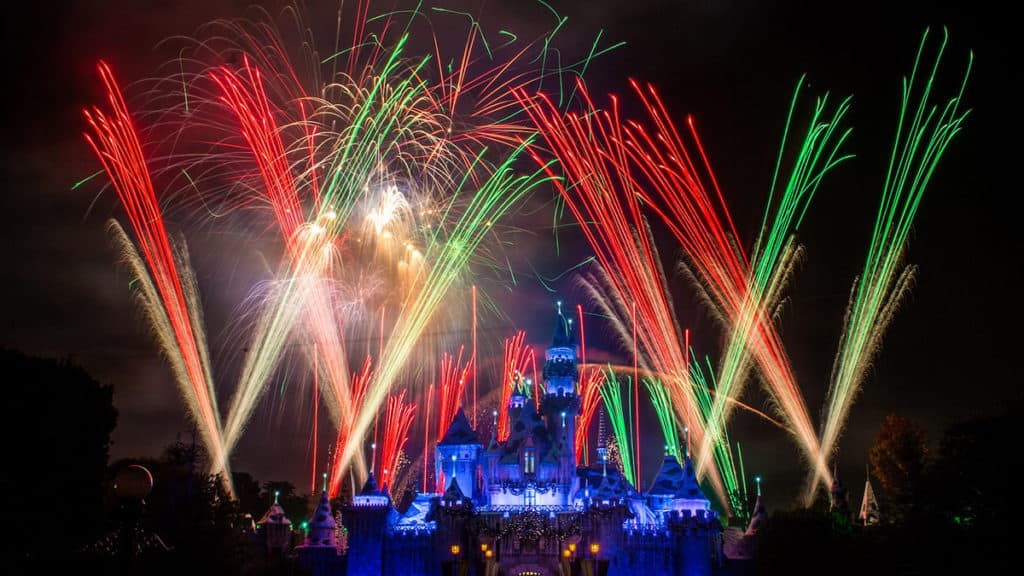 Feel your spirit soar during this splendid pyrotechnical spectacle. As the sky overhead lights up with dazzling color, more than 80,000 twinkling lights illuminate Sleeping Beauty's Winter Castle with sparkling "icicles" and shimmering snow-capped turrets.
Falling Snow! As a special wintry treat, experience a magical snowfall all around you when you head over to "it's a small world" Holiday and portions of the Main Street, U.S.A. area!
Celebrate the holiday season in grand style at this joyous jubilee in lights!
Disney California Adventure Park
Disney California Adventure Park has a whole other set of holiday experiences to enjoy...that's why visiting both Disneyland Resort Parks is aa must! This is what you can experience at DCA.
Santa's Holiday Visit at Redwood Creek Challenge Trail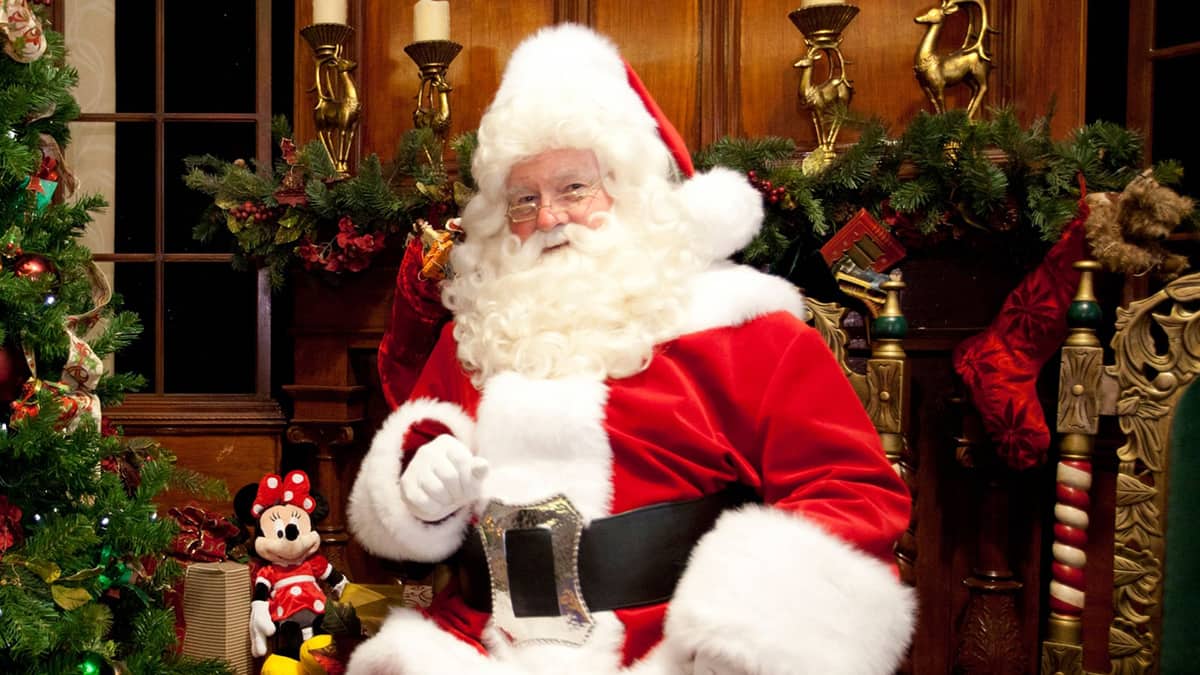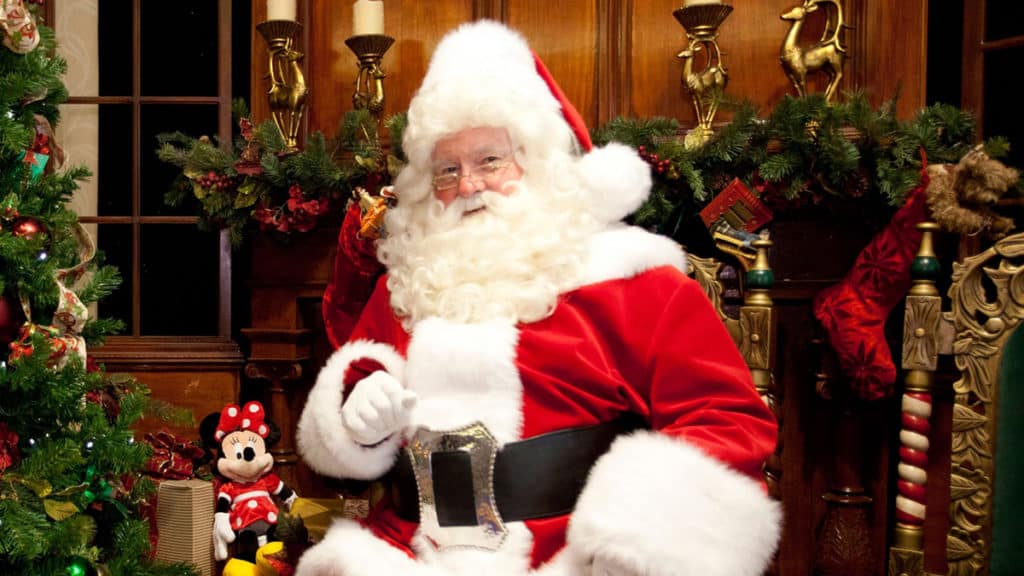 Redwood Creek Challenge Trail has been transformed into a holly, jolly, joy-filled playground, complete with seasonal games and outdoor activities for all to explore. So stop by Ahwahnee Camp Circle near the trail's entrance to see Santa Claus, wave hello, snap some pics and tell him how good you've been all year—be sure to aim for the nice list.
Upon entering Redwood Creek, pick up an activity map to locate all the elfish games. Explore different sections of the trail and discover how many decorations and toys have been hidden along the way.
Buena Vista Street Holiday Tree Lighting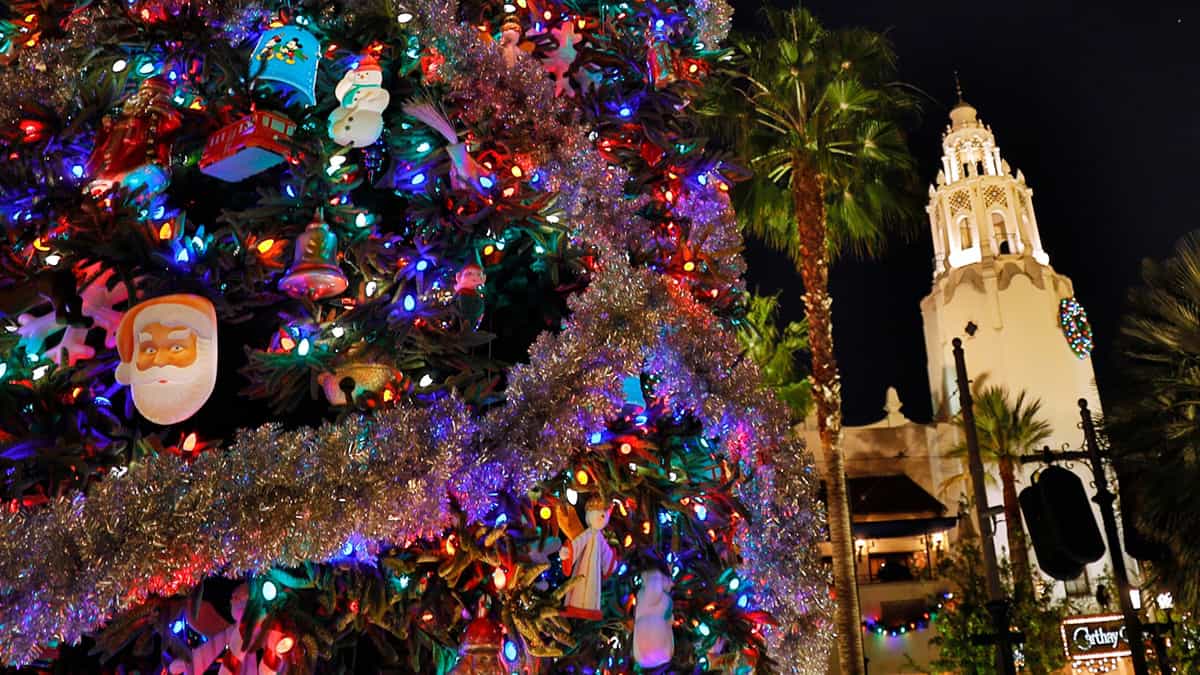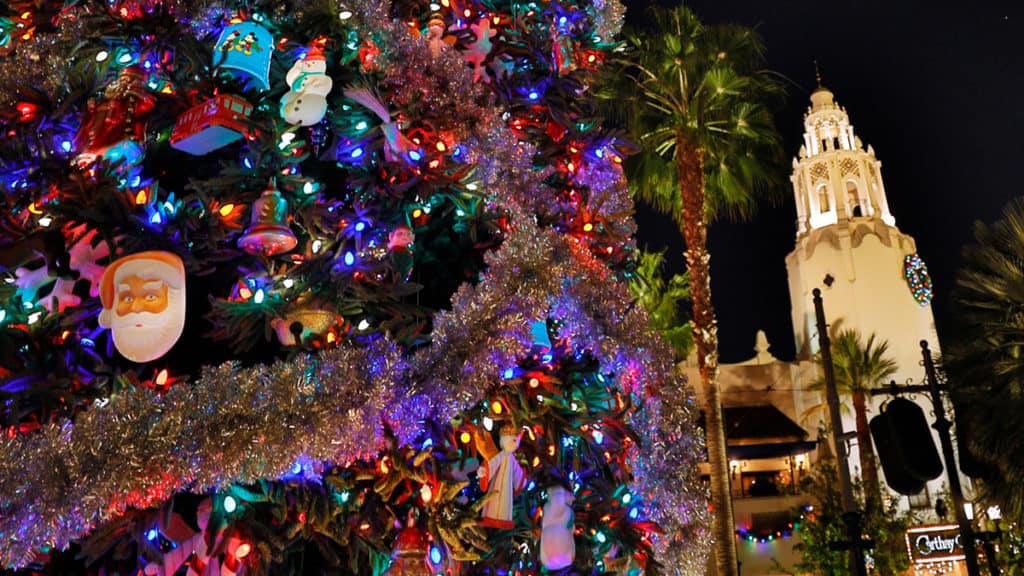 Share the wonder as this magnificent 50-foot tree comes to life in dazzling splendor. Join us in the plaza outside Elias & Co., where you'll be immersed in holiday cheer and festive décor. Then, watch in wonder as the towering tree twinkles to life with dazzling colored lights, hundreds of whimsical ornaments and swags of garland.
Mater's Jingle Jamboree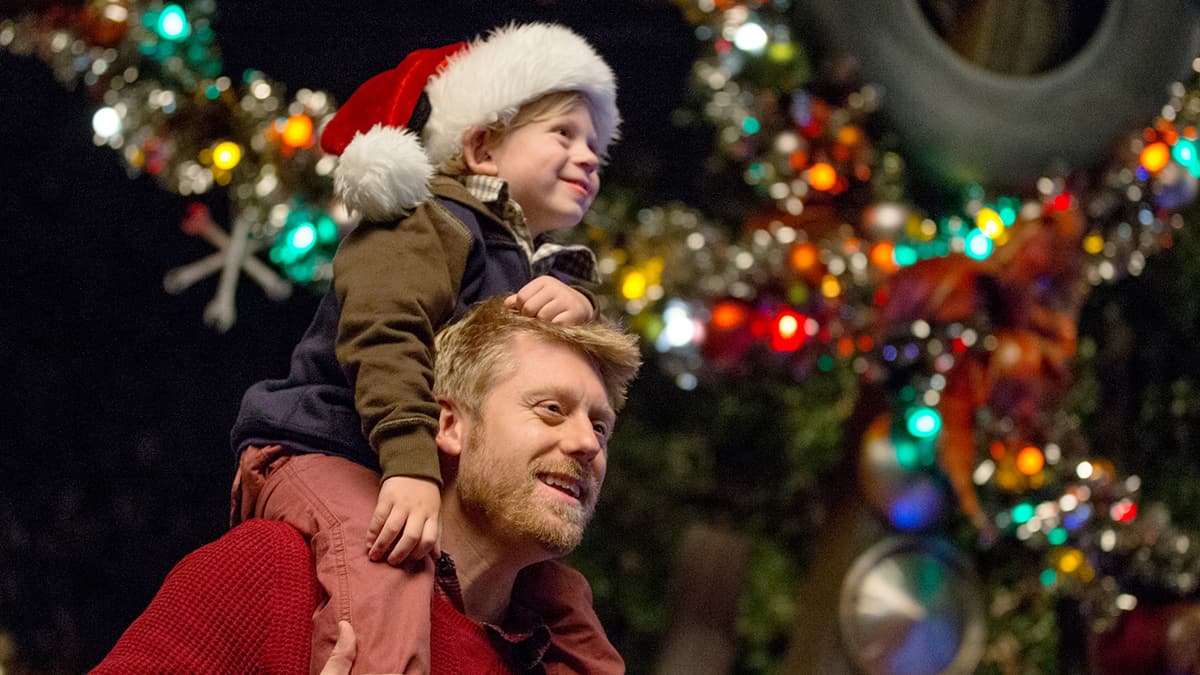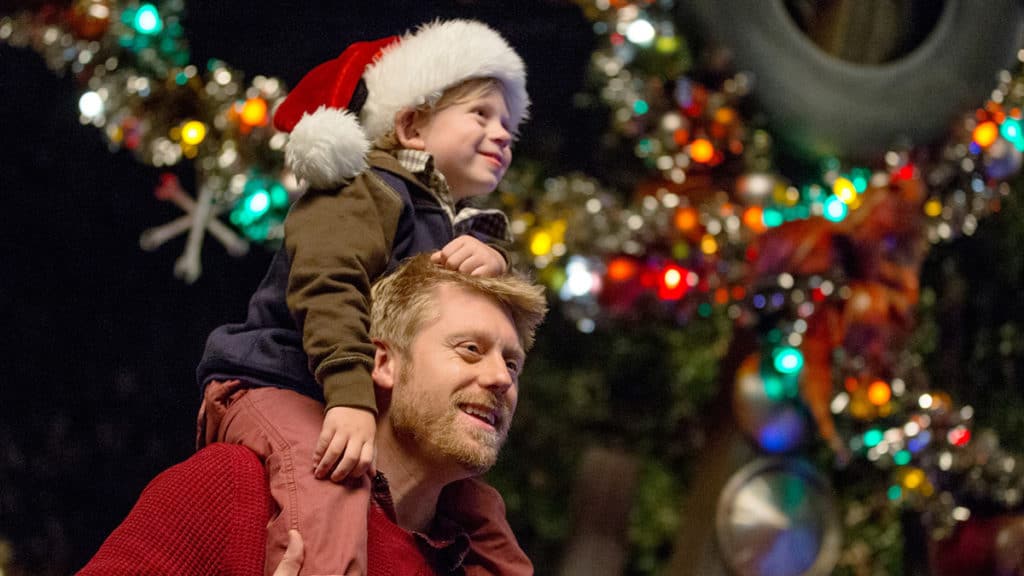 Head over to Carland to see the entire area decorated for Christmas. Enjoy a haul-iday tractor spin through Mater's festively decorated junkyard in Cars Land. Whirl through Mater's collection of car parts in a cute lil' tractor as he croons classic holiday tunes with some tow-riffic original lyrics.
Disney Festival of Holidays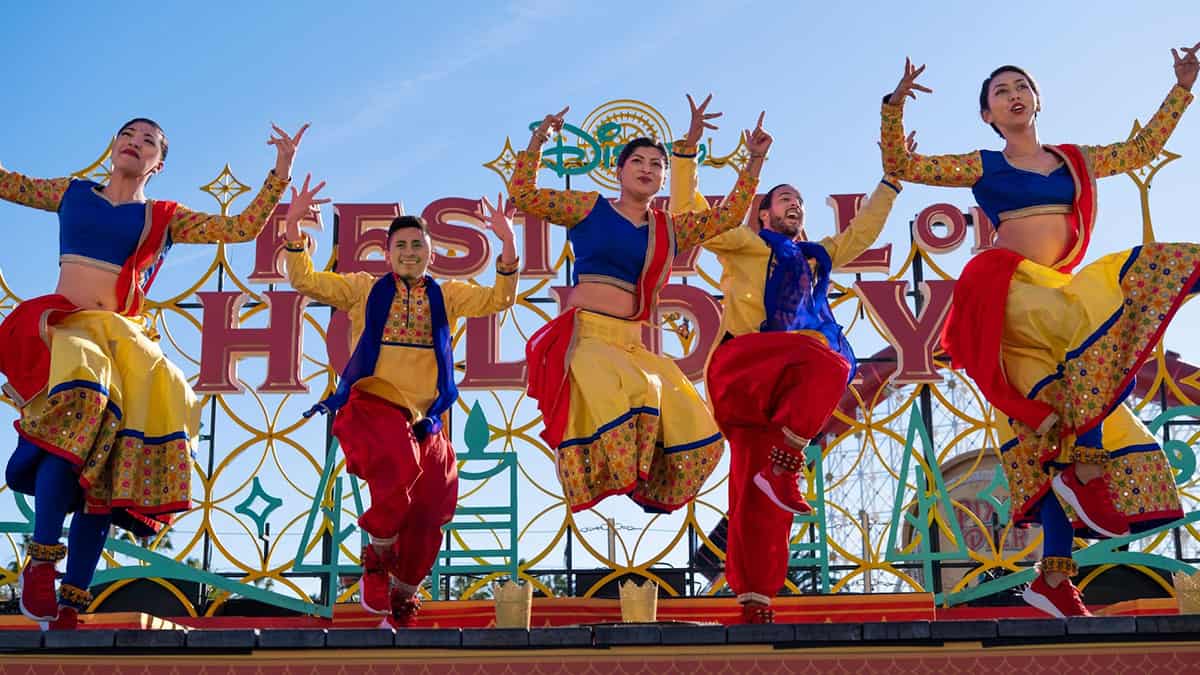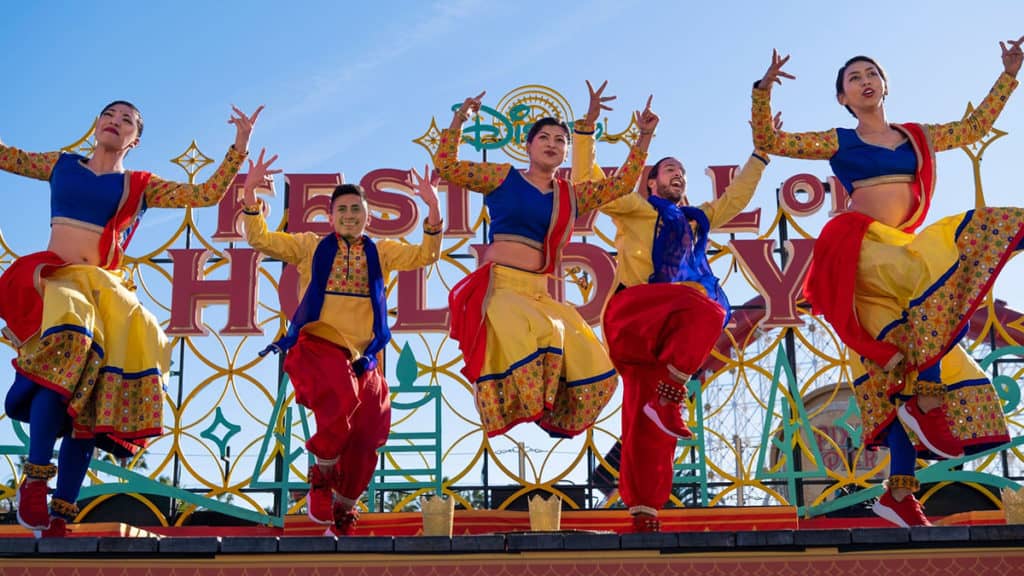 Embrace a seasonal celebration of diverse cultural festivities with music, food and fun for all, from November 12, 2021 to January 9, 2022!
Take in the sights and sounds of this joyous celebration of cherished holidays—including Christmas, Navidad, Hanukkah, Diwali, Kwanzaa and Three Kings Day—that make the season bright through diverse festivities and beloved seasonal traditions.
Disney ¡Viva Navidad!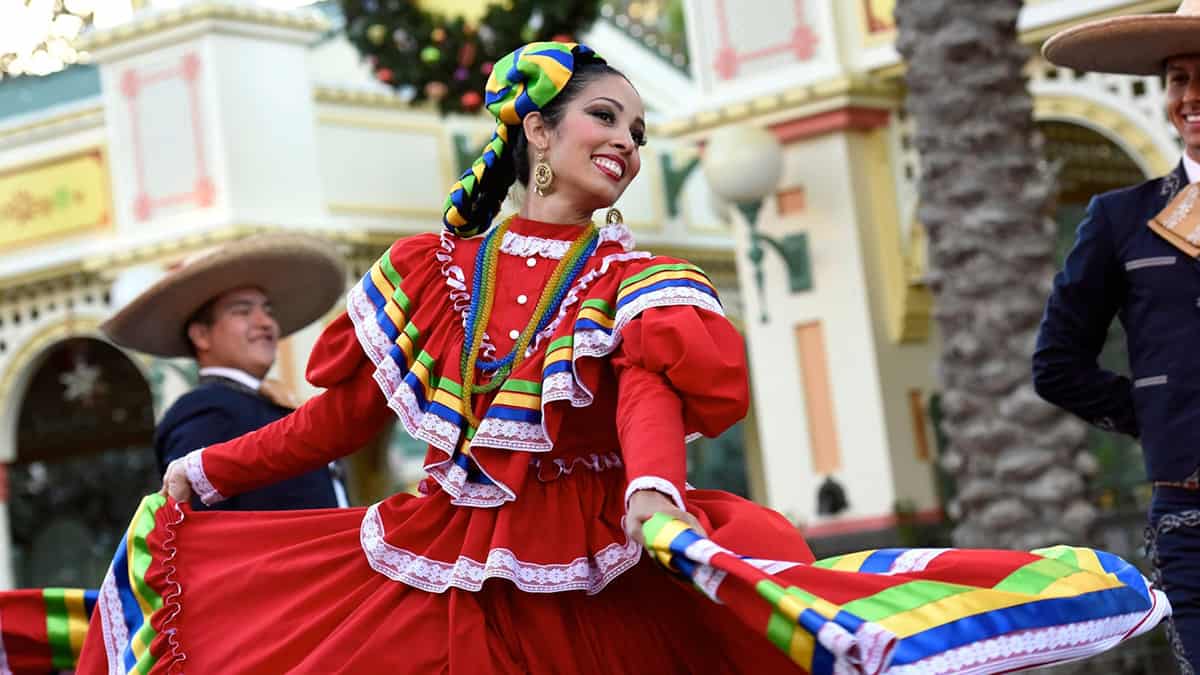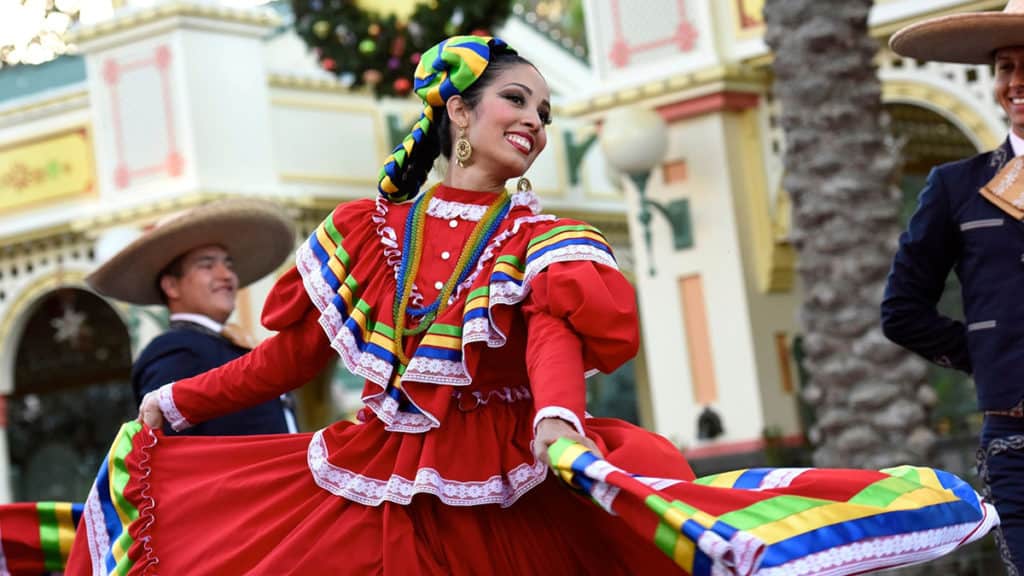 Finally, revel in authentic holiday music, dance, décor and a dash of Disney magic. Get ready to join Donald Duck and his amigos José Carioca and Panchito, "The Three Caballeros," as they host the ultimate fiesta for Navidad! This joyous street party features performances, including authentic folklórico dancers, mariachis, Brazilian samba dancers, drummers and incredible 12-foot-tall mojiganga puppets of Santa and Mrs. Claus. There will also be a special appearance by Mickey and Minnie in their fiesta best!
Other Disneyland Resort Experiences.
Disney Merriest Nites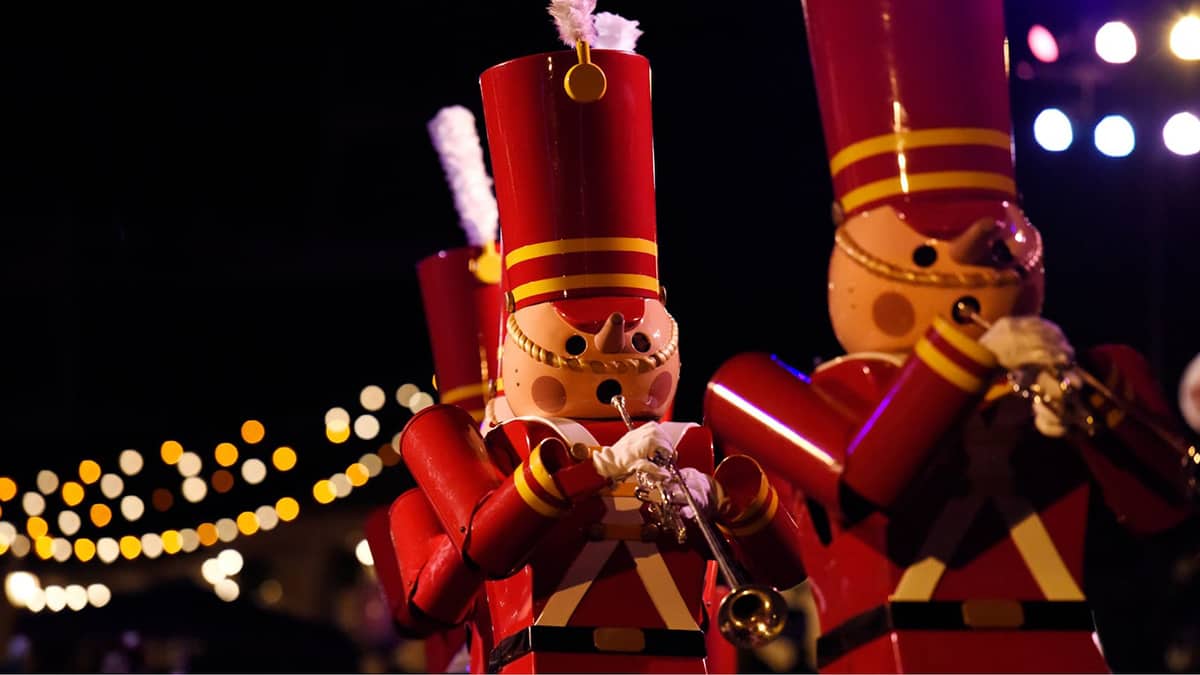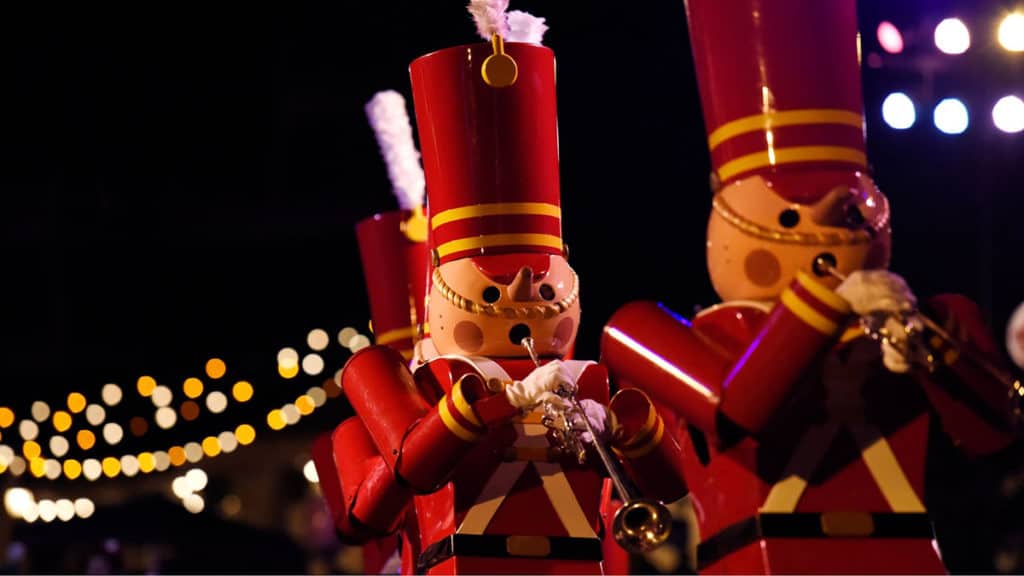 Disney Merriest Nights is a separate ticketed event that let you experience more holiday fun a Disney Park. Mickey Mouse and friends host all-new holiday after-hours events at Disneyland Park on select nights in November and December 2021! There are just 6 holiday parties, so tickets on't last long.
During this holiday event, you can enjoy after-hours admission to Disneyland Park with limited capacity, including select attractions and entertainment, unique Disney Character sightings. You can also view the Christmas Fantasy Parade, enjoy thee snowfall on Main Street, U.S.A., have themed photo ops, and unlimited Disney PhotoPass digital downloads from the event. There will be holiday themed menu items, live bands, dance parties and the opportunity to purchase special event-themed merchandise. Wow!
Which Theme Park Should I Go to During the Holidays?
That's a hard one. They are all so good, so whichever one you choose, you are sure to enjoy your time there. Best tips:
Go on a weekday for lighter crowds
Get there at least ½ hour before opening.
Bring snacks and a water bottle
Download the theme park's app
Review the show schedules and decide which ones you want to go to.
Research all the holiday happening before so you can plan out your day.
Bring a light weight blanket or sheet to sit one while waiting for shows.
Most of all, enjoy yourself at the parks. Merry Christmas!
More Christmas Stuff
PLUS.....have you seen these?
More Christmas Stuff
PLUS.....have you seen these?