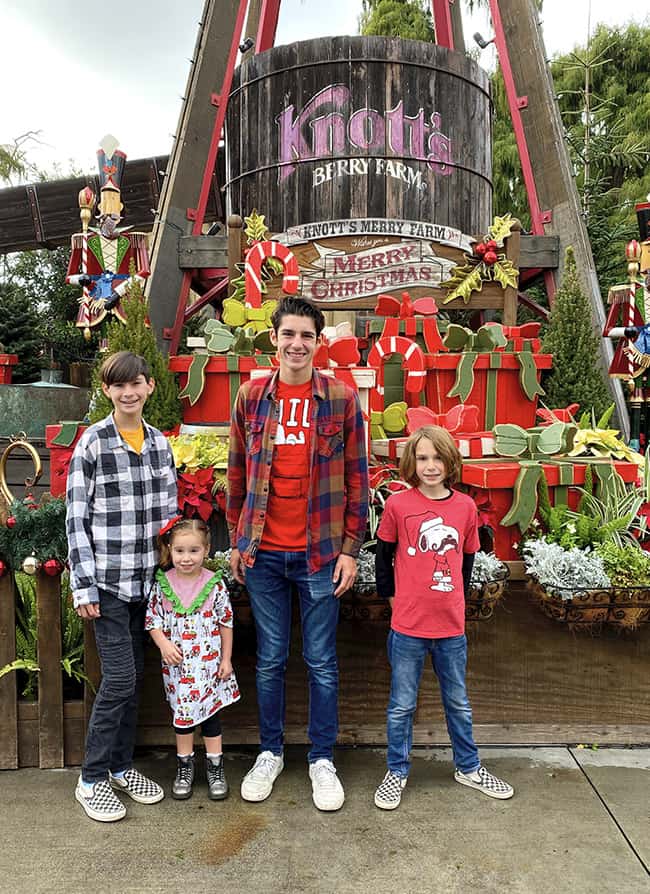 Taking my kids to Knott's Merry Farm is one of my absolute favorite things to do during the holiday season. I LOVE Merry Farm! It just feels like the Christmases I had when I was a child...there's just something special in the air. And the decorations are so beautiful and rustic, good old fashioned Christmas beauty. I just can't get enough of it.
There are so many fun things to do at Knott's Merry Farm with kids that I wanted to make sure to share our favorites so that you too can make sure to do the same with your kids!
Top Ten Things to Do with Kids at Merry Farm
Get a Merry Farm Souvenir Mug. The first thing you want to do when you head into the Park for Merry Farm is to purchase a 2019 Merry Farm Souvenir Mug! This way you can feel extra festive all day sipping on hot cocoa with all the holiday toppings. With a Merry Farm Souvenir Mug, you receive free refills of coffee or hot cocoa on the day of purchase, plus $1 refills on future visits through January 5, 2020...how cool is that! I recommend filling it up at Santa's Christmas Cabin, because I think they have the BEST hot chocolate there.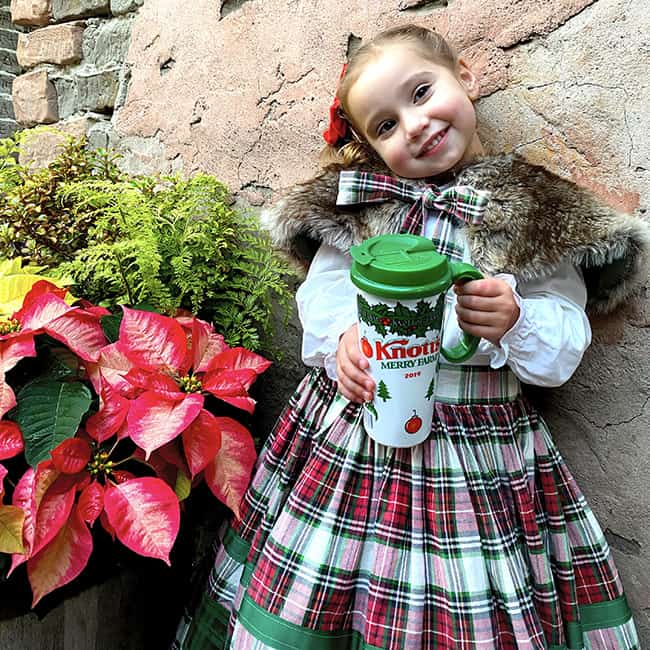 And while your at it, why not also get a special holiday treat! This year Knott's has outdone themselves with cute Christmas Treats. Check out these Winter Mint Macaron Snowmen, and the Egg Nog Christmas Tree Cheesecakes on a Stick!
Snoopy On Ice. Every year we look forward to going to this beloved Christmas show featuring our favorite beagle, Snoopy! It is a mix of your favorite Christmas songs, new and old, plus the Peanuts Gang and of course, some very talented ice skaters. It's the real deal!
It all takes place in the Charles M. Schulz Theatre on the west side of the Park. You'll want to get in line early for this popular show as it often reaches capacity. And there are no saving seats, so make sure your entire party gets in line together.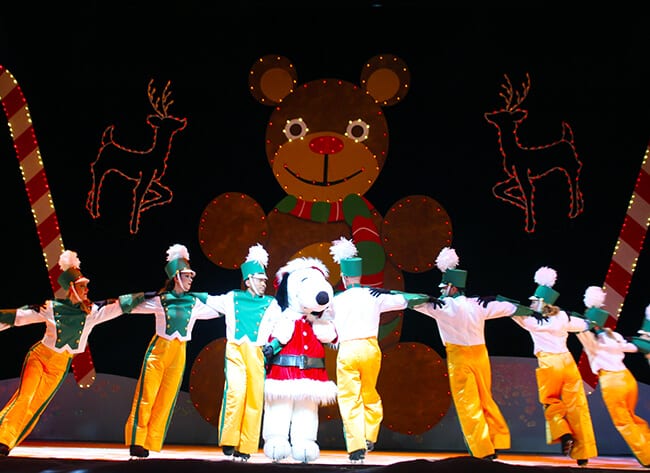 Visit Santa. Head over to Santa's Christmas Cabin and visit Santa Claus himself! Knott's Santa Claus is very special and spends the time to talk to your child and get a photo. You can purchase Santa photos, but you are also allowed to use your own camera.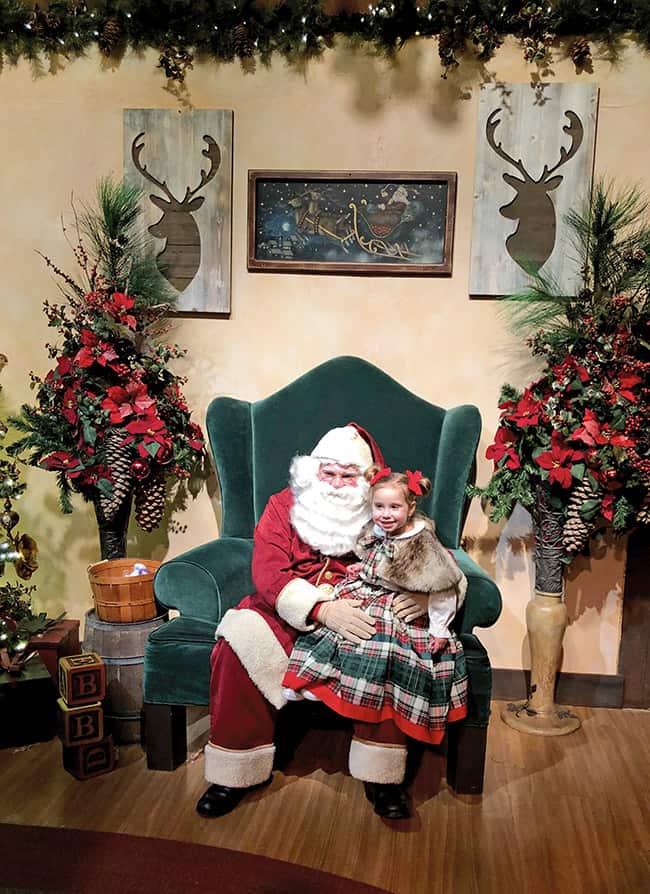 Decorating Cookies. You can decorate Christmas cookies in Mrs. Claus's Kitchen located next to Santa's Christmas Cabin. For only $6, you get two cookies, frosting, sprinkles, Hershey's chocolates and a cute box.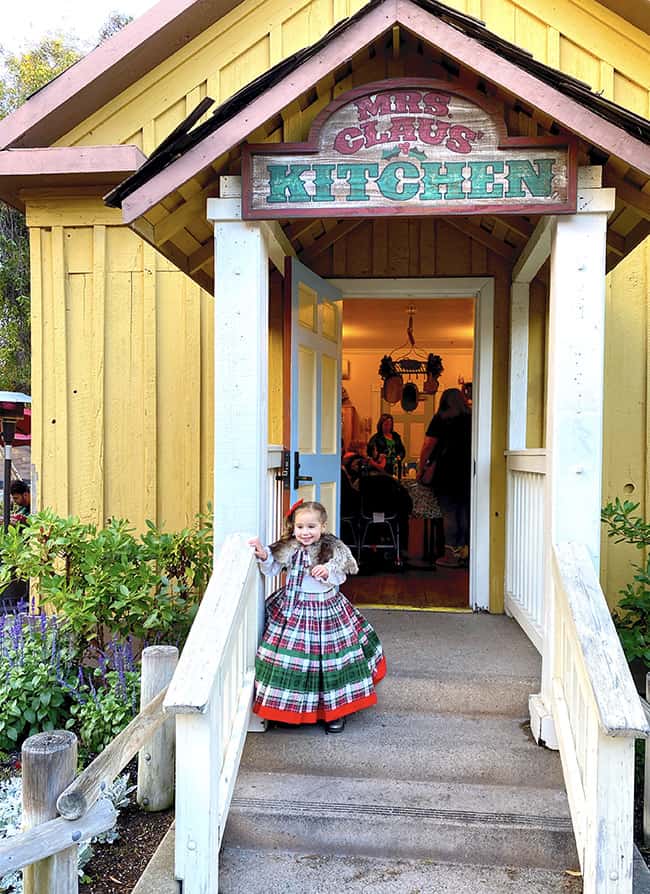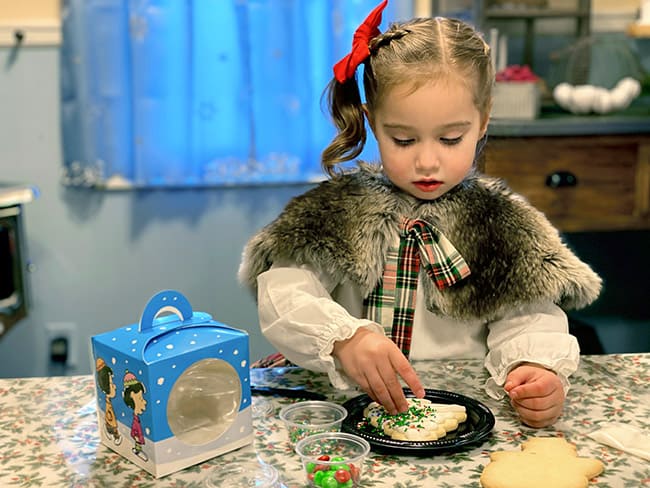 Calico Christmas Tree Lighting. This is a very special tree lighting that takes place every evening in Calico Square. Every night they pick a different family to help light the tree. There is a special way they light the tree...but I don't want to spoil the surprise, so you need to go to the show a find out for yourselves.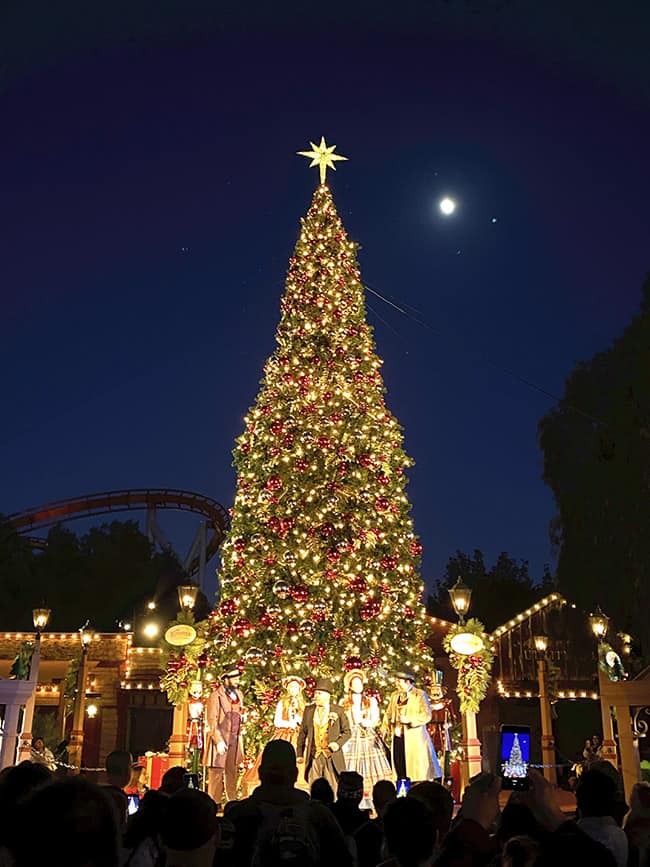 Make Christmas Slime. If your kids are anything like mine, the love slime. But I do NOT like them making it at my house. Way. too. messy! But did you know they can make Christmas Slime at Knott's? Head over to the Crafters Village where the kids can make their own slime. While the kids are doing their thing, you can gift shop. There are so many great vendors with unique and wonderful gifts at the Christmas Crafts Village.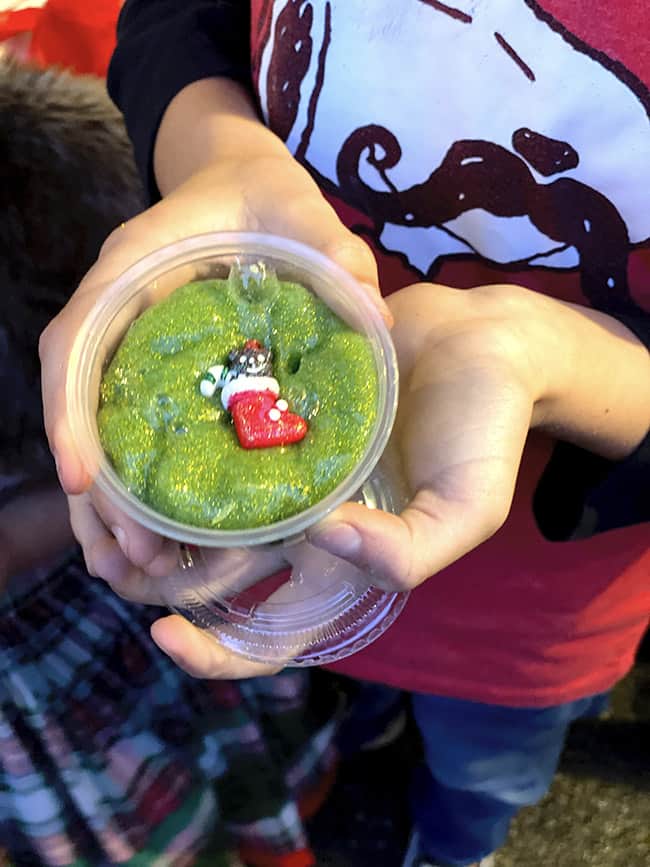 Home for the Holidays. This is Knott's Berry Farm's brand new Christmas show that is simply AMAZING! It takes place on the Calico Mine Stage in the heart of Knott's. Imagine an old fashioned Christmas with singing and dancing, colorful costumes, Christmas trees and the most beautiful house that opens up on stage right before your eyes! The show will have you filled with Christmas spirit as it ends its' finale will falling snow!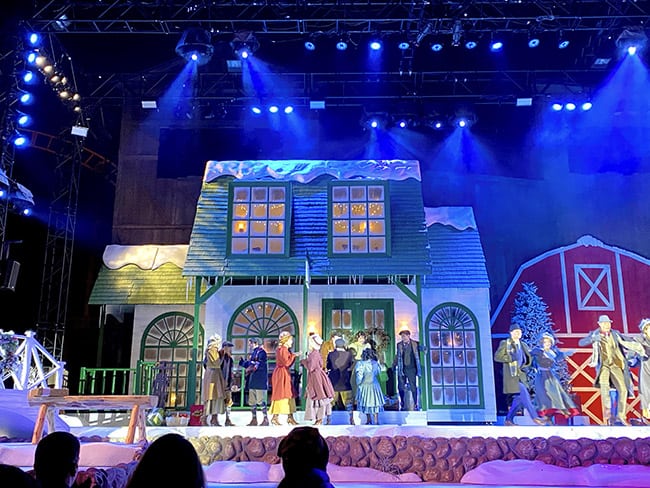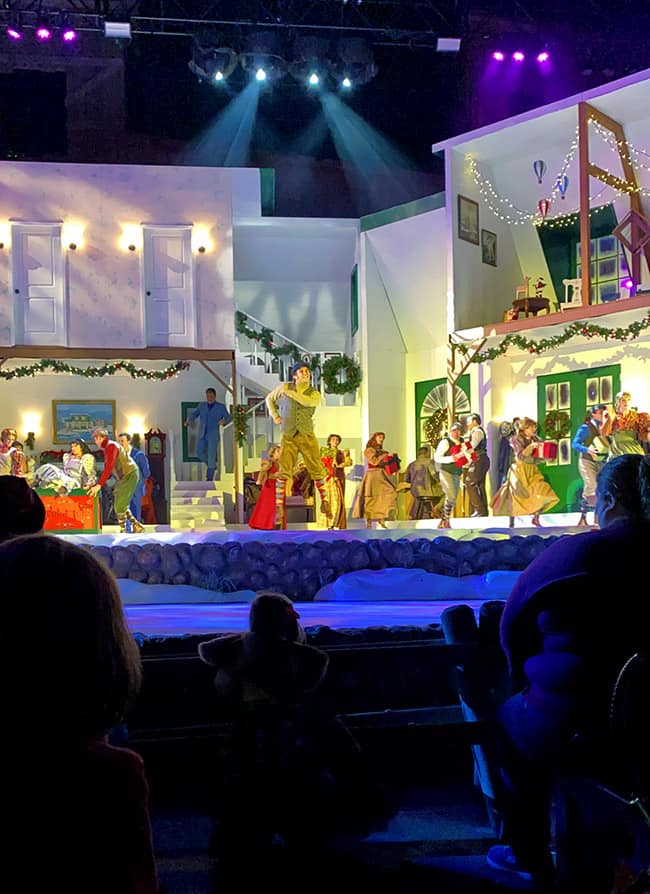 Snow and Glow. Experiencing the snowfall on the streets of Calico is a magical experience. During Merry Farm, snow falls hourly each evening with and twinkling lighting up the streets. This year it has been better than ever, and even feels like there is more snow! Since this show happens multiple times each night, you can bring your kids to different areas of Ghost Town for each snow fall. Try the areas by the Blacksmith Shop, Birdcage Theater and the Old Schoolhouse. My kids just can't get enough of the Snow and Glow.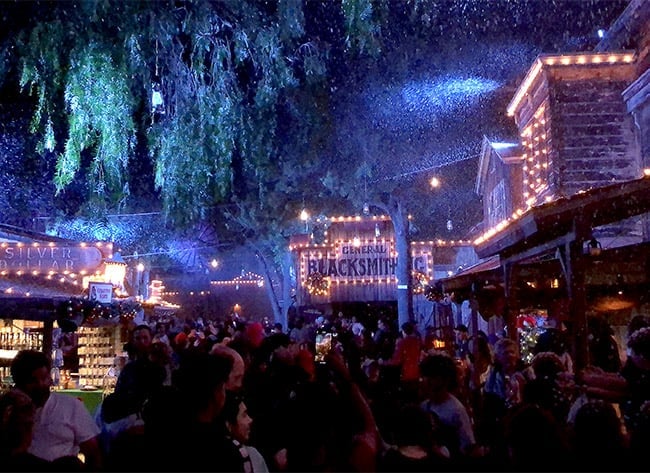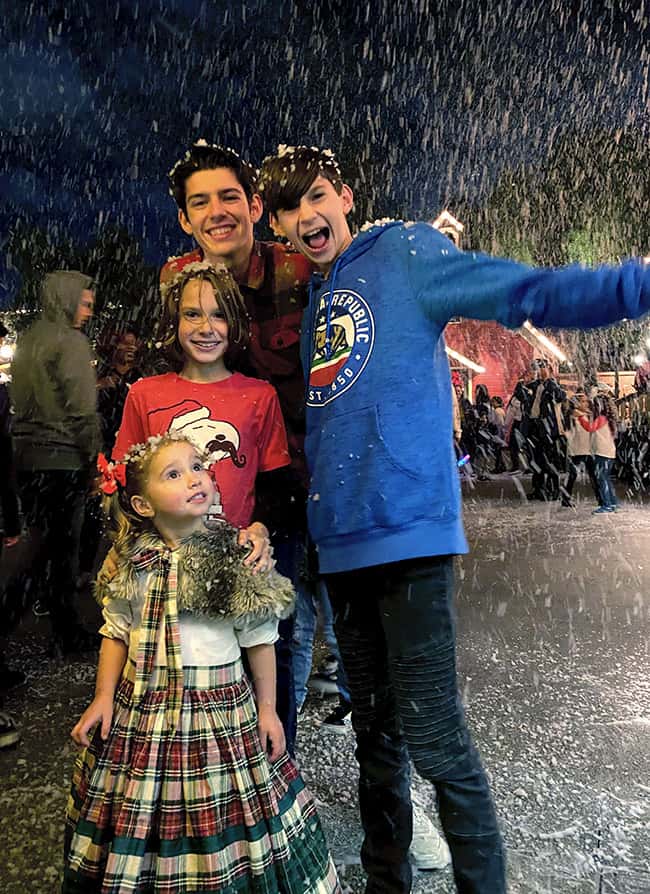 A Peanuts Guide to Christmas. This fun little Christmas show take place at the Camp Snoopy Theatre. It's great for all ages and features a delightful mash-ups of holiday songs with some of our favorites from the Peanuts gang, and of course Snoopy! I like this show because it has easy seating and accessibility. Kids love it because they Peanuts gang sings a lot of familiar Christmas songs that they know.
Visit Snoopy. You can visit Snoopy and some of the Peanuts Gang at the Peanuts Meet and Greet Area in Camp Snoopy. They are all dressed up for the holidays and ready to give you a big hug and take their photo with you. You can find them there throughout the day and also after each showing of A Peanuts Guide to Christmas.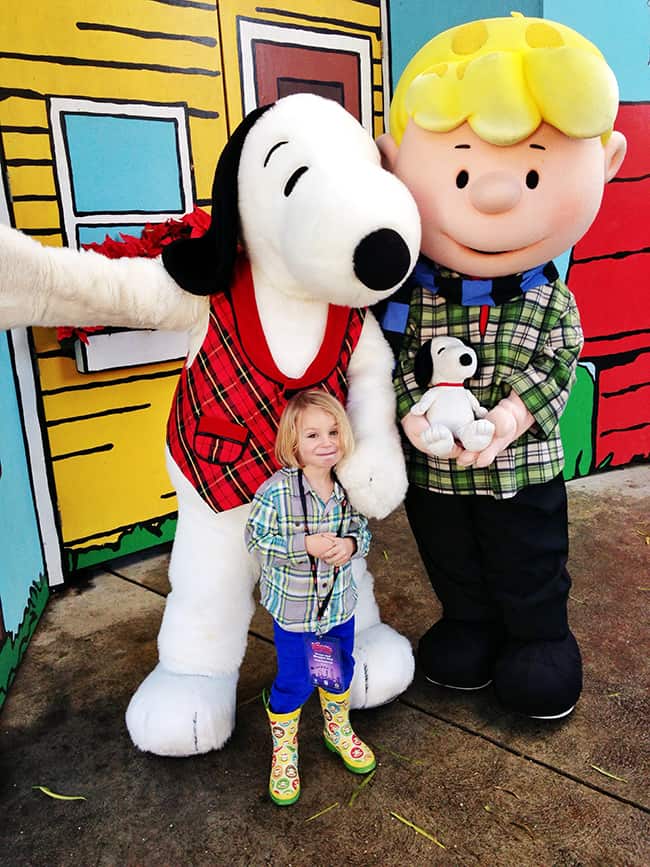 I hope you get to visit Knott's Merry Farm with the ones you love this holiday season. I also hope this Top Ten list makes it easier to visit Knott's Merry Farm with kids. There's so much to enjoy and hundreds of memories to make - and don't forget about the rides! You're going to have so much fun that you will want to get Season Passes for 2020. Did you hear? It's going to be Knott's 100 Year Anniversary. You won't want to miss this next year of fun.
Happy Holidays, and a Happy New Year.