Father's Day is this weekend, and if you are still strying to figure out something for dad, i've rounded up ten Father's Day gift ideas that a dad like ours would love to get this Father's Day. our dad likes the outdoors, surfing, camping, swimming and to listen to music. most of our picks are great for a dad on-the-go. our dad is also an 8o's child, so things with an old-school flair are just up his alley. i am pretty sure he would be stocked with any of these items.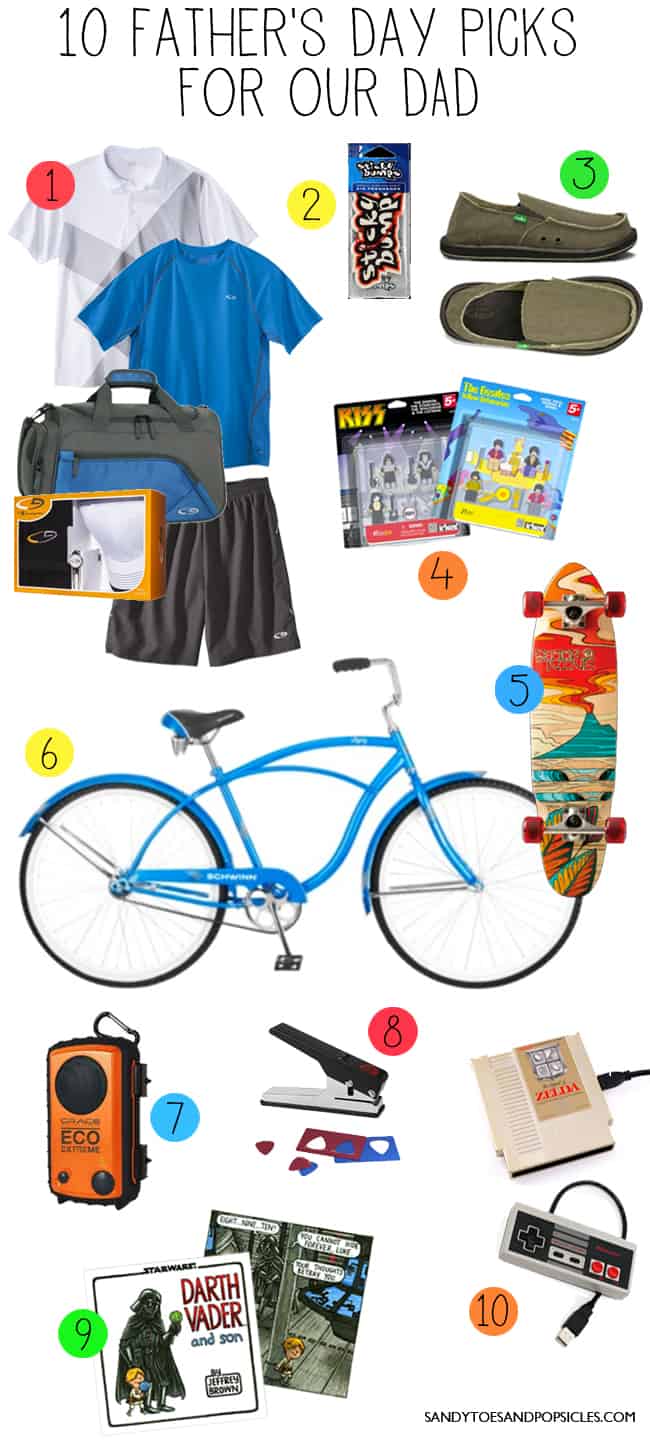 first up, C9 Workout Clothes, Gym Bag or Golf Set are great for any dad who likes to work out or who could use some activewear to run about his day. our dad has recently mentioned he wanted to start working out some, so i immediately thought of getting him some C9 gear. this is Target's line of Champion Apparel, which you can get at awesome prices. i can tell you from experience that this workout gear is comfortable, stylish and has attractive pricing.
if your dad loves to surf like ours, a Sticky Bumps Car Air Freshener will help him feel like he is at the beach. it has a surf wax scent just like what you would smell while waxing your board. and a pair of Sanuk Shoes are a favorite of our dads because they feel like you are wearing flip flops, but with the look of shoes. he has also been eyeing a Sector 9 Long Board to cruise down the beach street. we would love to top off his beach experience with a Legacy Beach Cruiser by Schwinn, that surprising is only $129...a great price for a beach cruiser and a Schwinn at that. and if your dad would like to listen to his jams at the beach, this Eco Extreme Waterproof Portable Speaker Case would be right up his alley. not only will it protect his phone/ipod from the sand and water, it also floats...you can take it in the pool!
our dad plays the guitar...so how cool would it be for him to make his own guitar picks from old credit cards and IDs with the Guitar Pick Punch. it just a fun thing he would think was cool. and we can bring back his childhood memories with these old-school game cartridges and controllers that have been refurbished into hard drives and flash drives. i especially like the Nintendo Game Controller Flash Drive and Sega Game Cartridge Hard Drive.
a couple of fun items our dad would get a kick out of...and my boys would love to give, would be these band inspired K'nex Figures. they are compatible with Legos, so your kids can have a Lego building marathon with dad and build a rockin' concert stage. and this fun Star Wars comic style book "Darth Vader and Son" is full of hilarious little comics of the adventures of Vader raising his son.
1. C9 for Target Workout Clothes by Champion | 2. Sticky Bumps Air Freshener | 3. Sanuk® Mens Vagabond | 4. K'nex Live Nation Kiss Figures & K'nex Live Nation Yellow Submarine Figures | 5. Sector 9 Long Board - Lava Flow Complete | 6. Schwinn Beach Cruiser for Target | 7. Grace Digital Eco Extreme 3.5mm Aux Waterproof Portable Speaker Case | 8. Custom Guitar Pick Maker | 9. Darth Vader and Son by Jeffrey Brown | 10. Old School Nintendo Computer Accessories
{This is not a sponsored post. All thoughts and opinions are my own. }
you may also like:
Father's Day Angry Birds Gift | Free Printable
Father's Day Daddy Star Wars Kit | Free Printable
Father's Day Mustache Candy Jars | Free Printable