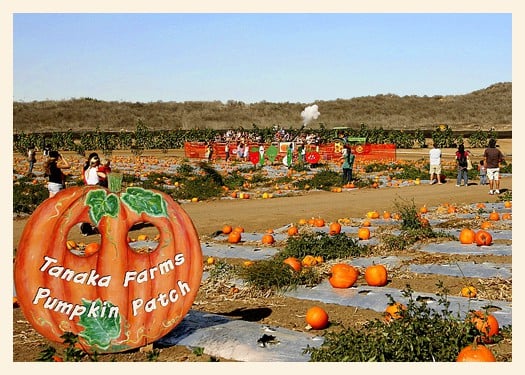 the Tanaka Farms Pumpkin Patch is now open....and there are a lot of fun things to do on the farm! what makes this pumpkin patch unique to most of the other patches in Orange County, is that you can pick your own pumpkin off the vine.  
you can start in the U-Pick pumpkin patch, where you can take a wagon ride around Tanaka farm.  visit the petting zoo with over 40 animals and then take a wagon back around the 30 acre farm. while riding, look around to see which pumpkin you might want to take home. the wagon then will stop at the 1 acre corn maze. you and the kiddies will have a great time trying to find your way through the maze. you can also pick your own vegetables. there is a 2 acre area of vegetables growing with carrots, onions, green beans, and radishes for the children to pick.  at the end of your visit, you can pick your very own pumpkin off the vine. 
things to do at the Pumpkin Patch
Wagon Ride - $5 per person, under 2 free 
Petting Zoo -  $3 per person, under 2 free 
U-Pick Vegetables - $2.99 lb 
U-Pick Pumpkins - sliding scale by the pound
there are even more fun happening on the weekends! lots of food and shave ice aka "snow cones," atv's the kids can drive, pumpkin decorating, fun games and the pumpkin raffle.... 

on the weekends you have the chance to win a LARGE (50lb-150lb) pumpkin. the FREE Raffle happens every hour. winner must claim prize by the end of the day they have won. one ticket per family.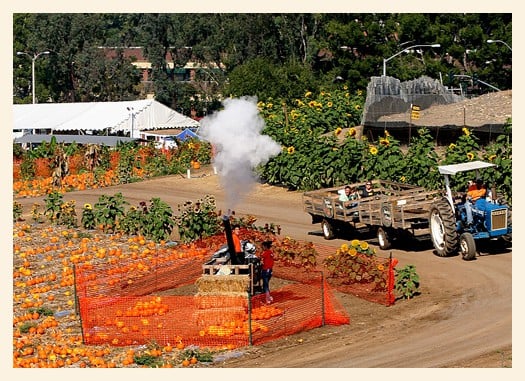 and have you heard about the pumpkin cannon? during the weekends, you can see pumpkin launched from the Tanaka Farms pumpkin cannon every 15 minutes or so!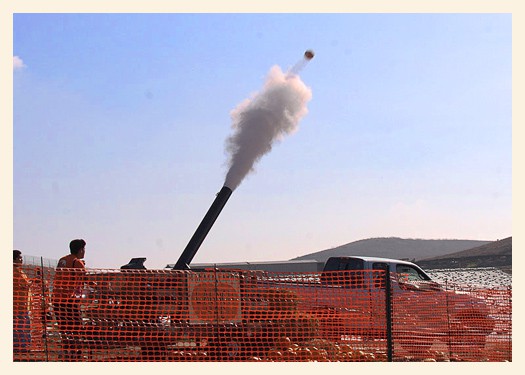 Tanaka Farm's Pumpkin Patch is an exciting place for adults and children of all ages! be sure to add this pumpkin patch to you list of patches to visit this year.
wanna go?  here's the info....
Tanaka Farms Pumpkin Patch
open through October 31st
everyday 9:00 a.m. - 6:00 p.m.
5380 ¾ University Drive • Irvine, CA 92612
(949) 653-2100
 Parking
FREE  
•  Admission 
FREE
click
here
for more info.
and don't forget The 2012 Pumpkinmania Giant Pumpkin Weigh-off and Contest! 
Sunday, October 28, 2012
8:00 a.m. - 12:30 p.m.