spooky creepy crawlers and cool creatures will fill the city spaces at
Pretend City Children's Museum
this month!  children can explore the craggy cave, grassy meadow, and frightful farm shed to find these delightfully squirmy bugs and reptiles.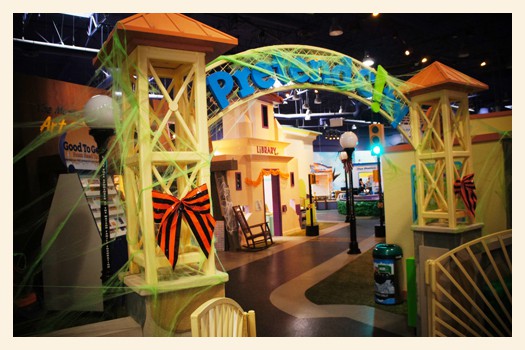 during the month of October, there will be a special activity each day of the week where families can participate in daily bug-themed activities, meet special "guests," and create creatures in the Art Studio.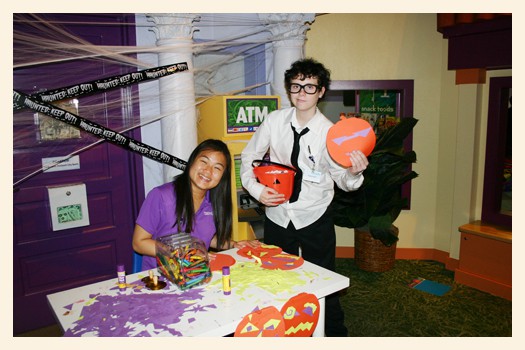 Mondays - Art Studio Sessions 
baby bugs, slimy, creepy, crawly art projects are in store for little ones every Monday! activities are geared to help children improve fine motor skills through the manipulation of art materials, like paint brushes and pencils.
Tuesdays - Engaging Afternoons
build-my-skills bugs at 3:30p.m. you can watch your child's skills grow as they progress through bug-themed activities. each week's activity will gradually increase in difficulty. activities will utilize social interaction to support a little learner's development and provide the support structures necessary to get to the next challenging level or stage.
 Wednesdays: Lil' Me Mornings 11:00 
the coolest thing to happen to bugs! stories and songs are second to none in their ability to inspire and energize children while enhancing the learning process. every wednesday children will have the opportunity to delight in a reading of a bug poem. poems will transform into songs as they are sung to familiar children's tunes.
Thursdays: Engaging Afternoons 3:30
get an up close and personal look at incredible insects during these sensational science afternoon activities! children will be introduced to and explore specimens that they may have never known of – from a tiger beetle to a lantern fly. as your children participate in a variety of activities, such as matching and sorting, they will build their vocabulary while learning about life cycles, bug body parts, and more!
 Fridays: Art Studio Sessions
on a special night with the moon shining bright, what will come lurking out of the shadows and sights? Frightful Flyers...that's who! all of these frightful flyers are signs of the Halloween holiday. children can enjoy using these characters and symbols as inspiration for their art projects.
 Saturdays: Lil' Me Mornings 10:30
as children explore and examine fascinating insect specimens, they'll feel just like real scientists making incredible discoveries! Every Saturday they can use the magnifier to investigate amazing specimens—from a silkworm cocoon and a stag beetle to a super-realistic dragonfly fossil. corresponding activities will follow to help a child remember the exciting facts that they just learned.
 Sundays: Art Studio Sessions
bring on the Halloween fun with these ghoulishly great art activities for children of all ages! there will be take home activities to help you create eerie exteriors and rooms with a boo!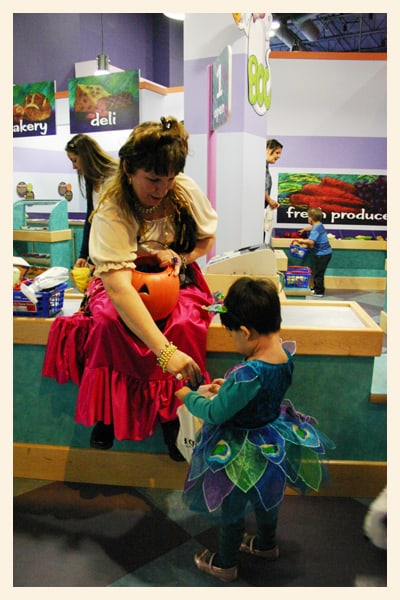 Pumpkin Carving Workshop
Sunday, October 21st
1:30 - 3:30 p.m.
additional fee: $15 per child 
families will have the opportunity to learn to carve pumpkins like a pro! learn specialized tips and tricks from the pumpkin carving master, Jim Morey of VIP Carvings. the pumpkin Carving Workshop includes all of the supplies needed along with a pumpkin to take home! with the tricks learned the workshop, and a little bit of patience, this year you will be wowing your friends and neighbors with your awesome looking pumpkin carvings!
Halloween Bug Bash
Wednesday, October 31st
all day
included with admission
little ghouls and boys will have a howling good time at our Halloween Bug Bash! there's something for every little trick-or-treater – two-legs and all! you can come dressed to thrill in our creepy, creaky critter city.  try your monster moves with Disco Dracula! you can try some spooky snacks – this year make sure your Halloween is a healthy one with sometimes-scary, no-bake, healthy, Halloween treats. Kiosk Café will offer Bug Bites like crickets, bugs and worms!  adventurous foodies should stop by for a "taste" of something exotic. and make sure to join Pretend City for a spooky storytime of Halloween Bugs. behind each door lurks a different bug! no tricks here —only treats! FREE Dental Screenings- 10:00 a.m.-12:00 noon. (first come, first served) and creep and crawl your way through the city as you Trick-or-Treat at each of our exhibit spaces every 2 hours. sounds like great fun!