The locals favorite! One of the Best lists one of the Best lists of Orange County Events THIS WEEKEND for Kids and Families - June 9, 10 & 11, 2023. There are so many fun things to do in Orange County this Friday, Saturday or Sunday..some events are FREE!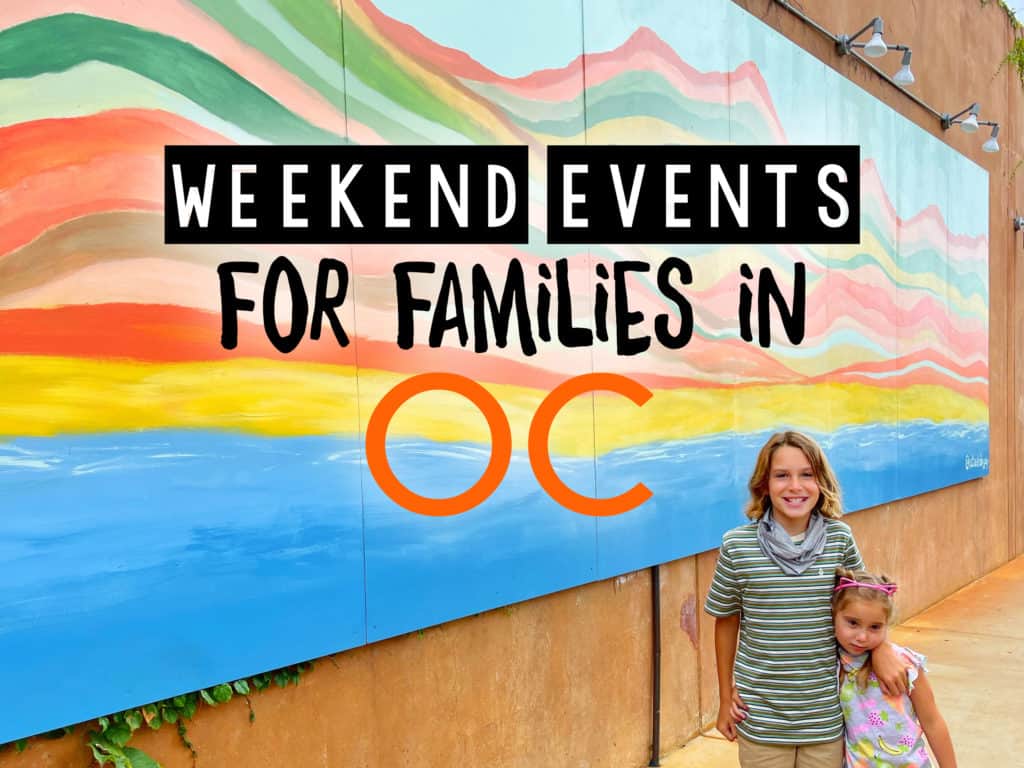 Looking for info on – FREE family activities, children's activities, community events, great food trucks, OC entertainment, live music performances or craft fairs? We've got the scoop on local destinations, vendors pop-ups, special neighborhood events, award-winning attractions, parades, concerts and festivals!
If the event is happening here in Southern California for the general public, it will be listed on this events calendar!
(To submit your event, email jill@sandytoesandpopsicles.com.) Details change! Double check event's website before going.
Things to Do in Orange County All Weekend
Jump to: OC Events Happening All Weekend
Friday, June 9nd Events | Saturday, June 10th Events
Sunday, June 11th
Top Family Events Happening ALL Weekend in OC
These events are happening ALL weekend in Orange County. Scroll down further for Saturday and Sunday only events:
2023 Orange County Summer Movies
Huge list of movies in the park, movies on the beach, summer movie programs for kids, and more! Most are FREE!!!
2023 Orange County Summer Concerts
Huge list of concerts in the park listed by city and date. Most are FREE!!!
Family-Friendly Tide Pools in the OC
Check out this list of the best family-friendly tide pools in Orange County.
Fancy Nancy on Stage
Chance Theater
5522 E. La Palma Ave., Anaheim, CA
Time Vary
Bring the family to watch Fancy Nancy and her friends Bree, Rhonda, Wanda, and Lionel perform in their very first show, "Deep Sea Dances." Nancy is positive, that she and Bree will be picked to be mermaids. When another girl wins the coveted role of the mermaid, Nancy is stuck playing a dreary, dull tree. Can Nancy bring fancy flair to her role, even though it isn't the one she wanted? Recommendation: Ages 4 and up. Great for the entire family.
Fun Box
Buena Park Mall
8000 La Palma Ave, CA
Times Vary
This location features the World's Biggest Bounce Park. With 25,000 sq. ft. of continuous jumping zones connecting 10 different play areas. This play area was designed with a kid-first, social media -second approach. It's fun for adults too, with tons of photos ops!
Experience A Hummingbird Summer
Roger's Gardens
2301 San Joaquin Hills Road, Corona del Mar, CA
9am - 6pm
FREE
Experience colorful hummingbirds feeding from over 40 feeders and in a large display garden. Lure a hummingbird up close with one of our hand-held feeders. Discover a vast selection brightly colored, nectar producing flowers and unique feeders to support these important and fascinating pollinators. Learn everything you need to know to attract, enjoy, and conserve our wonderful hummingbirds.
Camping at Pretend City
Pretend City Children's Museum
29 Hubble, Irvine, CA
All Day
Step into the wilderness this summer at Pretend City and embark on an unforgettable adventure! Get ready to explore our trails, trace the footprints of critters who call our City home, and gather around the campfire for stories and s'more-making lessons.
Kids Play & Walk with Goats
Goods and Goat Market
29458 Trabuco Creek Rd, San Juan Capistrano, CA
Times Vary
Cuddle, Brush, and Play with our special Yoga Goats. Look for chicken eggs and feed worms to the hens! We have new furry friends - Bunnies and Guinea Pigs. The zipline is a big hit! Play in the rocks with our antique Tonka Trucks. We have a Shooting Gallery with Nerf guns for kids to play with.
Strawberry U-Pick at the Ecology Center
The Ecology Center
32701 Alipaz Street, San Juan Capistrano, CA
9:30 - 1pm
An immersive, interactive farm experience featuring educational programming and a hands-on strawberry U-pick at their 28-acre Regenerative Organic Certified™ farm.
Sunflower Picking at Hana Fields
Hana Fields, Costa Mesa
427 Anton Boulevard, Costa Mesa
Times Vary
Reservations required - Choose your date and entry time. Once checked in you can stay as long as you like. Fields close promptly at 5pm. General admission DOES NOT include flower picking. To pick your own flowers you must add the the $15 U-Pick Souvenir Flower Cup that holds 15 blooms.
U-Pick Wagon Rides at Tanaka Farms
Tanaka Farms
5380 ¾ University Drive, Irvine, CA
All Day
Come on out to the farm for a U-Pick Wagon Ride that includes a wagon ride around the farm led by one of our friendly tour guides. You will learn about Tanaka Farms and its history, farming methods, and the crops we grow. You will make a few stops in the fields to pick your own produce. (Produce picked varies and is dependent on crop availability.) After the wagon ride, visit the animals in our Barnyard Educational Exhibit!
Neon World
Westminster Mall
2036A Westminster Mall, Westminster, CA 92683
All Day
Check out the biggest and best photography experience in Orange County. Get your camera ready and jump into these interactive booths and installations. You'll have plenty of options and inspiration that will GLOW UP your day.
Weekend Entertainment at Irvine Spectrum
Irvine Spectrum Center, Irvine, CA
5 - 8pm
Enjoy the sounds of Spectrum ringing around every corner as local talent, enriches us with with joyful entertainment.
Fun Things to Do with Family ALL Weekend in OC
Orange County Event Calendar
Monthly Calendar with family-friendly events all month long.
These OC places are open year round, and make great places to visit on the weekends with family:
Free Events This Weekend in Orange County
These OC places are FREE to visit, and open year round to the public. They make great places to visit on the weekends with family:
Things to Do in Orange County This Friday, June 9, 2023
Jump to: OC Events Happening All Weekend
Saturday, June 10th Events | Sunday, June 11th Events
Make sure to check the "Happening ALL Weekend" events list above.
Super Special Storytime with Mario and Peach
Play & Parties
The Village at Orange Mall
1500 E. Village Way, Suite 2131, Orange, CA
10:30am
Play & Parties hosts Live Storytimes, Singalongs, Kids Clubs & Parties! They offer safe, socially distanced creative experiences, and quality educational gifts, books, & dress up.
Movies in the Park - Fullerton
Craig Regional Park
3300 State College Blvd., Fullerton, CA
6pm
FREE
Pack a picnic, blankets and chairs to enjoy recent favorites and beloved classic films. The movie are free to attend, with free parking and pre-show entertainment beginning at 6pm. Showtime starts around sunset. Moviegoers can also purchase delicious bites and beverages at the food trucks and concession booths on-site.
Blackberry Picking Tours at Tanaka Farms
Tanaka Farms
5380 ¾ University Drive, Irvine, CA
All Day
Walk directly out to the fields to pick (and eat!) blackberries! Everyone gets a 6-ounce basket to fill and take home. Please note there is no wagon ride or tour as part of this activity. Just blackberry picking. Everyone entering the fields must pay the $8 entry fee, which includes picking to eat in the fields and a 6-ounce basket to fill. Additional 6-ounce baskets available for $4.
Little Seedlings Story Time
Sherman Library & Gardens
2647 East Coast Highway, Corona del Mar, CA
10am
Explore nature through the wonderful world of books. Join us every Friday as we share our favorite stories, picture books and poems. Perfect for preschool children and their caregivers.
Wild Tales
Upper Newport Bay
2301 University Drive, Newport
10:00 - 10:45am
FREE
Upper Newport Bay's popular storytime is back! Wild tales will be offered every Friday and include an outdoor storytime in their amphitheater, an age-appropriate hike, and a craft project in our classroom. Each session has a new story, hike theme, and craft project.
Trivia Nights - TV Show Edition in Mission Viejo
Mission Viejo Library
100 Civic Center, Mission Viejo, CA
6pm
FREE
The Mission Viejo Library's Friday Night Trivia continues with a unique challenge: can you guess the TV show theme song based on a short clip? Those years spent in front of the TV will pay off!
Main Street Classic Car Show
Historic Main Street, Garden Grove
4-8pm
FREE
The Main Street Classic Car Show is the longest-running car show in Orange County. With roughly 50 parking spaces, and the show running every Friday, you're bound to catch a wide variety of rides on display.
Kids Play & Walk with Goats
Goods and Goat Market
29458 Trabuco Creek Rd, San Juan Capistrano, CA
Times Vary
This special time is set aside for ALL GOAT LOVERS to visit the farm. Or see what it's like to walk a pet goat. This is a 30 minute walk with the herd. Take them up our trail to explore and exercise. While walking, learn stories from the farm and tons of Goat Facts from Farmer James.
Things to Do in Orange County This Saturday, June 10, 2023
Jump to: OC Events Happening All Weekend
Friday, June 9th Events | Sunday, June 11th Events
Make sure to check the "Happening ALL Weekend" event list above.
Star Wars Day at the OC Zoo
Irvine Regional Park
1 Irvine Park Road, Orange, CA
10am - 3pm
Let the Force be with you when you visit the OC Zoo for Star Wars Day! Enjoy a day of family fun including crafts, games and photo opportunities. See zoo animals receive special treats throughout the day along with animal meet-and-greets! The first 100 children ages 12 and under in Star Wars costume will receive a special gift and a free train ride ticket to the Irvine Park Railroad. All visitors are encouraged to wear Star Wars attire or costume.
Kids Imagine Nation
Costa Mesa Donald Dungan Library
1855 Park Avenue, Costa Mesa, CA
11am - 2pm
FREE
KIDS IMAGINE NATION Musical Dance Party! Enjoy Family Literacy Day with a Kids Imagine Nation show, crafts & activities, and a visit and giveaway from author Chris Grabenstein.
Kids Fun Zone
Anaheim Town Square
2180 East Lincoln Avenue, Anaheim, CA
11am - 2pm
Dive into an unforgettable summer celebration at the Wet n' Wild Kids' Dance Party! Get ready to get soaked! Join us for an exciting day filled with water games, prizes, sprinklers, and a Kids DJ with awesome dancers.
One World, One Sky: Big Bird's Adventure
OCC Planetarium
2701 Fairview Road, Costa Mesa, CA
1:00pm
Explore the night sky with your favorite friends from Sesame Street in One World, One Sky: Big Bird's Adventure. Follow along with Big Bird, Elmo, and their friend from China, Hu Hu Zhu, as they take you on a journey of discovery to learn about the Big Dipper, the North Star, the Sun, and the Moon.
Antique Aircraft Display Days
Fullerton Municipal Airport
303 W. Commonwealth Ave., Fullerton, CA 92832
10am - 1pm
FREE
On the second Sunday of every month owners of classic aircraft are invited to display their aircrafts at the Fullerton Airport, and all visitors are invited to view the displays. There is no charge to enter the airport and view the planes.
Bubble Poppin' Fun
Fullerton Municipal Airport
303 W. Commonwealth Ave., Fullerton, CA 92832
10am - 1pm
FREE
Bring your friends and family and soak up the sun among millions of bubbles. Enjoy interactive bubble stations by Bubble Pop, a foam zone, photo opportunities with your favorite shark character, and more! The event will be located in the parking lot behind PetSmart.
Art Walk at MainPlace
Mainplace Mall
2800 N. Main Street, Santa Ana, CA
1 - 4pm
FREE
Guests can enjoy this family-friendly event by interacting with local artists, listening to live music, participating in hands-on workshops and a dance class in Macy's Court hosted by local artists that are perfect for all ages. As you stroll through the mall, you can also enjoy prominent murals painted by local artists. And while you're here, check out our Art Gallery, Galería of Imagination located on the lower level across from Boudin SF.
Bristol Summer Nights Beach Bash
Bristol Warner Marketplace
2140 S Bristol Street, Santa Ana, CA
5:30 - 8pm
FREE
Join us for our first ever beach-inspired extravaganza! Here's a sneak peek at what's in store for you: Bounce House Bonanza, Chalk Drawing Contest, Beach Ball Throws, Ping Pong & Foosball. And so much more!
Special Nature Walk with Bee Talk
Laguna Lake Park
3120 Lakeview Drive, Fullerton, CA
9am
FREE
Have you ever wondered what or who is making all those pencil-size holes on the Nora Kuttner trail at Coyote Hills? Join us at this special Nature Walk with Kristal Watrous, M.S., UCI Associate Specialist to learn about a wild bee that lives in West Coyote Hills. This is a family friendly event. Please bring a bottle of water and wear a hat, sunscreen, and comfortable hiking shoes or sneakers with good tread for navigating up and down the trails. We are excited to share the history of the land & the beauty of our local ecology with the community!
Animal Tracking in Fremont Canyon
Fremont Canyon Nature Preserve
13333 Black Star Canyon Road, Silverado, CA
8 - 11am
Search for evidence that animals leave behind in nature. Mule deer, bobcats, coyotes and even mountain lions call this hidden canyon home. Gain the basic tracking techniques as we search for evidence such as tracks, fur, bones, homes, and even scat. Wear comfortable clothes and shoes that you do not mind getting a little dusty. This program is focused on older children and adults.
Eco Tots at the Ecology Center
The Ecology Center
32701 Alipaz Street, San Juan Capistrano, CA
9am - Noon & 1 - 3pm
Come join in the fun of caring for nature in our creative GROW-EAT-MAKE playspace for children. We've designed this outdoor classroom for children to explore and connect with The Ecology Center's beautiful, vibrant landscape. Children ages 1 to 5 and parents will help care for our gardens, save and plant seeds, enjoy a taste from the farm, protect indigenous plants, build shelters and fairy houses, and make beautiful arts and crafts from nature's bounty.
Discover Nature Family Program
Oak Canyon Nature Center
Anaheim Hills, CA 92807
10:30am
FREE
Come Saturday mornings for an hour long, naturalist-led hike through Oak Canyon to learn about the Canyon's plants, animals, history, ecology, and more! Each week is a themed hike and ends at the Interpretive Center for a live animal demonstration.
Family Storytime
Placentia Library
411 E. Chapman Avenue, Placentia, CA
10am
FREE
All families are invited to join us on Saturday mornings, where we'll read aloud fun stories, sing and dance to favorite tunes, learn new rhymes and fingerplays! All ages are welcome!
Family Workshops at AR Workshop
AR Workshop
31107 Rancho Viejo Road, Suite B2 San Juan Capistrano, CA
10am - 1pm
Join AR Workshop for a family DIY class to make one of their many wood projects! In the workshop, you will have the opportunity to customize your project with your choice of designer paints and (non-toxic!) stain colors.
Anaheim GardenWalk Cars & Coffee
Anaheim GardenWalk
400 Disney Way Anaheim, CA
8 - 11am
FREE
California's only indoor covered Cars & Coffee event! Every Saturday morning, call GardenWalk your home cars & coffee or simply stop by and bring your crowd for a covered C&C late morning gathering. All makes, models, projects, and finished builds are welcome. Enter at Clementine Street north (Clementine & Disney Way).
South OC Cars and Coffee
Outlets At San Clemente, San Clemente
9 - 11am
FREE
The name says you'll find cars and coffee there. But you'll also find people and conversations. And those conversations will cover anything from powertrains to politics.
Classic Cars at Donut Derelicts
Donut Derelicts, Huntington Beach
Saturday Morning
FREE
Each Saturday morning, car enthusiasts from all over gather in the parking lot of Adams Ave Donuts to enjoy a donut, a cup of coffee and a spectacle of hot rods and classic cars.
Things to Do in Orange County This Sunday, June 11, 2023
Jump to: OC Events Happening All Weekend
Friday, June 9th Events | Saturday, June 10th Events
Make sure to check the "Happening ALL Weekend" event list above.
Nature Walk at Crystal Cove
Crystal Cove State Park
8471 N. Coast Highway, Laguna Beach, CA
8am
FREE
Walk upon one of the rarest environments in North America and indeed the Earth. This is the coastal sage-scrub plant community, a precious, but dwindling environment that supports countless coastal plants, animals, and birds as well as migrating creatures. Come join a park docent and enjoy a one hour nature walk along both the coastal bluff and the beach to learn about and observe some of the park's native plants and birds.
Kid's Fishing Clinic Sundays
Dana Wharf Sportfishing, Dana Point
12:15pm
Dana Wharf Sportfishing invites children dockside for an educational fishing clinic. Kids will learn hands-on-fishing techniques from our expert- anglers. After each Sunday clinic concludes, Dana Wharf will be running a fishing trip from 12:45 – 5:15; Adults are $59 and Children ages 5-12 will fish for FREE when they are enrolled in the Kids Fishing Clinic!
Coming Soon to Orange County
Wanna plan for thee next big event on Southern California? Here are some events that are coming soon.
What's the Surf This Weekend in Orange County?
FRIDAY - AM: 0-1ft flat CLEAN | 0-1ft PM: flat CHOPPY
SATURDAY - 1ft AM: flat FAIR | 1-2ft PM: flat FAIR
SUNDAY - AM: flat CHOPPY | PM: flat CHOPPY
Don't forget about all of these fun things to do in Orange County!!!!!
101 Things to Do With Kids in Orange County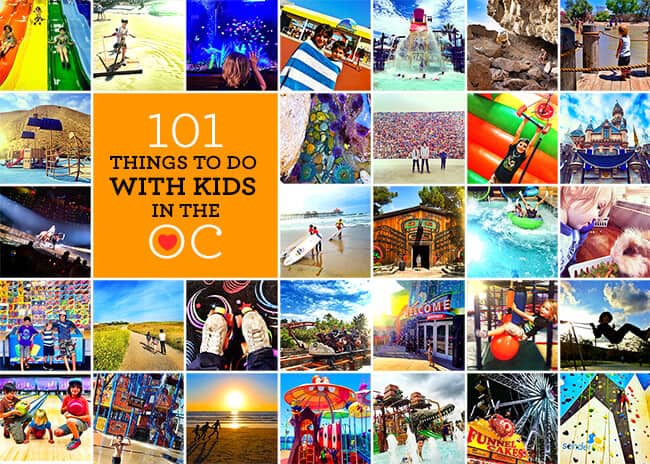 101 Things to Do With Tweens and Teens in Orange County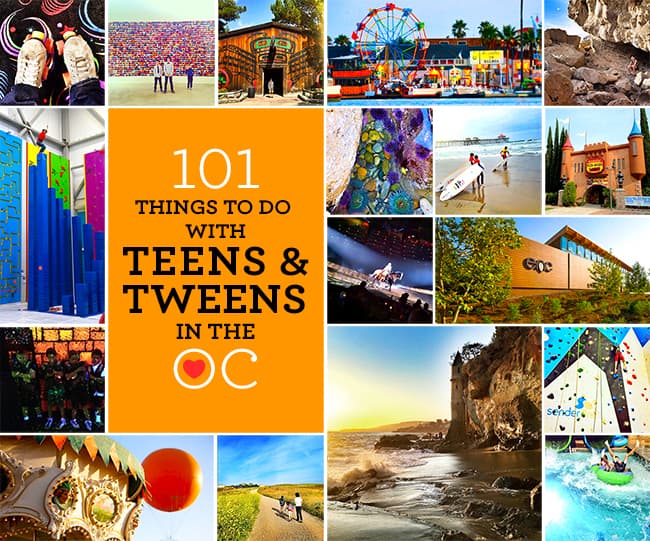 101 Places to Eat Sweets in Orange County