so, what's for dinner....or should i say brinner? i am always late on deciding what to make my family each night, and most of the time, am just opening the fridge at 6:00 trying to find something to make. at least once a week...even twice i end up making breakfast for dinner. none of my kids complain about these kind of meals, they love breakfast foods, so they are definitely a favorite of mine. many times i make my all-time favorite breakfast or pancakes, bur we also love eating quiche. this cheese quiche recipe is my favorite. it's easy to make and delicious.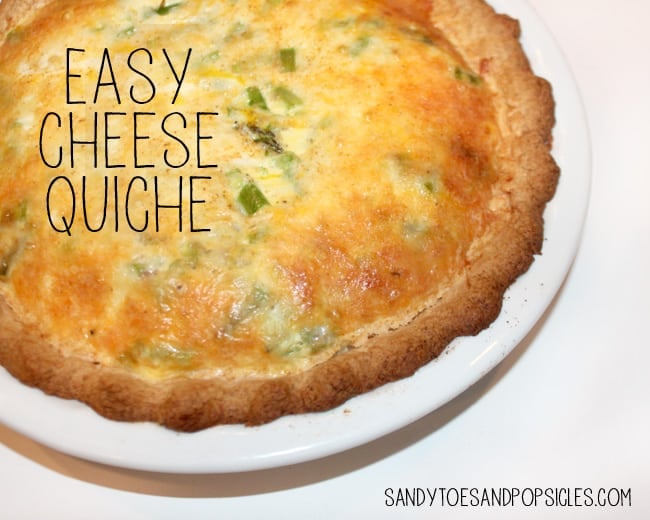 believe it or not, quiche is easy to make. you can fill it with practically any kind of veggies and/or meat. and i love the fact my kids are getting some vegetables into their bellies. paired with some fresh fruit and juice, you have the perfect brinner....IMO. at the end of the post, i have the entire Easy Cheese Quiche recipe and a free printable recipe card as well.
i prefer to use the Bisquick easy pie crust recipe instead of the traditional pie pastry dough. who has time to make pie dough on a busy school night. not me. all you do is mix the Bisquick, butter and water into a soft dough, and press it into the pie pan. i made it look a bit fancy here (hey, i wanted it to look nice for this tutorial)...but usually i just make sure the dough is evenly spread out around the pie pan.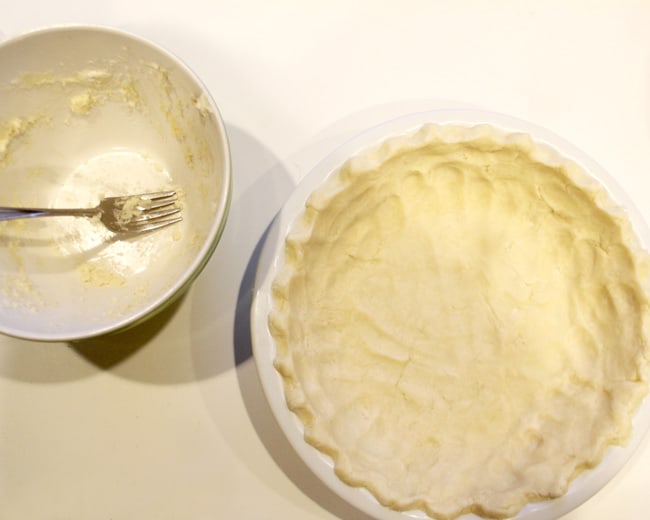 then i take my meat (which is totally optional) and spread it evenly along the bottom of the pie crust. sprinkle the green onions over that. white, yellow or red onions will work too.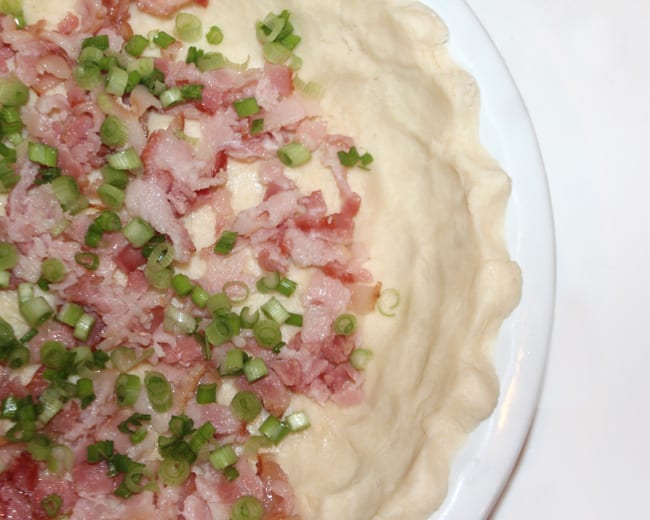 then sprinkle layer the rest of your veggies over the top of that. i used asparagus here, but any kind of vegetable you have can work. fresh spinach, broccoli, bell peppers, tomatoes, potatoes, zucchini, etc., will all work great. just make sure they are chopped into small pieces so they will cook easily. then sprinkle cracked pepper over the top.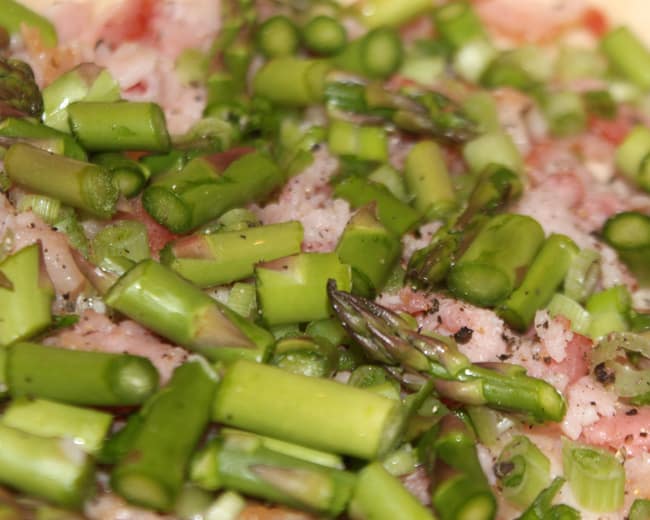 next you will make the egg filling by whisking together the eggs, cream and salt. i love using Happy Eggs. if you haven't heard of them, check out the story behind the Happy Egg Co. here. i never though much about where i got my eggs until i learned about how this company treats their chickens.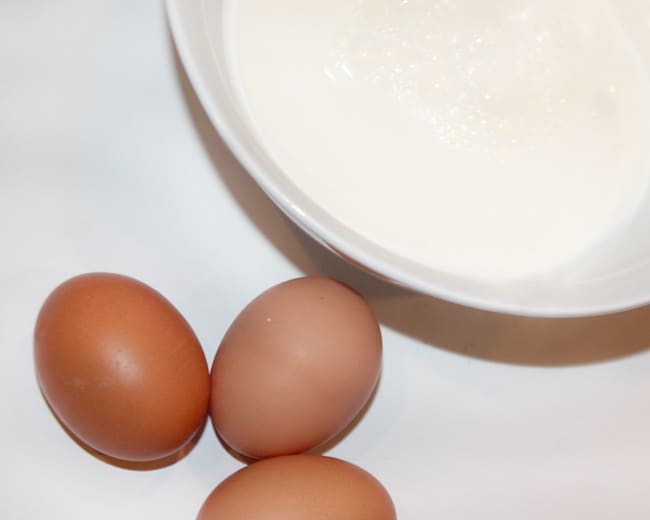 generously sprinkle your favorite cheese over the top of the vegetables.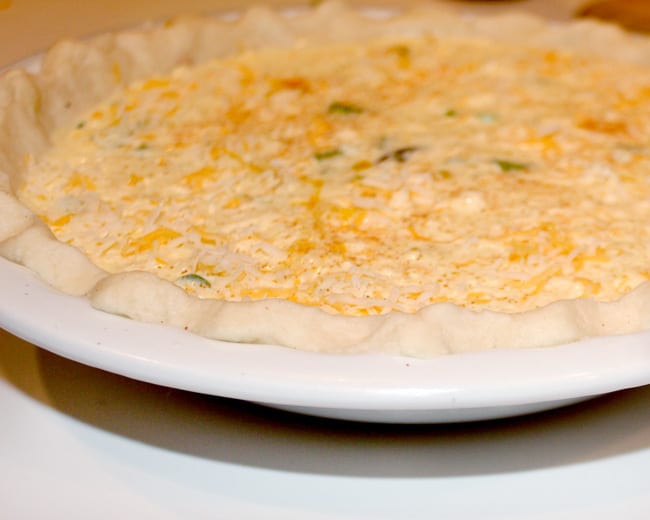 after you have completely covered the vegetables in cheese, carefully pour the egg mixture over everything. be careful to only fill it up to ½ below the top of the pie crust or less. sprinkle with cayenne pepper (optional)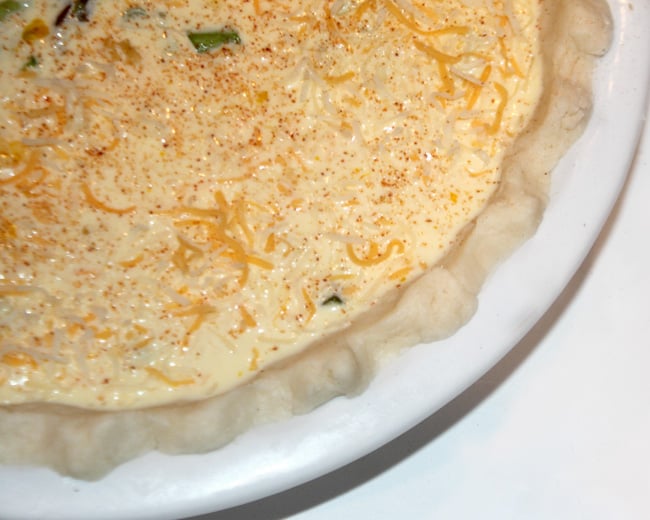 place the prepared quiche into a 400˚ preheated oven. bake for 30-40 minutes until edges are golden brown and the center is set.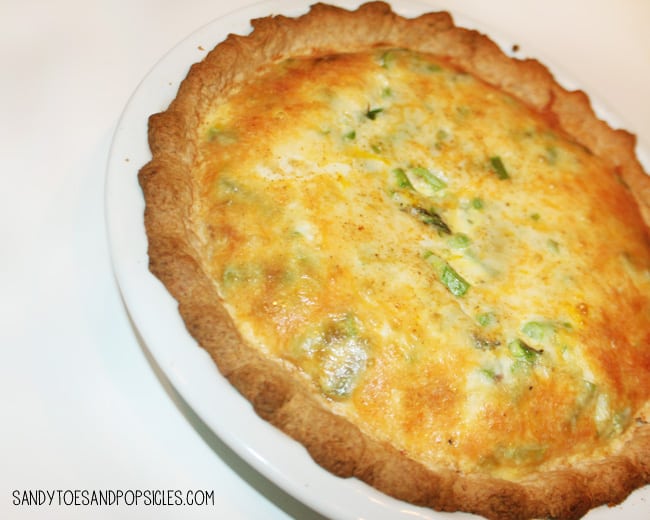 once the quiche is done, let it cool for ten minutes. then you can cut and serve it. enjoy!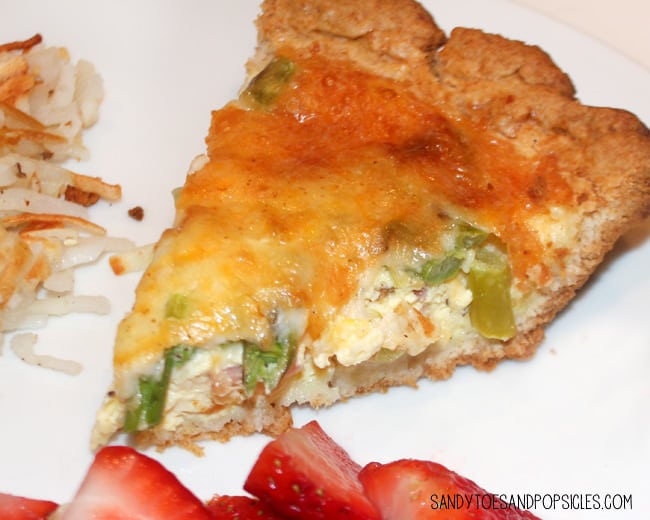 feel free to modify any of these directions to suit your needs. you do not have to have meat, and use vegetables that you like. i love that i can use what i have in my fridge, everytime our quiche is just a little bit different.
crust:
1-¼ cup Bisquick mix
2 tablespoons very hot water
¼ cup butter
filling:
bacon, ham or your favorite meat (approx. 6 slices or 6 oz.) - chopped
fresh veggies - chopped
2 tablespoons green onion - chopped
cracked pepper
½ teaspoon salt
1-¼ cup shredded cheese
1-¾ cup half and half
cayenne pepper
directions: preheat the oven to 400°F. mix the Bisquick and butter together until blended. add boiling water and mix until soft dough forms. evenly press the dough along the bottom and sides of a pie pan. form a nice edge along the top of the pan. sprinkle the meat and onions over the crust. sprinkle cheese over the meat. in a small bowl, whisk the eggs, half-and-half, and salt until well blended. carefully pour into the crust, over the cheese, vegetables and meat. bake 30 to 40 minutes, until edges are golden brown and the center is set.
enjoy!