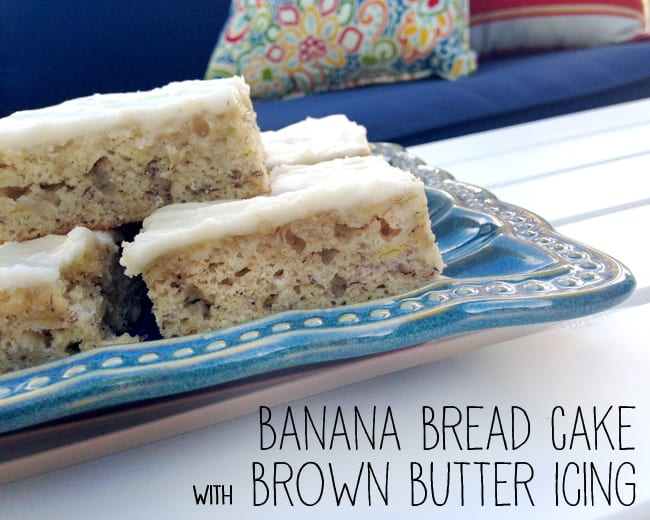 so we are back to school over here and everyday my boys are coming home from school starving. this whole concept is new to me because until now, they have had very small appetites. i have been waiting for the statement "boys eat everything in the house" to come true. i always hear "wait till they become teenagers, you won't be able to keep the fridge stocked."  well, i am starting to see that happening around here. so i have been trying my best to make some nice afternoon snack for them to eat while we work on homework together.
last week i made them this Easy Banana Bread Cake with Brown Butter Icing. they have been begging for me to make them it again...they loved it. and so did i! the cake was sweet and moist, and the brown butter added a special nutty flavor to the cake. YUM.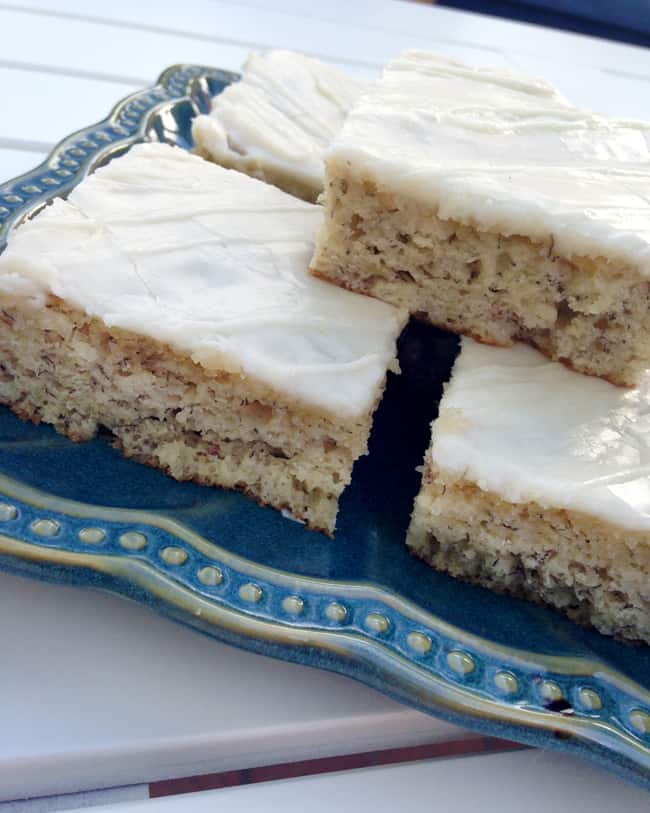 the recipe makes quite a bit, and we had enough to share with our teachers at school. they loved it so much that they have been asking me for the recipe. so i thought i would share it with you. make it...you won't be disappointed.

1 -½ cups sugar
1 cup sour cream
½ cup butter, softened
2 eggs
4 large ripe bananas, mashed
2 teaspoons vanilla extract
2-¼ cups all purpose flour
1 teaspoon baking soda
1 teaspoon salt
Brown Butter Frosting:
½ cup browned butter
5 cups powdered sugar
2 teaspoon vanilla extract
¼ cup milk
Banana Bread Cake instructions
preheat the oven to 375˚ (F). grease a large jelly roll pan/cookie sheet with non-stick cooking spray. in a large bowl,mix together sugar, sour cream, butter, bananas, vanilla and eggs until creamy. add flour, baking soda, salt, and mix until fully blended. pour and spread batter evenly into pan. bake 15 to 20 minutes until middle is set or until slightly golden brown.
Banana Bread Cake instructions
heat butter in a saucepan over medium heat until it is boiling. let the butter turn a slight light brown and then remove from heat immediately. don't let it turn burn, take it off the heat immediately. add powdered sugar, vanilla extract and milk to the butter. whip together until smooth. this will create a smooth thin frosting. you can add a dash of milk if you would like to thin it out more.
finishing the Banana Bread Cake
spread the brown butter frosting over the cake while it is still warm. let stand until frosting has set.
enjoy!