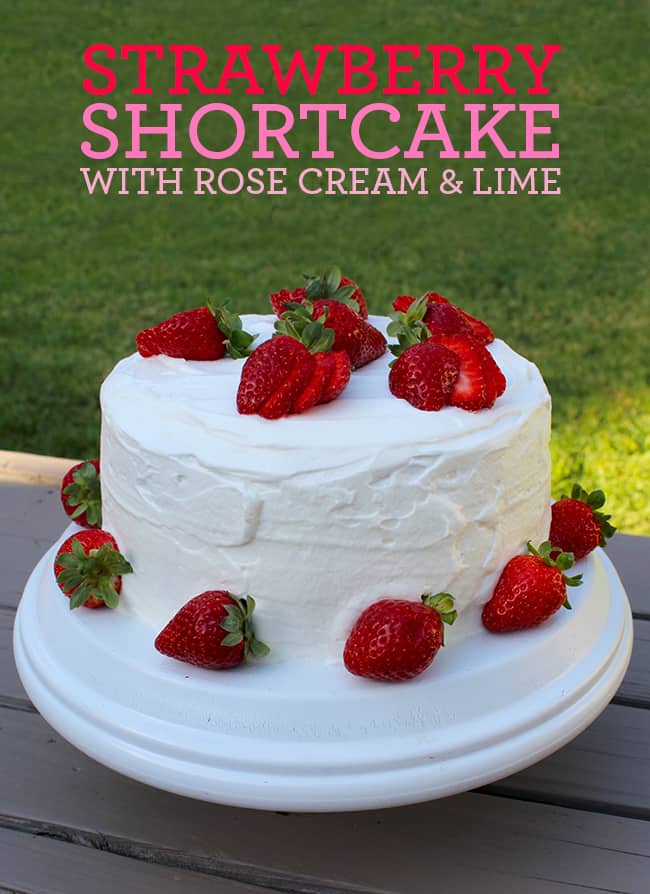 today is National Strawberry Shortcake Day, and what better way to celebrate it than with a Strawberry Shortcake dessert. this Strawberry Shortcake with Rose Cream and Lime was the same cake that was made by Hollywood Chef Sandra Cordero for actress Audrey Anderson Emmons Strawberry Shortcake birthday party (Audrey plays Lily in ABC's hit show Modern Family). it was even presented by Strawberry Shortcake herself!
you can even make this cake yourself, because i have included Chef Cordero's berrylicious recipe at the bottom of this post. all you have to do is make the shortcake….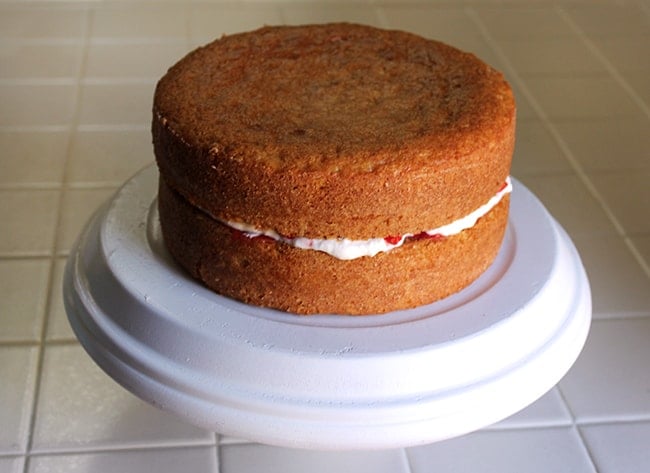 pour the fresh strawberry syrup in between the layers...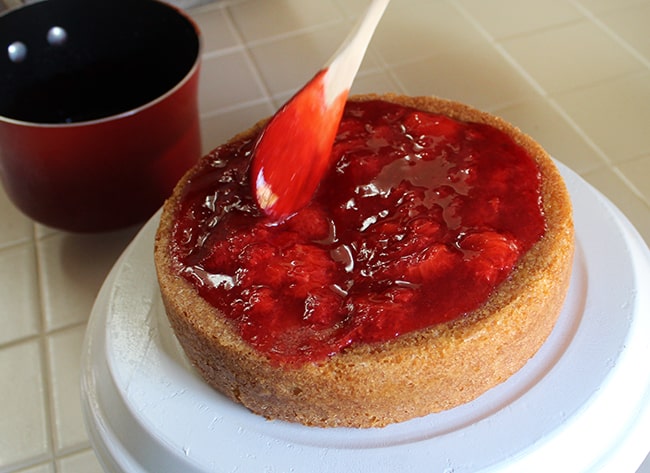 add the rose cream and more fresh strawberries…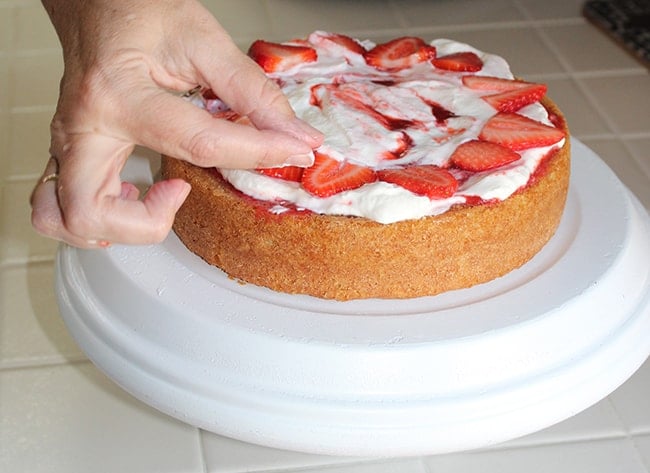 add more shortcake and more cream…and you will have a yummy dessert to enjoy for National Strawberry Shortcake day!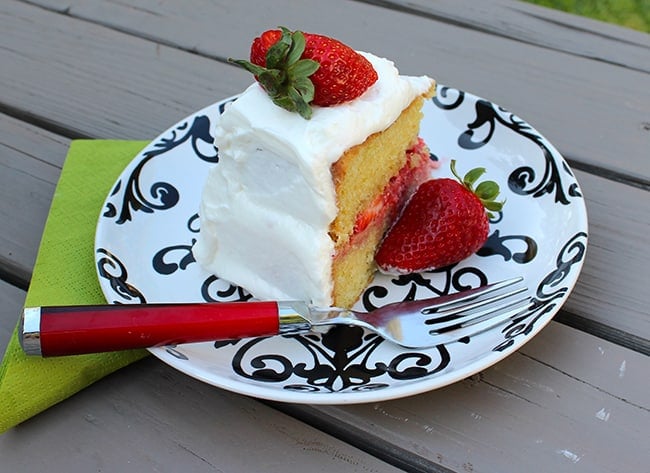 here is Audrey with Strawberry Shortcake and her very own Strawberry Shortcake with Rose Cream and Lime. (photo by Jim DeNuccio)
Happy Birthday Audrey!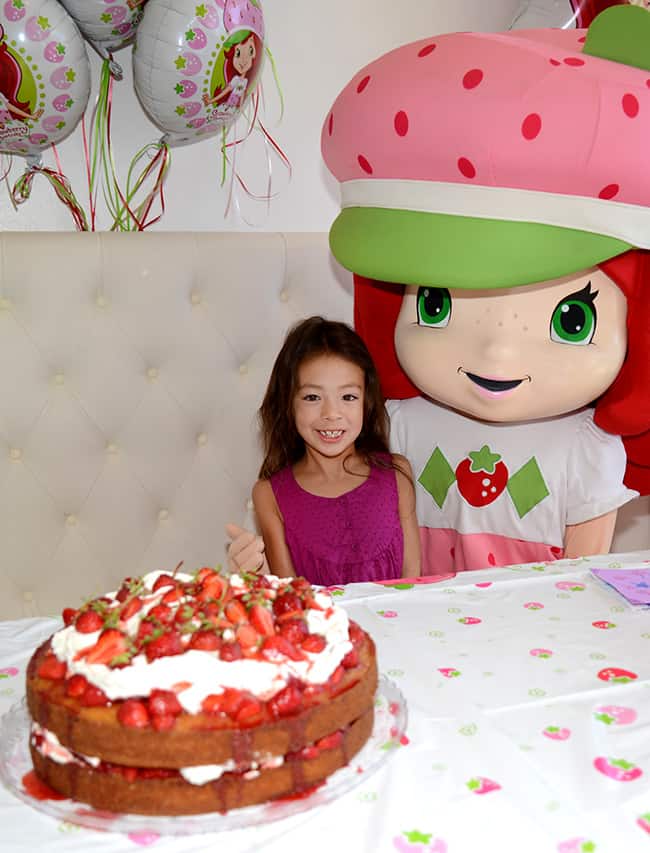 An Original Recipe by Chef Sandra Cordero
Ingredients
For the Cake
12 tablespoons (1 ½ sticks) unsalted butter, room temperature
2 cups sugar
4 large eggs
¾ cup Greek yogurt
1 tablespoon grated lime zest
1 teaspoon almond extract
2 cups cake flour
½ teaspoon salt
1 teaspoon baking soda
1 teaspoon baking powder.
For the Cream
1½ cup heavy cream
3 tablespoons sugar
1½ teaspoon rose water
For Topping and Filling
2 pints fresh strawberries
Juice of 2 small limes
2 tablespoon sugar
Directions
Preheat the oven to 350 degrees F.
Butter the bottom of two 8-inch cake pans. Then line them with parchment paper and butter and flour the lined pans.
In a mixing bowl,sift the cake flour, salt, baking soda and baking powder and mix well.
Cream the butter and sugar on high speed in the bowl of an electric mixer fitted with the paddle attachment until light and fluffy. On medium speed, add the eggs, 1 at a time, then the yogurt, the lime zest, and the almond extract, scraping down the bowl as needed. On low speed, slowly add the flour mixture to the butter mixture and combine just until smooth.
Pour the batter evenly into the pans, smooth the tops, and bake in the center of the oven for about 40 minutes, until a toothpick comes out clean. Let cool in the pans for 30 minutes, then remove to wire racks and let cool to room temperature.
In a small sauce pan put half of the strawberries, lime juice and sugar and cook for 5 to 10 minutes,until strawberries break down a bit and the liquid becomes syrupy. Cool. Wash and cut your other strawberries in half or quarters if big.
Whip the heavy cream in a mixer fitted with the whisk attachment until soft peaks start to form then add your sugar, and rose water and mix until firm.
Assembly
Place one of the cakes on a serving platter, spread with the cooked strawberries and syrup. Then spread ½ the whipped cream and scatter with some fresh strawberries. Cover with the top slice of the cake and spread with the remaining cream. Decorate with more strawberries.