today, July 11, 2013 is Cow Appreciation Day!  Chick-fil-A restaurants all over the nation will celebrate the Chick-fil-A's annual Cow Appreciation Day event by offering a FREE meal to anyone who visits the restaurant fully dressed as a cow! this has been a family tradition of our for five years now. we LOVE Cow Appreciation Day over here. that means FREE dinner at Chick-fil-A. we already love the food....and getting it free makes it even yummier. you may think you need an elaborate cow costume to participate, but all i do each year is cut some black spots and a yellow bell out of some cardstock and print out these cute cow's masks.
so get dressed "head-to-hoof" in cow attire and be rewarded with a FREE Chick-fil-A meal (breakfast, lunch or dinner). for those "too chicken" to wear full cow costumes, Chick-fil-A will award a complimentary entree to customers partially dressed in cow attire, such as a cow-spotted scarf, purse, hat or other accessory.
Q: what does "fully dressed as a cow" mean? 
A: "Fully dressed as a cow" means an effort to be dressed like a cow from head to toe. for customers who want to join us in partial cow attire (such as the cow headband, a cow-printed hat, vest or purse) a free entrée will be given.
costume tips:
• here is the printable cow mask we use every year. isn't it cute! I keep it in a file and re-use every year.
• wear white and then just add cow spots. throw on a white t-shirt with white pants (even sweatpants) and stick on your cow spots using black contact paper. cut spots out of construction paper and tape them to your shirt and pants. if nothing else, you can grab an old white T-shirt and color black cow spots all over it with a magic marker, and you'll still get a free entrée.
• not feeling too creative? search the internet for "cow costumes!"
• you can also use the cow items provided here. just print them out and tape or pin them to your clothes. you will instantly turn yourself into a cow.
Cow Appreciation Day 2010!
here is our picture from three years ago. even baby has spots!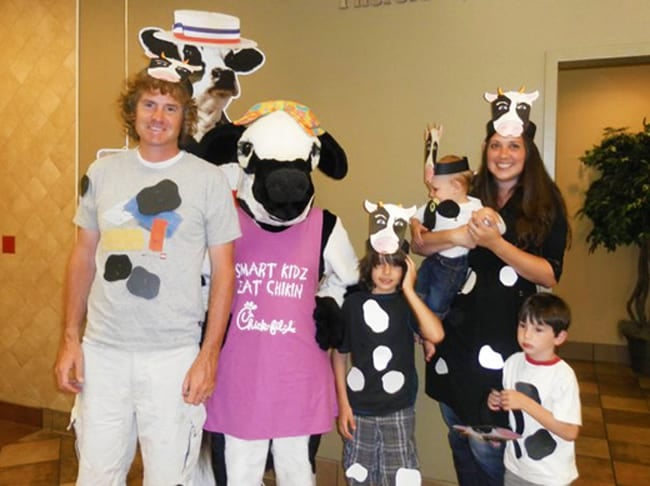 Cow Appreciation Day 2011!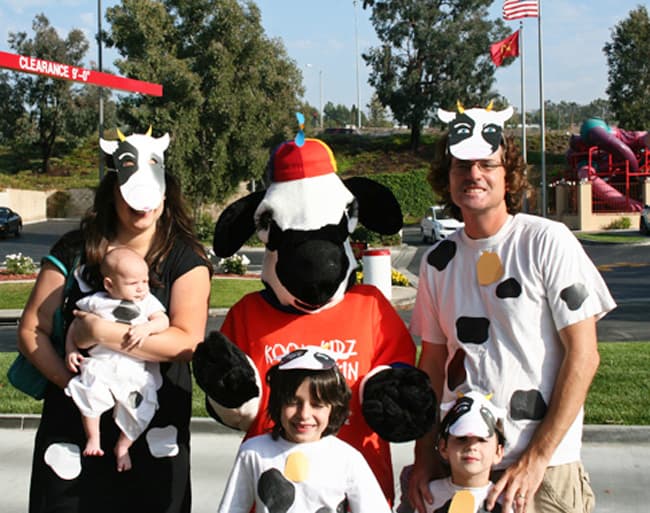 Cow Appreciation Day 2012!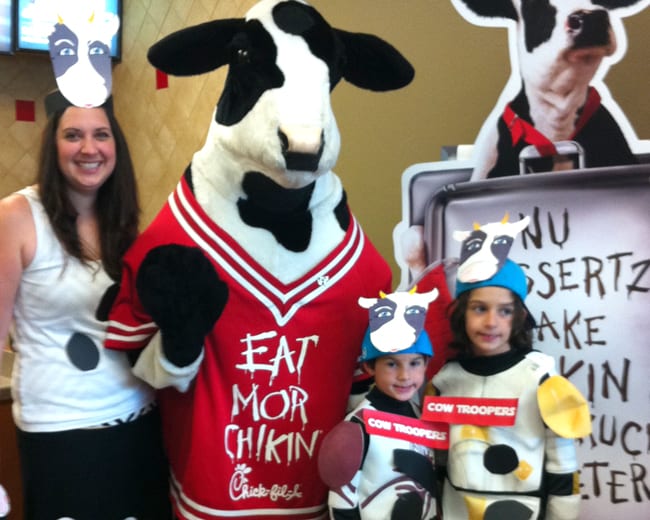 Cow Appreciation Day 2013!