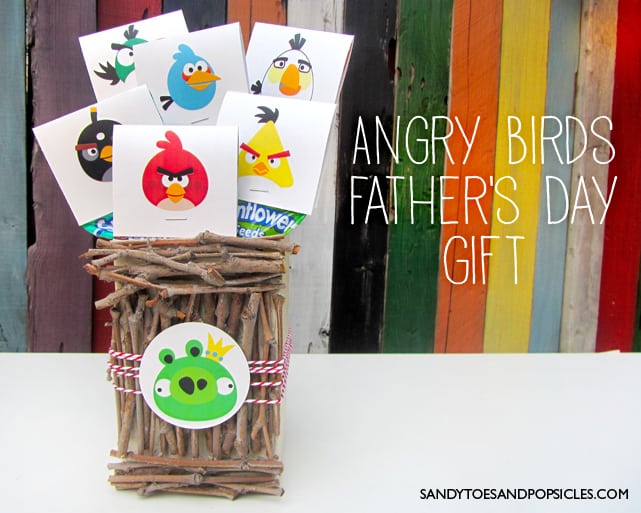 every year I love to create a free printable for Father's Day to share on this blog. it's seriously so much fun. i've done Star Wars, and mustaches, and this year my boys wanted me to do Angry Birds. so i did. inspired by all the dads eating sunflower seeds at my sons baseball games this year, i came up with the idea to get a bunch of different flavored  seeds and top them with Angry Birds. get it? bird seeds..haha. then i got creative and made a fun gift box and decorated it with twigs and a piggy.
to make your own Angry Bird Father's Day Gift, you need he following items:
• packages of sunflower seeds (or peanuts, candy bars, etc.)
• 4 sheets of cardstock
• empty juice/milk carton
• twigs
• 2-½" circle paper punch or scissors
• glue gun with glue sticks
• stapler
• twine or ribbon (optional)
• free Angry Bird printable download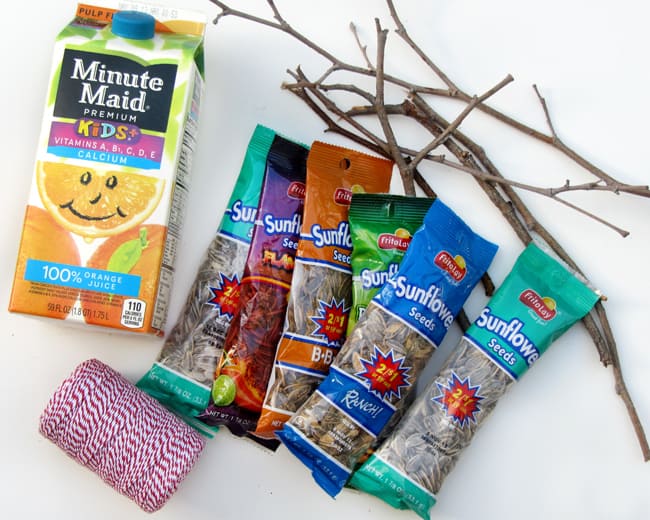 i was able to get 5 different flavors of seeds at the gas station convenient store. this is where i have found the best selection. if your dad doesn't like seeds, you can use tubes of peanuts, trail mix or even his favorite candy bars. Anything that you can staple the topper to.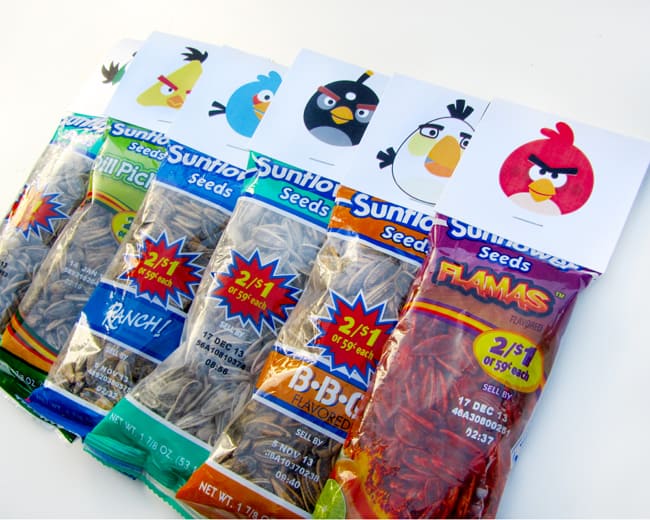 after printing out the birds, i cut them out, scored the centers, i'm just lovin' the birdies.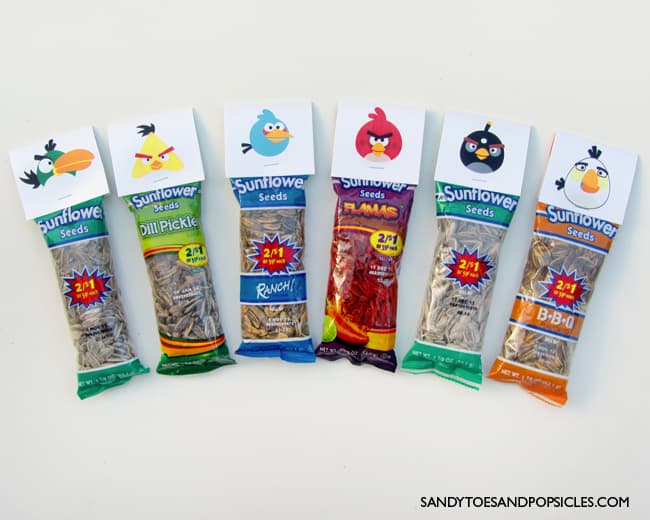 i also created a 4 x 4" fold-over card to include in the gift. "A Little Bird Told Me It Was Father's Day" is on the front, and the inside is blank your your own personal message.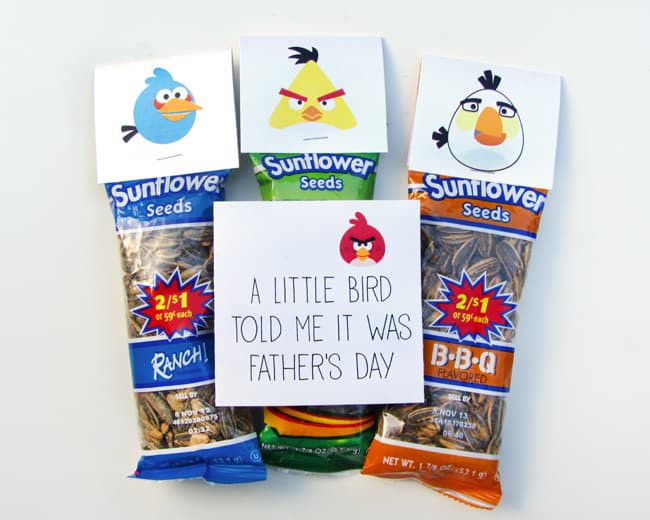 to make the piggy gift box, i just cut the juice carton to the correct size, spray painted it a solid color, and then glued twigs on it with a hot glue gun. it was really very easy....but it did take quite a bit of twigs. i then wrapped some bakers twin around the box and glued the circle piggy accent to the front of the box.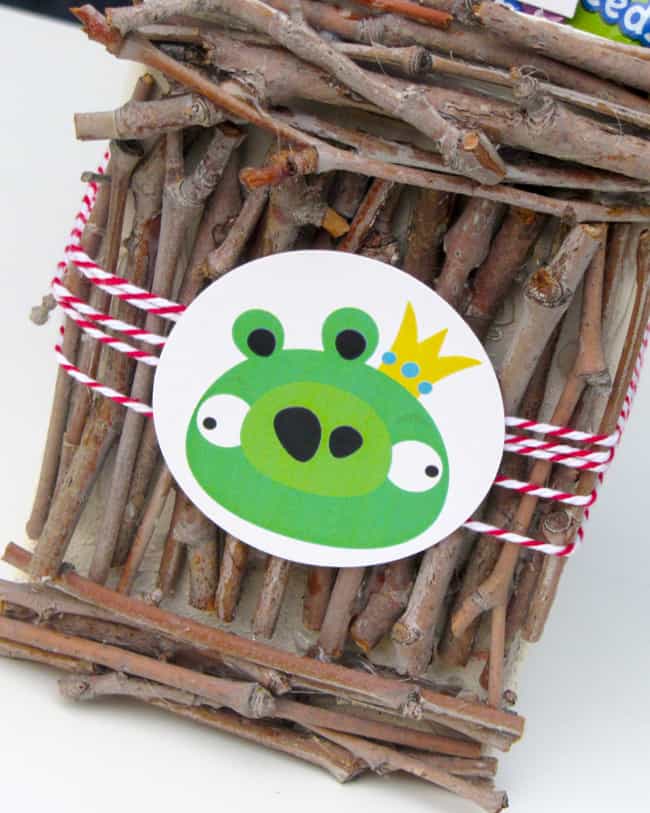 after that was done, i filled the box with my angry birdie seeds. I arranged them so the red bird would be the center, and then layered the rest behind him. 6 packs of seed fit snugly into the juice box, and allows you to pull the back pakages up higher than the front so that you can see all the birds.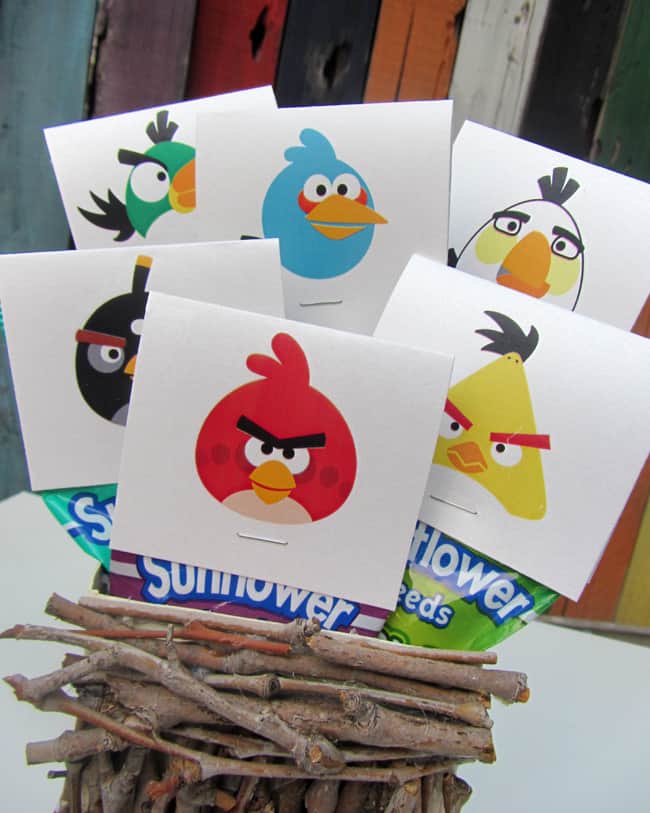 and there you have it! a fun little Angry Bird gift for Father's Day. your kids will lov it...especially if they are Angry Birds fans.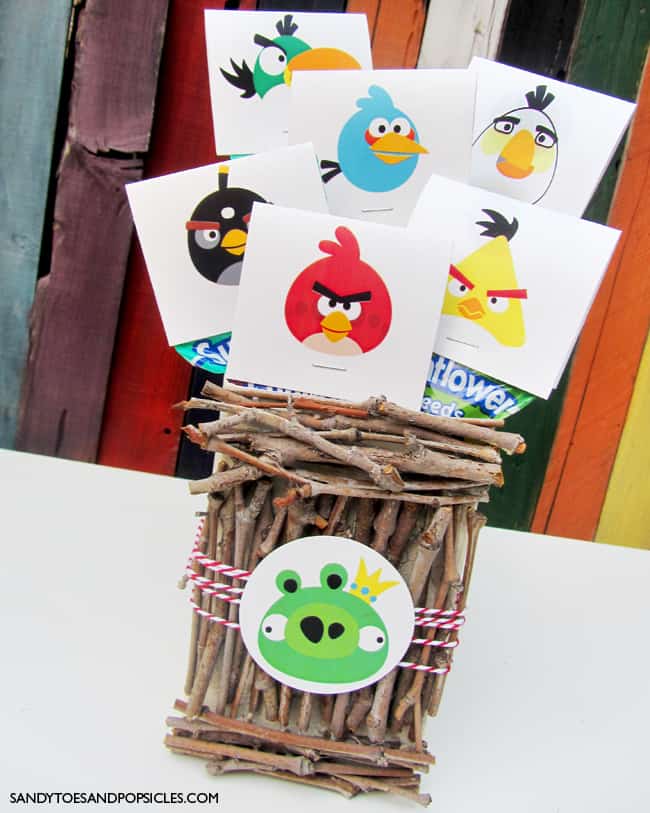 click here for the Angry Bird printables download.
check out these other great Father's Day Gift Ideas!
DIY Father's Day Zombie Kit with Free Printable
Star Wars Father's Day Kit with Free Printable
Father's Day Mustache Jars with Free Printable
La Lucha Libre Father Day Gift and Free Printable
DIY Father's Day Tie