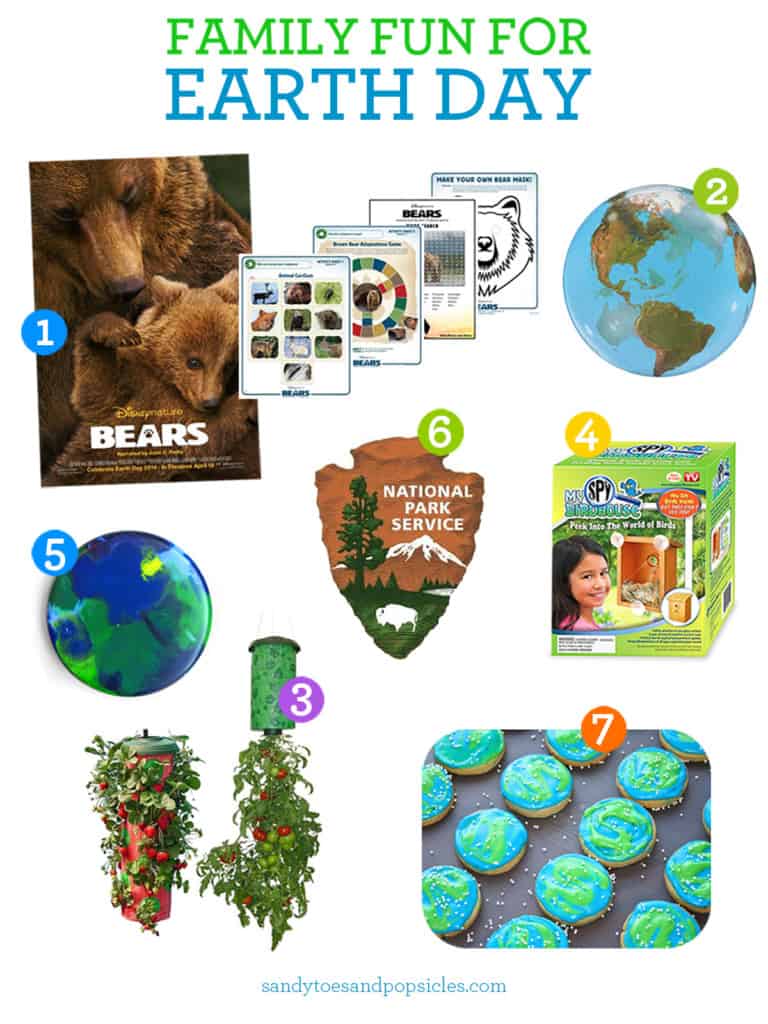 Earth Day is just a few days away on April 22nd, and next week is considered Earth Week. although i am not one to make a big deal about every holiday, i really love Earth Day. it's a great reminder that we need to appreciate Earth's beauty and to take a step back and make choices

1. Disneynature's BEARS - Disneynature's BEARS opens in theaters today, April 18, 2014. what a great way to get in the spirit of Earth Day. the movie features a year in the life of a bear family as two impressionable young cubs are taught life's most important lessons. it takes place in majestic Alaska, a backdrop teeming with life. the bear's journey begins as winter comes to an end and they emerge from hibernation to face the bitter cold. Disneynature's BEARS captures the exciting life of these beautiful creatures and reminds us of how amazing Earth is. PLUS…download these free printable BEARS activity and game sheets for the kids to enjoy.
2. Giant 22" Earth Balloon - i have been in love with these giant Earth balloons for many years now. i can just imagine a fun photo shoot using them, or using them as decoration for Earth Day. at almost two feet wide, they are sure to bring some Mother Nature fun into your day.
3. Topsy Turvy Strawberry Planter and Upside DownTopsy Turvy Tomato Planter
- summer is just around the corner, and it is time to plant some summer veggies. these hanging planter kits make planting strawberries and tomatoes easy, especially if you don't have a lot of space or critters who eat your plants. they come with the seeds, and everything you need to grow them. your kiddies will love watching them grow and harvesting their own fruits and veggies.
4. My Spy Birdhouse - have fun discovering the world of birds with the My Spy Birdhouse. it attaches to your window allowing you to see the birds nest inside. you may even be lucky enough to see eggs being layer, hatch and the baby birds being cared for.
5. Homemade Earth Crayons - get rid of broken crayons by reusing them to make these fun Earth crayons. you can find the complete tutorial on how to make Earth crayons here.
6. Free National Parks Day - April 19-2 is Free National Parks Day. you can get free admission into any of the 133 National Parks that charge admission. Fee waiver includes: entrance fees, commercial tour fees, and transportation entrance fees.
7. Earth Day Cookies - if your family is anything like mine, iced sugar cookies are a real treat. these Earth Day sugar cookies may look difficult to make, but then don't take much skill to make. check out how i made them on this post i wrote a few years ago.
{ disclosure: links on this page may contain affiliate links. }