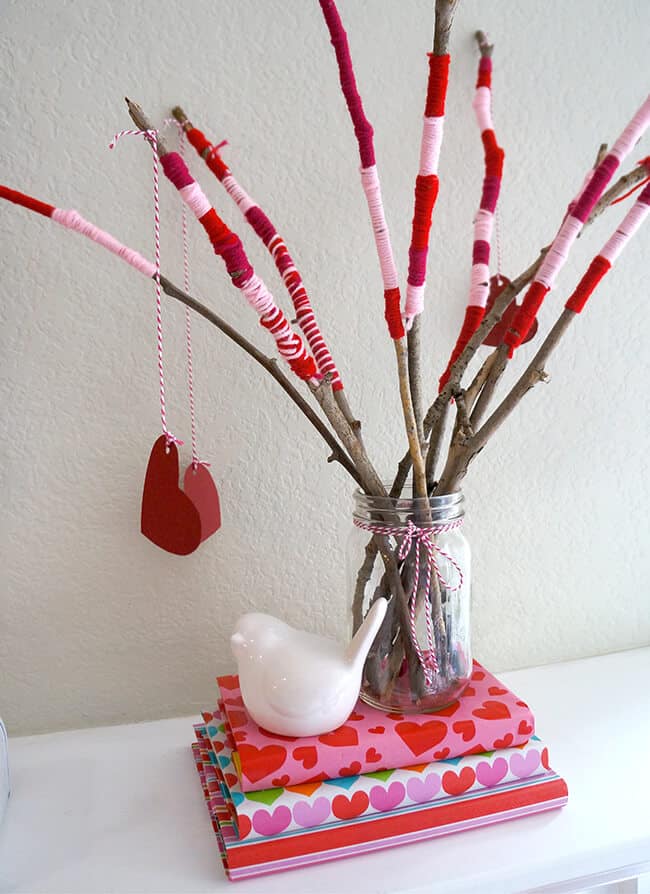 this year i was determined to decorate for Valentine's Day. it seems for me, this holiday comes and goes much too quickly and i don't give it any thought. i get the kiddies Valentine's out and that's about it. but i really LOVE Valentine's Day, especially the decor….it's PINK! and i don't get to decorate with a lot of pink around here. i guess the boys don't love it as much as i do.
the number one place i wanted to decorate up for this Valentine's Day was my mantle. i didn't want to purchase a lot of items, so i came up with a fun craft for the kids to make. it would be the centerpiece focal point for my Valentine's Day mantle. i thought it would be fun to gather up some sticks from the park and wrap them with Valentine's Day colors of yarn, thus making a cute Yarn Wrapped Stick arrangement. such an easy Valentine's Day craft.
i have to say it came out much cuter than i imagined, and the kids really, really enjoyed gathering the right sticks, and wrapping them with yarn. some of my kids did the wrapping more carefully than others, but it really didn't matter because all the sticks still looked pretty cool.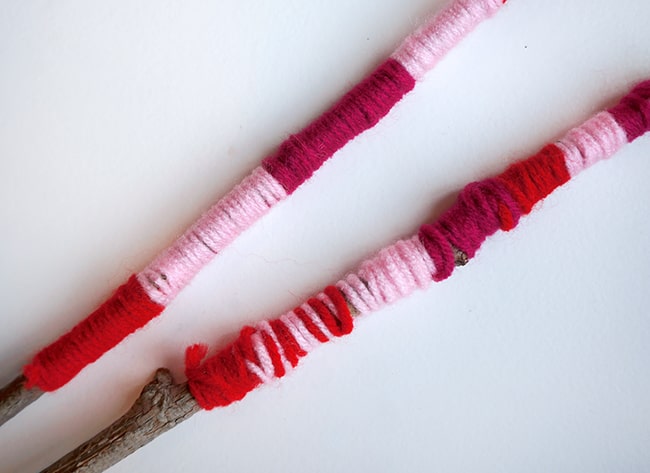 this project is really easy. all you need is some sticks and yarn/string. it is best for the sticks to be at least as thick as your finger, and the length really doesn't matter. i would measure the container you want to put them in and cut the sticks according to how you want them to look. i have included the instructions on how to wrap them at the bottom of this post. we also added some hanging hearts to our stick just to make it more fun for Valentine's Day.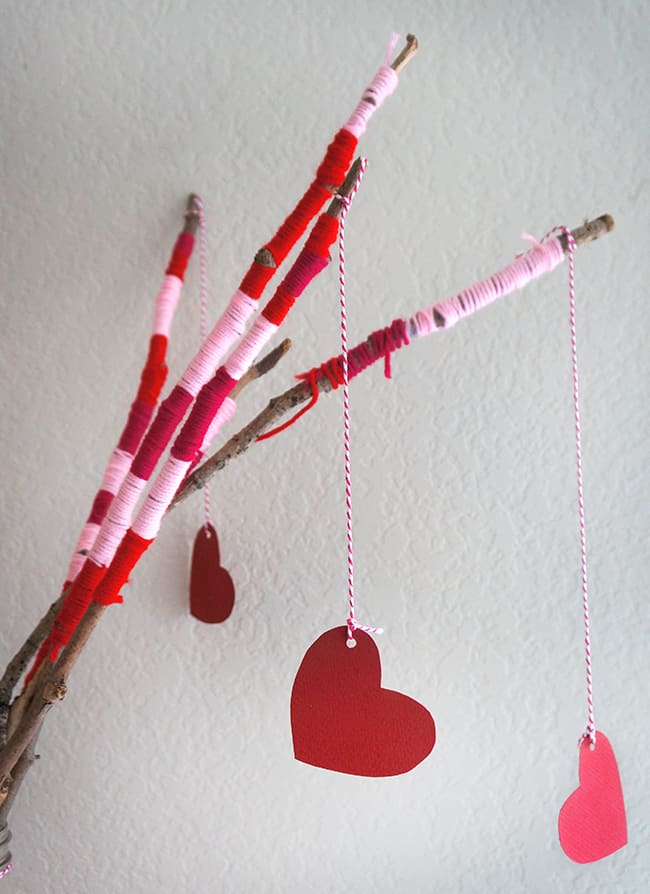 I designed the rest of the mantle around our stick centerpiece. You can get a great red frame at Hobby Lobby fora pretty good price. I strung photographs from my Instagram account inside of it. I also hung up the Conversation Heart Banner I shared with you across the mantle. I just love those colorful hearts.
These cute mailboxes were found in the dollar spot bins at Target and painted each of my boys initials on them just for fun.
And then I found three books and three different sizes and made booked jackets for them with Valentine wrapping paper. it was an easy way to add height to my centerpiece and also add a bit of color to the mantle.
a plant, which i added a heart to its container, and jars which i filled with real conversation hearts and spray painted the lids added the finishing touch to my mantle. i love how the large jar fits perfectly atop a white candlestick holder i already owned.
And that is my Valentine's Day mantle! i am so excited that i was able to pull it off this year. I feel happy every time I see it.
Supplies
How to Make It
Start by tying the yarn to the end of the stick.
Begin wrapping the yarn around the stick until you are happy with the wrapped section. 1 to 2" of wrapping should be good. but really, its all how you like it.
Tie off the existing piece of yarn and cut off the extra.
Repeat with the next color.
(i have found for small kids, tying together pieces of different yarn colors in 6-12" pieces is the easiest way to do this project. that way you do not have to keep stopping and tying off each color.)
The most important thing with this project is to have fun and be creative. the string doesn't have to be wrapped perfectly, the colors can be whatever you like and the sticks can be all different sizes. you don't even have to place them in a jar or container. They could look cool laying across the mantle or tied together making a wall hanging. the options are endless, and they could be made for everyday or any holiday.