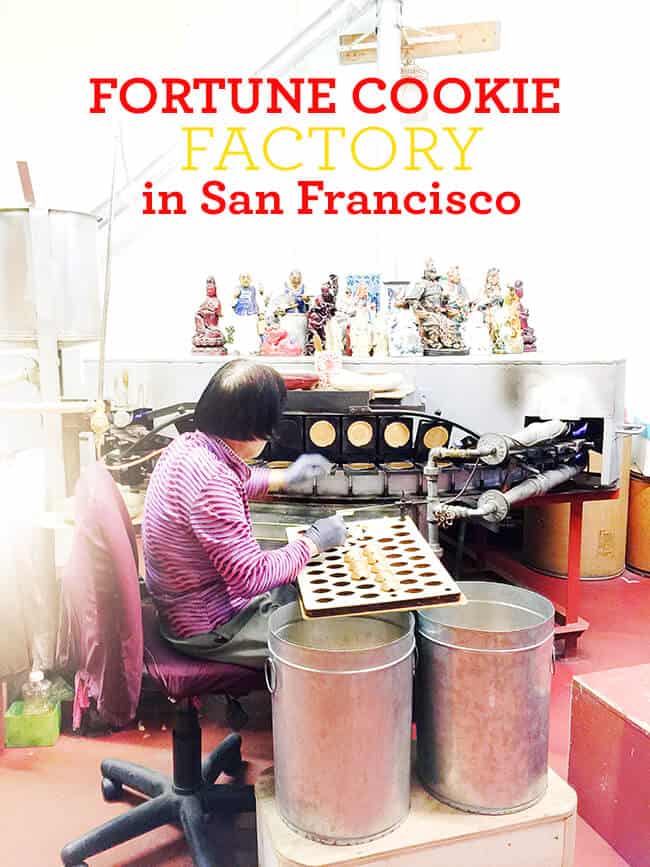 last summer we took a road trip up the coast of California and stopped in San Francisco, one of my favorite cities in California. there are so many things to enjoy in San Francisco, from the Wharf, to the museums, to the food, to the architecture. there are also many streets or sections of San Fran that are influenced by different cultures – each one lined with stores, restaurants and architecture reflecting it. Chinatown happens to be one of our family's favorite areas to explore. it is the largest China Town outside of Asia, and there are lots of unique things to see that are different from what we experience at home in our daily lives. we love all of China Town, but the boys most favorite part is visiting the Golden Gate Fortune Cookie Factory – which you can probably guess...is a real life fortune cookie factory.
before i show you photos of the Golden Gate Fortune Cookie Factory, i wasted to share some of the other photos i took on our way to it. as you most likely know, most travel around San Francisco is done by walking or public transportation. i really love this way of traveling around this city. that way you can take everything in and enjoy its unique charm. we took the trolley to the main entrance of China Town – which is known as Dragon's Gate because there are two dragon statues. it is located on Bush Street. you can easily take a bus or trolley there...it's very well known.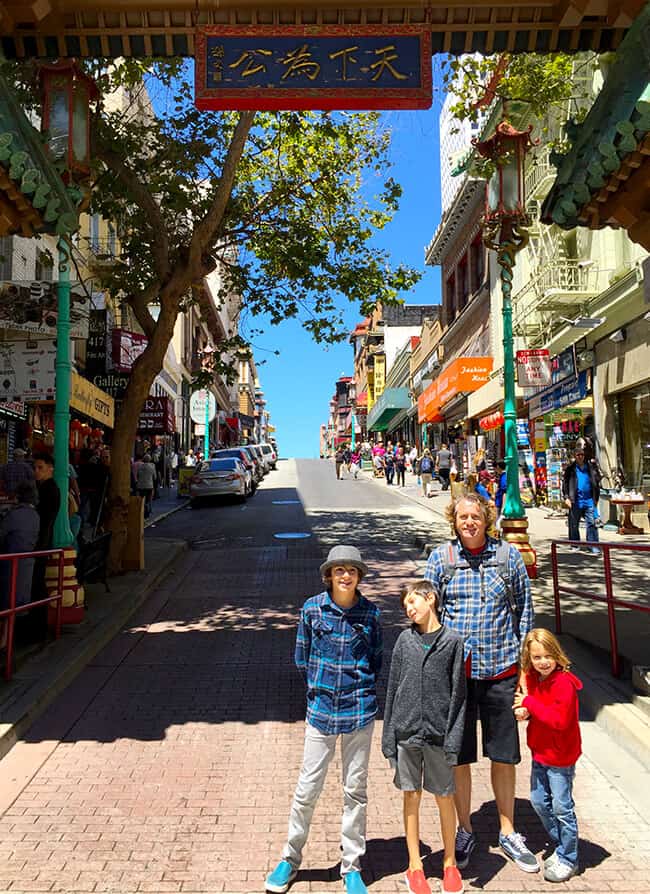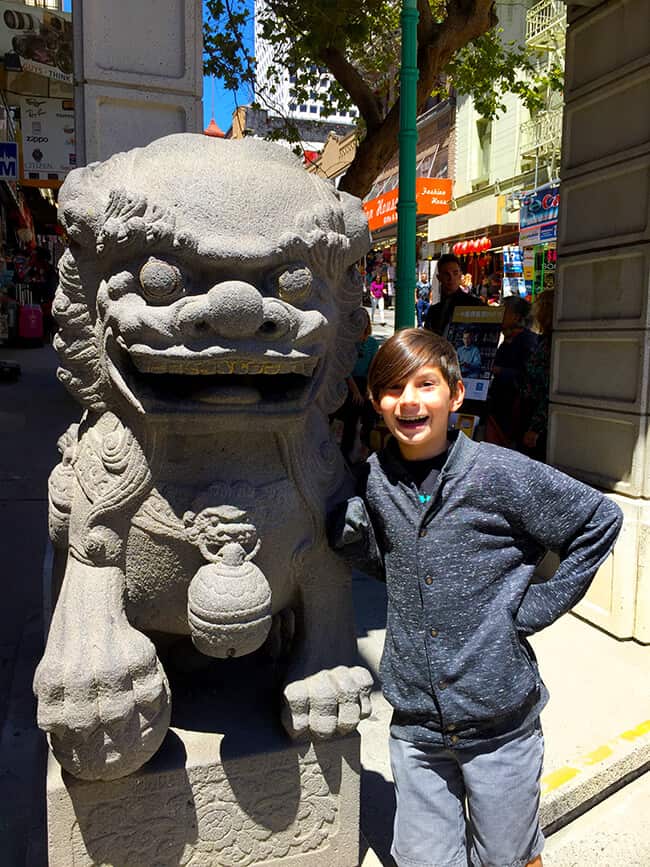 once you are at Dragon's Gate, you can walk north towards the Golden Gate Fortune Cookie Factory which is a few blocks up. the street is strewn with red and gold lanterns and building decorated in gold and dragons.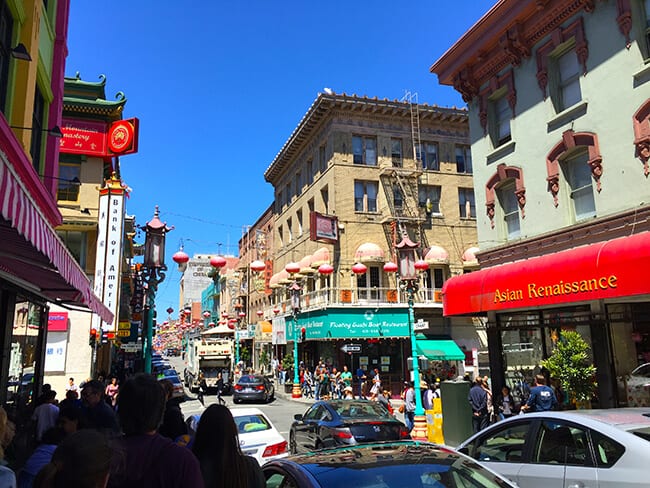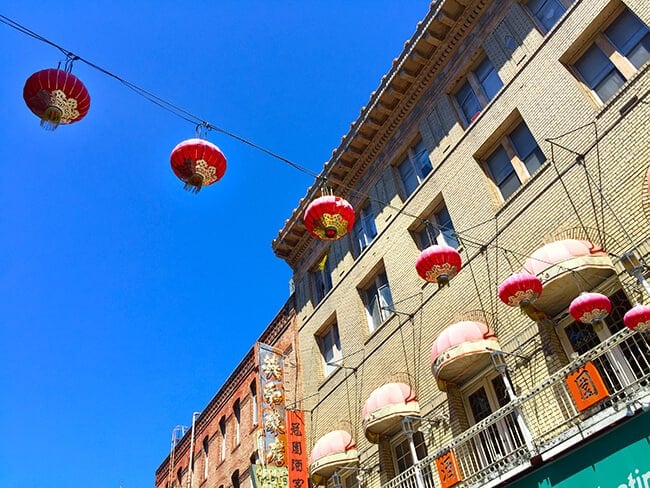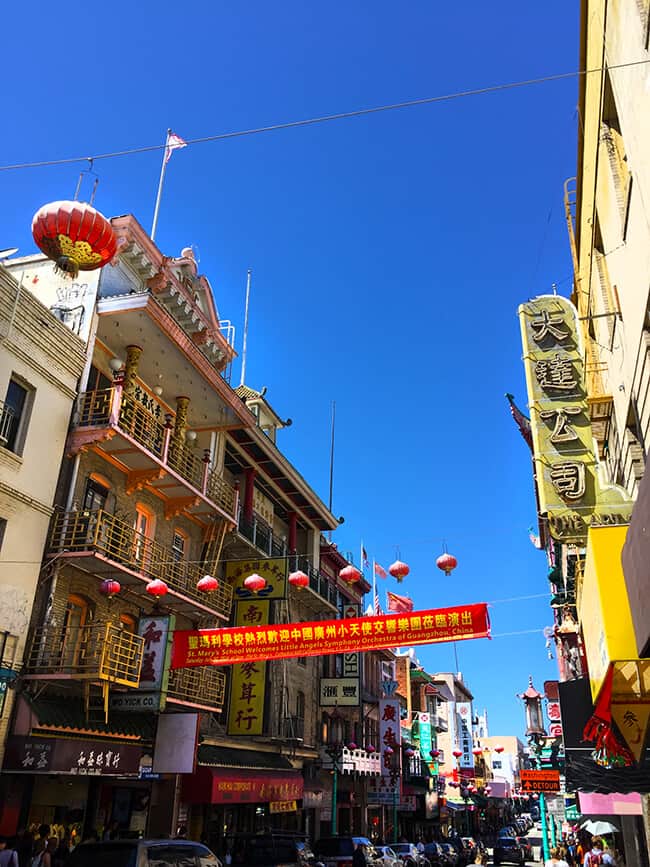 we let the boys stop in some of the stores and buy a few souvenir. these kitty chopsticks were one of their favorite purchases.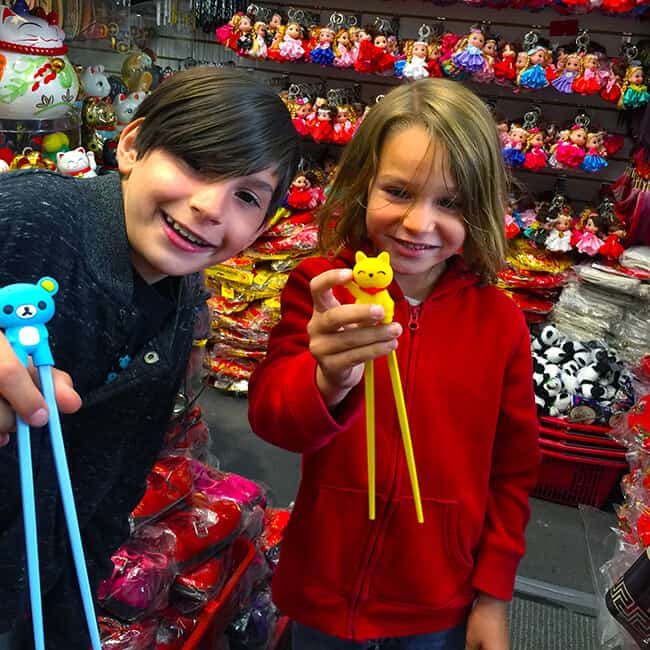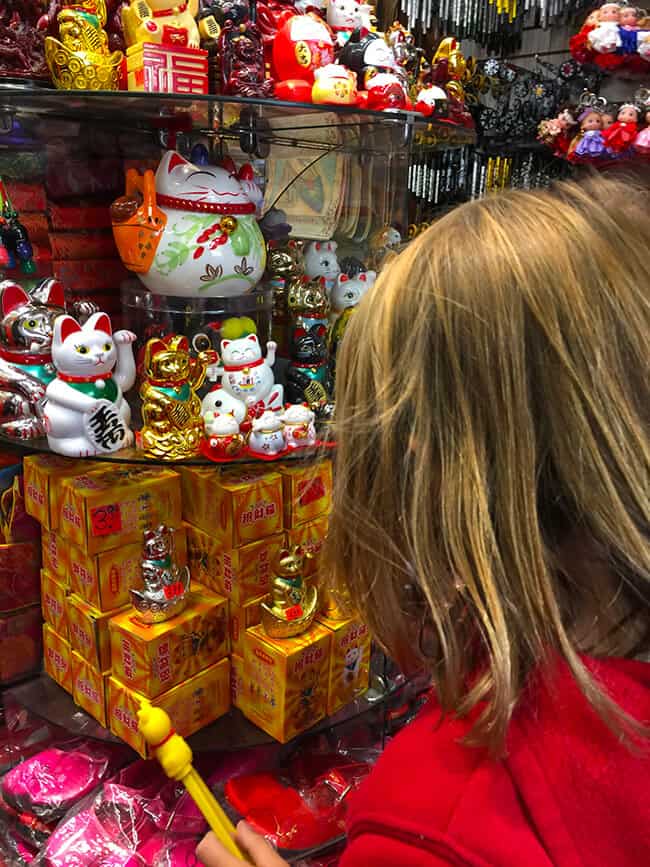 there are also some beautiful colorful murals painted on buildings along the way.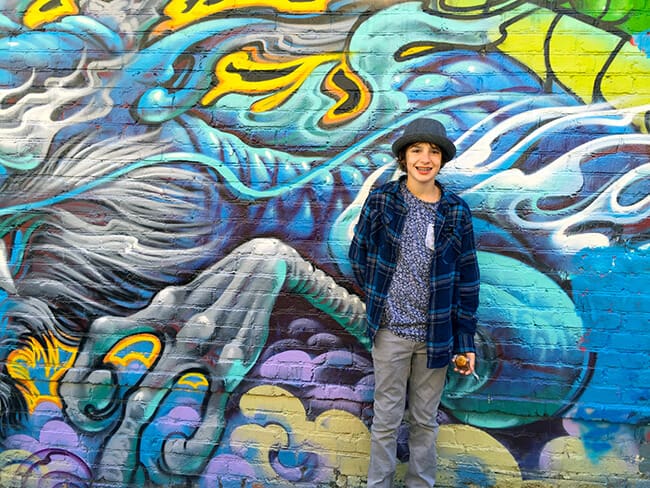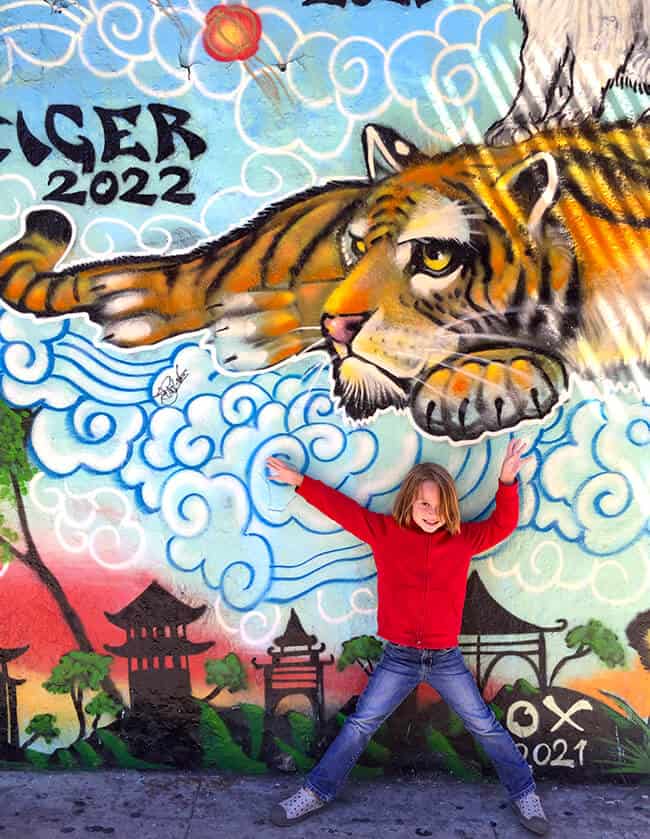 there is also lots of yummy Chinese food. you can find both nice sit down restaurants, and also takeout. since we were on the go, we opted for a quick and easy stop. the boys got all their favorites...of course, noodles too.
and we had to stop at the Golden Gate Bakery for a sweet treat.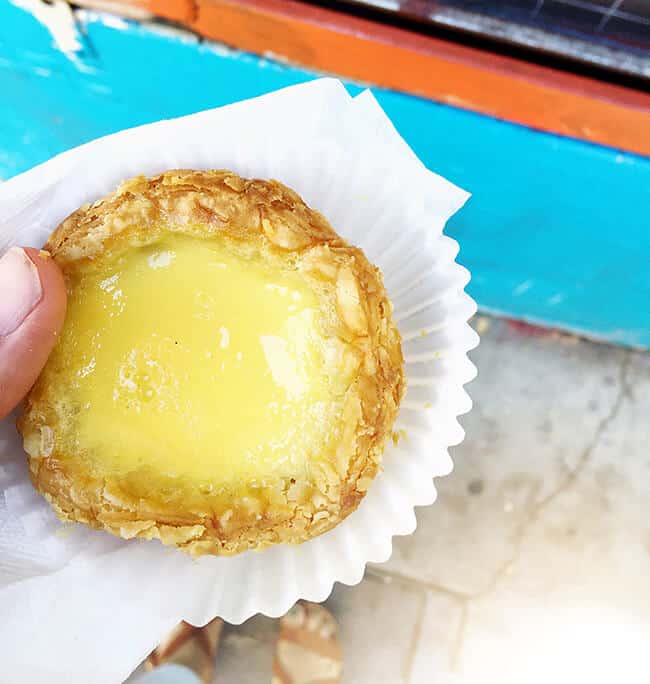 the last stop and final destination in Chinatown was the Golden Gate Fortune Cookie Factory. it is located in Ross Alley. don't be shocked if this area looks a bit run down and run down. it's old...and it's an alley, but you are in the right place. there will probably even be long lines of people waiting to enter the old original store. it's been around since 1962. if you look closely, you will see popsicle dad waiting in line!
once you get inside the entrance, you will see fortune cookies being made right in front of you. the sweet smell of baking fortune cookies is incredible. and they give you lots of samples to taste.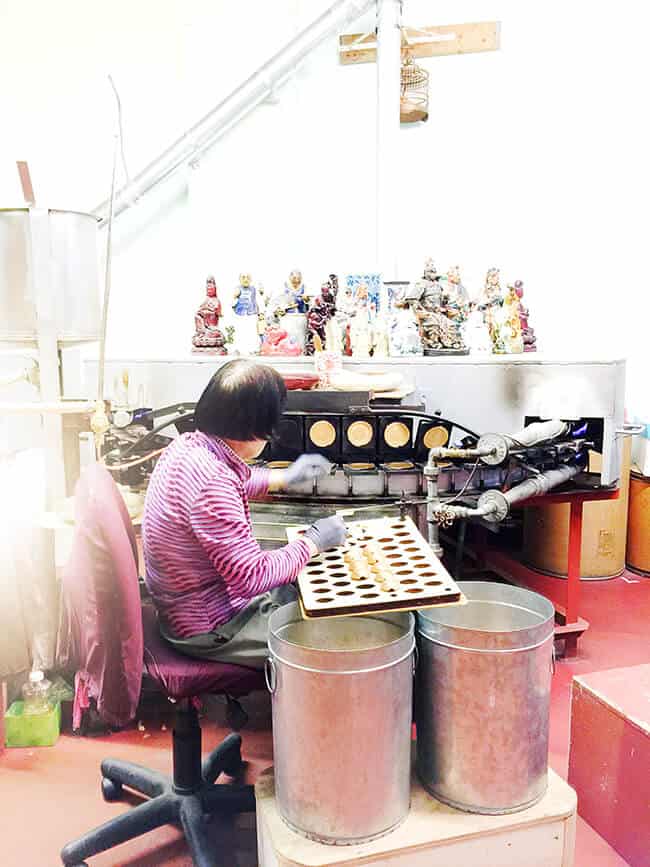 you get to see the entire process, from batter to fortune to folded cookie. first, the thin circular cookie is pulled off a hot press. next, a fortune is placed on one side of the hot, flat dough.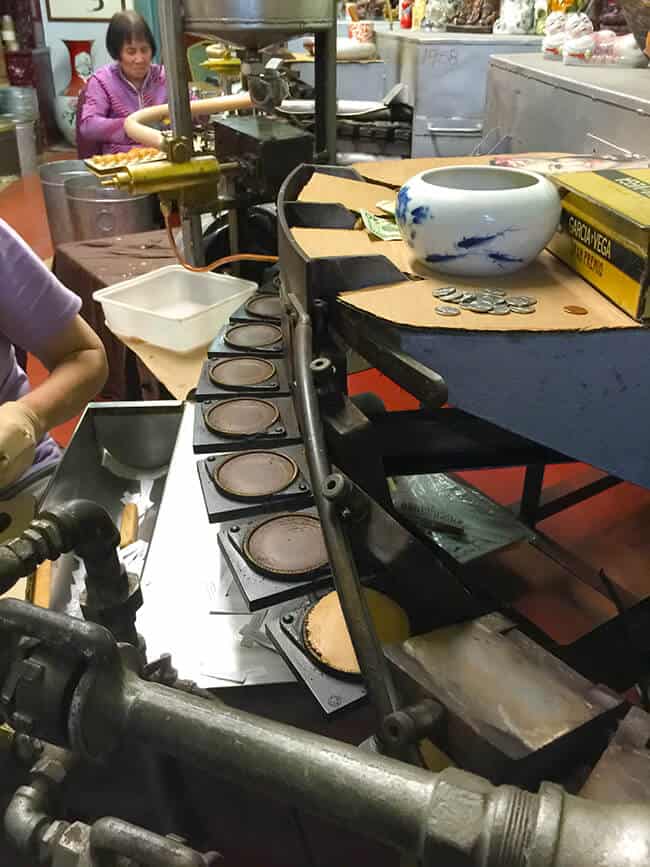 finally, each soft, hot cookie is shaped over a steel rod into the shape of a fortune cookie. all of this has to be done very quickly, otherwise the cookie will harden before it is created into a  fortune cookie shape.
another cool thing – you can have you own fortune cookies made with your own special message put inside.we let each boy make some to give to relatives and for themselves. they thought this was so awesome.
and here is the final product! warm, delicious and ready to enjoy.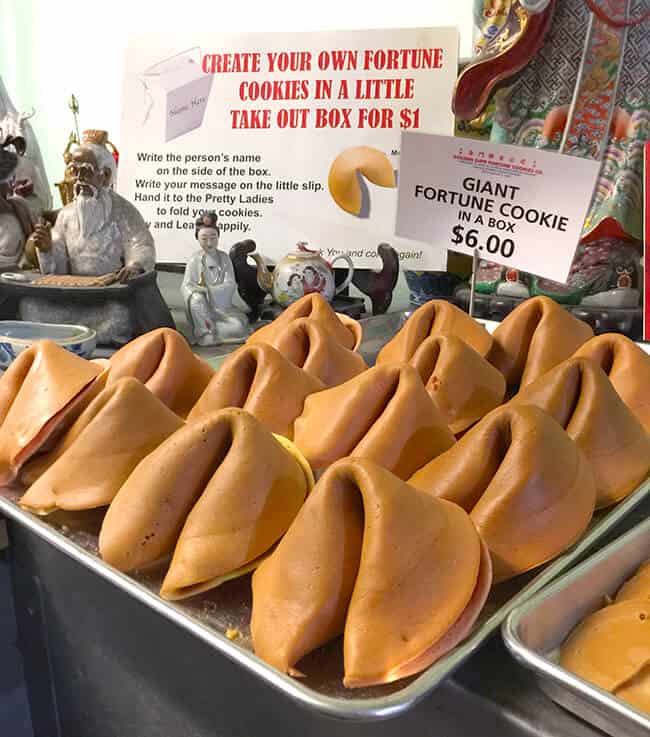 it was such a fun experience for the boys...and us adults to see the entire process of making a fortune cookie. they also learned a lot because we ask the store owners to tell us a lot of the history behind the store. it was very interesting.  the eating part was pretty great too!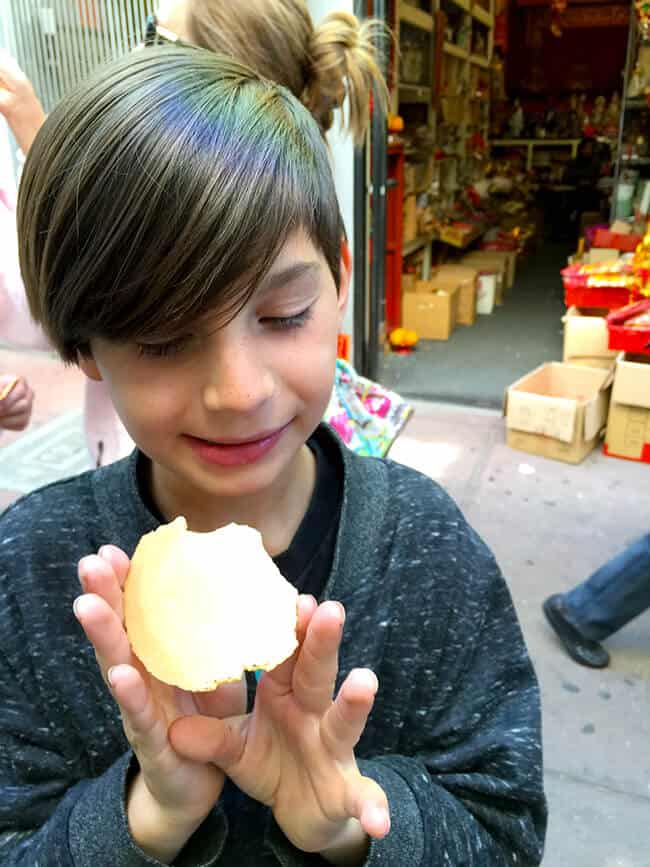 here is a short video of our time at the Golden Gate Fortune Cookie Factory.