Fall in Orange County means apple picking time. heading into apple country is one of the rare times us Orange County folks can get a slight glimpse on one of the four seasons. for our family, we have always gone apple picking in Oak Glen...and now we take our kids. It holds a lot of memories for me when I was a child, and I hope it will for my children as well.
(Updated August 2023)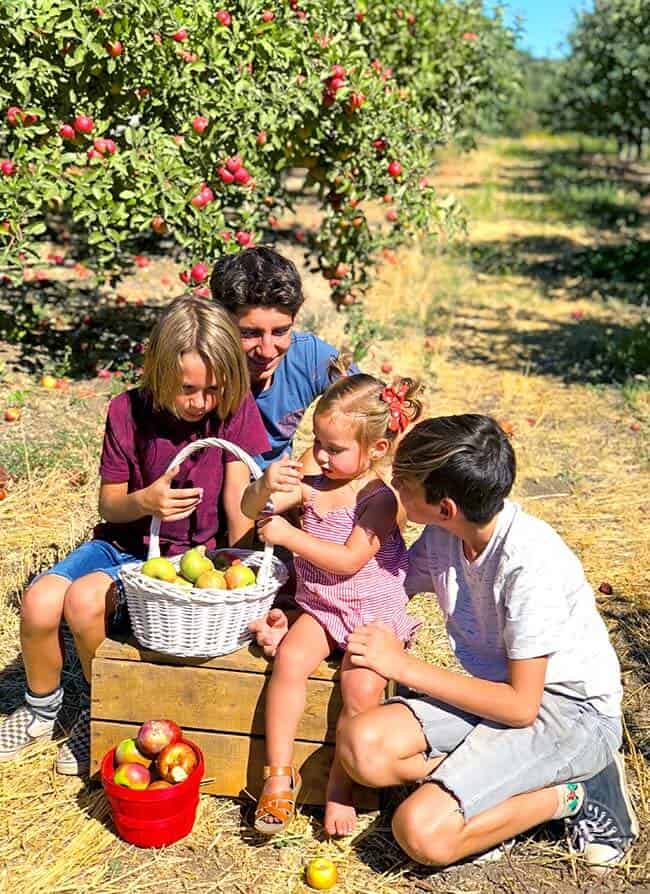 Get ready for a super long post. I get asked so many questions about apple picking in Southern California that I wanted to include everything I know about Oak Glen.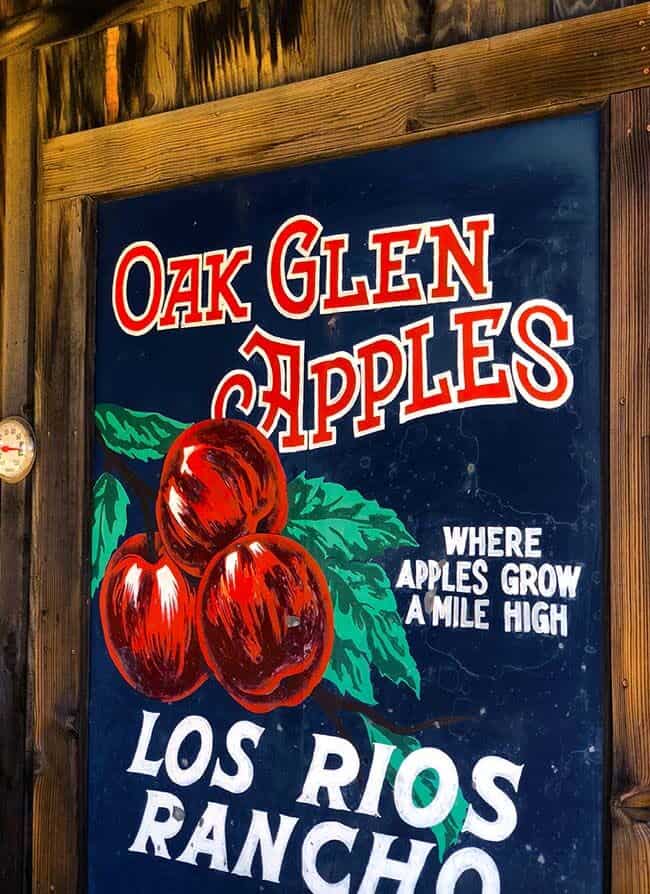 The city of Oak Glen, CA has a five mile loop of apple orchards and family owned restaurants and shops, nestled one-mile above the city of Yucaipa in Southern California. It hosts scenery like that of New England. It's just over an hour drive from Orange County without traffic.
The mile-high climate of Oak Glen provides a beautiful change of season, unsurpassed in Southern California - where its usually 10-15 degrees cooler than it is in the valleys.
When is Apple Picking Season in Oak Glen?
Although Oak Glen is open all year round, the main Apple Harvest takes place Labor Day Weekend through Thanksgiving Weekend. The sooner in the season you go the better!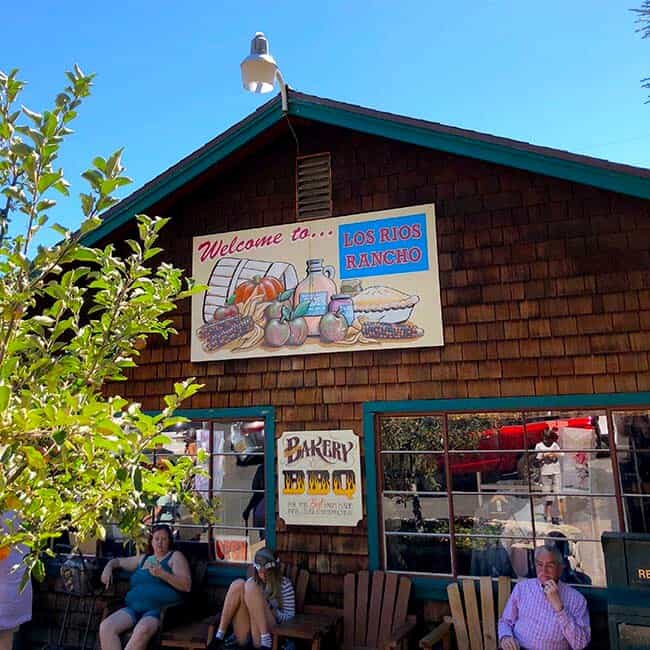 Oak Glen Apple Orchards
There are some main apple orchards that are family friendly and offer fun fall activities in Oak Glen. You can check out all the information for all of the apple orchards and businesses in Oak Glen here.
People tend to find their favorites and go to the same ones year after year. There are unique things about each of them, but also lots of similarities. You can get apples, cider, baked goods, and food at all of them, and I have found prices for apples, ciders and food are all comparable.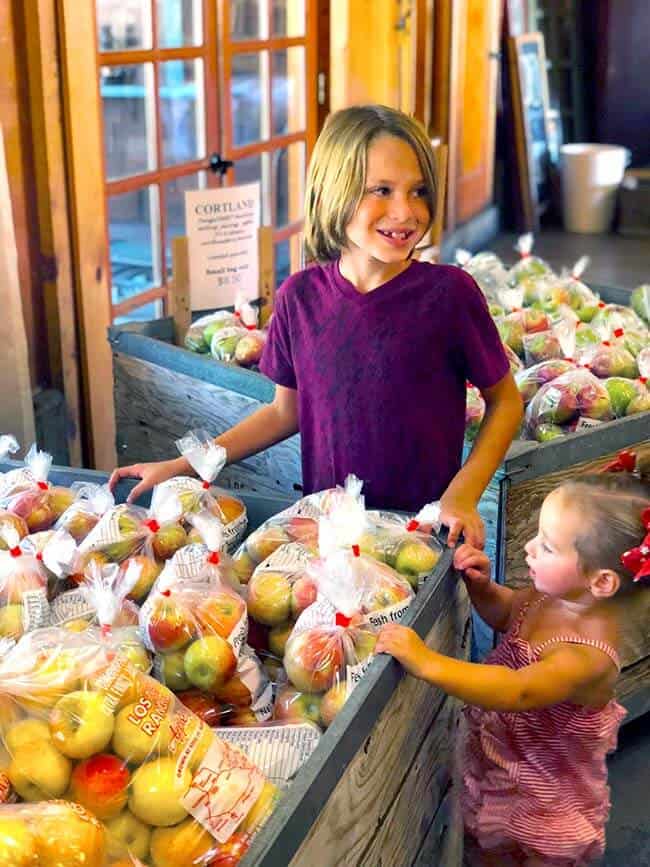 Here is a list of some of the main apple orchards:
Snowline Orchard - Has a variety of fun & exciting activities, including raspberry picking, wine tasting and more. there's a beautiful picnic area with historical buildings, the oldest Italian chestnut tree and mini apple cider donuts which a must when you visit Oak Glen. they don't offer apple picking, but you can get plenty of fresh apples and cider. they also have a really neat farm store with artisan balsamics and oils, local honey, unique gifts, and farm made wine and hard cider.
Riley's Los Rios Rancho - A favorite of our family's. it offers cider pressing, live music, a country kitchen with fresh bbq and picnic foods including corn, cider floats and apple pie. in the market store you can taste apple cider, hard cider and apples. there are also beautiful nature trails, a petting zoo and miniature farm, wagon rides, tractor rides, and horse back rides.  on the North Side of the farm (closest to Wilshire's peak) you'll find...a corn maze, u-pick fruits, popcorn and vintage soda cart and tractor drawn hayrides.
Riley's Apple Farm - Offers heirloom apple picking, blackberry picking, corn picking, pumpkin picking, cider pressing, and kids activities on the weekends. activities include archery, tomahawk and knife throwing. on weekends during apple season, Sharon's Country Store has barbecued chicken apple sausage, hot dogssub sandwiches, cider floats, fresh raspberry shakes, ice cream, and high-top apple pie.  Also sub sandwiches, cider floats, fresh raspberry shakes, ice cream, and lots more!  and don't forget to get a fresh hoecake (a tasty, historical treat - a cornmeal pancake with a topping) cooked fresh over the fire on the lawn!
Stone Soup Farm & Heritage Orchard - Offers heirloom apple picking, cider pressing, gemstone panning and kids activities at their kid's craft station on the weekends. activities may include rag dolls, candle dipping, and birdhouse decorating. the have a snack bar, farm stand and marketplace.
Law's Cider Mill & Ranch - A smaller stand that offers fresh cider, apple butter & preserves, Oak Glen grown apples, ornamental corn, squash & gourds. they have a historical coffee shop that serves breakfast and lunch daily. there you will find a year-round Christmas room, gift shop and collectables.
Rileys Colonial Farm (The owners of this farm are openly racist, I do not recommend going here. Don't believe me, check out their OWNER'S Twitter thread. I am not tarnishing their reputation, they did it to themselves.) - A living history farm and offers history education and the Legend of Sleepy Hollow. You will find people dressed up in period clothing and sharing historical demonstrations. you can pick-your-own fruit including apples, pears, strawberries, raspberries, blackberries, Ollalieberries, pumpkins and a small crop of peaches. make sure to check their website for availability. Visit the dinner theatre, and enjoy a historically-themed overnight stay. But do yourself a favor and go to a different farm.
Moms Country Orchard - Offers pesticide-free apples and other produce in the area. they also offer a great selection of jams, jellies, honey, preserves, seasonal fruits and vegetables. Moms will ship items to you or for you, just go online!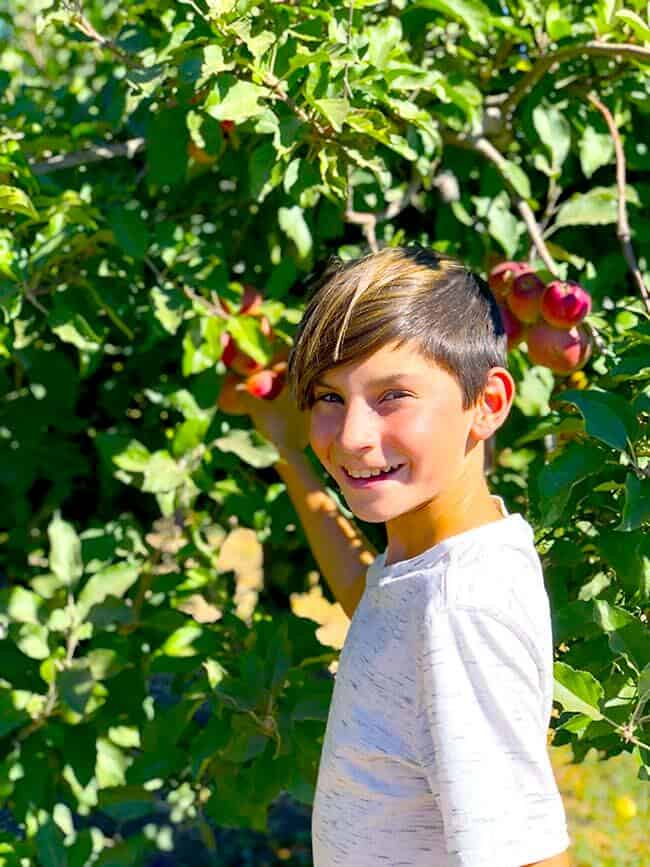 Apple Picking in Oak Glen
There is something exciting about walking into and apple orchard and picking your own apple of the tree. For some reason, kids enjoy food that they harvest themselves better than if you give it to them. There are a few orchards left in Oak Glen that offer U-pick apples.
Each of the different orchards offer different varieties of apples, so if you are wanting a certain kind of apple, check out their websites first to see what they have available.
Which Oak Glen Orchards Offer the Best Apple Picking:
The orchards in Oak Glen that offer apple picking are: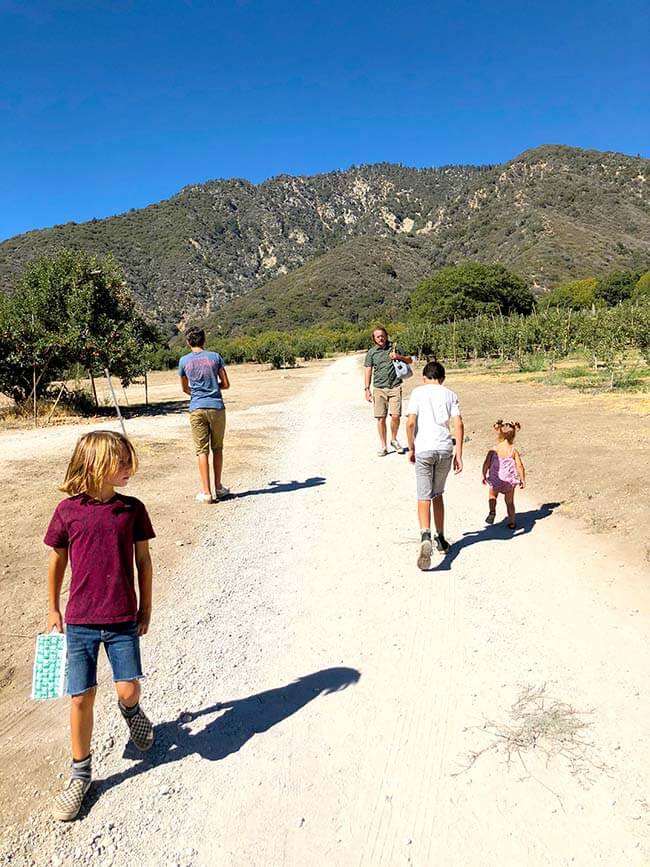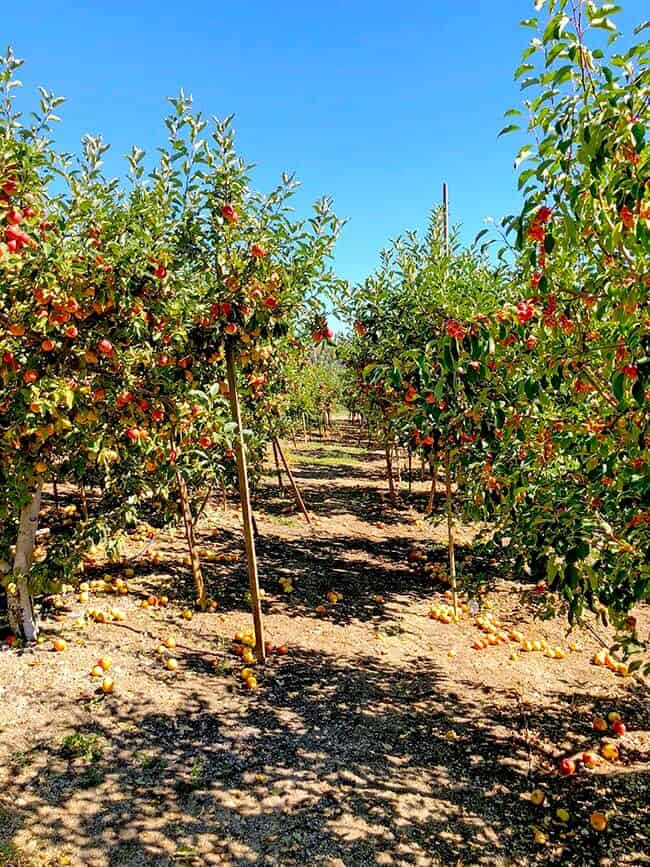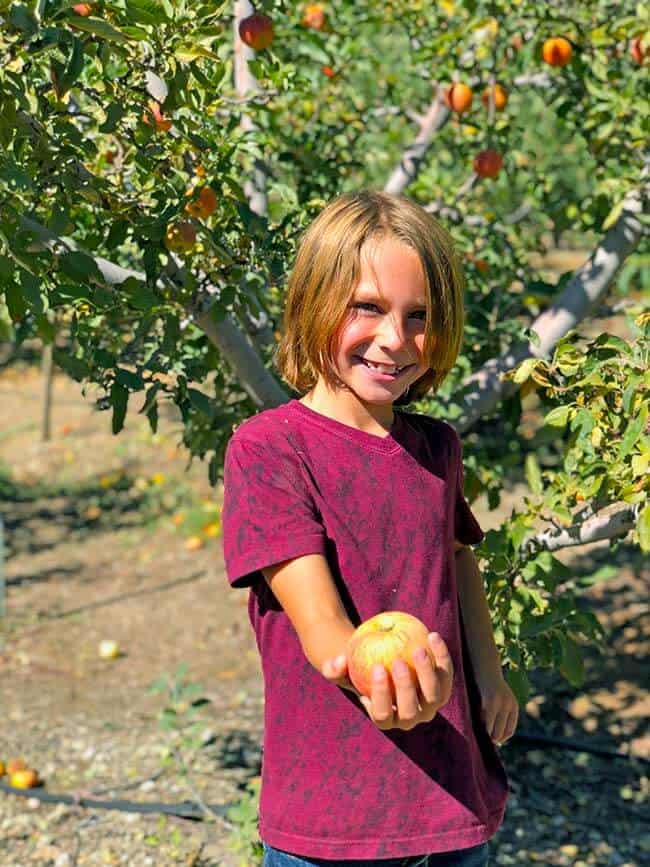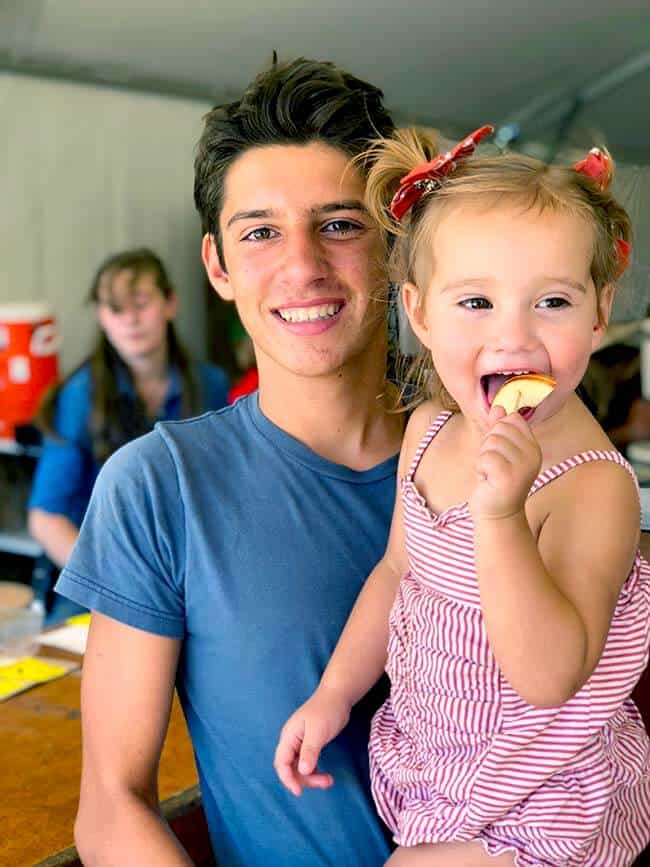 When you get to the orchards, you check into the farm stand and get a bag for your apples. the apples are sold by the pound, so you need to purchase what you pick. prices vary according to market price. We ended up paying between $3.00 - $3.50 per pound. Most orchards will have a guide run you through the process of how to pick apples without damaging the trees, and then let you into designated areas to pick the apples.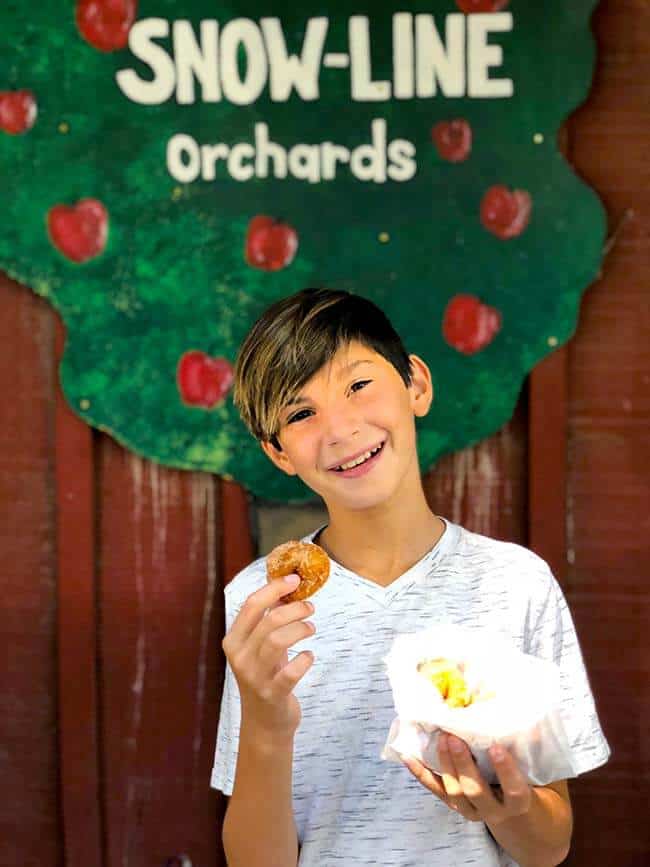 Apple Cider Donuts at Snow-line Orchard
If you like hot, fresh apple cider donuts, you need to make a stop at Snow-line Orchard. You get 12 mini donuts per pack and they are so yummy! Even if you go to the other orchards to pick apples and such, stop at Snow-line to get the donuts. They run just under $5 for 12 mini donuts.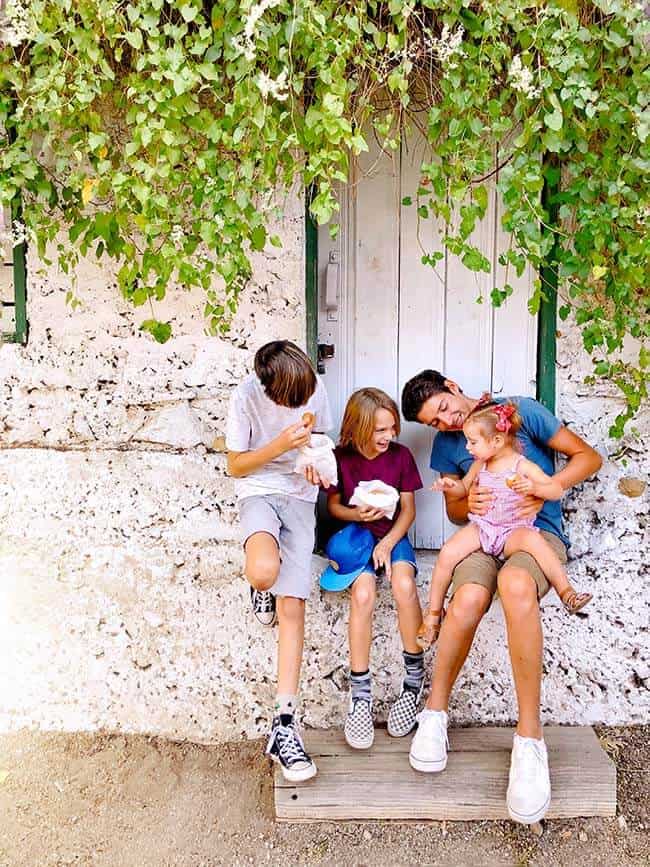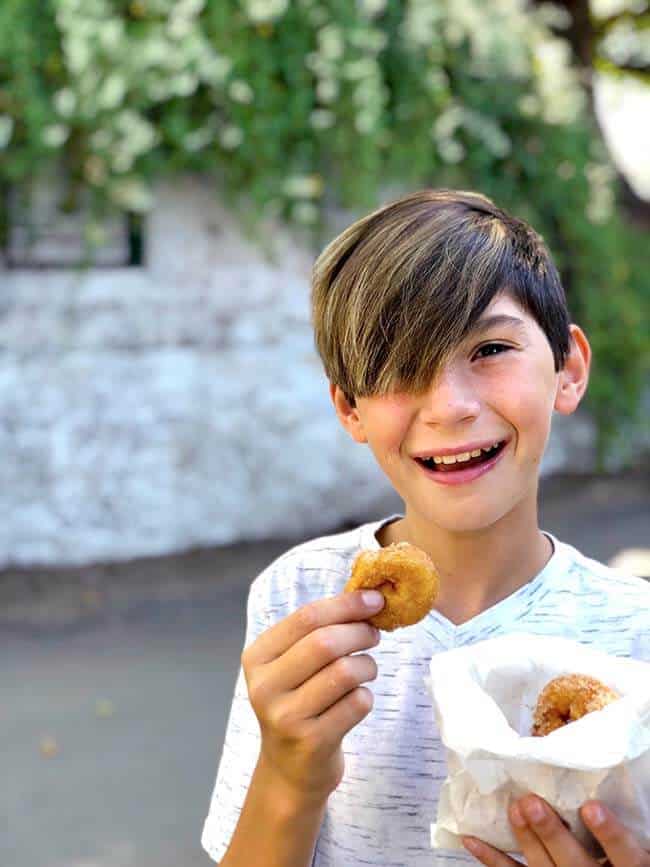 Press Your Own Apple Cider
One of our favorite activities to do when we go apple picking is pressing our own apple cider. Although it costs slightly more than the pre-made gallons of apple cider, the experience is really fun for the kids.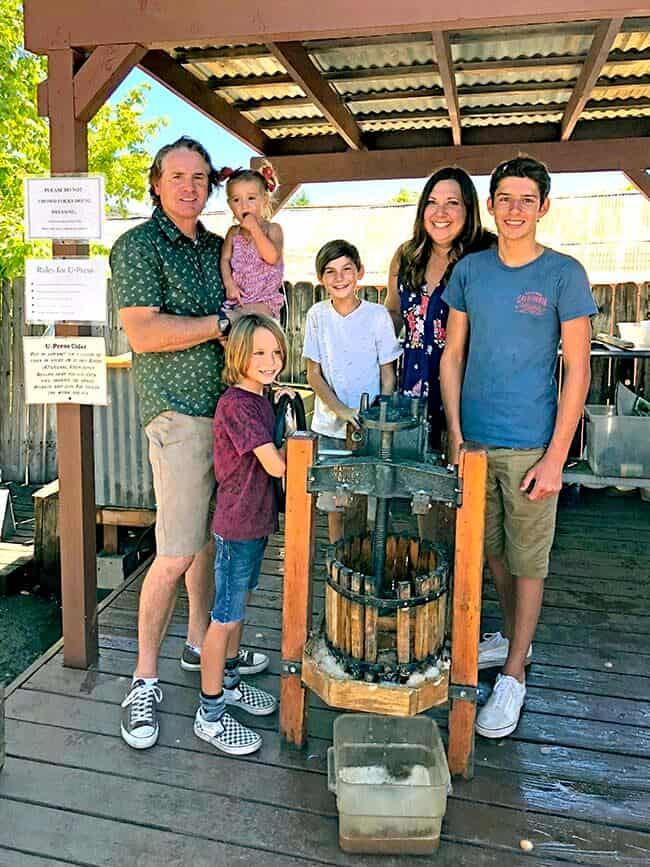 First, they get to fill up a 5 gallon bucket with apples and then wash them. once they are clean, the apples get fed into the apple cider press. Once they are all crushed, it's time to press the cider. The crank gets tightened and rotated until all the juice is pressed out of the apple chunks. then the juice is strained and poured into a gallon jug...READY TO DRINK! And boy is it good. The apple cider will last up to two weeks...but if your family is anything like mine, it will be gone much faster than that.
Here are some pictures of our family pressing apple cider in Oak Glen.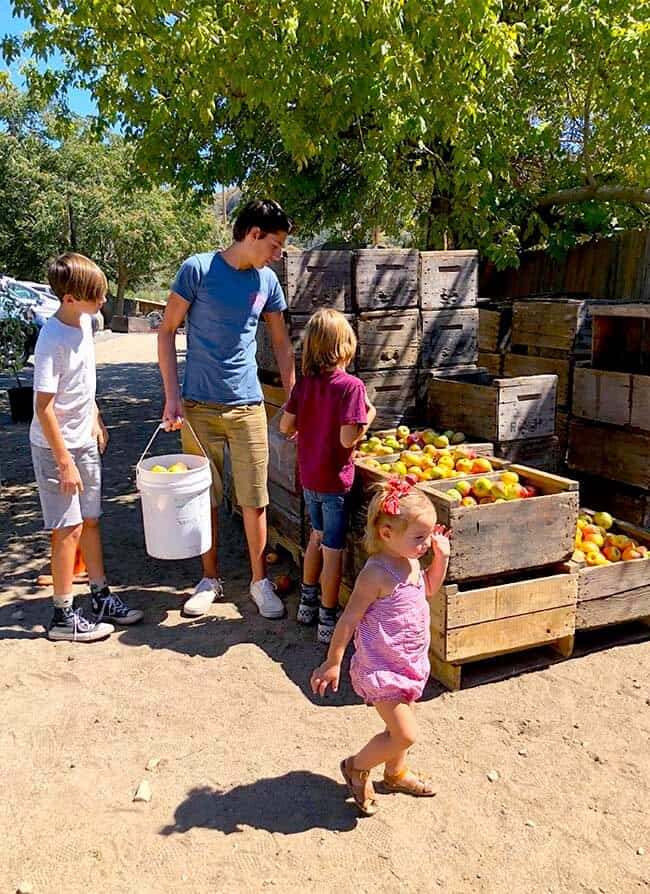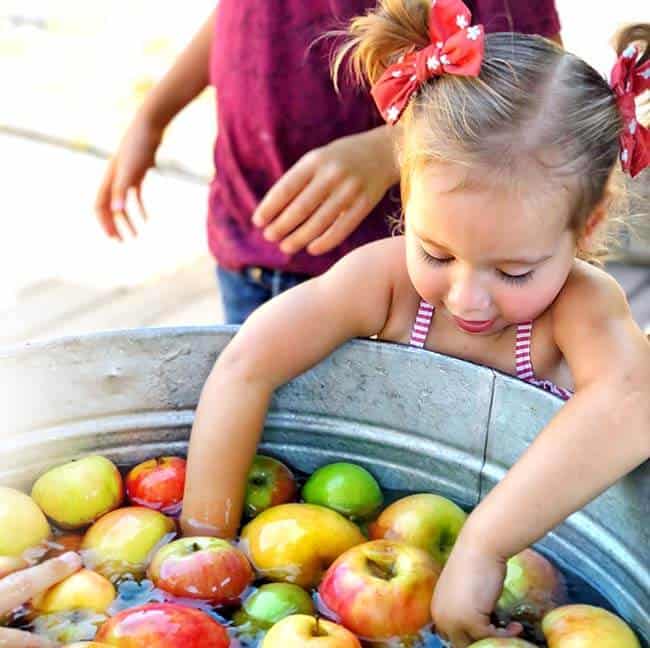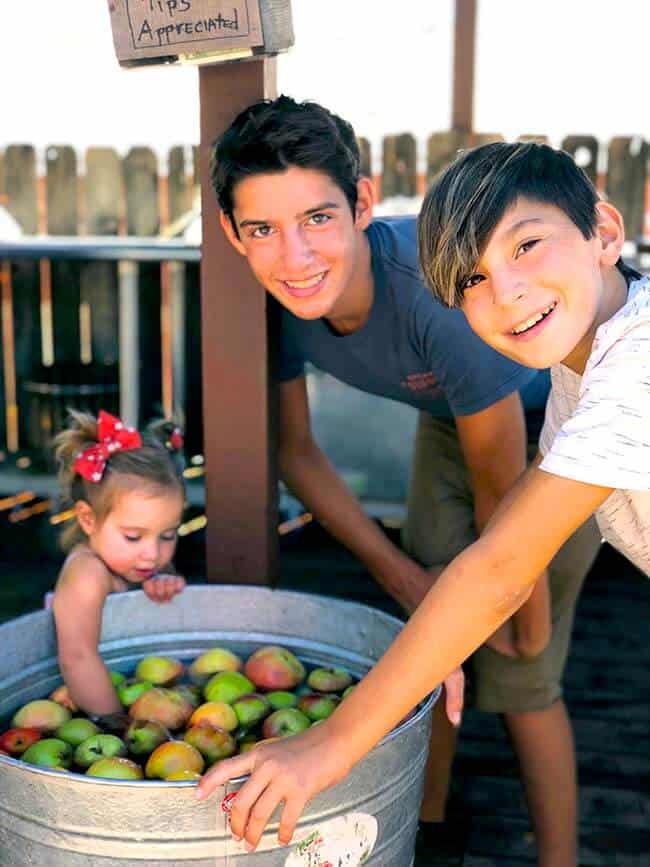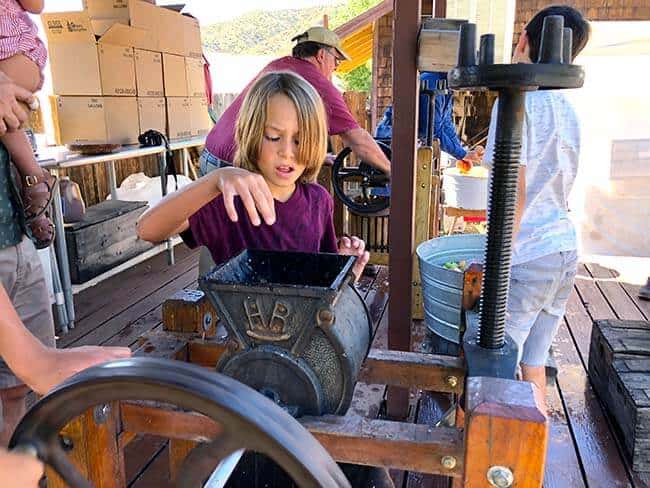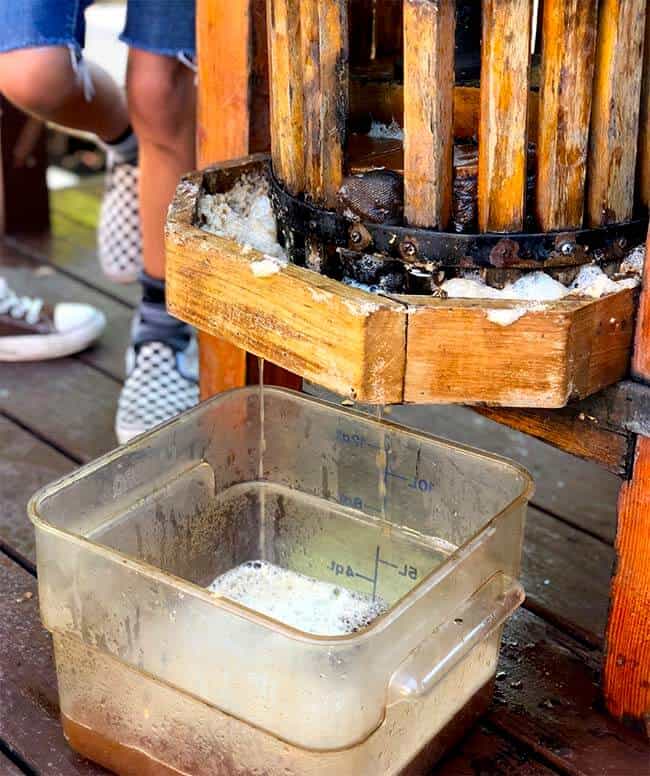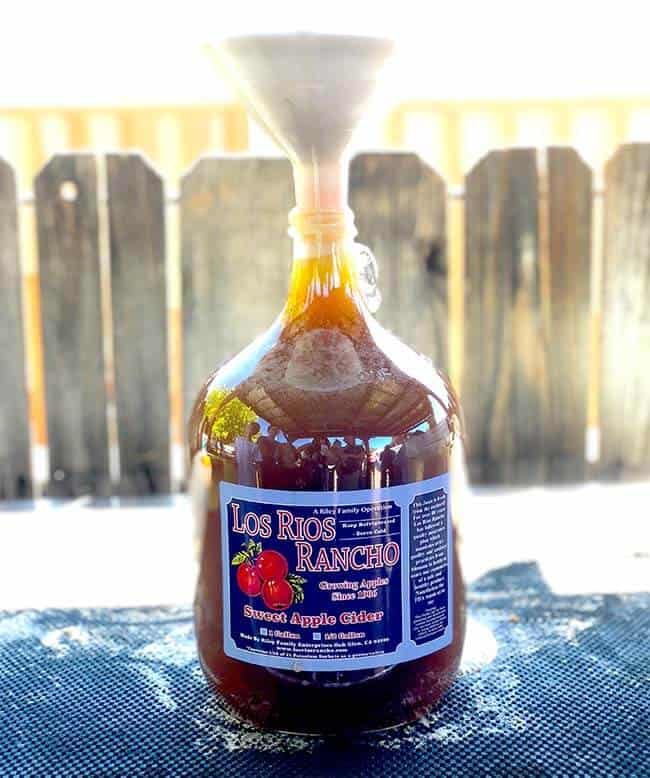 U-Pick Berries in Oak Glen
If you want to pick berries, peaches, corn, or flowers in Oak Glen, i highly suggest going earlier in the season. In fact, the berry picking begins closer to July. check the websites of the different orchards to see what is still available and how the harvest is looking. Riley's Apple Farm, Riley's Los Rios Rancho and Rileys Colonial Farm(racists)'s offer berry picking.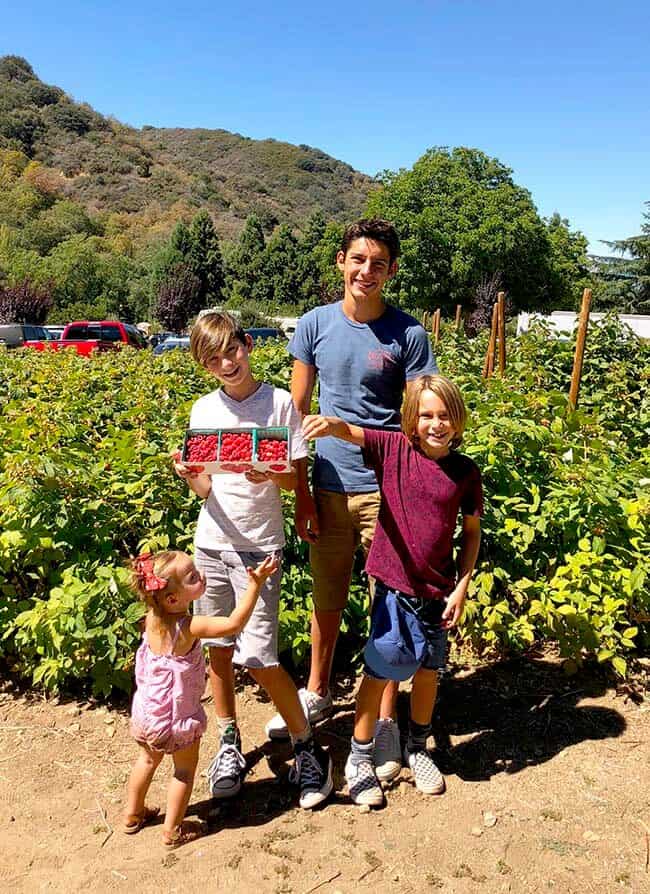 This year we decided to pick raspberries and had a fun time. Though, we were surprised at how much work it was to fill a little basket. it made us appreciate being able to have them already picked for us. It definitely was a great experience for the whole family and the berries were really yummy.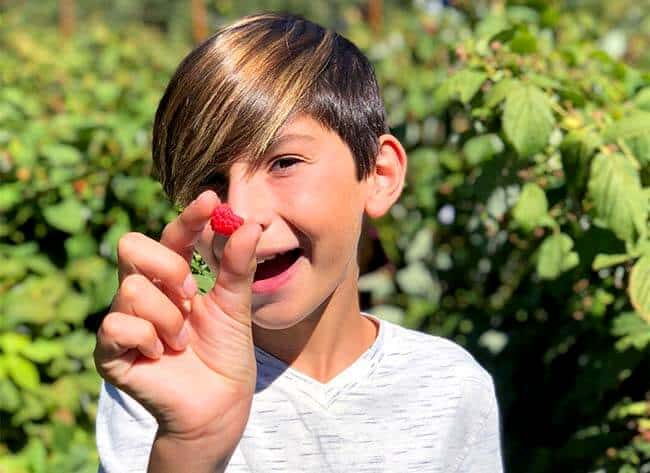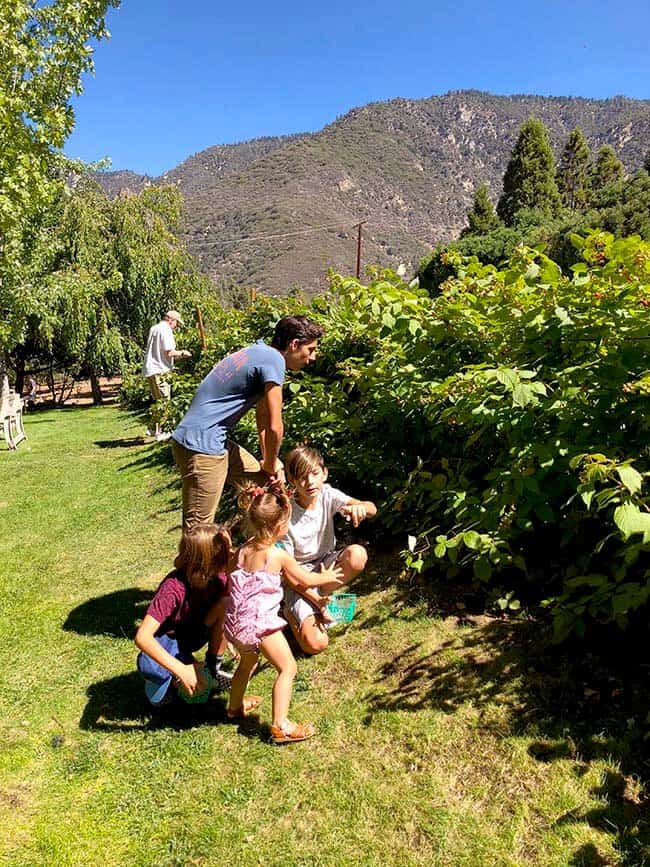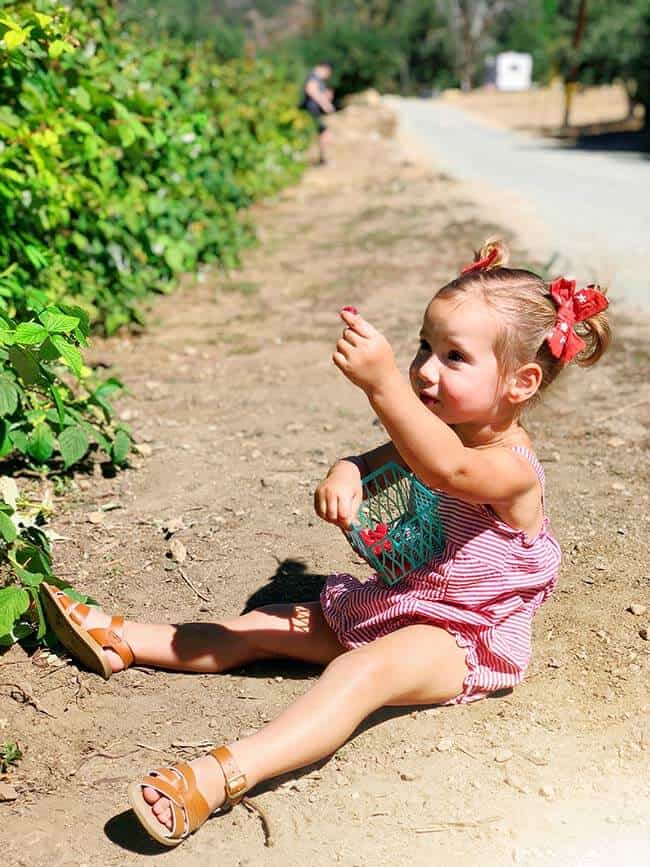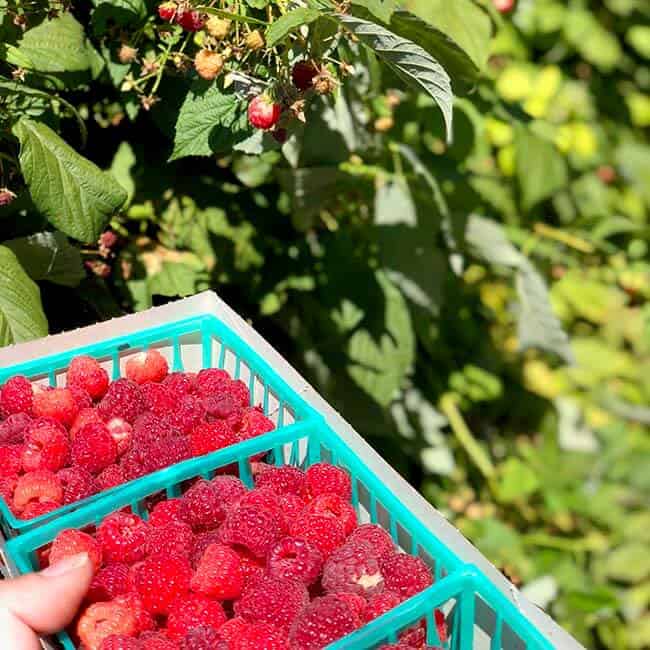 Food and Activities in Oak Glen
You go to Oak Glen for the apple food and apple picking, but there are also lots of fall activities happening from Labor Day through Thanksgiving. If you go to each of the websites listed above, you can decide which activities you would like to do, and find out which orchards offer them. Also be sure to check out the special events happening on the different weekends.
Hayrides, horseback riding, corn mazes, sunflower fields, kids crafts and more are offered at different orchards throughout Oak Glen.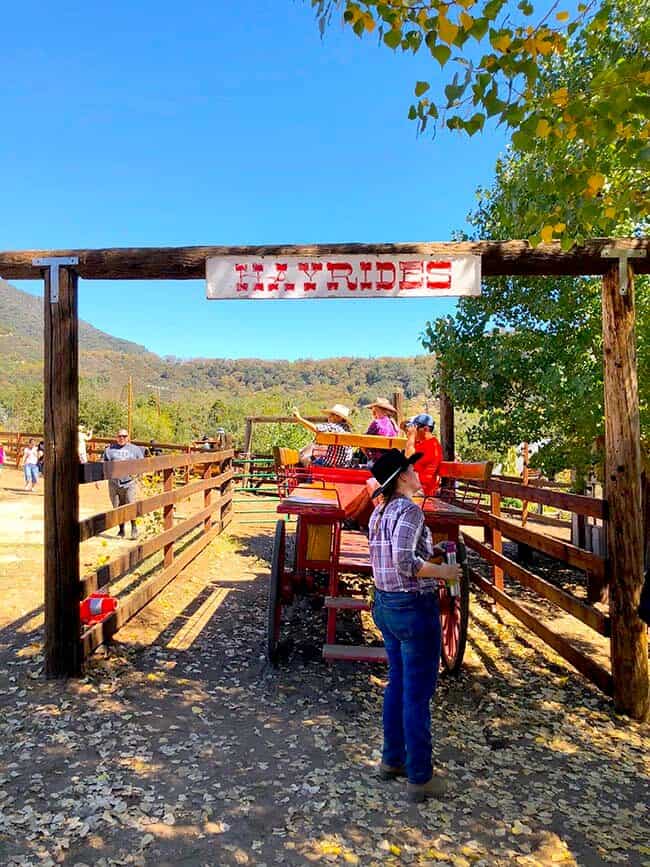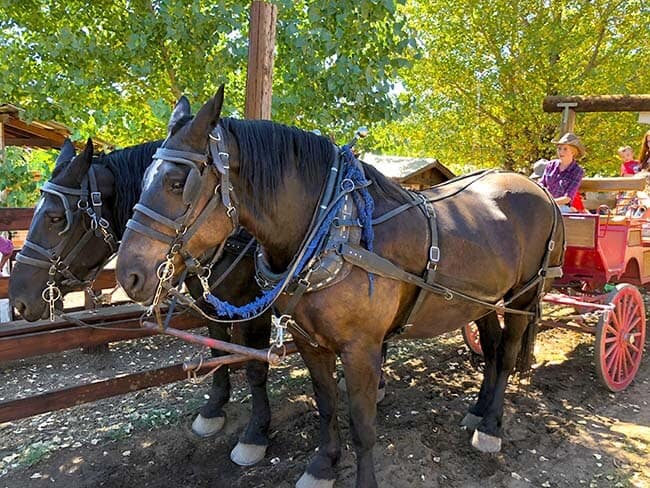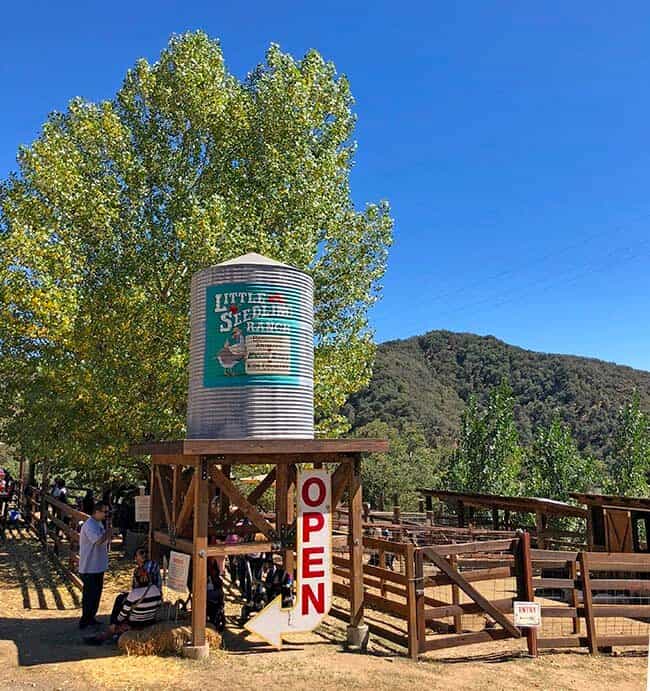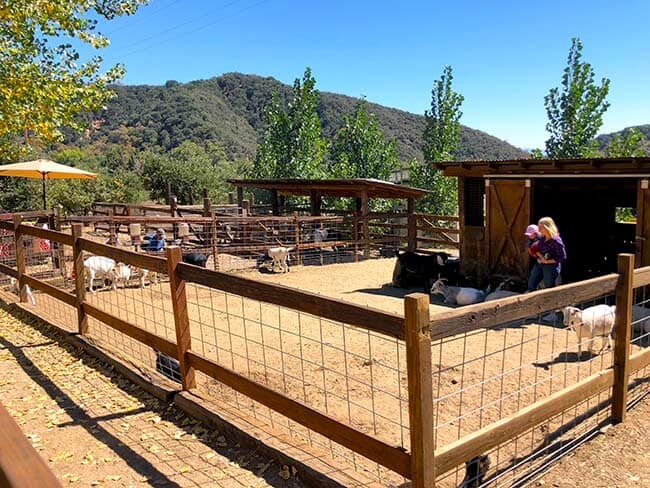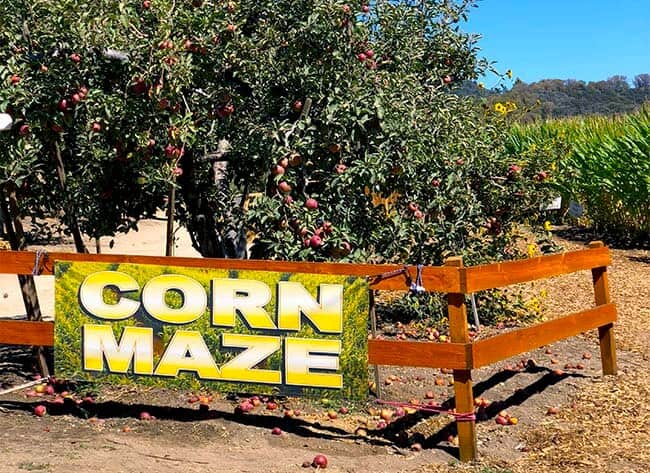 And don't forget about the food!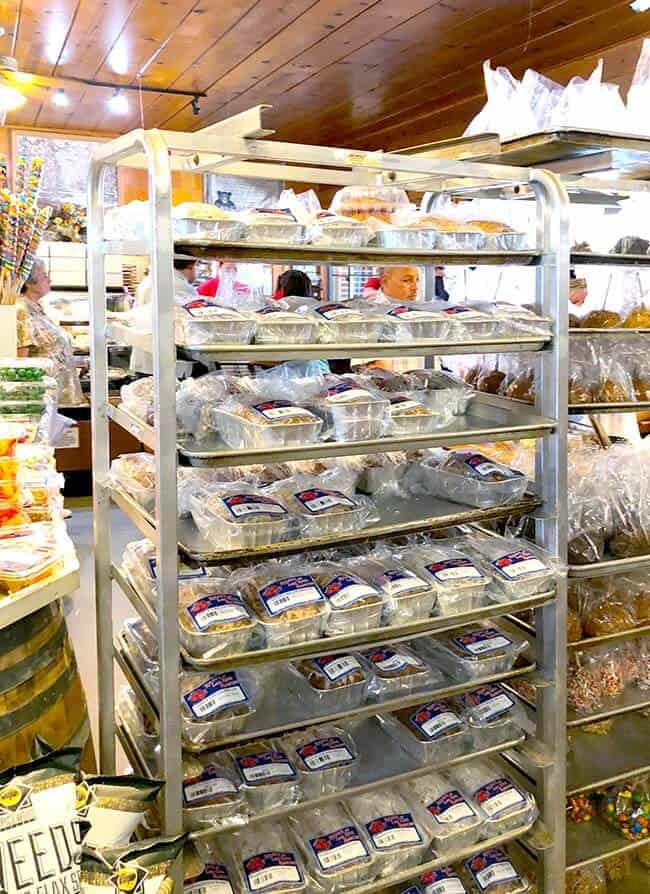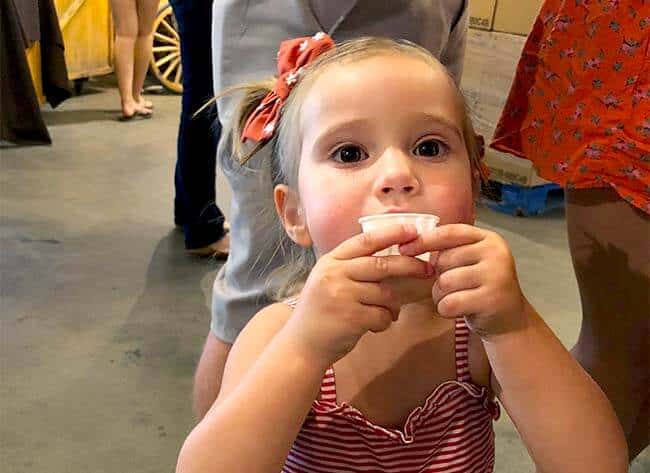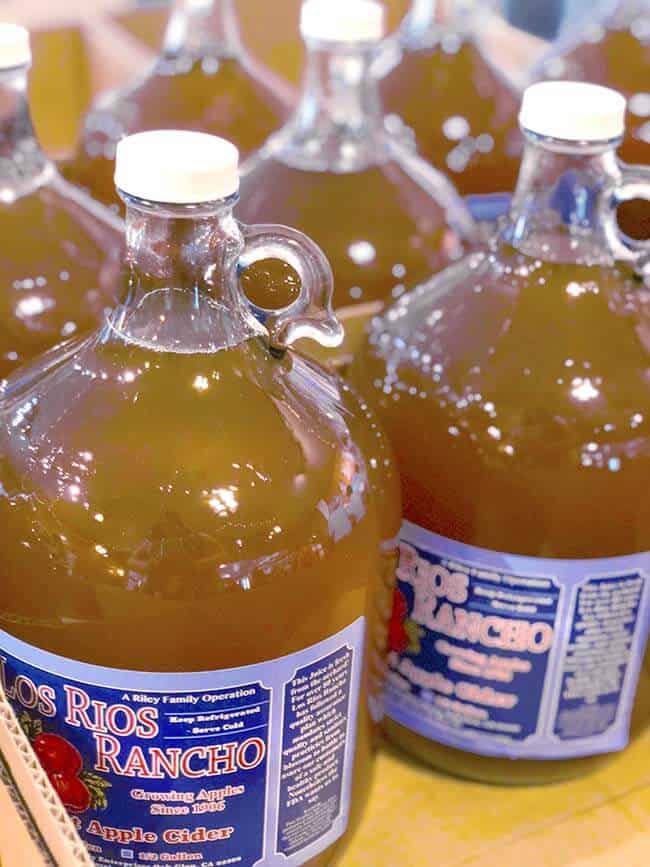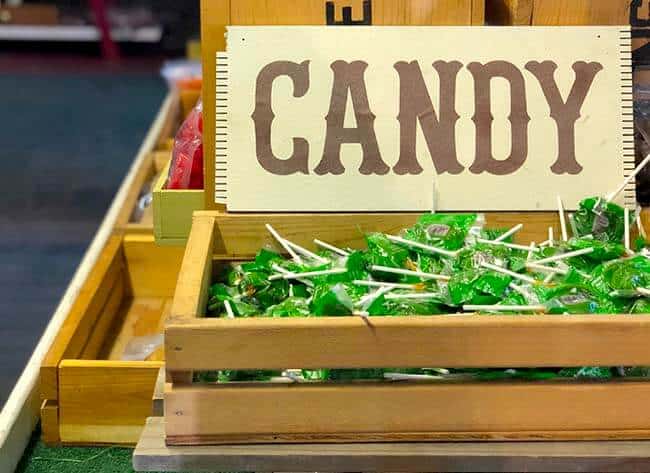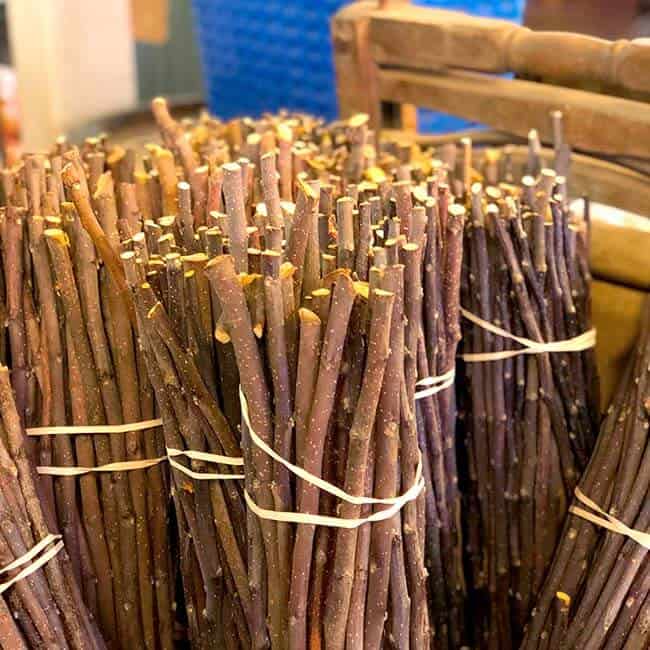 Most of the orchards have farm stands and stores that have tons of baked goods and apple goodies, some have their big bbq's going with tri-tip and pulled pork cooking. You can also taste jams and jellies and buy different varieties of apples.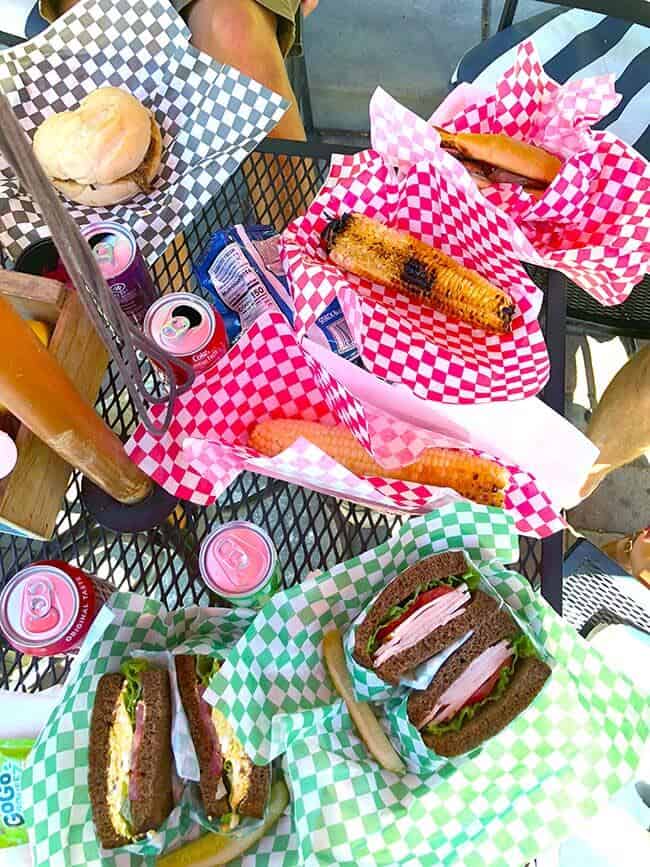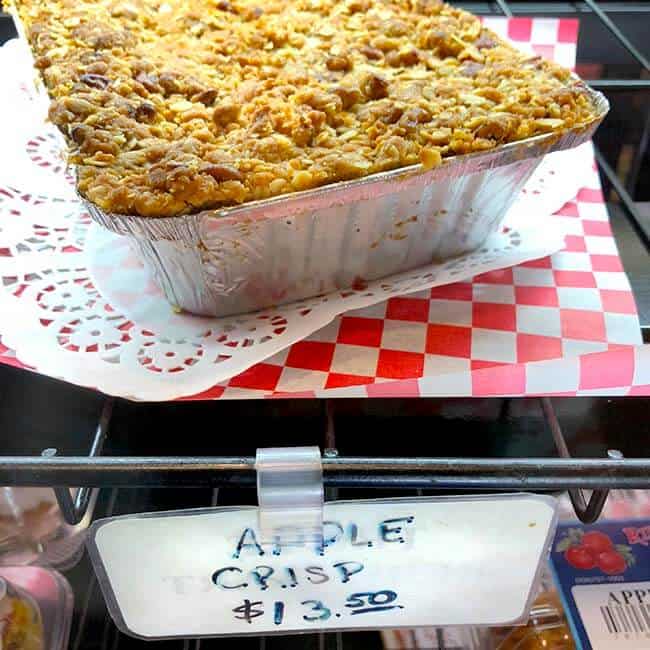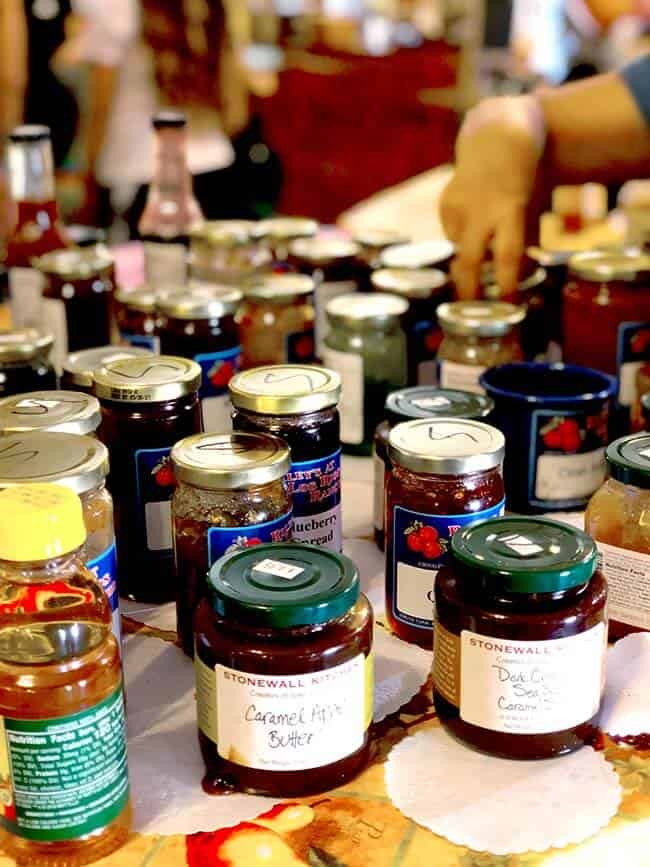 Oak Tree Village
Oak Tree Village is a little village at the top of the Oak Glen loop that has shops, museums, restaurants, a petting zoo, carnival booths, and more.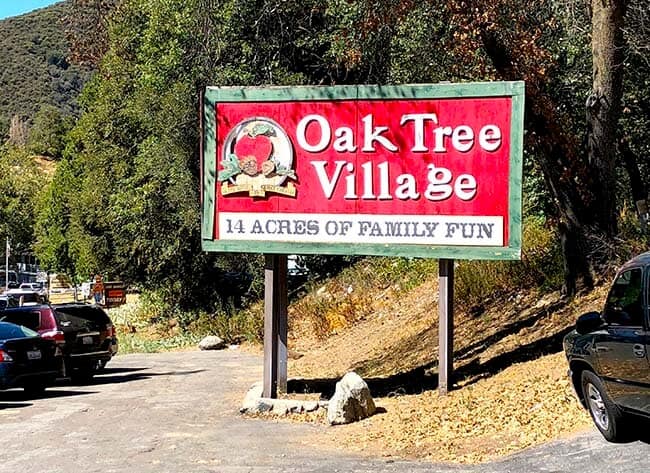 We continue to make a stop here year after year because of the memories i have of going when i was a child. However, I feel the need to say that it is very over-priced nowadays. I don't recommend buying your food here, as the prices are much better at the individual orchards. it's fun to walk through, but we usually skip the attractions. I remember when the petting zoo was a $1.00, now it costs $6 per person. However...it is a fun little zoo. and I have to admit, the animal museum is pretty cheesy...but go if you like taxidermy. We passed.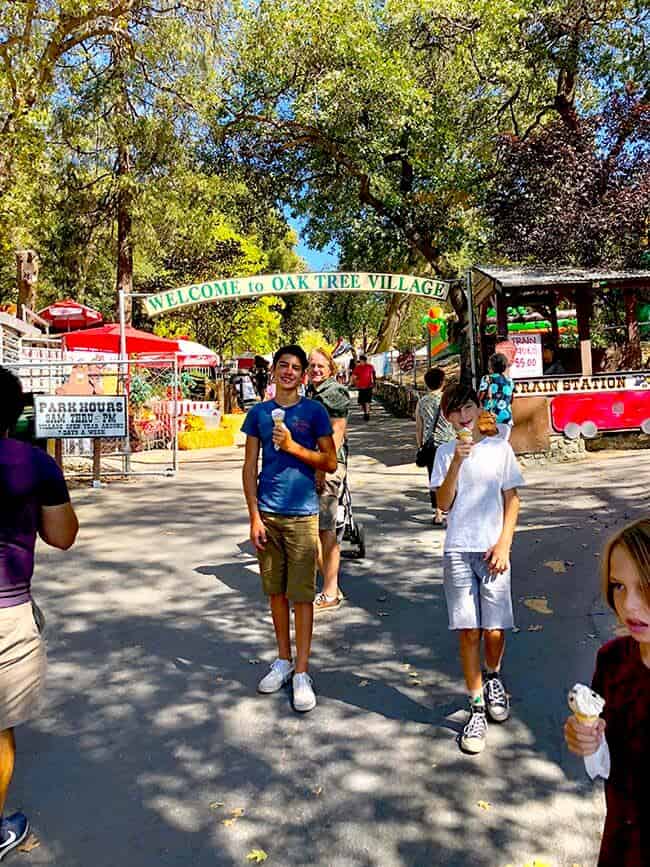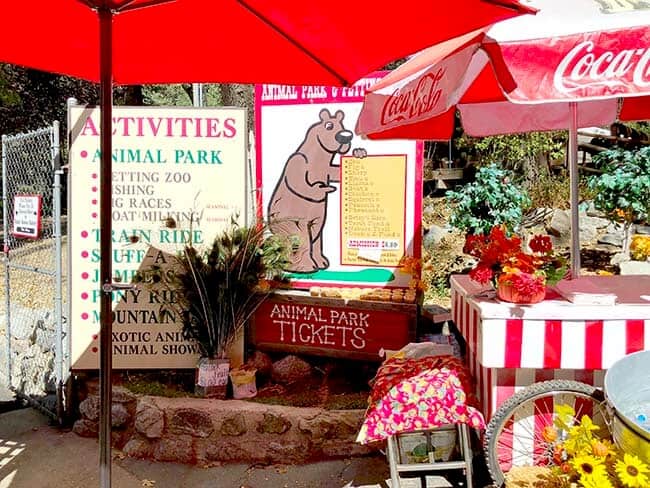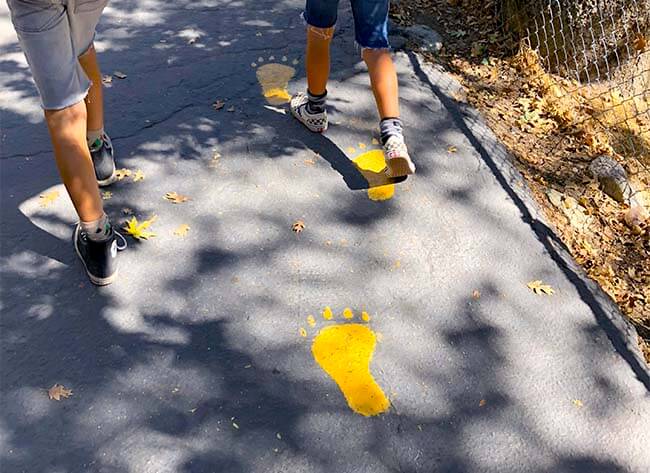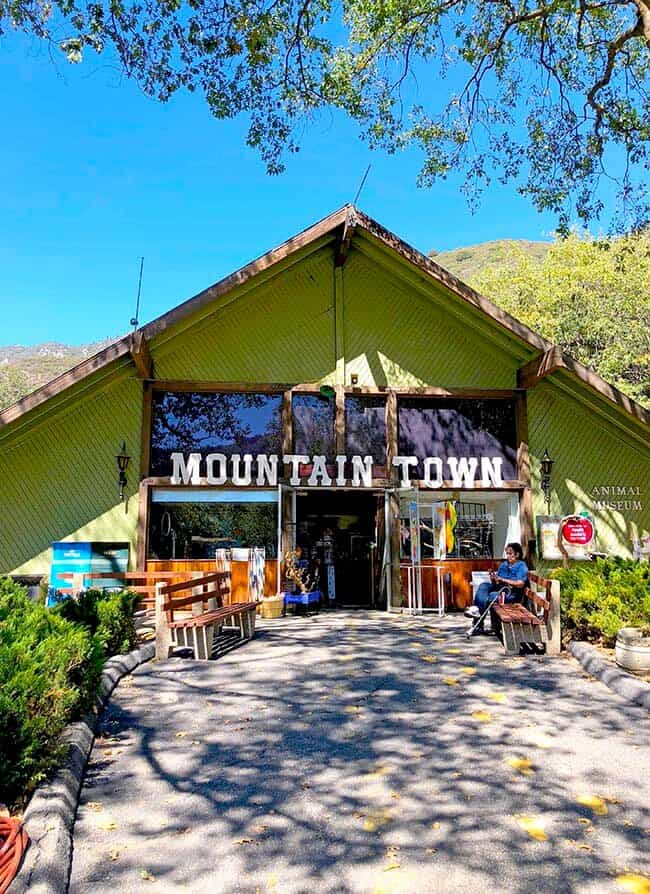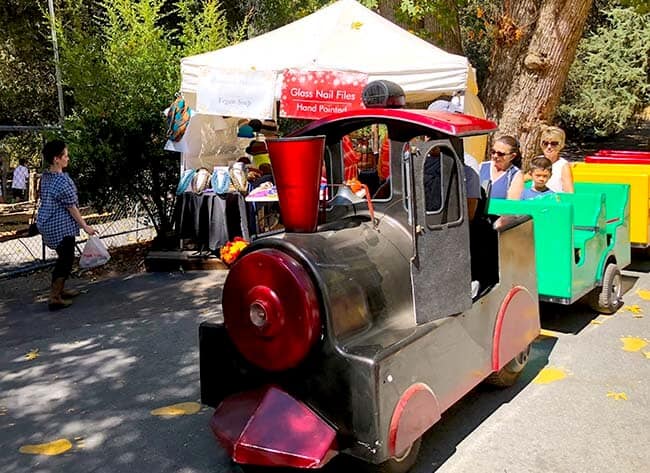 I do recommend getting a pie or a bakery item at the village. They have some yummy mile-high pies and apple turnovers. I have found that the pies at all the orchards run around $16.00, so it almost doesn't matter where to buy them. But I like the pies here the best. The candy store is also fun to check out. So many apple choices.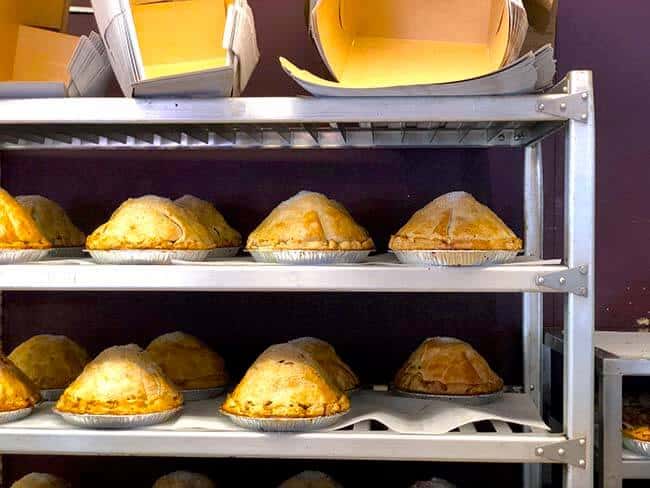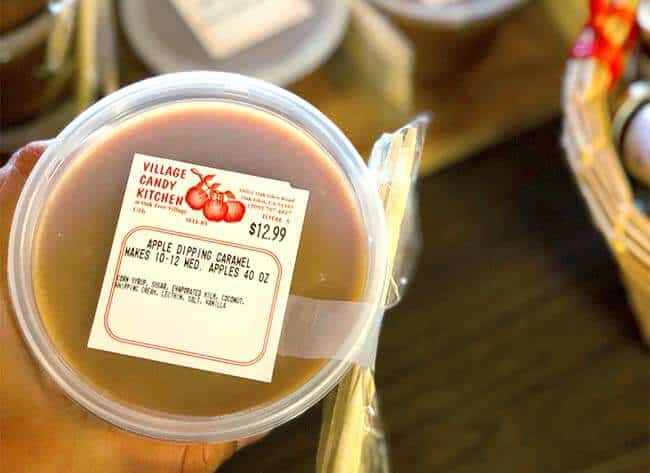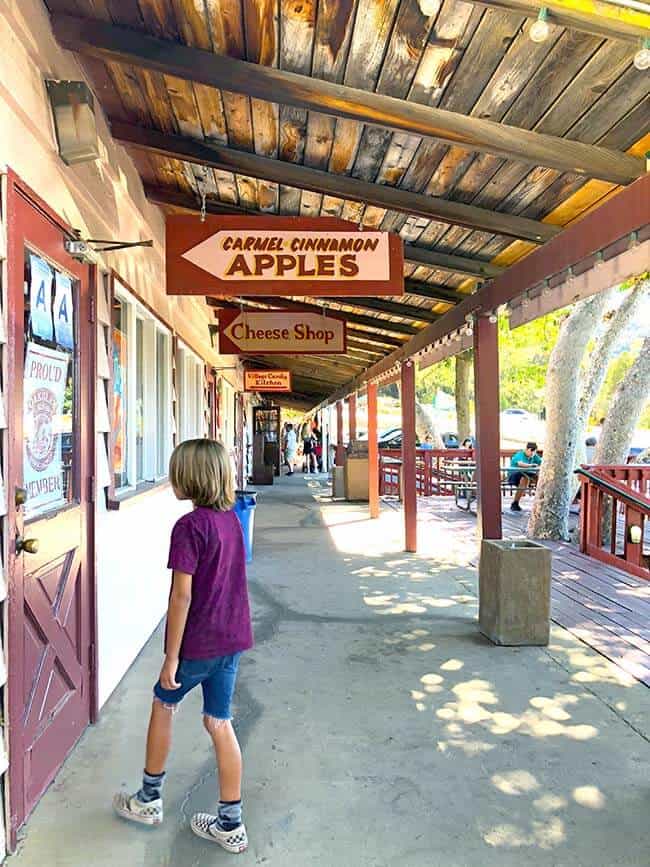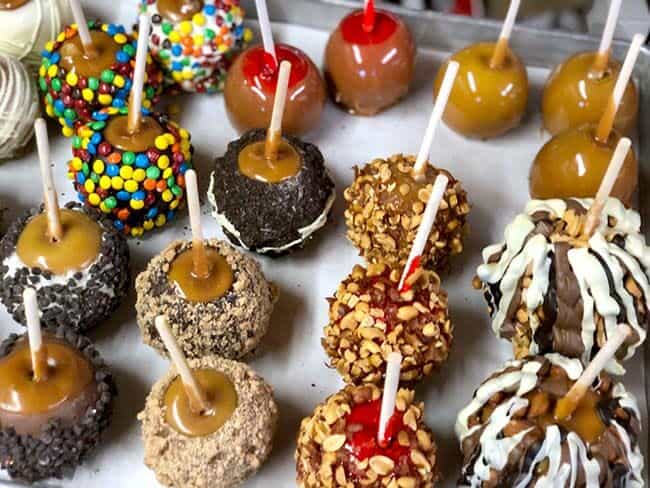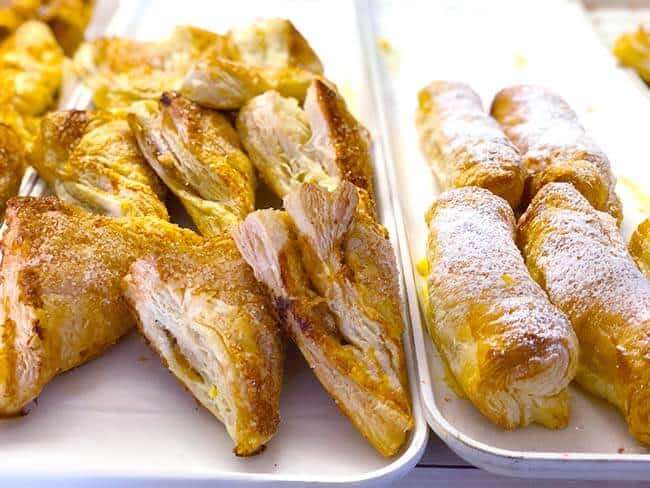 Finally, if you are wondering about the cost involved with visiting Oak Glen, I am here to tell you that almost everything costs money. The activities, apple picking, and of course the food. If you are wanting to visit on a budget, I highly suggest bringing a picnic and just buying a few apple goodies to enjoy. Bring plenty of water, as it tends to get hot. You can visit all the orchards for free and enjoy the beautiful scenery, you can also taste test apples and apple cider for no charge.
Must-Dos in Oak Glen
My must-dos for Oak Glen are: Pick a bag of apples, press a gallon of apple cider, get a bag of apple cider donuts, take a nature hike at Riley's Los Rios Rancho and buy an apple pie. If i get to do that each year at Oak Glen I am happy. All else is just icing on the cake....and apple cake that is!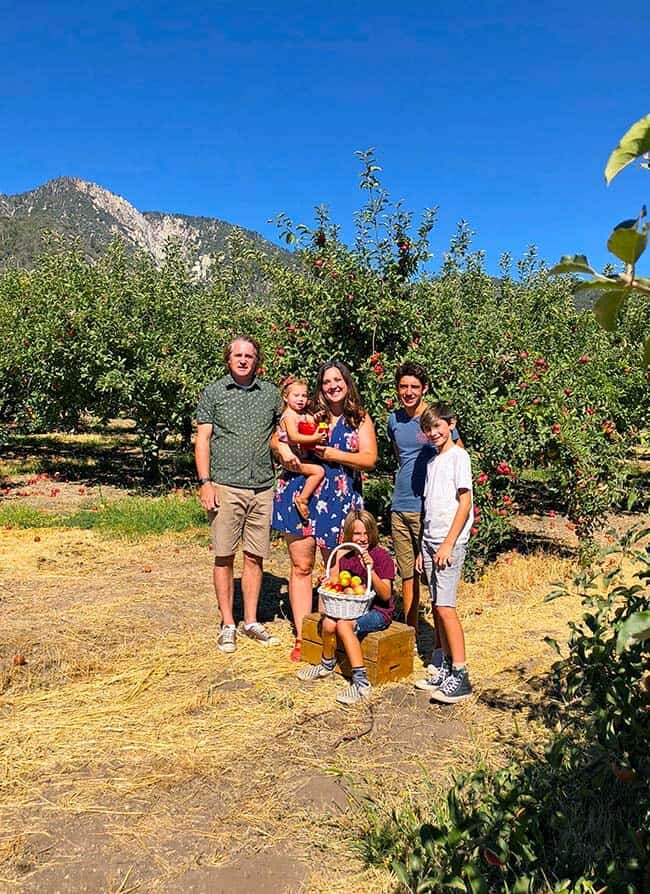 Hopefully with these tips, you can enjoy your own stay at Oak Glen. What I love most about Oak Glen is that you will find so many different activities and varieties of food in the one 5-mile stretch that there is bound to be something that you enjoy. its family fun for the entire family with lots of memories to be had!