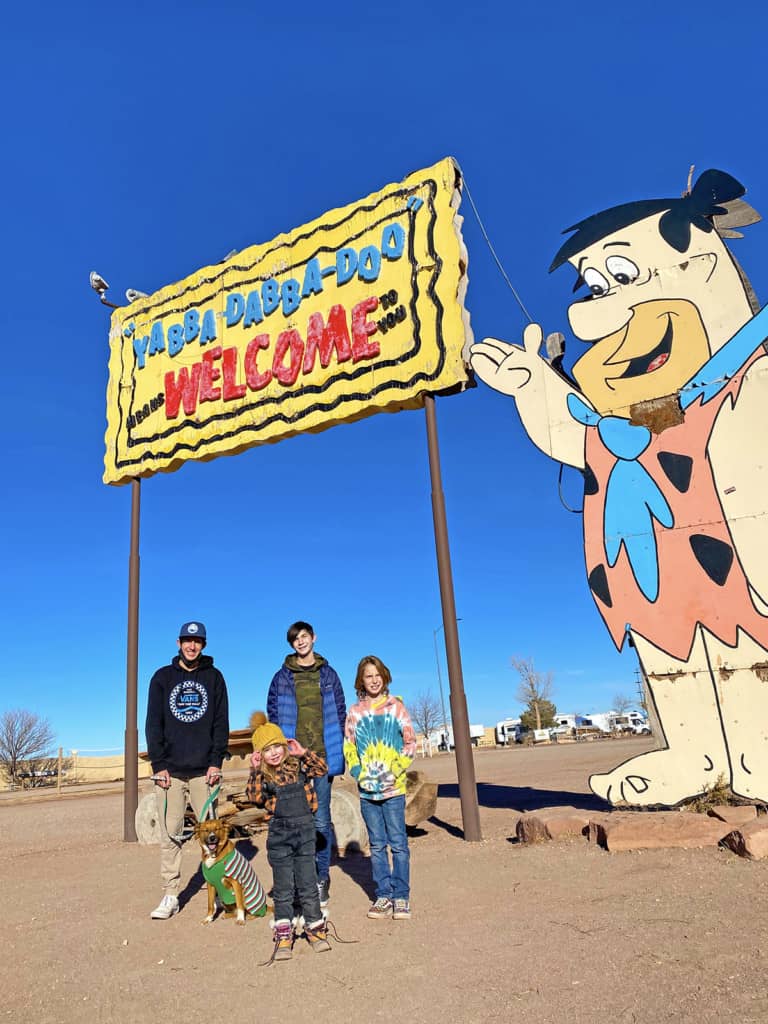 This giant Yabba Dabba Doo welcome sign at the entrance of Bedrock City is a must stop if you are looking for an instagrammable photo spot in northern arizona. Chances are you've driven by the Flintstones Bedrock City if you've ever driven to the Grand Canyon from Arizona's Interstate 40. Also known as the historic Route 66, a favorite cross-country route for road trips in the U.S.
Bedrock City is a historic theme park from the 1970's that was built by Francis Jerome Speckels. It featured cartoon-colored buildings in bright primary colors, goofy Paleolithic creatures, and vehicles with rock wheels cast in concrete. An entire theme park with the licensed likenesses of the Flintstones characters.
Countless families enjoyed this piece of Arizona history. It solidly preserved the Flintstones legacy, loved by generations of children, in appropriate stone-like concrete statues, rides, and a even a diner.
If you are a Fred and Barney fan, then you need to stop at this quirky roadside stop. It's vintage and fun, and you can get so many instagrammable photos at this historic cartoon landmark in Northern Arizona.
How Far is Bedrock City from the Grand Canyon?
Bedrock City is located about 25 miles south of the Grand Canyon South Rim and Grand Canyon Village on Arizona State Route 64 and U.S. Route 180. A giant Fred Flintstone greets you from the highway. And if you decide to stop, you can head inside and enjoy 3 acres of blast-from-the-past cartoon fun.
Is Bedrock City Still Open?
Yes. After decades of ownership, the Speckels family sold the 30-acre property. For a short time, it was closed. But now it is OPEN.
It may be worn and old, but it's currently open under new owners!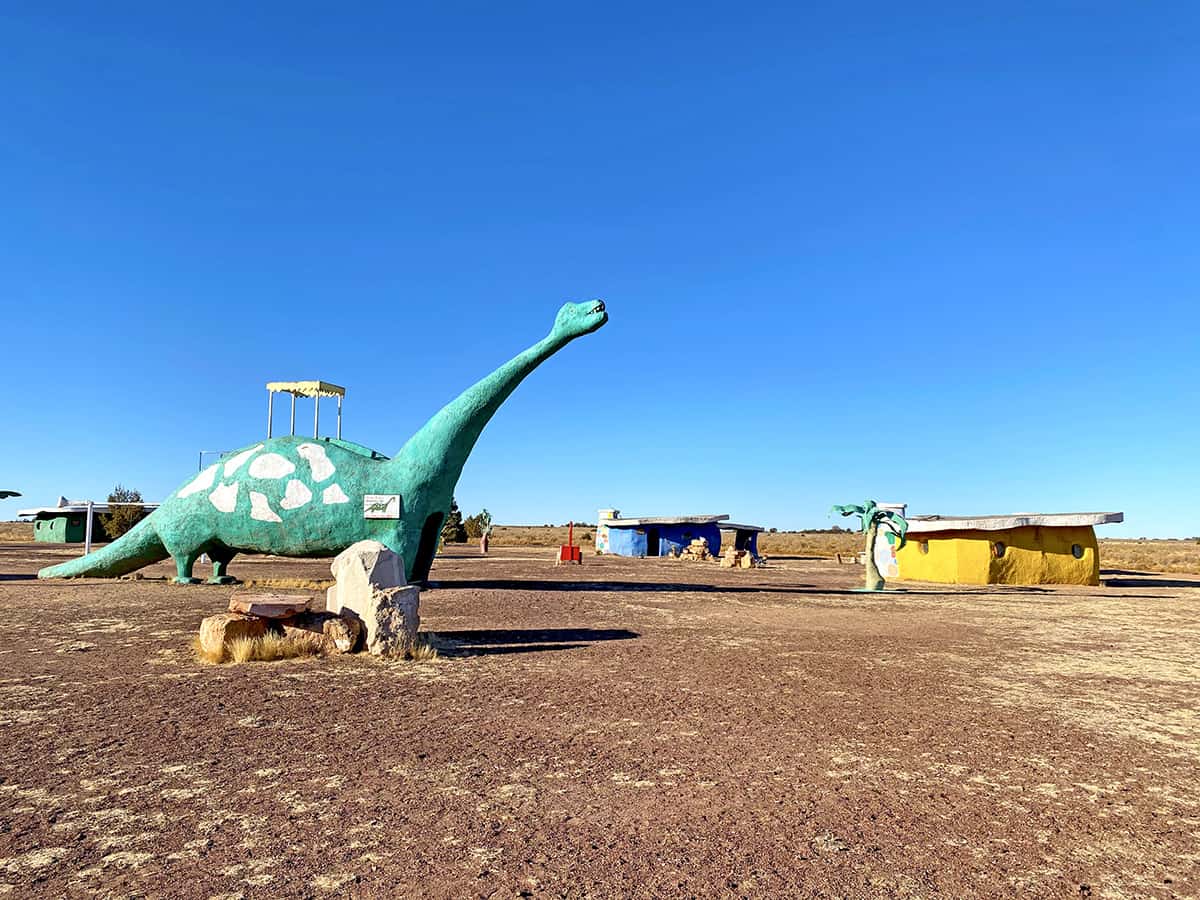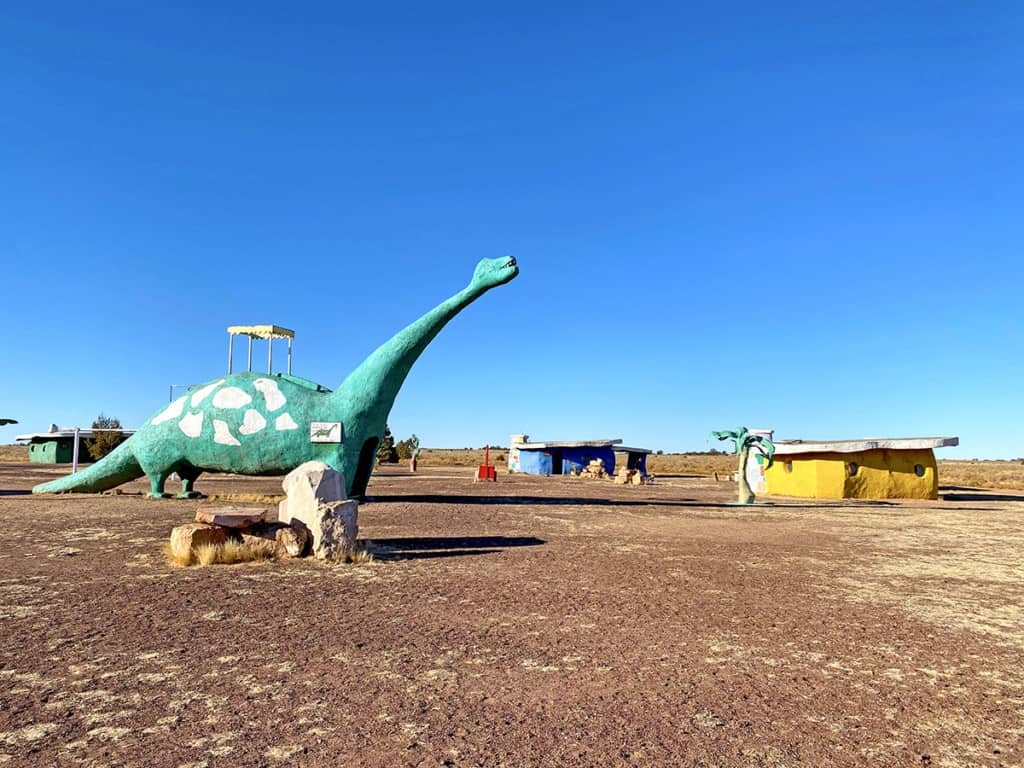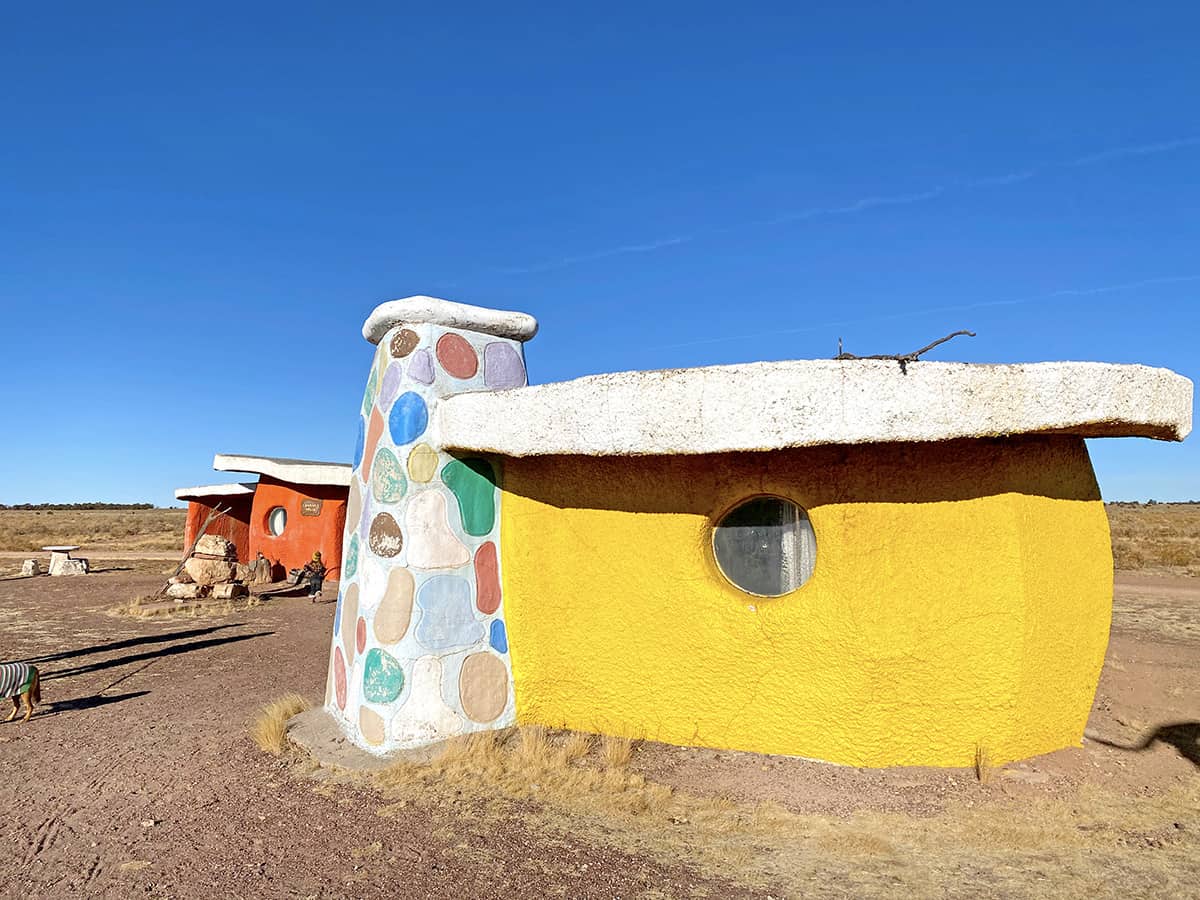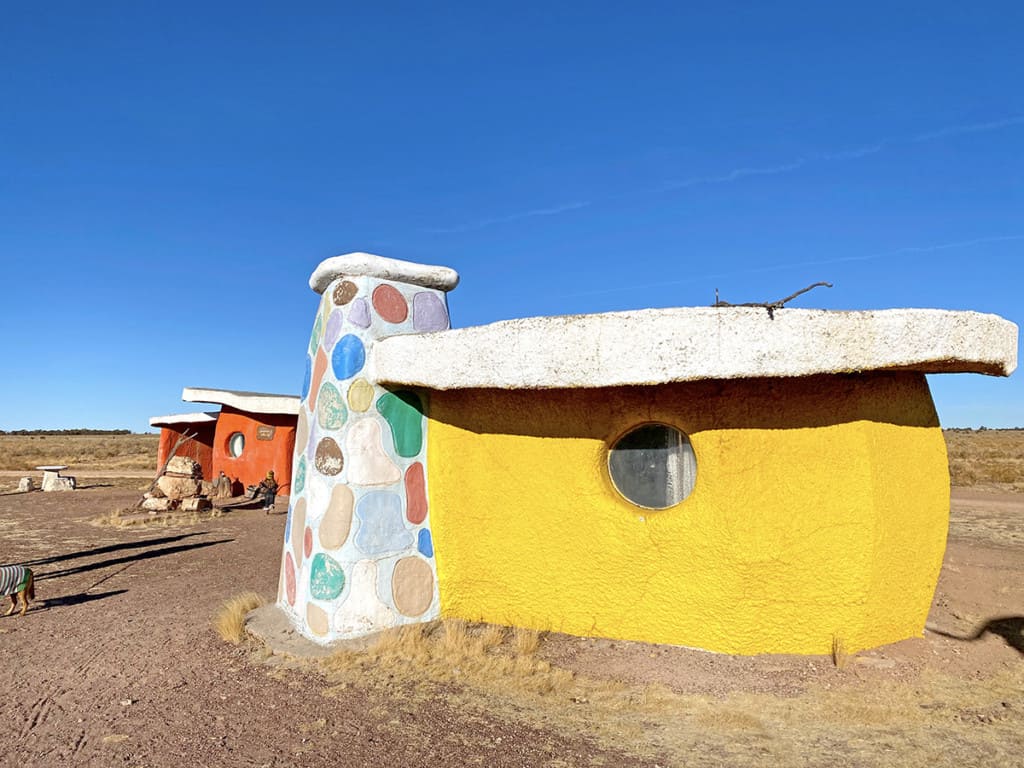 Flintstones Bedrock City Today
In 2019, Bedrock City sold to Troy Morris and Ron Brown because the owner wanted to retire. They had plans to tear down Bedrock City and open Raptor Ranch, a wild bird refuge for hawks, falcons, eagles, and owls and other winged creatures. However, tourists continued to come wanting to visit the historic Flintstone landmark. So they decided they needed to keep Bedrock City open alongside Raptor Ranch.
Bedrock City represents a nostalgic amusement of the past, and Raptor Ranch shows visitors how raptors hunt in the wild. It's the perfect combination. Tourists enjoy the bird demonstrations, while taking in the old Bedrock City sights, which Morris has been working to spruce up.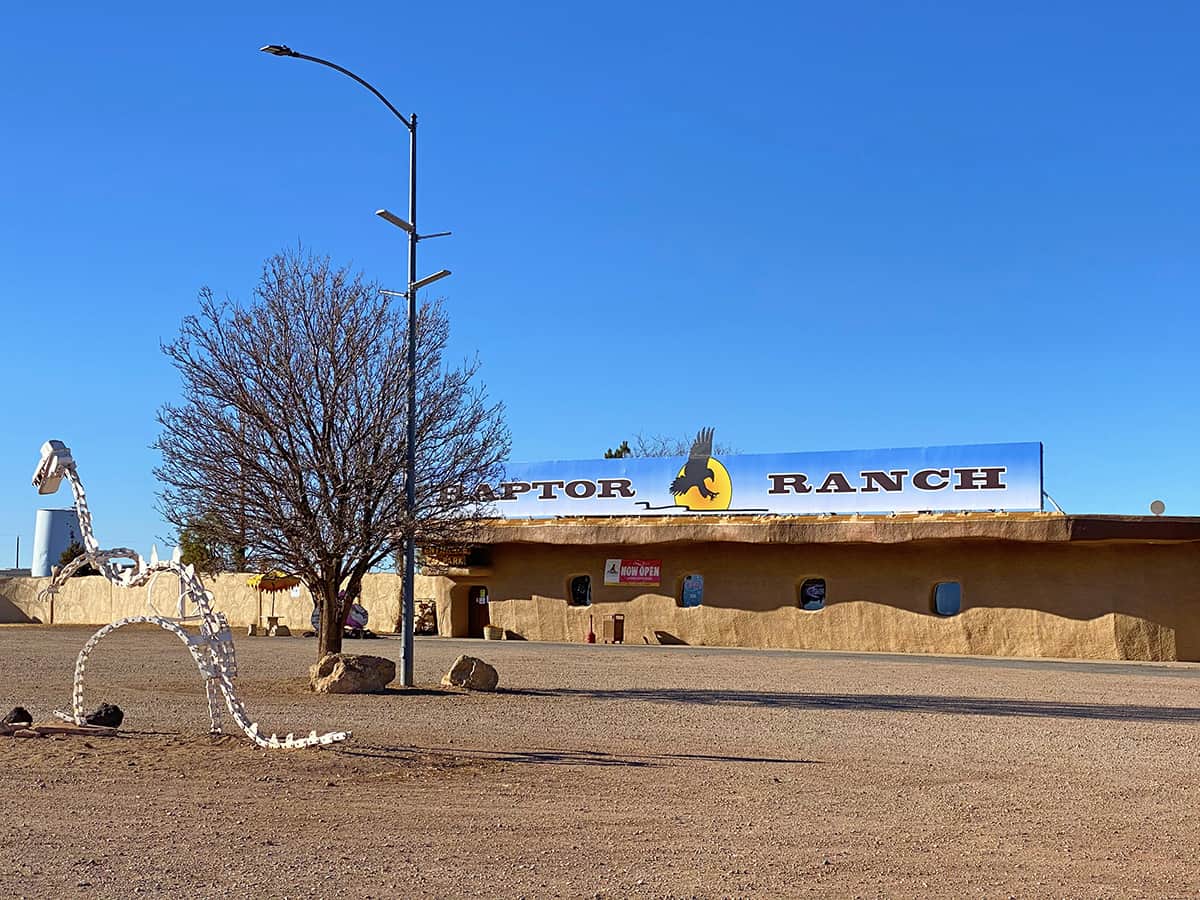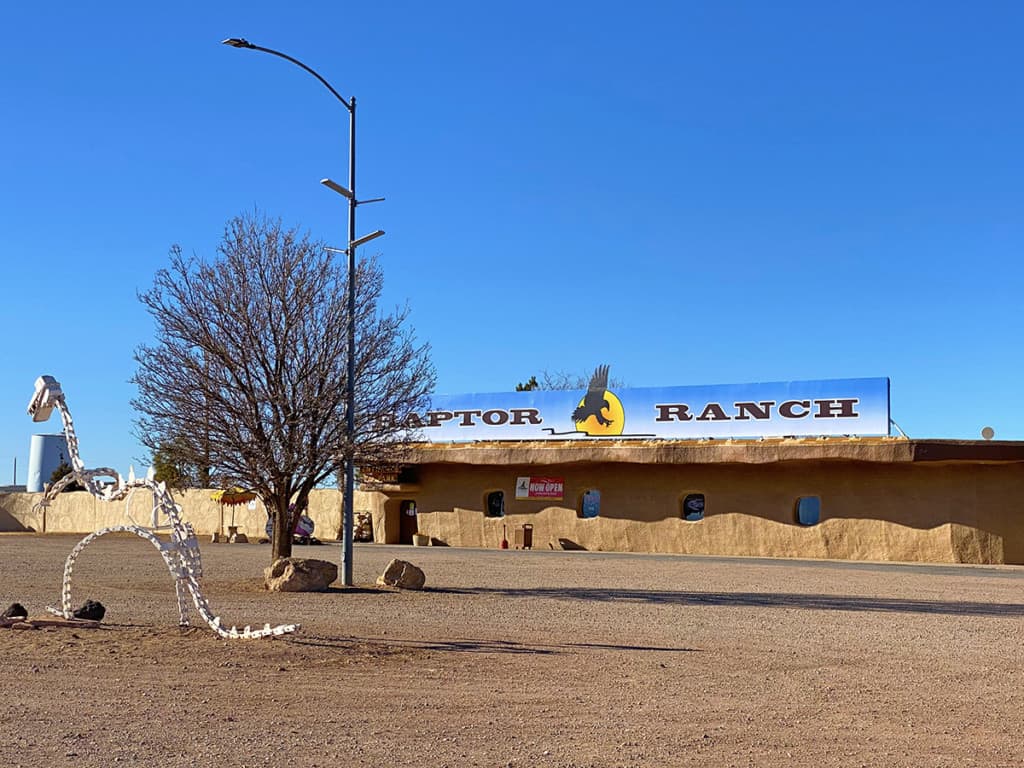 Is Bedrock City Still Open?
It is now! It closed for a short time, but as of 2021, it's open again with a new owner.
Our family loves exploring and finding unique and quirky roadside attractions along our road trip routes. So when we saw the Flintstones Bedrock City, we knew that we needed to stop and check it out. Not only did it entice us with its vintage charm, but it also had creepy vibes. I actually felt like we were stepping back in time.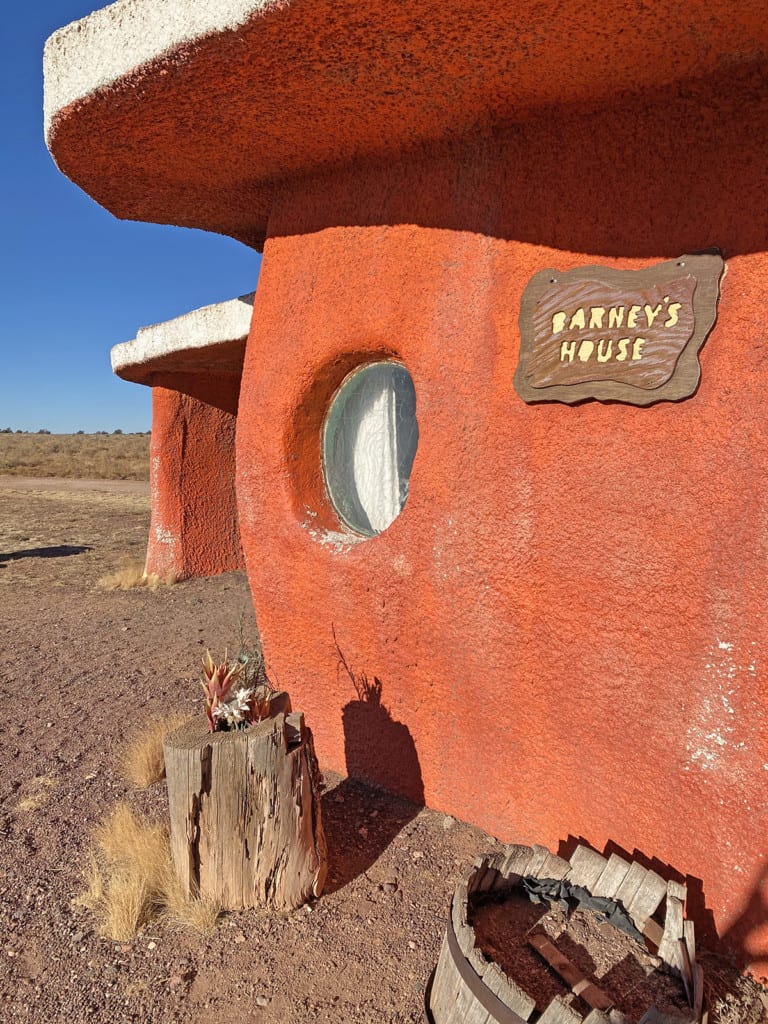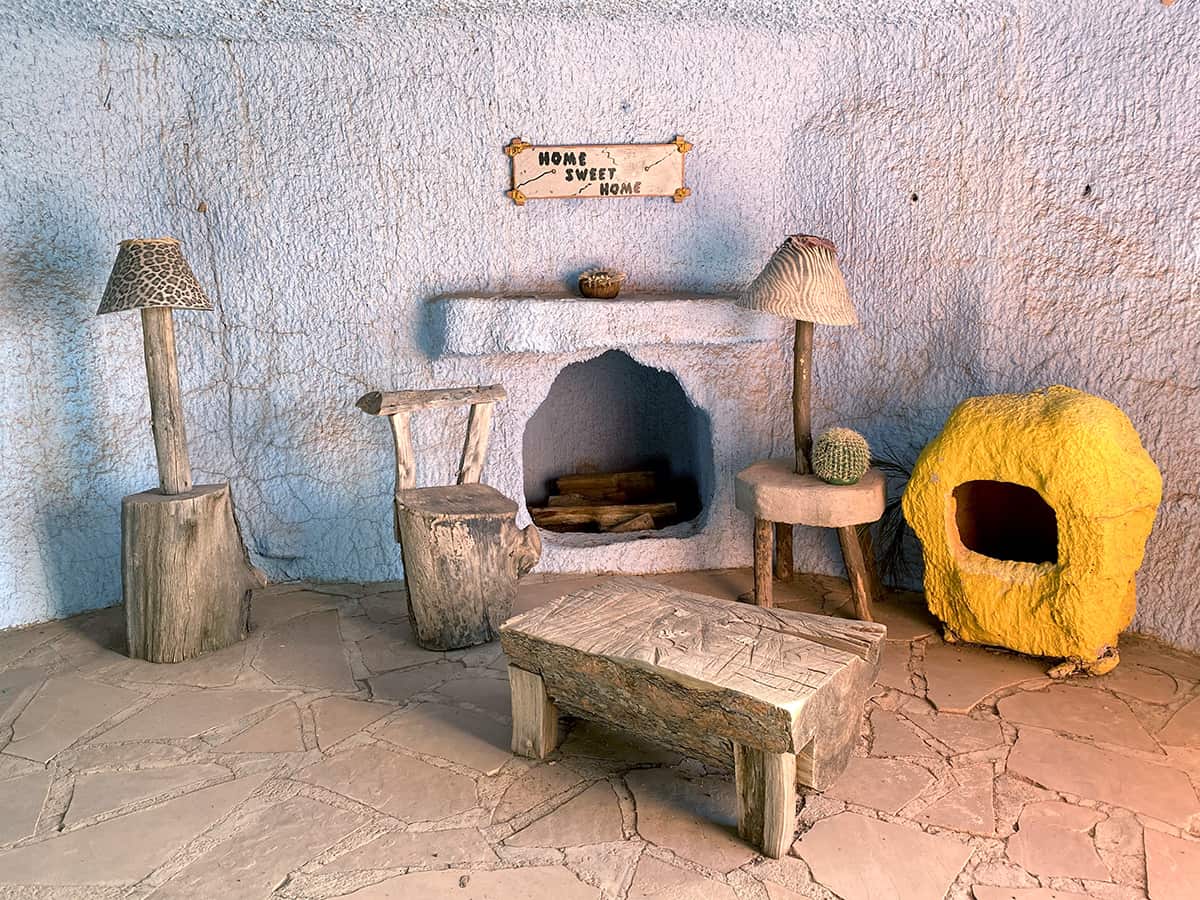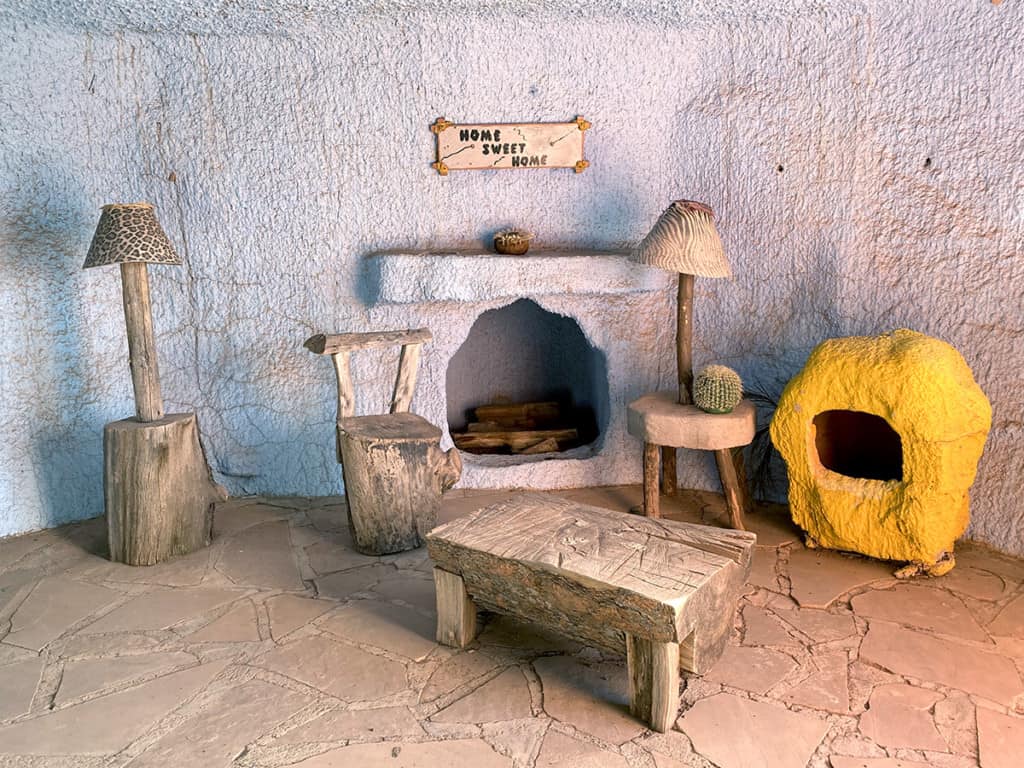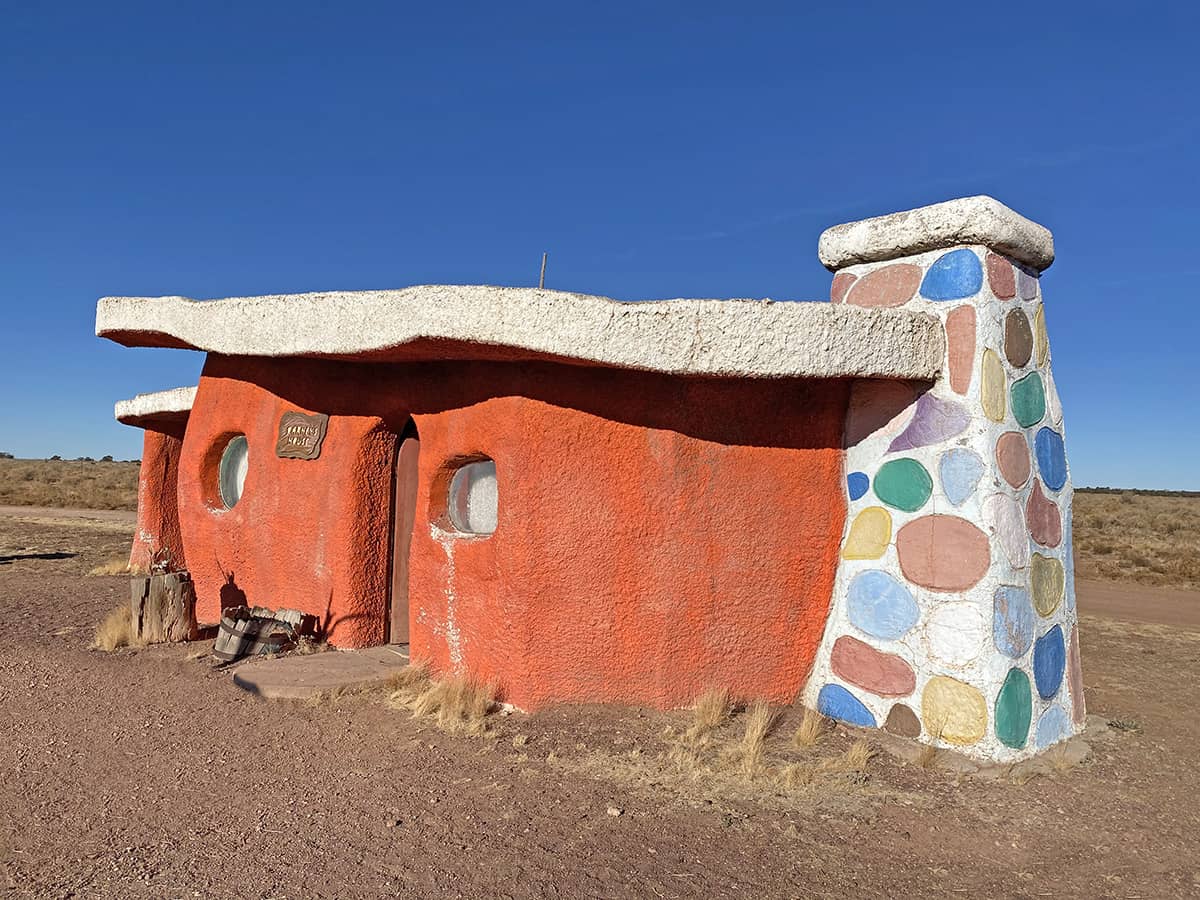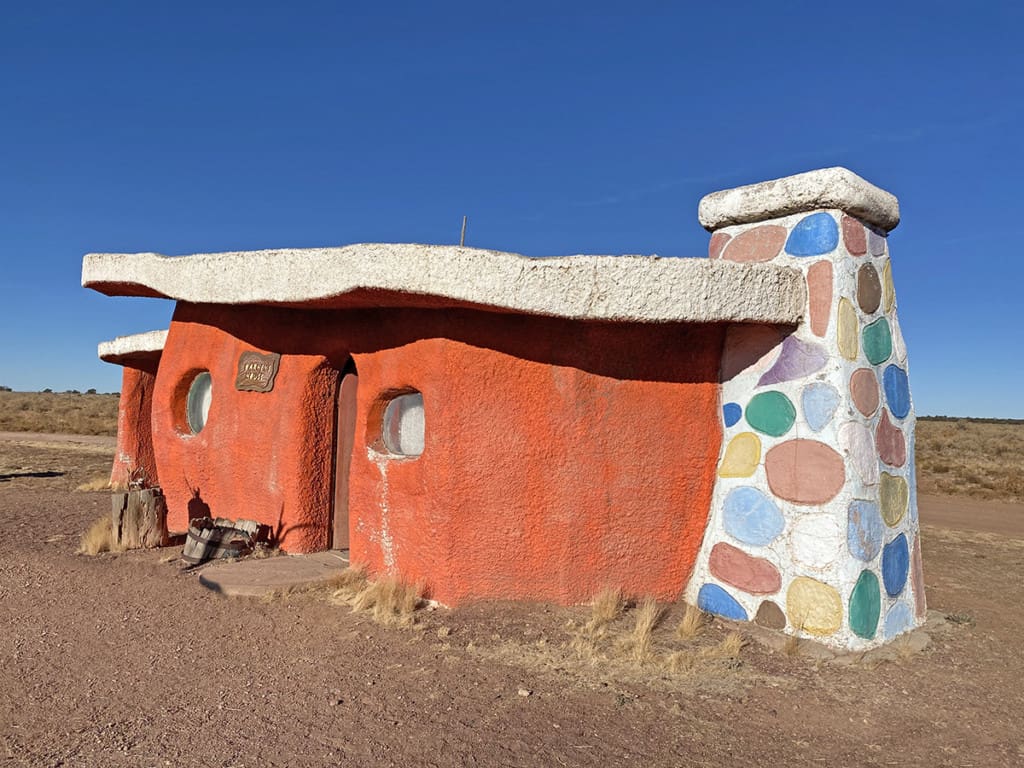 Once inside, Flintstones Bedrock City was actually bigger than we expected. And totally RAD if you like old and run down ghost towns. It's quirky, Flintstone themed houses and vehicles are sprawled out over 3 acres of desert landscape. They are all in desperate need of a coat of paint, but that just adds to the charm.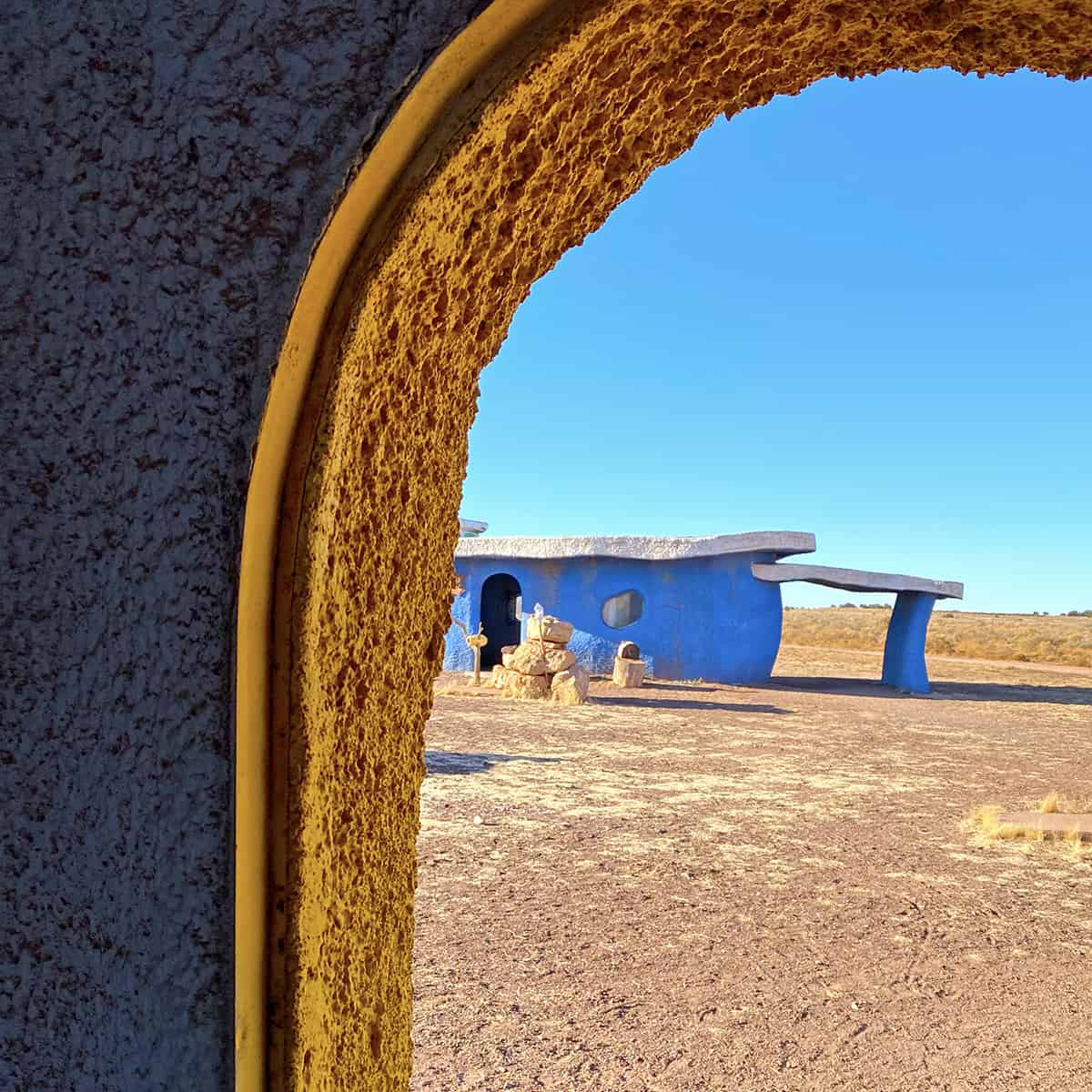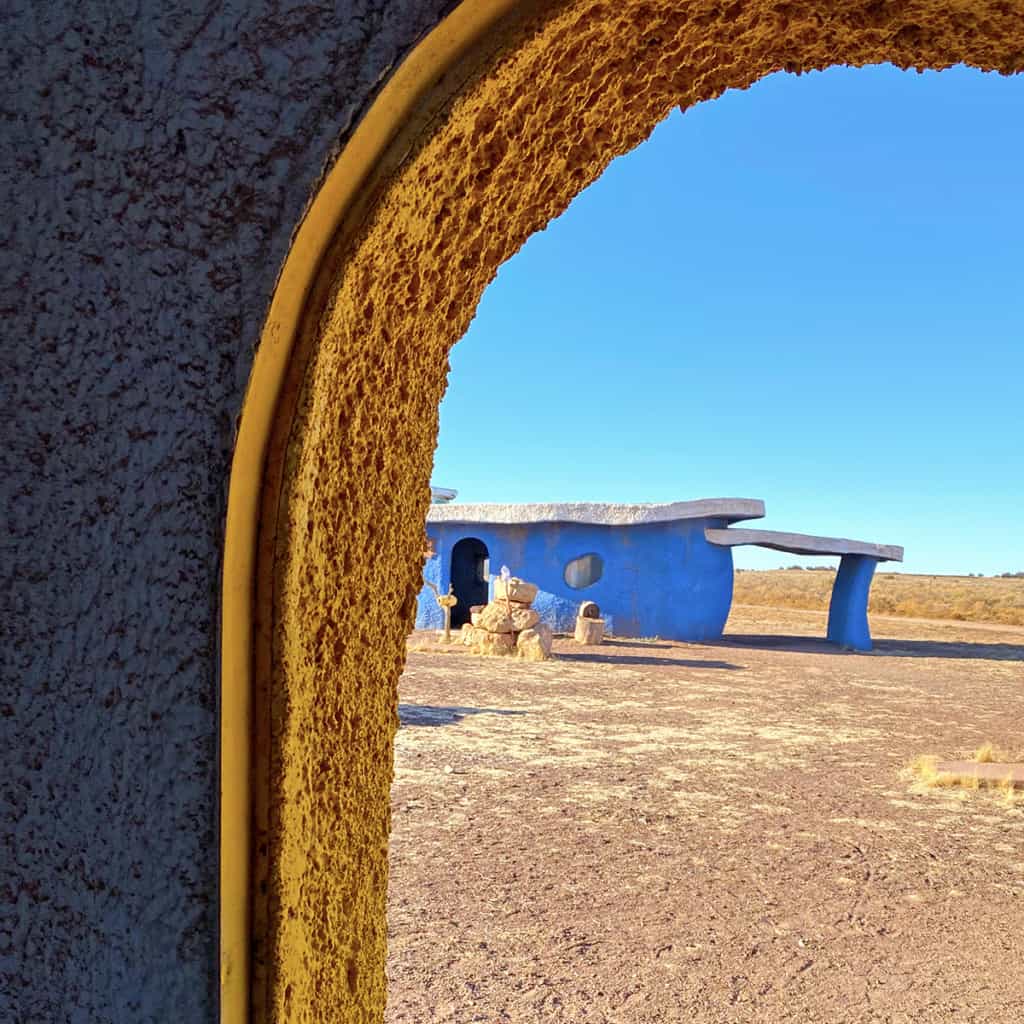 Most parts of the Flintstones cartoon city are represented at Bedrock City. You will find everything from a prehistoric market to the Bedrock Jail to the Bedrock Beauty Salon to the Bedrock Post office. Of course, everything is made from either concrete or wood...adding to it's prehistoric charm.
First, we visited the Bedrock Market. Can you spot the rotisserie pterodactyl?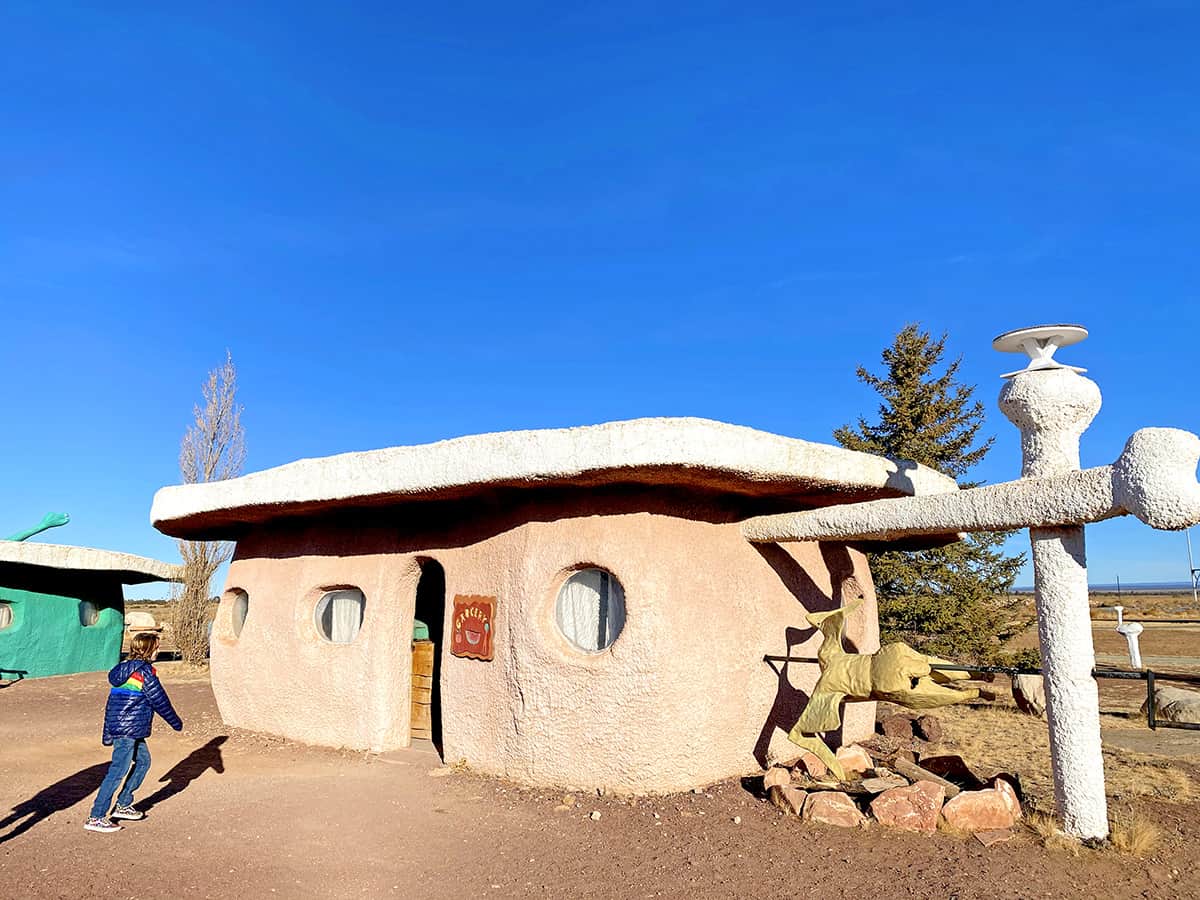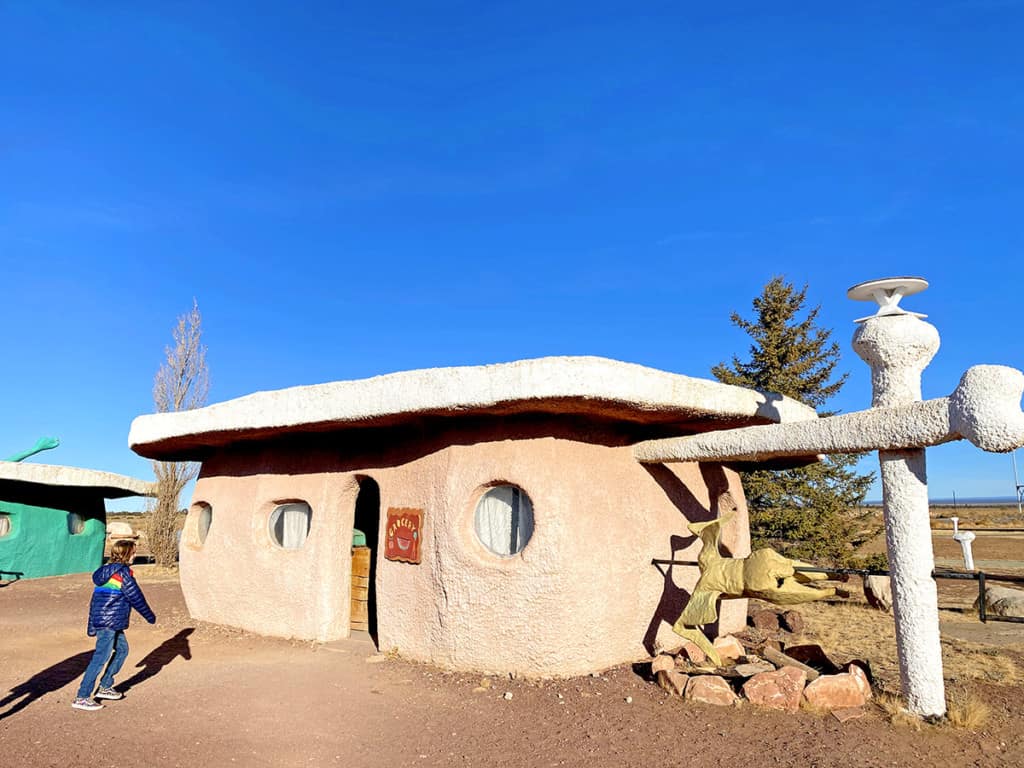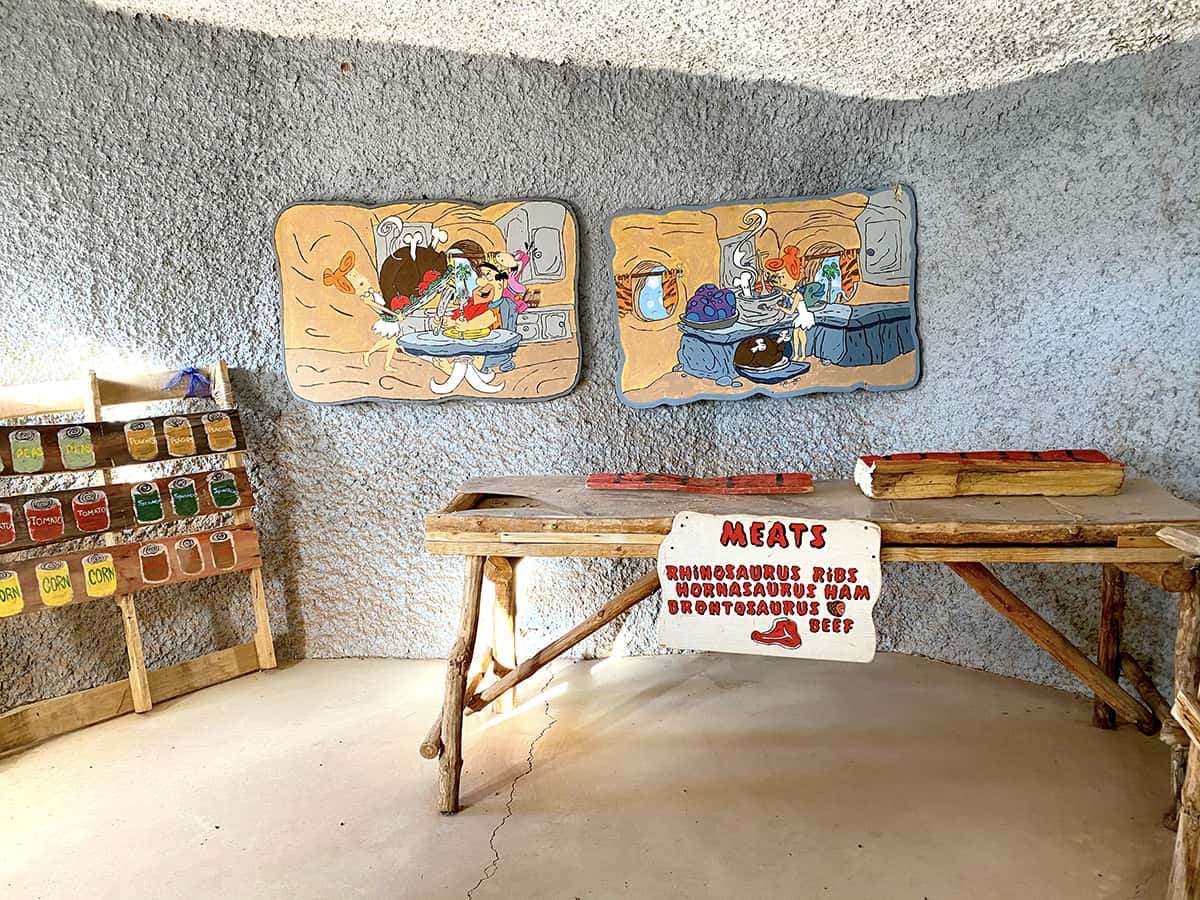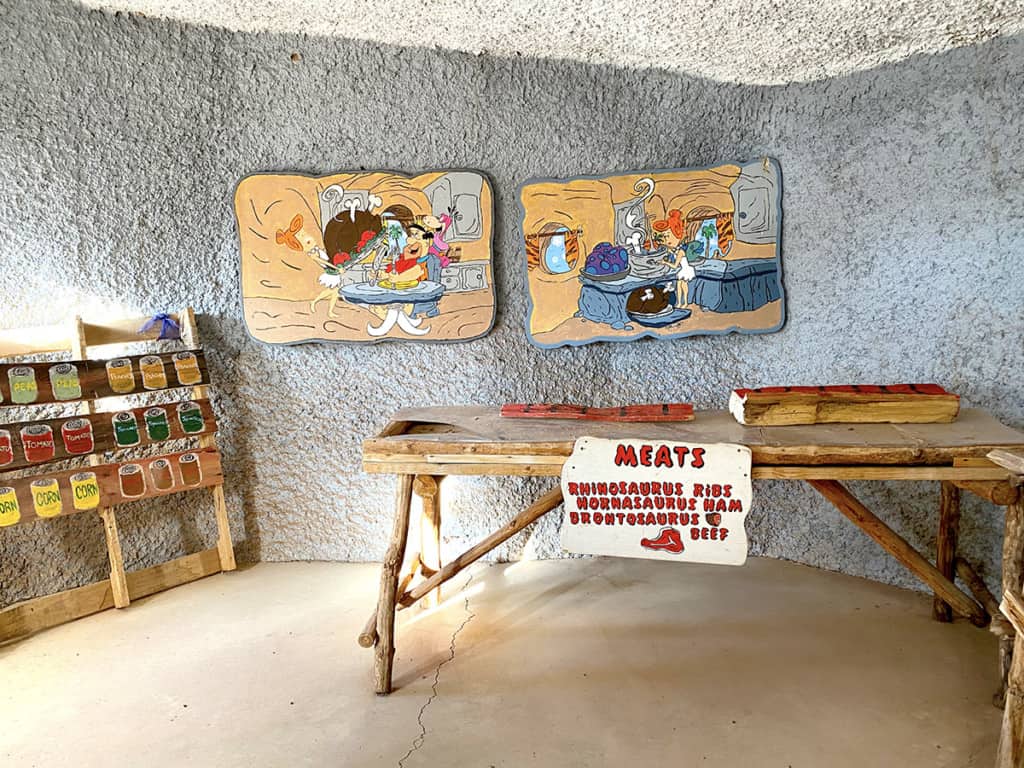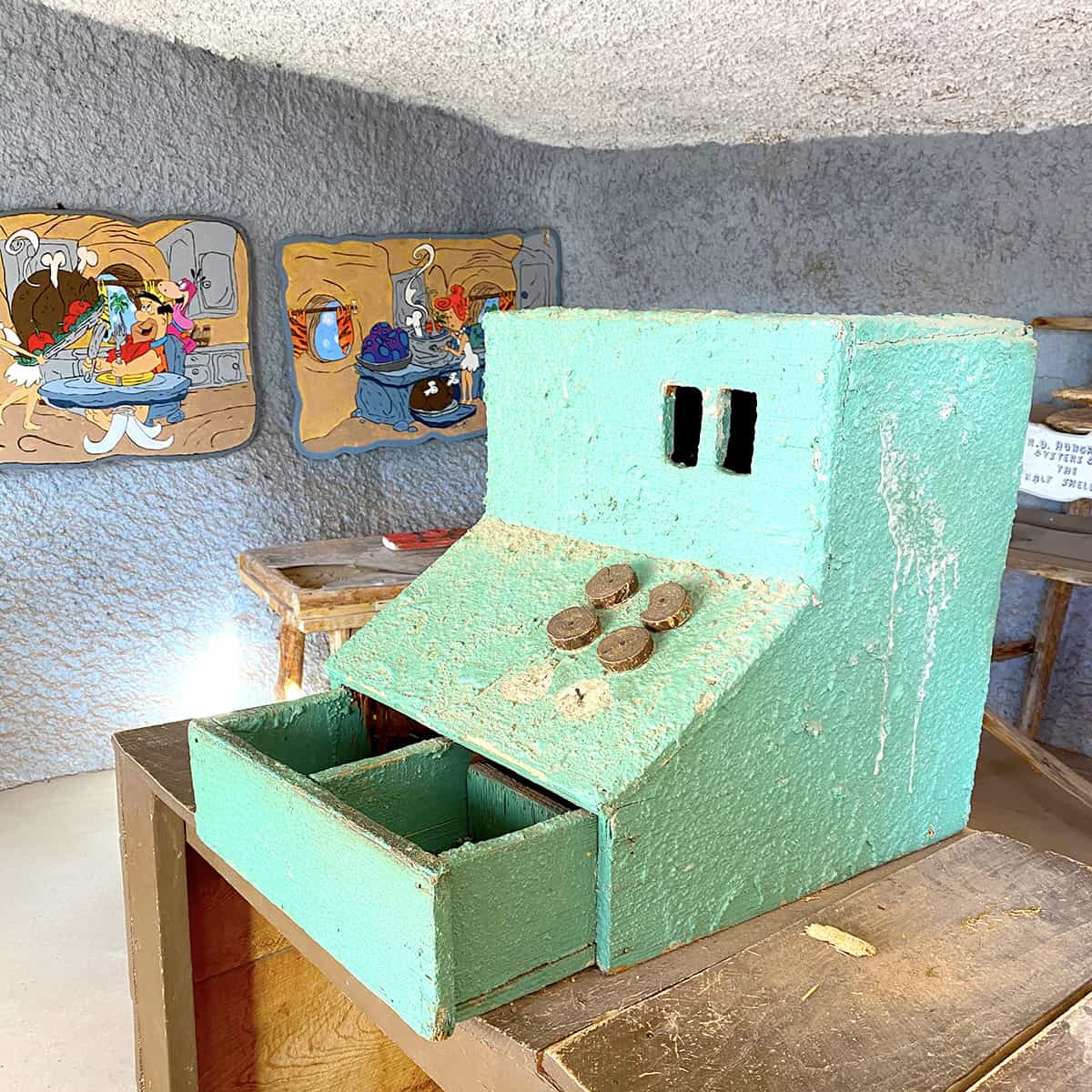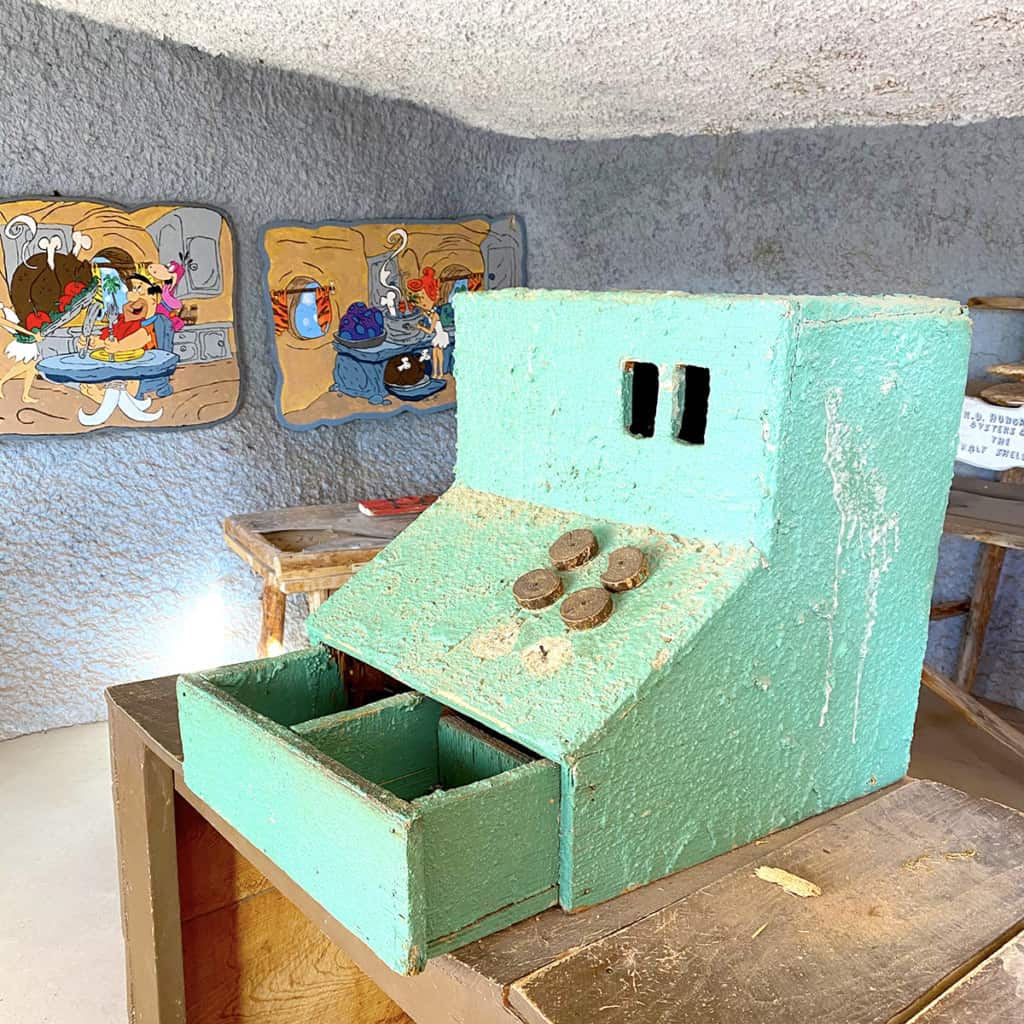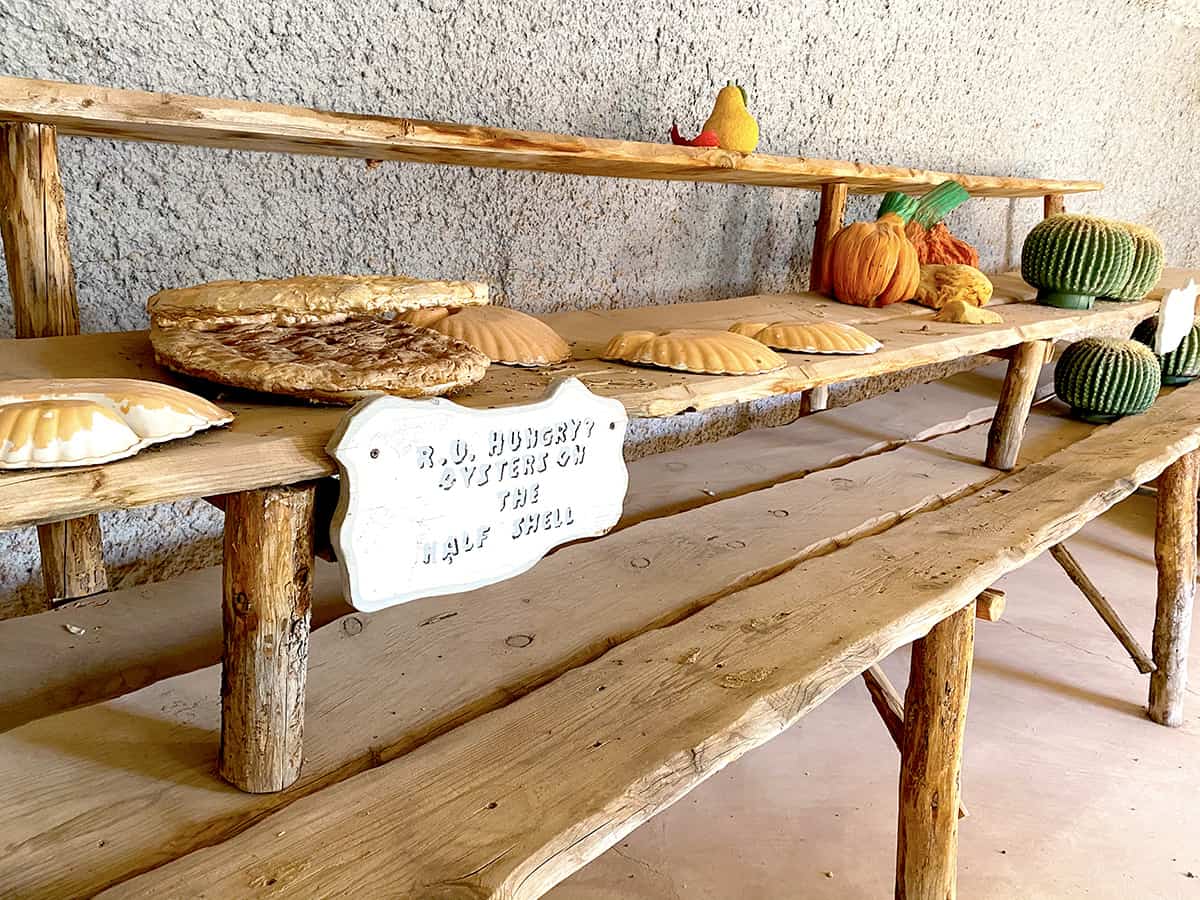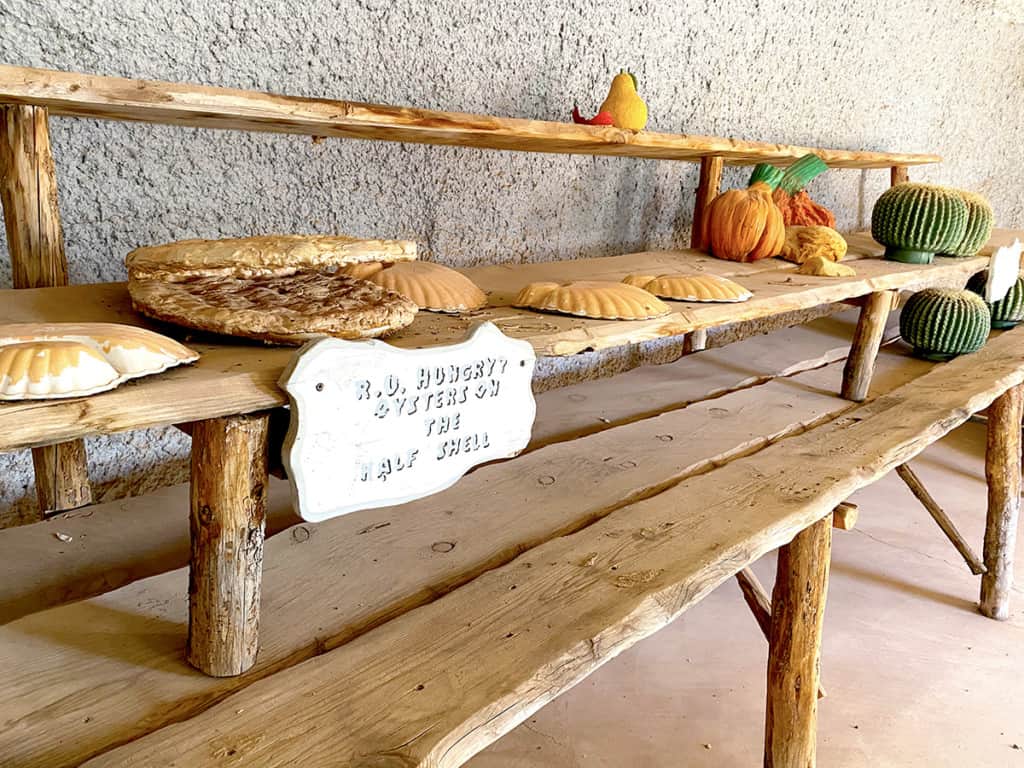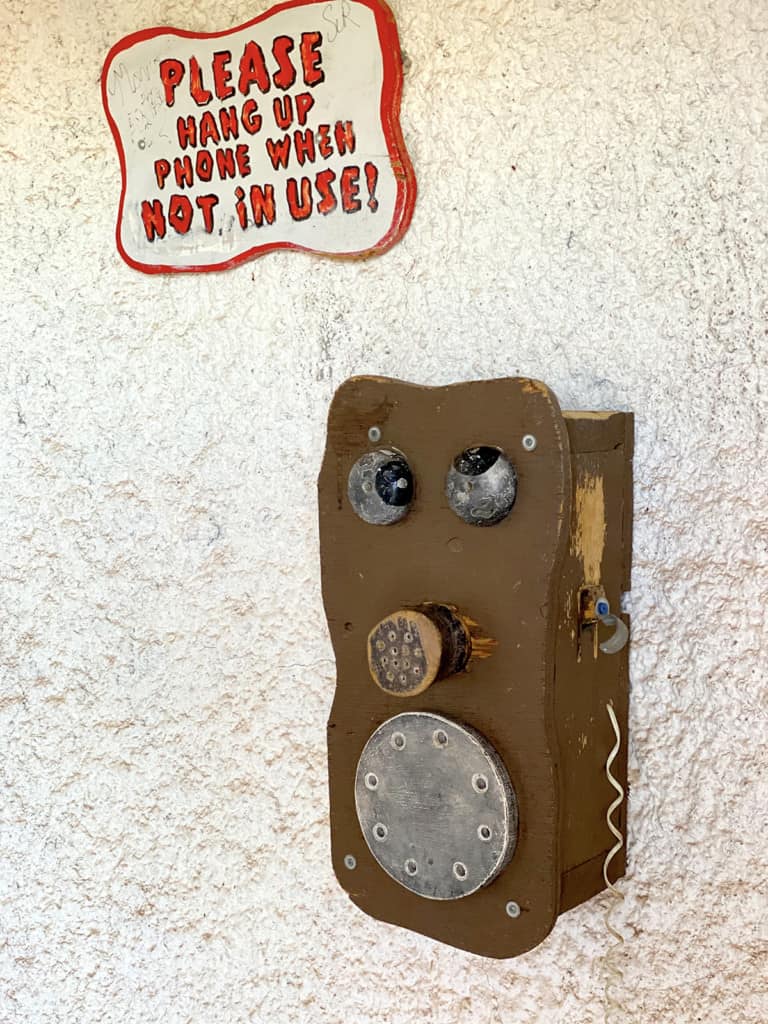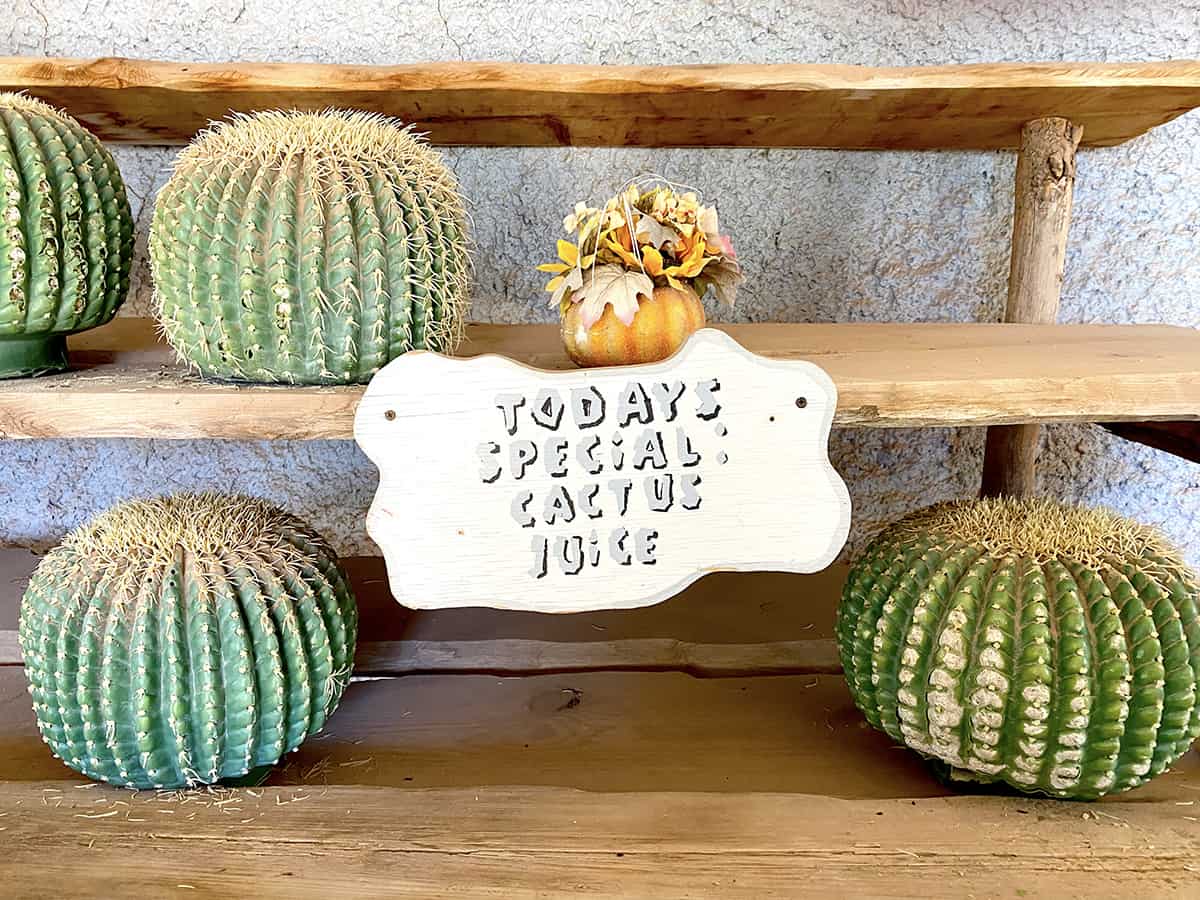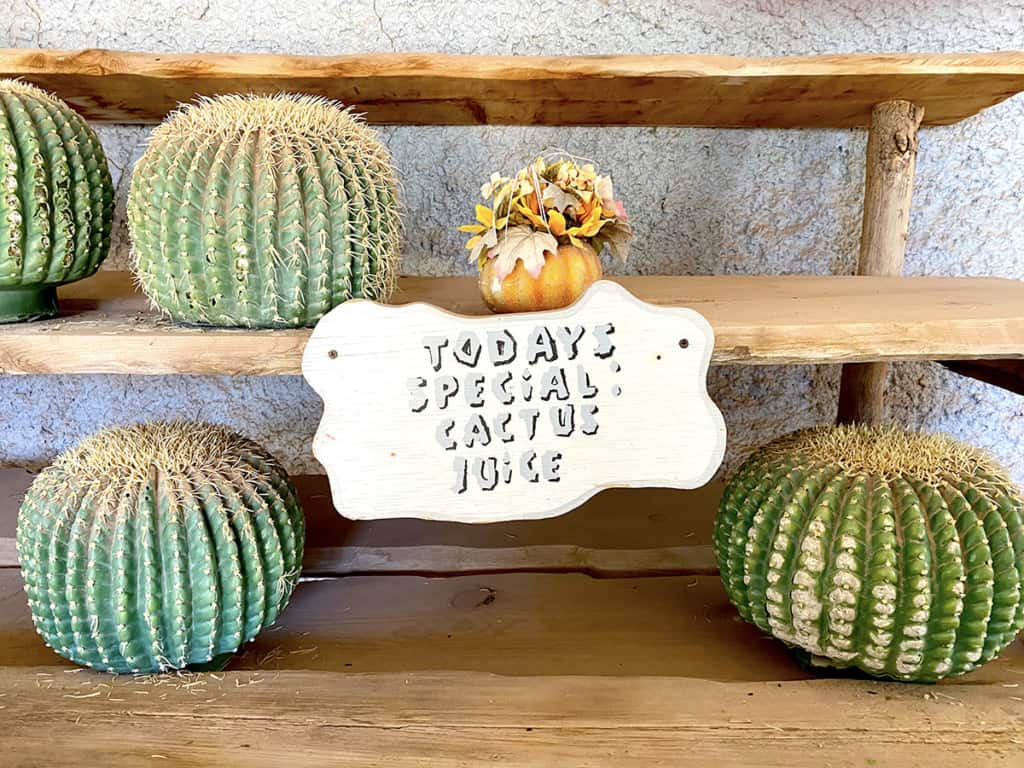 Next, it was a trip to the Bedrock Salon. I wonder if Betty and Wilma still go there?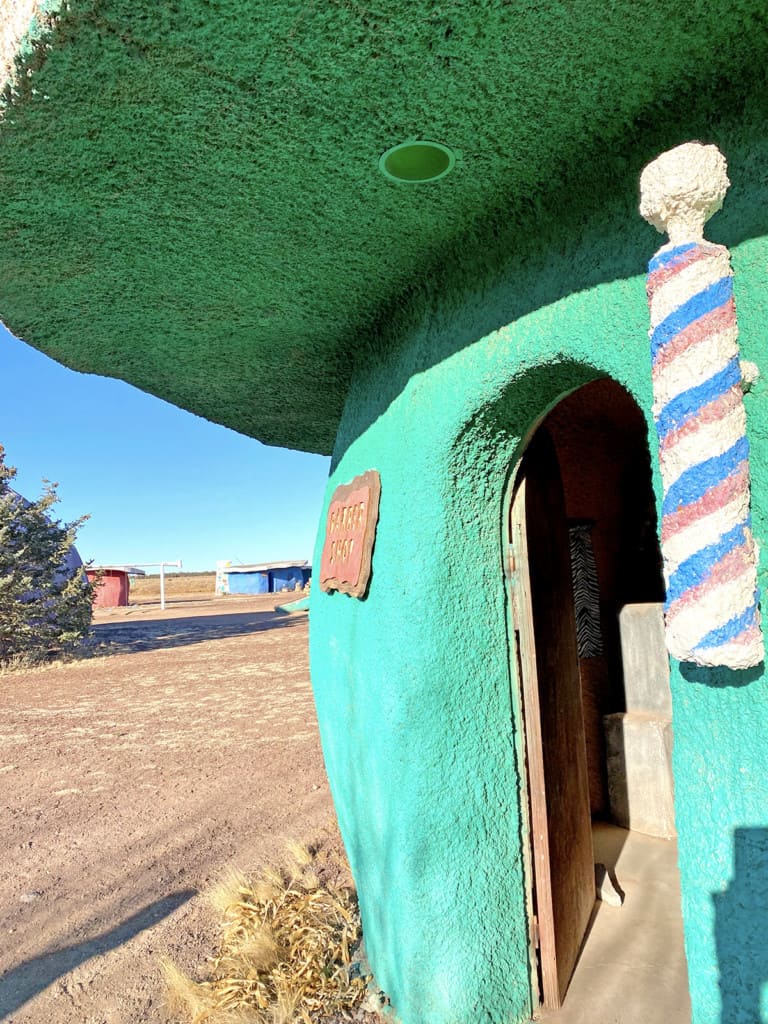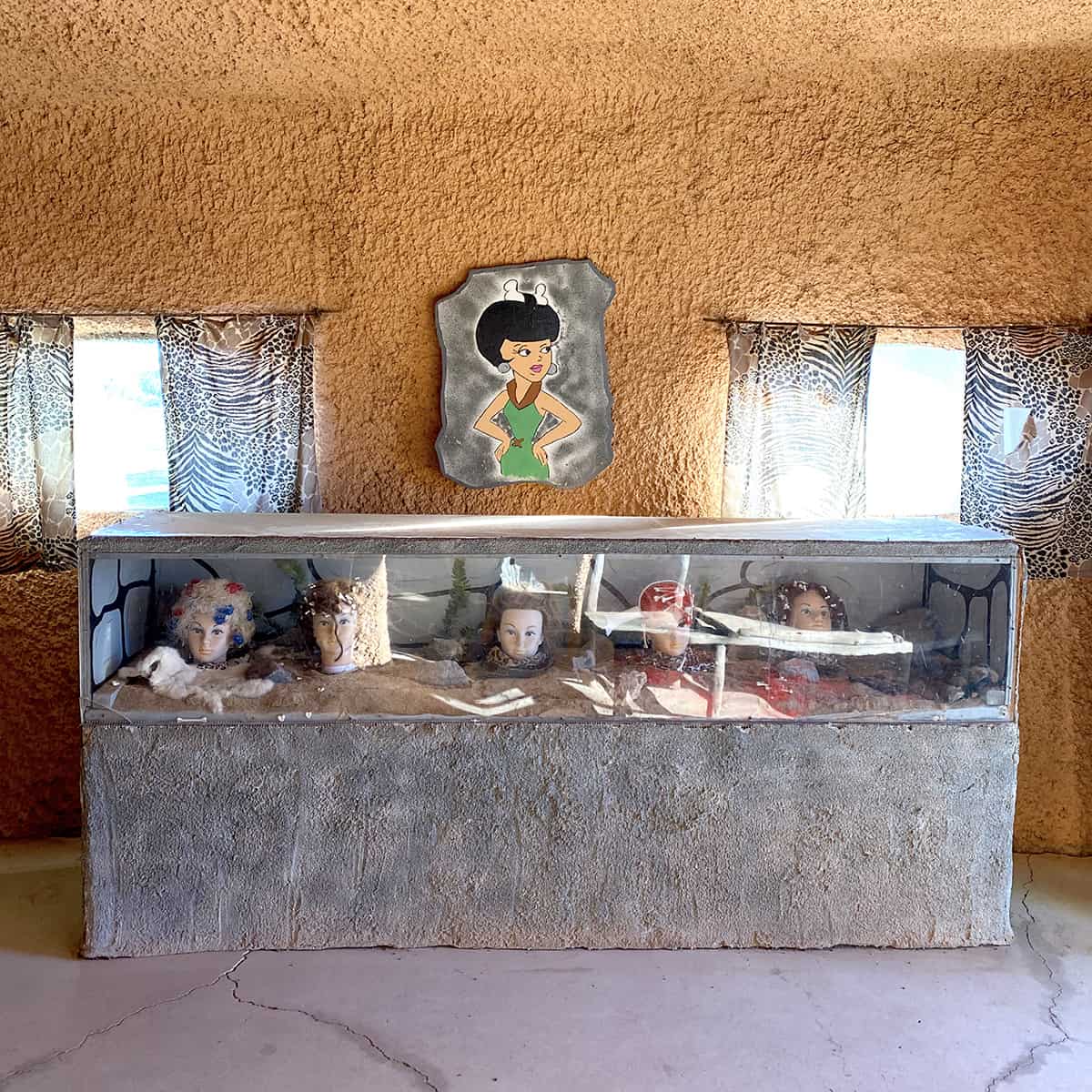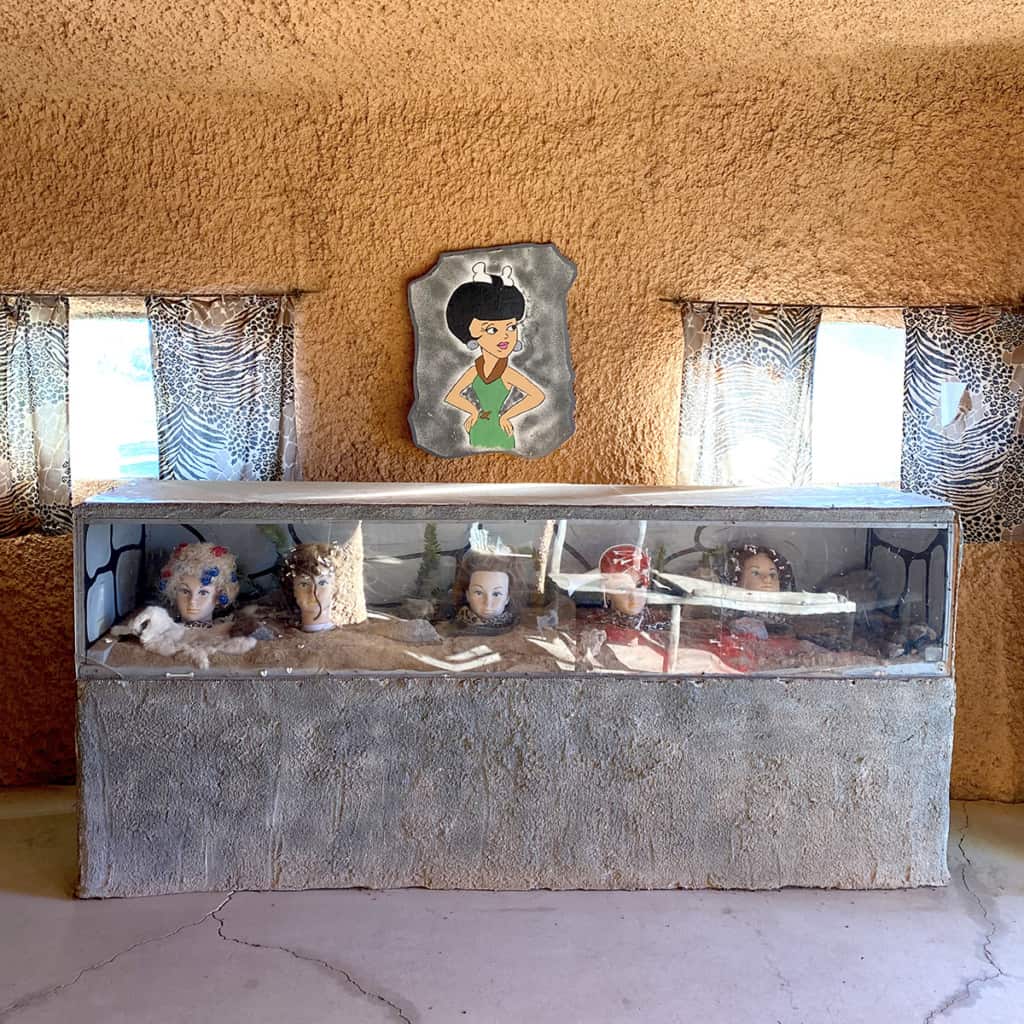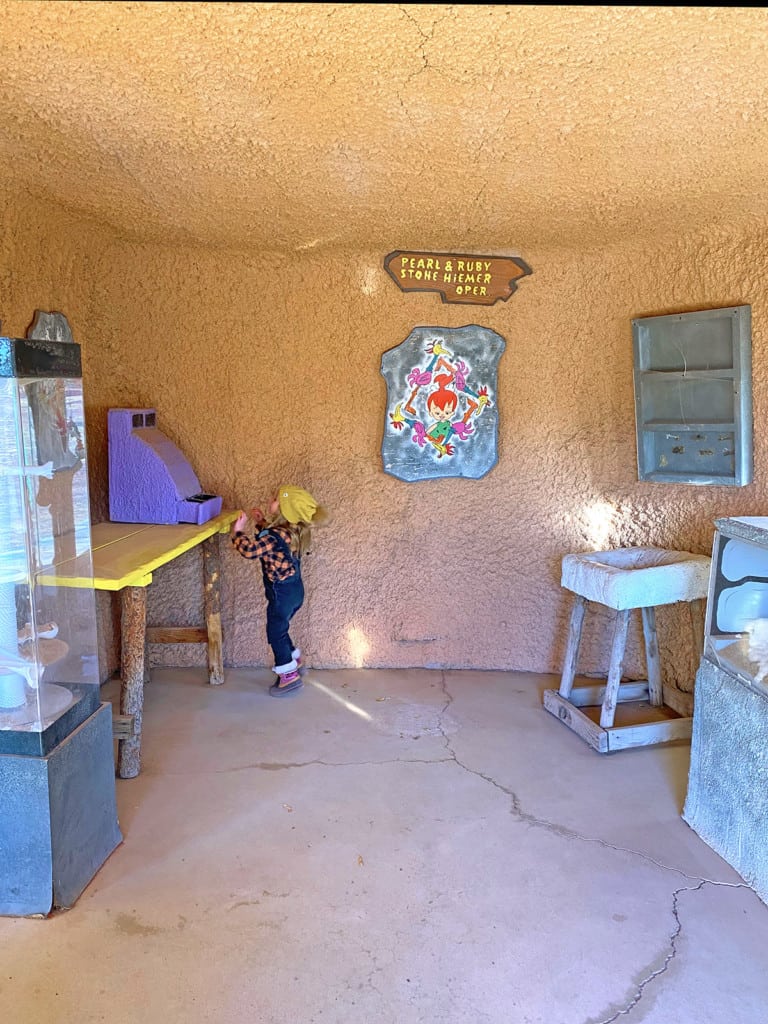 I would have to say that the giant dinosaur slide was definitely a highlight of Flintstones Bedrock City. It's truly a piece of playground history. You don't find giant metal slides like this very often. Where else can you can slide down the tail of a brontosaurus?1!! And this sucker is fast!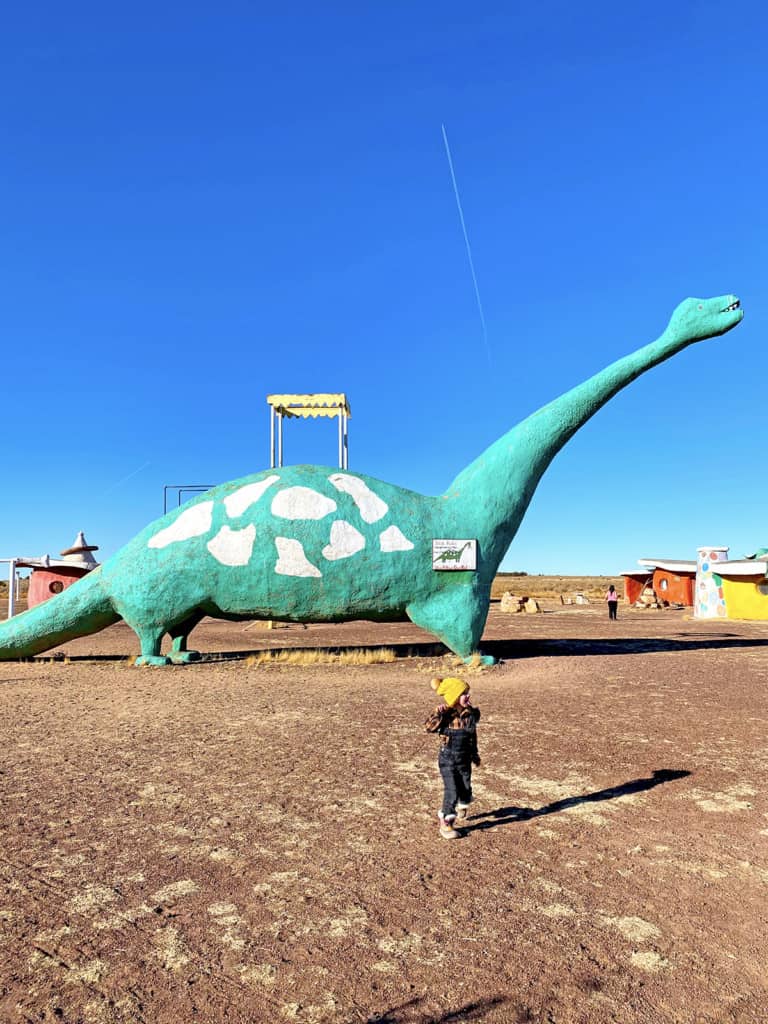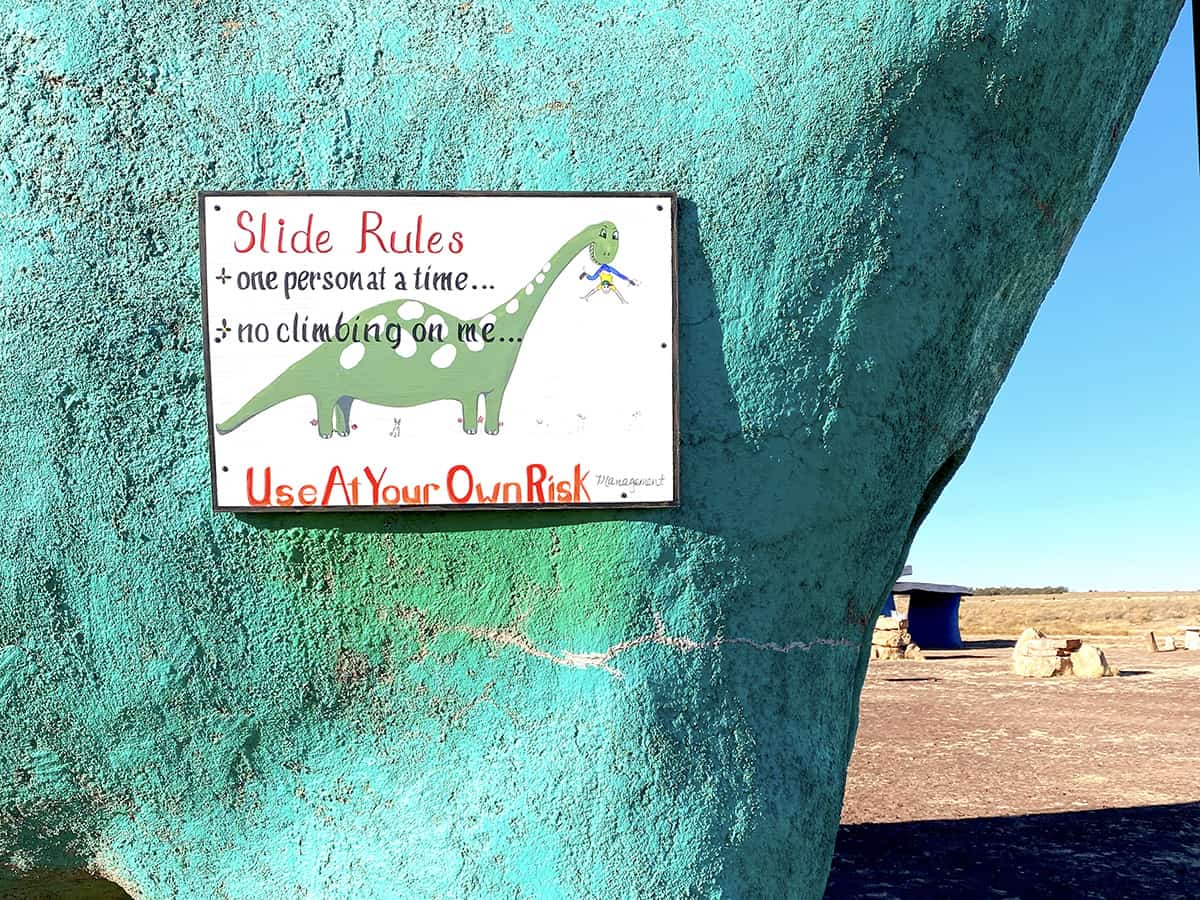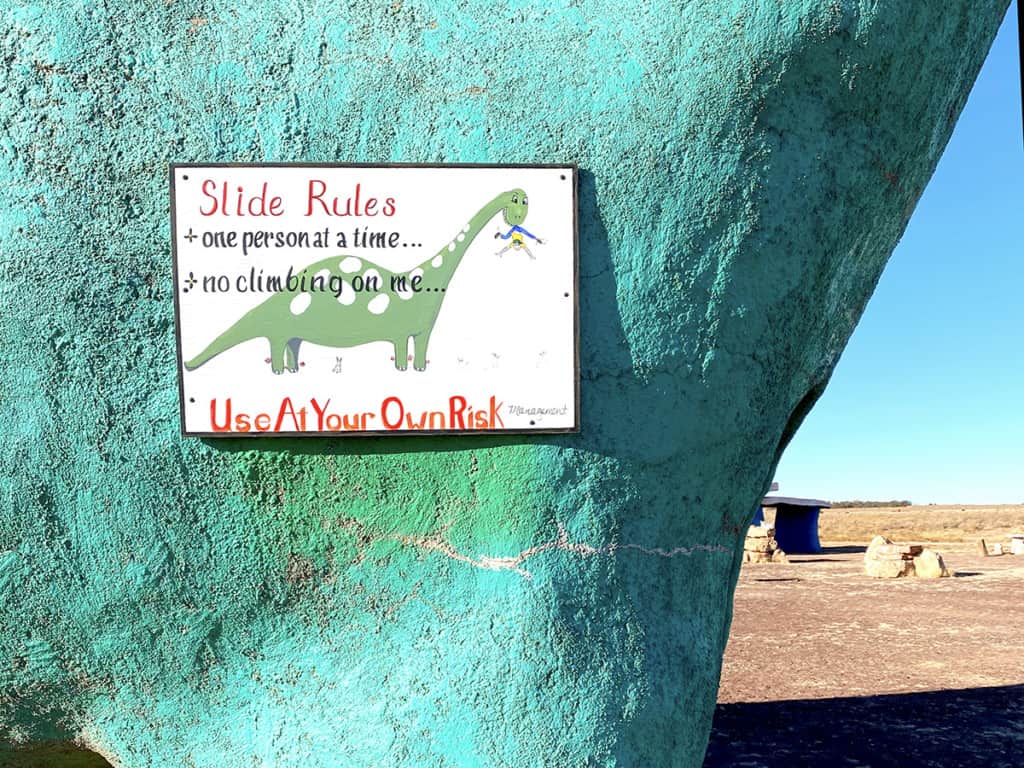 If your kids...or you decide to take a ride on the dinosaur slide, be careful! The kids come flying off this thing. Plus, I assume during the hot seasons you could be at risk of getting burned, so please take the necessary precautions.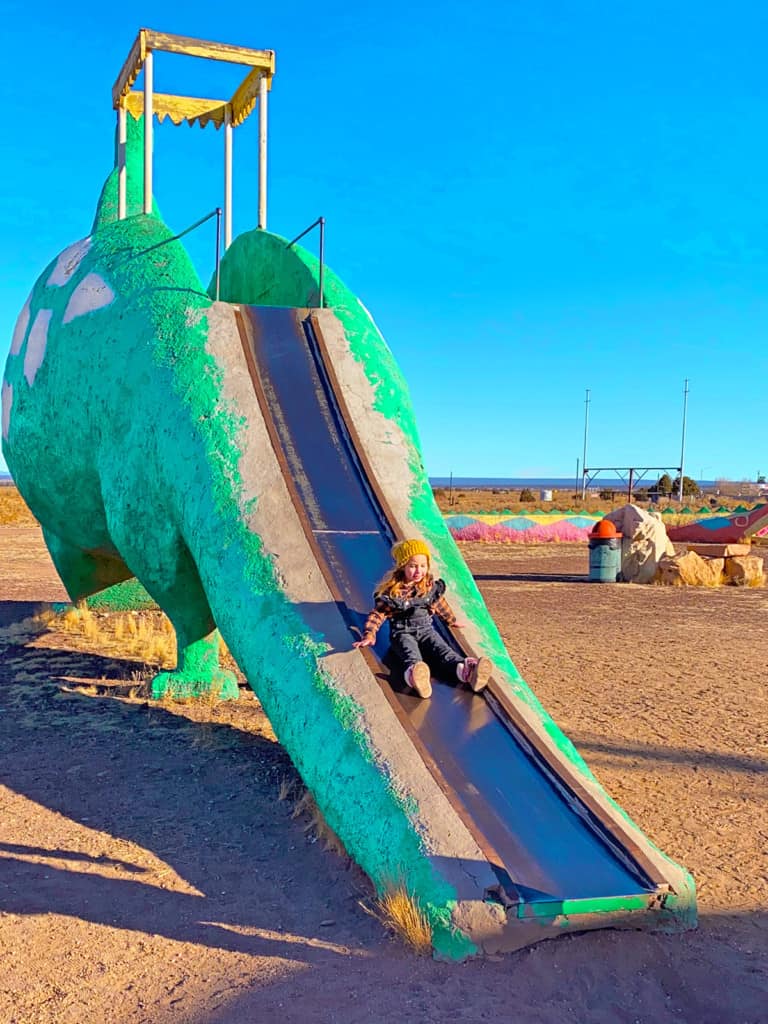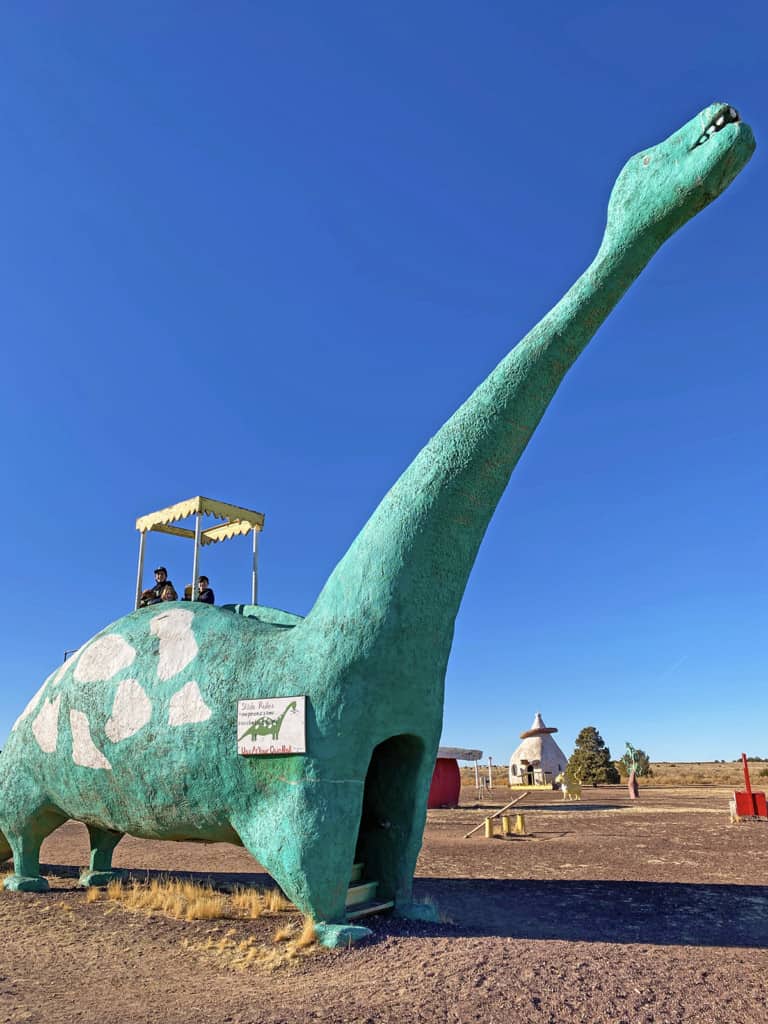 The photo opportunities were endless!
Funny Instagrammable Places in Arizona
Here are some of my favorite photos of the day.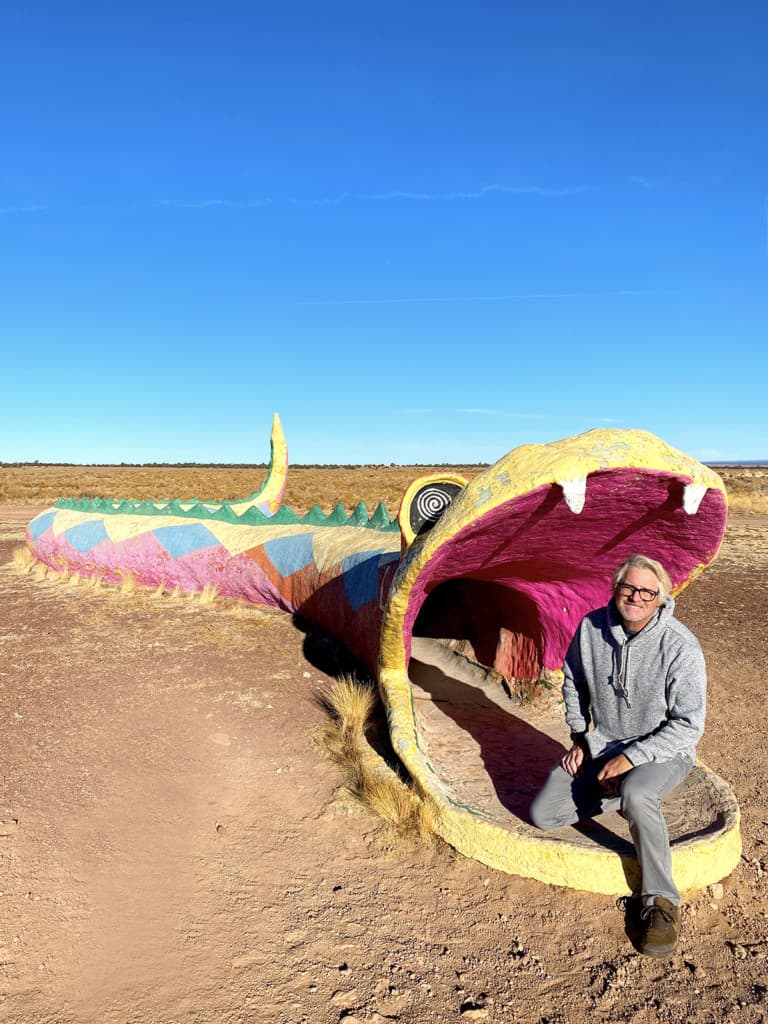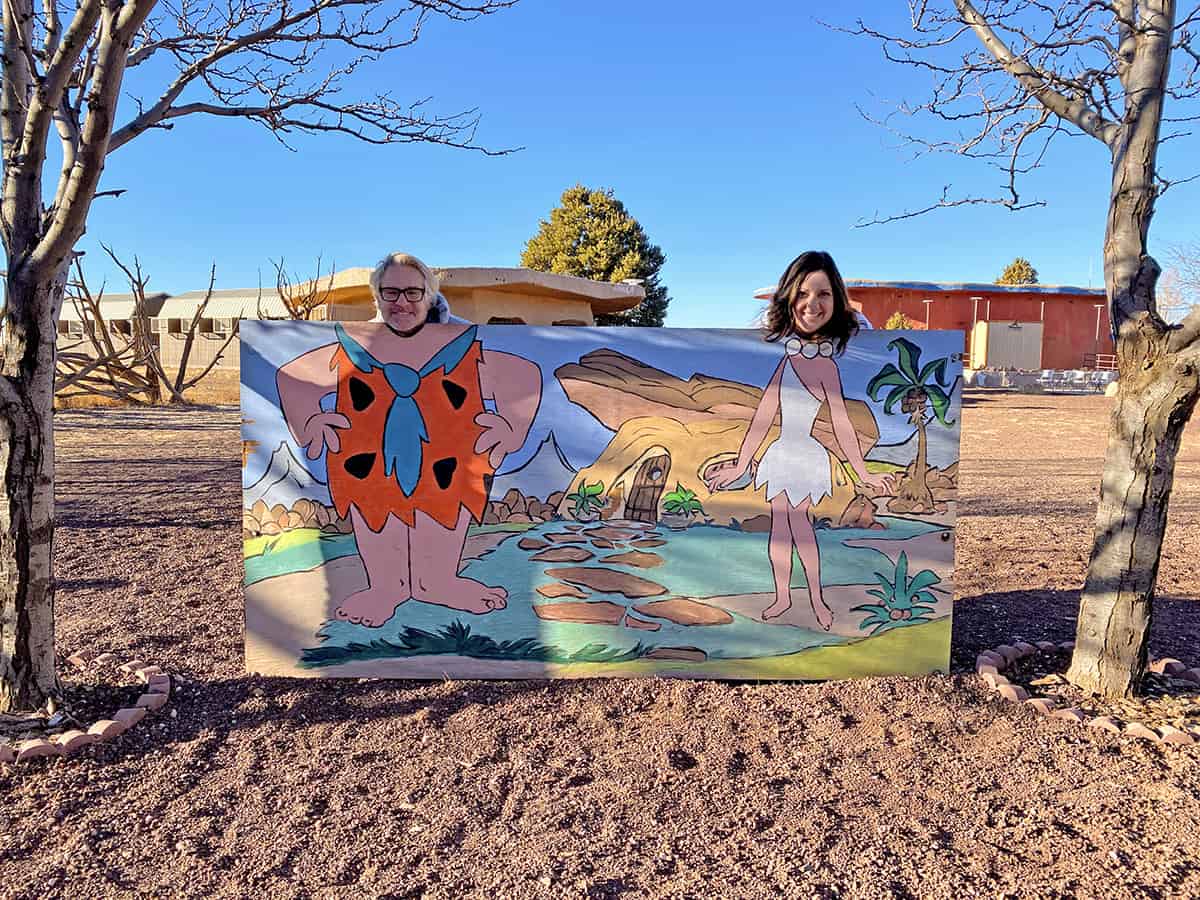 Other favorites of Bedrock City were the teeter totter, the old volcano and all the fun prehistoric vehicles.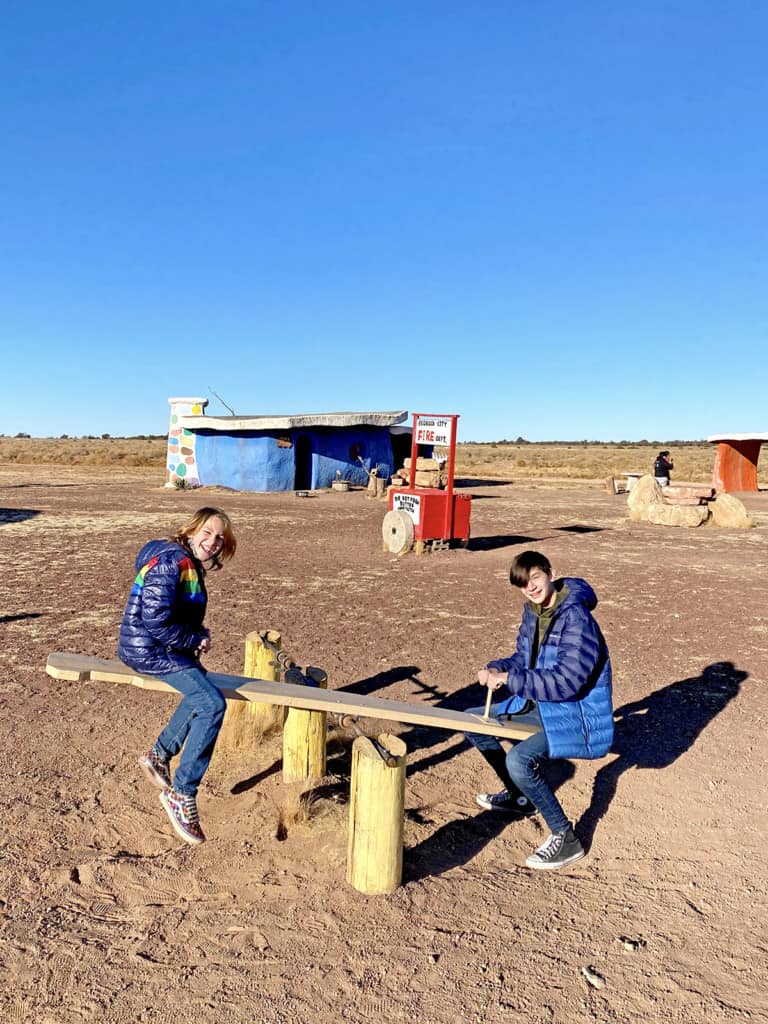 Isn't this volcano cool?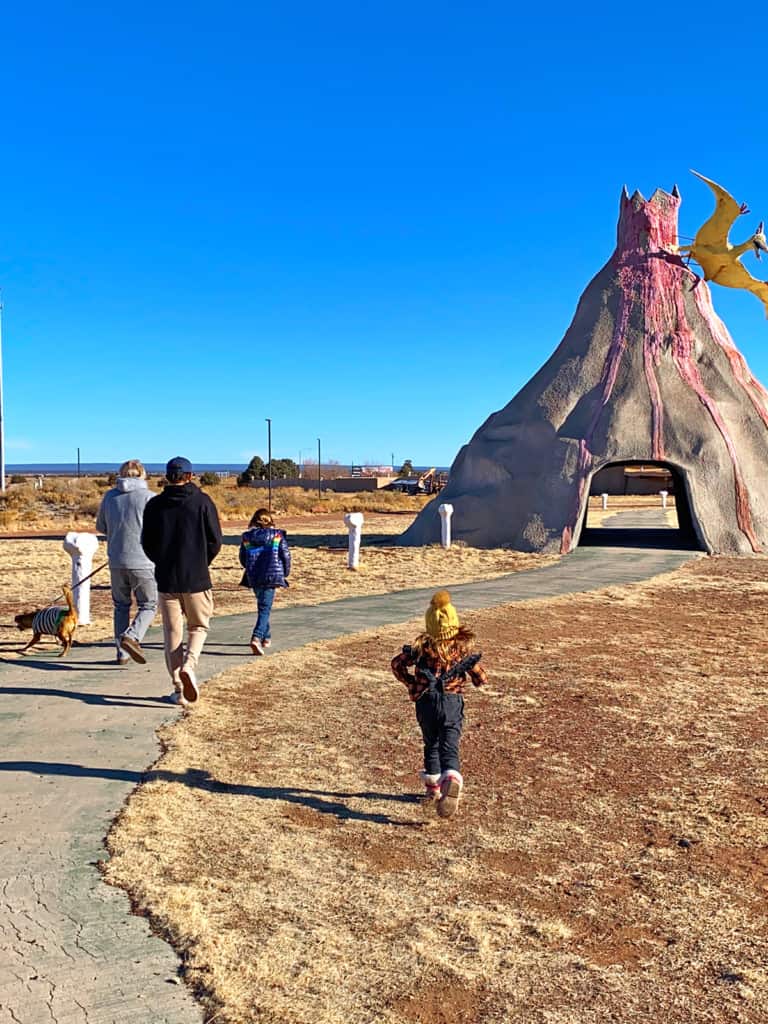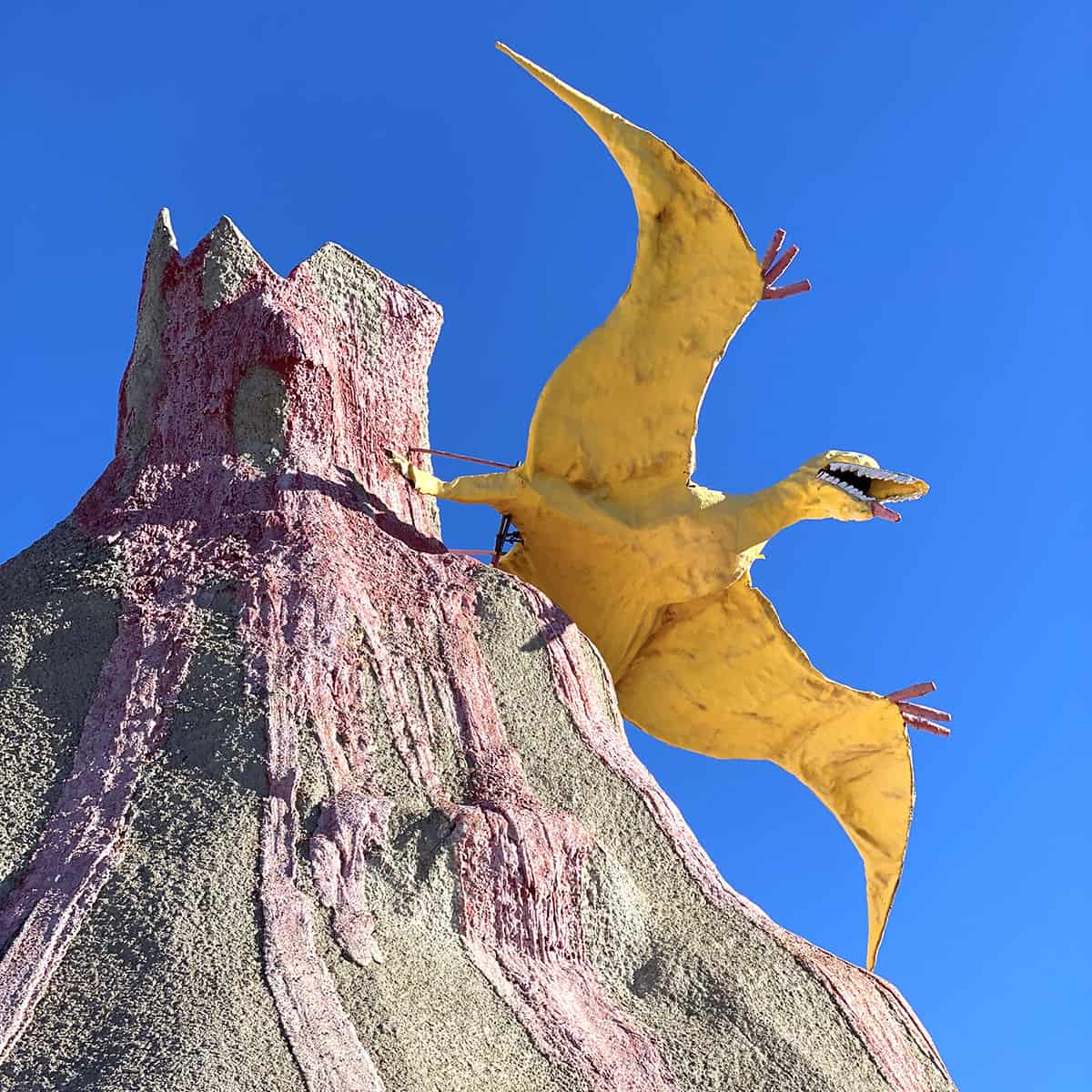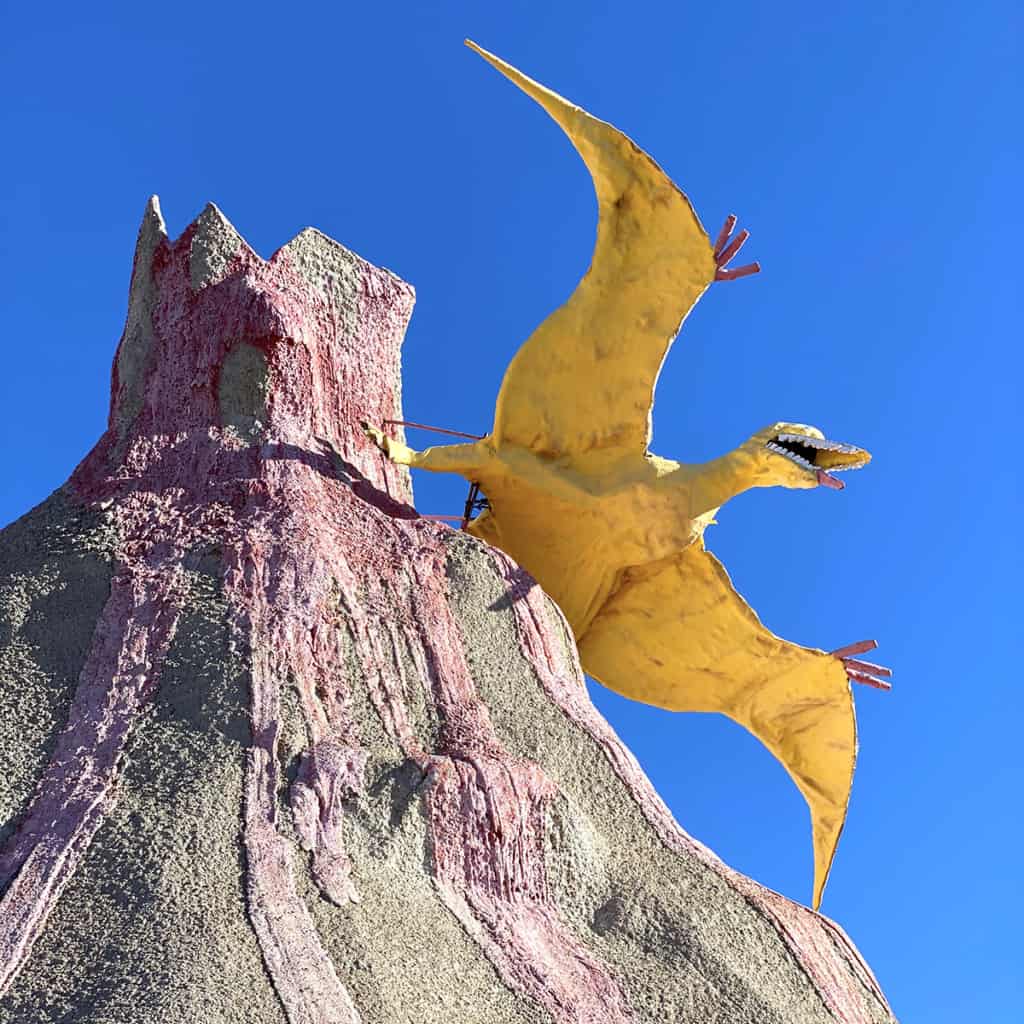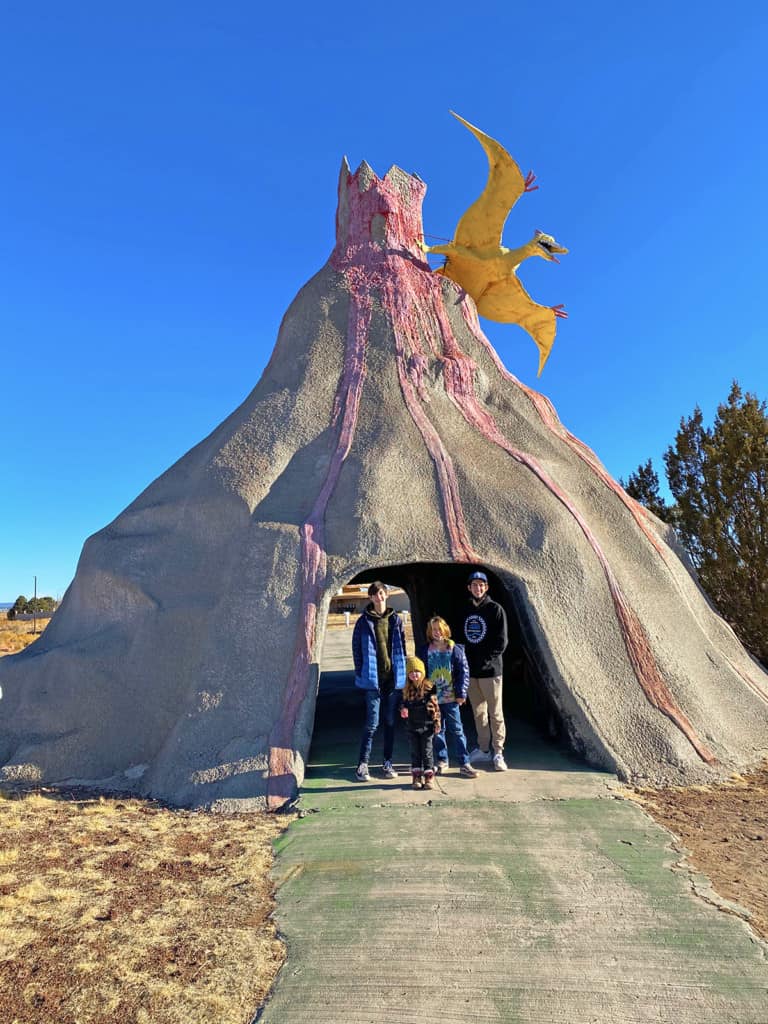 Of course, there are lots of prehistoric vehicles in Flintstones Bedrock City.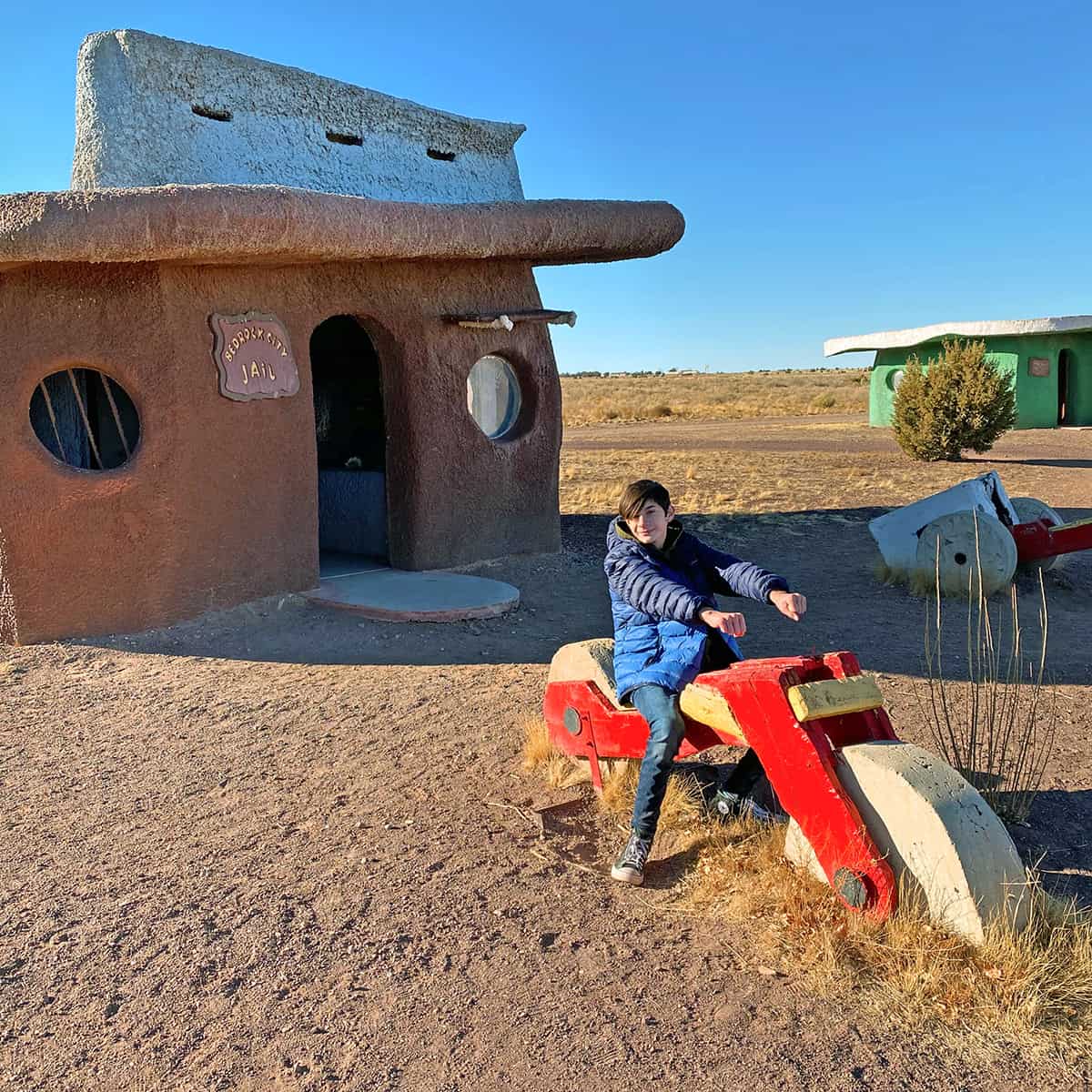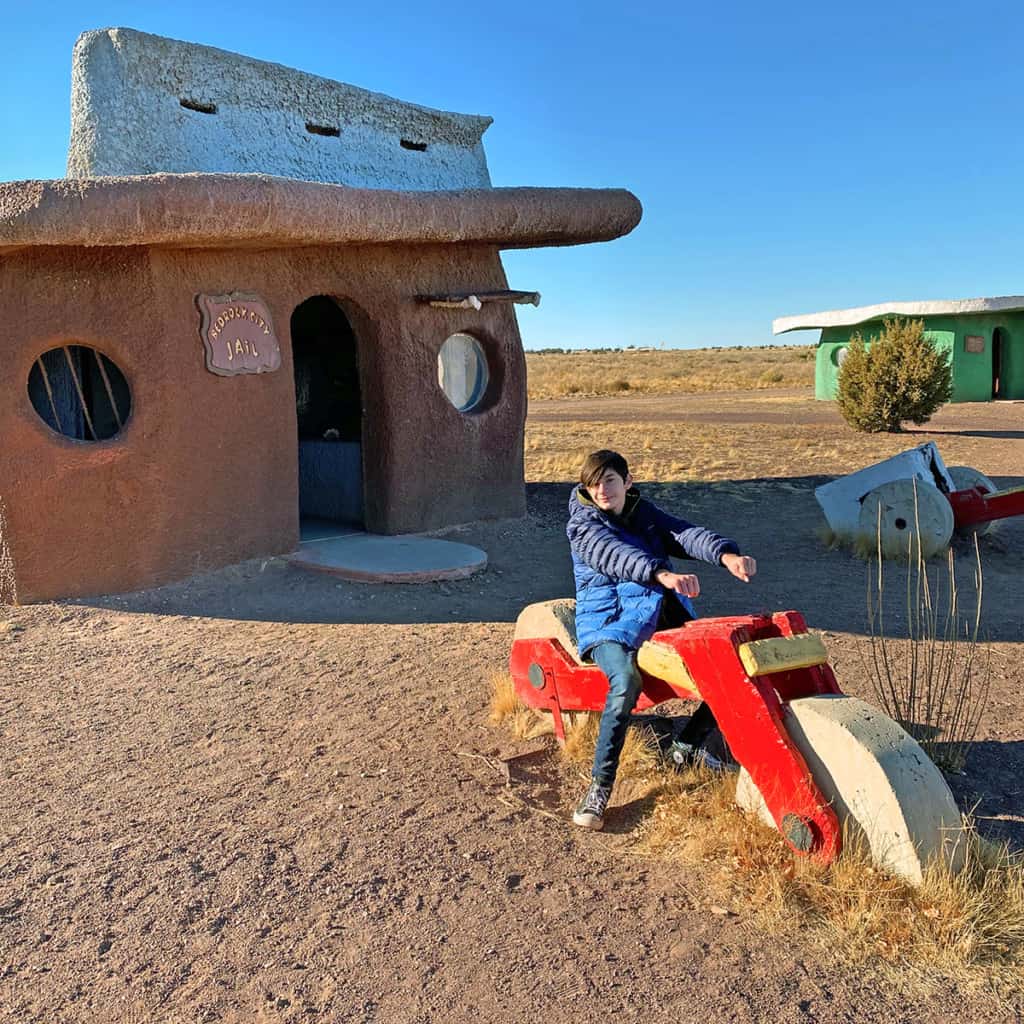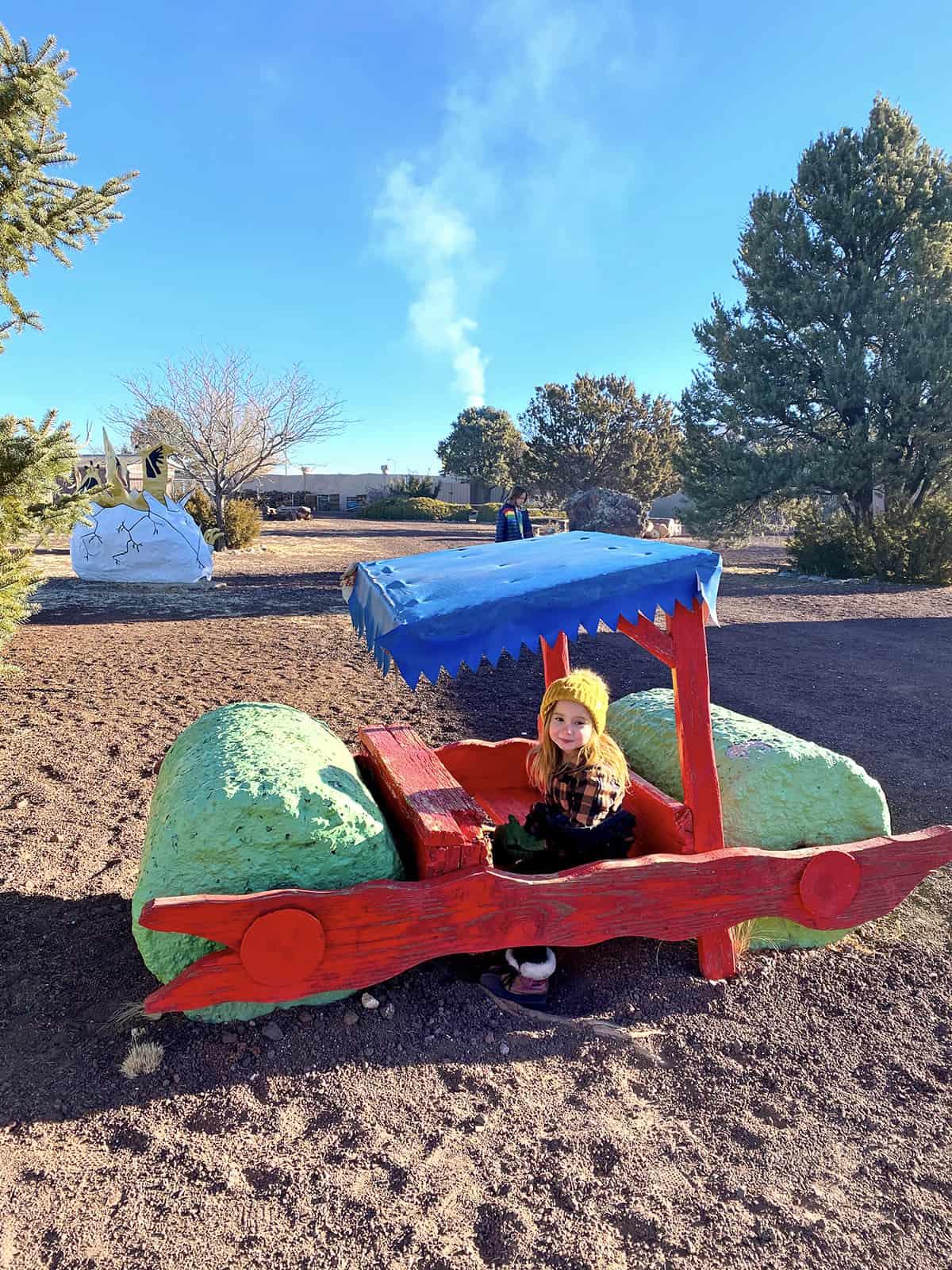 Visiting the Bedrock Schoolhouse was also a favorite. As you can see, there is a lot of graffiti on Wilma and inside the schoolhouse. This was very typical in Bedrock City. A lot of it is run down. Nevertheless, it was still coo,.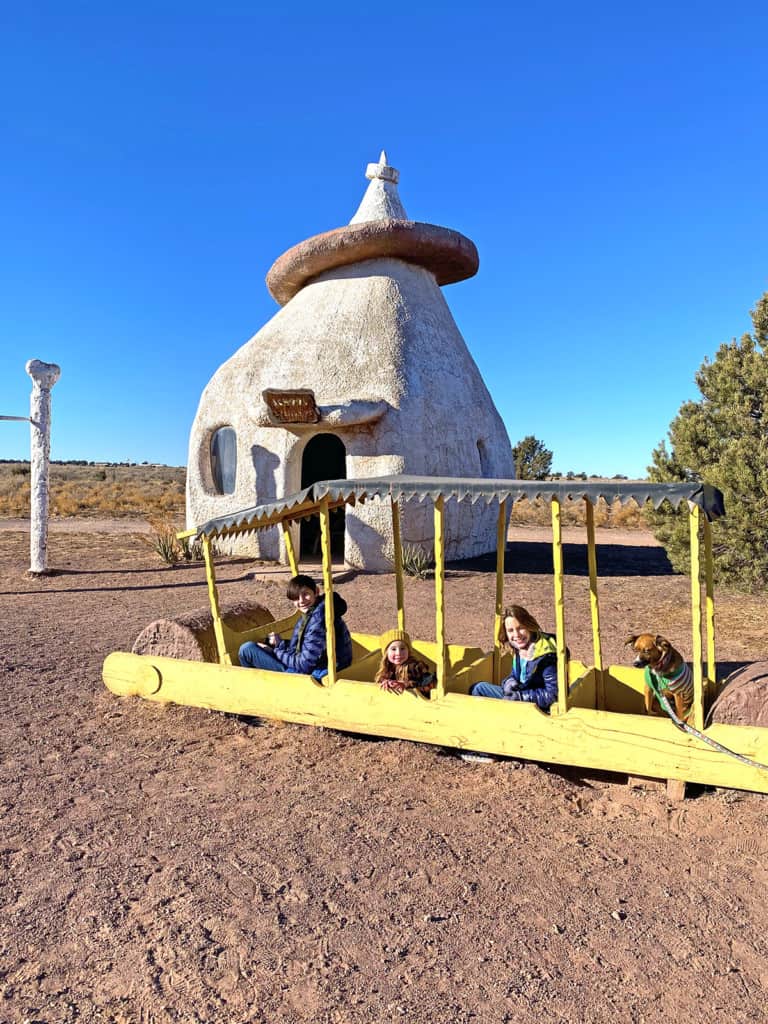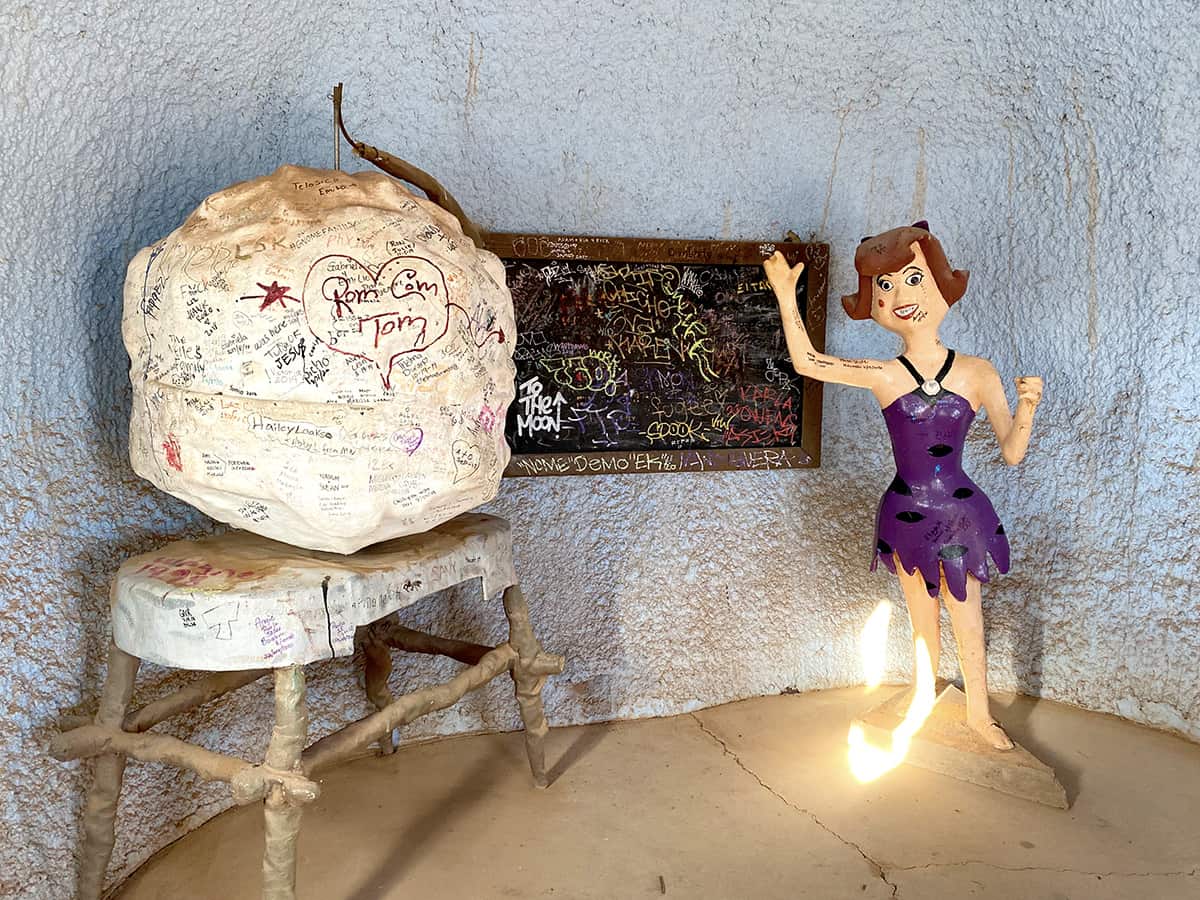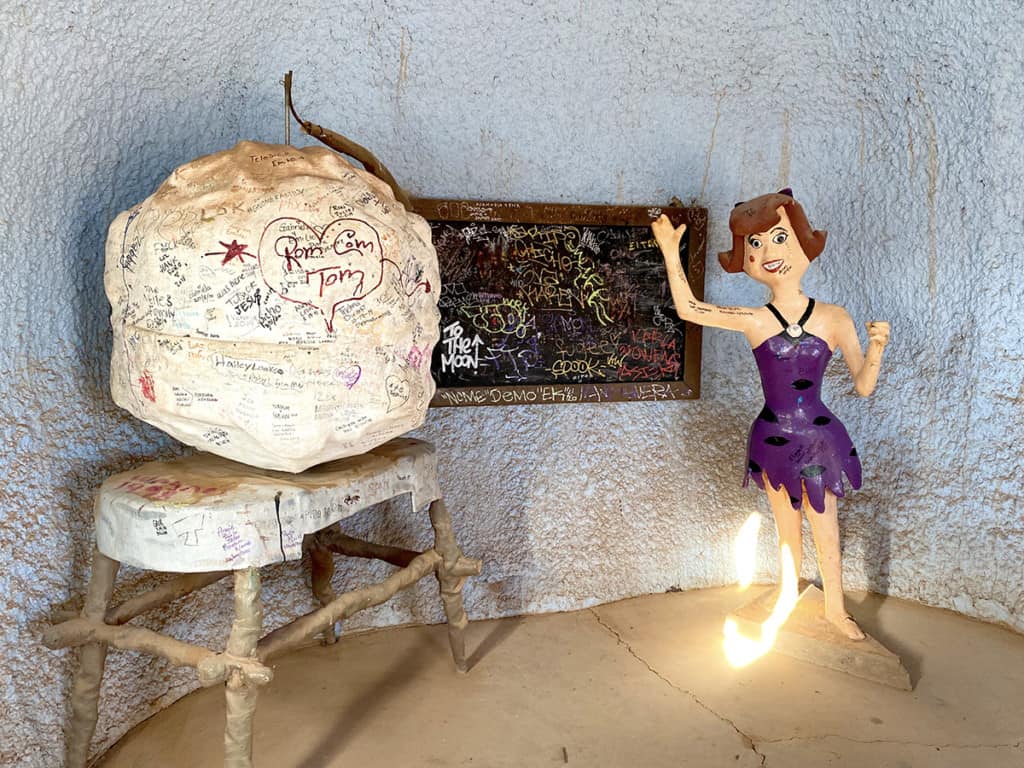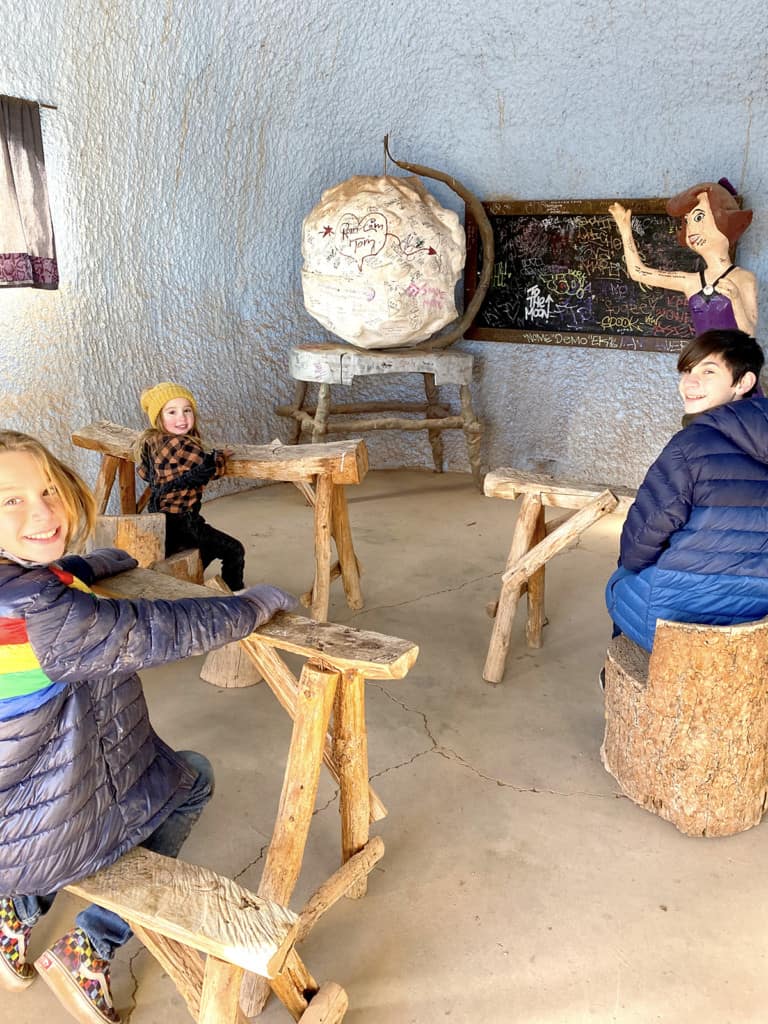 Is Flintstones Bedrock City Pet Friendly?
We weren't sure when we arrived if Raptor Ranch/Bedrock City was pet friendly. But, we were pleasantly surprised that it is! The only thing they ask is that you pick up after your pet if they leave a mess and keep them on a leash. No problem there. And there is plenty of area to explore with your pet at your side or walk your pet around the city.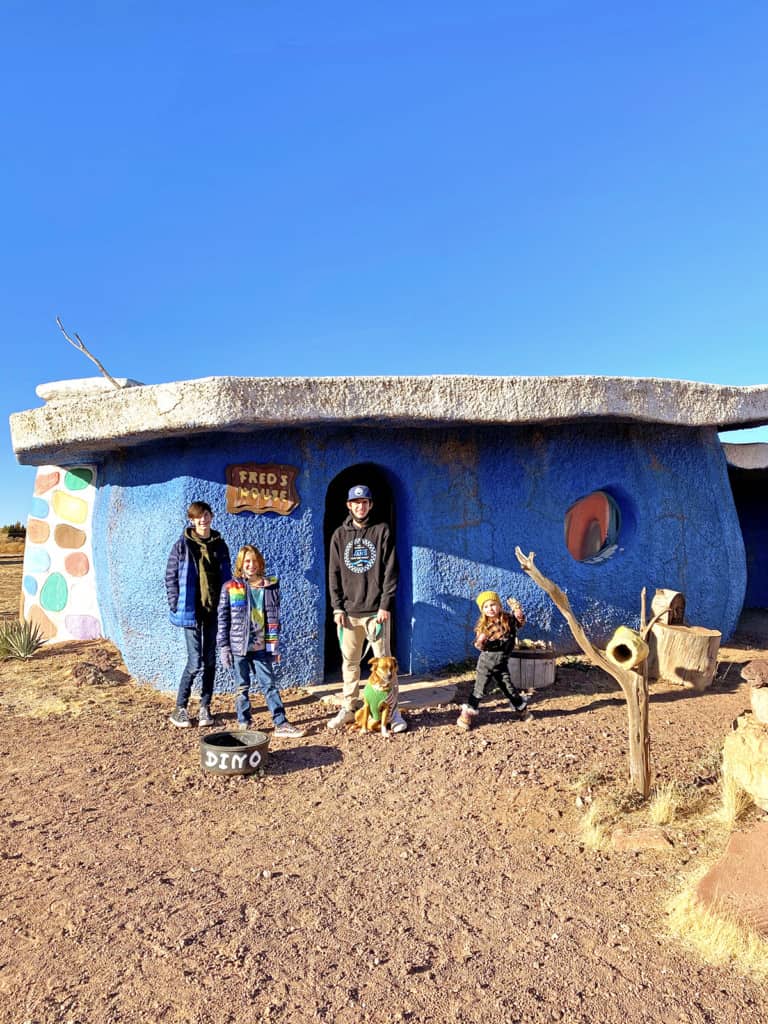 You can also include your dog in the photos! A dog is close to a dinosaur isn't it?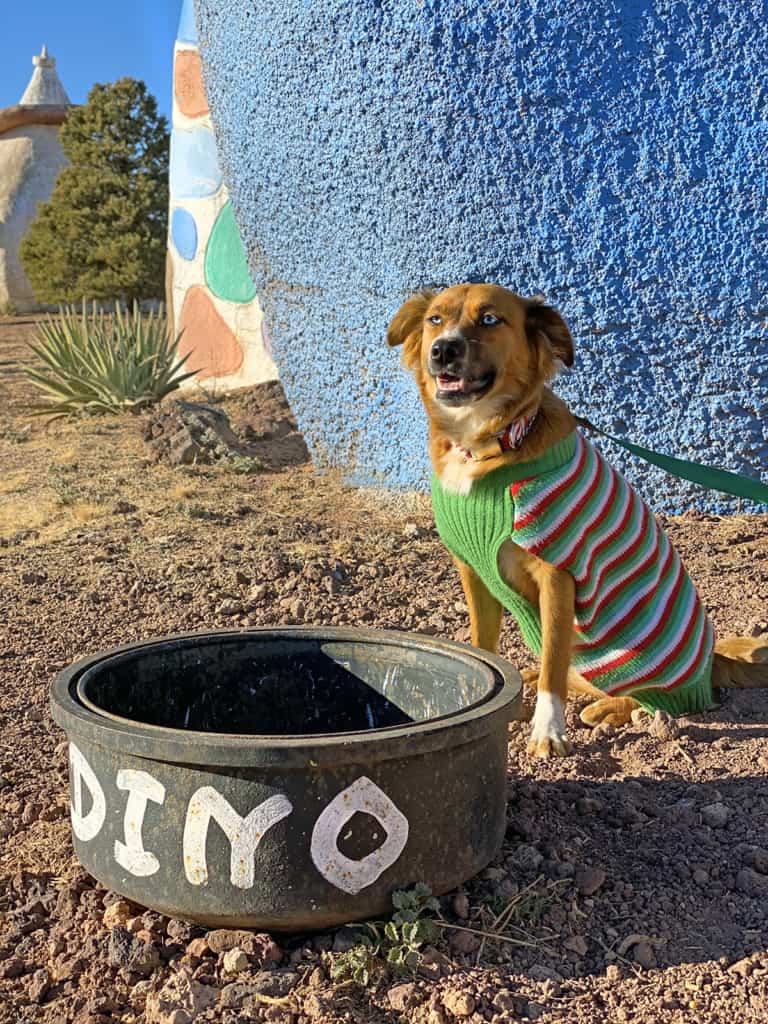 More Photos!
Finally, I wanted to share are few more photos from our visit. It was so hard to choose...we took sooo many!
Look! It's baby Pebbles.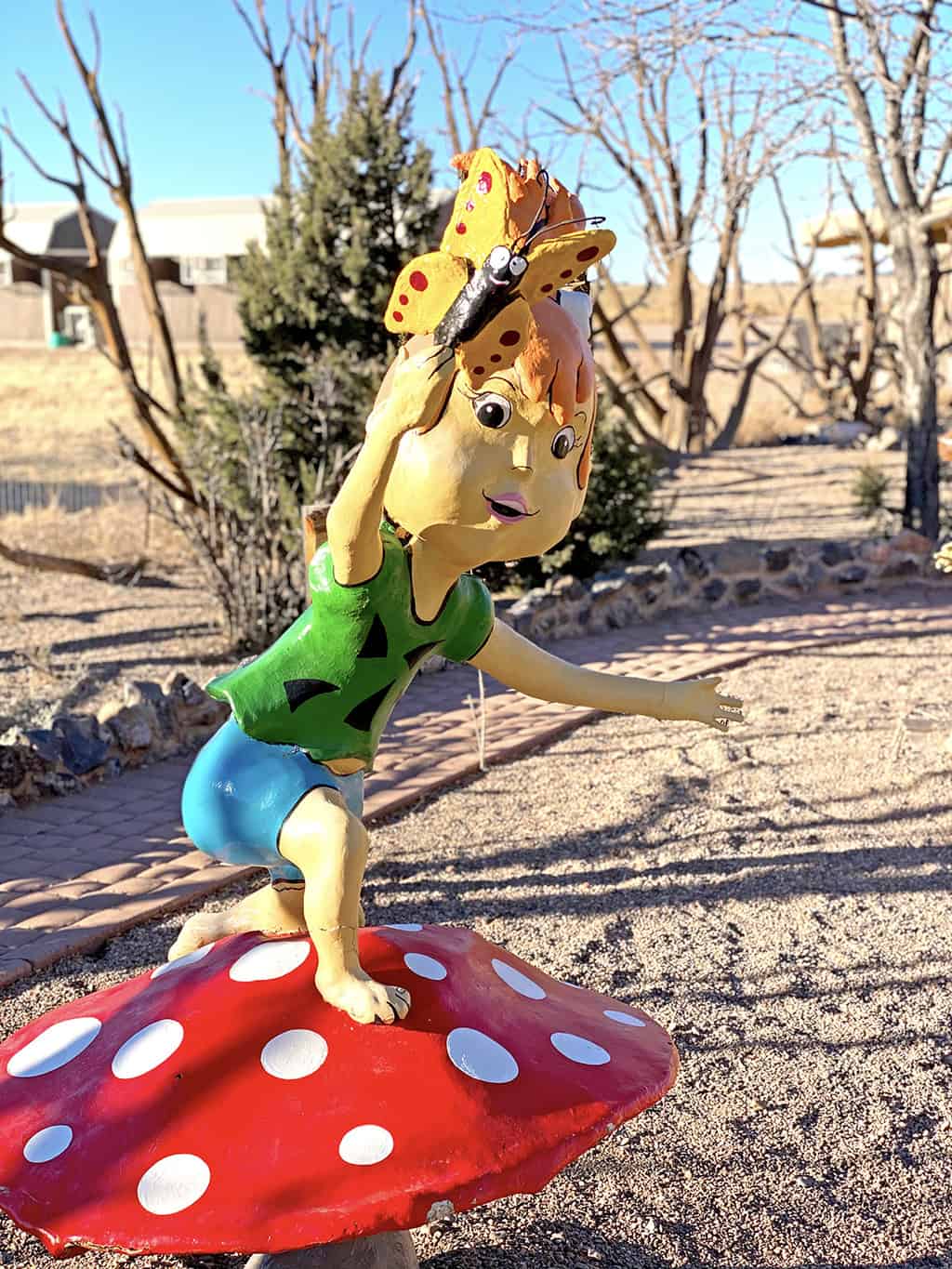 And Bam Bam!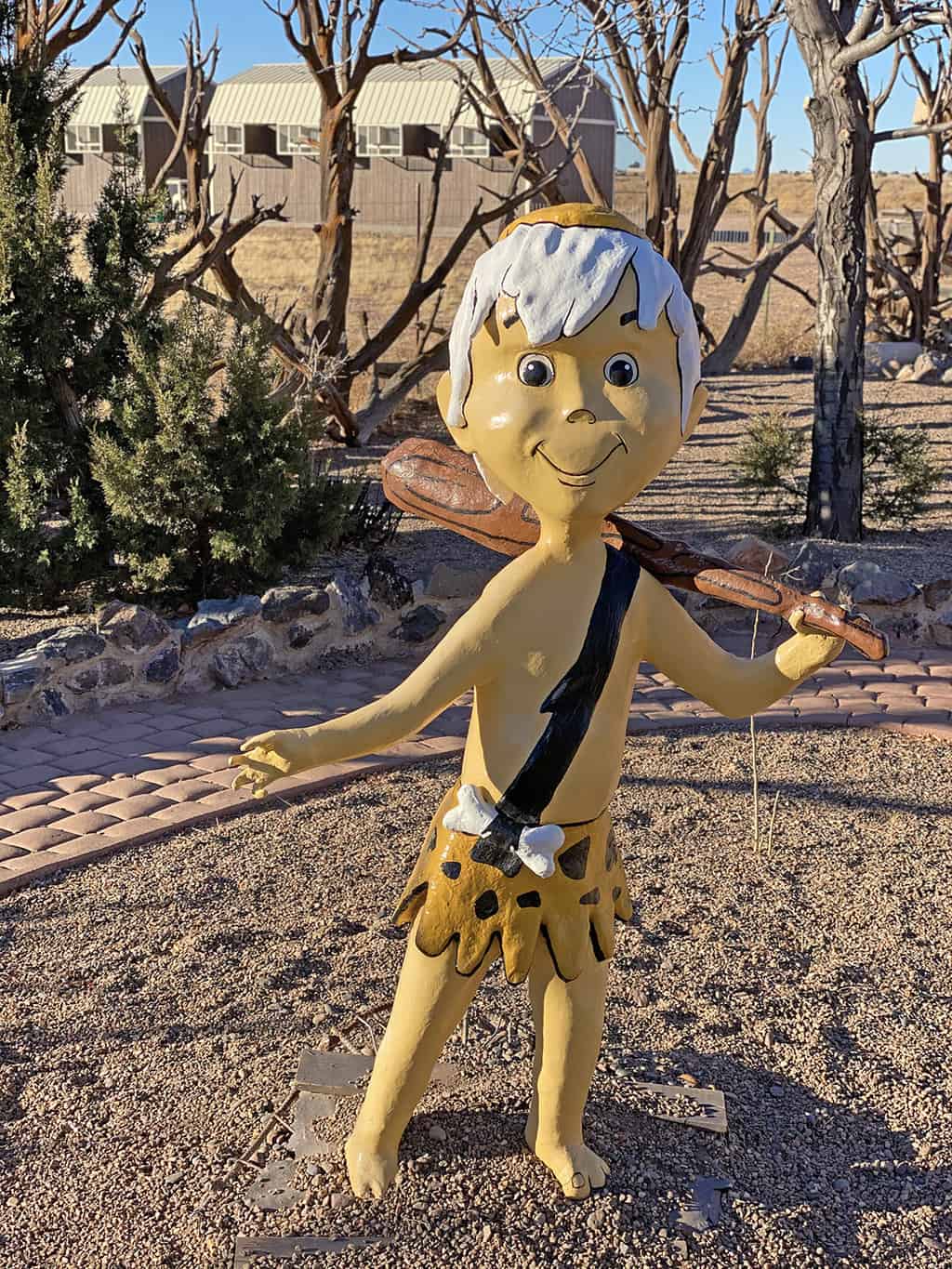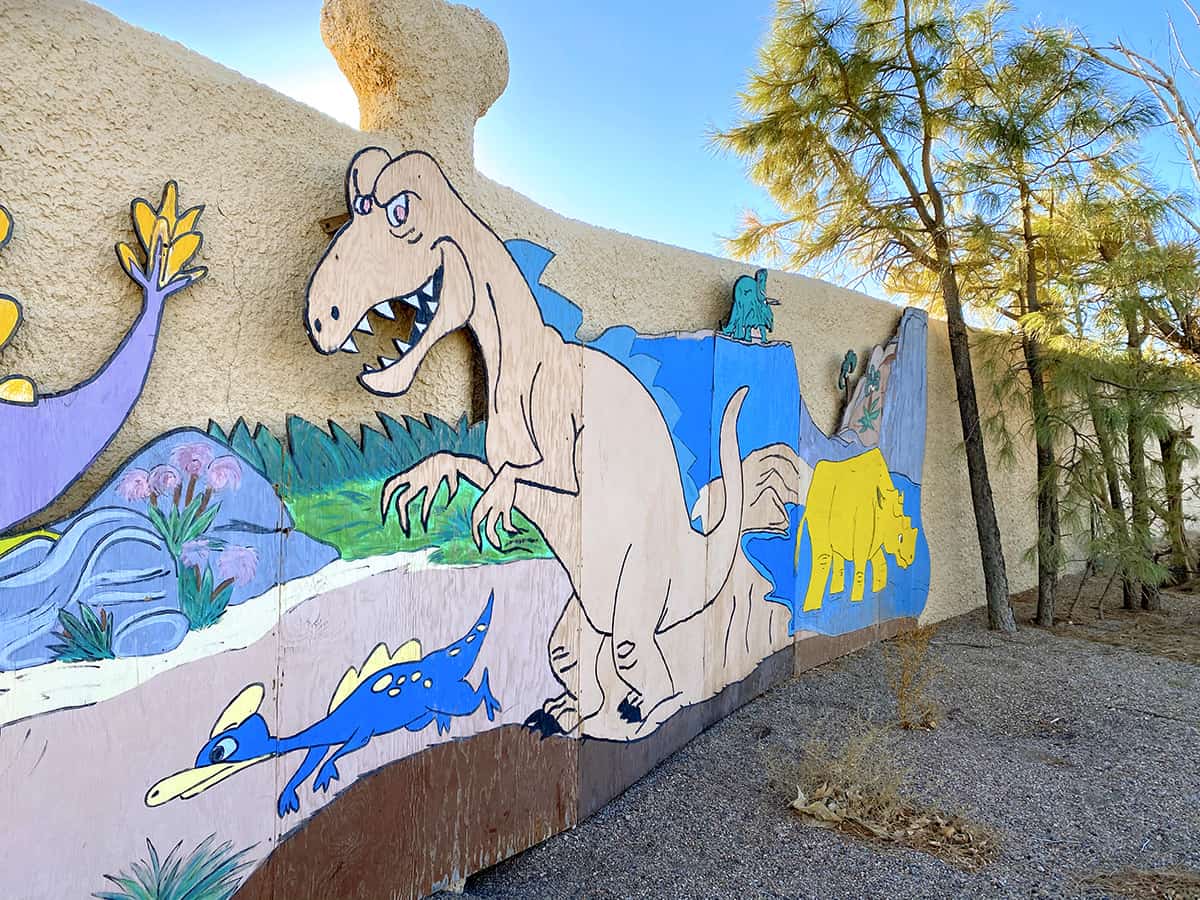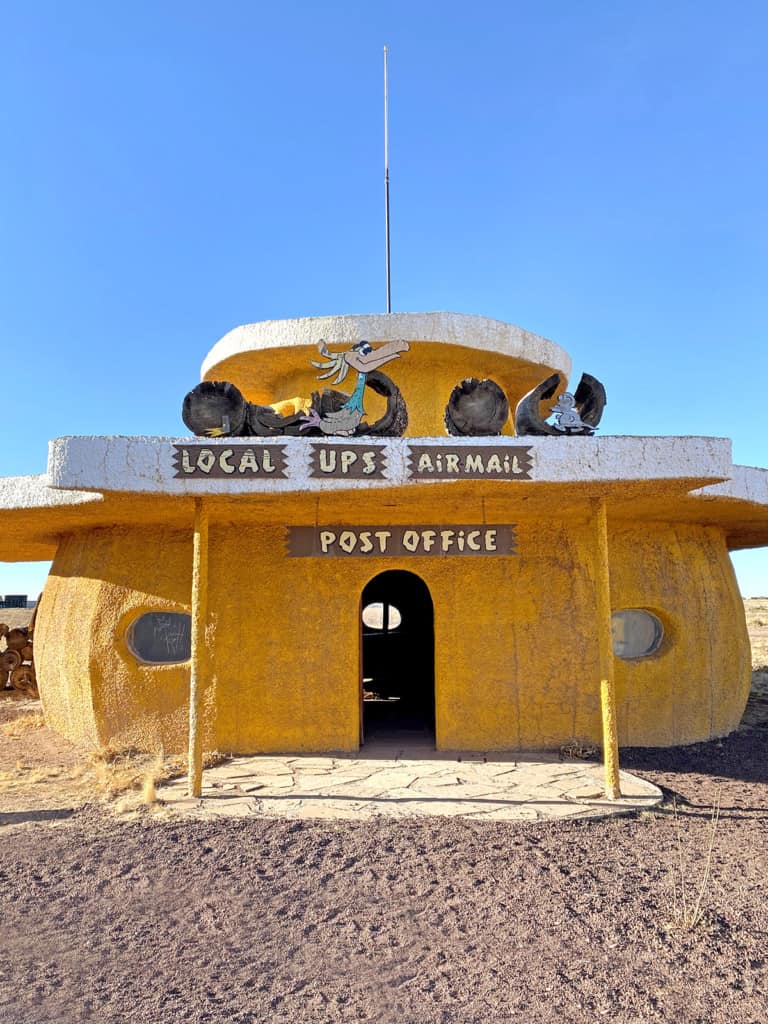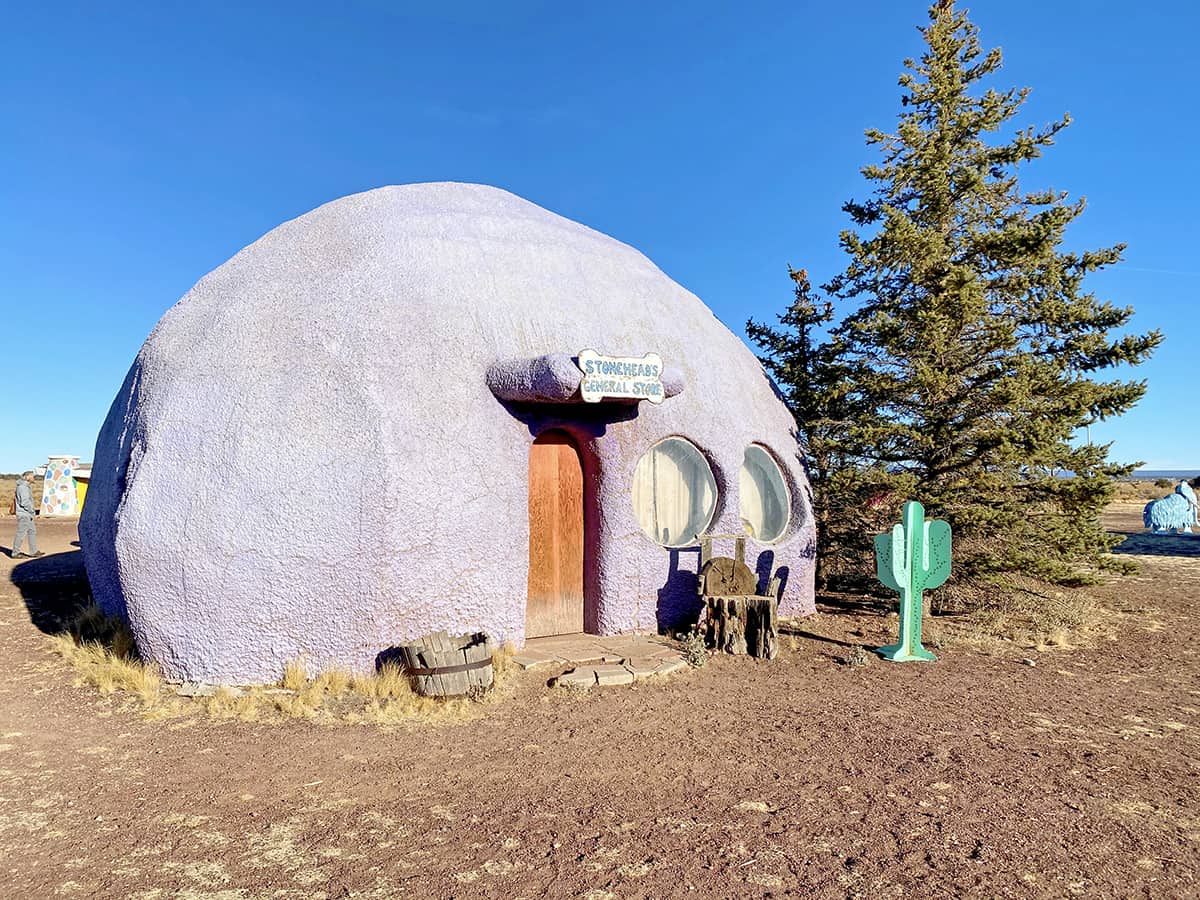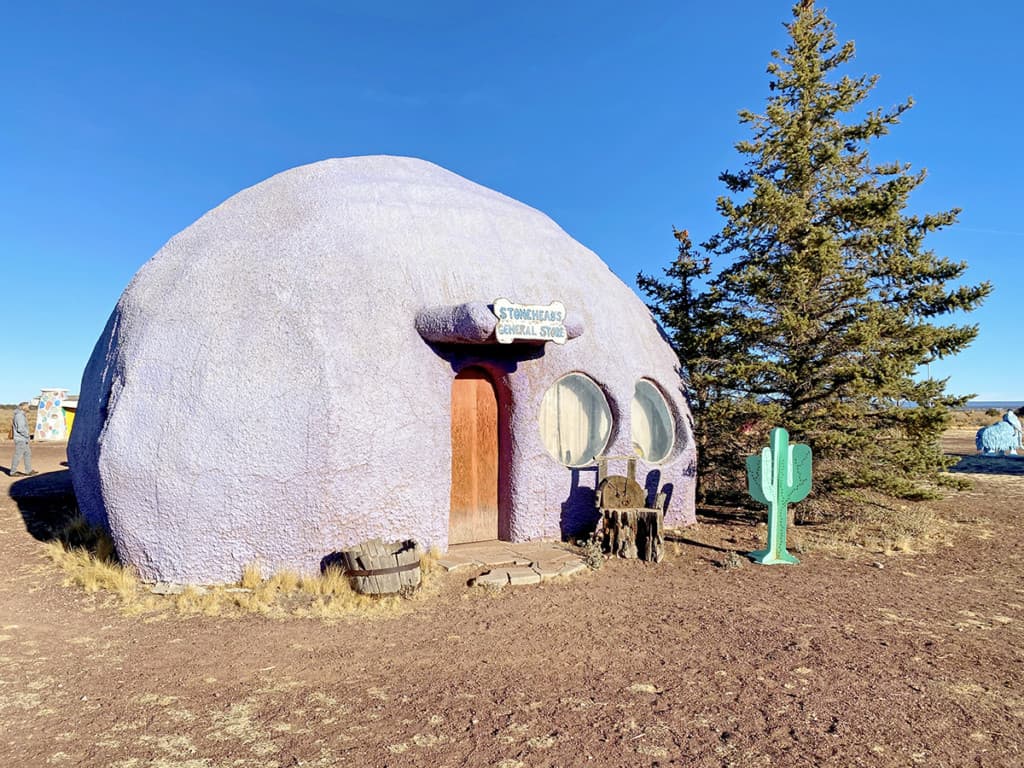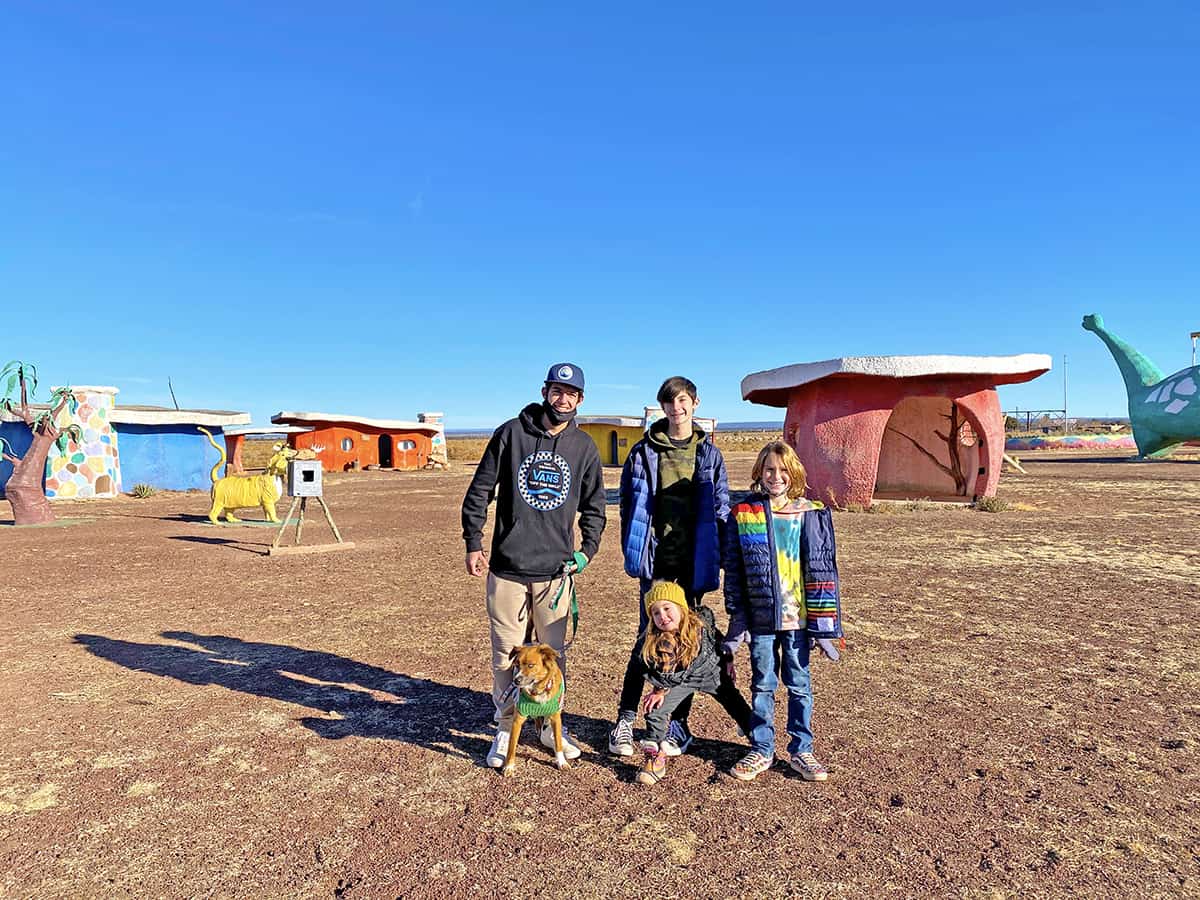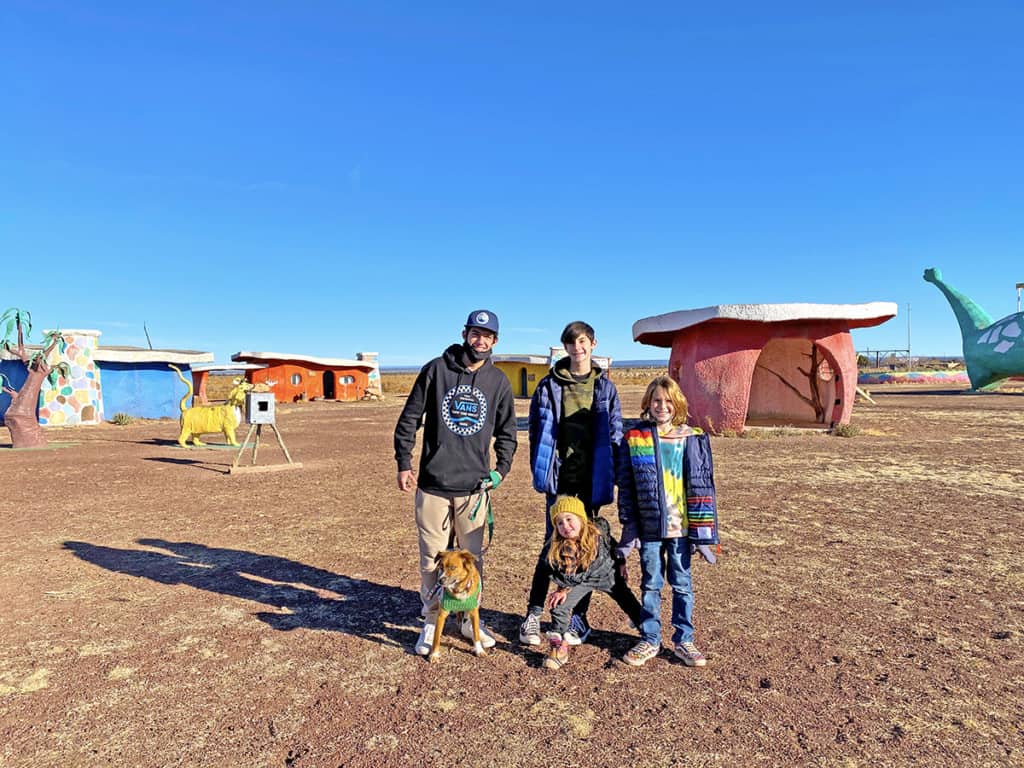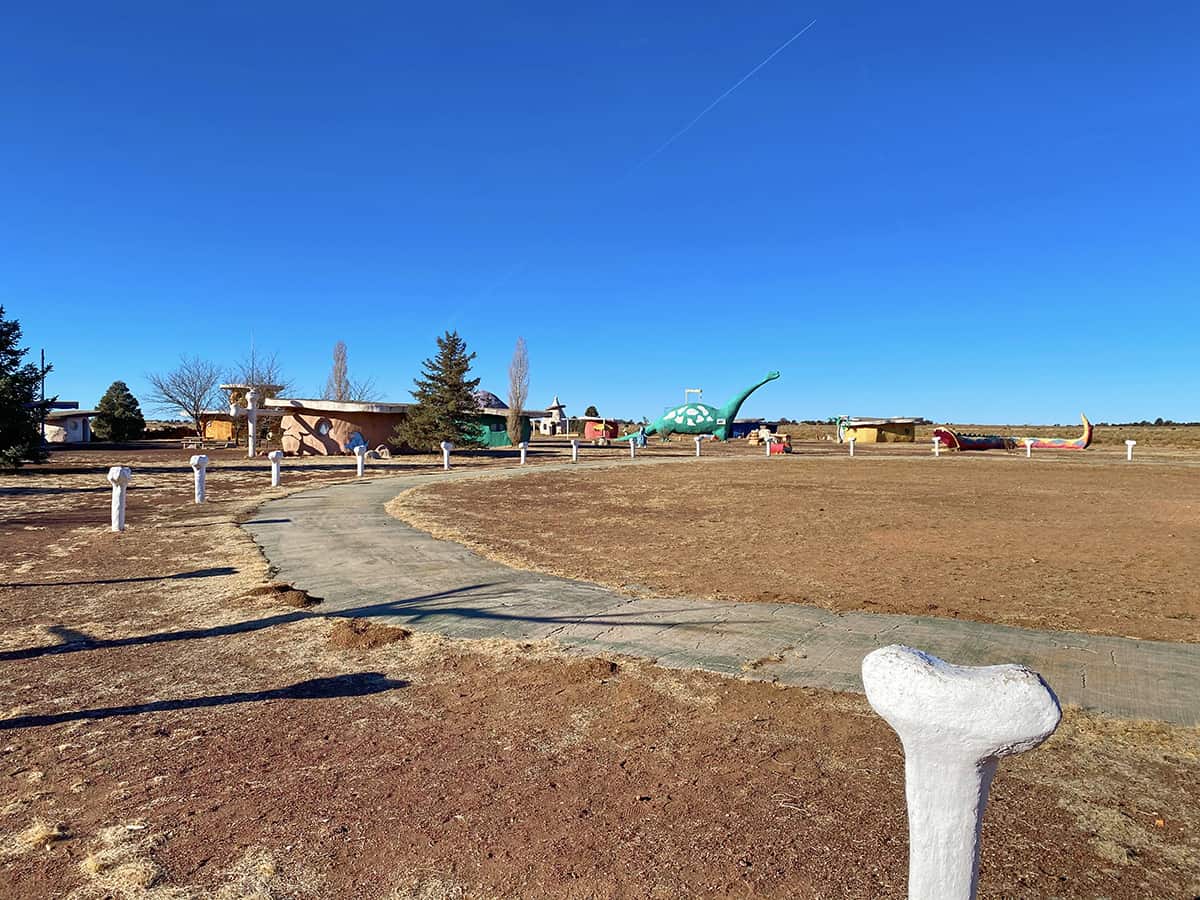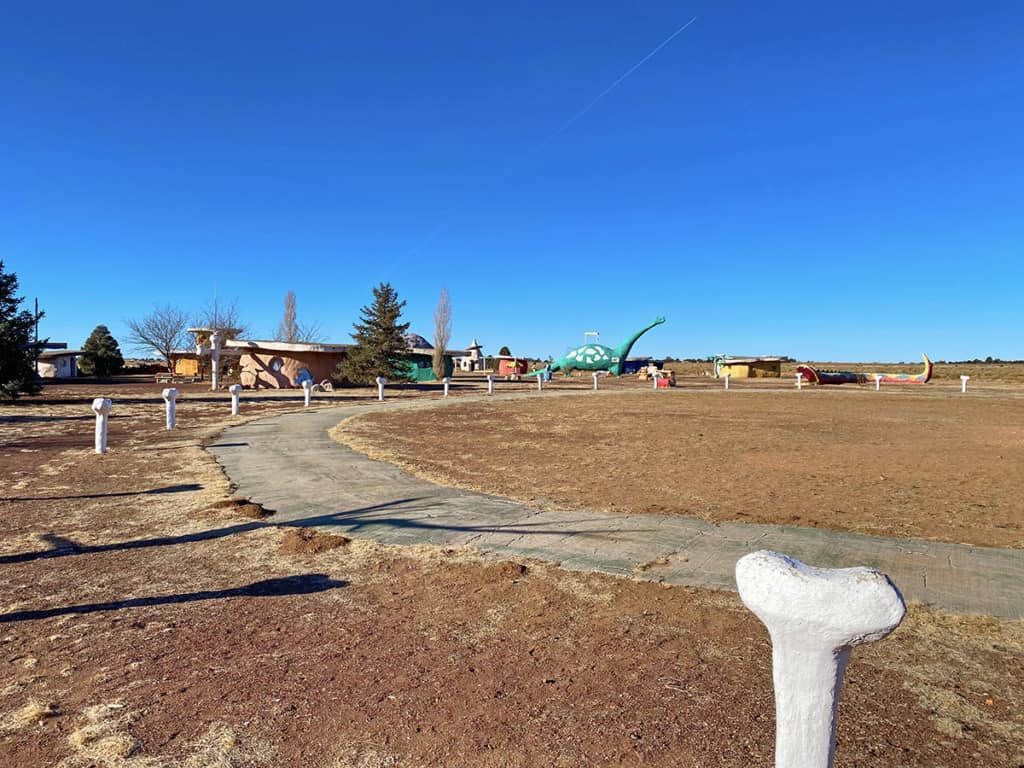 Can You Camp at Flintstones Bedrock City?
RAPTOR RANCH - RV Park & Campground
Yes! If you have an RV, travel trailer or tent, you can camp at the Raptor Ranch Campground that us attached to Bedrock City. There are 32 RV Sites, 25+ Tent Sites. It's only 20 MINUTES FROM THE SOUTH RIM ENTRANCE!
Included in the price of Raptor Ranch campsites for campground guest are:
FREE admission to Bedrock City
FREE WiFi
Laundry room access
Campfire Rings
Campground Amenities include:
Convenience Store on-site
Campstore - Snacks, Coffee, etc.
Giftshop
Showers
Overflow Parking
Raptor Ranch Campground Map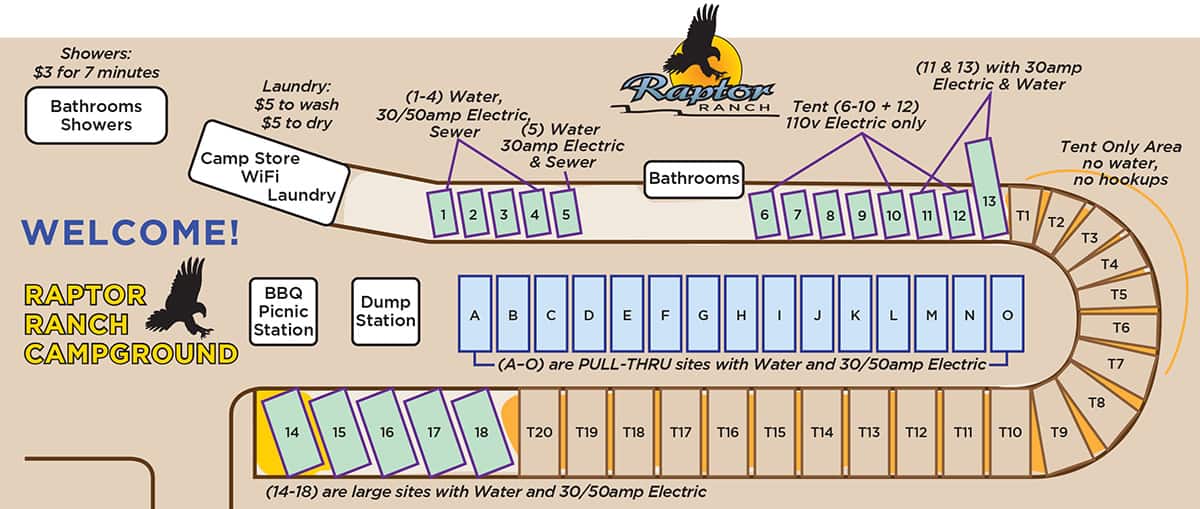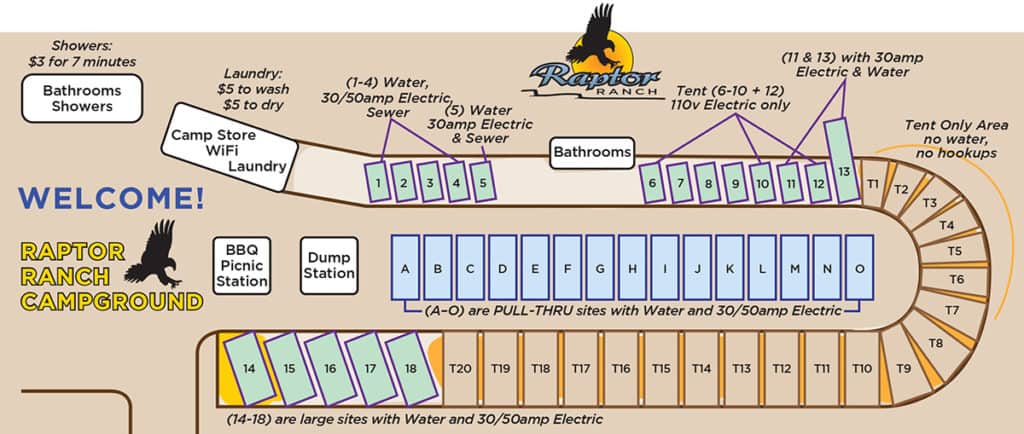 Is there a restaurant at Raptor Ranch?
YES. Fred's Diner
Fred's Diner is open for business, although you won't find bronto burgers there. You can grab menu items such as burgers and hot dogs, chicken tenders, a basket of onion rings, pizza, quesadillas, a drink or soft-serve ice cream though!
Is Raptor Ranch in Arizona worth it?
We didn't actually take the time to check out Raptor Ranch. They supposedly have a bunch of raptors, owls and other birds. And coming this spring, will be having birds of prey demonstrations, falconry classes and flight demonstrations. I've heard mixed reviews.
Maybe we will check that out on our next visit to the Williams, Arizona or the Grand Canyon.
Should You go to Bedrock City and Raptor Ranch?
Did we have a fun time? YES!
I highly recommend visiting Bedrock City...because it's just so unique and countless hours of fun. The entire family had a prehistoric time! We liked exploring this quirky roadside spot. It gave us a chance to stretch our legs and breakup the monotonous driving. Something that is really important to me when we take our road trips. I always want to stop frequently so the kids don't get too restless.
We also liked that admission was reasonable. Only $8 per person and kids under 5 are free. I would say that all ages would enjoy this stop. The city is open during 8:00am - 4:00pm, 7 days a week. I would say that you need about an hour to check out Bedrock City. And if you want to camp, they also have a campground with RV and tent spots.