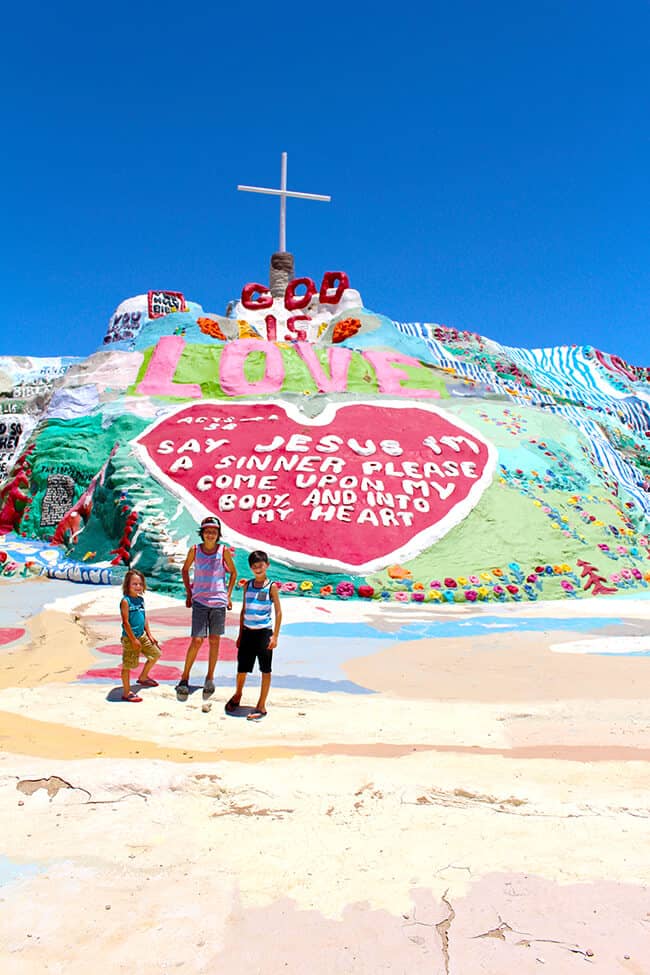 last summer, during our visit to Palm Desert and the Indian Wells Resort & Spa, we took a day trip out to Salvation Mountain, which is pretty much in the middle of nowhere. i had been wanting to visit the Mountain for years, but since the drive is very out of the way, i hadn't gotten the chance before. Salvation Mountain is a life-sized piece of artwork – made from adobe, straw, and thousands of gallons of lead-free paint. it is the masterpiece and vision of a local resident, Leonard Knight, who recently died in 2014. it encompasses numerous murals and areas painted with Christian sayings and Bible verses, though its philosophy was built around the Sinner's Prayer. it is Leonard's tribute to God.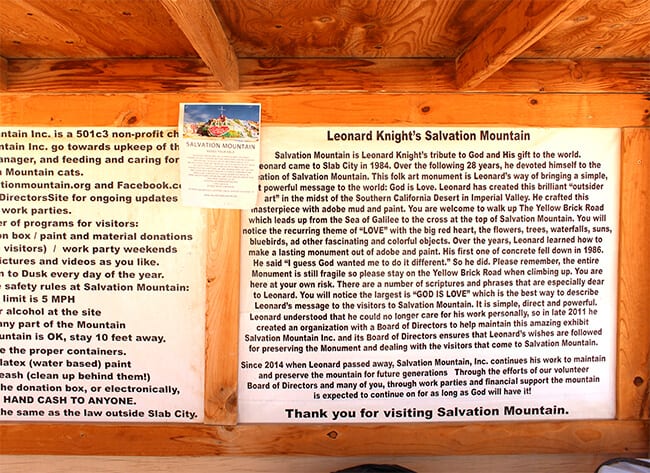 Salvation Mountain is located in the Colorado Desert, in Imperial County, California – several miles from the Salton Sea. i would say about an hour drive past Palm Desert or Coachella. it is a drive, and there isn't much on the way besides and couple of restaurants (not sure if they were open), a Banana Museum, and a small town. there were not a lot of amenities, so if you plan on taking a visit to the mountain plan accordingly. you need to take water, food and have a full tank of gas. you really don't want to be out there stranded as cell reception is also sketchy. this is what most of the drive looks like.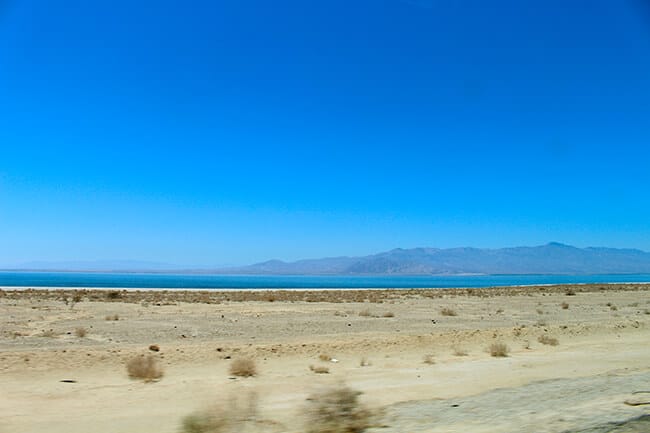 after an hour or so of driving, we finally made it to Salvation Mountain. the boys whining about the long car ride stopped as they looked at the area of Salvation Mountain in awe. it was such a cool sight. unlike anything we've ever seen. it doesn't matter what religion you are, or whether you are religious or not, there is no denying that Salvation Mountain is a special and unique place. the colors, the patterns, the sculptures, the message, just make you feel happy.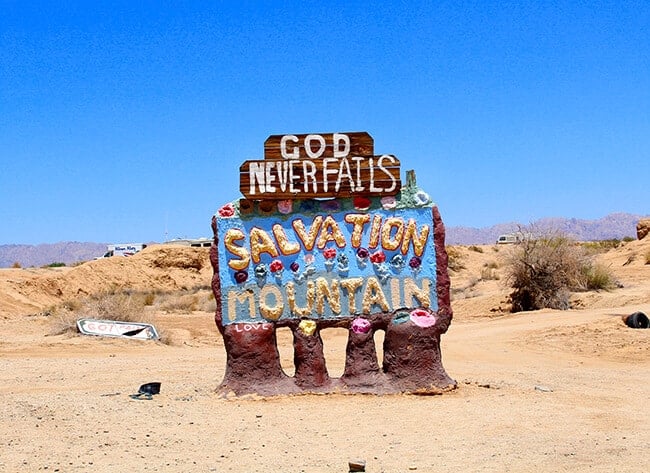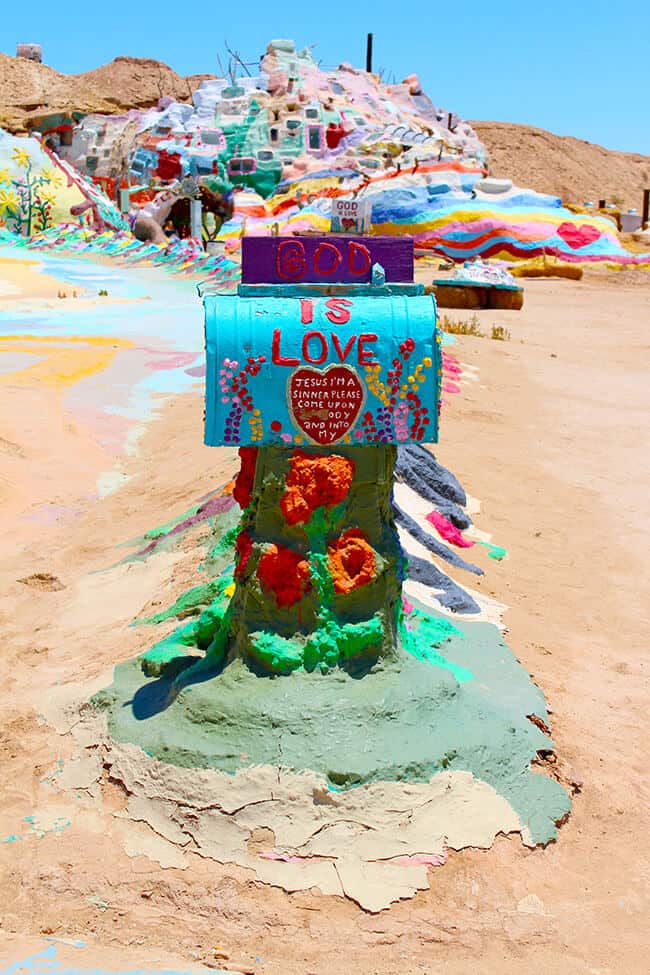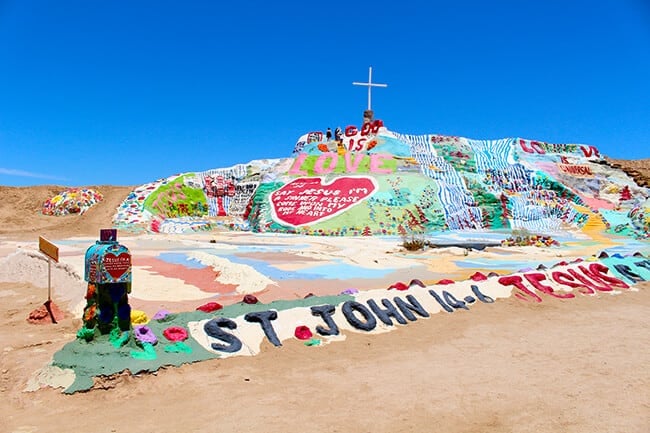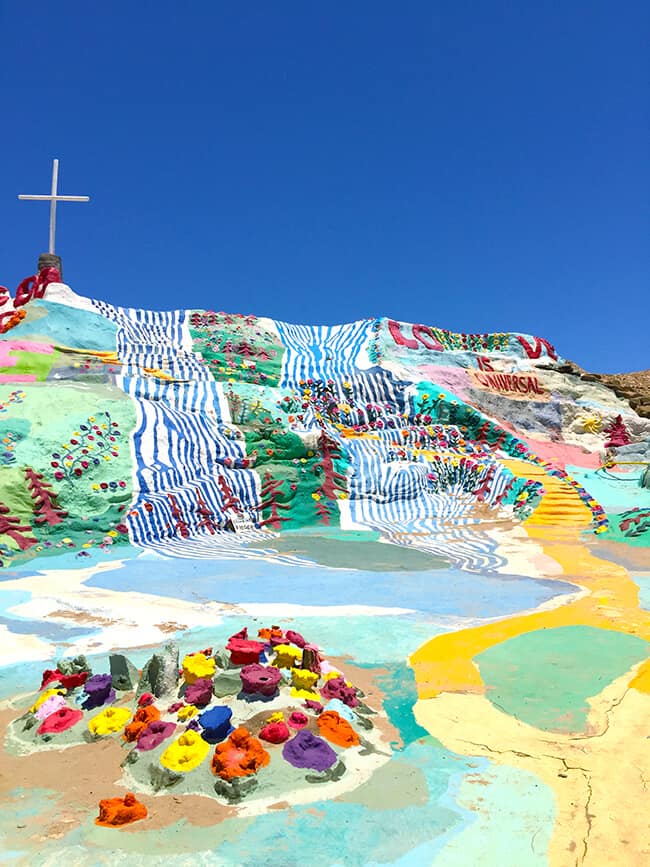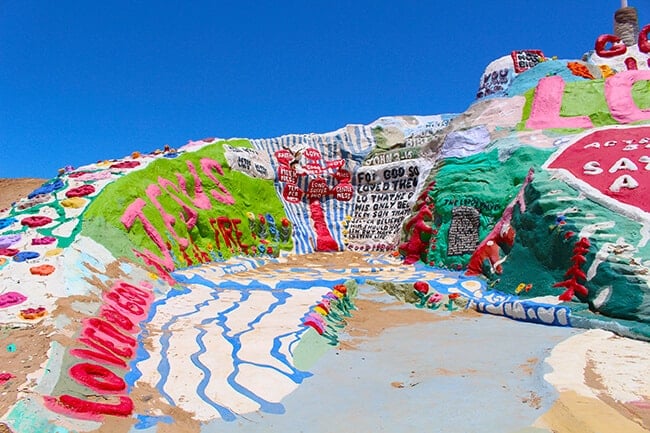 after the initial awe of arriving to Salvation Mountain, we decided to make our way to the top to get a better look at the land and the surroundings. i would have to say this was a really special experience to have as a family.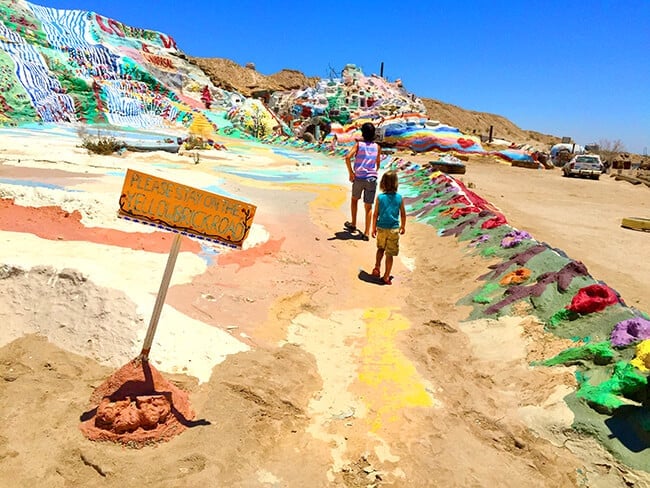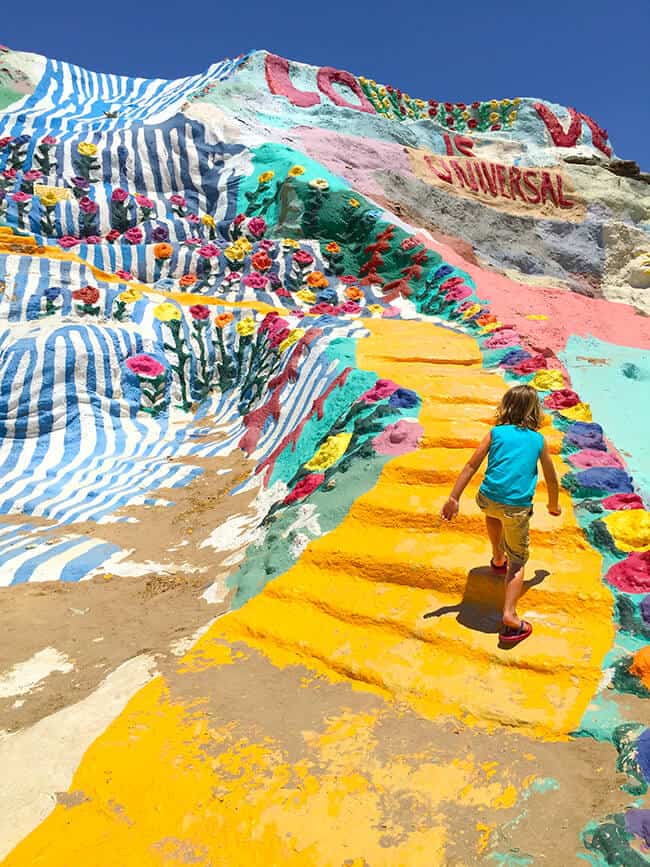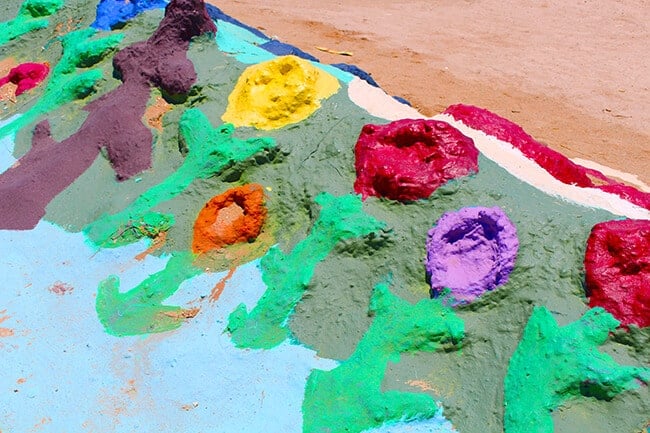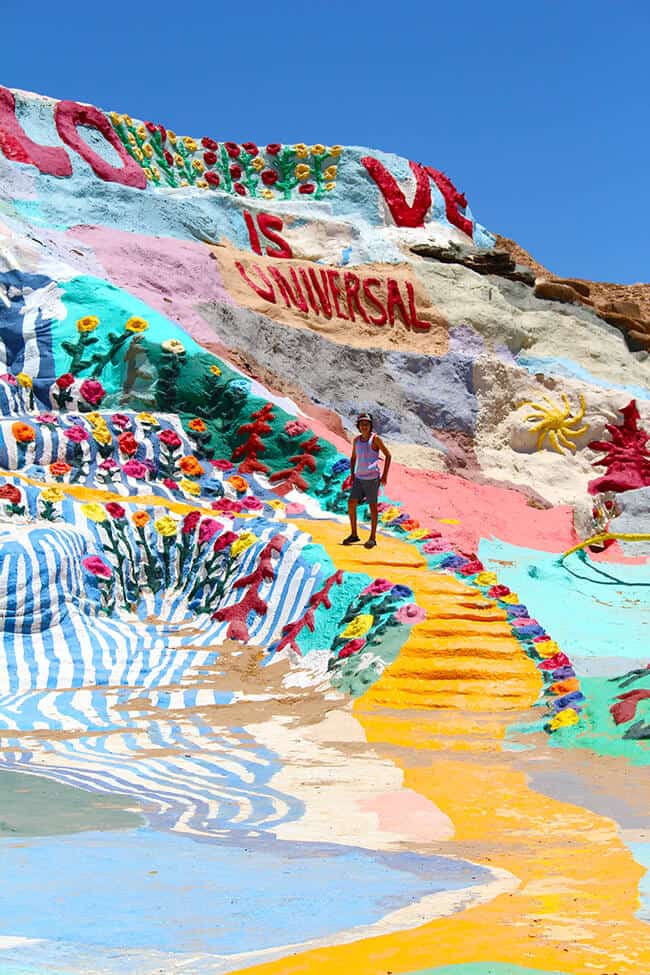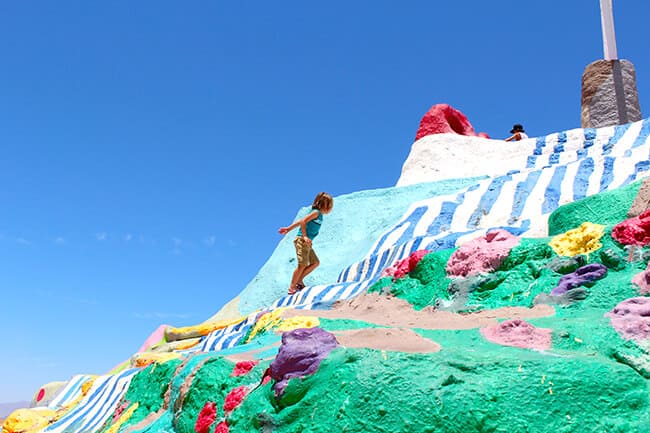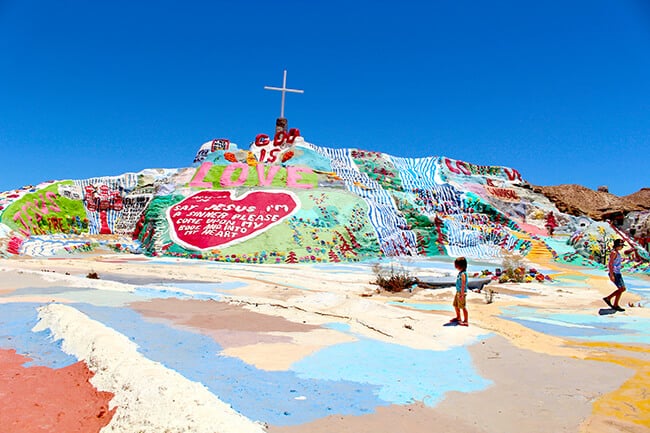 from the top of Salvation Mountain this is the view. it's pretty cool the contrast of the flat desert and the colorful mounds, trash sculptures and abandoned cars of Leonard Knight's mountain.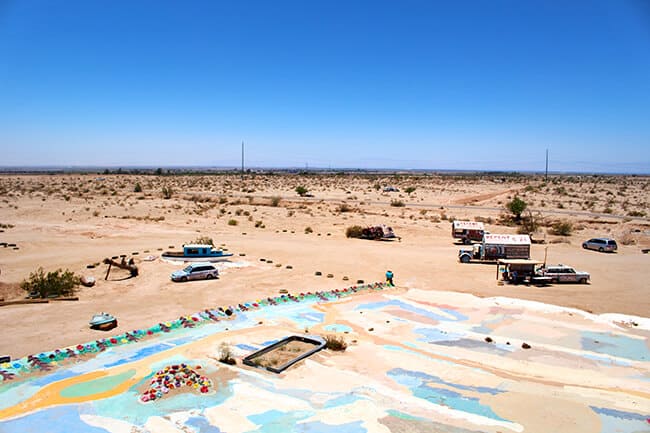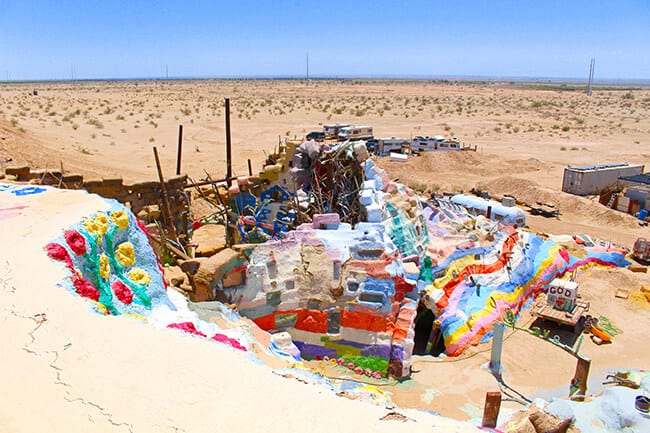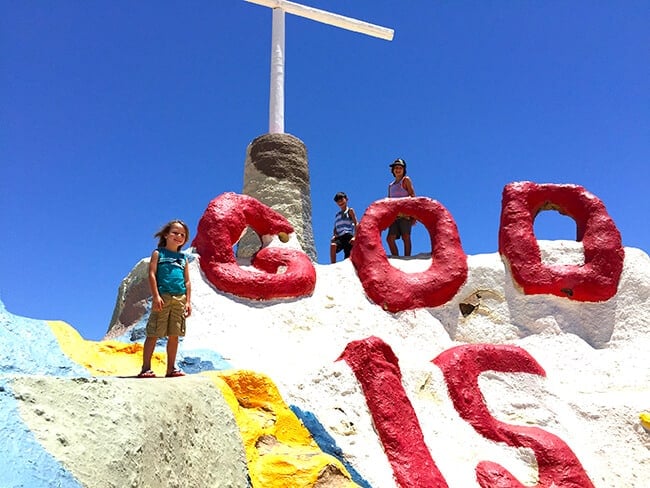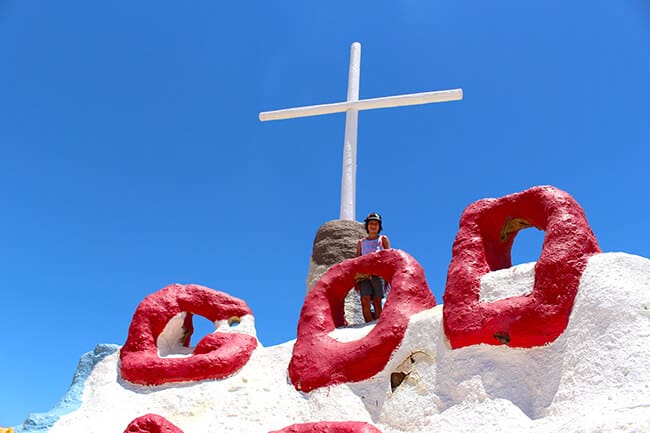 now let me tell you, we visited the mountain in the middle of summer. IT WAS HOT!!!!!!!!! so hot that my smartphone overheated for a while. i would say it was around 110º degrees f. that sun beat down on us, but we trekked on. this is why cold water is important to bring with you. during the winter, i have been told that it is much cooler and enjoyable. so it the heat is something you can not tolerate, take that into consideration.
the Folk Art Society of America has declared Salvation Mountain "a folk art site worthy of preservation and protection" in the year 2000. the boys and i were anxious to explore the entire mountain. there are lots of unique details around every corner. we spent and hour exploring , taking pictures and wondering through the caves. you feel like you are in the land of Dr. Suess. and every part of the mountain hold a new surprise.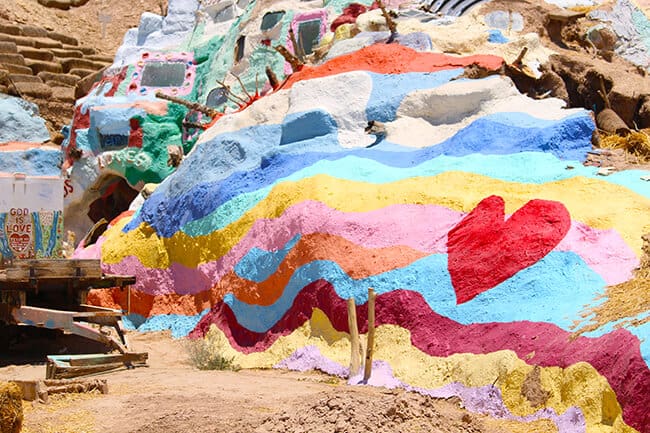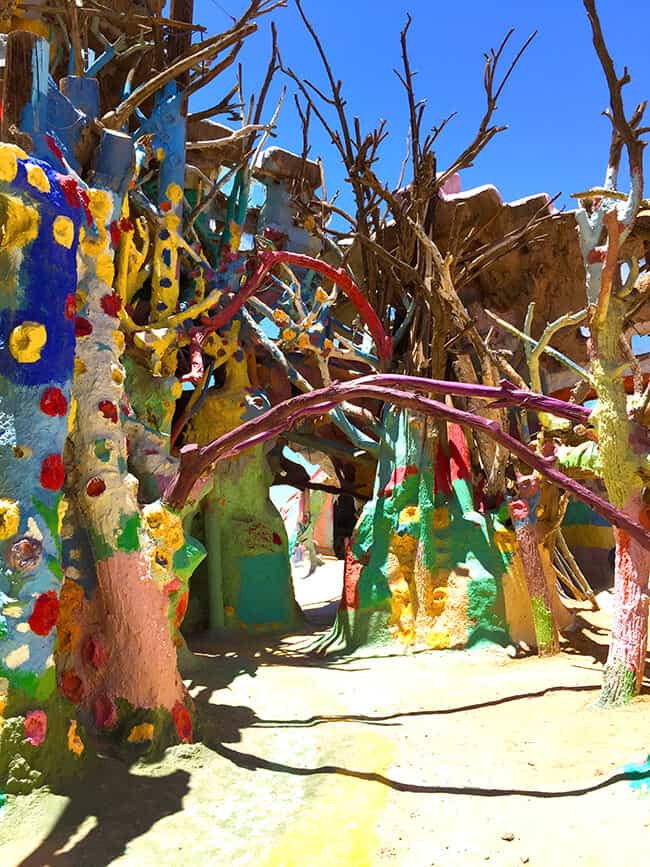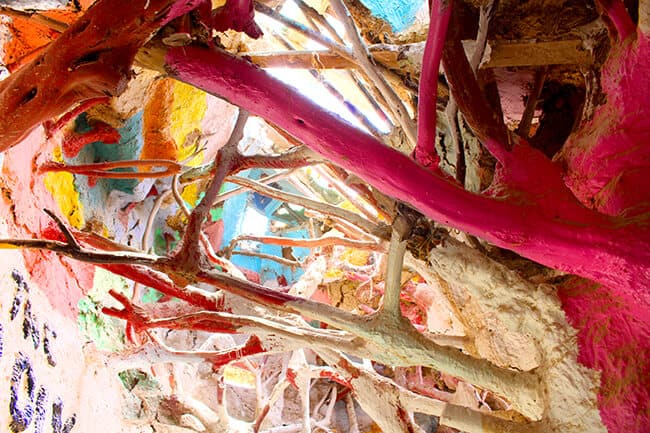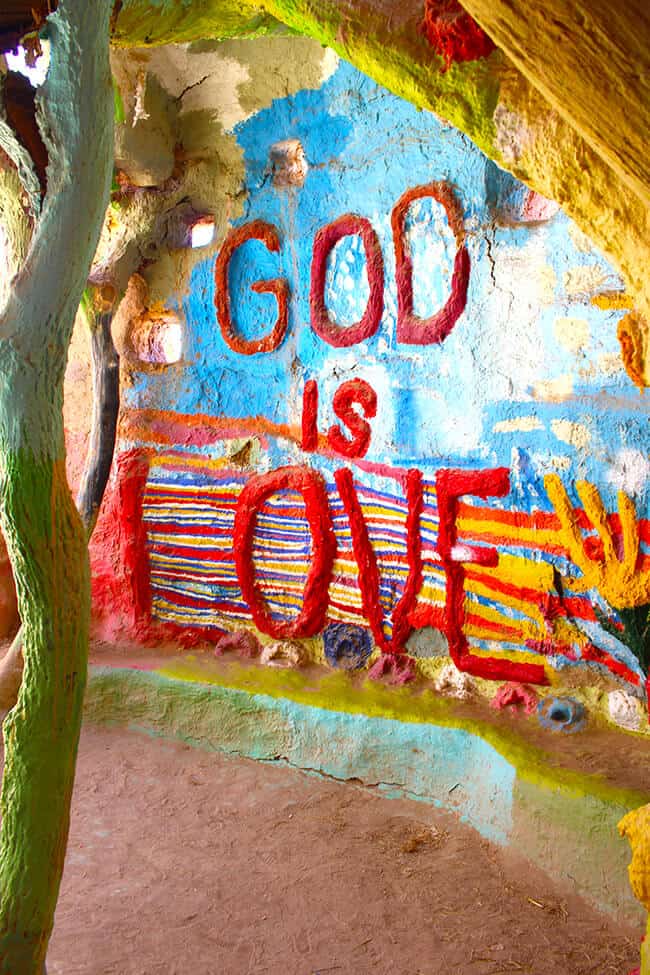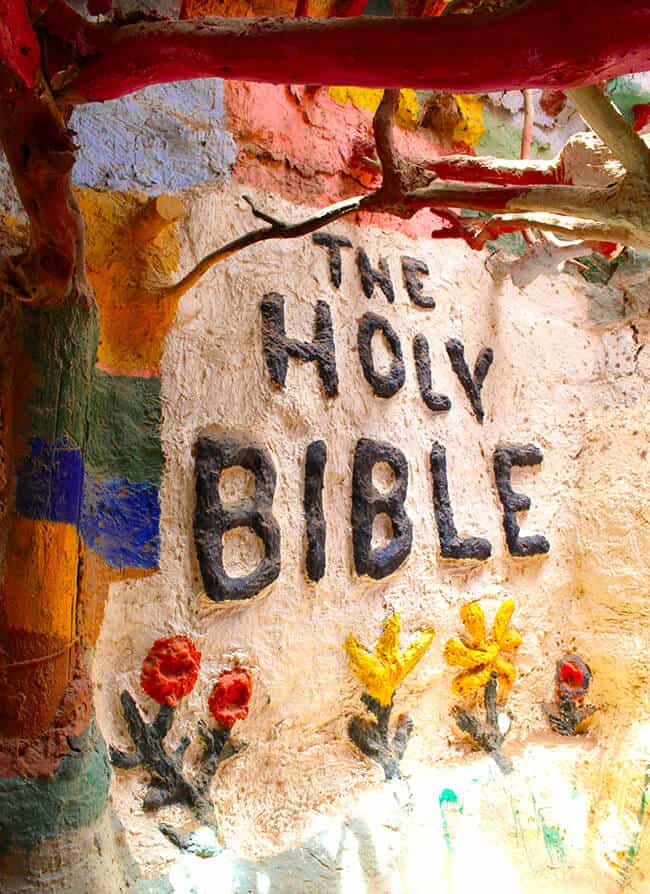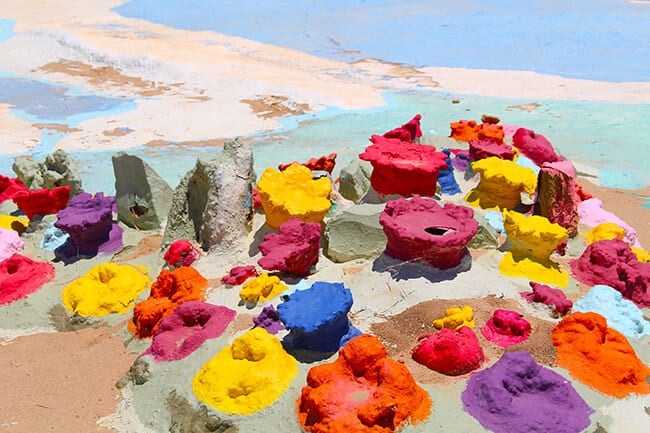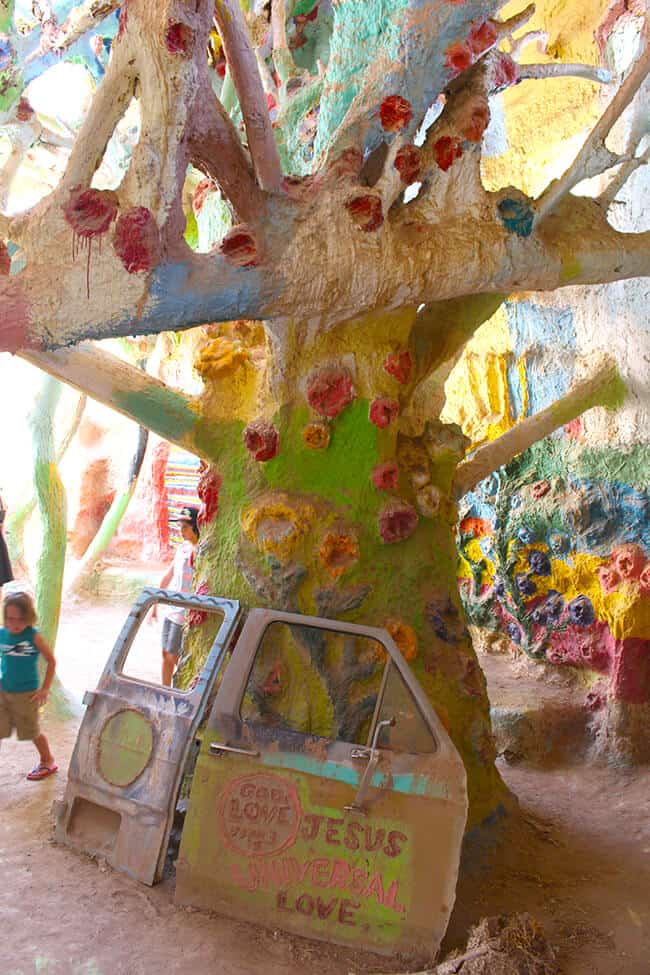 if you look closely at at the details of Leonard's artwork, you will find things like historic pictures in the walls and old books and journals. before you leave, don't forget to sign the visitor book to let other know you have been there.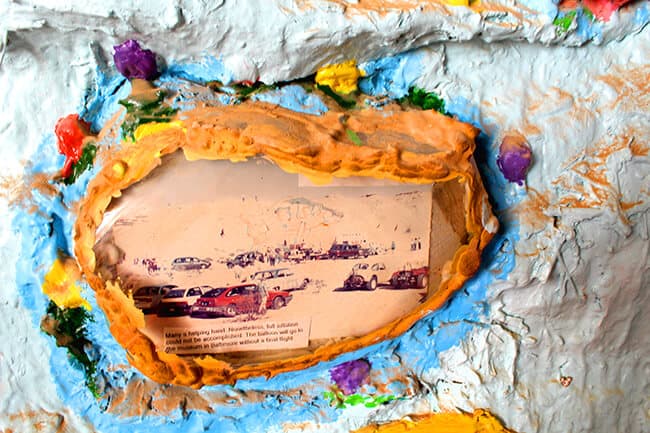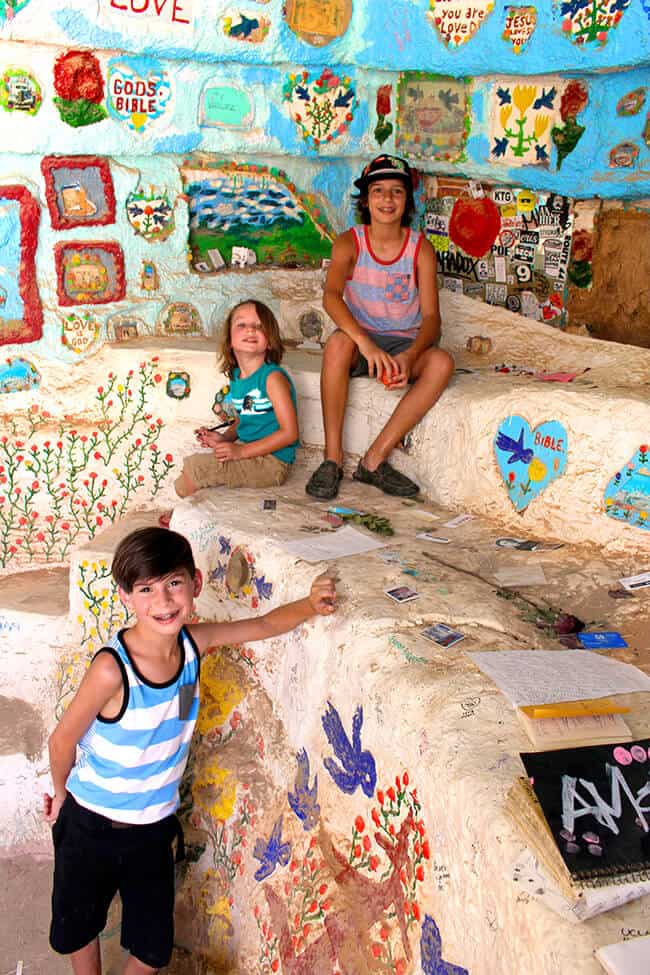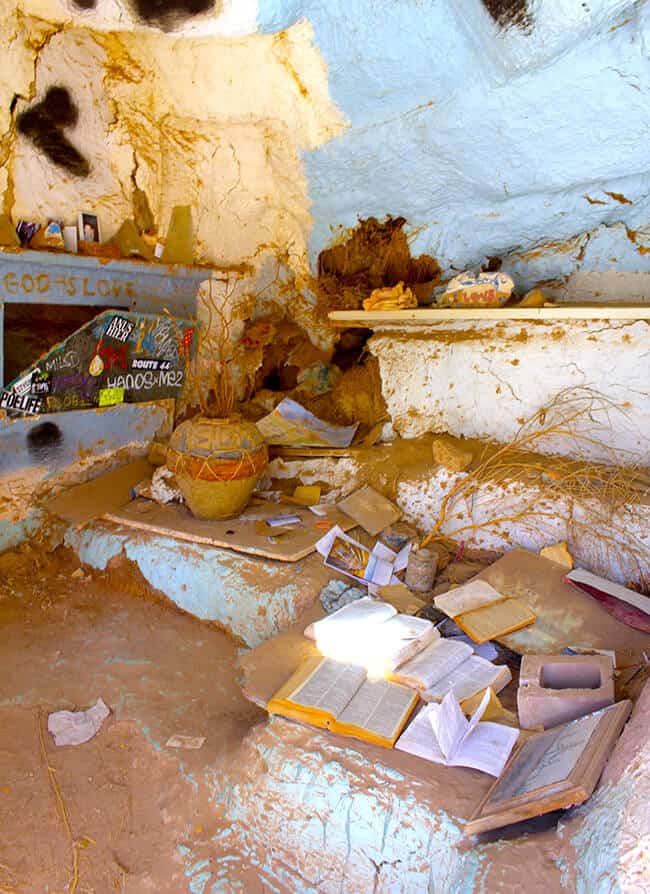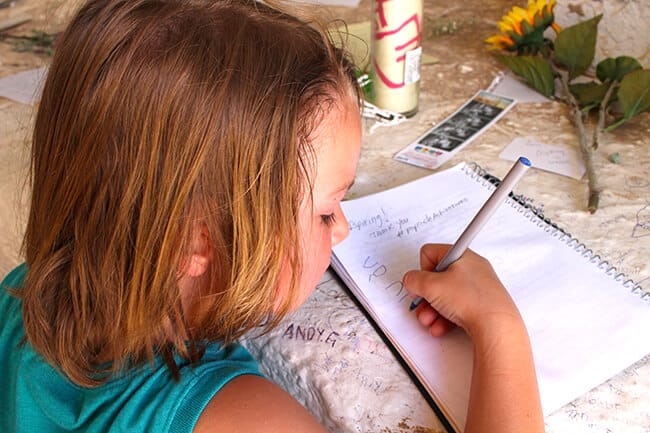 many people in the area are concerned for the future of the site, which requires constant maintenance due to the harsh surrounding environment. many visitors bring paint to donate to the project, and a group of volunteers has been working to protect and maintain it. a public charity, Salvation Mountain, Inc., has been established to support the upkeep.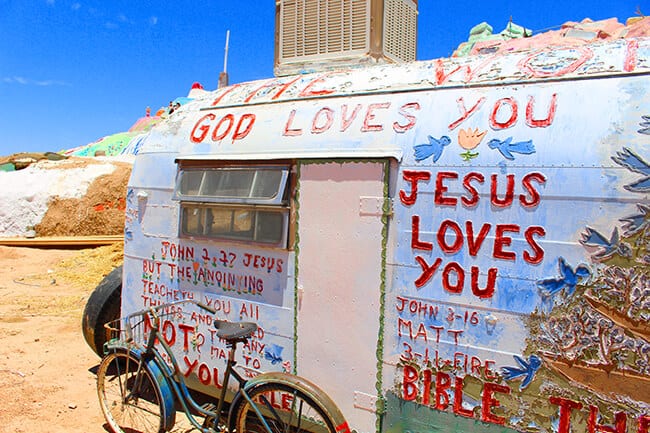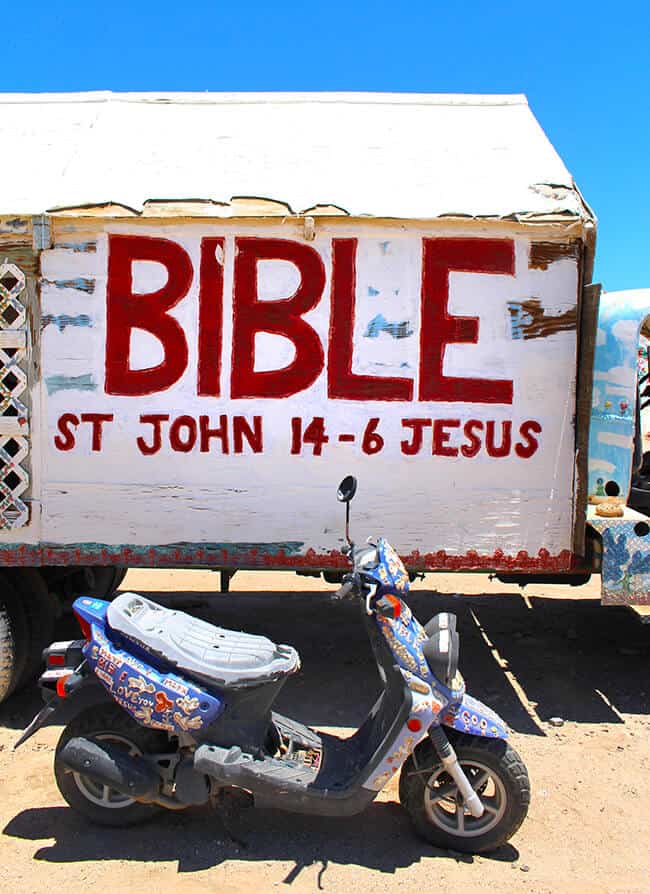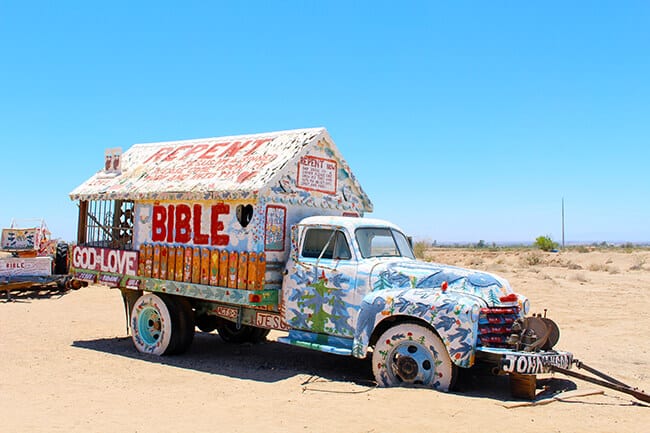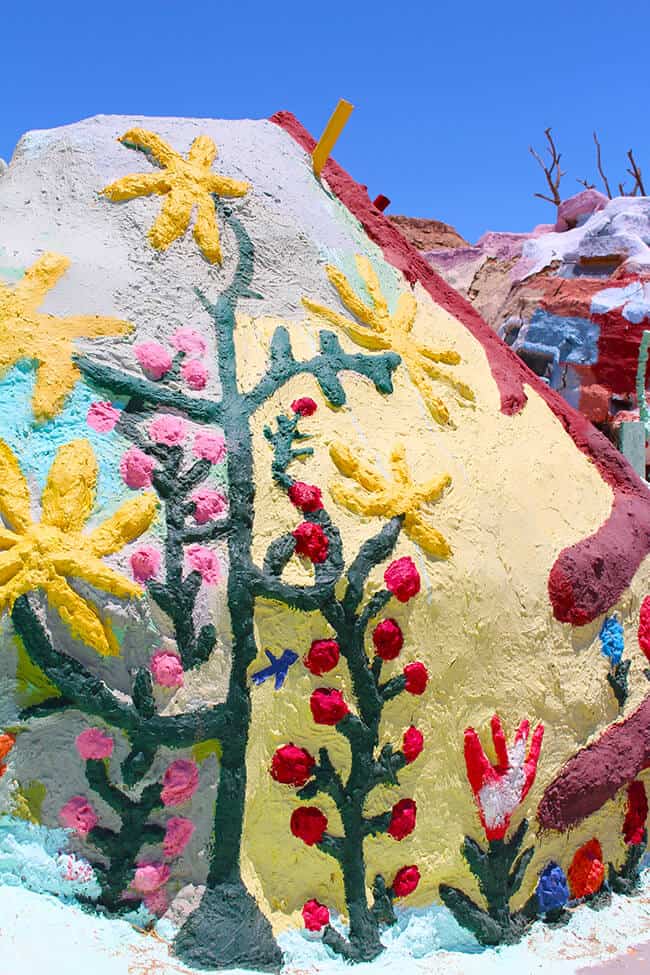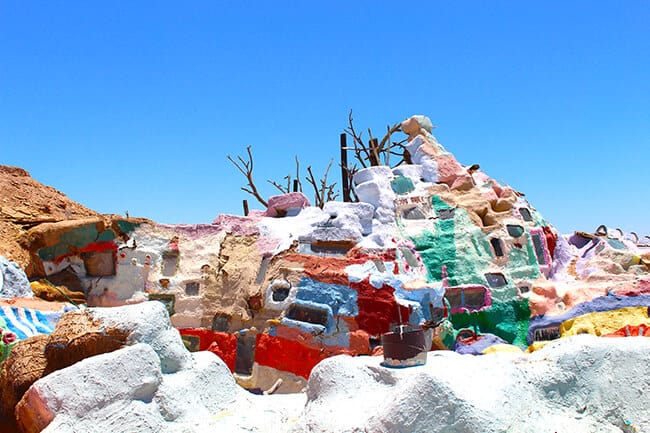 steps beyond Salvation Mountain you will find the entrance into Slab City. you are welcome to drive into Slab City, but i suggest to use caution. i would not consider it a safe place as you never know who or what is out there...i wouldn't suggest getting out of your car or having your children wonder around the area. Slab City is considered of-the-grid and gets it's name from the concrete slabs that are left from the abandoned World War II Marine barracks of Camp Dunlap. people go there to escape modern society. many are destitute or don't want to be found. it has been a place where fugitives and drug addicts have called home, and even a population of modern day hobos — known as "train kids".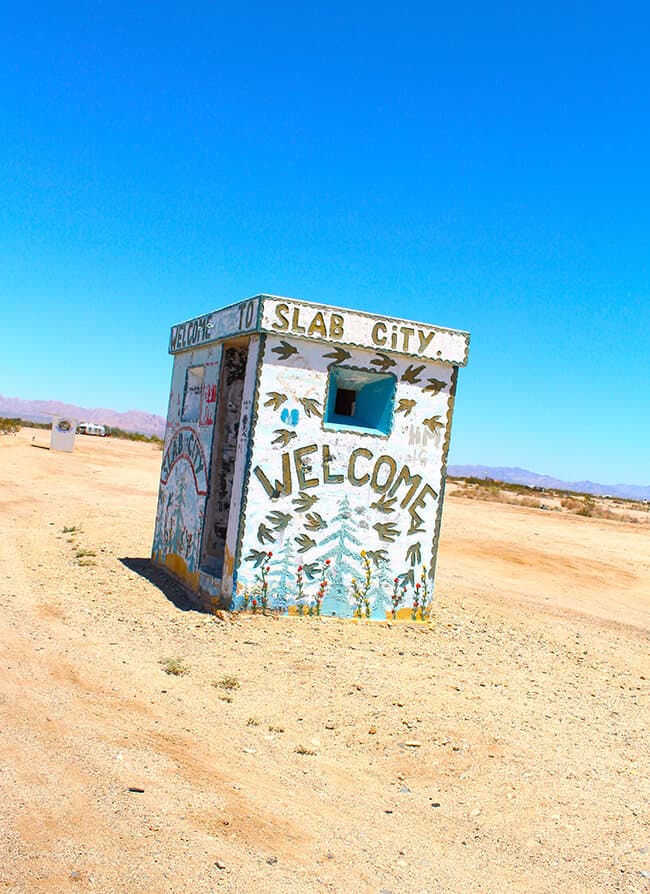 everyone who lives on Slab City's 640 acres are squatters on state-owned land. they don't pay rent, and so it's often referred to as "the last free place in America." there is no electricity, no water and no sewer system. it's also free from garbage pickup and the land is covered in trash. many campers use generators or solar panels to generate electricity. honestly, i don't see how people survive out there. it was so hot when we went that i thought i would die.
we quickly drove through to get a peek, but that was it. the people there don't want to be bothered. it was funky and decorated with trash and silly signs....even a space ship. it definitely was interesting. you can find out more about Slab City by searching online. there have been many documentaries made about it, all very interesting, and share the good and the bad about this make-shift city in the middle of nowhere.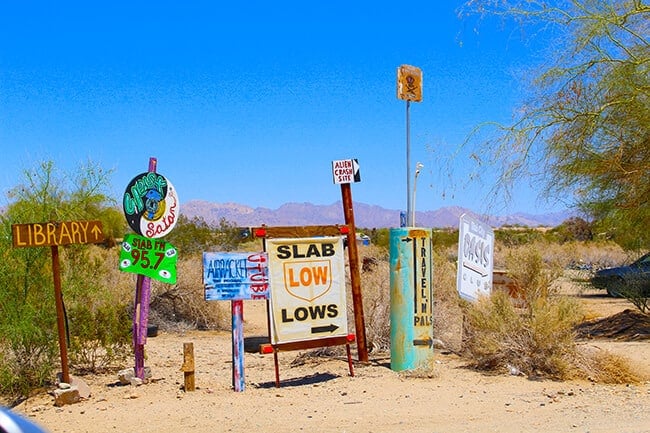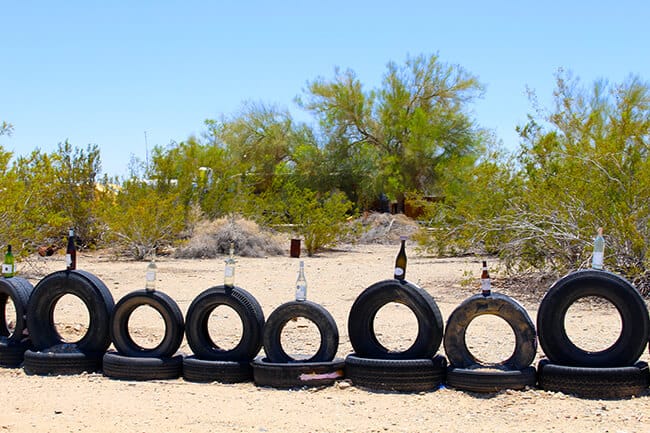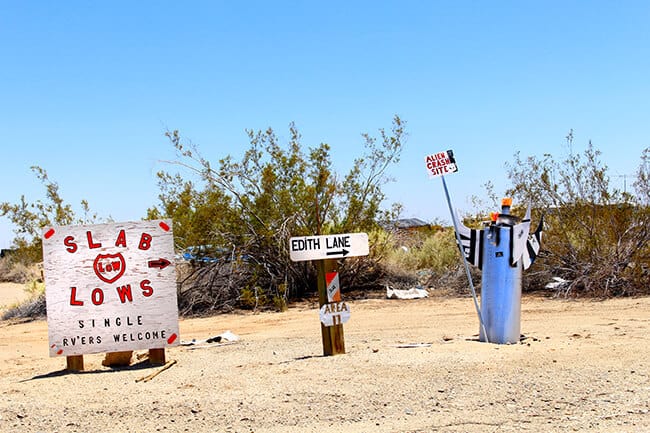 we made our way home after our quick drive through Slab City. it sure was an adventure being able to visit Salvation Mountain and "the last free place in America" – Slab City. although visiting the mountain is an hour out of the way of Palm Desert, i would still recommend a visit at least once in your life. it's a different kind of place, that leaves you will a different kind of feeling when you leave. it's a place you will always remember visiting. i know that i will go back again someday...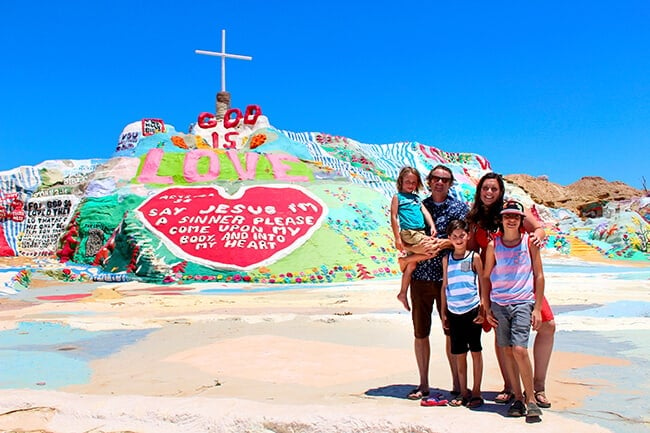 Angela, my friend and blogger of Mommy Mania also visited Salvation Mountain on her $600 Road Trip, you can read about here adventure here. and then go on a take your own road trip!