march just happens to be my birthday month. and even though i never like anyone to make a big deal about my birthday, i usually get myself something fun to celebrate. it's not often that i buy myself anything but the necessities, but the year i actually have a handful of items i have be gushing over. and after going through my list of things i have been wishing for, i found that almost all of the items are photography related...which is funny to me. i never thought of myself as a photographer, i just love taking photos. but, besides taking photos for my blog, i don't know much about photography.
the iPhone has changed my life in regards to the photography world. it has allowed me to capture so many special moments of my family and children's lives. i'm mostly an instagram fanatic, and if you're interested, go follow me on instagram. i find myself wanting to capture better and more interesting photos. i LOVE apps that let me edit them. my favorites are Snapseed, Lens Light and Pic Tap Go. i have also seen many accessories that enhance the ability of your phone. i have included some in my wish list below.
so without further adieu, here is my wish list of photography products and accessories….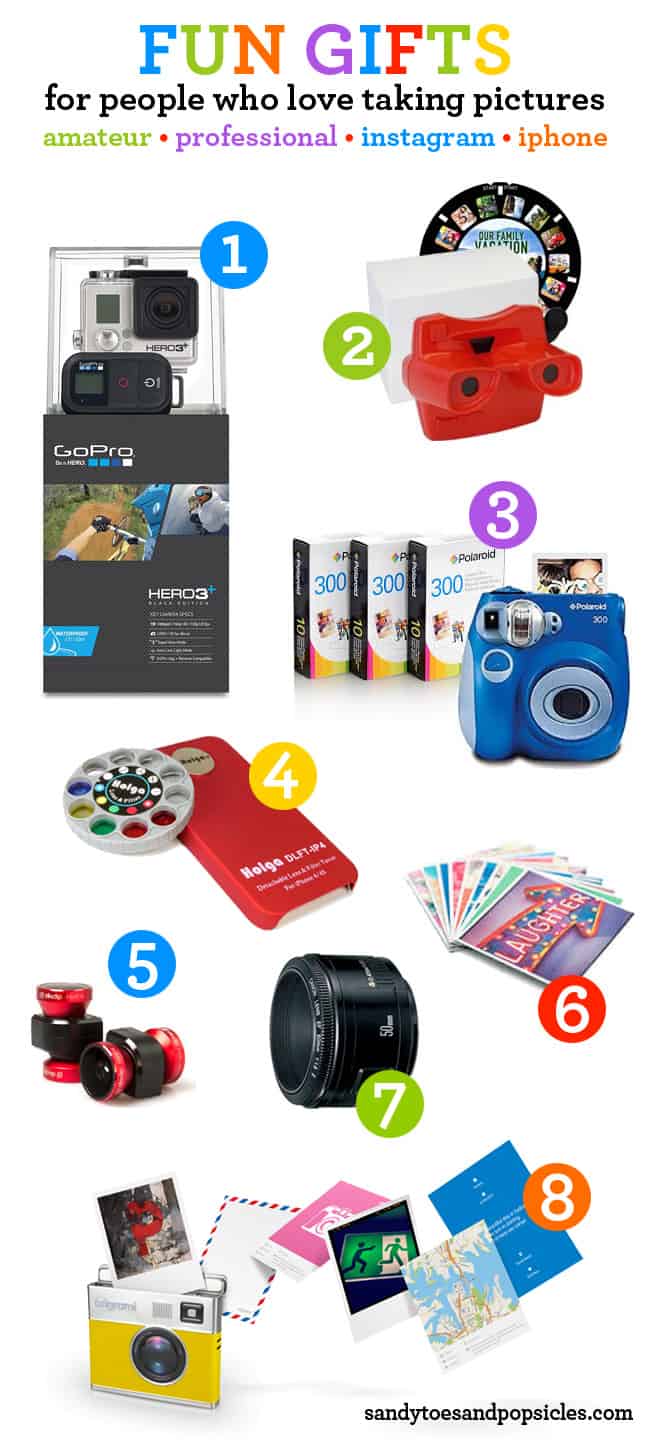 1. GoPro HERO3+ Camera
- the GoPro Camera series, are lightweight video cameras that you can strap to yourself, anyone and everything from animals, cars to tripods or camera poles! they allow you to capture moments in the moment. they are popular among extreme sport enthusiasts. these cameras have phone apps that allow them to be interactive with your phone. check out all these cameras have to offer in the GoPro official website. with all my active boys, i see this as the perfect camera for our lifestyle. i don't know why, but i just want it. i have dreams of all the cool videos i could make with it.
2. Image3D Custom Viewmaster - the Image 3D Viewmaster is one of those retro view masters from your childhood days, BUT you can customize the cartridges with your own images and build different reels for all your special occasions and vacations. i have been wanting one of these for a very very long time. i see it a being the perfect coffee table knick-knack, and fun way to share your different adventures with company.
3. Polaroid 300 Instant Camera and Polaroid 300 Film - when i was little, i had a polariod camera. i have no idea where it is now, but i remember have cool the photos where. there is just something about a polaroid photo that is unique and fun. i am so happy that Polaroid had made these modern day polaroid cameras…because you just can't get that one-of-a-kind polaroid look without using a polaroid camera. i also love the great little instant photos that are the size of a business card.
4. Olloclip 4-in-1 Lens Solution for iPhone - the olloclip 4-IN-1 is a lens that you can quickly connect to the iPhone. it includes a Fisheye, a Wide-Angle and 2 Macro lenses in one small, convenient package that easily fits in your pocket. it can connect to your iPhone within seconds so you can capture the image you want, and if you don't see the picture you're looking for, just flip it over to switch lenses.
5. Holga iPhone Lens Filter Kit - the Holga iPhone Lens Filter kit is Lens Filter case that lets you create your own special effects and filters without having to use a software app. you just slide it onto your iPhone, dial up the desired effect, and shoot to your heart's content. the case includes 9 filters that look like an old school rotary phone. it's just a fun thing to add to your iPhone and take unique photos.
6. StickGram Magnets - Stickygram magnets are a set of 9 magnets that get delivered straight to your door. by connecting to your instagram account online and choosing the images you want, Stickygram makes the ordering process super easy. it's a great way of displaying your instagram memories on your fridge.
7. Canon EF 50mm f/1.8 II Standard AutoFocus Lens - with all the food and craft photos i take for my blog, i heard this was the next lens i needed to add to my Canon Rebel 3Ti. since i am not a photography expert, i don't know a lot about cameras and lenses. but i do know i want this lens to hopefully get better product shots.
8. Origrami - Origrami is a photo printing service for your instagram account. it lets you log on to you instagram account, choose the photos that you want and order them. your prints arrive in a great photo box printed on high quality mat board. the Origrami service also lets you print special photo facts and/or add a map to the back of your prints to show where the photo was taken. i just love the feel and look of this service. i can't wait to order some prints from Origrami.
and that in a nutshell are some of the fun photography items i would love to have. don't they sound fun! do you have any photography products that i need to know about? i would love to know some of your faves….
{ Disclosure: this post contains affiliate links. }