This post is sponsored by Kaiser Permanente Orange County.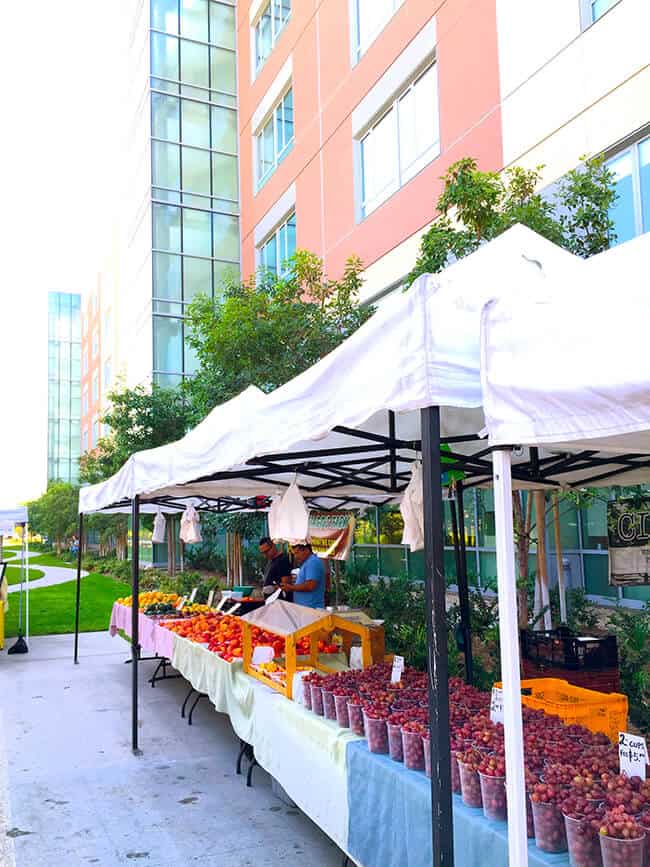 Did you know that the Kaiser Permanente Orange County hospitals in Irvine and Anaheim have weekly Farmers Markets? It's true!
The Irvine location has its' Farmers Market on Wednesdays at 9:00 a.m. - 2:00 p.m. and the Anaheim location has its' Farmers Market on Fridays at 9:00 a.m. - 2:00 p.m.
I had a chance to check out these great Orange County Farmers Markets and meet with one of Kaiser Permanente Orange County's Registered Dietitians and had the nicest Friday morning shopping, tasting and learning about the best foods to share with your kids and families. I even also learned what foods are best for a pregnant mom-to-be like me!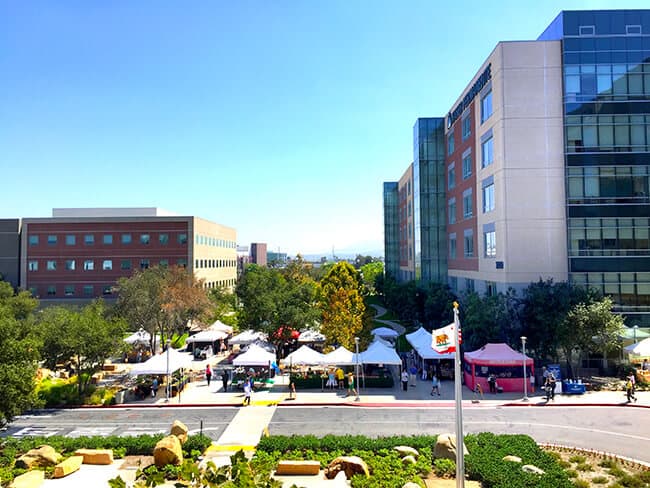 Fresh Food Options Available at Kaiser Farmers Markets
The Kaiser Permanente Orange County Farmers Markets are great. There's a good variety of produce to choose from, and there are also yummy lunch options, baked goods, fresh bread, juices and natural products available for purchase. check out some of the photos i took from my outing, and be prepared for them to make you hungry!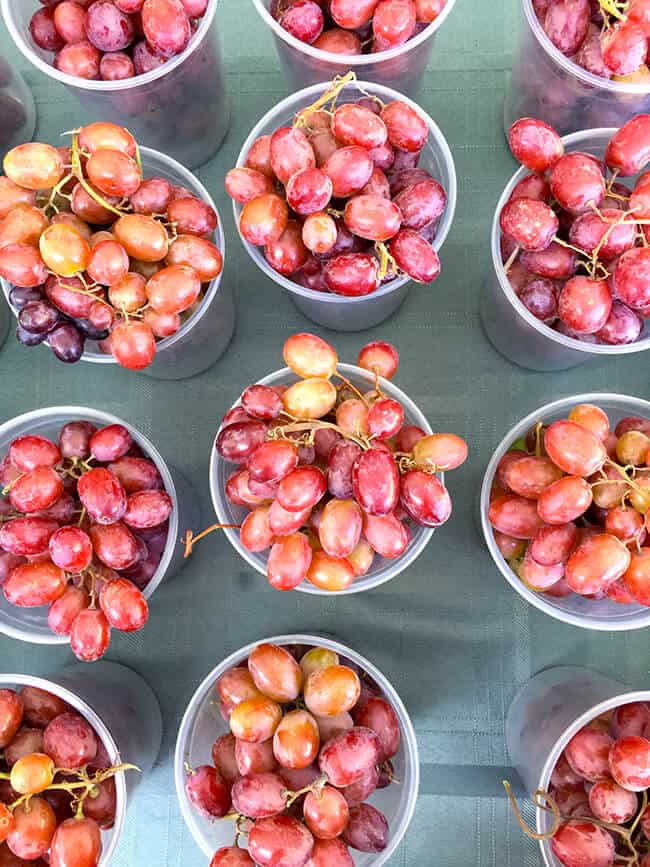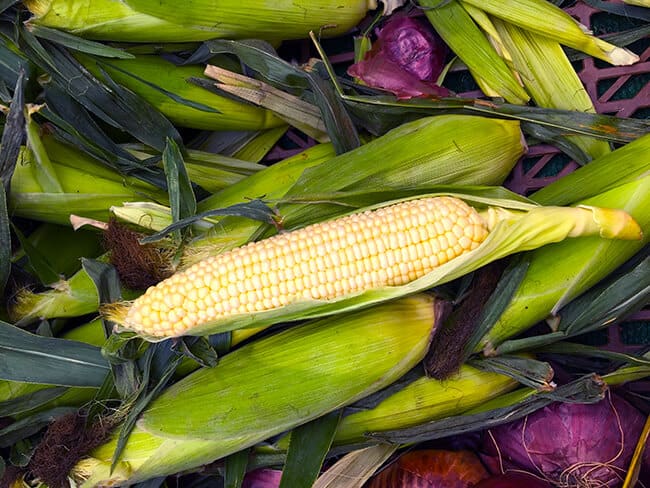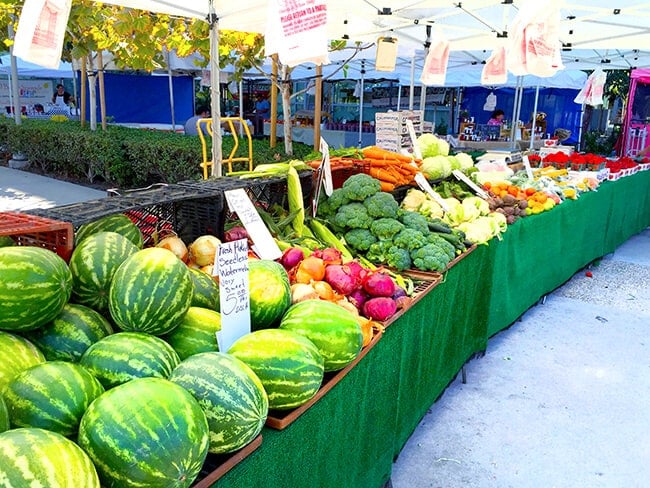 These are the best peaches and nectarines I have had in forever....super sweet and juicy.
The Farmers Market is a great place to take the kids as well. it can be a great learning experience, and there are often unique fruits and vegetables that you don't always see at the supermarket. Plus, the vendors are usually more than happy to let you taste test any of the produce before you buy it.
Look! I tried passion fruit for my first time.
My thoughts? It was really interesting...not sure if I liked it or not though. The vendor added a little bit of fresh orange juice into it and I did like it much better that way, but it was definitely a unique flavor of fruit.
Kaiser has registered dietitians for their patients!
Kaiser Permanente Orange County has some great resources...including skilled registered dietitians. I was fortunate to explore the Farmers Market with Amanda Amary, RD who gave me some great tips on the healthiest foods to look for at the Farmers Markets. because, just because a food is at the Farmers Market, doesn't mean it is healthy.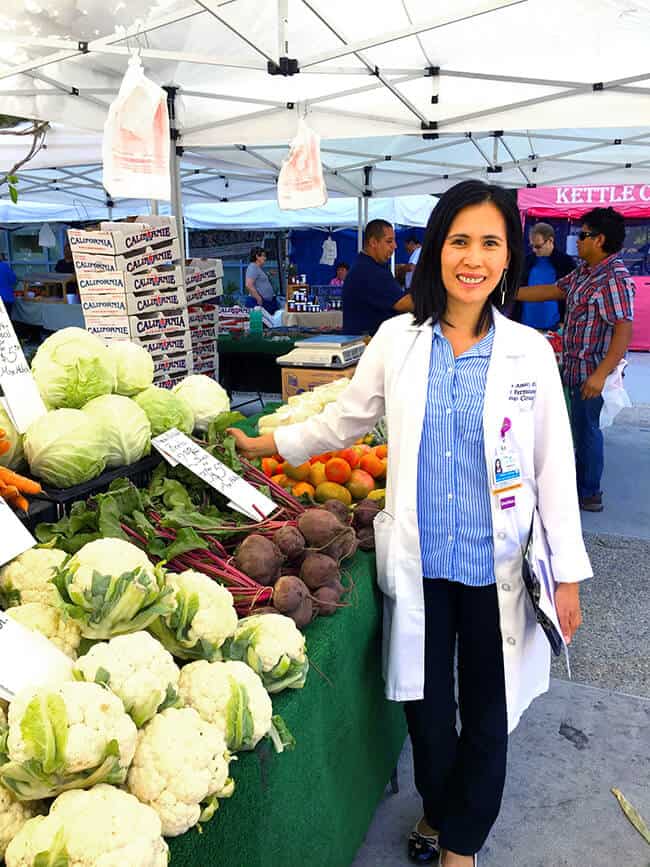 Which vegetables offer the most nutrients
When purchasing fruits and veggies for yourself or your family at the Farmers Market, you want to make sure that you first go for a variety of vegetables from all of the subgroups—dark green, red and orange, legumes such as beans and peas and starchy.
Dark green leafy vegetables such as kale, spinach, lettuce or green beens are great choices because they are rich in vitamins. Broccoli is especially great because it is full of calcium which is important for children and expecting mom's nutrition. children and adults need 5-7 servings of veggies and fruits a day.
Of course, the more veggies the better because fruit has a lot of sugar.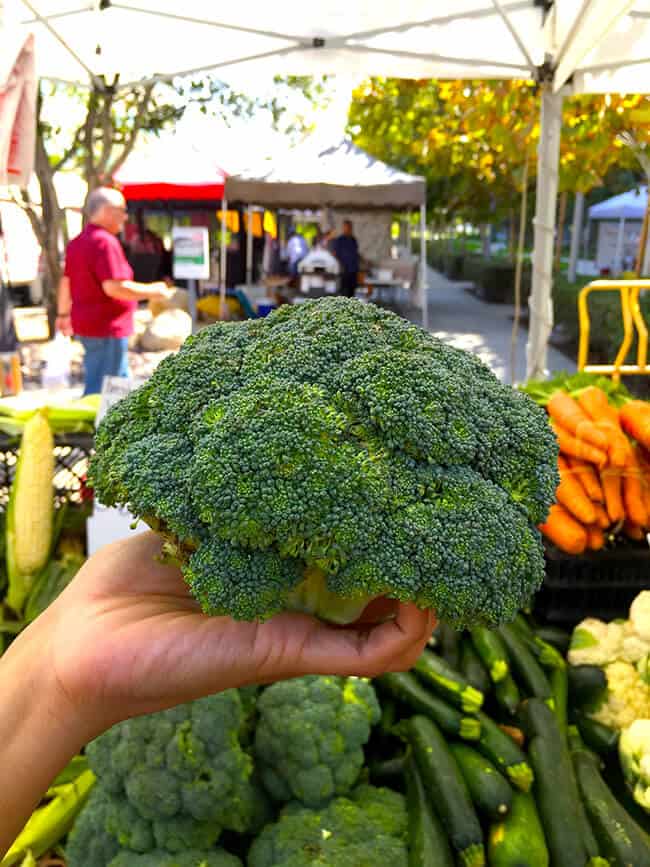 When you are looking for fruit, it is best to get a variety of bright colors. Try to get organic when you'll be eating the skin. be selective when spending money on organic...it is not as important to purchase organic when choosing fruit with peels such as oranges and bananas, but organic berries and peaches are best.
Cantaloupe, honeydew, oranges and grapefruit are rich in folate which is important for nutrition in pregnant women and children, so make sure to stock up on these.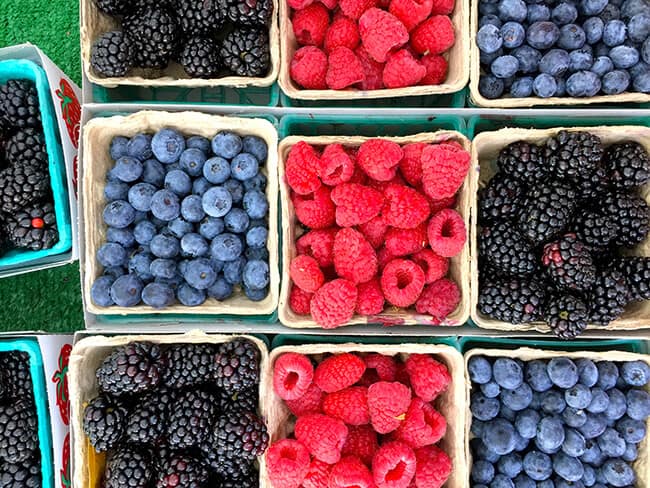 It is also important to make sure you and your family are getting enough fiber which aids in digestion. eating fruits with their peels, berries, beans, lentils and almonds are all great ways to get more fiber in your diet.
Basically, when you are shopping at the Farmers Market, head towards the rich colored veggies, fruits come second, then if you are looking for a treat, purchase the baked goods and snacks sparingly. by following these guidelines, you will benefit your family's nutrition. Thanks Amanda for so many great tips!
Farmers Market Recipes
Additionally, here are some great recipes that Amanda Amary, RD shared with me, I thought that you would enjoy them too. all of these recipes can be made with ingredients that can easily be found at the Farmers Market. Amanda also told me that the Kaiser Permanente Food for Health blog has a lot of great recipes on it, recipes that have been created with your health in mind. So if you are looking for some fresh new ideas, head over and check it out.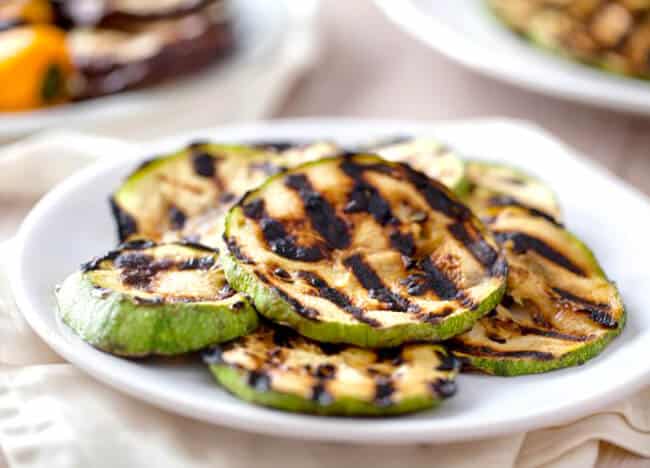 Grilled Zucchini, Tomato and Mozzarella Wrap
By Nadia Bordchardt | Servings: 1 | Prep Time: 15
ingredients
½ cup zucchini, sliced
1 6-inch corn tortilla
1 ounce low-fat or skim mozzarella cheese*
8 cherry tomatoes, halved
½ cup mushrooms, sliced (your personal favorite)
1 teaspoon oregano
1 tablespoon basil
¼ teaspoon black pepper
Click here for directions on how to make it.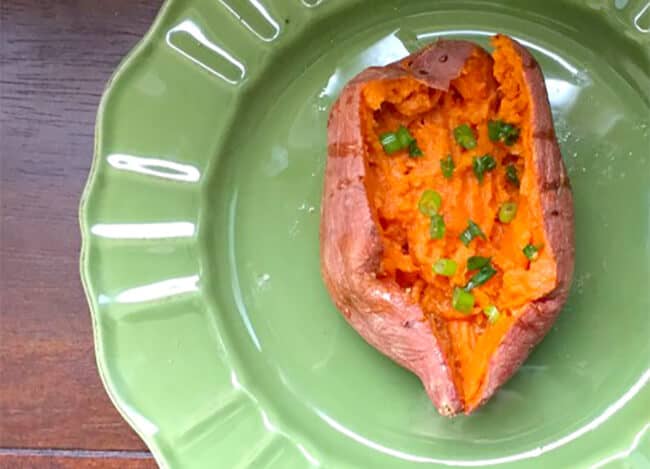 Baked Sweet Potatoes
by Kaiser Permanente Exectutive | Servings: 1 | Prep Time: 15
ingredients
1 sweet potato
Asian-inspired topping (optional):
½ to 1 teaspoon sesame oil
1 tablespoon orange or tangerine juice
½ teaspoon freshly grated ginger
1 teaspoon thinly sliced scallion
Other simple topping ideas (optional):
1 teaspoon butter, olive oil or coconut oil
For a sweet topping: A pinch of cinnamon and/or nutmeg
For a savory topping: Black pepper and a pinch of sea salt
Click here for directions on how to make it.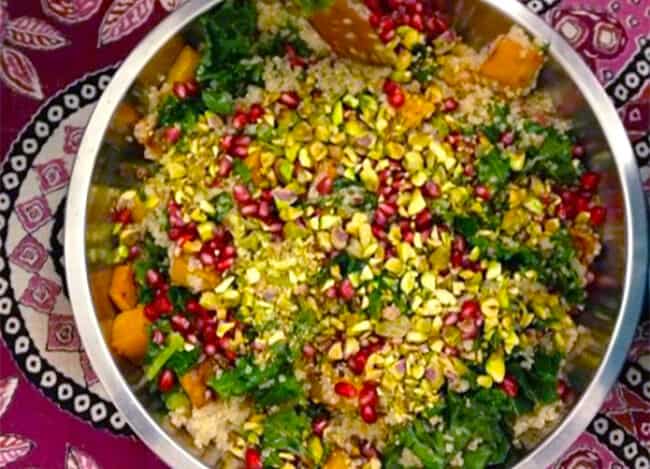 Kale-Quinoa Salad with Roasted Butternut Squash
By Linda Shiue | Servings: 8 | Prep Time: 30
Ingredients
2 cups butternut squash, peeled and cut in ½-inch cubes
½ cup olive oil, divided
Freshly ground black pepper and salt, to taste
1 cup raw quinoa
2 cups water, salted with a pinch of salt
¼ cup red wine vinegar
2 teaspoons honey or maple syrup
2 cups kale, center rib removed, cut into small pieces
2 scallions, thinly sliced
1 cup pomegranate seeds (from ½ to 1 whole pomegranate)
½ cup roasted pistachios, chopped
Click here for directions on how to make it.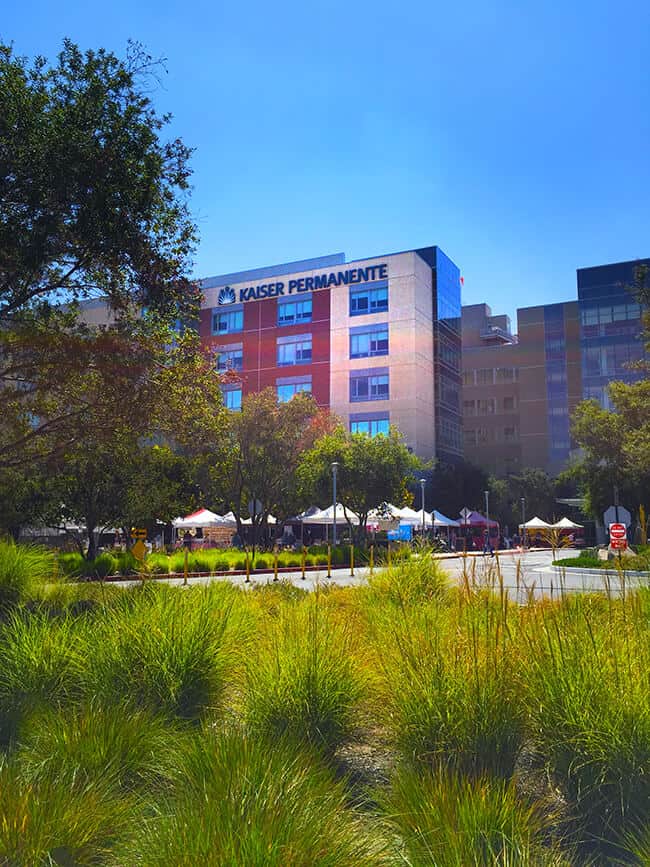 If you have missed the posts i have written about Kaiser, here they are:
Tips for Having a Healthy Pregnancy
Our Family's Visit Thrive Walk at the Orange County Great Park
Great Tips on Mens Health
Tips for Helping Families Stay Healthy During Cold and Flu Season