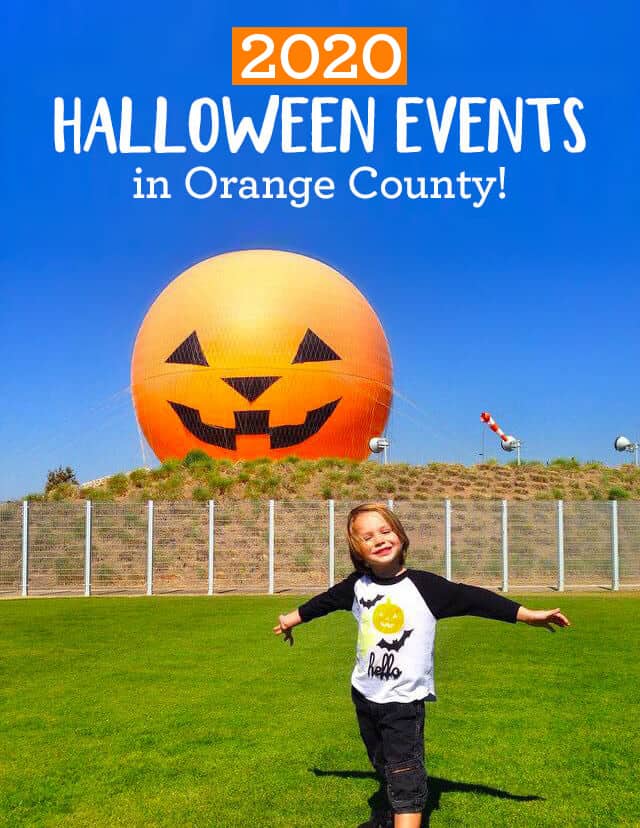 Updated September 2020
Just like that, the Halloween season has arrived in Orange County! Usually there are over 100 Halloween events happening all over Southern California, however, this year will be VERY DIFFERENT. Due to Covid-19, most annual event are cancelled. Also, things change at a moments notice and plans are up in the air. I will do my best to update this list of 2020 Orange County Halloween Events for Kids and Families as the season continues. So please check back often! More events will be added as they are announced. And if you have one to add to the list, please email jillparkin {@} gmail.com
2020 Orange County Halloween Events for Kids and Families
Knott's Taste of Fall-O-Ween
Fridays, Saturdays and Sundays September 21 – November 1st | Knott's Berry Farm
Knott's Berry Farm introduces its newest family-friendly outdoor dining and retail experience celebrating the Halloween season! Experience the flavors of Fall with Knott's Taste of Fall-O-Ween. A cornucopia of Harvest and Halloween décor will transform the park for the season. Guests of all ages can dress up in their most festive costumes (Approved face masks required). One-of-a-kind themed food and treats, exclusive event merchandise including specialty items from local crafters, an all-new "Into the Fog" art show, and so much more is included. Plus included with a junior tasting card, young guests will have an opportunity to take a trip through the fully-themed Camp Snoopy Trick-or-Treat Trail presented by Hershey and Ralphs, loaded with multiple treat stations and special spooky decorations. All Knott's Taste of Fall-O-Ween activities will be conducted at a safe and socially distant space for families to enjoy.
Urban Legends Drive-Thru Haunt
October 1st – November 1st | OC Fairgrounds
In the safety of their own vehicle, guests will enjoy a drive-thru where scare seekers will experience immersive storytelling and terrifying scenes. Guests will be entertained by live performances throughout their drive, plus experience three interactive show zones with an immersive show of lights, sound, special effects and monsters that will come alive.
Festival at City Hall (replaces Treats in the Streets)
October 23rd – 29th | Orange City Hall
You and your family are invited to "Festifall at City Hall." Households are invited to dress-up in your best Halloween costumes, bring along a decorated pumpkin, and help us turn our City Hall front lawn into a Pumpkin Patch. Then, everyone can "escape" the fun maze, grab a take-home craft (ssshhhh, it's a secret!), and take a spooktacular family picture at our Photobooth. This all takes place on the front lawn at City Hall, 300 E. Chapman Avenue, with drop-in hours between Friday, October 23 and Thursday, October 29th. Parking is around the back.
Boo at the Zoo
October 17-18 & 24-25 | 5:30 – 8:00pm | Santa Ana Zoo
A version of Boo at the Zoo will be held if allowed. Keep posted.
Tanaka Farms Drive-thru Pumpkin Patch & U-Pick Pumpkin w/ Wagon Ride
September 21 – October 31 | Tanaka Farms, Irvine
Have you ever picked your own pumpkin right out of the pumpkin patch? Tanaka Farms is one of the only farms with a REAL pumpkin patch! MUST PRE-REGISTER! The Drive-Thru Pumpkin Patch will run every Saturday and Sunday through October 31st. The U-Pick Pumpkin with Wagon Ride option will run Monday through Friday through October 30th.
Pirate's Diner Adventure's Vampirate's!
October 16 – 18, 23 – 25, 30 & 31 | Pirate's Dinner Adventure – Buena Park
Celebrate Halloween with Pirate's Dinner Adventure at Treasure Bay's Annual Masquerade Ball. However, heed this warning: be wary. For the Evil Captain Sebastian the Black is still lurking in the shadows, awaiting unsuspecting guests who would become prey to him and his horde of "Vampire Pirates." Care to join the Vampirates… as their dinner?
Drive-in Movie on the Meadows | Maleficent: Mistress of Evil
October 9 | 6:50 – 8:45pm | Vista Hermosa Sports Park
Get in your cars, grab your snacks and something cozy to keep you warm…we are going to the Drive-In! The City of San Clemente is bringing MALEFICENT: MISTRESS OF EVIL to the big screen! Register your vehicle, for only $15. Each parking spot will be marked in advance with have 6ft of distance on both sides and listen through your radio with an FM transmitter. Restrooms will be provided with continuous cleaning and monitoring. Parking is first come, first served.
Drive-in Movie on the Meadows | Hocus Pocus
October 23 | 6:50 – 8:45pm | Vista Hermosa Sports Park
Get in your cars, grab your snacks and something cozy to keep you warm…we are going to the Drive-In! The City of San Clemente is bringing HOCUS POCUS to the big screen! Register your vehicle, for only $15. Each parking spot will be marked in advance with have 6ft of distance on both sides and listen through your radio with an FM transmitter. Restrooms will be provided with continuous cleaning and monitoring. Parking is first come, first served.
Street Food Tuesday Trunk or Treat!
October 27 | 5:00 – 9:00pm | Home Depot – Parking Lot, Cypress
a Halloween Trunk or Treat event plus street food!!! You're favorite Movie Car meets your favorite Food Trucks all in one place. Confirmed Movie Vehicles: Ghostbusters Ecto1, Jurassic Park, Herbie, Lightning McQueen, Pizza Planet Truck, KITT from Knight Rider and more to be announced. Don't forget to bring a chair, table and enjoy a night out.
Hocus Pocus – Movie In Park
October 3 | 7:00pm | Bolsa Chica Park, Westminster
A Special Halloween Themed Evening! COME IN COSTUME! Prizes for Scariest, Best Dressed Princess & Funniest. Costume contest and prizes 30 min before movie. Bring your friends and family, blankets and low back chairs and enjoy and family friendly movie under the stars. Enjoy fun raffle prizes before the movie begins, complimentary bottled water and popcorn bar for attendees. This year we will be inviting food trucks to be present prior to the movie beginning or bring your own picnic and dine in the park. Movie starts at dark. FREE
City of San Clemente Pumpkin Splash
October 30 | 3 – 5:00pm | Old Hanson Beach Club
Details coming!
Halloween Boutique | A Pirates Life for Me
September 3 – October 31 | All Day | Rogers Gardens Corona Del Mar
Take a wild adventure out to sea and enter into the World of Pirates. Explore the private corridors and cabins below the ships deck to find precious gems. Venture underwater as you search through caves and discover treasures, surprises and frights to decorate your home for Halloween. Experience our Halloween Boutique in person or shop our online
Villa Park Halloween Fest
October TBD | 4 – 7:30pm | Villa Park Towne Center
Halloween Fest is a Villa Park annual tradition. Every year you can find kids of all ages in their favorite costumes partaking in the many contests and activities that are laid out for them. It's a fun family event for all! FREE
Spook-tacular Halloween Crafts
October 19 – 31 | Newport Beach Central Public Library Calling all ghouls, goblins, princesses and superheroes! We're brewing up a lot of at-home Halloween fun with Grab-and-Go crafts and activities, a virtual costume parade, and a chance to win a raffle prize! Grab-and-Go craft kits available for pick up at any Newport Beach Public Library location beginning October 19 (while supplies last). Funding is generously donated by the Friends of the Library. FREE
Halloween Howl
October 30 | 3 – 5:00pm | Columbus Tustin Recreation Center
Bark your calendar to join other canines and their companions to sniff and schmooze at Yappy Hour. Haute hounds enjoy lapping up libations, thanks to water in his favorite flavor – bacon, chicken, beef or vegan – while human guests relax with a glass of spirits. Beer and a selection of barbecue items are also available for purchase.
Environmental Nature Center Virtual Fall Faire & Pumpkin Patch
October 18 | Environmental Center
Join the fun at the 45th Annual Fall Faire! Embark on a virtual "Craft Crawl" and "Story Walk". Play virtual nature games, and watch performances around the virtual "Fire Circle Stage" by folks like Birdsong and the Eco-Wonders. Watch SavorOC cooking shows to learn how to prepare delicious, sustainable food from chefs at local restaurants. Decorate yourself in your best Fall Themed costume or face paint, post your photo on Instagram and tag it #2020ENCFallFaire for a chance to win awesome prizes! Purchase a "Fall Faire To Go" bag and receive a pumpkin, goodies and recipes from the Savor OC Restaurant Showcase sponsors, an ENC bandana, native plant seeds, a nature tattoo, a children's nature book, materials to do a fun science experiment (the hidden colors in a leaf!), and to create a fall themed craft! The first 200 bags will contain a $20 gift card to Avila's El Ranchito Restaurant, a $10 gift card (off $25 purchase) to Descanso Mexican Restaurant, and a free #1 combo from Wahoo's Fish Tacos!
Cops N' Goblins Spooktacular Halloween Drive-thru
October 30 | 4 – 5:00pm | City of Buena Park – City Hall
Bring your little goblins out for a drive-thru trick-or-treat experience! Decorated drive-thru, free candy, and social distanced fun to celebrate Halloween brought to you by your Buena Park Police Department and Community Services Department. RSVP October 8-29 to: (714) 562-3860 FREE
Irvine Park Pumpkin Patch
October 1 – 31 | Irvine Regional Park, Orange
Due to COVID-19, this year's Pumpkin Patch will be modified and scaled this down to ensure the safety of all visitors as well as our staff. Visitors will be limited at this event, allowing families in on a 1-out 1-in basis once we reach our limited capacity. To purchase a pumpkin, you will have several options shown to you by a staff member from behind a counter to choose from. You will not be able to walk around and pick out a pumpkin like in previous years. In addition to the train and hay wagon ride, there will be a couple game booths that will be sanitized after every use and a few photo opportunity areas for you to take photos with your family or group.
Yappy Howl-O-Ween
October 29 | 4 – 7:00pm | The Ritz-Carlton, Laguna Niguel
Bark your calendar to join other canines and their companions to sniff and schmooze at Yappy Hour. Haute hounds enjoy lapping up libations, thanks to water in his favorite flavor – bacon, chicken, beef or vegan – while human guests relax with a glass of spirits. Beer and a selection of barbecue items are also available for purchase.
Halloween Spooktacular Movie Night
October 24 | 6:30 or 8:30pm | Del Obispo Park Ball Field
Halloween Spooktacular Movie Night "Nightmare Before Christmas." Social distancing movie 12'x12' grass area for up to 8 people per household, with a 10' space between each area. Cloth face covering required, except while seated in your area. Non-contact temperature check upon admittance. Bring blankets, and beach chairs. 6:30pm Movie Showing (Admittance starts at 5:45pm) and 8:30pm Movie Showing (Admittance starts at 8:00pm). Come dressed in family friendly costumes. Dana Point Sheriff's Trunk or Treat candy hand out starting at 4:30pm. Burger Monster Food Truck from 4:30pm to 9:30pm, featuring delicious burgers and fries for purchase. http://burgermonster.net. FREE popcorn and candy for each child attending the movie. Outdoor walk through Halloween area with Halloween entertainment. To register for this FREE movie event visit www.danapoint.org/recreation. Registration starts September 28th. For more information call 949-248-3536.
Halloween Craft Kits
October 10 | Anaheim Town Square
Kids Fun Zone presents Craft Kits, offering free art activities to explore new ways of self-expression. Kids Fun Zone's mission is to introduce creative outlets for the children in the communities we serve. Offering art, introductory classes to gardening, yoga, music production and other creative outlets. Due to COVID-19, we have directed classes to Instagram and with at home craft kits. Craft kits are limited, and reservations are suggested. Octobers craft kit is a Halloween inspired kit! Pumpkin decorating is one of the most fun parts of Halloween season. This pumpkin decorating kit is a fun way to decorate pumpkins without the mess. Included in this kit is a plastic mini pumpkin along with decorative stickers to give your pumpkin some personality. Also included is a cool halloween mask with decorative stickers.
Halloween Night Market
October 10 | GardenWalk, Anaheim
Spooky Vendors, food trucks and entertainment! Face masks required.
Creep It Real OC EXPO
October 31 | noon – 6:00pm | Heritage Museum of Orange County
Creep It Real OC EXPO is returning! Dedicated to bringing together Orange County's Halloween community along with local Haunt leaders to share with you all things Halloween! While at the expo you can visit unique photo locations, check out our halloween market-like bazaar where you can buy all kinds of oddities and goods, check out the haunted Kellogg House hosted by actual ghosts, take a hike through the old swamp, stroll through our congregation of hearse's on display, pose with the Orange County Ghostbusters, interact with haunters and creeps throughout the event, as well as cruise on by our food truck party in the back. There will also be a costume contest, givaways and much more- so make sure you come in your best and scariest, yet tasteful costume!
Kids Fun Zone: Spooktacular Edition
October 31 | noon – 3:00pm | Bristol Warner Marketplace
This month we'll be hosting a special spooktacular Halloween KFZ! Kids will get to participate in special Halloween crafts, games & more!FREE
Anaheim Fall Festival & Halloween Parade
October 1 – 31 | Center Street Promonade, Anaheim
This year, due to events in the world, our Festival will be happening online for the entire month of October and, for the first time ever, we'll have a "Drive-Thru" Parade on Oct 24th! Stay tuned on our social media accounts on Facebook and Instagram for more info. Come back on October 1st for all the festivities! FREE
Candy Drive for Camp Pendalton Kids
September 19 – October 4 |  Zoomars
Zoomars is working with Home Front America to collect candy for the kids in camp Pendleton. When you drop off 1 bag of individually wrapped candies you will receive 2 excavator rides. Who's bringing something candy next time they visit?!
The Pumpkin Corral
October 3 – 31 | The MainPlace Mall & Live Oak Canyon
Join us for exciting rides, fun games, delicious food and even a petting zoo. Don't forget to pick up your pumpkins for this Halloween.
The Pumpkin Factory
October 1st | Westminster Mall & Live Oak Canyon
Come experience the wonder of our pumpkin patches with their fantastic rides, slides ponies and petting zoo.
Saddleback Church Drive-thru Trunk Or Treat
October 31  |  5 – 7:00pm  |  Saddleback Church Lake Forest
Saddleback Church invites you the their 6th annual Fall Fest! This year we will have a safe, family friendly, drive thru only Trunk-or-Treat experience. If you would like to host a trunk for this event, please go to https://forms.gle/S8eQxMmwqAdwC1QD6 to sign up. FREE
Spooktacular FilmFest
October 1, 8, 15, 22, 29  |  5:30pm  | The District at Tustin – AMC Fountain Courtyard
We're celebrating Halloween with a five-week dinner & movie series for the whole family in the AMC Fountain Courtyard at The District at Tustin Legacy! Families can reserve their own socially-distanced table to dine & watch the movie on a 20' screen outside AMC Theaters. Come early to reserve your table and dine on takeout from your favorite District restaurant while enjoying lively music, fun trivia, table activities for the kids and giveaways!  FREE
Kids Fashion Camp OC Halloween Workshops
Select Days in October  | The District at Tustin – Fashion Camp
From Boo Bags to Costumes…Join us for some Halloween fun! Costume workshops, trick or treat bags, spooky pillows and backpacks – we've got lots of projects to make this holiday spooktacular!
Fullerton Haunted Walking Tours
Every Wednesday, Thursday, and Friday in October | 5:30pm | City of Fullerton Museum
The tours leave the museum promptly at 6 p.m., and last approximately two and one-half hours. Aul said "ghost hunters" should be prepared to walk approximately 1.5 miles, and the tours will include climbing stairs. Participants should wear comfortable walking shoes and bring a sense of humor with them.
Orange County Haunted Ghost Walks
Through October 31 | 6 Historic Locations in OC
Haunted Orange County is officially OPEN all season and just added OVER 30 NEW TOURS from now until October 31st! Choose from Old Town Orange, Santa Ana, Gold Star Canyon, Kellogg House, San Juan Capistrano, and Fairhaven Cemetery. All tours are still running with safety protocols in place including face covering requirements, strict social distancing, and limited tour group sizes. Don't miss out on one of the hottest destinations for the 2020 Fall/Halloween season!
Pirates Cave Haunt
October 23, 24, 25, 30, 31 & November 1 | 2548 E Garfield Ave Orange, CA 92867
The Pirates Cave Haunt is back for its 21st season. To keep Halloween alive this year, we are doing our first Yard Display Show on the origins of the Pirate's Cave. The attraction is a 10-minute multi-screen video presentation synced to lighting effects, props, special effects, and live actors. FREE
City of Mission Viejo Annual Scarecrow Contest
October – November | Norman P. Murray Community and Senior Center – Mission Viejo
It still feels like summer, but fall is in the air – meaning scarecrow season is quickly approaching. The City will place more than 50 scarecrows in public places throughout the community and is seeking nonprofit organizations – churches, scouts, schools and charities – to make a scarecrow for the chance to win a cash prize. The City's 4th annual Scarecrow Contest calls for local businesses and nonprofit organizations to design and create a scarecrow for display at the Norman P. Murray Community and Senior Center in October. The City will build the frames and bases (made from wood and cement) or organizations can make their own. Each scarecrow will be tagged with the organization's name and on display during the month of October. FREE

Check out these awesome Halloween events, just ouside of Orange County.
Halloween Nightmare Art Camp
Sundays, October 4 – 25 | 3 – 5:00pm | Drawn2Art – Chino Hills
Learn how to sculpt and paint favorite Halloween cartoon characters. Make a 3-dimensional house using a step-by-step process. Multiple materials are used to inspire creativity! Ages 7 and up. All students must be enrolled for camps no later than the Friday before the camp week. Please call for more information (909) 606-0428.
Halloween in Miniland
October 2-4, 9-11, 16-18, 23-25 & 30-31 | Seaworld
LEGOLAND® California Resort welcomes all families to join us for a Halloween-themed outdoor retail and dining experience every weekend in October! Enjoy festive LEGO® décor, distanced character meet-n-greets, and individual family activities that will be sure to get you into the not-so-spooky Halloween spirit.
Seaworld Spooktacular
Friday – Sunday, October 2 – November 1  |  Seaworld
Get your kids' costumes ready, because SeaWorld has spooky surprises and fall fun in store at SeaWorld Spooktacular. Playful characters and seasonal décor will catch your eye. Candy and other concoctions will treat your taste buds. And as always, the park will be alive with amazing animals to visit. It's all waiting for your family, with new safety procedures to put your mind at ease. It's a tricky year for Halloween. Treat your family to fall fun at SeaWorld.
Scarium at the Aquarium of the Pacific
October 24 & 25 | 9:00am – 5:00am| Aquarium of the Pacific, Long Beach
Discover the creatures lurking in the depths at the Aquarium of the Pacific's twenty-first annual Scarium of the Pacific—a fun and educational Halloween event for the whole family. Enjoy special Halloween programs, including the annual children's costume contest, creepy coloring contest, magic shows, underwater pumpkin carving, storytelling, and crafts, and meet eerie animals in the Great Hall.
Haunt'oween LA Halloween Drive-through
October 9 – 31 | 3 – 9:00pm| 6100 Topanga Canyon Blvd, Woodland Hills
Trick or treating will look a little different this year, but that doesn't mean you can't get the whole family together for a drive-through experience to get spooky. Coming to Woodland Hills on October 9, a new Haunt'oween L.A. event promises jack-o'-lantern tunnels, pumpkin picking, family-friendly sights and even a bit of "door-to-door" trick or treating—all socially distanced, of course.
Los Angeles Haunted Hay Ride Drive-Thru
September 21 – November 1 | Bonelli Regional Park, San Dimas
A first of its kind immersive experience from the creators of LA's favorite Halloween event. Not just a drive in! Experience this reimagined haunted "drive up". An original haunted show featuring a multimedia story displayed on a 40 foot screen, as well as horrifying sets and characters from Midnight Falls that surround the theater and bring the story to life! Your entryway to the defunct Midnight "Drive-In" Theater is All Hallows Lane, a creepy stretch of road straight out of any horror movie. This sets the stage as you brace yourself for the ultimate theatrical drive-in horror experience! Rising from the dead is Horror Movie Host, Monte Revolta, to assume management of the theater. With the help of his Minions of the Living Dead, they will bring the latest and gravest in terrifying sights and sounds to life as they host Monte Revolta's Monster Movie Spooktacular featuring original content as well as creepy short films from (shh, tba).
Halloween Pumpkin painting
October 2 – 5 | Alamitos Beach, Long Beach
Fun outdoor activity for families to safely participate during Halloween. Bring your pumpkins and paint your own design. We will provide all the art supplies. Costumes welcomed! Please wear mask
Freeform Halloween Road
October 2 – 5 | Heritage Square Museum, Los Angeles, CA
Roll up to those familiar holiday doors and into Halloween Town in this new car-based event inspired by Tim Burton's The Nightmare Before Christmas, plus Hocus Pocus and Ghostbusters. Freeform's Insta-friendly Halloween House won't let social distancing stop it altogether, so for this third annual iteration it's returning in a safer drive-through format.
THE BITE LA: Halloween Food Crawl and Creature Safari
October 2 – November 1 | Legg Lake, South El Monte
This new event is combining the appeal of a food festival with all the creepiness of a haunted trail—and all from the safety of your car. The Bite LA is a Halloween-themed food crawl complete with a virtual campfire and "creature safari," where you'll drive from station to station and costumed ghouls and other dark entities will serve you eight bites along the way. (Still hungry? There'll be additional food for purchase, plus vegan, vegetarian and gluten-free options.)
Nights of the Jack
October 1 – November 1 | King Gillette Ranch, Calabasas
Cruise across the grounds of the scenic King Gillette Ranch as the Santa Monica Mountains hideaway is illuminated with thousands of hand-carved jack-o'-lanterns. Nights of the Jack returns this year with a drive-through edition, with timed tickets required each night. Expect to spend about 25 minutes on the mile-long trail, and just a heads up that there will be no food or beverages for sale, nor will bathrooms be available.
{disclaimer: Be sure to check out events before attending as times and dates may have changed.}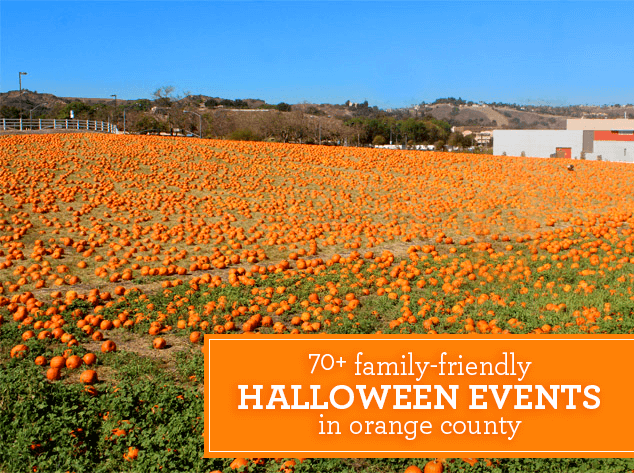 SaveSave
SaveSave
SaveSave
SaveSave
SaveSave
SaveSave
SaveSave